As Warren Buffet said, the more you learn, the more you earn. In other words, your earning potential increases as your talents increase. So, to earn money, you can start with an easy idea and gradually improve yourself. Here's where Legit money making apps can be useful. You can make fast cash through these apps, improving your overall financial stability. Explore New business ideas to make money online in 2023.
Selecting the best legit money-making apps for cash is crucial. The top money making apps for Android and iOS can support you in achieving your financial objectives. In this blog, we've reviewed the 25+ apps for making money.
List of Top 25 Legit Money Making Apps for Cash
| # | App | OS | Operating since |
| --- | --- | --- | --- |
| 1 | Swagbucks | Android and iOS | 2008 |
| 2 | Survey Junkie | Android and iOS | 2011 |
| 3 | YouGov | Android and iOS | 2000 |
| 4 | InboxDollars | Android and iOS | 2000 |
| 5 | Google Opinion Rewards | Android and iOS | 2016 |
| 6 | M1 Finance | Android and iOS | 2015 |
| 7 | Acorns | Android and iOS | 2012 |
| 8 | Coinbase | Android and iOS | 2012 |
| 9 | Robinhood | Android and iOS | 2013 |
| 10 | Worthy Bonds | Android and iOS | 2018 |
| 11 | Capital One Shopping | Android and iOS | 2014 |
| 12 | MyPoints | Android and iOS | 1996 |
| 13 | Earny | Android and iOS | 2016 |
| 14 | Ibotta | Android and iOS | 2012 |
| 15 | Rakuten | Android and iOS | 1997 |
| 16 | Fetch Rewards | Android and iOS | 2017 |
| 17 | Shopkick | Android and iOS | 2010 |
| 18 | Airbnb | Android and iOS | 2008 |
| 19 | Turo | Android and iOS | 2010 |
| 20 | Neighbor | Android and iOS | 2017 |
| 21 | OfferUp | Android and iOS | 2011 |
| 22 | Poshmark | Android and iOS | 2011 |
| 23 | StepBet  | Android and iOS | 2015 |
| 24 | HealthyWage | Android and iOS | 2009 |
| 25 | Sweatcoin | Android and iOS | 2016 |
Best Online Money Making Apps That Pay You Real Money
1. Swagbucks: Best Money Making App Overall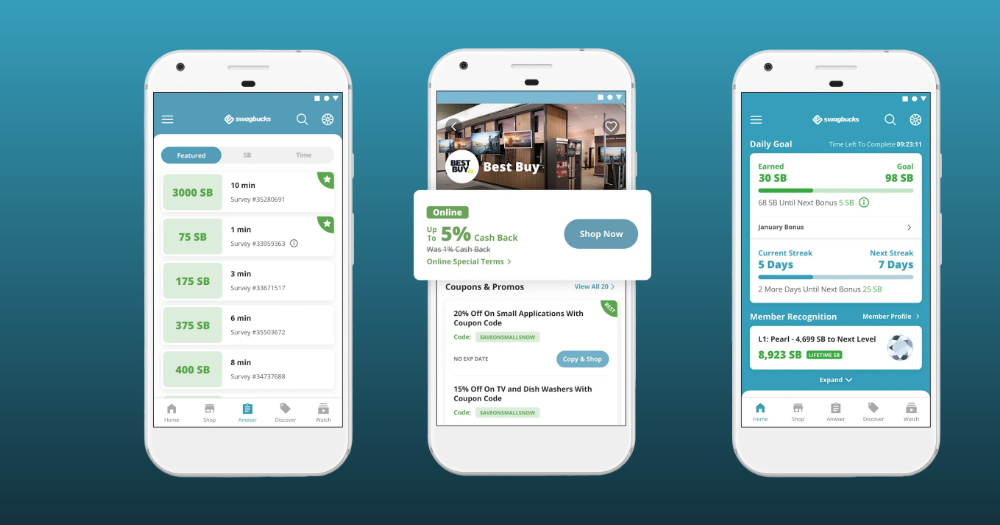 Swagbucks is one of the best money making apps. Besides taking online surveys, you may earn money or win gift cards by watching movies, playing games, and collecting cashback when you shop online, among other simple activities. The incentives can be redeemed for specified goods, gift cards, or cash.
Online stores like Amazon, Walmart, Target, and Starbucks are great places to shop to earn Swagbucks rewards. Moreover, with special discounts and bargains, you can accrue points and gift cards.
Furthermore, you can sign up for a free Swagbucks account using Facebook or your personal email. You can also get paid for referring people and get some bonus points.
Want to Launch Your Own App?
Request A Free Quote
1200+ Projects Delivered 12+ Industry Experience 450+ Clients Worldwide 200+ Certified & Expert Programmers
Minimum Withdrawal
There's no minimum withdrawal limit, but most reward options begin from $3 (including PayPal cash and select gift cards).
Pricing
It's free to sign up. Also, you get a $10 bonus.
2. Survey Junkie: Get Paid to Take Surveys & Make Money Online

For many years, Survey Junkie has been considered one of the top apps that conduct market research. With over 10 million members, high reviews from app users, and a $5 minimum payout, Survey Junkie is a best app for earning fast cash online.
Survey Junkie gives new members a short list of worthwhile things to perform, including completing a basic profile survey, verifying your email, and viewing a "how it works" video. You can quickly reach the $5 minimum reward by completing these tasks.
Minimum withdrawal
500 points allow you a $5 transfer to your PayPal account. Alternatively, the points can be redeemed for gift cards.
Pricing
You can register and participate in online surveys for free.
3. Apps for Cash: YouGov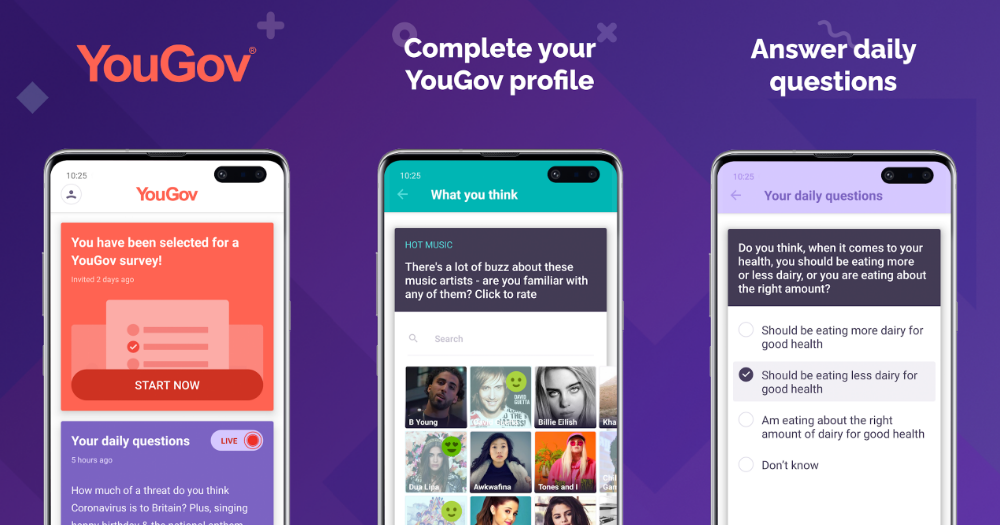 The market research app YouGov is well-known for its online surveys on current affairs and politics. Moreover, its survey selection and payments are comparable to those of the other leading online survey apps.
But, taking part in two surveys daily for more than 30 days would be necessary to withdraw the $50 minimum amount. Moreover, the minimum payout for a gift card is substantially lower at $15. It should take you one to two weeks to earn.
Minimum withdrawal
The minimum withdrawal is $15 for a gift card or $50 for a cash reward.
Pricing
There is no charge to be a YouGov member or redeem points.
4. InboxDollars: Make Extra Money Online From Home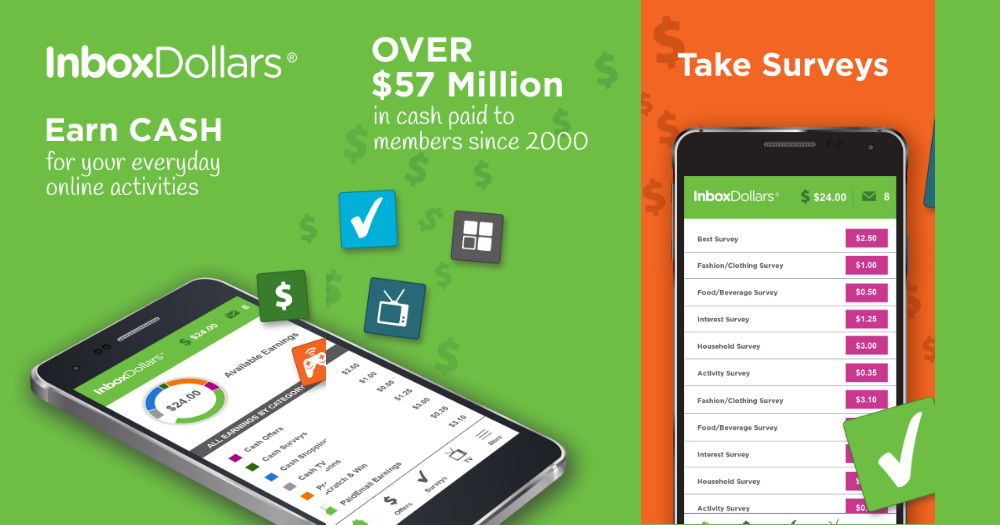 Another legit money making app for iOS and Android is InboxDollars. It allows you to make money by performing various activities and surveys.
It's one of the few apps where you can get paid to read emails, but there are significant opportunities in how you can make money on the Apps.
InboxDollars also pays you for the tasks you accomplish in actual money (not points). However, the $5 sign-up incentive can assist you in meeting the $30 minimum cash-out requirement.
Minimum withdrawal
The minimum withdrawal limit is $30.
Pricing
It's free to sign up for InboxDollars and earn cash for paid surveys and other activities online.
5. Google Opinion Rewards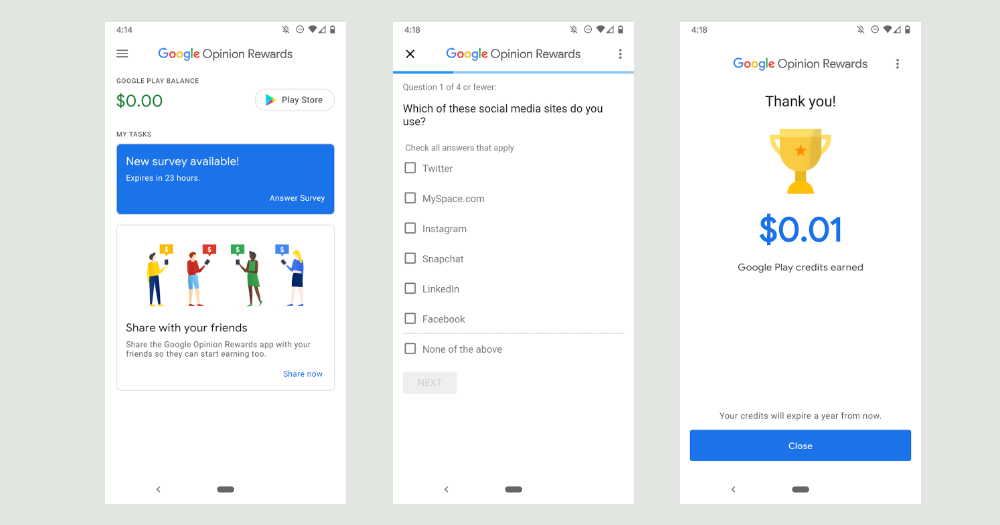 You can earn rewards by participating in Google surveys through their rewards-based program, Google Opinion Rewards. It provides quick surveys and pays you to complete them.
The incentives are given out as Google Play or PayPal credits. You receive surveys on a variety of subjects, such as polls, hotel reviews, and customer satisfaction surveys.
Convert Your App Idea into Reality Now
Request A Free Quote
1200+ Projects Delivered 12+ Industry Experience 450+ Clients Worldwide 200+ Certified & Expert Programmers
Each survey may take anywhere from 10 to 1 minutes to complete. The app will alert you if your credits are close to expiration.
Minimum withdrawal
There is no minimum withdrawal. You can withdraw as much as you need.
Pricing
The Google Opinion Rewards app is completely free.
Fast Money Making Apps That Will give You real cash
6. M1 Finance: Top Money-earning App Through Investing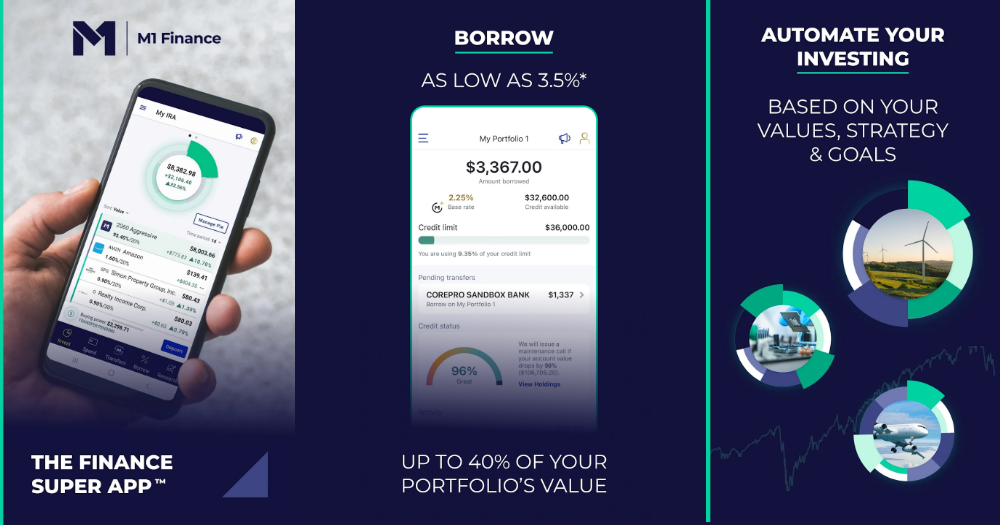 You can manage your spending, investing, and borrowing with the help of a variety of financial tools from M1 Finance.
Additionally, it helps you manage and rebalance your portfolio. Its advanced features offer you the most affordable borrowing possibilities. You can start a credit line where you can borrow money for as little as 2% with just a $10,000 commitment.
Minimum withdrawal
You can withdraw at least $5,000.
Pricing
You won't have to invest until your account reaches $100. Apart from this, there are no commissions or broker charges.
7. One of Best App for Cash: Acorns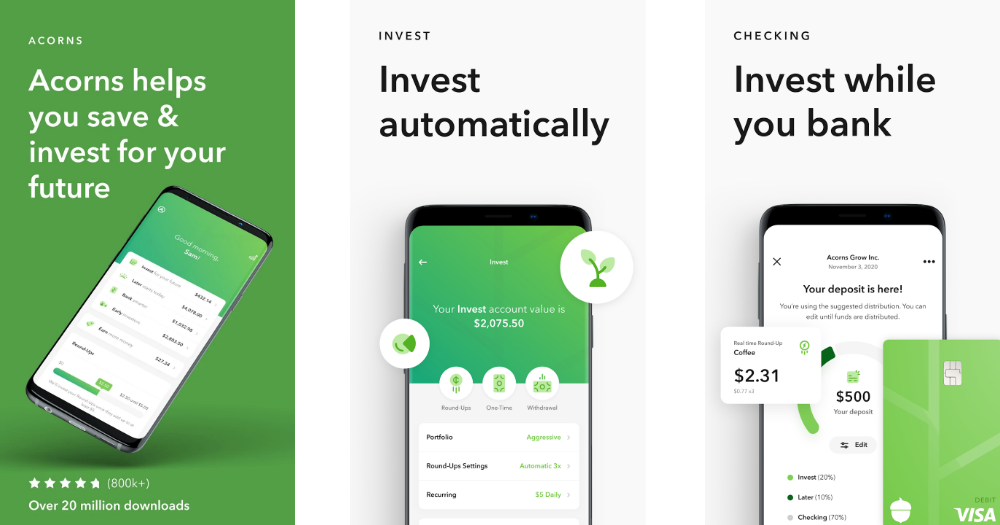 With the help of the mobile app Acorns, you may automate your investing. It accomplishes this in a few different ways:
Round Ups is one of the Acorns' key characteristics. Say you spend $17.20 on something (at any store). After that, Acorns will automatically invest 80 cents from your checking account in a mutual fund.
Another feature of Acorns is Acorns Earn. Acorns has collaborated with hundreds of merchants to enable you to make money each time you make a purchase at a particular business.
Take the $100 you spent at Walmart as an example. Acorns determine a percentage of that $100 (up to 10% for some stores), which it then deposits into your investment account.
Minimum withdrawal
There is no minimum limit, but you can withdraw a maximum of $500 a day.
Pricing
Lite: $1 per month
Personal: $3 per month
Family: $5 per month
8. Coinbase: Buy and Sell Bitcoin, Ethereum, and more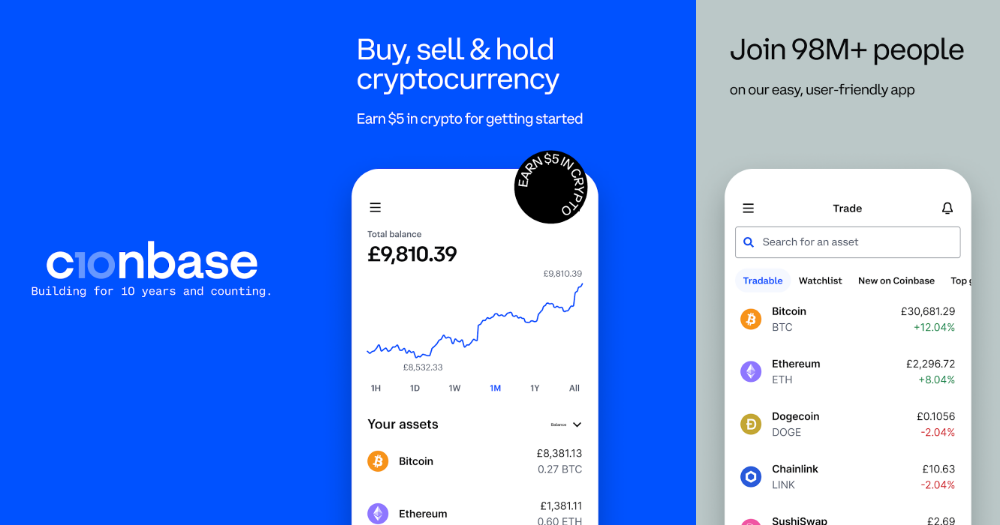 With the help of the financial app Coinbase, you may purchase and sell cryptocurrencies just like you would stocks. It offers a welcome bonus that gives you $10 in Bitcoin when you spend $100 on any of the platform's supported cryptocurrencies.
A component of Coinbase's money-making app called Learn and Earn lets users earn free Bitcoin and other cryptocurrencies in exchange for watching films about various areas of the cryptocurrency industry.
Minimum withdrawal
There is no minimum limit.
Pricing
All bitcoin transactions through Coinbase are subject to a fixed transaction fee of 1%.
9. Robinhood: Commission-free Stock Trading & Investing App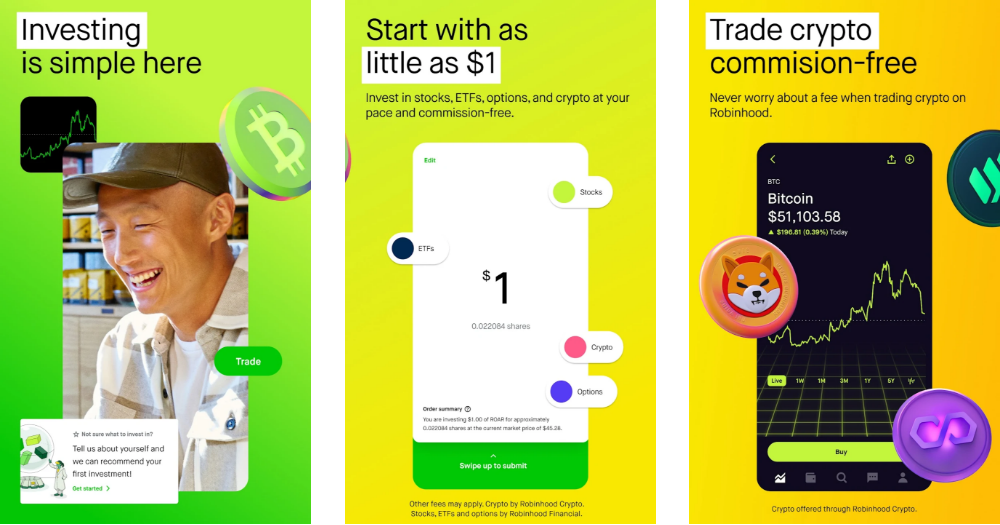 Robinhood is a platform for trading stocks, ETFs, and cryptocurrencies. It doesn't charge any commissions. After you sign up and fill in your bank details, it gives you a free stock to help you develop your portfolio.
If you want to access the cryptocurrency market, Robinhood is a great choice. You can purchase and trade cryptocurrencies like Bitcoin, Ethereum, Dogecoin, and others.
Minimum withdrawal
There is no minimum limit.
Pricing
It is a free investment and trading app. The gold plan with additional benefits, however, cost $5 each month.
10. Worthy Bonds

An investing platform called Worthy Bonds loans money to small businesses. You can purchase corporate bonds and receive a set interest rate of 5%. The straightforward investment tool enables you to make money with a $10 investment without incurring any additional fees.
You can track your interest's development in real time using the Worthy Bonds app. There is a 36-month lock-in term.
Minimum withdrawal
There is no minimum limit.
Pricing
Worthy Bonds is absolutely free.
Top Legit Money Making Application for iOS and android [Through Shopping]
11. Capital One Shopping: Best App to Make Money with Shopping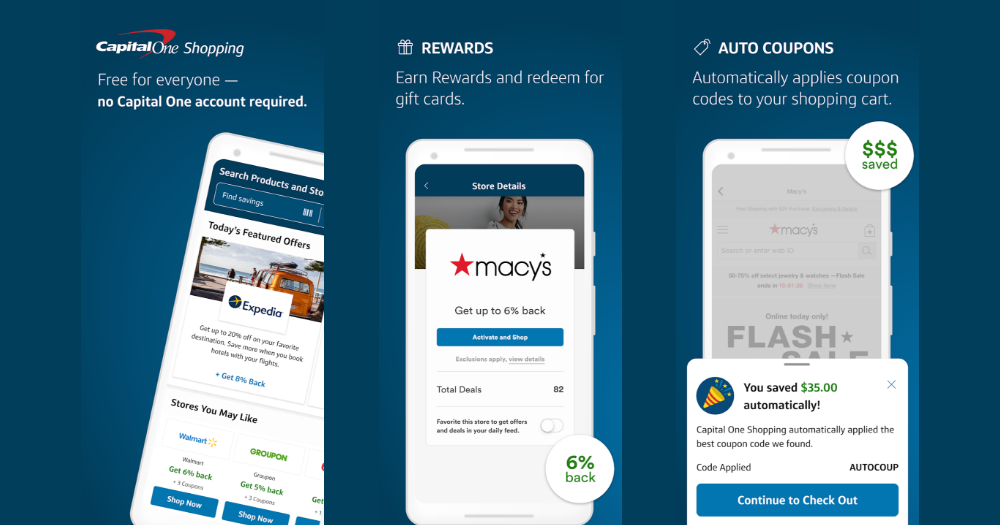 You can shop at the lowest prices from websites and physical stores using Capital One Shopping. Its database links you to online retailers offering the best deals and discounts on your purchase.
You may scan barcodes and locate retailers selling the same item for less with the user-friendly Capital One Shopping app. Moreover, it automatically applies coupon coupons and gives credits for your purchases on stores like Walmart and eBay.
In addition, by making purchases from its affiliated retailers and merchants, you can also earn rewards.
Minimum withdrawal
There is no minimum withdrawal requirement for gift card redemptions of rewards.
Pricing
It's completely free to register and use.
12. MyPoints: Cashback Rewards on the App Store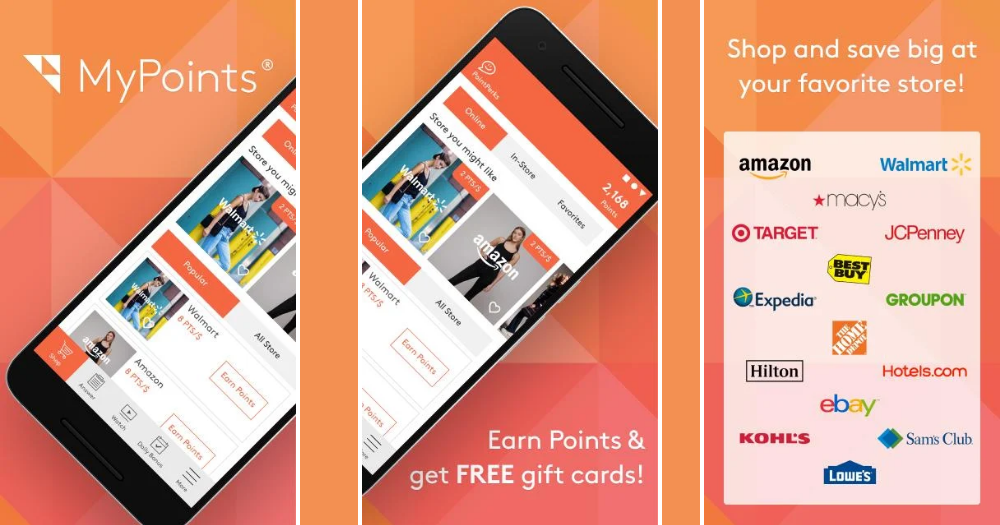 You can earn reward points with MyPoints for dining out, paid surveys, and shopping both online and in-store. Playing games, reading emails, and watching movies are some more ways to earn extra money through MyPoints.
When you have accumulated enough points, you can exchange them for gift cards or even cash. The points can also be redeemed for Visa and Amazon gift cards.
Minimum withdrawal
If you choose a direct cash deposit, the minimum withdrawal is $25.
Pricing
The registration is completely free.
13. Earny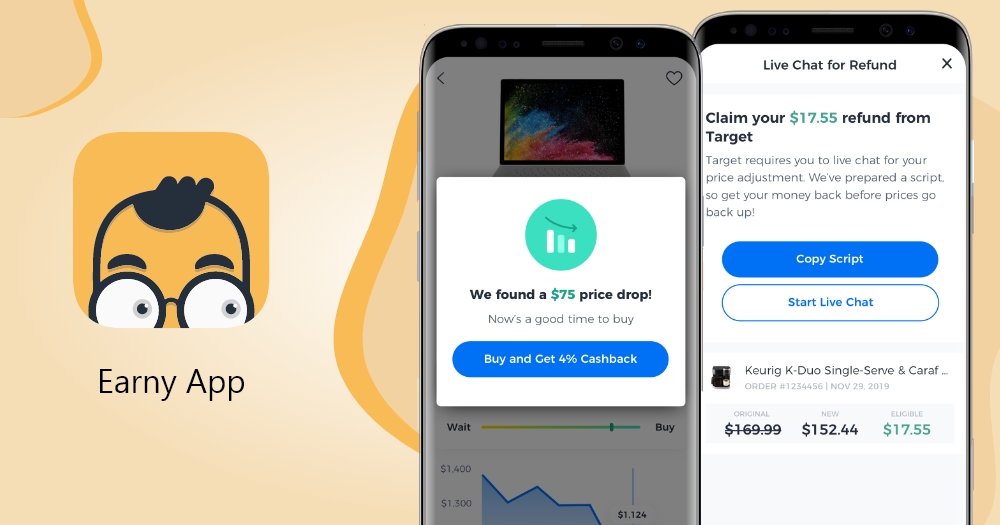 Earny functions as your personal assistant to help you obtain automatic reimbursements when the product price decreases. You may keep tabs on pricing history and receive instant alerts when prices change.
Add your desired items to the watchlist and purchase them when the price drops. Also, you can send links to your friends who frequently shop online to earn cashback.
Minimum withdrawal
Once you have collected enough points to equal $3, you can withdraw them to your Dogecoin wallet.
Pricing
Early receives a quarter of the total amount of reimbursements.
14. Ibotta: Earn Cash Back & Save With In-App Offers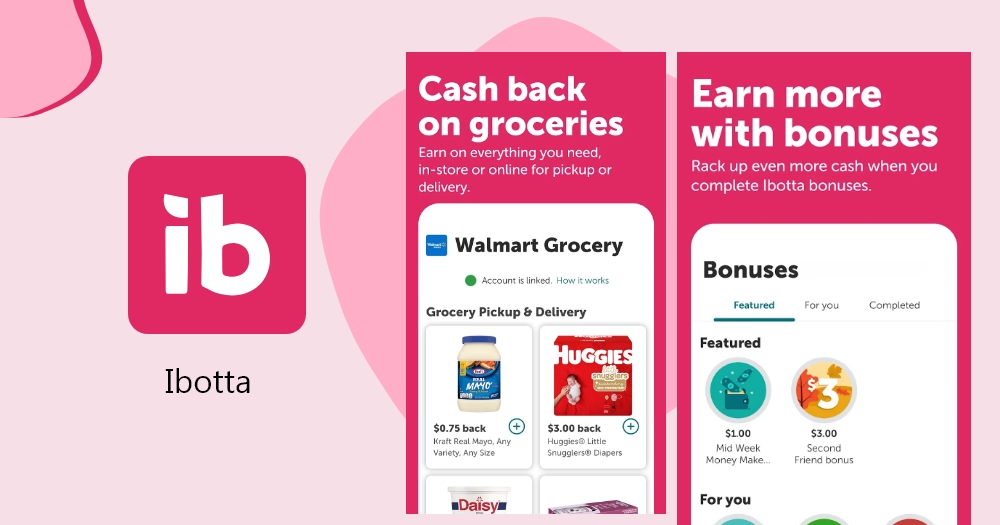 Ibotta is a free app that awards users with actual cash for regular purchases made from a select group of brands both online and offline. You receive a $20 welcome prize as soon as you sign up for Ibotta.
Moreover, when your friends download the app through your referral, you will receive an additional $5. Several shops, including Banana Republic, Amazon, and Kohl's, have integrated with the Ibotta app. Also, you have the opportunity to make money when you use delivery services like Walmart Grocery, Instacart, and Shipt.
Minimum withdrawal
The minimum withdrawal is $20 in cash transferred to Venmo or PayPal.
Pricing
Ibotta is free to use, but it deducts some fees from inactive accounts.
15. Rakuten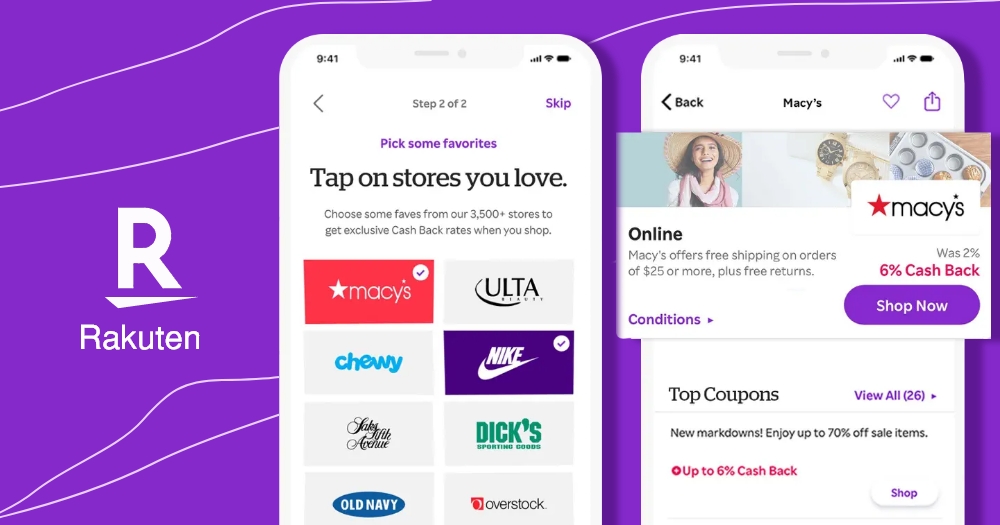 One of the best cashback apps is Rakuten, which offers up to 40% cash back at more than 2,500 retailers (both in-store and online).
When you shop online, Rakuten (formerly Ebates) will share its referral commission with you each time you use the provided link to make a purchase.
You must activate each cashback offer and link your credit or debit card inside the Rakuten app to receive rewards for in-store purchases. After that, proceed with a standard checkout using the card.
Minimum withdrawal
A minimum withdrawal of $5 is needed to cash out.
Pricing
It's free to sign-up and become a Rakuten user.
16. Fetch Rewards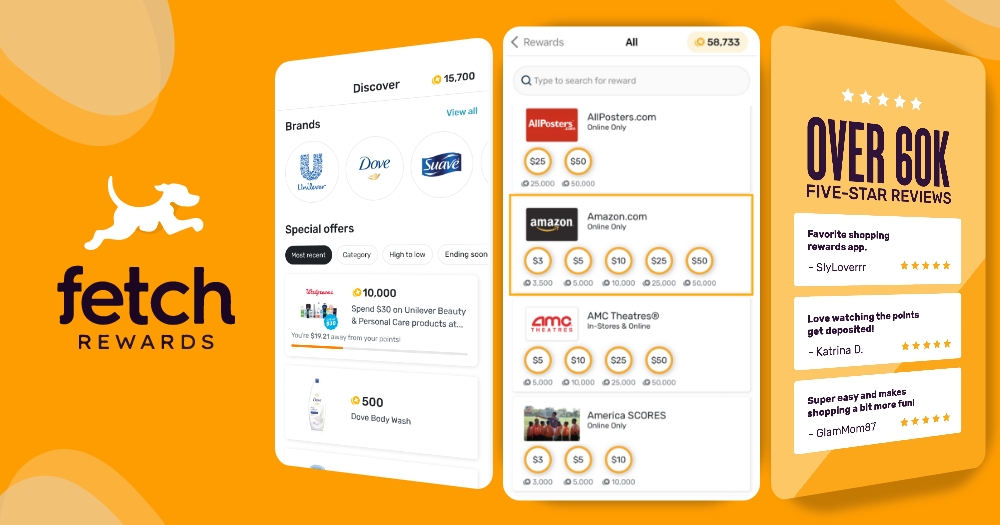 Fetch Rewards works at any store as you accumulate points whenever you purchase goods from a participating brand. There aren't any coupons to clip or barcodes to scan.
But, the main drawback of Fetch is that you can only use your points to buy gift cards. That said, there are still plenty of options, including Target and Amazon.
Minimum withdrawal
You can get a $3 gift card for 3,000 points. Once you've earned at least $3, you can redeem your rewards.
Pricing
There's no charge for using Fetch Rewards.
17. Shopkick: The Best Shopping Rewards App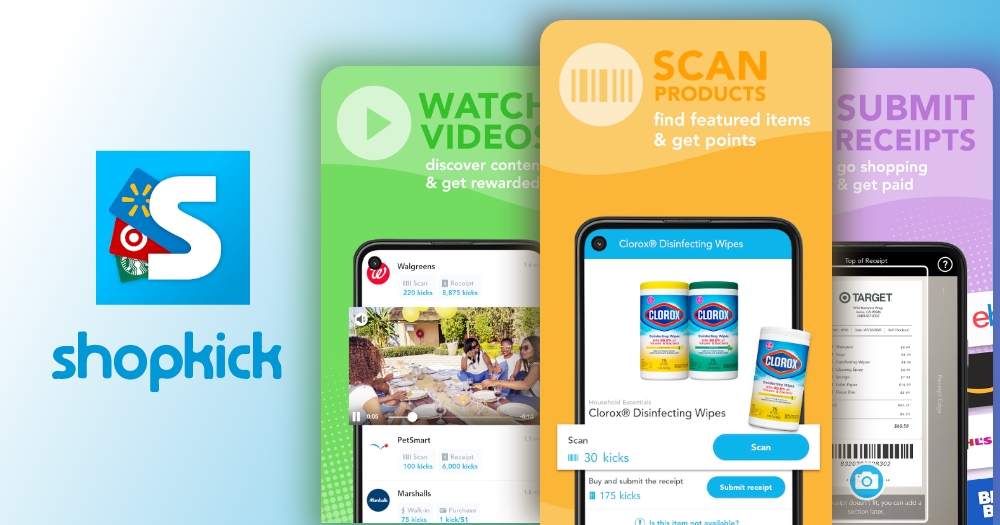 Shopkick can be an excellent choice for people who enjoy shopping both offline and online to earn some extra money. It's a rebate-based programme like Rakuten, but rather than receiving cashback, you receive points (called "kicks") that you can redeem and exchange for gift cards.
You just have to download the app, create an account, and carry out the available activities. You can scan the barcodes of certain products, use your Shopkick-linked card to buy a qualifying item, or watch an in-app video to earn rewards through the Shopkick app.
Shopkick partners with more than 250,000 physical retail locations and over 80 online stores. You can also earn gift cards from major retailers including Amazon, Target and Starbucks.
Minimum withdrawal
You can redeem your earnings through PayPal or gift cards starting from $2.
Pricing
There are no charges for using Shopkicks.
Top Apps for Cash in 2023
18. Airbnb: One of the Best Money Earning App Online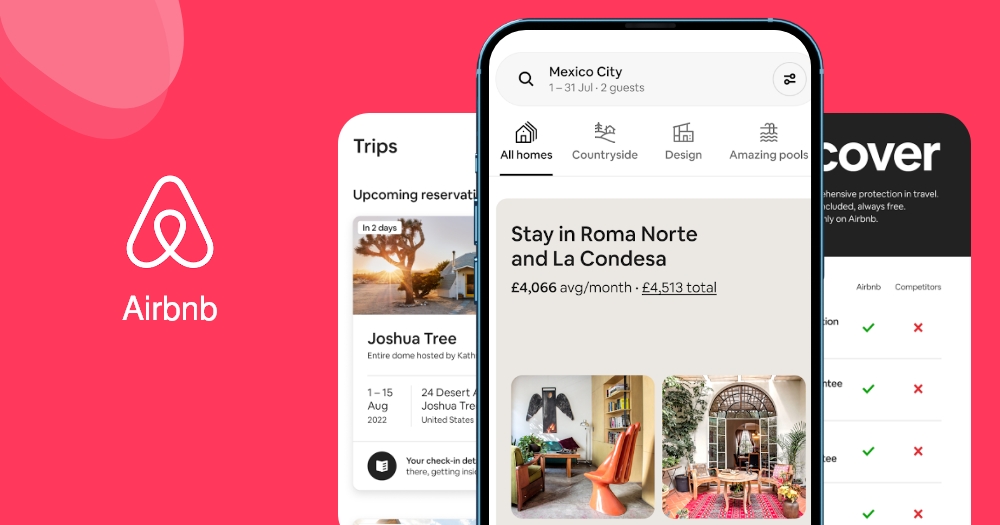 You can use Airbnb as a app to quickly earn money by renting out a room, condo, or any other vacant property. You can post your property on the app to advertise to billions of people across the world.
Airbnb takes care of everything for you including marketing and bookings. Every booking with Airbnb comes with $1M in property damage protection and $1M in accident insurance to keep your house and possessions safe.
Also, Airbnb enables you to give local tours and discuss your experiences. You can provide other services like food, transportation, and cultural activities to make extra money.
Minimum withdrawal
There is no minimum limit.
Pricing
It costs nothing to list your home on Airbnb. To cover the expense of the business, you would often be required to pay 3 percent at the time of reservation.
19. Turo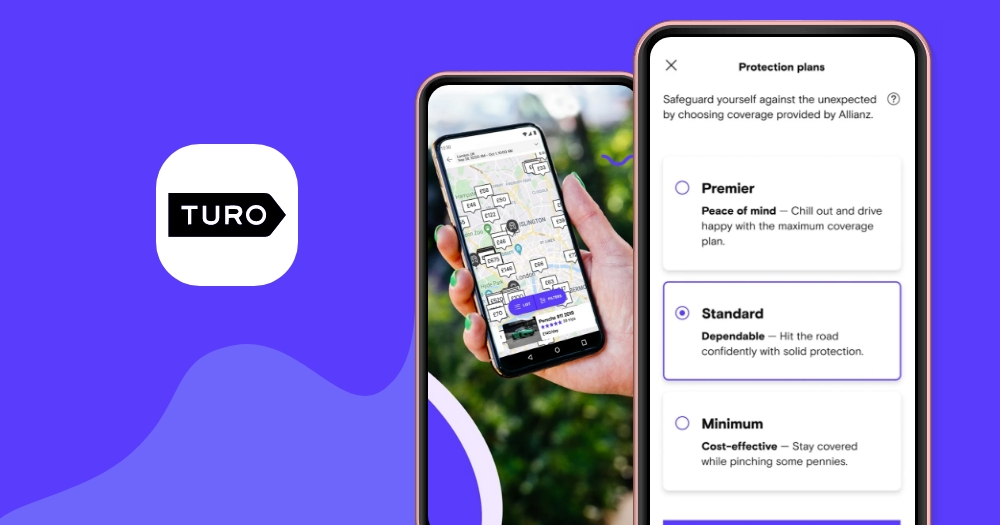 If your sports car, truck, or any other vehicle spends more time in the garage than on the road, the Turo app can help you make some extra money. On the Turo app, you may list your vehicle for rent to other Turo customers.
To find out how much money you could make each month from renting out your car, use its "calculator." It protects against theft and bodily damage in its contract. It also includes $750,000 in liability insurance on top of that.
Minimum withdrawal
There is no minimum limit.
Pricing
There are no registration charges.
20. Neighbor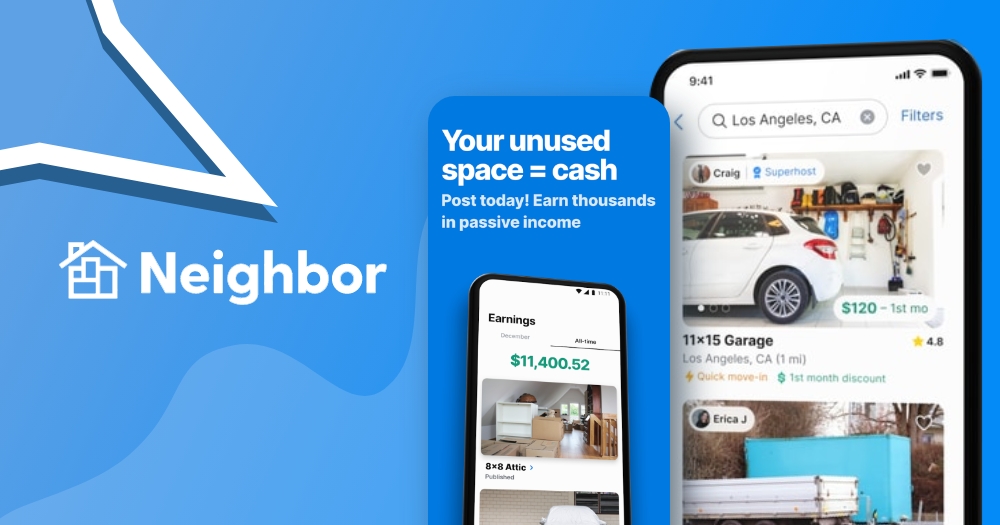 Neighbor is an app that lets you get paid for renting out excess space in your home. This might be an extra driveway space, shed, garage area, or basement.
Once the storage is set up, there is really little work on your part beyond some initial work, such as marketing your space and establishing connections with clients.
Minimum withdrawal
There is no minimum limit.
Pricing
Listing your property on Neighbor is absolutely free.
21. OfferUp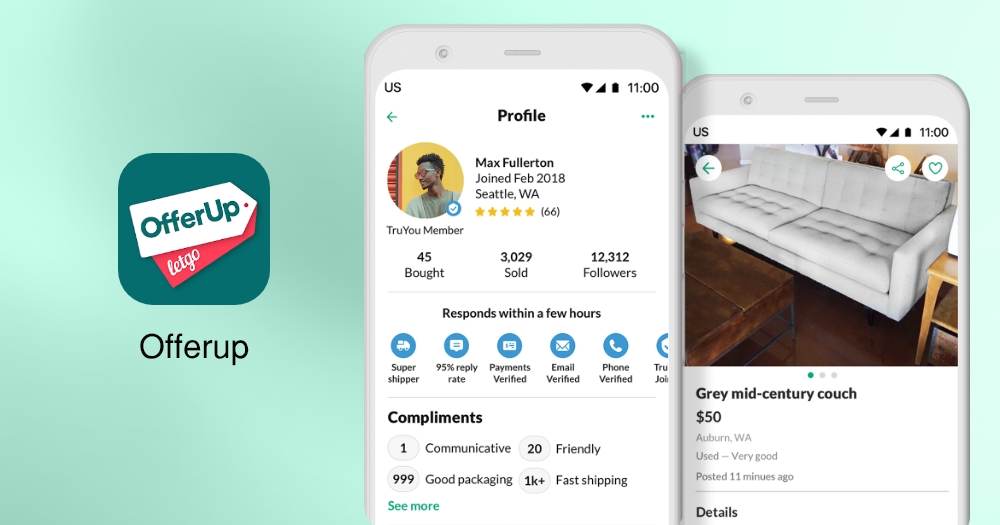 OfferUp enables anybody to sell new or used products through its online marketplace, thereby updating the Craigslist idea.
Users can include a picture, a description, and a price to list their products. Through the app, viewers can speak with the vendor directly to ask questions or express interest.
Minimum withdrawal
There is no minimum limit.
Pricing
Posting, browsing and buying items on OfferUp is free, but some transactions, like shipped items, service fees or delivery costs may be included.
22. Poshmark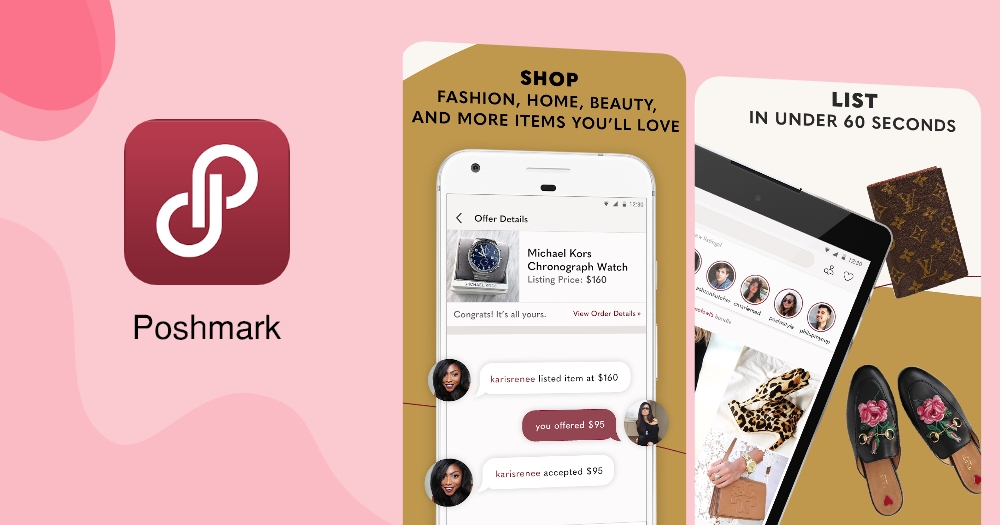 Poshmark is an app for selling clothes, accessories and home decor. You take or upload images of your item, write a description, set a price, and share the listing after signing up.
You can also show your items in the app's section "Posh Parties," virtual shopping events around certain brands and themes. Once a purchase is made, Poshmark emails you a prepaid shipping label. Then, you send the package.
Minimum withdrawal
The amount is received in the form of a check or direct deposit to your bank account.
Pricing
Poshmark takes a $2.95 commission for sales of less than $15 whereas a 20% commission for sales of $15 or more.
Best Apps for Cash Fast
23. StepBet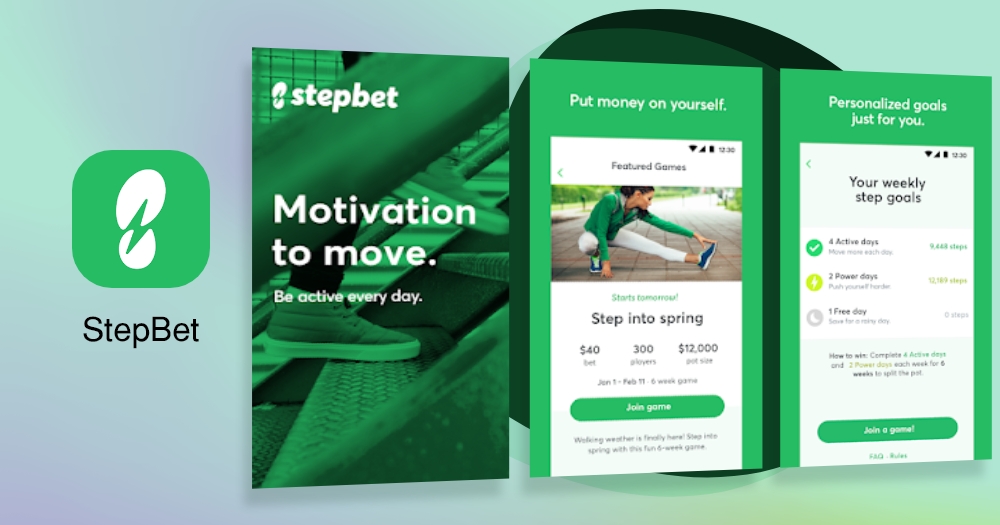 StepBet is a fitness app that enables you to create unique objectives and thereafter receives bonuses for achieving them. Moreover, it motivates you to exercise more frequently while earning money. StepBet offers a variety of games where you must complete a predetermined number of steps to receive rewards.
You must make a bet based on the game, and if you win, you will receive both prize money and bet money. FitBit, Garmin, Apple Health, Google Fit, and Samsung Health are all compatible with StepBet.
Minimum withdrawal
There is no minimum limit.
Pricing
StepBet takes a 15% commission from your overall winnings. If you cash out with a paper check, there is an extra $5 cost.
24. HealthyWage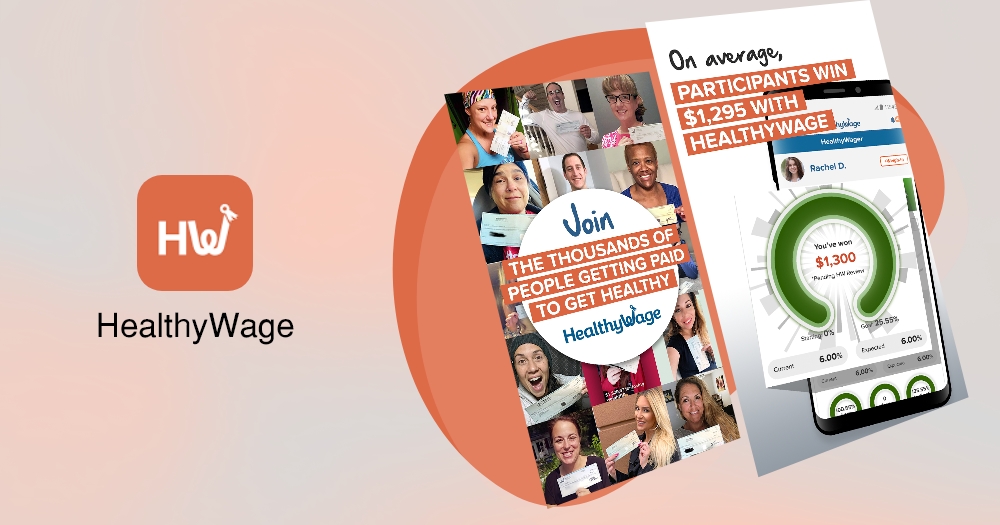 A health app called HealthyWage offers financial rewards for beating exercise and weight loss challenges. It provides you with the ideal motivation to lose weight. The app provides tournaments to encourage weight loss, financial incentives, cash awards, and social encouragement.
To calculate how much weight you should lose, use the HealthyWage calculator. The calculator also calculates how much money you can make by achieving other fitness goals, such as weight loss.
Minimum withdrawal
There is no minimum limit.
Pricing
HealthyWage uses the money you lose to support itself.
25. Sweatcoin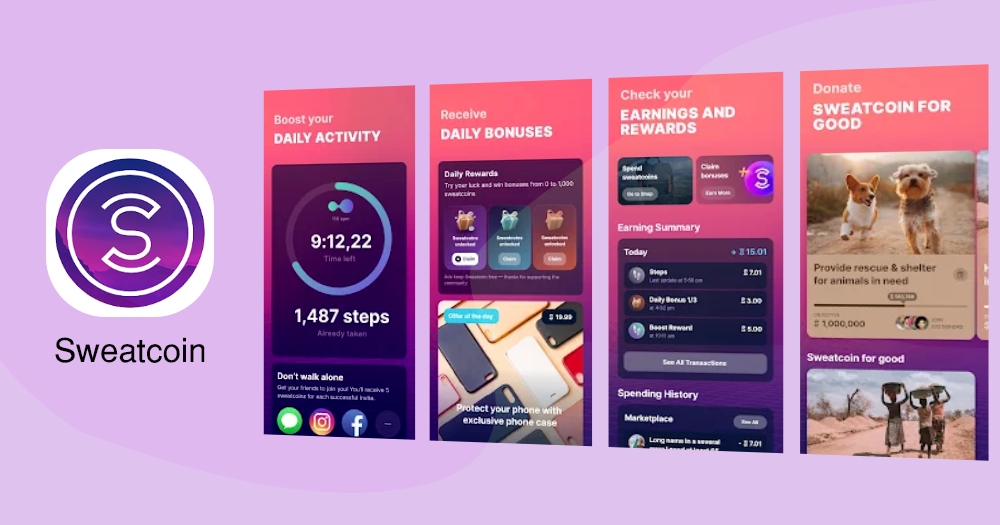 Sweatcoin encourages individuals to walk or exercise by offering rewards. You must register, download the Sweatcoin app, and keep it open in the background of your phone at all times while you move.
For every 1,000 steps you take, you'll receive 1 Sweatcoin. The majority of products cost roughly 20,000 Sweatcoins. So, it can take you some time to get that amount if you only walk 10,000 steps per day.
Minimum withdrawal
You can redeem points to get premium subscriptions, yoga classes, vacations or cryptocurrency, but there is no cash-out option.
Pricing
Sweatcoin is absolutely free.
Certified App Developers [Hire in 1 Hr]
Request A Free Quote
1200+ Projects Delivered 12+ Industry Experience 450+ Clients Worldwide 200+ Certified & Expert Programmers
Conclusion: Money Making Apps
There are many more apps available, and while some of them may be useful to specific users, others might only collect your data and waste your time with no opportunity to make you earn fast cash. The money making apps for Android and iOS in this list are both legitimate and worthwhile. Might be you are interested in making money by creating your own app then you can hire certified app developers.
You won't become wealthy with these apps. However, you can use them to generate extra income. In fact, some apps, like Airbnb and Turo, can lead to full-time jobs or lucrative side hustles. So, choose accordingly and begin earning money during your free time.
FAQs on Free Money Making Apps of 2023
Q.1 What is the best app to make money through shopping?
Capital One Shopping and MyPoints are the best apps to make money through shopping.
Q.2 How can I earn money through online surveys?
Apps like Swagbucks and Survey Junkie can help learn about earning money from online surveys.
Q.3 What is the best app to get free gift cards?
Swagbucks and Survey Junkie are the best apps to get free gift cards.
Q.4 Can someone earn money by just walking?
Yes, apps like HealthyWage and Stepbet lets you make money as you walk.
Q.5 How can I make money by renting out?
Apps like Airbnb, Neighbor, and Turo can help you earn money by renting out.