The global pandemic has led to an insane outburst in the worldwide online shopping. There is no chance the eCommerce industry will show any signs of slowing down in the likely future. As per Statista, by 2022, the worldwide eCommerce market is expected to reach $6.50 trillion in sales which is almost thrice as compared to $3.53 trillion in 2019. Whether you are finding ways to expand your existing business in the online world or looking to start a new eCommerce business from scratch, you need best eCommerce platforms to achieve that.
If you are looking to start your online store, you've got a big step to make as the choice of platform can make or break your online business. But picking the best eCommerce platform is not as easy as it sounds as there is a wide variety of top eCommerce Platforms and packages on the market today and picking the best one can be both challenging and confusing.
In this article, we'll cover 30 of the best free as well as paid eCommerce platforms to create an eCommerce website. Read the full post to know the best free online store platform.
What is an eCommerce Platform?
An eCommerce platforms is a solution for websites to run an online store that includes all the necessary tools and features for a customer to buy products online. The best e-commerce software is the one that is loaded with expanded features to help run an online business and construct a fully functional website.
Top eCommerce platforms comparison
Here is the table showcasing a detailed comparison of the most popular and profitable best eCommerce platforms:
Name
Shopping Cart
Product Pages
Ease of Use
Pricing
Actinic
Yes
Yes
Hard
Monthly plans from £99/mo. – £1,999/mo.
Aptos Retail
Yes
Yes
Very Hard
By Quote Only
Shift4Shop
Yes
Yes
Easy
Free, unlimited plan fully scalable to enterprise
1ShoppingCart
Yes
Yes
Easy
Monthly plans from $59/mo. – $249/mo.
1&1
Yes
Yes
Easy
Monthly plans from $14.99/mo. – $69.99/mo.
AmeriCommerce
Yes
Yes
Easy
Monthly plans from $24.95/mo. – $299/mo.
WooCommerce
Yes
Yes
Easy
Free WordPress Plugin
VTex
Yes
Yes
Very hard
Monthly plans from $500/mo. – $4,500/mo.
Zoey
Yes
Yes
Easy
Monthly plans from $299/mo. – $699/mo.
Volusion
Yes
Yes
Easy
Monthly plans from $29/mo. – $299/mo.
Big Cartel
Yes
Yes
Easy
Monthly plans from $9.99/mo. – $29.99/mo.
Weebly
Pro plan and higher
Yes
Easy
Yearly eCommerce plans from $144/yr. – $456/yr.
Shopsite
Yes
Yes
Easy
Monthly plans from $5.99/mo. – $59.99/mo.
Ashop
Yes
Yes
Easy
Monthly plans from $25/mo. – $249/mo.
Vendio
Yes
Yes
Hard
Monthly plans from $29.95/mo. – $249.95/mo.
Storenvy
Yes
Yes
Easy
Monthly plans from $14.99/mo. – $29.99/mo.
Simvoly
Yes
Yes
Easy
Monthly plans available from $18/mo. – $199/mo.
Shopify
Yes
Yes
Easy
Monthly plans from $29/mo. – $299/mo.
SiteCube
Yes
Yes
Easy
Single annual plan available at $59/yr.
SamCart
No
Individual, unconnected
product pages with individual checkout
Easy
Monthly plans from $49/mo. – $199/mo.
GoDaddy
Yes
Yes
Easy
Only one eCommerce plan at $19.99/mo.
BigCommerce
Yes
Yes
Easy
Monthly plans from $29.95/mo. – $249.95/mo.
Fortune3
Yes
Yes
Hard
Monthly plans from $9.95/mo. – $159.95/mo.
CoreCommerce
Yes
Yes
Moderate
Monthly plans from $19/mo. – $600/mo.
EkmPowershop
Yes
Yes
Easy
Monthly plans from £29.99/mo. – £499.99/mo. plus VAT
Quick eSelling
Yes
Yes
Easy
Free plan, Paid plan starts from $199/mo.
GoECart
Yes
Yes
Moderate
2 monthly plans at $1,000/mo. and $1,600/mo.
PinnacleCart
Yes
Yes
Moderate
Monthly plans from $44.95/mo. – $199.95/mo.
HostGator
Yes
Yes
Hard
Dependent on eCommerce platform choice
Miva Merchant
Yes
Yes
Moderate
Monthly plans from $79.95/mo. – $1,495/mo.
Infusionsoft by Keap
Yes
Yes
Hard
Monthly eCommerce plans from $399/mo.
Nexternal
Yes
Yes
Hard
Monthly plans from $79/mo. – $259/mo.
Network Solution
Yes
Yes
Moderate
Monthly plans from $29.95/mo. – $99.95/mo.
Best eCommerce Platforms 2023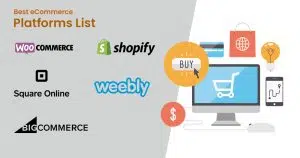 Let's look into some of the best eCommerce platforms in 2022
1. WooCommerce
Woocommerce is the big daddy of eCommerce websites with more than 4 million total sites and 28% of all eCommerce websites. It is a WordPress plugin and is free to download. Although there are a few factors that determine the monthly cost:
Domain Name and web hosting
Themes
Extra extensions and plugins
WooCommerce is highly customizable and you can play with any aspect of your website depending upon your product or type of business. Also, it integrates well with other plugins of WordPress.
As far as payment gateways are concerned there are more than 100 options including PayPal, Stripe, Apple Pay, and many more. There is a certain minimum amount that is being charged by these gateways for rendering their services. Here is a comparison guide of Magento Vs WooCommerce.
2. Shopify- Best ecommerce Platform
Shopify is emerging as one of the best eCommerce platforms in today's world. With 23% of the market share, Shopify is the second most used platform after WooCommerce.
Shopify is loaded with multiple eCommerce features including unlimited storage, unlimited products, discount codes, gift cards, in-person point of sale and a lot more.
The price of Shopify starts at $29 per month and goes up to $299. You can also opt for a free trial that can be extended further for two more weeks. Find a detailed guide on Magento Vs Shopify.
3. Constant Contac
Originally founded in 1995, Constant Contact is a veteran email marketing company. Apart from its email marketing services, the organization also offers an online store feature.
You can choose your favorite theme and customize it as per your needs. The eCommerce platforms is enriched with features that are necessary to run an eCommerce business online like coupons, digital downloads, mobile-friendly layouts, integrated shipping, etc.
And above all, it's completely free to use.
4. Square Online Stor
Square is a digital payments service that allows you to accept payments (online or offline). The company is gaining popularity as a promising online payment service after getting popular for its small white "square" device that plugs into a headphone jack.
For businesses that run both online and offline, this payment service can be an ideal option in order to integrate the two. It also gives you options like appointment booking, pickup delivery, etc
The service is ideal for small and low-budget businesses. There, no monthly fee is required to use the basic plan and you pay 2.9% + 30 cents for each transaction.
To sum up, Square is dedicated to small-scale, in-person businesses that are striving to get an online presence.
5. Weebly
The next eCommerce platform on the list is Weebly. As a part of their web creation package, you can create an online store. You can customize your layout easily with the help of the drag-and-drop designer feature.
Weebly is loaded with tons of amazing features like SEO, email marketing, analytics, shipping tools, a mobile app, stock management, and payment via Square, Stripe, and PayPal.
Weebly also offers you a free plan with limited features. The basic personal plan starts at $9 per month and includes the ability to add your domain.
If you want a simple drag-and-drop website builder that has the most basic features, Weebly is an ideal choice.
6. Big Commerce
BigCommerce is often considered the main competitor of Shopify as it has many of the same capabilities. BigCommerce is loaded with multiple options and features that can be customized as it is designed for power users and for those who are tech-savvy.
When we talk about the price, the monthly plan starts at $29. You can try this platform by opting for a one-month free trial and then can pay if it suits your needs. The trial duration of BigCommerce is rather long compared to its competitors.
BigCommerce offers you more than 65 payment gateways including Amazon Pay, Stripe, PayPal, Apple Pay and many more. It can also be integrated with WordPress, which is a great way to combine the two platforms.
Want to Make Your Own eCommerce Website?
Get Free Consultation
1200+ Projects Delivered 12+ Industry Experience 450+ Clients Worldwide 200+ Certified & Expert Programmers
7. nopCommerce
The next on the list is nopCommerce which is again a best eCommerce platforms to build your eCommerce website. Built on ASP.NET, which is an open-source Microsoft web framework, nopCommerce has over 1500 integrations and is primarily intended for enterprise users.
nopCommerce is a free and open-source platform, which means that there is no initial or monthly cost.
This platform is used by many corporate giants like Volvo, BMW, The North Face, and Microsoft itself. In case you are using ASP.NET for your website, then considering nopCommerce for your eCommerce needs can be a good option.
8. Squarespace
Squarespace is a famous eCommerce website creation platform. It is often compared with WordPress, as both platforms are content-centric. Having a massive pool of amazing templates, you can pick one to create a website that synchronizes with your brand.
You can purchase the business plan at $26 per month which includes all the necessary tools and functionalities to help you build your eCommerce website. There is a 14-day free trial that you can try out without even submitting your credit card details.
9. Big Cartel
BigCartel is an B2B eCommerce platforms that is designed for artists, designers, and other makers. The platform gives you access to create a free eCommerce website and store that features your art and other products.
Therefore, if you are an artist, designer or freelancer, and want to create an online store for your work without any hassle, consider BigCartel.
As far as the cost is concerned, the basic free plan allows you to showcase only 5 products and includes a custom domain, a customizable theme, shipment tracking and other basic features in order to manage your shop.
The pain plan starts at $9.99 per month where you can add more products, integrate with Google Analytics and access other features.
10. Gumroad
The next eCommerce platform we have in store for you is Gumroad which is specifically aimed at content creators, be it writers, artists or other creators. It is designed to make it easy to create content and then delivers it to subscribers. Say, for example, it has multiple ways to sell digital products like eBooks, images, videos or audio.
The basic plan is free, although you have to pay a 5% fee, plus 3.5% + 30 cents for each transaction. Paying $10 monthly will waive off the 5% fee and you can add your own domain. Also, you can share unlimited videos and other content from your account.
11. Magento
Magento is a CMS – (Content Management System) designed exclusively for e-commerce. It was launched in 2008 by Roy Rubin and Yoav Kunter but later was acquired by Adobe in 2018.
Often compared with WooCommerce, Magento is considered a robust software package that comes with a steep learning curve. Virtually, it comes with every feature that you can think of, from live search to complex product recommendations.
Magento is B2B eCommerce platform and it's free and open-source, but you will likely want to use the online service offered by Adobe. Contact their sales team in order to get a clear price estimate. Find a ultimate list of top Magento ecommerce development companies.
12. Wix
Wix is yet another popular eCommerce platform that comes with some mindboggling eCommerce options. Often compared with WordPress, with its inbuilt drag-and-drop feature designing gets way smoother.
With Wix, you can have an online store, services and memberships, dropshipping, in-person sales and whatnot. Also, it has templates dedicated to multiple industries such as restaurants, photographs, hotels, gyms, etc.
As far as the pricing is concerned, it has both free and paid plans. The paid plan starts at $23 per month whereas the free plan comes with limited features and you need to use a youwebsite.wix.com domain.
13. Ecwid
Ecwid is an online store and free shopping cart service. It was built with an aim to provide a hassle-free system to sell products online.
The platform consists of limited features as it mainly focuses on different sales channels like social media, Google Shopping, Amazon, eBay, and similar sites.
The setting up cost of Ecwid is completely free, however, the plan is just confined to the online store. If you purchase the paid plan, then you get an option of linking your products to other marketplaces as well. The cost of the plan is $15 per month.
The paid plan comes with extra features such as unlimited product listing, a Whitelabel branded mobile app, MailChimp automated marketing, point-of-sale in-person purchases, FB Messenger live chat, and many more such features that will help stimulate your sales.
14. Drupal Commerce
Built on the Drupal CMS, Drupal Commerce is an best eCommerce platforms. Just like WordPress, Drupal is another CMS which helps you publish and manage your content.
You get a few standard eCommerce features with Drupal like catalogue management, checkout carts, and compatibility with multiple payment gateways. Also, its mobile-friendliness, capability to integrate with social media apps and a large community will help to resolve any issue that comes across.
All I can say is Drupal Commerce is worth trying at least once, especially if you run a larger non-profit or other organization.
15. X-cart
X-cart is an eCommerce platform used by larger companies and those that want to build a website, fully customized. The portal is compatible with more than 120 payment gateways including PayPal, Amazon Pay, Google Pay, etc.
If you want to know the exact pricing, you can contact their sales team as there is no pricing information available in the public domain.
Overall, X-Cart is a compact choice if you desire a consultative approach to creating an eCommerce website. The company follows a hand-holding approach and it might look expensive in the short run but it may end up being more affordable in the long run.
16. PrestaShop
PrestaShop is a service that helps you create online stores quickly. This company is situated in Paris and has a huge client base in Paris and nearby regions.
It comes with multi-language support, marketing features, customizable themes, and number of ways to add products to your store. There is also a marketplace dedicated to themes and plugins.
PrestaShop is completely free and open source eCommerce platforms. Only the transaction fees need to be paid or in case you are using one of their extra add-ons, you pay to pay for those. However, the prices are quite pocket-friendly.
17. OpenCart
Yet another open-source and free e-commerce platform. The system is used by major organizations worldwide including Concordia College, British Red Cross, and The Hong Kong University Welcome Center.
It comes with an admin dashboard, user management, affiliate programs, coupons, discounts, and similar features. Also, multiple stores can be managed via a single account.
There are no startup fees, no monthly fees, and even free support, which makes it a superb choice for nonprofits and small-budget organizations.
18. Strikingly
Strikingly is an E-Commerce platform that is designed for 'Entrepreneurs'. The visual editor feature within the platform helps you drag-and-drop items anywhere you desire. Hence, you can just focus on selling instead of learning how to code.
With Strikingly, anyone can build a website without having any prior coding knowledge.
The platform is quite pocket-friendly, starting at $8 a month if you pay annually. They also offer a free plan but it restricts you to add multiple products.
19. CS-Cart
CS-Cart is a multi-vendor eCommerce website builder. Here, you can comfortably sell your products to several different clients and/or create a marketplace where different companies can list their products.
In order to achieve this, the platform comes with a chain of features including an advanced vendor payment system, comparison tables, subscription plans, and restrictions in terms of product integration, commissions, and more restrictions on vendors. You can also create users with different levels of administrative access.
As far as the price is concerned, CS-Cart is expensive compared to its competitors as it is aimed largely at multi-vendor websites. The basic introductory plan starts at a flat price of $1450. However, just to explore you can try out its free trial version which lets you explore its every feature.
20. Mozello
Mozello is an affordable page builder company that helps you with eCommerce development solutions. The design and layout is quite engaging and unique compared to other service providers.
The platform is multilingual, mobile-friendly and includes a customizable design. It also includes features related to marketing and SEO to help you grow your business. A person with little or zero coding skills can also operate this platform and you can choose from many different themes which have been designed by a professional designer.
Mozello's low-cost feature is its biggest advantage. There is a free version, which is on a subdomain at yourname.mozello.com. However, the plans start at $7 per month if you want to use your own domain. They don't charge you any transaction fees and you can use PayPal, Stripe, or Braintree.
21. Webnode
Webnode is a page builder service that comes with a freemium business model, with a free basic plan. The premium plan starts from $3.90 to $22.90 per month. Millions of users make use of this plan and that's why it is so popular.
Entering credit card details is not mandatory to try out the free version.
A point that makes this platform unique from others is that it gives you an option where you can build your website directly on a mobile device. It comes with extra features like mailboxes, a form builder, website statistics and more.
22. MyOnlineStore
The next one on the list is MyOnlineStore which is a popular eCommerce platforms. It helps you create a free eCommerce website with full customization options. With its drag-and-drop feature, you can design your website in number of ways. Also with multiple payment gateways, it is easy to add products, process orders, and accept payments.
With the free version, you have to use their domain name which is your name.my online.store. Using your own domain will cost you around €9 per month and let you add up to 25 products.
It is correct to say that MyOnlineStore is a solid platform if you are based in the EU and want an inexpensive option.h3
23. Free Web Store
FreeWebStore allows you to create a free web store without even entering your credit card details. If you want to access its full features such as its own domain, multiple checkout styles, an integrated blog, and advanced statistics, unlimited pages, the entry-level plans start at $20 per month.
If you purchase the more expensive plans, you can also get discounts on shipping with UPS and FedEx. Hence, if you run a business where you sell physical products and you ship them globally, this may be something to consider.
Free eCommerce platforms list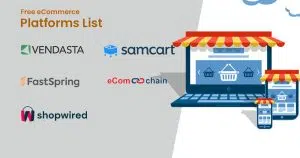 1. Vendasta
Vendasta offers an end-to-end eCommerce platform to more than 60,000 partners who sell products and services digitally to more than 5.5 million small and medium businesses worldwide. These partners include independent software vendors, marketing agencies, and media companies.
Vendasta offers AI-driven marketing automation, sales tools, and an integrated CRM to facilitate go-to-market. It also includes project, orders, and billing management systems to help scale through robotic process automation. Businesses are provided one login for all solutions purchased under a Vendasta customer's brand.
2. Volusion
Volusion is another promising website builder option which is absolutely free at the same time.
You can use the platform and make your own Website using Shopping Cart Features by Volusion. When you build an online eCommerce store with Volusion, the entire design, graphics, colors, look and feel of your website store can be exactly the way you want it.
3. SamCart
SamCart is one of the best eCommerce platforms designed for creators. More than 25,000 creators use SamCart to sell their products online. SamCart has a library consisting of more than 50 conversion-optimized templates to make the sales page look attractive on multiple devices. This helps in simplifying and speeding up the sales process too. The drag-and-drop page builder helps you to build beautiful and eye-catching eCommerce websites with less effort.
It comes with an advanced reporting feature where creators get the insightful data they need to run their online businesses. Creators can monitor sales and where they are originating. They can see progress reports, track subscriptions and can see which campaigns are converting. The reports are automatically sent to the creator's inbox. The powerful suite of advanced selling tools of SamCart is built for boosting conversions and average order value alongside providing world-class support.
4. ShopWired
This UK-based leading eCommerce platform allows merchants to build, launch and grow their online store with the tools provided by ShopWired. ShopWired helps merchants to construct beautiful online stores so that they can start selling using multiple sales channels. The system comes with a robust administrative system which allows merchants to manage every aspect of their online business to ultimately grow the business into its best form.
ShopWired uses Amazon's hosting platform, AWS and hence it is highly scalable and reliable. ShopWired is used by thousands of stores across the US, UK and Europe which include some of the top brands such as Superdrug, Wowcher, The Spectator Magazine and many more.
5. Ecomchain
eComchain is a cloud-based eCommerce website builder hosted on AWS. The platform offers a unique B2B2C model, the first of its kind for Manufacturers, Distributors, Dealers and end-users for various verticals of the business. Ecomchain provides the manufacturer with a channel where he can reach out to a network of distributors and dealers on the B2B eCommerce platforms. The whole dealers' network can ultimately reach out to their end-users via their brand-specific sites on the same eComchain platform hosted by the manufacturer.
6. Zoho Commerce
The next best free eCommerce platform on the list is Zoho Commerce which is a global e-commerce platform helping merchants in more than 30 countries. Its dual nature of building an online ecommerce store along with helping sellers to accept orders, process payments, track inventory, manage shipping, and market the brand without needing any coding knowledge makes it an ideal choice for newbies.
7. Shopware
Shopware is an open-source e-commerce platform powered by Symfony 5.4 and Vue.js 2.6 that is used by some of the largest brands, retailers and manufacturers globally. Shopware provides customers with an excellent shopping experience that is long-lasting. Situated in Germany, the company has more than 350 employees and relies on a global network of 1200 sales, technology and solution partners. Shopware is a leading player when it comes to innovation in digital commerce.
8. FastSpring
You can consider FastSpring as a full-service ecommerce platform. This easy-to-use ecommerce website builder includes all of the features your organization needs to maximize sales, stay lean and reach a global audience. The platform embeds on your existing website and provides a rapid checkout mechanism backed by their payment processing and back-office/tax features.
Type of eCommerce platforms

The goal of an eCommerce platforms is to provide you with a fully functional online store where customers can purchase your products and services.
As far as different types of top eCommerce platforms are concerned, many of them come in a website builder format, which can save you a significant amount of time. With your website builder, you can perform everything yourself with minimal hand holding, or it can include a drag-and-drop feature making the overall site-building experience extremely convenient and fun.
There are majorly three eCommerce platforms out there:
Subscription-based
Open-source eCommerce platforms
Headless
Another way of categorizing platforms is based on hosting. The hosting is a dedicated server space that allows internet users to view your website's content by recording all the information about your eCommerce site. It is divided into two categories:
1. Hosted
If your website builder has a hosted eCommerce platforms, then you need not take any third-party hosting and it can save you some extra pennies. One of the great examples of a hosted platform is Shopify. Such platforms provide users with an all-in-one shopping cart solution where one can build an online store without worrying about any infrastructure-related hassles.
2. Self-hosted
A self-hosted e-commerce platform is based on the principle, 'build by yourself'. A self-hosted eCommerce platforms uses its own server space or pays a fee for the rented space from a hosting provider. Under this mechanism, the overall website management becomes a little more complicated as here the owner is accountable for ensuring all updates, maintenance, and fixing bugs and errors.
Conclusion: Best Ecommerce Platforms
All set to create your first eCommerce platform? By now you must have come to know which eCommerce platforms is best for your business/brand. In this article, we have discussed everything you need to know about free eCommerce platforms. We have covered 30+ best eCommerce stores, now it is your turn to choose the one that suits your business needs. Which is your favourite platform? Do you use WooCommerce, Shopify, Biocommerces or Wix or any other listed in this blog? Do you find this article helpful? Did we cover all the important stuff? What do you think we have missed? Please let us know in the comments section below!
FAQ's
1. Which eCommerce platform is best?
Mentioning one single platform might be quite difficult as each platform has something unique to offer. However, largely you get to see that people prefer 'BigCommerce' as their favourite eCommerce platform. This is because it is easy to use and comes with a robust product search engine which makes it ideal for larger retail brands. Here is the list of top Ecommerce platforms:
BigCommerce – Overall best eCommerce platform
Shopify – Offers such features that enhance sales and social media promotions. Also offers inventory management, business reporting and accounting.
Zyro – This eCommerce platform was designed keeping first-time users in mind. The interface is simple and no prior coding knowledge is required.
Squarespace – If you are targeting a niche market, this platform could be an ideal choice. It offers thousands of templates that can be customized.
Wix – Provides designer-made templates for all sorts of online stores. It is more suitable for small businesses who are keen to establish a strong and attractive brand.
Bluehost – This platform is best for WordPress users who want to start selling their products online.
2. How do I choose an e-commerce platform?
Before choosing an best eCommerce platforms, always consider the items that you are selling. Some top eCommerce platforms can handle multiple product options and inventory tracking while some cannot. Consider factors like designing options, site security, payment gateways, integration with other tools, features and pricing before making the final choice.
3. Which eCommerce platform is the easiest to use?
Here is the list of the eCommerce platforms:
BigCommerce
WooCommerce for WordPress
ERP Gold
Wix
Ecwid
WP Engine
Shopify
GoDaddy
4. Which E-commerce is best for selling?
Here are the top 7 famous and profitable e-commerce platforms for selling:
Amazon
Flipkart
Jabong
Snapdeal
Myntra
Shopclues
Paytm
5. Is Shopify better than WordPress?

If we draw a comparison between the two, Shopify is the winner for businesses which are sales focused and want an easy-to-use, feature-rich and automated eCommerce solution. WordPress on the other hand needs some basic prior hands-on experience. However, when it comes to versatility, WordPress is the hands-down champion.

6. What are the 3 types of eCommerce Platforms?

The three main types of e-commerce are as follows:
Business-to-consumer (websites such as Amazon)
Business-to-business (websites such as Shopify)
Consumer-to-consumer (websites such as eBay)