Sports constitute a significant source of entertainment for several people worldwide. Most people like watching their favorite sports events while relaxing in their own homes. In this guide, we will list the best sports apps for android and ios.
Furthermore, many people are interested in the most recent news regarding a particular sport. But, due to their hectic job schedules, they need help to keep up with the latest developments in the sports community.
Fortunately, numerous sports applications like Bleacher Report, ESPN, and TheScore have been created in the recent decade. Sports fans use these applications to stay up to speed on matches, player details, latest scores, etc. Furthermore, millions worldwide are becoming more interested in sports each year.
In 2022, the overall income from sports apps is estimated to reach $3.96 billion. Furthermore, revenue is expected to increase at a compound annual growth rate (CAGR) of 7.16% between 2022 and 2026, reaching US$5.22 billion in 2026.
To make things easier, here is a compiled list of the best apps for sports accessible in 2023. You might be interested to know best news apps.
What Are Sports Apps?
Sports apps are the kind of applications which are news and sports entertainment-oriented. These kinds of applications are a blessing for sports enthusiasts. It facilitates them with sports news, game scores, live matches, sports events, player-oriented news, etc. These apps keep sports fans updated with the latest sports news and games, which can be accessed wherever they are. App for sports are SaaS-oriented. There are many examples of such apps, the best of which is given in the article below.
10 Best Sports Apps of 2023
The list of the best sports apps and their exciting features to keep you updated with the latest sports news, sports coverage, news about your favorite teams, favorite sports, and local and primetime games are as follows:
| Sr. No. | Sports App Name | Number of Downloads | Build Year | Platforms (availability) |
| --- | --- | --- | --- | --- |
| 1. | Bleacher Report | Over 10 million | 2005 | Android, iOS, Roku, Amazon FireTV |
| 2. | ESPN | Over 50 million | 2014 | Apple, Android, Roku, and more |
| 3. | Yahoo Sports | Over 10 million | | Android and iOS, etc. |
| 4. | TheScore | Over 10 million | 2007 | Android and iOS |
| 5. | CBS Sports | Over 10 million | | Web Apps, Android, iOS, and more |
| 6. | Sofa Score | Over 10 million | 2010 | Android and iOS |
| 7. | Live Score | Over 50 million | | Android and iOS |
| 8. | BBC Sport | Over 1 million | 2013 | Android, iOS, UK Amazon Kindle Appstore |
| 9. | 365Scores | Over 10 million | 2012 | Android and iOS |
| 10. | FlashScore | Over 10 million | 2006 | Android and iOS |
Top 10 Apps for Sports to Follow
The brief knowledge and features of the most popular sports apps around the globe are:
1. Bleacher Report: Best Sports App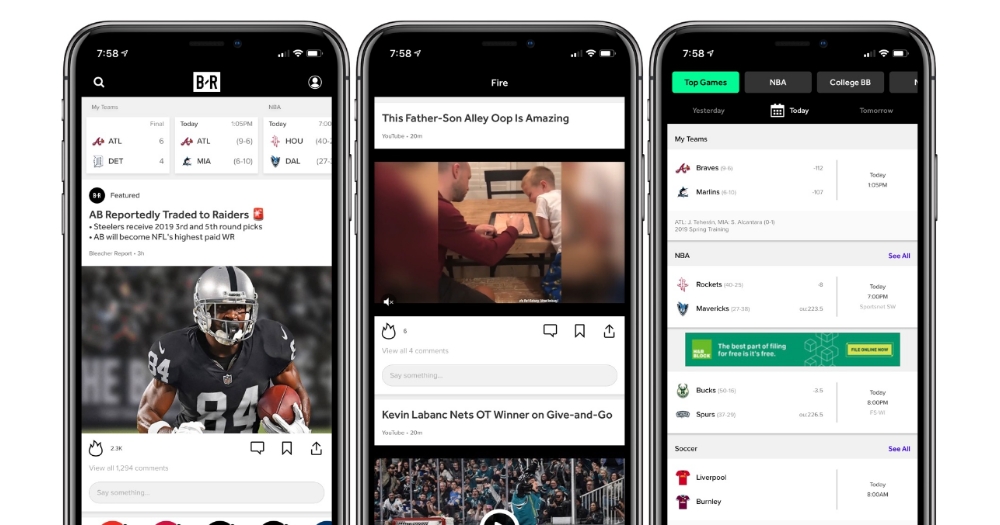 You may read all the latest sports news of your choice using the bleacher report app. You will receive frequent updates without opening the app if you enable notifications. You will be kept up to date on the progress of your favorite team and the most recent transfer news.
The Bleacher Report app is easily customizable. You need to choose your team and the type of news you want to receive. It is free to download from the Google Play and Apple App Stores.
Features of Bleacher Report
Personalization allows users to keep up with their favorite sports, leagues, and teams.
All breaking news and score updates are delivered in real time.
Carousels on the app's homepage allow users to navigate among their favorite groups
Top stories so that users may stay up to date.
Bookmarking capabilities enable users to keep track of their favorite stories.
2. TheScore: Best App for Sports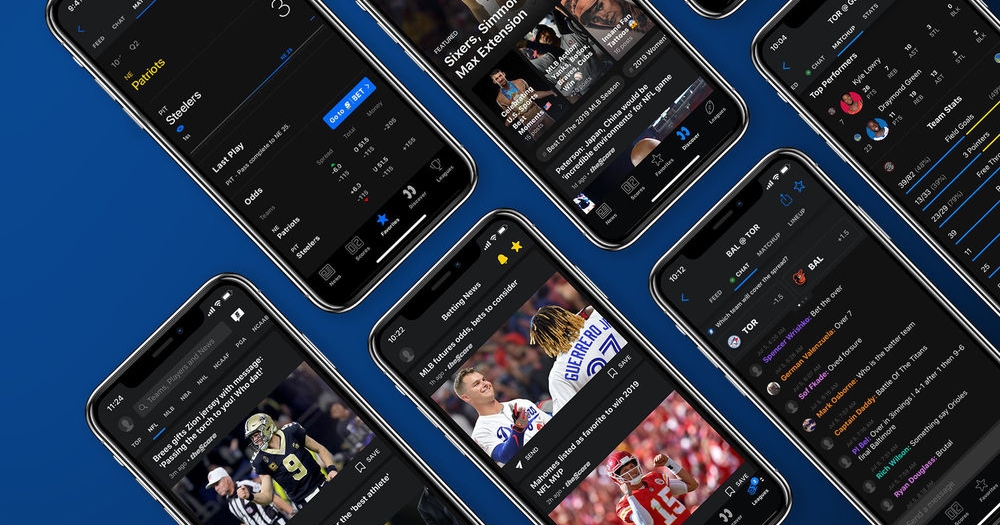 TheScore is one the best sports apps that delivers multiple sports updates. TheScore app provides you with information about your favorite leagues in each sport. Football, basketball, baseball, and hockey are among the sports represented.
In addition, the app delivers real-time sports analysis and scores. It also includes a built-in sports calendar feature to track upcoming matches.
Features of TheScore
Dashboard for real-time score updates.
They have a customized news feed.
The mute notifications option will enable you to disable alerts for a particular game.
Continue group discussions with your other friends and fans.
Social Sharing on the most popular networks.
3. Sofa Score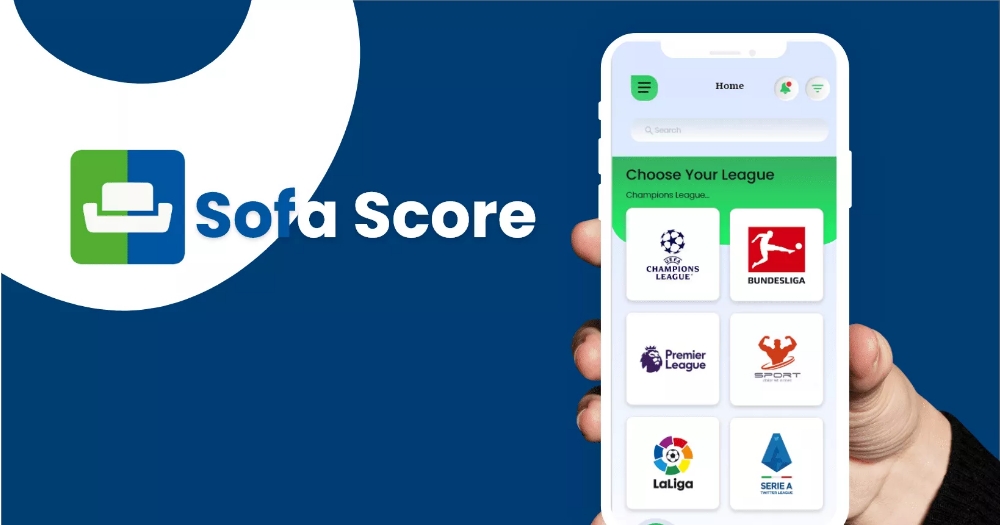 The Sofa Score is a comprehensive app ideal for international soccer (football) and sports fanatics. There is always an updated list of live matches to keep you updated on the latest action from leagues worldwide. Live match updates include commentary in English and Spanish, team lineups, and substitutions, so no detail is overlooked; there's even a clock widget if you need a countdown timer to assist in managing your time between instalments.
Features –
Compatible with Android Wear smart watches.
Chat tool for connecting with other sports fans
Seasonal statistics for the team
Quizzes that encourage participation in "Battle Draft" game integration that make the site more enjoyable and keep users on the platform for longer.
4. BBC Sports: Best Sporting Apps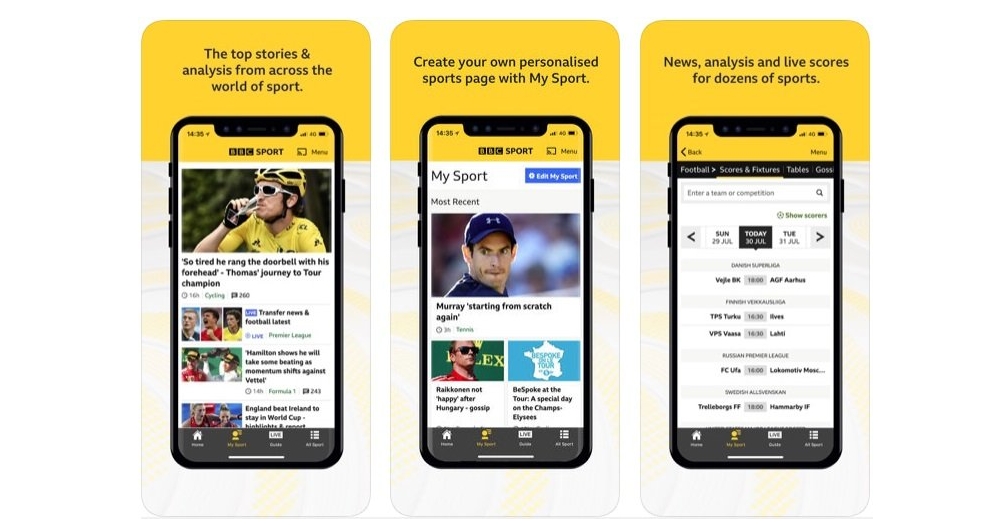 BBC Sport is among the best sports apps. It provides the most recent sports news. The app was developed in the United Kingdom and focused on five sports. Football, Formula One, cricket, tennis, rugby, and golf are among them.
Aside from that, you can watch live local and worldwide sporting events such as the FIFA World Cup, Olympic Games, and so on.
Features –
Match streaming in real-time and frequent highlights.
Personalization of the home page
Streams are compatible with Chromecast.
Personalized news for various sports
Users can provide recent upgrades to others.
5. Yahoo Sports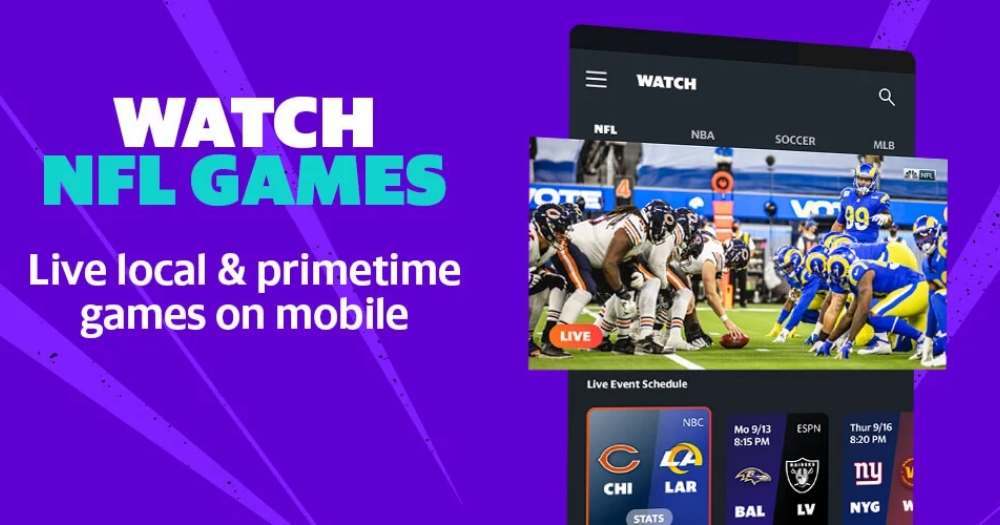 Yahoo Sports app is among the best sports apps for iOS and Android users, like the sky sports app. The app leverages your geolocation to provide you with the most exciting and personalized sports news for free. You may view live NBA and NFL games on your smartphone or tablet.
Apart from major football leagues, you can watch live coverage of global leagues and events such as cricket, golf, tennis, boxing, cycling, and other sports on the yahoo sports app. This breaking sports news provider is available for both Android and iOS users.
Features –
All major football leagues are now better covered.
Updates tailored to your favorite teams
Content curated from blogs and news stories.
The UI is simple and straightforward.
Search for videos and articles with expanded search functionality.
6. CBS Score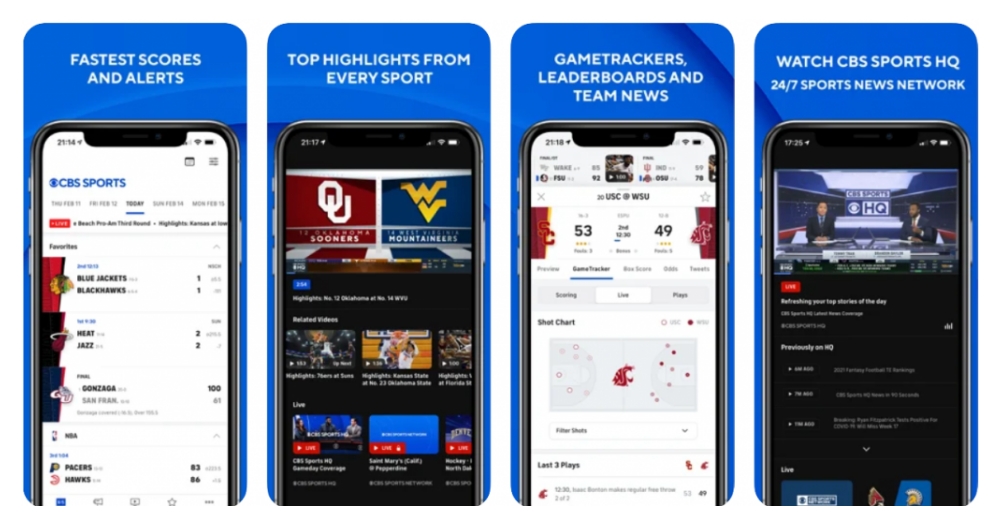 CBS app for sports is one of the most excellent live sports news apps, offering personalized updates on scores, stats, favorite sports, and favorite teams. The app also provides live games for various athletic events, including NCAA Basketball and the PGA Tour.
Fans of live sports may listen to CBS Sports Radio and watch the CBS Sports HQ channel for a whole video streaming experience. This sporting app is also available on the Google Play Store and App Store.
Features of CBS Score
Stream news from anywhere and at any time.
Get highlights from your favorite matches whenever you want.
CBS Sports Fantasy Experts can provide betting guidance.
They have customized news and updates.
7. Live Score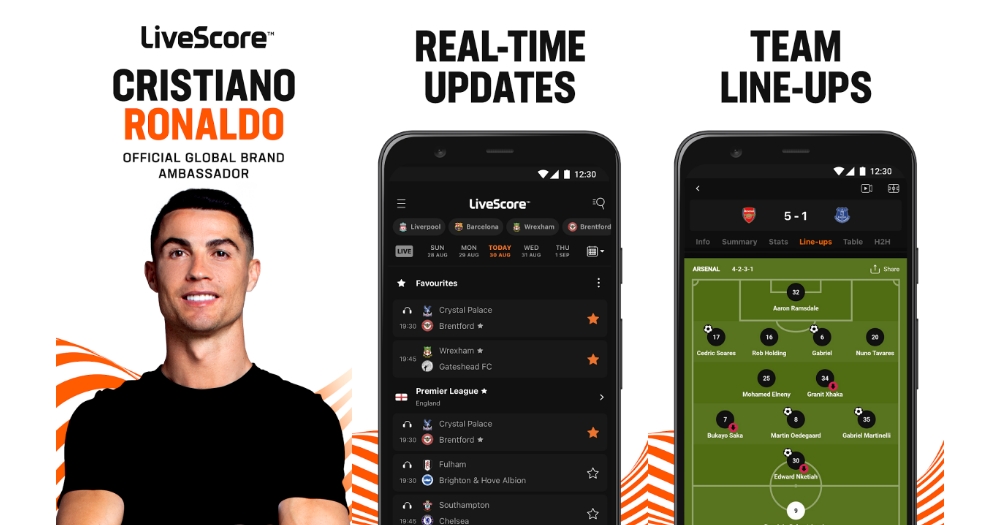 Live Score has been delivering real-time game scores since 1998. It is arguably the most popular app for sports. Tennis, basketball, football matches, soccer, and hockey scores are available on the move with this sportsbook app. The optional live commentary with each match is the cherry on top.
The app's simple structure allows you to scroll through game highlights quickly and get updates on your favorite teams. Live Score app users enjoy various exciting features given below.
Features –
Check live scores, goals, and cards for multiple matches simultaneously. Follow it to learn more about a specific game.
The Explore icon allows you to find hundreds of competitions taking place all over the world.
The calendar feature assists you in making critical fantasy football decisions and upcoming matches.
Using the pitch view, you can keep track of items like the ball, scoring, and action.
There is live match commentary available.
8. Flash Score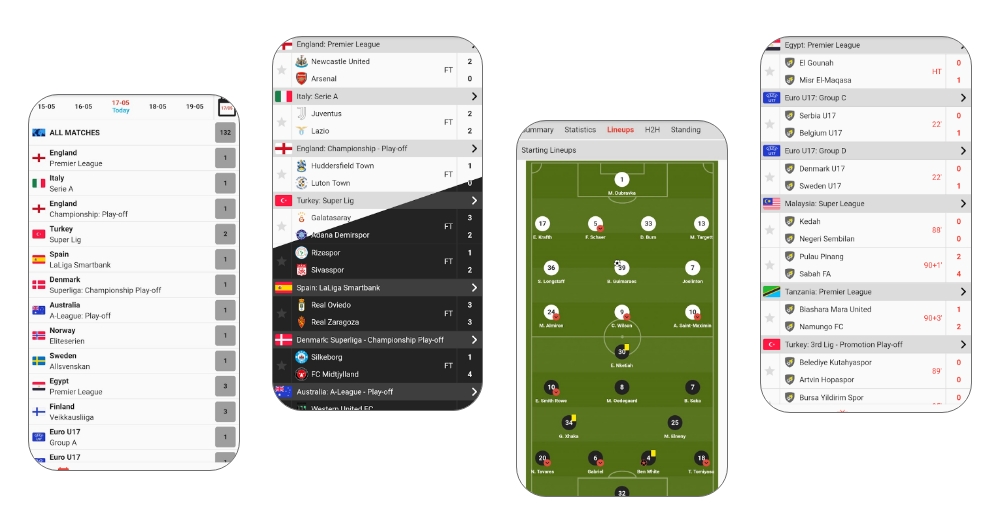 The FlashScore sports app is one of the most excellent live score apps, covering over 38 sports and over 6000 competitions globally. Aside from the score, you may also view statistics and rankings of favorite teams and favorite sports, such as multistage football trivia games, basketball, and tennis.
This app for sports provides all match updates concurrently to a live stadium audience, making it one of the most incredible sports apps among sports fans.
Features –
Push notifications and alerts for the games consumers are interested in.
A seamless experience across all devices.
All sporting events have live text commentary accessible.
Match previews and recaps that are in-depth.
The "Team News" function keeps users updated on the newest news.
9. 365Scores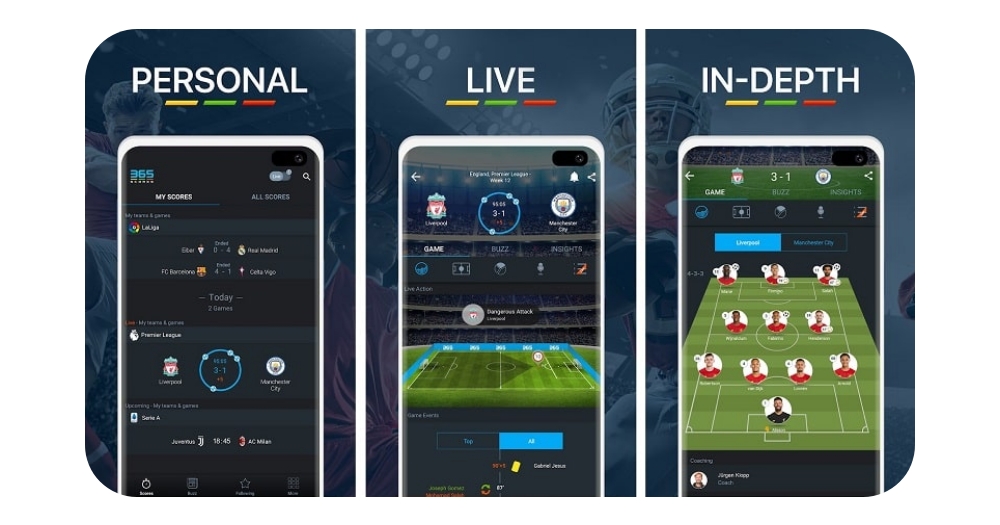 365Scores is one of the best sports apps in the market. The app allows you to select your favorite teams, sport, and athlete before beginning to buzz your phone with vital messages—the app updates ten sports, including football, basketball, cricket, and volleyball.
It also provides information on over 2000 competitions, including Wimbledon, FIFA, NFL, NHL, IPL, and others.
Features –
Users can keep track of their favorite teams and matches.
For real-time updates, use the live game tracker.
Heatmaps and live player ratings
Gamification options to keep users interested
An extensive notification system to keep users informed
Find the list of best ride-sharing apps of 2023 here.
10. ESPN
ESPN is among the most well-known sports cable TV channels among sports lovers. ESPN launched a move into the mobile streaming arena in response to increased demand for streaming. According to SimilarWeb, it is currently among the best sports streaming apps for iPhone users in the United States.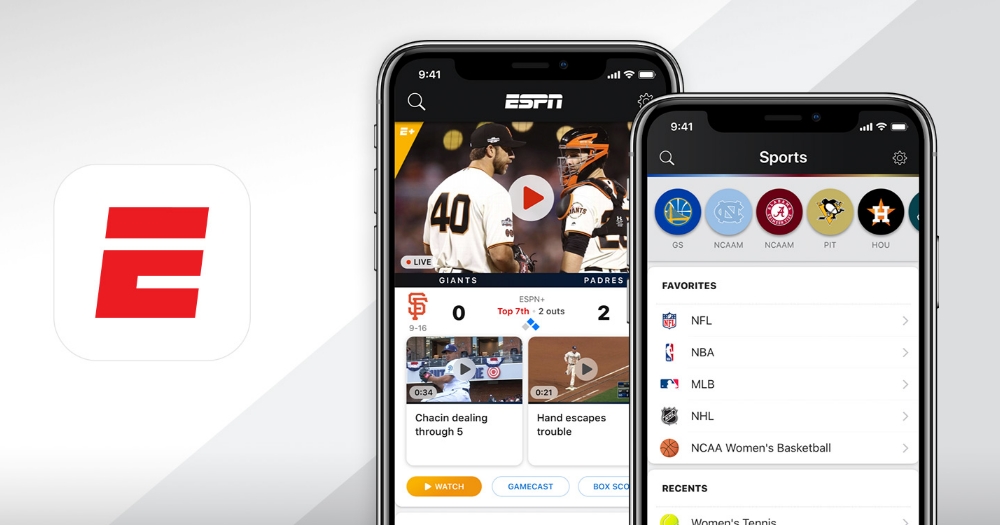 This app for sports keeps you updated on the latest sports scores, videos, game previews, and other material. You can personalize the app and receive all the latest news about your favorite sports and teams.
Features –
Football, baseball, softball, golf, tennis, and other sports are all covered in real-time.
It offers a premium option called ESPN+, which authorizes you to watch live sports and numerous ESPN+ originals.
Watch all the breaking news on sports wherever and whenever you want.
ESPN's most notable feature is podcasts and ESPN radio.
How to Build a Sports Mobile App?
Today business of sports mobile apps is flourishing, but considering the competition in this sector, sustaining a new app won't be easy. But not impossible. If you want to create an app from scratch then this guide is for you.
Here are some steps you should keep in mind for creating a sports mobile app.
Analyze popular sports apps for app design and feature ideas
Write down your specifications for the sports app
Decide the features to provide in your app's MVP (Minimum Viable Product)
Select an MBaaS (Mobile Backend as a Service) as your app's cloud computing platform
Decide the technology stack
Hire a team of best mobile app developers
Sports App Development Cost
The popularity of online sports is raising the need for mobile sports applications. If you're thinking about developing a sports app and want to know how much it'll cost, this article is for you. According to our internet surveys, producing a sports mobile app might cost between $20,000 and $5,000,000. Hire an experienced and dedicated team of top sports apps developers or a reputed sports app development company that can help you in bringing your best sports streaming app development idea into reality.
However, the cost of developing a best sports apps may vary depending on the following factors:
Features and functionalities of the app
Type and size of the app
UI/UX Design
The maintenance and marketing cost of the app
The complexity of the app
The size of the Development team
Want to Convert Your App Idea into Reality
Request A Free Quote
Conclusion
These best sports apps have been a boon to individuals who love sports. Now fans can enjoy sports and stay up to date with their assistance from anywhere and anytime. Moreover, for young entrepreneurs, this sector is very beneficial. But the competition and well-established sharks of the sports news business cannot be overlooked.
The competition in this field is gruesome. But, The NineHertz can be your solution to cope with the competition in this field. The NineHertz is an IT consulting firm specializing in mobile app development and business solutions. It has built many popular sports mobile apps. For assistance with your sports mobile app development, contact The NineHertz.
FAQs:
1. What is the #1 Sports App?
Bleacher Report is the world's best sports app. It is known for its fast updates and experience in the field.
2. What is the Best All-around Sports App?
TheScore is the best all-around sports app. It provides multiple sports news at the same time.
3. What is the Best Free Sports App?
Flash Score, followed by 365Scores, Live Score, CBS Score and so on, is the best free sports app.
4. What is the Best App for Watching Live Sports?
ESPN is the app for watching live sports. It gives personalized news updates and provides a live-streaming feature.