In today's time, celebrities have become an inspiration for everyone. And with this trend increasing celebrity look alike apps are gaining popularity. Such an application works with facial recognition technology and generates your celebrity look alike. All you have to do is upload your photo and select appropriate filters to find out what celebrity do I look like.
In such applications, creators use facial recognition technology, with your facial data they find the best match by analyzing facial features like hairstyle, skin tone, eyes, etc., and help you find your celebrity doppelganger. These alike apps with photo and video editing apps feature help you find which celebrity do I look like. Celebrity look-alike apps are user-friendly and are gaining massive growth even in 2023. These celebrity twin apps are available to download on both iPhone and Android smartphones.
What Celebrity Do I Look Alike Apps – Market Growth
These days, most people in their day-to-day lives are accustomed to smartphones and of course, social media messaging apps like Snapchat, Instagram, Facebook, and Twitter. Sharing and clicking photos on social networking sites along with locations to friends and family members are in constant trend where the reports say 'around 246M people in the USA use social media networks for such purposes. And this number will tend to increase to 257M by 2023. The whole photo-taking culture is occupying the entertainment industry at a great pace.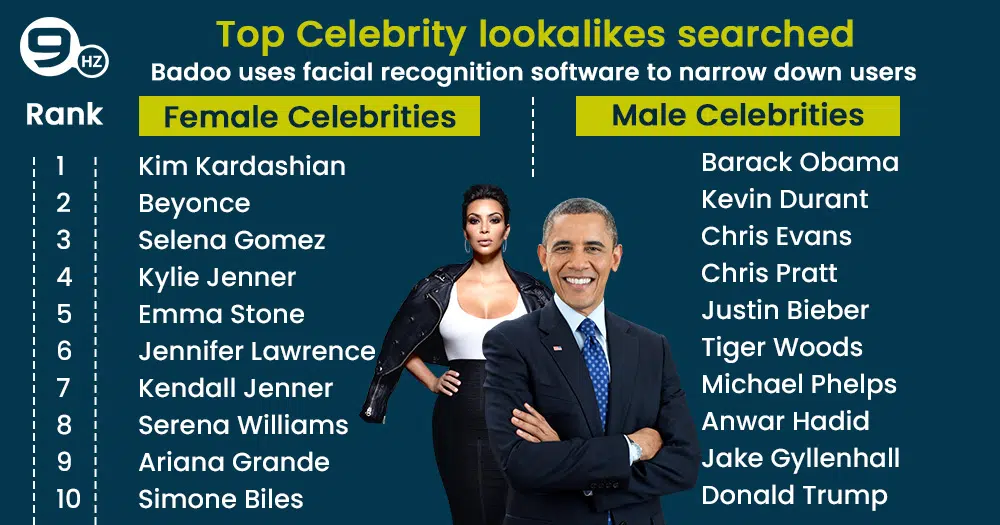 With this interesting growth, you will find the best celebrity twin apps are available in the market. Further, we are mentioning a list of the top 12 celebrity look-alike applications available for many app users to download. The innovative features of these applications are that you can click pictures and match your celebrity face.
15 Top Celebrity Look Alike Apps
| App | Supported OS | Built Year | Pricing |
| --- | --- | --- | --- |
| Gradient | Android & iOS | 2019 | $4.99 Per Week |
| Celebs | Android & iOS | 2020 | $4.99 Per Week |
| Star By Face | Android & iOS | 2018 | Free |
| My Replica | Android & iOS | 2016 | Free |
| Celeb Twin | Android & iOS | 2018 | Free |
| Y Star | Android & iOS | 2018 | Free |
| Look-Alike Application | Android & iOS | 2019 | $7.27 Life Time |
| Looky | Android & iOS | 2018 | Free |
| Facer | Android & iOS | 2019 | $ 1.99 Life Time |
| Who Do I Look Like | Android & iOS | 2019 | Free |
| Twinlets App | Android & iOS | 2018 | Free |
| Doppel App | Android & iOS | 2020 | Free |
What Celebrity Do I Look Like Upload Photo
Let's Discuss apps in detail:
1. Gradient- Best Celebrity Twin App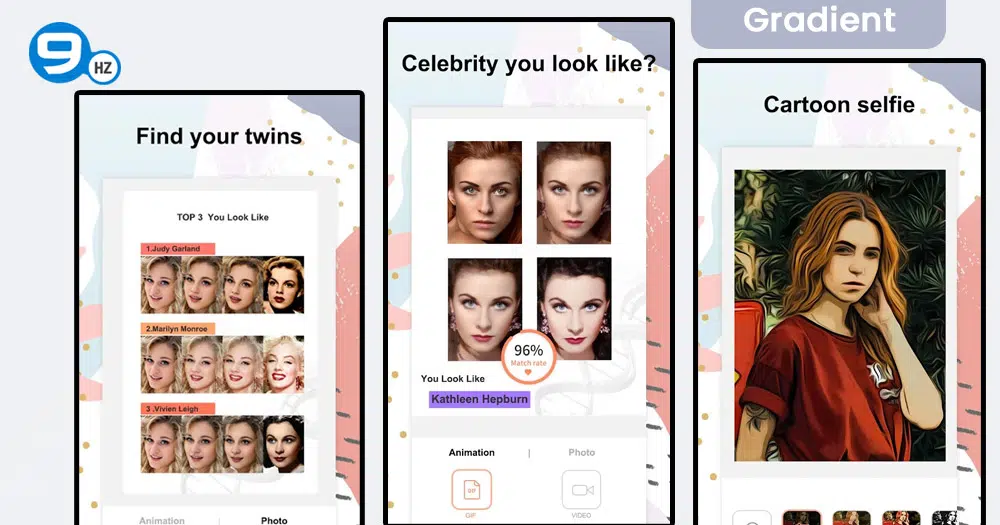 Available On: Android & iOS
One of the most famous and downloaded celebrity look alike mobile apps is Gradient. It is one of the best app ideas was created by a startup based in Ukraine with the same name. In the beginning, the application was a simple version of machine learning and made celebrities look-alike it. Later the developers advanced the features and are still working to improve their service. you can upload unlimited pictures on this celebrity look alike app.
Top Features of Gradient
Provides AI portrait solutions based on the user's image or photo.
With the brilliant impressive hair collages, you can create a variety of hairstyles and colors.
A plethora of built-in beauty features improve the user experience.
2. Celebs – Celebrities Look Alike App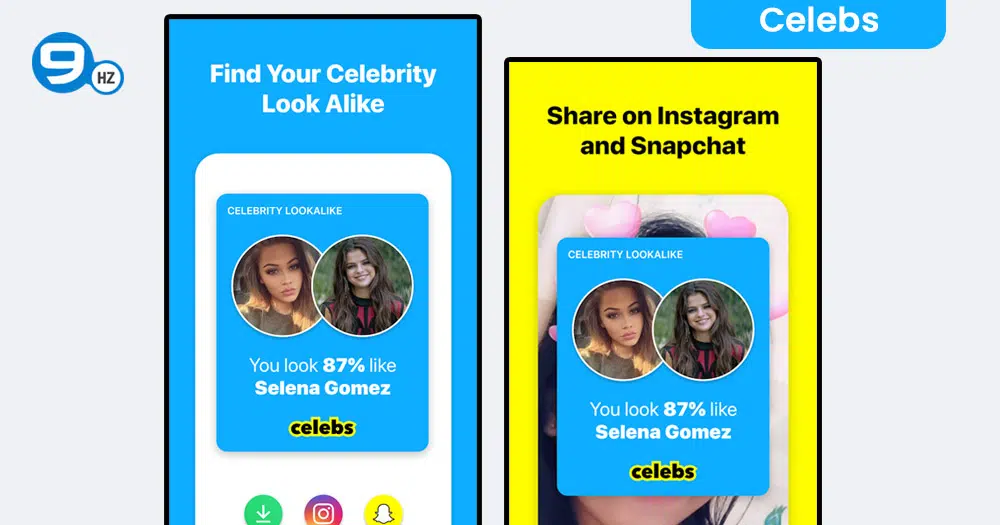 Available On: Android & iOS
Another popular celebrity look alike mobile app that is part of this category is the Celebs app. This application works on machine learning technology and helps users to find their closest celebrity look alike. The accuracy level of this app is commendable. This application identifies emotions and then uses facial recognition techniques and helps the users to find the best experience. The system detects your look alike. Here you can find the best camera apps list to filter photos and videos.
Top Features of Gradient
AI pictures that are truly amazing
Users can access it at no cost.
Users may use the app to locate a celebrity match that looks exactly like them.
3. Star By Face: Top Celebrity Twin App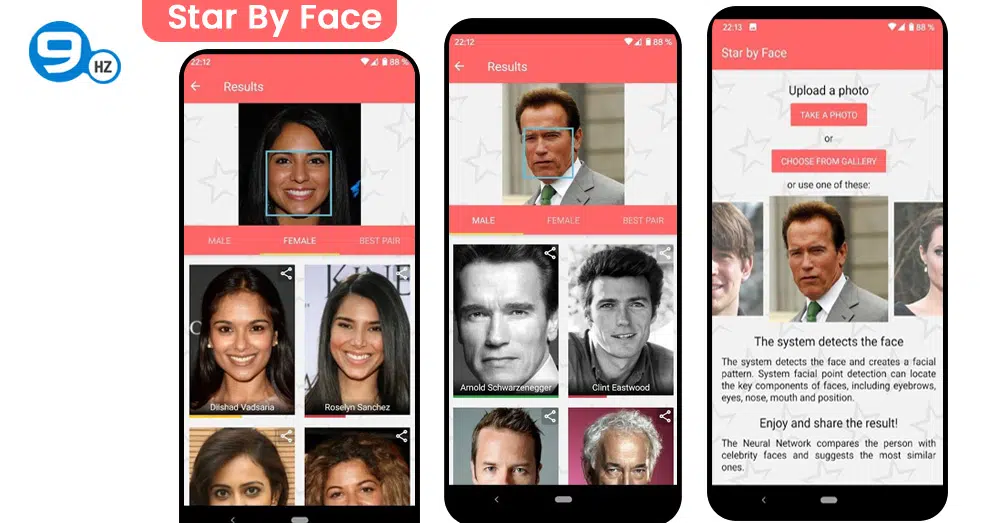 Available On: Android & iOS
Another application that has gained popularity with time is Star By Face, the name of the application itself presents the essence of the app. To begin with, all you need to do is upload your photo on a website or application and the photo can also be added by URL. The only thing to keep in mind while using this celebrity look-alike android app is to use a picture that is a full-face portrait and clear to get accurate results. Personal information also determines results.
Top Features of Star By Face
Users' data security is a top priority.
Provides the highest resolution of the edited images.
Users can get a free download.
Identification of celebrity twin-face Animal look alike
4. My Replica – Look Alike App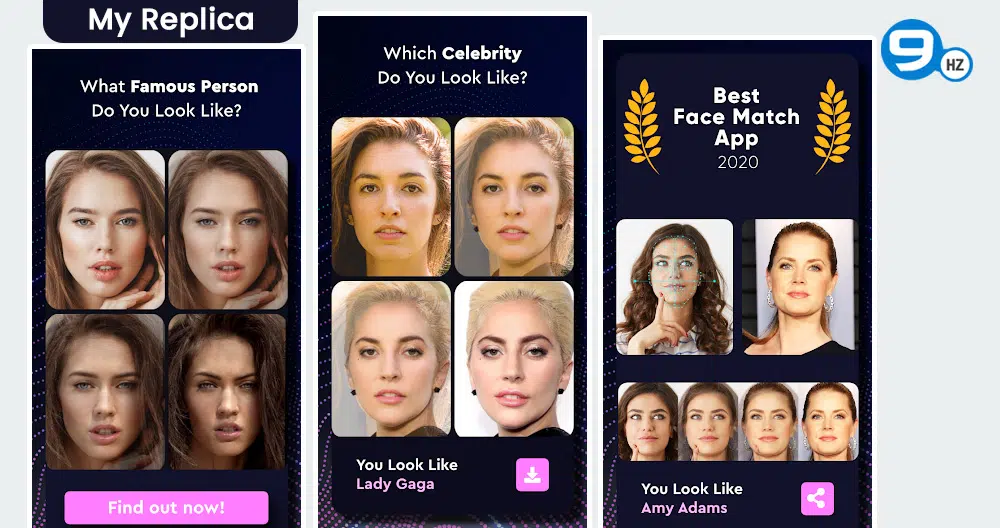 Available On: Android & iOS
This celebrity look alike app is perfect for people who like to add a professional touch to their photos. The application provides filters that can make the photo look like a real one. It is an all-in-one application as it can provide filters that provide perfect retouches to make photos look more look-alike celebrities. By using my replica app you can find out what celebrity do I look like with the application of facial recognition technology and there is a feature of advanced machine learning to edit the pictures.
Top Features My Replica
Advanced machine learning technology for picture editing
Simpler to find your celebrity doppelganger
Impressive results when it comes to accuracy
5. Celeb Twin
Available On:
Android & iOS
This application is mainly available for iOS users and it has many innovative and impressive features that are similar to other celebrity look-alike apps. You can find your famous person. An exclusive feature of celeb twin is that it not only provides one match of the photo uploaded but also provides resemblance with three similar celebrities. Simply upload your photo for results.
Top Features Celeb Twin
Easily share images and pictures on Instagram and Snapchat
Comparison compatibility to search for the best celebrity
Primarily uses Face Recognition Technology
6. Y Star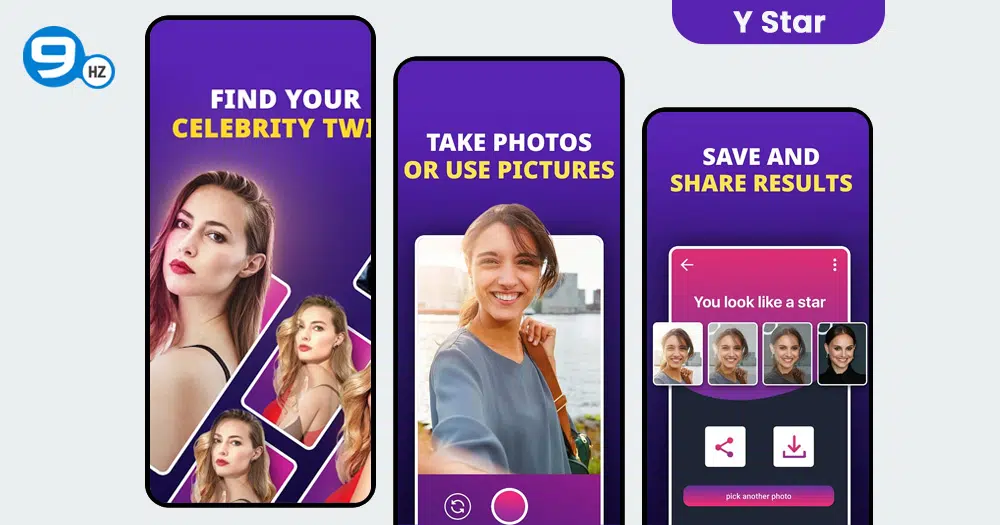 Available On: Android & iOS
Y star app analyzes your celebrity look-alike within seconds. The use of this application is as simple as using your phone's camera. To find out which celebrity do I look like with this application all you have to do is click your picture using the Y star camera and wait for results. This app scans your facial features irrespective of age, sex, and scars.
Top Features Y Star
Front-camera data is used to generate results automatically.
Results that are both high-quality and accurate in terms of celebrity resemblance.
special machine learning algorithm.
To generate accurate celebrity look-alike faces, facial point identification is used.
7. Look-Alike Application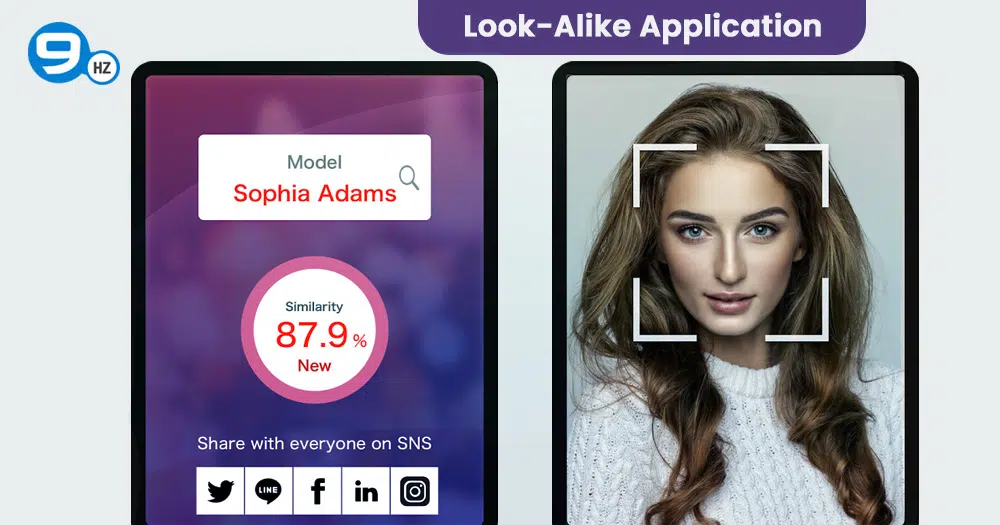 Available On: Android & iOS
This celebrity look alike app is a free app developed for both Android and iOS users and can help you find unlimited celebrities. There is a wide variety of celebrities from which you can find matching celebrities. All you have to do is upload your photo and then it will be matched with celebrities. The app can find the nearest match to your photo. You can find similar app solutions.
Top Features
It has an easy-to-use interface and a large collection of celebrities.
Provides precise twin suggestions for a precise match
Allows users to share the results on various social media platforms.
8. Looky: Celebrity Look Alike App Free
Available On: Android and iOS
Another incredibly easy-to-use celebrity look-alike application is Looky. Users can take selfies directly using an applications camera and the server displays the most matching results. If you are not satisfied with the results you can retake your photo. Results are displayed with almost exact matches and if you are not happy with the result you can try again. Once you get the desired result of a famous person you look like you can share the results on social media.
Top Features of Looky
AI-based face recognition.
Let's professionally edit your photos.
The app also allows social media sharing.
Add Collage, Filters, Stickers, and Frames.
9. Facer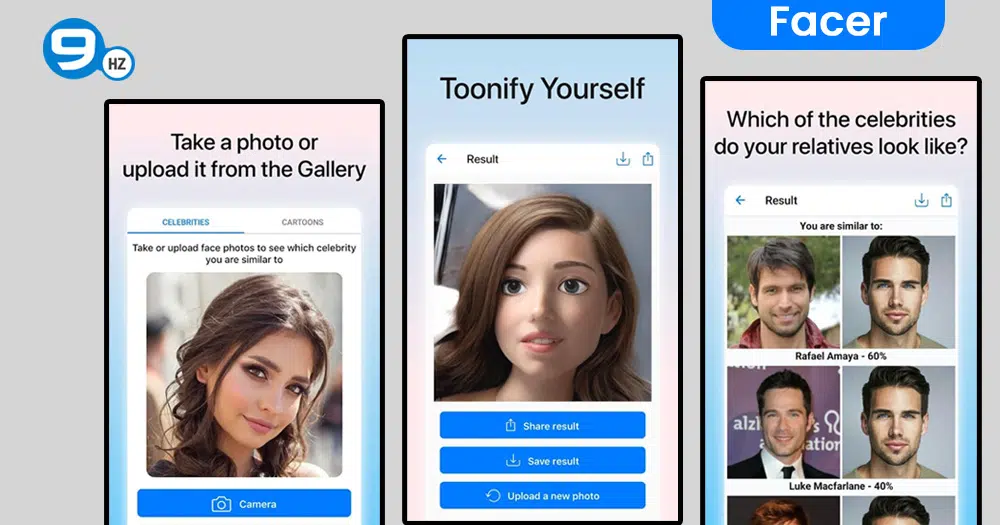 Available On: Android & iOS
Another application that is in high user demand is the Facer app. Different celebrity photos can be used. Free app helps people to engage more. This application provides users with their three best celebrity matches and every option is also accompanied by a percentage of similarity between the two. Facer has a powerful collection of celebrities that includes many famous actors, singers, politicians, sportspeople, bloggers, etc.
Top Features of Facer
Free For All Users.
Share images from the app.
AI-based face recognition.
Advanced facial recognition algorithm.
10. Who Do I Look Like
Available On: Android and iOS
Who Do I Look Like is another great celebrity lookalike app. The Who Do I Look Like app can help you determine whether or not their opinion is correct. It will examine your photo, your face, facial features such as the color of your eyes and hair, the shape of your ears, and so on, and then give you its verdict.
Convert Your App Idea into Reality
Request A Free Quote
1200+ Projects Delivered 12+ Industry Experience 450+ Clients Worldwide 200+ Certified & Expert Programmers
Workers are constantly improving and optimizing the app, and they are even expanding the already impressive database of over 1000 celebrities.
Finally, even premium features are available for free, allowing anyone to take advantage of the app's capabilities.
Top Features
Amazon's proprietary machine-learning algorithm. It ensures high recognition accuracy.
A large database containing portraits of over 1,000 celebrities.
Free access to the top features of the celebs app in question.
11. Twinlets App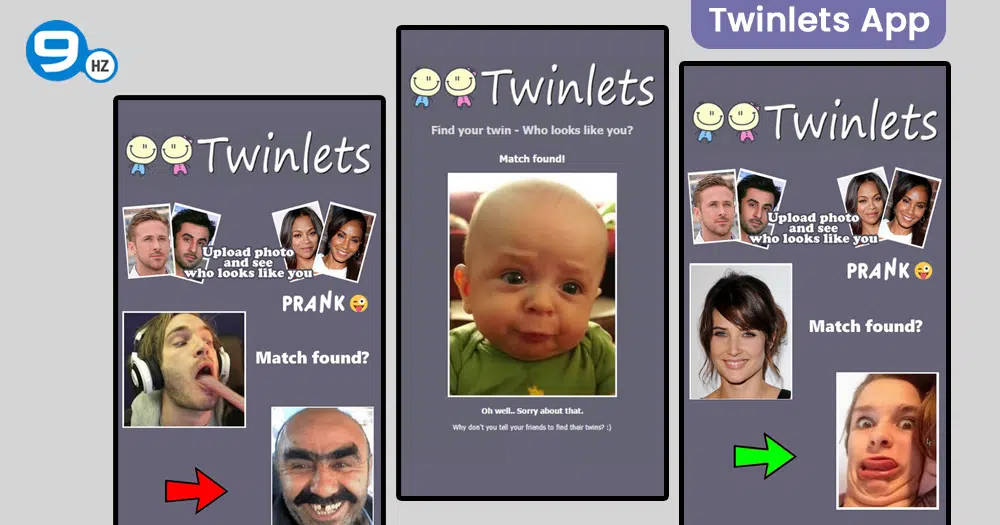 Available On: Android and iOS
Make an effort to let someone know that they assist you in remembering a specific VIP and that you can engage in long periods of conversation. Fortunately, this app will not only compute your exact level of resemblance but will also provide you with an expert opinion. Twinlets is the best celebrity look-alike android app available.
It also locates your identical twin. A well-known look-alike app on the market. And this is unquestionably one of them. Twinlets is a trick app designed for entertainment purposes. The outcomes should not be taken seriously. You can certainly try it for entertainment purposes only.
Top Features of Twinlets App
No registration or login is required.
Solid database with over 150 million faces.
Automatically finds your pretending twin.
12. Doppel App: Celebrity Look-Alike Apps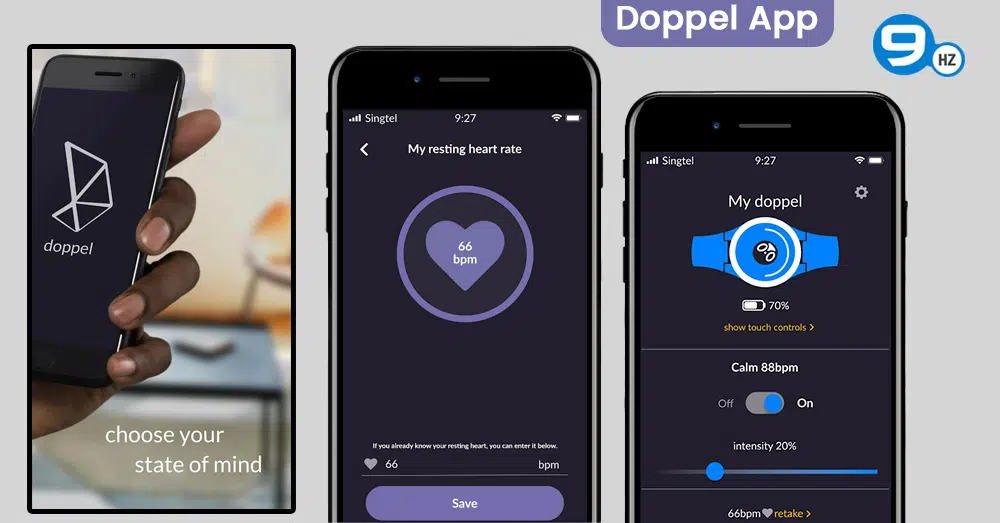 Available On: Android & iOS
If you believe that the only way to find your lookalike is to have a twin brother, you are definitely on the wrong side of the equation. The Doppel app will demonstrate this to you. Furthermore, don't be disheartened if the app fails to find your match on the first try. Surprisingly, this popular face match app will notify you whenever it finds a profile that matches yours.
You can also chat, make funny videos, create and join groups, and share the face gradient with your friends and family. The app is only available for Android devices.
Top Features of Doppel App
Create smooth face morph videos
Over 300,000+ pairs of doppelgangers.
Upload photos and ML will tell you your similarity.
13. Celebrity Face Morph
Looking for a celebrity look alike generator then Celebrity Face Morph is perfect for you. Just take a selfie and customize it however you like; also you can use an image from your gallery. This app allows you to easily edit your image by – cropping, applying filters, and effects, and creating an image with your face. Moreover, it has other superb features like automatic face detection, face morphing, mixed face, and a simple interface that make it more exciting. By using these features you can quickly transform yourself into a fun and inspirational celebrity.
Top Features of Celebrity Face Morph App
Transform into attractive images for the users
Enjoys various facial options like eyes, nose, and mouth for making the perfect celebrity match.
Supports high definition images
Celebrity look-alike upload
14. Likestar
If you are hunting to find my celebrity look alike app, then the Likestar app ends your hunt here. To use this app first you need to add your photograph, and afterward name your celebrity photo filter. Finally, change the percentage of similarity from 0% to 100%. Within a short period of time, your face will show an astounding result! You can share your match on any social media website, including Facebook and Twitter.
Top Features of Likestar
In-app purchases are available
Change the size of your image to improve its efficacy
A high-quality image
More than 200 free celebrity picture filters
15. You Look Like
If you're looking who do I look like photo app, look no further than this one! It starts searching for matches after an image is taken from an in-app camera. The best thing about this app is if users are unhappy with the initial results, they can try again. Users like it because it's simple to use and because you can share your results on other social networking sites.
You Look Like App Features
HD technology recognizes human faces in digital pictures.
You Look Like app is ad-free and has advanced functionality
You may compare any face to the most famous ones
How Does the Celebrity Look alike App Make Money?
The most frequently asked questions for those who want to make a mobile app are, 'How can mobile apps make money? and How much does it cost to develop an app?'. When learning about your mobile app's revenue strategy, there are numerous aspects to consider. Do your mobile apps have any Subscription or Sponsorship functionalities? Some of the strategies that can assist you in making money from your mobile application are as follows:
Want to Launch Your Own Mobile App?
Request A Free Quote
1200+ Projects Delivered 12+ Industry Experience 450+ Clients Worldwide 200+ Certified & Expert Programmers
1. Advertising
By 2030, the mobile marketing market to reach $57.85 billion. Advertising becomes the best way to monetize mobile apps available for free. This celebrity matches mobile app can display advertisements within the app. If they choose affiliate marketing, third-party networks can also compensate them.
The ads are displayed in the iOS, and Android applications as the app get downloaded. The owner of the mobile app earns money for each advertisement displayed. This also fluctuates and is determined by a variety of factors. Too many advertisements can cause customers to uninstall your program, so an optimized solution must be delivered.
2. In-App Purchases
In-app purchases in celebrity look-alike apps will allow app owners to offer viral services or virtual objects to end-users directly. Furthermore, the In-app purchase model enables app owners to charge a fee for accessing unique features of the celebrity look-alike app.
As a result, customers who want more features and are willing to pay for them can benefit from in-app purchases. This business model will appeal to more potential customers who enjoy being impressive and innovative in front of their peers.
3. Subscription
Another option to monetize celebrity look alike app solutions is to give a paid subscription to the customer. However, you should begin with a free trial period, during which he will be able to evaluate all of the benefits of your service. Of course, you must do your utmost to impress your audience and persuade them to part with their money to get your subscription.
4. Sponsorship
Another option to monetize your celebrity doppelganger mobile app is through sponsorship. To use this strategy, you must first have many downloads. You'd be able to reach out to companies in your niche if you had it. This approach can be used in two ways:
(A)Equal distribution of total revenue or (B)Sponsorship fees are paid monthly.
Top Celebrity Look Alike Filters
Tiktok' s Star look alike Filters
Hollywood Singer Look alike filters
Hollywood Actors look alike filters
Football Person Look-Alike Filters
Bollywood Actress Look Like Filters
How Do Celebrity Twin Apps Work?
The celebrity look-alike apps operate in a straightforward and accurate manner. Let us share it with you.
It should be noted that only one person should be on the camera when uploading a photo. The face should be visible, and it is usually best to use front-facing cameras.
When the system detects a face, it generates a facial pattern. The facial detection system detects the locating factors of the key components of the faces, which include brows, nose, mouth, hair, faces, and, most importantly, position. Users can also add a beard to look like their favourite celebrity.
The neural network is used to generate an attractive result by comparing the person to the different faces of celebrities and suggesting the best similar ones for them.
Conclusion
Millennials are having loads of fun with this concept of celebrity look alike app. The key components of these applications are the work of a neural network with improved accuracy to find the best celebrity match. Neural network compares facial points of celebrities to find an accurate look alike.
The craze for clicking selfies and using features of mobile photography is estimated to rise above 257 million by 2023. Developing celebrity look alike apps have become a business opportunity for many top mobile app developers creating various free celebrity lookalike apps with handcrafted filters has become a matter of large business growth.
FAQs
1. How do I Find my Celebrity look-alike on Instagram?
Ans – Tap on the magnifying glass on the Instagram application and then type "You look like". This search will yield a celebrity look-alike filter.
2. How Can I Find Celebrities Lookalike?
Ans – You can download any of the above-mentioned applications to find your celebrity look alike.
3. Where can I find Celebrity Look-Alike Filters?
Ans – celebrity look alike apps are available on the above-mentioned apps and you can also find filters on Tik Tok & Instagram.
4. What App Shows Your Celebrity Look Alike?
Ans-Your facial patterns and key features are analyzed by a Celebrity Lookalike App. Following analysis, it employs an algorithmic approach to identify the best celebrity who matches your facial features.
You can upload an image from your smartphone to the app or take a photo from within the app to have the celebrity doppelganger feature extract your celebrity doppelganger.