Creating an online store doesn't always have to be a complicated or time-consuming process. Starting an ecommerce business is a big decision, but it's less complicated than you might expect. By and large, most e-commerce platforms are beginner-friendly so anybody having no coding experience can also make use of it and get benefitted. As per reports, the revenue in terms of e-commerce will be worth $476 billion in the U.S. by 2024.
An e-commerce system enriched with CMS capabilities is well-versed in building your online store in just a few hours. Stay tuned, we'll walk you through the steps of e-commerce development if you want to build an ecommerce website from scratch. So without any further ado, let's get started.
What is an Ecommerce Website?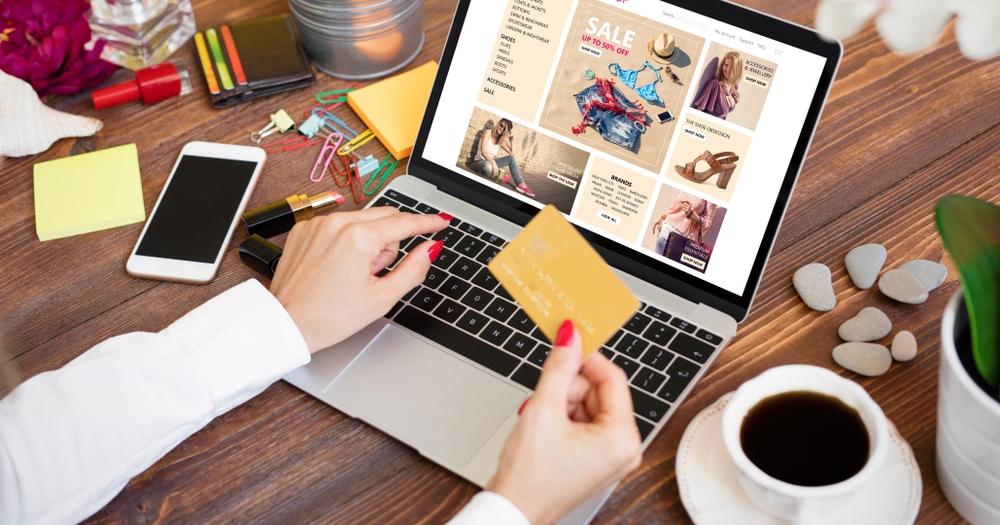 Any website that sells products and services online is an ecommerce website and the agencies who build an ecommerce website are called ecommerce website development companies. B2B (business to consumers) online stores are considered the most popular ecommerce websites.
In 2021, more than $665 billion worth of money was being spent on the fashion and beauty e-commerce category alone. The share of the online shopping market is growing like never before.
Amazon, the big daddy of all e-commerce stores earned more than $160 million in revenue in 2021. Sellers sell their products online on Amazon without creating their own websites. Alternatively, you have always the option to launch your site in a few days using the best website builder dedicated to building ecommerce platforms with a drag & drop feature.
Want to Create an Ecommerce Website?
Request A Free Quote
eCommerce Website Market Stats
At present, around 50% of shoppers use social networks and the internet for researching products before making the final purchase.
E-commerce is growing at a rapid rate and offers businesses giving businesses and startups unique opportunities to get connected with their target audience. The success of an online store is directly proportional to providing convenient shopping options to consumers.
As per reports, online sales revenue is expected to reach 22% of global retail sales by 2023 as compared to 2019 in which the revenue was mere 14.1%.
More than 22% of global retail sales will belong to e-commerce by 2023.
The growth was an outcome of the creation of more ecommerce sites as well as a shift in the shopping trends of consumers. Business ventures can capitalize on this situation by providing customers opportunities to buy as soon as they decide on a product and also reaching consumers of the international market through shipping and other means.
In Q1 of 2020, ecommerce sales accounted for 11.5% of total sales
In the first quarter of 2020, it is estimated that 11.5% of sales were made via ecommerce. The pandemic encouraged people to shop online and as a result, global ecommerce sales continued to increase with time. This phenomenon created thousands of opportunities for business owners as each one of them started offering excellent custom services to maximize their customer base.
How to Build an Ecommerce Website? (Step by Step)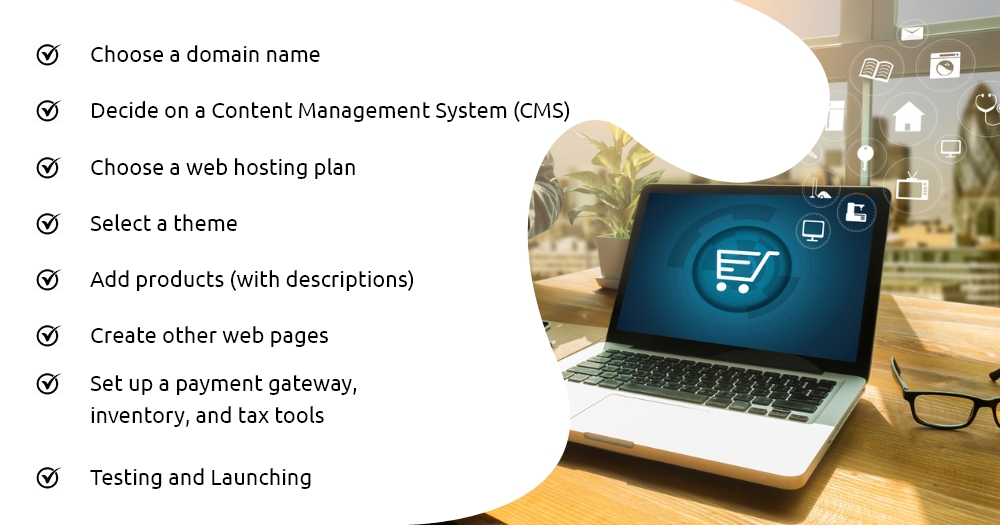 Creating an online store should be an easy-breezy process without any complications. Follow these eight steps to build an ecommerce website from scratch.
Step 1. Choose a Domain Name
Choose a domain name that aligns with your product or brand. The name should be such that it must identify your website to customers. It should be short, simple, and easy to remember. One important thing is that your domain name should not sound like a copy of names that are already existing. Here is the list of some unique domain name ideas.
This can cause a loss of traffic on your website which ultimately hampers the revenue. Go to a domain-selling website like GoDaddy or BigRock and check whether or not the domain name is available. In case it's not, choose one of the similar recommendations. Lastly, choose the dot com extension because it is universal and helps in international reach.
Step 2. Decide on a Content Management System (CMS)
A robust CMS lays the foundation of a website. There are various content management systems out there in the market, right from WordPress which is an open-source platform to all-in-one website builders such as Wix and Shopify. Hence, choose the one as per your requirement. At the end of the day, your decision should be based on pricing and your e-commerce requirements.
Consider these popular content management systems to make an ecommerce website:
WordPress: One of the most common and oldest CMS which offers maximum customization with security
Shopify: A popular ecommerce website builder for building a drop shipping business
Wix: An all-in-one website builder which works seamlessly and offers brilliant customization options.
Squarespace: a beginner-friendly website builder, ideal for those who have no prior development experience and want to build a professional looking website
Square online: Ideal for retailers and shop owners who are looking to sell both online and offline.
Step 3. Choose a Web Hosting Plan
As soon as you have made your decision regarding your CMS, the next step is to create an account in case you have not chosen WordPress. WordPress requires you to get a web hosting plan. The best services in terms of website hosting come with a free domain name, a free SSL certificate, and one-click WordPress installation, eradicating the tedious process of connecting your domain and hosting to WordPress.
If you are using a website builder like Wix or Shopify, simply navigate to your service provider's website and get yourself registered. Registering your domain name through the CMS will help in eliminating the need for a manual domain configuration process, so if your CMS allows it – go for it. Just in case it doesn't, get your domain name registered through a domain name registrar.
Step 4: Select a Theme
Now it's time that you choose a theme for your store. A good theme helps your online ecommerce store to put its best foot forward. It helps in giving your store a consistent, sleek, and professional look. Here is our detailed guide on online business ideas for beginners.
The following factors must be considered while you choose your theme:
Matches with your brand's style
Optimized for mobile devices
Ease of use
Quick load times
Budget-friendly (there are free and paid options available)
By and large, a theme can be applied to your site with just a single click. Depending on the site builder and the theme you choose, you may be able to customize colors, fonts, and other aspects of the look of your online store.
Step 5: Add Products (with descriptions)
Adding product pictures with details is an integral part of building a successful online ecommerce store. The barrier of online shopping is that the customer can't touch the product so you must replicate this experience as closely as possible with high-resolution pictures and detailed product descriptions.
Capture photos showcasing the product's multiple angles including weight, dimensions, and special features. You can even consider featuring video tutorials for maximum audience engagement. Always make sure that you are using appropriate SEO keywords within your product titles and description to help interested shoppers find your offerings. Your products and descriptions must hold value to induce more and more customers to buy your products.
Step 6: Create Other Web Pages
There are other pages that you still need to include apart from your product listing pages such as:
About Us
Terms and Conditions
Contact Us
Shipping and Returns
You may also want to integrate a blog page, FAQ page, media mentions, or even a sizing guide page for shoes and apparel. You need to ensure that you are including your Meta description and URL on every page you create. It is a good SEO practice and helps in attaining maximum reach.
You should give utmost importance to answering your consumers' questions and concerns to build their trust in your product/brand. All this helps in connecting with your target audience to boost conversions.
By and large, all site builders provide easy functionality to add pages. From the dashboard, an intuitive content editor should walk you through adding media and text. You can start with the terms and conditions page followed by FAQ and the rest of the pages. Search other stores for ideas and inspiration if you aren't sure where to begin.
Step 7: Set up a Payment Gateway, Inventory, and Tax Tools
As an online retailer, while you are choosing your payment gateway, you can opt for third-party tools such as Pay-Pal and Stripe for making the overall process easy and secure. If your customers are redirected to other websites, you must make sure that the data before the transfer is fully encrypted.
Consider these points before choosing payment integrations:
How easily can the tool be integrated with your platform?
How secure is the tool?
Is the tool PCI-compliant?
What is the transaction fee per transaction?
Moving on, integrating shipping with your e-commerce website is a good idea, provided your platform allows it. It will help in simplifying operations so that your maximum focus will be on selling. But make sure you specify your shipping policies like free shipping, variable fee, flat rate, etc. before you integrate shipping on your portal. Lastly, don't forget to integrate refund and return policies.
Lastly, you can add a text calculator to make automatic calculations in terms of sales tax, shipping, and any other fees at checkout.
Step 8: Testing and Launching
The site must get checked thoroughly before it gets launched among your users. The site should be fully working and every button and every link within the site must be functional. Even the designing of 404 error web pages should be such that it gets synced as per the theme of the website.
Test your site whether or not the following parameters are met before deployment:
You are able to add products to the cart and process the payment seamlessly
You are able to send emails and notifications to the right inboxes as soon as a purchase is made or declined
Your website is fully optimized for mobile devices which means it is responsive and mobile friendly
Your site performs seamlessly on different web browsers
Your site is fully responsive for multiple devices like iPad, tablets, and Smart TVs.
When everything is tested and double-checked, now it's time to launch your app. Run aggressive online marketing campaigns on social media in the forms of advertisements, guest posts, blogs, influencer marketing, and what not. If your pocket allows you can also consider going for paid advertising on Google, Facebook, YouTube, and other platforms. You might be interested to learn more about creative website ideas.
According to Statista, in 2021, America was Amazon's biggest market with $314 billion dollars of sales followed by Germany with 37.3 billion and the UK with 31.9 billion. Nearly 40% of all ecommerce sales in the United States have been attributed to Amazon.
Top 5 Ecommerce Websites
| Website | Founded Year | Headquarters |
| --- | --- | --- |
| Amazon | 1994 | Seattle, USA |
| eBay | 1995 | San Jose, USA |
| Alibaba | 1991 | Hangzhou, China |
| Walmart | 1962 | Bentonville, USA |
| Etsy | 2005 | Brooklyn, USA |
Here is the list of the top 5 international e-commerce websites:
1. Amazon

Amazon's dominance in the world of e-commerce is unparalleled. Research shows that Amazon was ranked as the most valuable retail brand around the globe with a net worth of more than $650 billion.

Amazon was incorporated in 1994 in Seattle, Washington as a retail company and now it is the largest online retailer in the world. The company sells multiple items like electronic goods, books, stationery, clothes, shoes, medicines, and many more.

Apart from selling goods online, the ecommerce giant also offers multiple services including online streaming and cloud computing. The company is scattered over three segments – North America, International, and Amazon Web Services (AWS).

2. eBay

eBay is a multinational e-commerce brand established in 1995 in California by Pierre Omidyar and headquartered in San Jose, California. eBay is the second biggest online marketplace after Amazon.

The platform is scattered over 190 markets and around 60% of sales come from international operations. The website was originally launched in the form of an auction website (where bidding of items used to take place) and now it has transformed into a direct purchasing portal.

The business model of eBay is both C2C (consumer-to-consumer) and B2C (Business-to-consumer) where people perform buying and selling of a variety of goods and services. The user base of the company is quite massive with over 900 million active users making it one of the world's most engaging marketplaces.

3. Alibaba

Jack Ma was the face behind establishing Alibaba. The company headquarter is located in Hangzhou, China, and as far as the size is concerned, it is one of the top 5 marketplaces globally and the largest e-commerce marketplace in China.

Established in 1991, as a dedicated B2B eCommerce portal to connect manufacturers of China with buyers from overseas, the company is now the leading eCommerce provider in China offering B2B, B2C, and C2C e-commerce services.

A wide range of products is offered by the brand such as electronics, jewelry, clothing, eatables, and a lot more. Apart from selling goods online, the company is also diversified to multiple segments such as cloud computing services, electronic payment services (Alipay), and other similar types of services.

As far as the company's revenue is concerned, it has been steady and increasing with time. In 2021, its active number of buyers amounted to 882 million. During the single's Day Shopping festival, which is a popular two weeks shopping event, consumers from China spend an amount worth more than $80 billion.

4. Walmart

Walmart is an eCommerce online marketplace that was incorporated in 1962 in Arkansas and has become one of the top eCommerce platforms globally. According to Statista, Walmart became the 6th most popular global e-commerce brand in 2021.

The total volume of visitors to the website amounted to over 450 million in January 2022. Apart from selling multiple products online, the website offers a variety of services including cloud computing and online streaming.

Walmart.com comes under the top ten most viewed ecommerce websites in the USA and operates in multiple countries and has over a million active users.

5. Etsy

Last but not least on the list is Etsy which is a popular online marketplace that gives buyers and sellers access to creative and unique products. Right from the year of inception in 2005, the revenue of the company has been increasing year by year.

According to Statista, the company's revenue increased by 100% between 2019 and 2020. In 2019, the market capitalization of the brand was $7.46 billion.

There are three main revenue sources of the company – seller service revenues, marketplace revenues like transaction fees or listing fees, and other revenues including third-party payment processor fees.
E-commerce Website Development Cost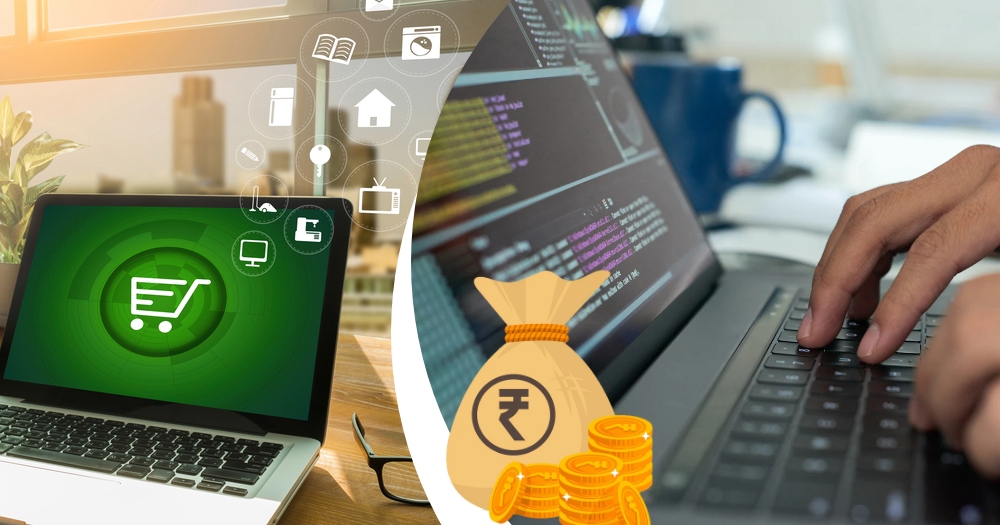 Ideally, the price of ecommerce website development falls within the range of $2000 to $50,000. However, like every other website, ecommerce website development also depends on a number of factors, so giving an exact figure is really a tough nut to crack.
Here are a few parameters that must be considered for your overall cost of e-commerce web development:
Website Design

As your design goes from simple to advanced, so will your cost from minimum to maximum.

Features and functionalities

As more features and functionalities are integrated into your website, the pricing will surely rise in ascending order.

Integrations

The more third-party integrations you integrate into your website, the more the cost will increase.

The development team and its location

It all depends on the type of development team you are hiring and their location. Development cost in regions like the USA and Singapore is higher as compared to countries in Asia like India and Bangladesh.
Apart from the above, factors such as website SEO, Interactive multimedia elements, etc. play a critical role in deciding your cost to develop an online ecommerce store.
Features to Create an Ecommerce Website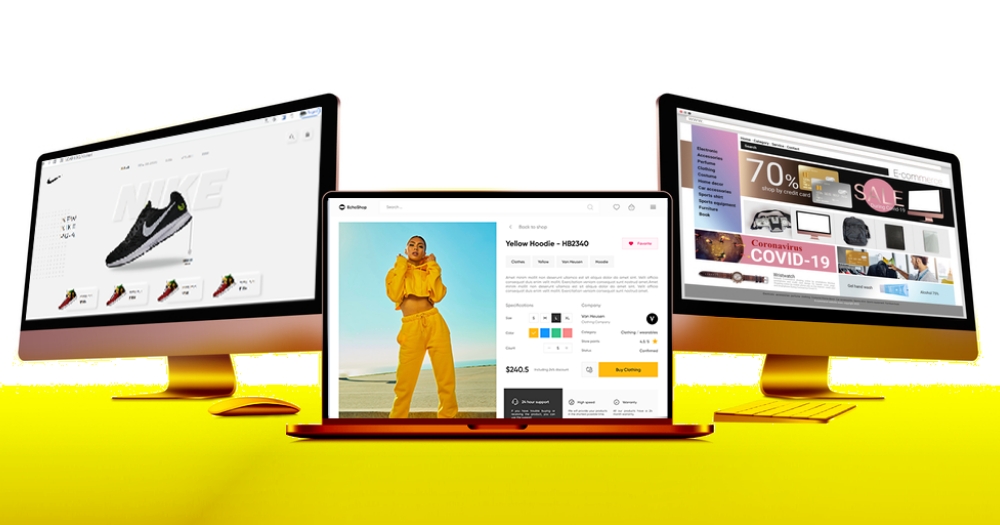 Just like the role a heart plays in a living body, the same applies to the eCommerce features in ecommerce web development. These features determine your success or failure in the long run. We have curated a list of all the important e-commerce website features for you to build an ecommerce website.
Front-end Features
Responsive Web Design
Autosuggest feature
Easy and secure checkout
Guest checkout
Multi-tier menu navigation
Product filtering and sorting options
Advance search optimization
Abandoned cart and remarketing emails
Integrating the app with the website
Live chat support
Social media sharing options
Newsletter subscription
Live tracking order feature
Review and feedback system
User account and order history
Multiple payment options
Add to cart & wish-list feature
Shopping cart and checkout page
Back-end Features
Admin panel
Payment gateway integration
Marketing and promotion
Multi-currency support (for export businesses)
Advanced analytics and reporting
Multilingual
Customer reviews
SEO optimization
Automated retargeted emails
Discount and coupon codes
Price management
Marketing and promotion
Shipping and tax calculation
Order & inventory management
Product management (product searching, filtering, and sorting)
User management
With so many features available it is hard to predict which ones are right for your online e-commerce store. But the features must be chosen with utmost care as your project's time and development cost will be directly proportional to the number of features you choose.
So a better way is to get a consultation from a professional who has relevant experience in e-commerce web development. You can't be casual while deciding on your e-commerce website development partner as your brand's reputation, money, and time all are at stake. So consider seeking professional help to extract maximum returns.
We, at The NineHertz, are well versed and experienced to offer you what you really need. We have years of experience to make an ecommerce website and our clients say this on our behalf as we maintain more than 98% of customer satisfaction. You can contact us now to get a free demo.
Top 5 Ecommerce Website Builders
| E-Commerce Website Builder | Price | Ideal for/main USP |
| --- | --- | --- |
| 1.    Shopify | Plan starts at $29 / month | Get all e-commerce options o under one roof |
| 2.    Squarespace | Starts at $23 per month | Companies offering appointment booking or subscriber-only content |
| 3.    BigCommerce | Plan starts at $29.95 per month | Omni-channel selling |
| 4.    Wix | Plan starts at $27 / month | Thousands of amazing customization options |
| 5.    Shift4Shop | Free in case you process minimum $500/month using Shift4 payments | Businesses doing B2B sales or using Shift4 for payment processing |
1. Shopify
Starts at $29 per month.
Shopify is an undisputed champion when it comes to setting up online e-commerce stores. It is one of the market leaders for those looking to start an online e-commerce business. Through Shopify, you can easily set up your online store, plus the platform offers plug-and-play solutions for everything from managing inventory to payment processing.
Who can use Shopify: Businesses who perform most of their sales online and looking for a one-stop destination for their e-commerce needs can choose Shopify without a doubt.
Pros
Cons
· Selling across multiple channels such as Pinterest, Facebook and Instagram

· Impressive customer score and sales features

· Managing your store is quite easy with an efficient inventory system

· High transaction fee when using other medium other than Shopify payments

· Needs third party apps to support multiple currencies – unsuitable for overseas

· Switching template is a complicated process
2. Squarespace
The second e-commerce website builder on the list is Squarespace which is known for its simplicity and user-friendliness. This easy-to-use website builder is also among the few website builders that offer a free plan. The builder offers limited customization options and B2B sales features, and secondly, the payments have to be processed through Squarespace if you use Square online.
Who can use Squarespace: Ideally brick and mortar businesses that are keen to create an online store must go with Squarespace.
Pros
Cons
·  Offers a lot of exciting and quality oriented features

·  One of the best designs of any e-commerce builder

·  Option to integrate social media like Facebook, Instagram, etc.

·  Impressive set of analytics tools and inventory system

·  A lot of manual work to do – limited options of auto-save

·  Not suitable if you want to scale up your store

·  Absence of multiple shipping and payment options
3. BigCommerce
Omni-channel commerce-oriented businesses that sell products on multiple platforms with one centralized system for inventory management, payments, and other functions should consider using BigCommerce. The platform is enriched with a good set of in-house features such as customer reviews, email marketing, and search filters.
Who can use BigCommerce: Businesses who are looking forward to growing their online stores into large and successful businesses must choose BigCommerce as everything you need is already built into its library of themes.
Pros
Cons
· Loaded with hundreds of exciting in-built features make it the best builder especially when it comes to growing and scaling your online store.


· Sell easily across multiple channels such Facebook, Instagram, and Pinterest.


· Excellent SEO plugins and extensions

·  Not beginner friendly due to its complex editing interface.


· The paid plan is quite expensive.
4. Wix
It is one of the most customizable ecommerce website builders. Unlike other platforms like Shopify and Square, Wix is a beginner-friendly website builder which doesn't require any sort of prior coding knowledge. The drag-and-drop feature is quite easy to use. With Wix, you get multiple features for various types of businesses from ticket sellers to drop shippers.
Who should use Wix: Businesses that put the utmost importance on customization and want to use the payment processor of their choice can go with Wix.
Pros
Cons
· In-built functionality to sell on Instagram


· Has an abandoned cart recovery emails feature


· Comes with easy drag and drop editor option to style your online store without any hindrance


· Popular among business community at large


· Option to integrate product videos for better user engagement

· Comes with a mere basic inventory and analytics system. Not suitable for big businesses and startups who want to scale.
5. Shift4Shop
Just like Shopify and BigCommerce, Shift4Shop is an all-in-one e-commerce website builder for startups and businesses. Shift4Shop, formerly known as 3DCart, is owned by a payment processing company called Shift4. The services offered are free for users who process a minimum of $500 per month in sales via that software.
Who should use Shift4Shop: Businesses that are centric mostly toward only online sales and can fully utilize the many advanced features of the platform.
Pros
Cons
· The platform provides an amazing range of features for its users


· You get the highest amount of flexibility during your experience with the platform.


· Complete freedom to choose in terms of selling options, selling options and payment processing options.

· Not a beginner friendly platform


· Pricing is quite high
Conclusion
In the end, it must be clear that an e-commerce website represents your online brand identity. It must be created in such a way that your customers feel much closer to your brand and it all depends on what kind of experience your website brings to the table. Also, keep in mind that at first, you may not get everything on the platter. It's a learning curve and experience is the best teacher, so be ready to experiment and make desired changes when necessary.
FAQs
1. How do I start an Ecommerce Website?
Kick-start your dream e-commerce website by following these simple steps:
Choose an appropriate eCommerce platform
Sign up with an e-commerce builder
Buy a suitable domain name that fits your brand
Choose a template that matches the website
Create all the necessary pages related to e-commerce
Add your products for display
Set up a payment gateway, inventory, and tax tools
Test and launch your e-commerce site
2. What is the Average Cost to Build an Ecommerce Website?
Build an ecommerce website through a hosted eCommerce platform for around $29/ month. With a free theme and basic add-ons, you have to pay only the monthly fee and the payment processing fee. There are a number of free ecommerce website builders out there but you have to pay for the additional e-commerce features or plugins.
3. How can I Create an Ecommerce Website for Free?
Follow these steps and you can build an ecommerce website for free:
Choose a free website builder and sign up.
Among the options, choose the kind of website you want to create
Drag and drop your favorite in terms of design such as videos, vectors, texts, etc.
Integrate business-related plugins and extensions
Go live as soon as your website is published
Drive traffic to your website with advanced SEO tools and techniques
4. Which is the Best Platform to Make an eCommerce Website?
Some of the best e-commerce platforms in 2023 are as follows:
Shopify
Wix
Squarespace
Square Online
Shift4Shop
Ecwid
BigCommerce
Big Cartel
And WooCommerce