In today's tech-driven society, there's no reason you can't establish a profitable business from the comfort of your living room. There are numerous advantages to remote working: full-time parents can pick flexible hours, and frequent travelers can work on the go. Running an online business involves all of the hard work that goes into starting a physical business, but it gives you a lot of flexibility once it's up and running.
Choosing the best online business ideas for beginners is a tough call. When starting an online business, the large overheads connected with investing in a brick-and-mortar office and physical goods are eliminated. Lower risk implies you can spend more money on advertising to expand your client base. Operating your business online also opens it up to customers worldwide, allowing for significant expansion.
The only barrier to starting an online business is coming up with a good idea. But don't worry; here we've collected a list of 45+ online business ideas for beginners suitable for a variety of skill sets and that you can start right away. Find your ideal earner today, whether it's something to supplement your current income or a million-pound enterprise.
What We Mean By Online Business?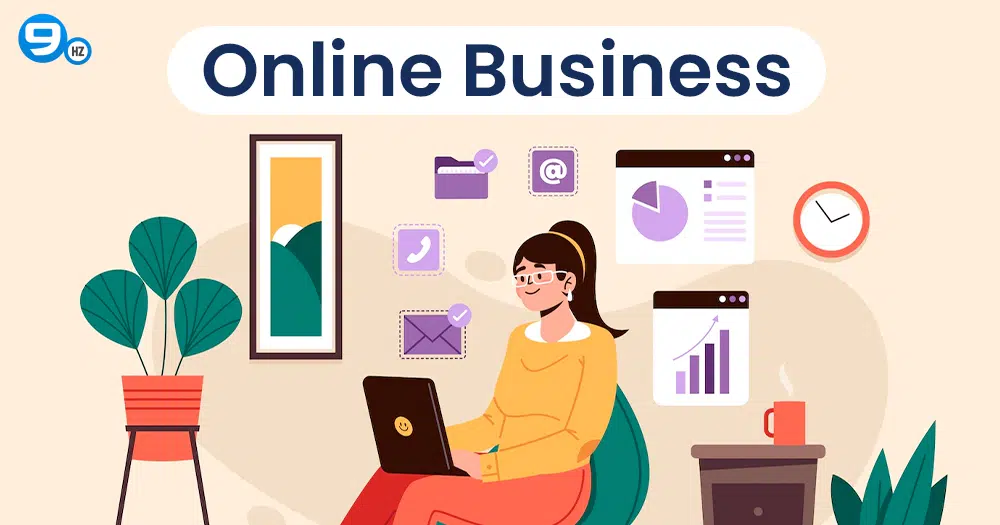 If you've been thinking about starting an online business, you've undoubtedly come across a few "beginner" posts like this one. While researching for this article, we discovered many websites with simple online business ideas with low investment for beginners. You can begin immediately and make a lot of money.
We're all about helping beginners like you with everything you need to start and grow an online business. However, we're not here to sell you on the idea that making money online is simple. Success is possible, but it will take time and effort.
That said, rather than listing every possible online business opportunity, we concentrated on those that are very simple to start; depending on which one you choose, some will require more effort than others to achieve success or profit.
Online Business Ideas- Easy for Begineers
Idea
Immersive benefits
Open a T-Shirt Online Shop
● Nothing is more fulfilling than designing products that people will use on a daily basis.

● You'll enjoy seeing your designs come to life as you turn your ideas into something tangible and profitable.

Launch a dropshipping small business
● As you don't have to keep things in a physical location, your cash flow won't be blocked by inventory. There's less of an upfront cash risk.
● You can operate your business from anywhere if you don't have a warehouse. You choose where you want to work, whether it's in your living room or down the street at a café.
Sell your art online
● The service-based business has few barriers to entry, and it's relatively easy to get started.

● As a social media manager, you can turn something you're already doing every day into a money-making activity.

Social media marketing
● The service-based industry has few entry barriers, and it's relatively easy to get started.
● As a social media manager, you can transform something you currently do every day into a money-making activity.
Freelance designing
● When you freelance, you get to choose whatever tasks you want to work on, and you can choose your own schedule and location.
● Getting paid to do something you enjoy is a satisfying sensation, whether you want to do it alone or just want to supplement your weekend income.
Video Producer
● Depending on how it is leveraged, it offers a high earning potential.
● It can be an unconventional way to make money in a market that isn't overcrowded.
Sell on marketplaces
● It is possible to get started without a large initial expenditure.
● You gain access to a traffic pool that you may not be able to reach on other platforms.
Virtual thrift shop
● The profit margins are enormous.
● You're offering a one-of-a-kind product.
45+ Best Online Business Ideas for Beginners 2022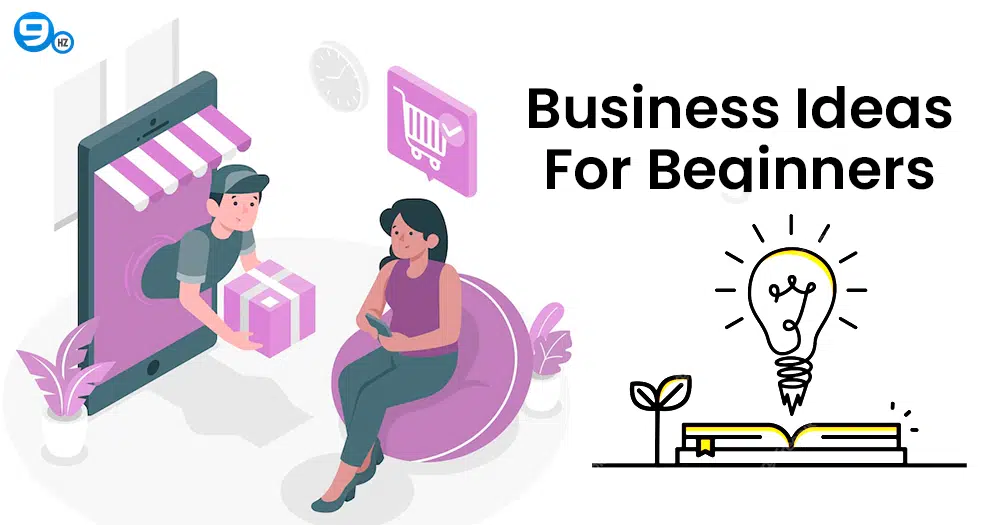 Here's a list of some of the best online business ideas to get you started. The best part is that each of these ideas has the potential to generate revenue, so you don't have to test them first. If you are looking for the best online business to start, this is the only list you will need.
1. Open a T-Shirt Online Shop
Anyone with a spark of inspiration and an eye for design can start an online t-shirt business using online platforms. However, it does not have to be an online t-shirt store; you may open an e-commerce store that sells anything. The key is to understand print on demand, which is the basis for such businesses.
2. Launch a small dropshipping business
Do you think you need a warehouse full of stock to manage your own business? Rethink! Dropshipping is a cost-effective way to start a business. You can hit the ground running by sourcing a pre-existing product from a supplier and having them take care of things like packaging and fulfillment.
3. Sell your art online
Whether you're a painter, photographer, or musician, there are many online business ideas for beginners to turn your latest work into a source of cash with a professionally designed e-commerce website in Magento. If painting or photography is your forte, you can sell your work as prints, canvases, and framed posters using Printify or Printful. This is an excellent method to transform your artwork into an actual object that people can take home and use in their homes.
4. Social media marketing is the best online business idea for Beginner
If you're good at getting likes, retweets, followers, shares, comments, and clicks, then a job in a digital marketing company might be for you. You can transform your favorite hobby into a day job by consulting businesses to manage their social media profiles, keep their brands on track, and respond to customer questions.
5. Freelance designing is one of the top online business ideas
Did you go to art school, or have you always spent your leisure time in Photoshop or Illustrator creating posters? If so, then freelance designing is ideal for you. Freelancing has a lot of advantages. You can take on clients at your own pace, build a strong reputation online and through word of mouth, and work on projects that you are interested in.
Launch Your Business Website in 7 Days
Request A Free Quote
1200+ Projects Delivered 12+ Industry Experience 450+ Clients Worldwide 200+ Certified & Expert Programmers
6. Sell on marketplaces
It's the best way to start a long-term online business. Platforms such as eBay, Etsy, and other marketplaces make it simple to display things, collect contact information, and receive payments. It's your job as the seller to be strategic with your listing and track what sells and how well it sells so you can maximize your efforts.
7. Video Producer
It's no wonder that video is quickly becoming one of the important communication tools for companies of all sizes. It won't take long to build a clientele if you know how to film or edit videos. The corporate world can benefit from video editing services, soundtrack libraries, and DIY instructions.
8. Life coaching is the best online business idea for beginners
If you are a beginner and looking for something on this list of online small business ideas that will allow you to help people, consider life coaching. Although a qualification may be required to become a life coach, you have much more freedom to find your expertise and determine how you can assist individuals through life's ups and downs.
9. Translation
If you speak numerous languages, translating could be the perfect profession for you. You can do it wherever you want as long as you have the text you're working on and understand the translation's goal.
10. Virtual thrift shop
Online thrift shops and consignment companies like thredUP are one way that you can attain this goal. Other businesses crawl through sites like eBay to find cool and interesting objects, then present them in engaging ways. Here, good copywriting and a strong brand can help you stand out. These simple online business ideas for beginners are ideal if you prefer curating over creating.
Best Internet Business Ideas for Beginners
11. Remote Customer Service Agent
If you enjoy assisting others but don't want to spend your days in a call center or office, consider being a remote customer service agent and working from home. Choose between assisting individuals via chat, email, phone, video, or other means and saving the day for others daily. While this may not be your first million, it feels amazing to help others.
12. Virtual Assistant
This is one of the best home-based online business ideas for beginners and students. You would work as a virtual assistant for companies, answering emails, creating articles, and performing other activities. The position might range from data entry to the researcher, so be willing to try new things and learn new abilities while earning money.
13. Photography best business idea for beginners
Those with photographic talent might consider turning their hobby into a source of income. If you're okay sharing your lens with millions of others, stock photo sites like Shutterstock and iStock will pay you a commission on the images you sell, so this is an easy and convenient method to fund your freedom. Must check NFT photography marketplaces to sell your photos.
14. Business coaching
You'll need a solid track record and a range of testimonials to back you up, but the business coaching sector is booming, so now is the perfect moment to jump in. Depending on your credentials and efficacy, you can charge anything from under $100 to several thousand dollars, and coaching over the phone or video chat face-to-face.
15. Accounting or bookkeeping
If you already work as an accountant, you might be able to take your present clients and offer to reduce their costs by working from home or remotely elsewhere. Naturally, official training and certification are required for online business ideas like these, but if you're a proven and diligent accountant, then it shouldn't be impossible to work online most (if not all) of the time.
Launch Your Business App in 7 Days
Request A Free Quote
1200+ Projects Delivered 12+ Industry Experience 450+ Clients Worldwide 200+ Certified & Expert Programmers
16. Telemarketing
If you're a natural speaker who enjoys assisting others, virtual telemarketing is another wonderful online small business concept. Many organizations outsource some of their sales and customer support personnel, so this is worth considering if you don't mind working on the go.
17. Handmade Goods Shop
If you enjoy crafts and DIY projects, it's a great business choice to consider. You can either create the goods yourself or buy them from providers. If you live in a country where ePacket shipping is available, sourcing products is probably better and more cost-effective.
18. Become a Private Chef
If cooking is one of your personal interests, there are numerous ways to turn it into a profitable business. Start by creating a catering website, experimenting with pop-up food stalls and local food markets, or joining platforms that let cooking lovers make money from their hobby.
19. Nutritionist
The healthy eating trend is here to stay. With so much conflicting information online about what is good for us and what isn't, more and more individuals are turning to dietitians for expert advice. You can easily find free online courses to learn the fundamentals of this profession and start offering personalized nutrition plans online.
20. Get Baking
The world of the great bake-off is a rich and ever-growing realm, with everything from freshly baked butter croissants to colorful macarons and pillow-soft morning bagels. You can either open an online bakery or migrate an existing bakery online.
Easy Business Ideas for Beginners
21. CV Writing
Many people believe that writing a winning CV is impossible. CV writing could be a great spot to start a business if you're strong with words and know how to emphasize people's greatest traits. You may also sell professional CV templates that can assist job seekers in standing out and attaining better outcomes.
22. Speechwriting
Giving a speech can be a frightening experience. Wordsmiths have a very valuable ability to influence people just by the force of well-crafted sentences. If you can write, you can make money by writing speeches for special occasions like birthdays, weddings, award ceremonies, and political debates.
23. Data entry is best for Starter
This is an online business concept that you can work from home. Data entry is a fantastic place to start if you're searching for a job that won't take up much of your time or attention but will pay you consistently when you're at home or on the road.
24. Transcription
Transcription is an online business concept that doesn't require any prior expertise except the ability to type swiftly. You can transcribe audio interviews for reporters, generate captions for TV shows and movies, or create transcribed versions of podcasts by offering transcription services online.
25. Travel planning
Do you like to travel? Have you visited multiple countries and built a global network of contacts? If you enjoy traveling, you should consider starting an online travel planning company. You can help clients with every aspect of their trip, from flights and hotels to itineraries, and you can also act as a point of contact for overseas contacts.
26. Online recruiting
Do you have an uncanny ability to find the appropriate people to fill job openings? If so, recruiting is a perfect option on our list of online business ideas for beginners. As an online recruiter, you'd work with various companies trying to hire new staff, assisting them in finding and screening prospects.
27. Marketing consulting
If you have a pool of talent in marketing campaigns, you may start an online business providing consultancy services. As a marketing consultant, you can advise firms on various topics based on your knowledge and assist them in implementing their marketing strategy and campaigns.
28. Voiceover work
You can start your voiceover work quickly and effortlessly from home. You need a good microphone, some basic sound editing software, and the willingness to offer your voice to marketing agencies, production firms, and anyone else who needs a voiceover.
29. Start a team
If you have years of writing and editing experience and can easily locate new clients, you might want to expand the number of projects you can take on by hiring a team of freelancers to help you build your business.
30. Podcasting
Podcasting is the current counterpart of talk radio. It's the profession of choice for people who enjoy talking and are good at it. To be successful at podcasting, you must first develop something worth listening to, which necessitates good public speaking skills.
Online Business Ideas from Home
Want to Start Online E-commerce Store?
Request A Free Quote
1200+ Projects Delivered 12+ Industry Experience 450+ Clients Worldwide 200+ Certified & Expert Programmers
31. Affiliate Marketing
If you have a successful online channel, such as a popular blog or YouTube channel, you may "rent" your traffic to other businesses through affiliate marketing, a subtle type of advertising. Affiliate marketing is the most widespread form of sponsored content nowadays. However, it comes in various forms.
32. Invest in real estate
It may sound intimidating at first, but investing in real estate isn't difficult if you've done your research. Depending on the market, getting your hands on opportunities like accessible FHA loans can be the kickstart you need to ensure a cash-flowing business from the start.
33. PR consulting
You might start an online PR consulting business if you're knowledgeable about business, branding, and marketing and know all the best ways for companies to engage with the public online. You can help businesses with their online presence, such as social media accounts, news releases, etc.
34. Ghostwriter
If you enjoy writing but don't have anything to write about, consider working as a ghostwriter for someone else. It usually demands that you write extensively about someone or something. Finishing this type of job might take a long time and a lot of studying, so set aside a few months for it.
35. Foreign Language Teacher
If you were fortunate enough to be born in an English, French, or Spanish-speaking country, you are missing out on the potential to profit from the talents you take for granted. Collaborate with learners and exploit your rights using online chat platforms like Skype or Google Hangouts.
36. Freelance research
Another great online business idea is freelance research, which allows you to work from anywhere and on your schedule. Whether you're putting together research documents for competition or market research, addressing complex technical questions on forums, or analyzing statistics to spot patterns, you'll be providing vital service to your clients—and all for a reasonable charge and the freedom to work your way.
37. Online fundraising or grant writing
Do you have a cause you're passionate about? Perhaps you're passionate about assisting mission-driven organizations, particularly non-profits, in achieving their objectives. If either of these scenarios applies to you, you should consider fundraising or grant writing as a business. Through these online endeavors, you would work with clients who needed assistance with their fundraising campaigns—locating potential donors, promoting the company and its aims, and, eventually, seeking to raise funds.
38. Digital advertising
As digital advertising consultants, clients should hire you to monetize their online platforms and handle their entire advertising campaigns. Although this area is continually changing, it has become increasingly crucial for companies, particularly those mostly online. You can work with clients completely via email or phone and give your advertising knowledge from anywhere.
39. Online therapy
You no longer need an office or your practice to counsel people, thanks to companies like TalkSpace and BetterHelp. However, this online business concept necessitates the necessary qualifications and expertise. A digitally savvy therapist looking to reach a new group of patients could easily hit the ground running.
40. e-Book writing
If writing and publishing a company blog post isn't your thing, consider producing and publishing e-books instead. Thanks to Amazon and other websites, self-publishing has never been easier than it is now. You don't have to design, print, or ship your work with e-books. Write, advertise, publish, and sell anywhere around the globe. Plus, you'll get a bigger percentage of the earnings if the e-book succeeds because you're self-publishing the book.
41. Poop scoop
Believe it or not, people make a living picking up dog feces. Most pet owners leave their pets to do their business in the backyard, with many opting not to clean it up. The poop scoop company relies on many repeat customers (as the fee is quite low). Using online advertising and flyering in your local town or city is the simplest approach to promoting your poop scoop service.
42. Event/Party planner
Party planning for weddings and 60th birthdays is in high demand. A party planner coordinates the locations, catering, security, and other details required to throw a successful party or event. This firm is mostly advertised through word-of-mouth referrals, so start with your local network.
43. Martial arts instructor
Martial arts and self-defense classes are always in demand. To begin teaching martial arts, you'll need a high degree of skill in a specific martial art, a flexible area to rent, and the requisite training pads/flooring. You must also ensure that you are fully insured and certified to teach martial arts.
44. Tattoo artist
Tattooing is an art form that requires several years of instruction or tutoring, a good tattoo machine (ink pen), and ink to get started. Most tattooing companies' promotion is done through word of mouth from previous clients, but you can also use visual media like Instagram to grow your following and attract new clients.
45. Start a membership community
Can you say monthly recurring payments? A membership business idea can help you achieve just that. The possibilities for membership-based businesses are endless. Get clear on your value proposition as you decide on a business model. Written content, video content, exclusive group coaching, PDFs, guides, courses, and downloadable workbooks are all options for delivering value.
46. Creating and selling NFTs
One of the newest ways to start an online business is by creating and selling NFTs. If you leverage community building and offer NFTs on platforms like OpenSea, you can tap into a passionate niche market worth tapping into. If you're an artist who already creates tangible work, turning your skills into marketable NFTs can be a solid pivot to your online business. You can hire an NFT development company for this also.
How Do You Brainstorm Online Business Ideas?
If you're stuck on finding business ideas, there are a few ways to brainstorm through them:
Make a brainstorming board and write down all of your ideas.
Revisit your list with new ideas and polish it.
Seek assistance from relatives and friends.
Customers can be polled to generate new online business ideas.
Check out search trends on Google Trends.
How to Start an Online Business? Tips for Beginners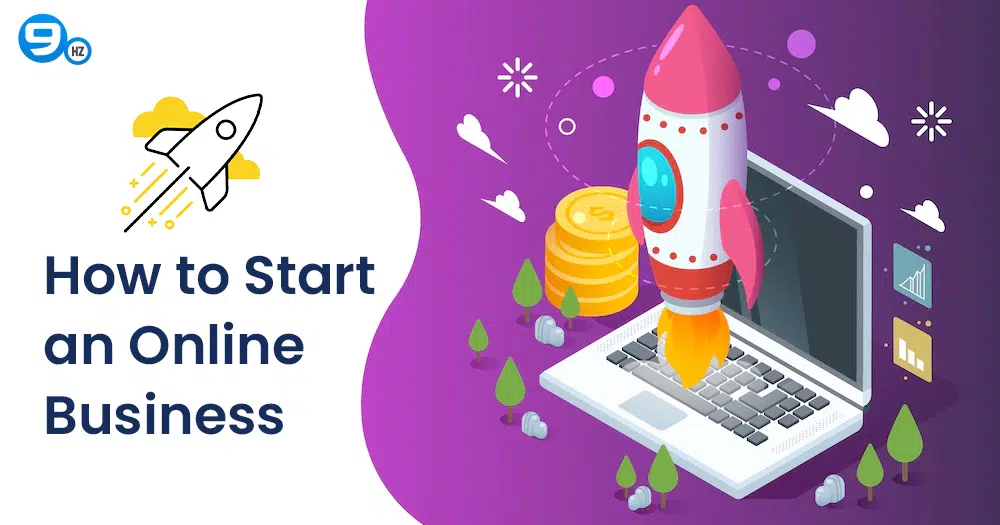 It takes effort and money to start an online business, no matter how small you want it to be. It may also require legal research and accounting understanding, so you may find that you need to upskill in various areas. But don't worry; once you get started on your quest, building an online business will be exciting. Side hustles are an excellent source of revenue because you don't have to be near a customer to give goods or services to them.
The most important first step in how to start an online business is to:
1. Decide Your Business
This is the most important step, as you don't have a business without it. Check out our above list of the most popular online business ideas and choose which one suits you best.
2. Research Your Industry
Acquire everything there is to know about your industry. Perhaps there is a pricing structure that most of your competitors use that will work well for you. Or maybe once you discover your competitors, you will decide that your industry is over-saturated and you need to change your business idea slightly to compete.
3. Create Your Brand
Every good business needs a solid brand, and if you can find this out early on, you can have a more successful online business. This involves having a fantastic website and social media presence, creating a killer logo, doing some PR, and engaging in further outreach and marketing efforts.
4. Begin Getting Customers
Getting your first customer is the final step in getting started. Your firm will succeed if you have fantastic clients on your side. To find these people, you'll need to figure out how to get in front of your target audience, send out the proper message to tempt them, and come up with a pricing structure that works for most customers.
Hire Certified Web App Developers
Request A Free Quote
1200+ Projects Delivered 12+ Industry Experience 450+ Clients Worldwide 200+ Certified & Expert Programmers
The Final Verdict
Online business ideas for beginners are endless and diverse. The majority of office jobs can now be done remotely or through freelancing. Because of the wonders of technology, lucrative online enterprises will continue to expand, making the world a truly global marketplace. If you're thinking about leaving the corporate world and starting your own business, take a look at our list of business ideas and examine the various ways you might start a profitable online business today.