Looking for dates, friends, or casual hookups? Finding companionship is as simple as a click away with best hookup apps. Imagine you can properly dissect people before going on a date or be friends with someone who meets all your expectations. Doesn't it sound good? However, it's important to have the right person at the right time, but this can only be done by knowing the free hookup apps that can meet your needs. And that's why we have handpicked some of the top hookup sites here.
What are Hookup Apps?
Hookup apps are mobile applications designed for individuals who are seeking casual sexual encounters, hookups, or one-night stands. Here are some facts and stats on hookup apps:
According to a survey conducted by Statista, the global online dating market was valued at US$3.41bn in 2027, with the US being the largest market for online dating services.
Tinder is the most popular hookup app in the world, with over 75 million active users in 2023. Other popular hookup apps include Bumble, Grindr, OkCupid, and Hinge.
According to a survey conducted by Pew Research Center, 30% of US adults have used a dating app or website. Among those aged 18 to 29, the percentage rises to 55%.
In a survey of over 5,000 people conducted by the dating app Hinge, 74% of respondents said they had gone on a date with someone they met on a dating app, and 63% said they had formed a long-term relationship.
Hookup apps are not just for heterosexual individuals. Grindr, a hookup app for gay and bisexual men, has over 27 million users worldwide.
A study conducted by the Norwegian University of Science and Technology found that hookup app users are more likely to engage in risky sexual behavior, such as having unprotected sex or having sex with multiple partners.
Hookup apps have been criticized for contributing to a hookup culture that is focused on casual sex rather than meaningful relationships.
In a survey conducted by The Kinsey Institute, 34% of men and 24% of women reported having had sex with someone they met through a dating app.
Hookup apps have been linked to a rise in sexually transmitted infections (STIs) in some countries. According to a study conducted by the University of California, Los Angeles, the use of best hookup apps was associated with a 37% increase in new cases of syphilis among gay and bisexual men in California between 2013 and 2014.
So, let's now discuss the 20+ best hookup apps you can download on your Android or iOS device and enjoy!
20+ Best Hookup Apps for Free in 2023
| App | Company Spotlight | Subscription | Gender Identity Options | Compatibility |
| --- | --- | --- | --- | --- |
| AdultFriendFinder | Encourages excellent dating experiences and fantasies | $239.40 ( 1- year subscription( | 20+ option available including non-binary,bigender | Android, iOS |
| Tinder | Available in +190 countries and 56 different languages | $10 month (1-year subscription) | +30 options including gender non-conforming, gender questioning, bigender | Android, iOS |
| HER | Find LGBTQ+ news, content and educational sponsored events in your area | $7.49 month (1-year subscription) | +20 options including non-binary, gender fluid, intersex, trans man, trans woman | Android, iOS |
| Hinge | Nobel-Prize winning algorithm | $14.99 month (6- month subscription) | +20 options including third gender, cisgender man or woman, non-binary | Android, iOS |
| OKCupid | Over 91 million connections every year | $22.49 month (6- month subscription) | 22 options including other gender, pangender, two-spirit, androgynous | Android, iOS |
| Bumble | Dating, friendship and networking app | $229.99 (lifetime subscription) | Around 75 options and open to suggestions | Android, iOS |
| Ashley Madison | Reliable spot for people looking for new affairs | $289.00 (1-year subscription) | Around 50 options and open to suggestions | Android, iOS |
| Christian Mingle | Leading Christian hookup app | $44.99(1-year subscription) | +60 options including third gender, cisgender man or woman, non-binary | Android, iOS |
| FeeId | Dating, friendship and networking app | $91.99 (1-year subscription) | +40 options including gender non-conforming, gender questioning, bigender | Android, iOS |
| Pure App | Best for hookups | $54.99 (1-year subscription) | +10 options including gender non-conforming, gender questioning, bigender | Android, iOS |
Free Hookup Apps Free Messaging
Here are 20+ of the most popular free hookup apps you may want to try that can help you deal with dating during the COVID-19 pandemic. You might be interested to check my other guides on celebrity look alike apps and face swap apps.
1. AdultFriendFinder: Best Hookup App Overall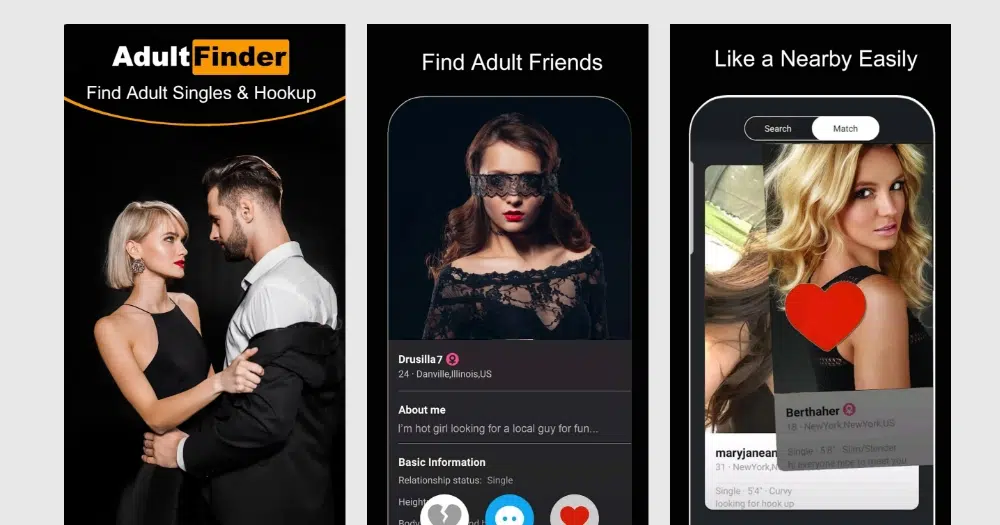 Download: Android, iOS
Cost: $39.95 per month
AdultFriendFinder could be a good match for you if you're looking for sexual fun (or want to try new things sexually). Most people are sexually active, and you can attract potential matches by sharing erotic photos and videos.
Furthermore, because this hookup site demographics are diverse, including seniors, gays, and bisexuals, you can find all kinds of no-strings-attached partners here. You can contact other users using any communication modes available on the platform, including live chat.
AdultFriendFinder has a massive user base, with most users residing in the United States. Sign up for free access to the hookup website's blogs and groups. It is also acceptable to leave comments.
Features
A large user base
Access the platform's blogs and groups without restriction.
Distribute erotic media
The majority of members are looking for casual relationships.
2. Tinder: Best Free Hookup App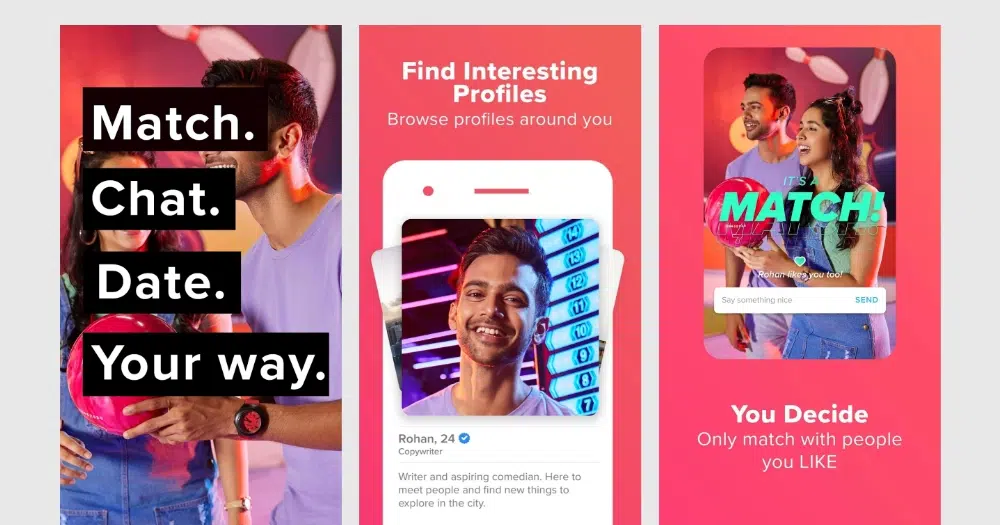 Download: Android, iOS
Cost: $19.99 per month
Tinder is the world's most well-known dating app. Even though Tinder claims to cater to all types of dating, everyone knows it's best for one-night stands. Tinder is simple to use and works quickly.
It has many users, but unfortunately, many people are hesitant to hook up with others. To put it another way, you might get tired of swiping. However, due to many users, everyone can find someone to hook up with.
The essential thing to remember is that you can use Tinder's core features for free. Even though there are three types of upgrades available, you don't need them.
Features
A matchmaking system based on location
Free messages to other users
Use live video calls
Check out by millions of people
User engagement is high.
3. HER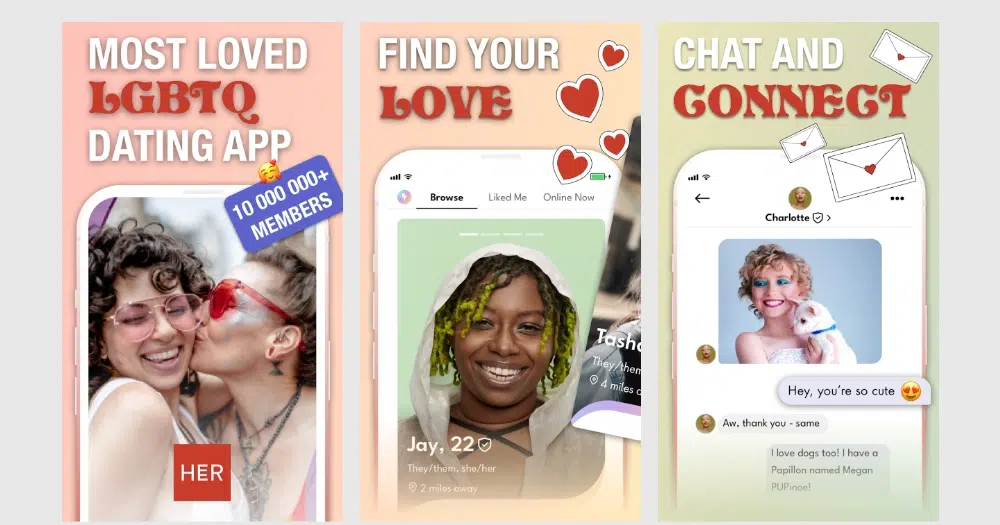 Download: Android, iOS
Cost: $7.49 per month
Her is a dating and social networking app for lesbian, bisexual, and queer people. Just sign up using your Facebook or Instagram accounts, and then you can see a stream of activity from other verified Her users in your area and worldwide. You can Like other users' photos, and if the interest is mutual, the app will link you up to chat.
Of course, it's more than just meeting potential dates; the app provides social features, news, and articles about LGBTQ issues, events, questions, and many more. While the app is free to download and use, a premium subscription unlocks additional features.
Features
Your profile includes preferred pronouns
"Community" is a social media-like space for people to share their interests
7-day risk-free trial (with a premium subscription)
It provides social features, news, and articles
4. Hinge: Best For Ongoing Hookups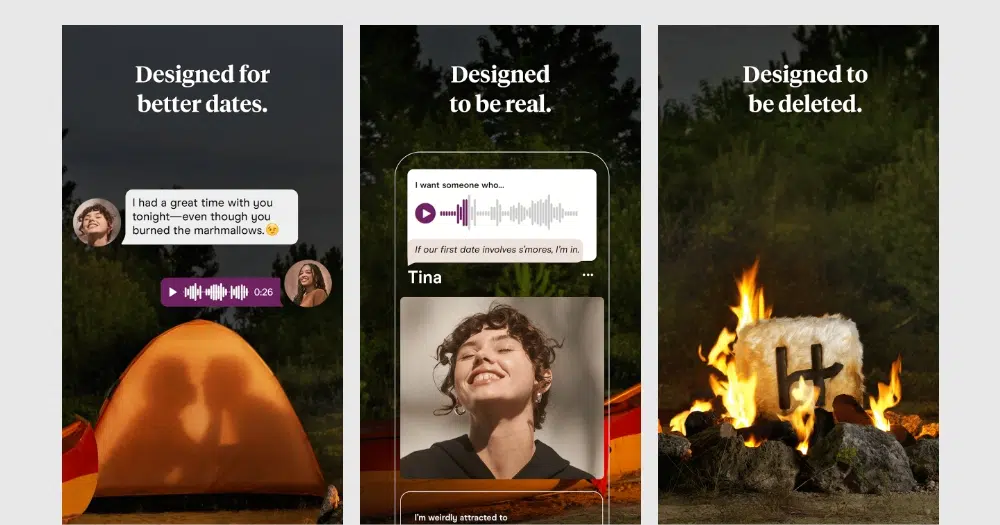 Download: Android, iOS
Cost: $10.99 per month.
It is an excellent choice for those looking for love quickly and without other dating apps' time-consuming, complicated processes. You will not be given matches for anyone other than those who are a match based on recorded responses about religion, height, and politics. You can start a conversation based on a specific section of someone's profile, making it extremely simple to find relatable and interesting topics to discuss. The best thing is that Hinge does not match and then disappears like a bad date; instead, it checks in with you regularly to see how you like your matches.
Features
Record and playback 30-second voice prompts
Interesting, customizable profiles with a variety of prompts to choose from
Upload your images and pair them with a text snippet
5. OkCupid: Serious & Casual Dating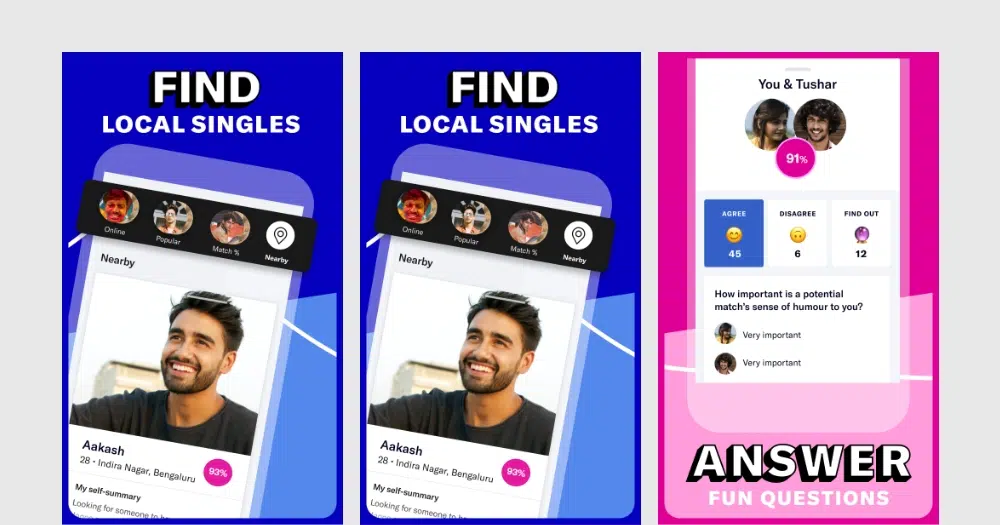 Download: Android, iOS
Cost: $4.99 per month
OkCupid provides several things, and one of them is hooking up. It's a large LGBTQ+ site that straight people can use as well. OkCupid currently has over 50 million members. Around 65% of them are men, and 35% are women. Although the app has a premium profile, the free version includes almost all essential features. This means you can send messages, view member profiles, and search.
Features
High member activity
The majority of users seek "serious" hookups
The basic features, including messaging, are free
A huge user base
Accessible for both Android and iOS devices
6. Bumble: Free Hookup Site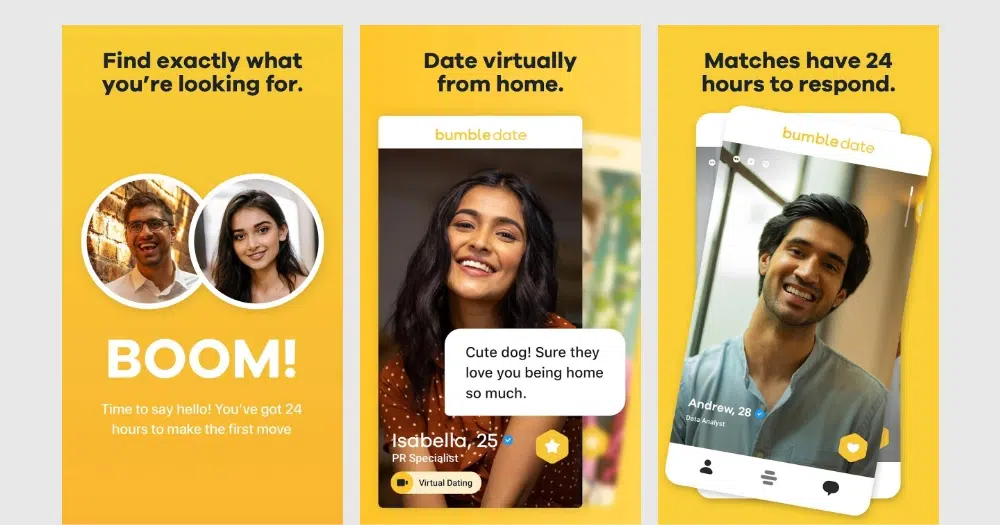 Download: Android, iOS
Cost: $39.99 per month
Consider this hookup app that empowers women! The fact that the gender proportion is nearly equal is a plus. It merely increases your chances of meeting someone. If you're a woman looking to make the first move in a casual relationship, Bumble is the place to be.
Members can contact each other for free, and their profile photos are public. So, if you're a woman who wants to be in control of her connections and chat with them for free, it might be time to join Bumble.
The Hookup site's app allows you to manage your connections while on the go, which is a plus given that there aren't any more members to check out. The platform receives millions of visitors each month.
Features
Using an app, you can find matches on the go
Women are in command of the game
Millions of visitors per month
A consistent gender proportion
Free communication with other users
7. Ashley Madison: Best Hookup Site For Affairs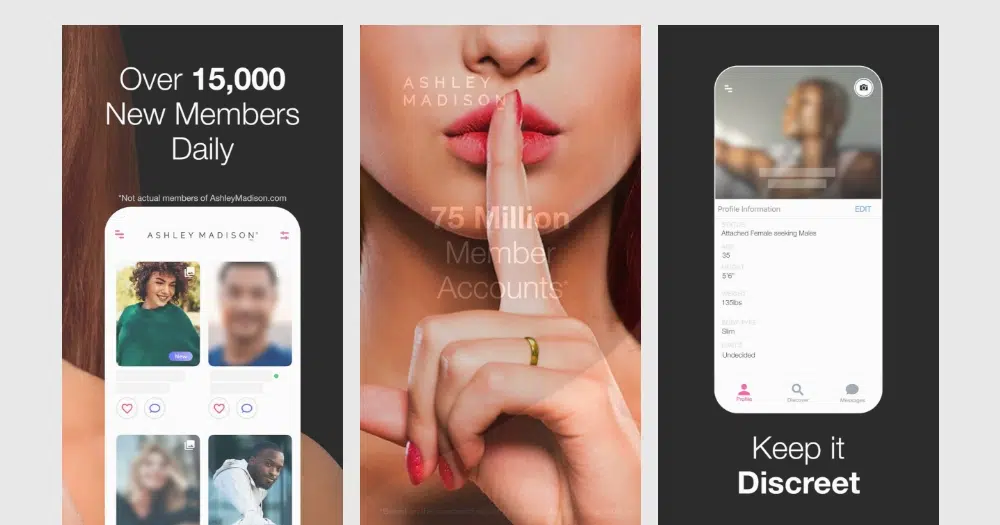 Download: Android, iOS
Cost: $49 per month
If you're looking for free hookup apps with an easy-to-use interface, then Ashley Madison has covered you. The large membership increases your chances of meeting someone, and the active community reduces the likelihood of having a blank inbox.
This app serves as a reliable resource for people looking for new relationships. Fortunately, you can get started right away by downloading it for free. You can sign up, use search filters, and view other members' photos for free. The user interface is extremely user-friendly.
Features
An easy-to-use platform
A large membership pool
A thriving community
Free access to member profile images
Best Hookup Apps for Men and Women
8. Christian Mingle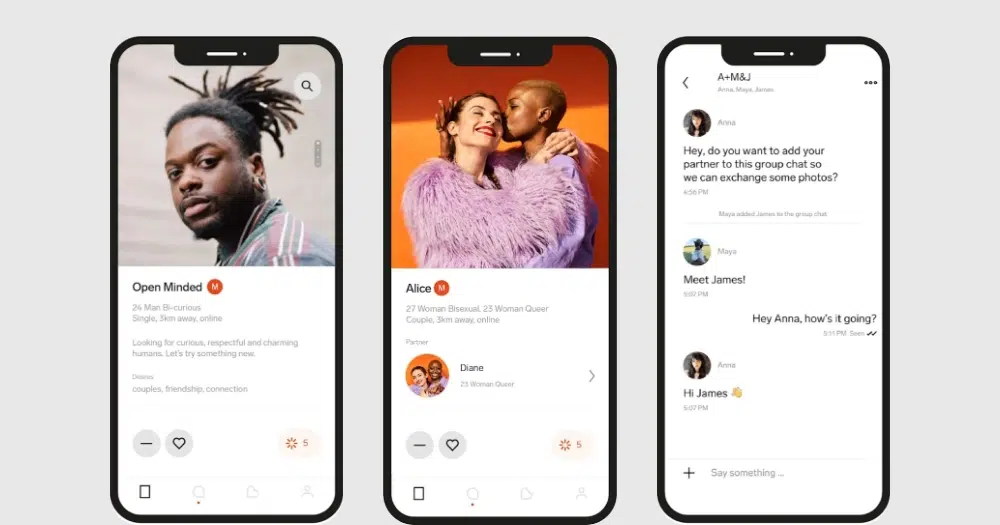 Download: Android, iOS
Cost: $49.99 per month
Christian Mingle is a hookup app created for Christian singles. The leading Christian hookup app connects Christian singles looking for a God-centered relationship by chatting with like-minded singles who share their beliefs.
Christian Mingle, one of the best free dating apps for Christians on the market, provides an easy way to communicate and helps singles match and meet.
This user-friendly app is intuitive, making it easier to find Christian singles near you and start your dating life. You can easily and rapidly upload photos from your phone or Facebook to Christian Mingle and view all profile activity at a glance. The Activity feed provides chat management, activity, and improved alerts in the app's simple interface.
Features
Meet singles who are religious
Alternatives for romantic relationships and friend/activity partners
Percentage of match compatibility
Search for users based on their location or online status
9. Feeld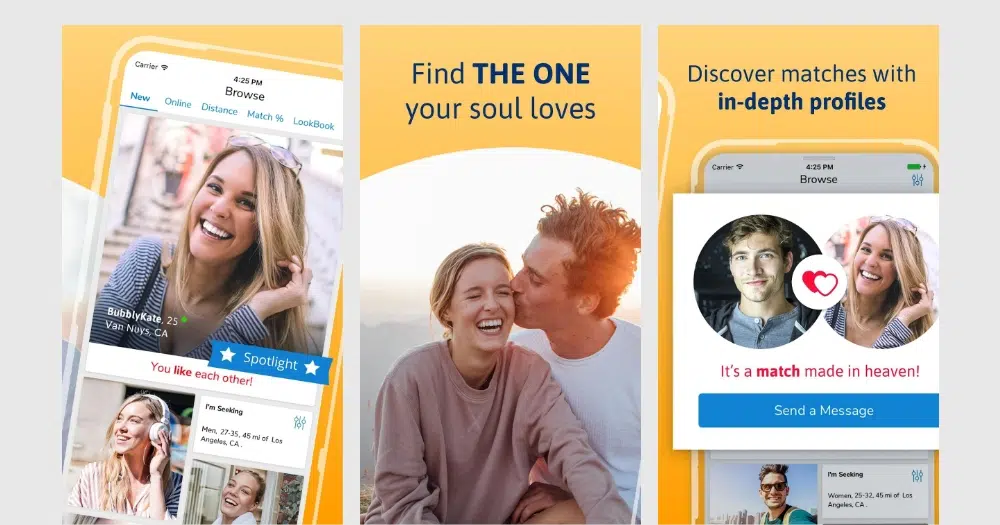 Download: Android, iOS
Cost: $8.00 per month
If you're tired of contacting hundreds of people on other apps to find the few who will agree to a threesome, you'll appreciate how Feeld users state exactly what they're looking for. The field allows you to sign up as a single or a couple, choose from over 20 sexual and gender identities, list your desires, and create group chats. In other words, narrowing down your search should only take a few minutes.
Features
There are numerous attractive profiles
Open-minded users
Outstanding security
LGBTQ+ friendly
10. Pure App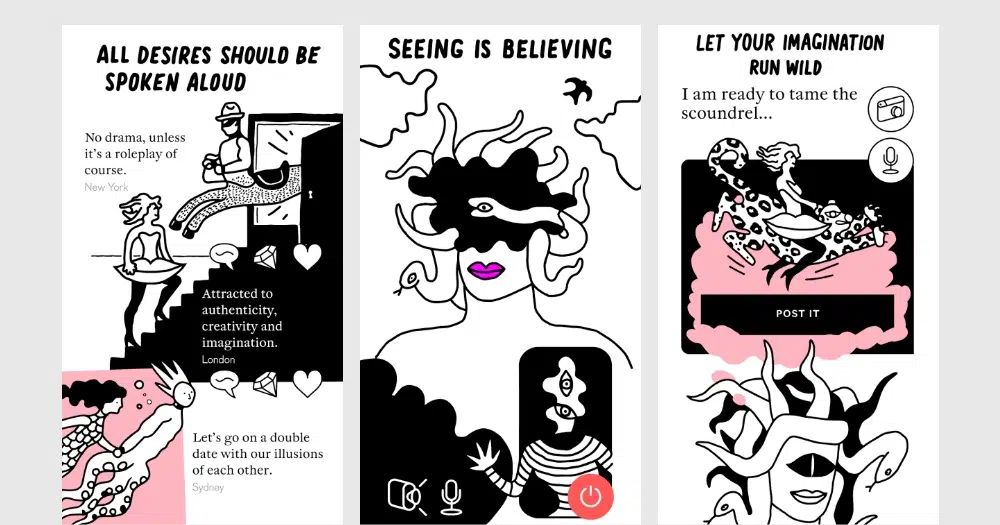 Download: Android, iOS
Cost: $29.99 per month
Pure, as the name suggests, is unique and only for hookups. The app's rules instruct users to "act as if you're strangers afterward."
Pure, unlike most dating apps, does not use a matchmaking algorithm. Members can instead create catchy "ads" about themselves or what they are looking for. It's a match when anyone likes their ad.
Pure is a perfect match (pun intended) for those who value confidentiality, as profiles are removed every 24 hours. You can also send random pictures that will self-destruct a few seconds after your partner sees them.
Women will be relieved to know that Pure is completely free of charge for them. On the other hand, men can take advantage of a three-day free trial to try out all of the features and get their first date.
Features
Only for hookups
For women, it's completely free
Every day, there are different matches
UI that is modern and minimalist
11. Seeking: Best For Sugar Daddy Dating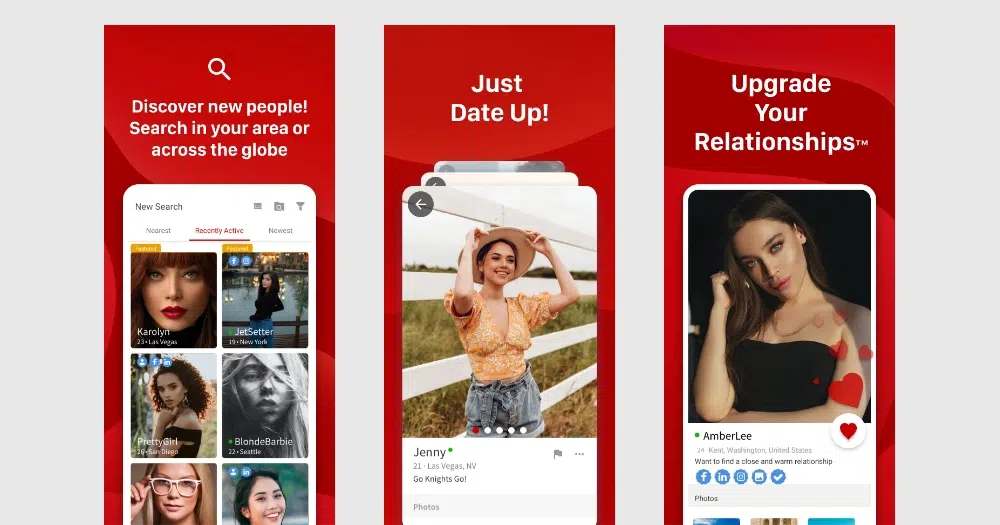 Download: Android, iOS
Cost: $99.99 per month
Seeking one of the best hookup apps with a consistent male-to-female ratio is a haven for sugar daddies looking to enter into casual dating with young folks.
The platform is simple to use and has many users who could be potential partners for casual sex — or even a one-night stand.
You can contact other users for free if your profile image is approved. And if you find yourself on the go, Seeking's app has got you covered. It's free to download and works on both Android and iOS devices.
Like most of the others on this list, this platform provides complimentary services. Register for free, find matches, and chat with them.
Features
A substantial user base
The gender ratio is nearly equal
Contact other users at your leisure
Sugar daddies and sugar babies will enjoy it
The majority of users are in casual relationships
12. SilverSingles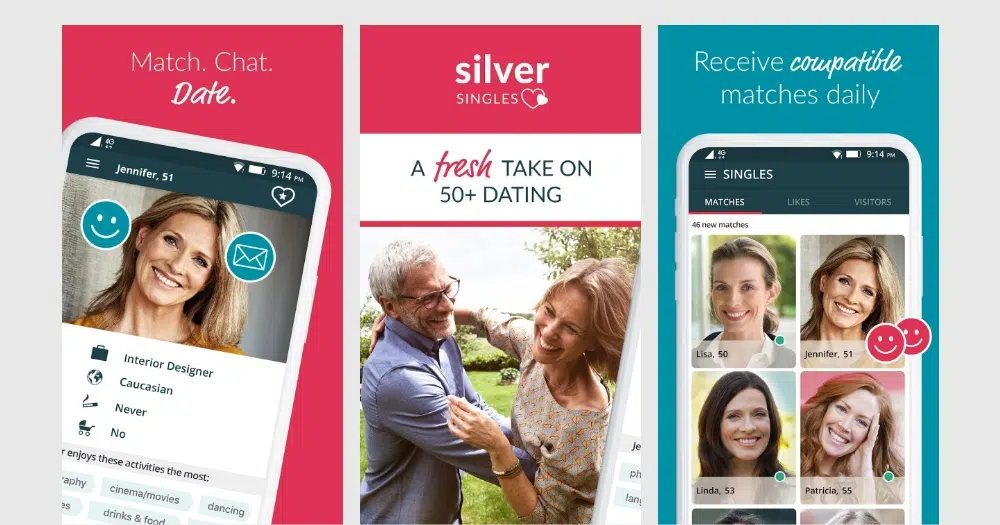 Download: Android, iOS
Cost: $27.95 per month
This could be a good place for senior citizens to meet with their "agemates." The site is customized for older adults: it's secure and simple to use and includes a detailed personality assessment during signup.
SilverSingles has a nearly equal gender ratio, which increases your chances of meeting other casual-sex seekers. Because most of the members are over 50, you only knock into matches within your age range and are educated.
This is free to download and available on Android and iOS devices. Viewing other users' photos, receiving match suggestions, and favoriting potential casual partners are free at Silver Singles.
Features
The platform is risk-free to use
View the pictures of other members for free
The site is intended for older singles
A nearly equal gender distribution
Use a clutter-free app
13. Grindr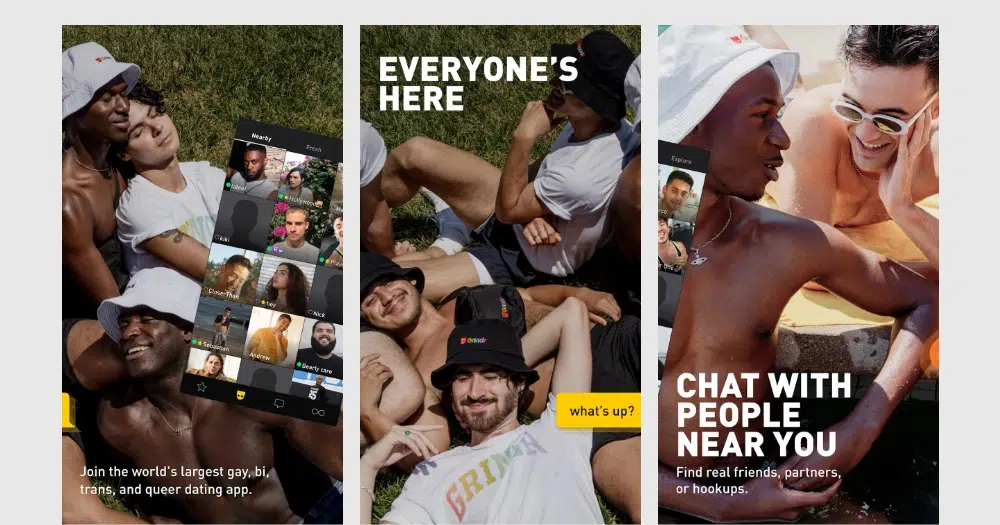 Download: Android, iOS
Cost: $50.00 per month
Grindr is a hookup app primarily used by a younger demographic that's open to LBTQ+ communities. Grindr is ideal for queer, trans, bisexual, and transgender people, as well as straight people. Signing up takes only a few seconds, you have complete anonymity, and the app is completely free.
It takes seconds to find someone to match with. Furthermore, everyone on the app understands why they are there. In other words, you won't be stuck with people looking for a long-term relationship.
Features
For members looking for short-term relationships
A large, active user base
Location-based matches
Contact possible matches free of charge
14. Alt.com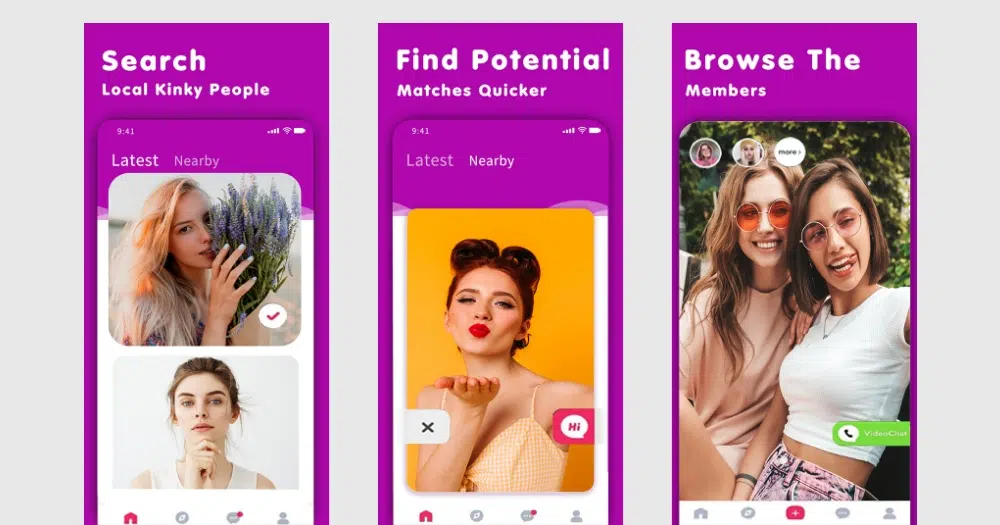 Download: Android, iOS
Cost: $11.99 per month
Do you want to gratify your sexual fantasies? Alt.com may be your best app for hooking up because most of its members are into BDSM. The Hookup site also has millions of users, so you might be able to find a match.
Active users range in age from 25 to 34, so you know where to look for potential matches. And the detailed member profiles allow you to evaluate potential dates before dropping an opening line.
Alt.com, like the other entries on this list, offers freebies: register, flirt, and join chat rooms without spending a penny.
Features
Members are looking for BDSM interactions
A sizable user base
Detailed profiles
Active users range in age from 25 to 34
Free access to live video chats
15. Swapfinder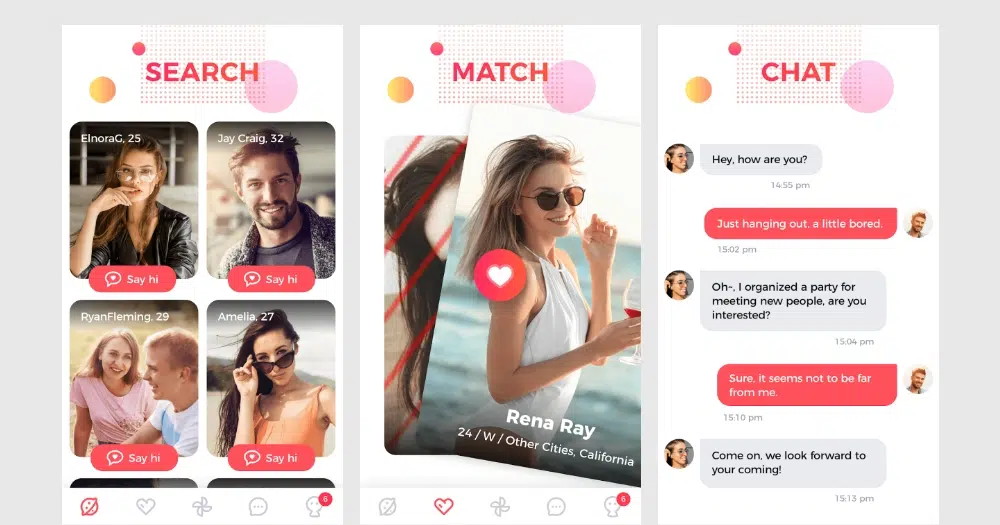 Download: Android, iOS
Cost: $39.99 per month
Swapfinder, as the name suggests, is a partner-swapping website. Here members are open to sharing their sexual preferences and couple-sharing.
The platform has a large user base (the vast majority of members are from the United States), which increases your chances of finding a potential match. It's also a plus that the users here are sexually active.
Swapfinder allows you to freely join chat rooms and comment on media such as videos and photos. Join for free and get things started!
Features
Members engage in sexual activity
Couple-sharing is acceptable among users
A pretty sizeable user base
Members are looking for casual sex encounters
Take part in free chat rooms
Best Hookup Apps That Work
16. EliteSingles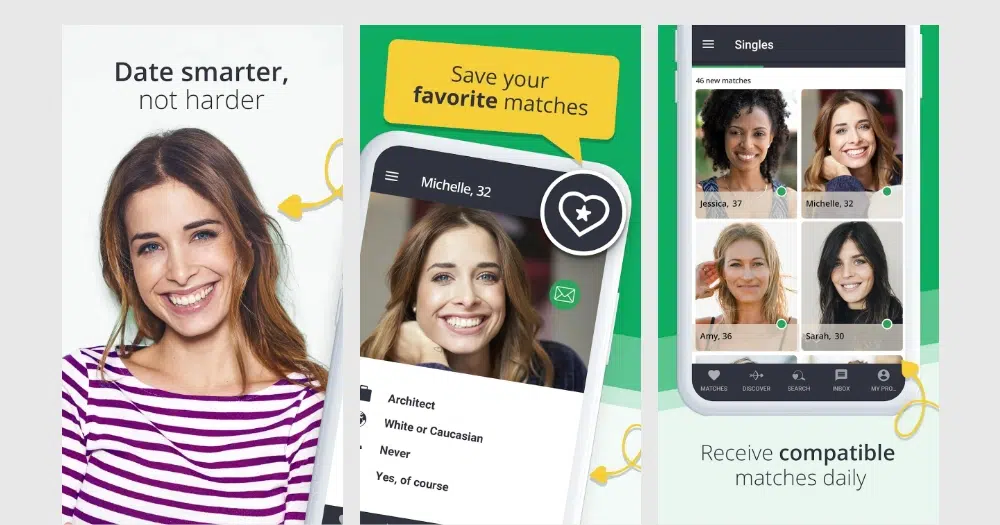 Download: Android, iOS
Cost: $33.99 per month
EliteSingles differs from most free dating apps on this list in that it is aimed toward professionals. The app promotes itself as the best dating app or site for serious singles looking for love. Members of the free match dating app have an above-average education and are mostly between the ages of 30 and 50.
To begin, you'll take a one-of-a-kind EliteSingles personality test created by professional psychologists, after which you'll receive daily matches with local but outstanding singles. The free app includes a personality test, the ability to fill out your preferences and profile, partner recommendations, and the ability to upload photos and send smiles or likes.
Features
Select from a variety of gender and sexual identities
The match proportion indicates the likelihood of compatibility with potential partners
Profile information includes eating, smoking, drinking, and cannabis consumption habits
17. Plenty of Fish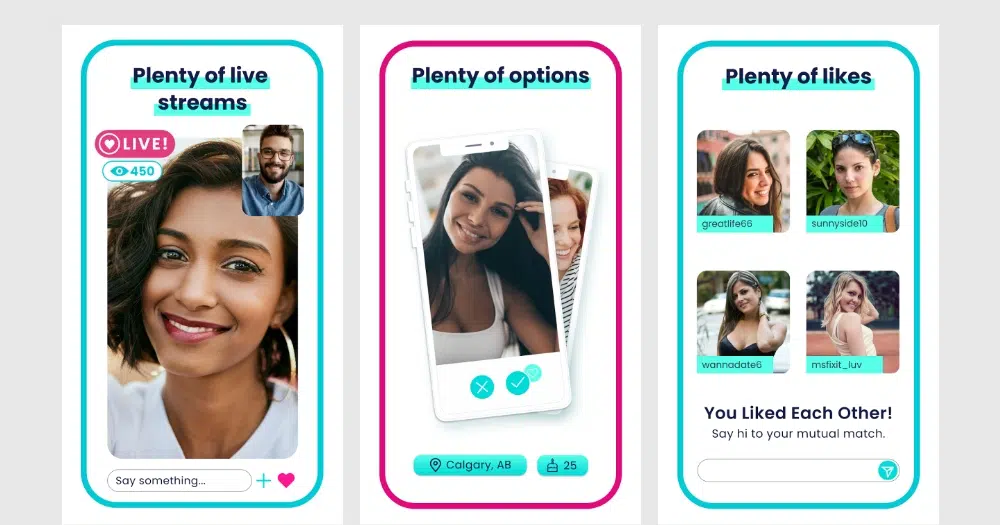 Download: Android, iOS
Cost: $19.99 per month
Plenty of Fish is an abbreviation for POF. Even though it is not the most popular dating app, it has a stellar reputation. Plenty of Fish is extremely effective at assisting singles in finding dates. Flings, casual encounters, and hookups are also included.
POF allows each user to fine-tune their profile meticulously. It takes a traditional approach, with detailed profiles and lengthy questionnaires, but it works! Be as specific as possible to ensure you are matched with the right people.
The method is very powerful and finds people who will benefit each other. It's a great place to meet people who want to do something casual.
Features
Users have the option of uploading multiple photos
Profiles provide useful information
Users can add a catchphrase to their profiles
Premium members have access to extended profiles
18. Badoo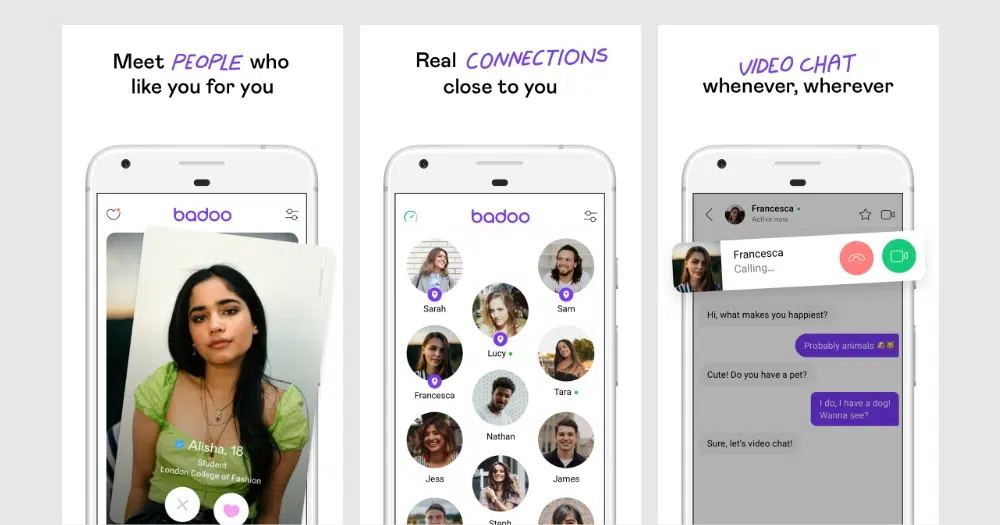 Download: Android, iOS
Cost: $19.99 per month
With over 350 million users worldwide, Badoo is one of the biggest dating platforms. When using Badoo, the first thing that comes to mind is how nice it looks and how modern it is. Here you can find local hookups as many people use them.
It's a simple app that matches people based on their location and pictures. There's no need to give a lot of personal information. Even though it has a premium version, the free version allows you to find dates easily.
Features
With this feature, users can see and contact local people and those they've 'Bumped Into.'
Users can also see who is using the app in another city
Another free feature allows users to swipe right (yes) or left (no) on the profiles of other users. If a match is found, both users are notified
19. HUD
Download: Android, iOS
Cost: $30.00 per month
The HUD app is a more recent casual dating site that is rapidly growing in the online dating world. Even though it was released only one and a half ago, in 2015, and is one of the most downloaded apps in its category.
HUD takes a completely modern approach to casual dating and demonstrates that it can provide users with something new and exciting. To begin with, the community here is laid-back, but there is no room for shady characters. The number of fake and inactive profiles is near zero.
Swiping is no need because every user can instantly go through their matches. Even the paid option is extremely low in comparison to competitors.
Features
Send virtual gifts to live streamers using the app, such as emojis or animated emoticons
Sign up with your Facebook or Google account
Facebook verification and photo
20. Happn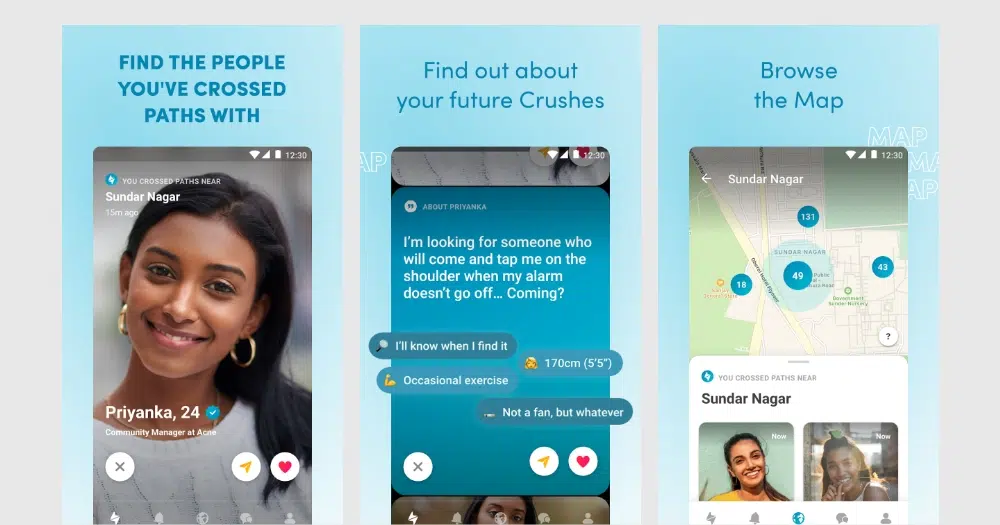 Download: Android, iOS
Cost: $24.99 per month
Happn is an excellent free dating app for finding dates with folks you find intriguing, who may be doing similar things to you and whose paths you may have crossed. The app is location-based and displays other users' profiles, locations, and time.
You can like profiles you see, and if the other person feels the same way, you can connect with them. Premium features include the ability to say hello to other people's profiles and notifications and alerts about people who liked you.
Features
Profiles are matched on the go
Sync your Happn profile and other social media accounts
21. Zoosk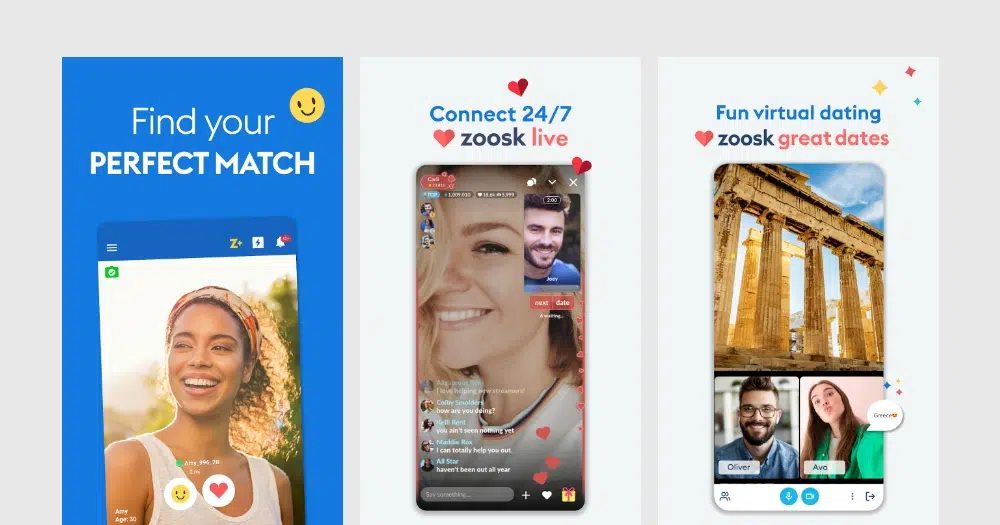 Download: Android, iOS
Cost: $8.99 per month
Zoosk is an online dating app that does not require much preparation, such as providing information about yourself, creating a profile, and answering survey questions. You can begin using the app after setting up your account in seconds.
Zoosk is simple and handy to use. It currently has approximately 40 million active users. All you have to do is swipe to get paired with the perfect people. As you proceed, the platform monitors your behavior, likes, and dislikes and uses this data to find the most appropriate matches.
Features
Women can set specific date preferences and filler men out
Every day, over 3 million messages are sent
SmartPicks based on profile information and activity
Zoosk profiles can be viewed for free
3 Reasons why Hookup Sites are best in 2023
They Are Convenient
According to most surveys, many adults are turning to date apps to find a connection, and what they want is a convenient way to do so. Imagine waking up on a Saturday morning and finding that you have a connection for the evening. This type of convenience is what busy people seek. Furthermore, introverts who do not frequently go out can find relationships and connections from the comfort of their phones.
Dating Apps Have Vast Options
A trustworthy dating app offers numerous dating and connection options. You can browse profiles of people interested in serious and long-term relationships that will lead to marriage or casual dating. You can connect with people from your preferred location, interests, careers, and various other options. Happy matches provide such services and have assisted people in finding their ideal relationships.
More chances of Finding the Right Partner
Meeting people and falling in love with them can lead to disappointment because you don't know them well. However, online dating apps allow you to browse profiles and find people who share your interests. Even if they are lying, you can still date online for a while to get to know each other better.
This increases the likelihood of finding the right partner while decreasing the possibility of heartbreak. According to research, the divorce rate of couples who met online is lower than that of people who met in other ways.
How Much Does it Cost to Develop Hookup Apps?
The app's features heavily influence the cost of app development. For example, for $30,000 to $40,000, you can create something simple with limited functionality and a simple design. Alternatively, you can pay more than $100,000 for a competitive Tinder-clone app with a comprehensive set of enhanced features.
Just keep in mind that this is a rough estimate because the cost of mobile app development is affected by various factors, including the developers you hire. If you hire freelancers, developer fees start at $20 per hour and rise dramatically if you assign your project to an in-house developer.
The third option is to hire developers from app development companies to create the best dating app, which is often the best solution, as they provide a flexible, one-on-one approach to clients.
Which is the Best Hookup App?
Here we have come to an end. Hopefully, with all of these options, you'll be able to have fun whenever you want! However, remember that hooking up with someone should be mutual and not forced. Also, be cautious about who you intend to hook up with, particularly if you meet them for the first time. It is always preferable to get to know people first, based on their profile and initial conversations.
FAQs on Free Hookup Dating Apps
Q.1 What is the Most Active Hookup App?
Bumble is the most active hookup app that allows you to manage your connections while on the go. The platform receives millions of visitors each month.
Q.2 What is the best Anonymous Hookup App?
If you want to know the best anonymous hookup app then Happn is an excellent choice for finding dates with folks you find intriguing, who may be doing similar things to you, and whose paths you may have crossed. The app is location-based and displays other users' profiles, locations, and times.
Q.3 What is the Most Reliable Hookup Site?
There are several reliable hookup sites available and a few of them are AdultFriendFinder, Tinder, HER, Hinge, and many more.
Q.4 What is the Number 1 Hookup Site?
Ashley Madison is the number 1 hookup app with an easy-to-use interface. The large membership increases your chances of meeting someone, and the active community reduces the likelihood of having a blank inbox.