Want to bring your business online with the Magento store? A Magento development company is your first requirement. But, finding the best might not be that easy. So, we have enlisted the best Magento development companies right here. Keep going through the blog and look no further.
"According to Forbes, Mobile Commerce Sales are all set to touch the milestone of $710 billion by 2025."
With this stat, eCommerce is no longer a "good to have" thing but has become a "must have" thing. Thanks to the numerous benefits delivered by online stores, the audience is now turning toward digital commerce. In this scenario, the platforms like Magento have come into the limelight by helping business owners to take their brands online.
Not only the platform ensures the online presence of the business but also provides exposure to a vast target audience. With an online store developed by Magento developers, business owners can entertain a wide customer base without any obstacle of geographical boundaries. Here is an ultimate guide on how to build an Ecommerce website.
What is Magento Development Company?
Magento, now known as Adobe Commerce, is basically an open-source e-commerce platform written in PHP. This platforms helps the business owners around the world to establish their online store and sell their products and services to online vast audience base. However, creating and managing magento store requires technical skills and knowledge. So, a Magento Development company helps its client base consisting of small, medium, large, B2B, B2C, etc. to build a top- notch magento E-commerce store and eliminate the geographical barriers from their growth scale.
Magento development companies helps leverage access to a variety of themes and plugins that makes stores more functional and attractive for the end-users. At the same time, it is a scalable solution that ensures business owners can entertain a large audience base as well. You might also interested to explore top Shopify development companies listing.
Top 10 Magento Development Companies
While roaming in the market and searching for the right one, it might take an eternity when you have no experience in hiring Magento developers. So, here we have enlisted some of the good Magento development companies that will deliver you the worth of your investments.
| Sr. No. | Company Name | Founded Year | Hourly rates | Number of employees | Custom-  build solutions | AI-powered solutions |
| --- | --- | --- | --- | --- | --- | --- |
| 1. | The NineHertz | 2008 | $25 / hr | 50 – 249 | ✓ | ✓ |
| 2. | Ziffity | 2014 | $50 – $99 | 50 – 249 | ✓ | ✓ |
| 3. | Rave Digital | 2008 | $100-$149 | 250 – 999 | ✓ | ✖ |
| 4. | The Commerce Shop | 2010 | $50 – $99 | 50 – 249 | ✓ | ✖ |
| 5. | GoMage | 2009 | $50 – $99 | 50 – 249 | ✓ | ✓ |
| 6. | Aureate Labs | 2010 | $25 – $49 | 50 – 249 | ✓ | ✖ |
| 7. | Panda Group | 2013 | $50 – $99 | 10 – 49 | ✓ | ✓ |
| 8. | Elsner Technologies Pvt Ltd. | 2006 | < $25 | 50 – 249 | ✓ | ✓ |
| 9. | Default-Value | 2009 | $25 – $49 | 50 – 249 | ✓ | ✖ |
| 10. | b4spot | 2008 | $50 – $99 | 10 – 49 | ✓ | ✓ |
30 Best Magento Developers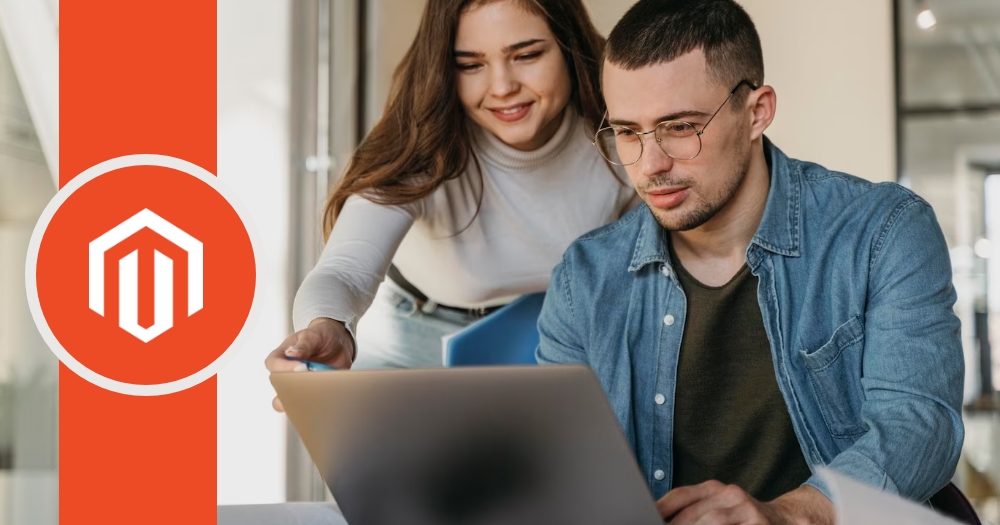 Lets Explore all Magento Development agencies in detail:
1. The NineHertz: Best Magento Development Company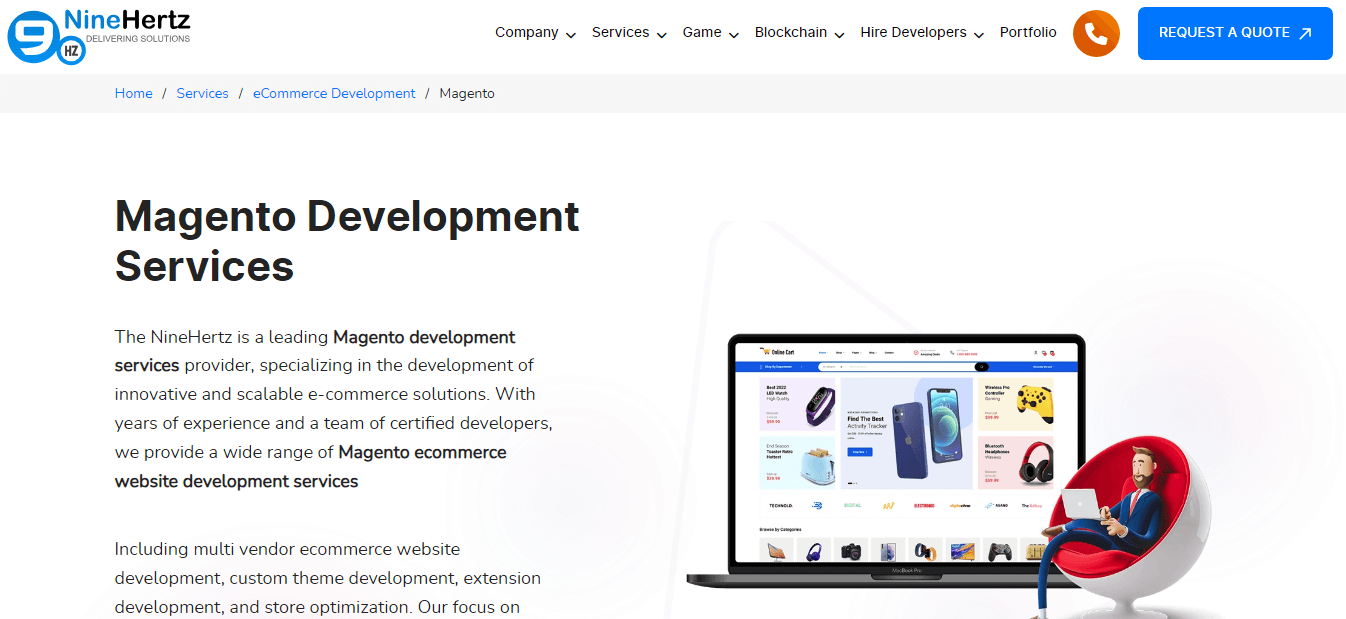 The NineHertz is a Certified Magento Development company with the tag of "Adobe Bronze Solution Partner". The company has carved its name in the Magento development segment with its team of development experts. The firm has an experience of over a decade working with the technology which makes them familiar with all the functionalities of platforms.
The firm has expertise in developing custom eCommerce solutions that match the particular requirements and needs of different businesses. Under their portfolio, The NineHertz provides a range of services including Magento 1 to Magento 2 migration, eCommerce Store development, Magento theme development, Magento mCommerce Development, Custom Magento Web Development, Magento Extension Development, Magento Website design, Magento enterprise development, and API payment & Shipping integrations.
Key Highlights
Hire Magento Developers from The NineHertz
Get Free Consultation
2. Ziffity


Ziffity is a Texas-based Magento development agency that offers 360-degree customized eCommerce solutions to its clients. The firm is 4th top Magento Contribution partner in the world by providing Magento services for enterprise businesses as well as mid-sized brands. The firm has an experience of 8+ years with a team of 60+ Magento developers.
Key Highlights
Multiple Magento Services under one Roof
Extensive experience in the segment
4th top Magento Contribution partner
30+ eCommerce Implementation
3. Rave Digital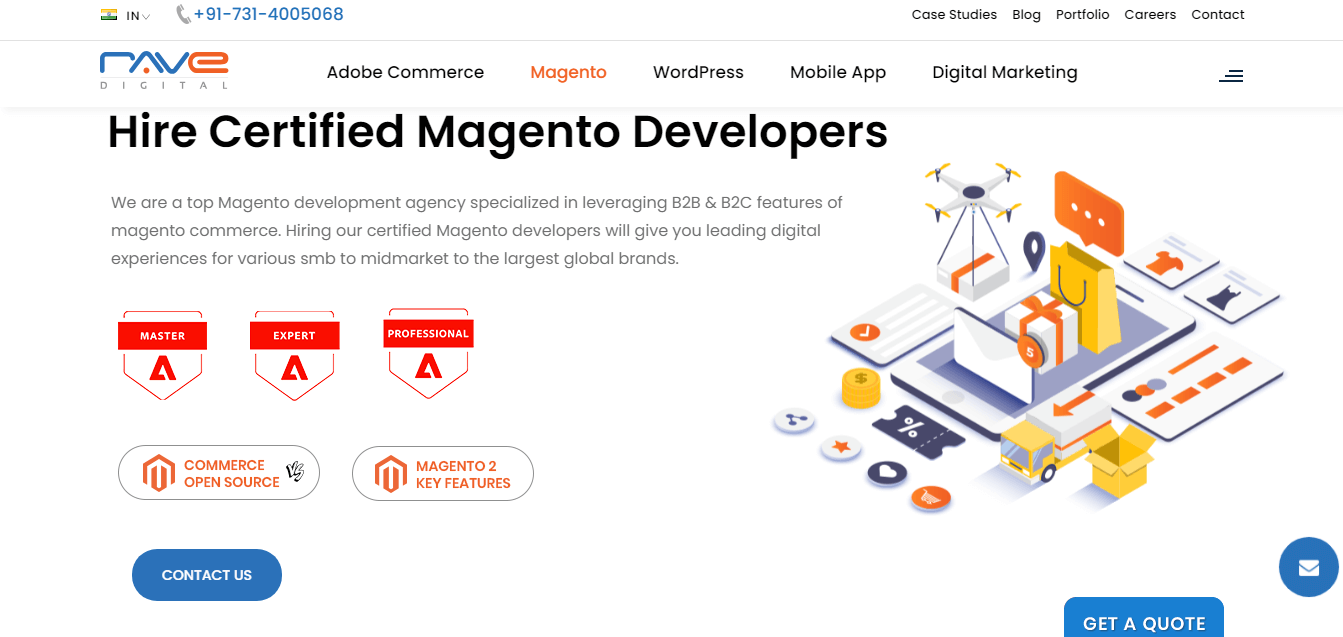 Rave Digital was founded in 2008, having headquarters in Florida. Known Magento developer that provides the Magento eCommerce store development services to clients based on their team of 50+ experts. Rave Digital is a Silver Adobe Technology partner which indicates well their expertise in the domain.
Key Highlights
Silver Adobe Technology Partner
Listed as a top E-Commerce developer by Clutch
Strong project portfolio
Broad client base
You might be interested to explore below comparison Guides:
Magento Vs Shopify
Magento Vs Woo commerce
Magento Vs Salesforce
4. The Commerce Shop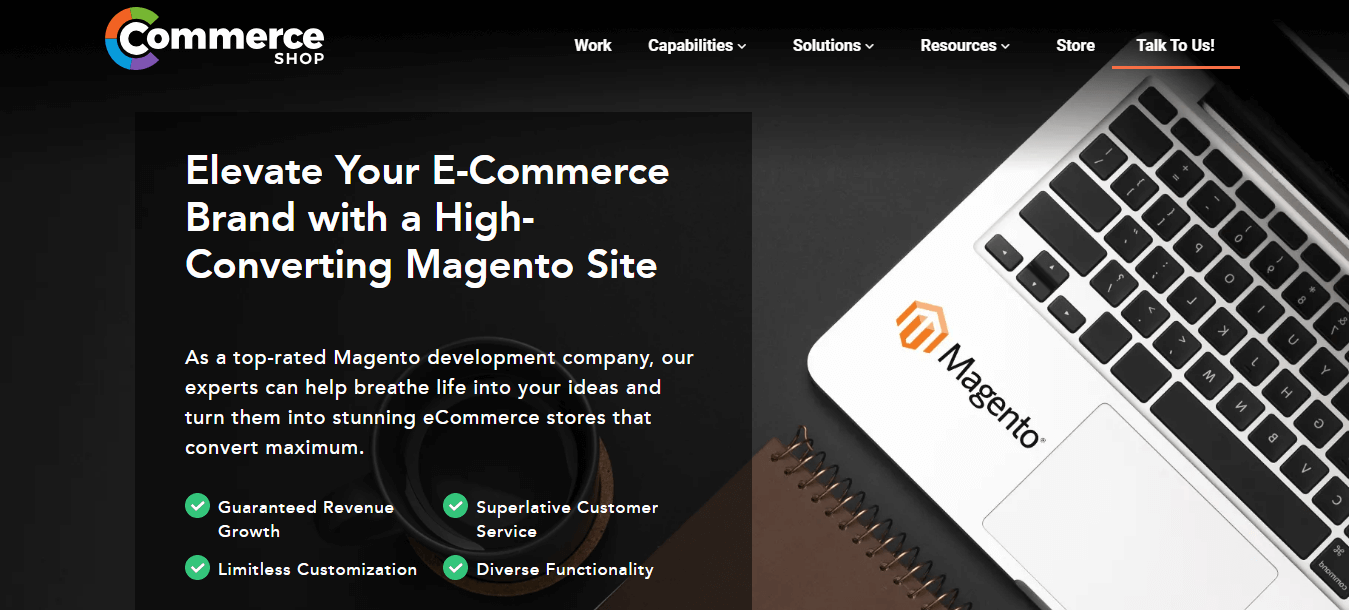 With a team of around 30+ Magento Certified developers, the firm has built more than 120 eCommerce stores in its journey. It is an Atlanta-based one of leading Magento development companies founded in 2010. The Commerce Shop provides full-fledged Magento services to its clients.
Key Highlights
80+ migrations
115+ Integrations
Magento Certified team of developers
Ample experience in the industry
5. GoMage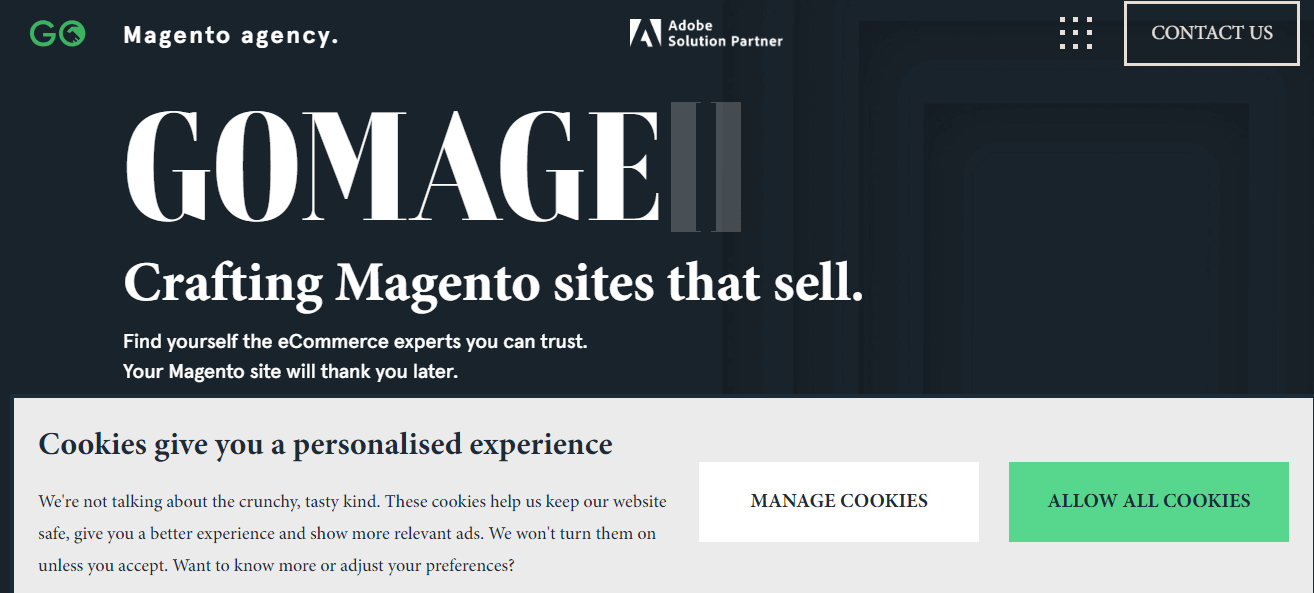 The company provides extensive Magento development services to their client. GoMage claims to increase the store processing by 10 times and increase the monthly revenue of the business by 600 times. The firm provides assistance in different services like Magento theme development, extension development, integration, PWA development, and much more.
Key Highlights
All Magento services in one place
A broad client bases
Experience in relevant projects
Fast operations
Want to Build an eCommerce Website?
Hire Certified Magento Developers
6. Aureate Labs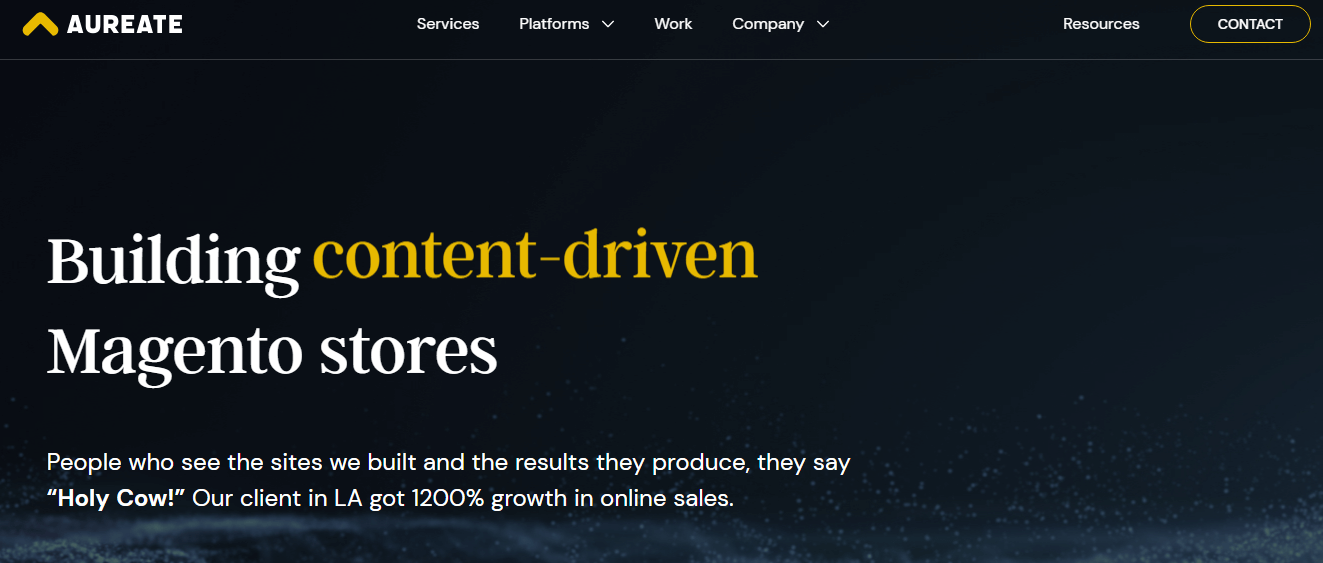 Among leading Magento development comapnies, Aureate Labs is a team of Adobe Certified experts. The firm is proficient in integrating the necessary services to eCommerce stores such as Akeneo, Adyen, Klarna, graphcms, dotdigital, ShipperHQ, Klevu, Algolia, and much more.
Key Highlights
Developed Magento Store in 6 weeks
Community Solution Partner
350+ Projects delivered
35+ Magento Experts
7. Panda Group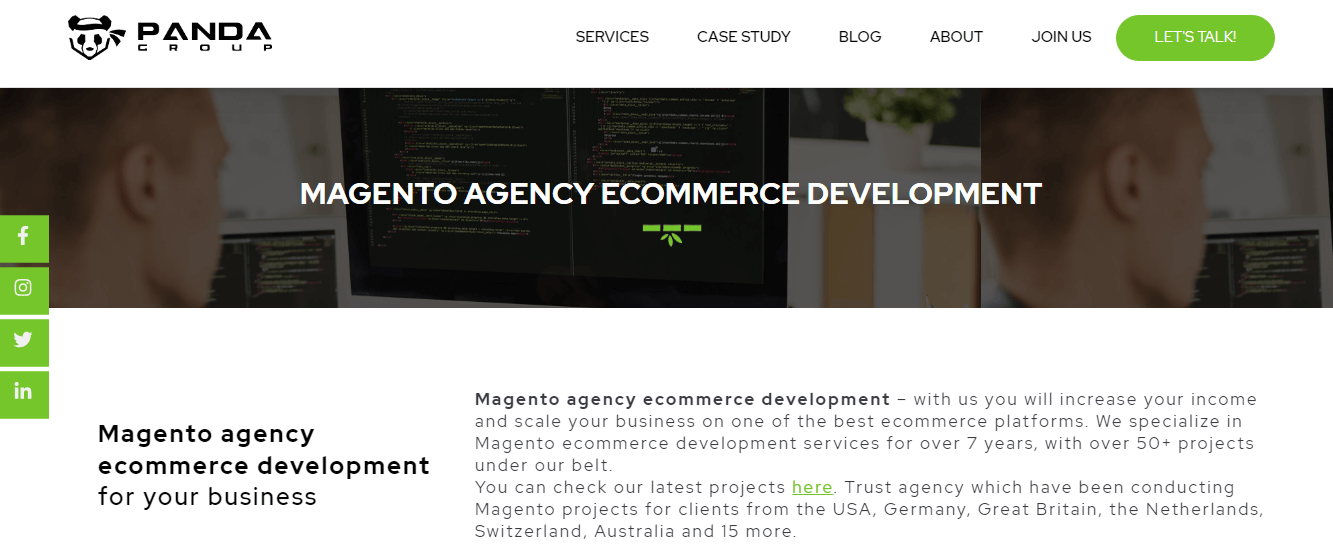 A Magento development company with Certified Developers provides a range of services like store development, PWA development, AWS hosting, Extension Development, Designing, Automation testing, and much more. The headquarters of the firm is in Poland.
Key Highlights
Bronze Adobe Solution Partner
Multiple services under one name
Extensive experience in landscape
8. Elsner Technologies Pvt Ltd.


Founded in 2006, Elsner Technologies Pvt Ltd is a Florida-based team of Magento developers with dedicated Magento development experts. Other than Magento, the firm has also partnerships with names like Zoho, BigCommerce, Shopify, Drupal, etc. Elsner Technologies also provide services like web and app development.
Key Highlights
Award-Winning Company
Competitive Pricing
End-to-end services
9. Default-Value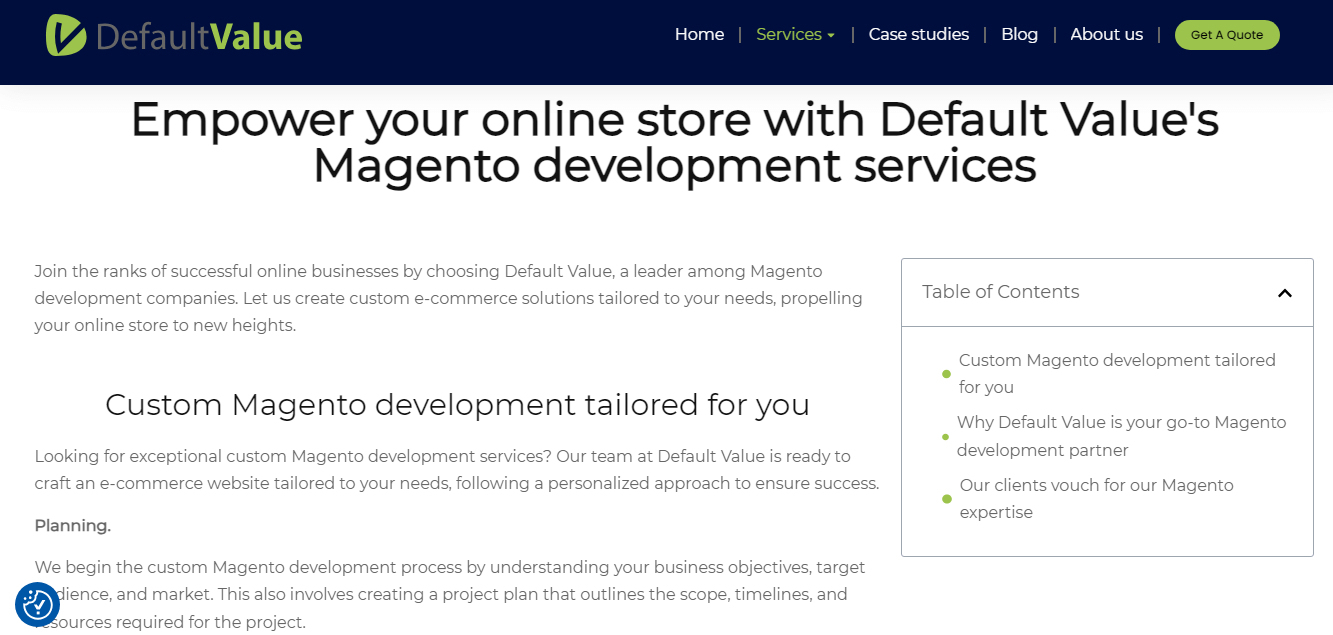 In their journey of more than 15 years, Default-Value has served over 200 clients. The firm helps businesses of different sizes to ensure their online presence and bring more customers into the fence. Moreover, the firm also assists in migrating the existing eCommerce stores and is also a known mobile app development company.
Key Highlights
70+ professionals
200+ clients served
eCommerce development as well as web and app development
1.5 decades+ experience
10. Magento IT Solutions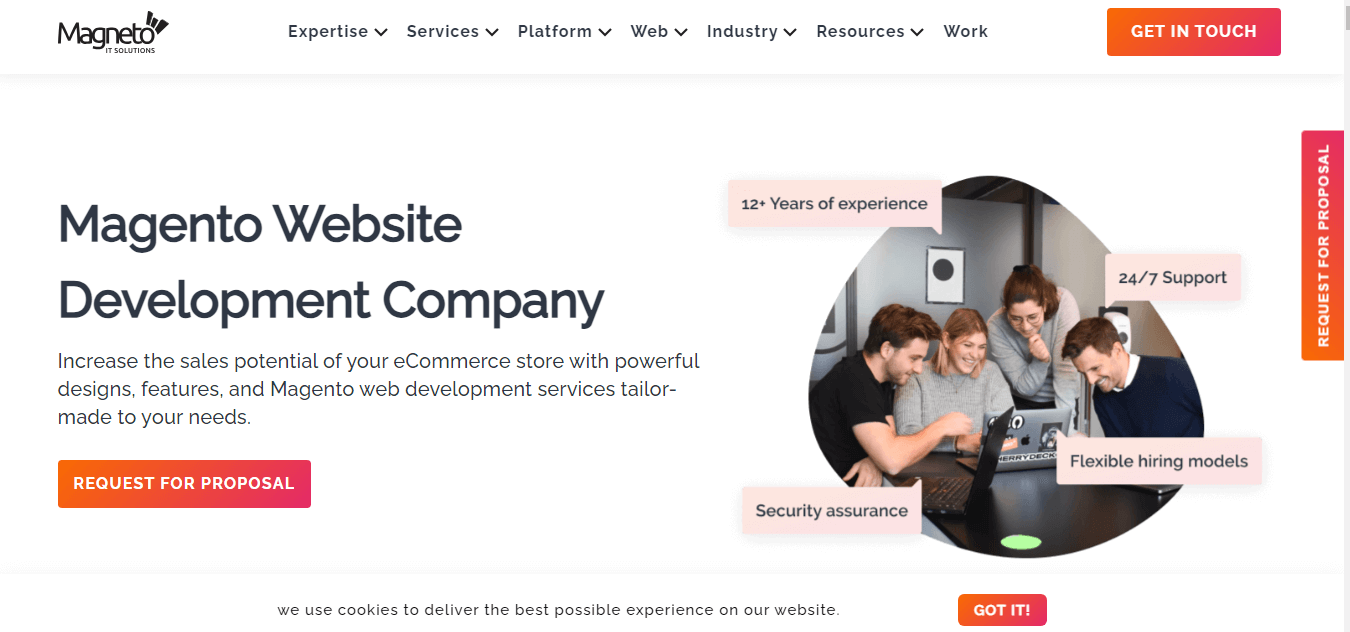 As the name suggests, this is a dedicated Magento Solution provider firm with 13+ years of experience. While providing Magento services to their clients, Magento IT Solutions has won more than 6 awards. The key client of the company consists the names like KTM, HP, DaiKin, Hyundai, Kotak Mahindra Bank, etc.
Key Highlights
Team of 120+ experts
250+ stores launched
$8 Billion revenue empowered
Multiple services offerings
11. b4spot
The company was founded in 2008 and is currently headquartered in Poland. With their services like eCommerce development, eCommerce migration, and eCommerce automation, the firm has ensured a significant presence among the Magento development companies around the world. b4spot has worked with several companies like Bank SA, Cimat, Warta, Motivizer, etc.
Key Highlights
13+ years of experience
30+ projects completed
80+ senior and expert staff
12. Absolute Web
Carrying expertise in UI/UX design, eCommerce development, API Integration, Magento Maintenance, PWA implementation, and much more, Absolute Web is a renowned software development company. With their expertise in Magento, they have achieved the "Bronze Magento Commerce Solution Partner" tag.
Key Highlights
Magento Commerce Solution Partner
Strong project portfolio
Magnificent Magento services offerings
13. Staylime
Another Bronze Adobe Solution Partner, Staylime is a full-fledged eCommerce development company. The firm works in Magento development, consulting, extension development, UI/UX design, theme development, migration, integration, search engine optimization, and Support.
Key Highlights
Bronze Adobe Solution Partner
Multiple service offerings
Satisfied client base
14. LLC Luxinten
LLC Luxinten is a Magento 2 Certified Solution Specialist and Magento 2 Certified Professional Developer. The Magento development company was founded in 2014 and has developed several eCommerce stores like French Bedroom, Swiss Watches Store, British Home Goods Stores, Belgium Manufacturer & Retailer, etc.
Key Highlights
Adobe Certified Developers
30+ Projects Migrated to Magento 2
20+ Customer's Industries
15. Above the Fray
This is a Portland-based company founded in 2017. The firm provides overall eCommerce services to their client which includes design, development, strategy, consulting, deployment, maintenance, and support. Above the Fray has worked on several eCommerce projects since its inception.
Key Highlights
Innovation at the Center
Ample real project experience
Full-fledged services in one place
Want to Launch an eCommerce Store?
Hire Certified Magento Developers
16. Neklo LLC
Having worked on more than 50 Magento projects, Neklo LLC is a known name in the Ecommerce development industry. This development company provides a range of services to their client which counts Custom Software Development, Magento Development Services, Software Development Outsourcing, etc.
Key Highlights
Vast Industry Exposure
Broad project portfolio
40+ eCommerce software outsourcing projects
50+ Magento Projects
17. Brainvire Infotech Inc
Brainvire is one of the most known Magento development companies in the market. The firm not only provides eCommerce solutions but also has expertise in developing other types of software solutions as well. Under its Magento portfolio, the company provides the services of Development, Migration, Odoo ERP, Mobile Commerce, and CRM for Commerce.
Key Highlights
Overall development services
Strong Client base
Broad project portfolio
800+ Magento developers onboard
18. Elogic Commerce
This is an Magento development agency that assists the client to code store in perfection so as to build an effective eCommerce strategy. Other than Adobe Commerce, the firm also carries expertise in Shopify, Salesforce, Commercetools, BigCommerce, and much more.
Key Highlights
14+ years in the market
200+ experts onboard
500+ projects launched
92% customer NPS
19. Inchoo
Keeping the Magento development services at the center, Inchoo has been working closely with eCommerce technology. The firm provides services like development, migration, designing, automotive, and much more. Inchoo has more than 15 years of experience in working with Magento.
Key Highlights
15+ years of experience
500+ delivered projects
200+ Clients
20. Endertech
Carrying expertise in Magento, Shopify, and other distinctive eCommerce development, Endertech is a best of magento development companies. The service portfolio of includes eCommerce, software development, UX design, digital marketing, eLearning development, etc.
Key Highlights
Multiple technologies in one place
Vast industry exposure
Top E-commerce Developersaward from Clutch 2023
21. Webview
Australia-based top of Magento Development Companies, Webview provides full-fledged IT services to their stakeholders. Be it web development, app development, or eCommerce, the firm covers it all. Webview is one of the leading software development firms in Australia.
Key Highlights
1800+ projects completed
More than a decade of experience
120+ experts in team
Complete development services offerings
22. MOBIKASA
This New York-based IT company works with Adobe Commerce as well as Shopify, Salesforce, BigCommerce, WooCommerce, and many other eCommerce platforms. MOBIKASA assists its client base to ensure its online presence with an online store and connect to the vast audience base.
Key Highlights
11+ years of experience
Operations in 4 locations
150+ Magento developers
300+ happy clients
23. InApps Technology
Founded in 2016, InApps Technology is based in Vietnam. Not only eCommerce but the company also works in Blockchain, app development, web development, and other software development areas as well. In their journey of 7 years, InApps Technology has developed pharmacy Ecommerce platforms and Grocery Ecommerce platforms.
Key Highlights
200+ successful projects
60+ global clients
70% customer retention
96% customer satisfaction
24. Roweb
Incepted in the year 2006, Roweb is a full-fledged IT development company with services like App development, web development, E-commerce, and iOT at its core. The firm works with its proficient and experienced team of developers and delivers top-notch software solutions to its client base.
Key Highlights
Offices in 3 cities
Clients from 30+ countries
130+ experienced staff onboard
80% customer retention rate
25. CodeNinja
The software development company has received recognition from Forbes, Clutch, ISO, AWS, Google Cloud, and many other names. At the same time, the firm also provides services like team augmentation, software development outsourcing, and Dedicated Software Development Team.
Key Highlights
Multiple services offerings
Strong development team
Awards and Recognition from renowned entities
26. Plavno
Plavno was founded in 2007 and now operates in around 32 different time zones. This is one of the best Magento development agencies having headquarters in Poland and provides overall software development services consisting of Magento as well. The firm keeps innovation at the center of operations to build cutting-edge solutions for its stakeholders.
Key Highlights
Multiple technologies in one place
Strong client portfolio
300+ launched projects
80+ employees
27. Grinteq
This is one of the best Magento eCommerce development companies that also works with several development platforms like Adobe Commerce, Shopify, and Salesforce. Grinteq helps its clients to explore a vast audience base with no physical boundaries by developing their own eCommerce store.
Key Highlights
7+ years in the market
More than 50 solutions delivered
70 team members
Operations in 6 time zones
28. Blacksmith Agency
This eCommerce and mobile app development company was founded in 2012 and is headquartered in New York. The firm operates in more than 5 timezones, offering a range of IT development services to its clients. Besides app development, web development, and audit services, the firm also works closely with Magento to develop a top-notch online store.
Key Highlights
100+ projects completed
A team of dedicated professionals
Strong project portfolio
29.Getdevdone
This is an eCommerce company working with several platforms and bringing out the best online stores for their key clients. The firm carries extensive experience in developing the eCommerce store and meeting deadlines and budgets.
Key Highlights
100K+ completed projects
470+ In-house Magento Developers
Clients from 164 countries
Experience of more than a decade
30. Roostack
Ranked as the Top Magento eCommerce Development Company in Columbia, Rootstack is known for its 360-degree IT services. The firm follows project-based models to develop software solutions for their clients. During its journey in the landscape, the firm has achieved numerous awards and recognitions.
Key Highlights
10+ years of experience
6 locations
300+ projects delivered
15+ industry exposure
200+ clients
How to Choose Magento Development Companies?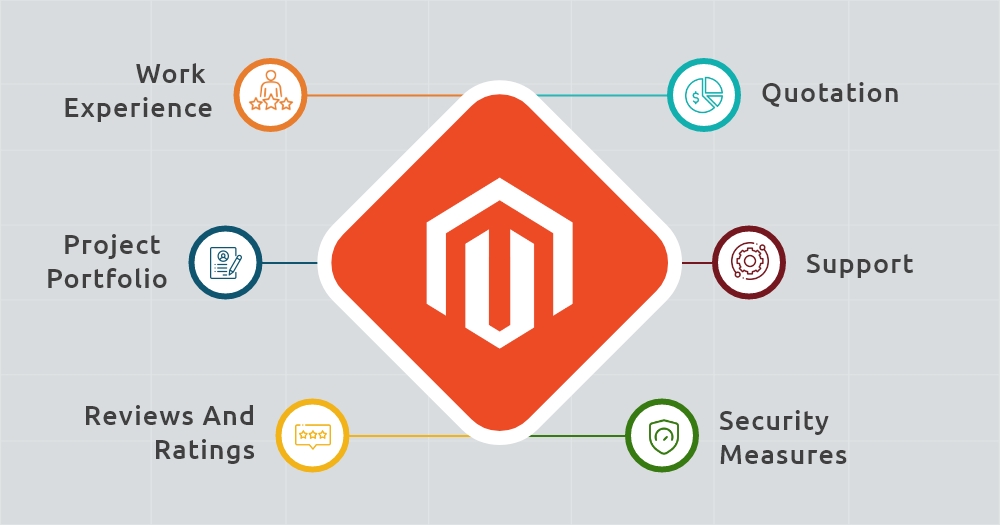 We have enlisted some of the popular and known Magento development companies in the above section, still, it doesn't indicate that you should pick any one of them randomly. While choosing the right Magento development partner for your project, ensure to consider the following factors-
1. Work Experience
Work experience says a lot about the expertise and skills of an eCommerce development company. If a development team has spent decades working on eCommerce projects, undoubtedly, they are now familiar with each prospect of the process along with the possible challenges and mitigations. So, ensuring the utmost quality of the project is easier for them.
2. Project portfolio
Go through the eCommerce project portfolio of the firm and have a look at the different eCommerce stores that they developed for their clients. If the existing projects match with your requirements and preferences, you can rely on them. Also, if the development partner has worked on several projects, they can be the right choice.
3. Reviews and Ratings
Client testimonials and reviews are the mirrors of any product or service provider. Identify what their existing clients say about them. If possible, you can even try connecting to clients of the company as they will be better able to share the things which you can not find on the internet.
4. Quotation
Not doubt, budget is going to be one of the biggest concerns while developing an eCommerce store. So, collect the quotation given by the different magento developers and compare them. However, the proficiency of the development team should not be compromised against a couple of dollars.
5. After-Deployment Support
When your store is ready to take customers, there will be a need for certain updates, changes, and new features. So, analyze the after-deployment support services of the development companies.
6. Security Measures
With increasing cases of data breaching and hacking, the concerns of users toward their data have also increased. Ask about the safety measures that your development team will deploy during the development process. If the development partner is familiar with a range of security measures and tools, they can be the right choice.
How Much Do Magento Development Services Cost?
Unlike the product you are going to sell on your eCommerce store, you can not have the exact cost estimation for the development Magento store. There is a range of factors that determines the cost of Magento web development.
Features- If you want to develop a basic store with fundamental functionalities, it will cost you a lot cheaper than a store carrying multiple features and advanced capabilities for a better user experience.
Project Complexity- A store integrated with artificial intelligence, machine learning, and AR/VR technologies is automatically more costly to develop than a store not leveraging these technologies.
Location of Developers- If you are hiring Magento web development company from Asian countries like India, it will automatically cost you a fraction of the cost required for hiring a development team from the USA or UK.
Third-Party Integration- third-party integrations add dollars to the project's cost but also enhances the functionality of the software.
After-Deployment Support- opting for the support of the development team after deployment will also increase your cost.
How Do Magento Development Companies Work?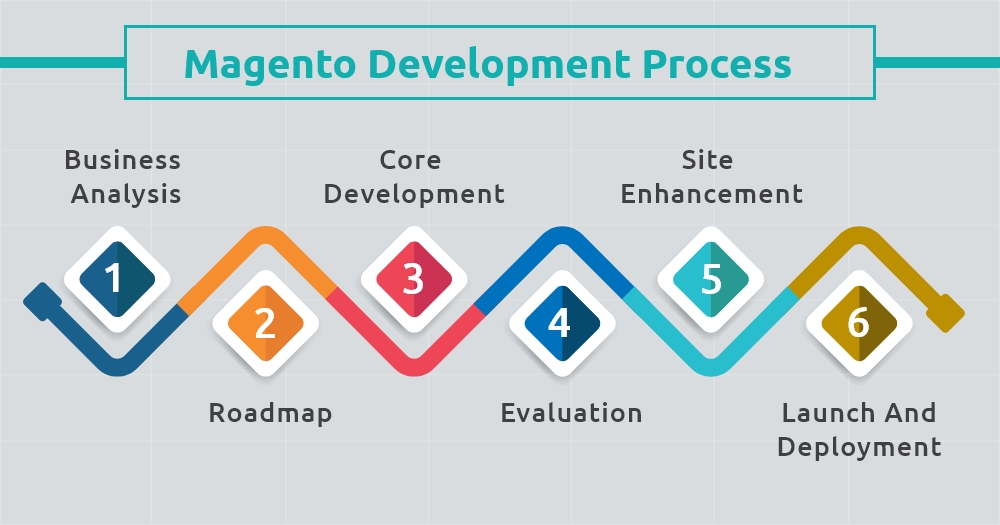 While working on the project with your development partner, it is a good idea to have a basic understanding of the development process. So, the following are the main steps of the Magento development process for an eCommerce website-
Steps
Description
1. Business Analysis
Communicate the basics of your business such as offerings, target audience, needs, distribution methods, etc. Tell them everything your think about the project and expect from the outcome.
2. Roadmap
Here the planning and major decisions take place to proceed with the project further-
1. A sitemap that displays all the pages of the website
2. Design of the website
3. Features and functionalities that will be included
4. Shipping methods to be utilized
5. Payment methods to be integrated
6. Extensions to be integrated
7. Language support
8. Server choice
3. Core development
Here the real coding and development process begins where the following tasks are carried out
● Theme development
● Designing
● Backend development
● Enabling Magento 2 default features
● Creating functions
● Configure and installing Magento 2 extensions
● Connecting to payment gateway
● Set up language, currency, shop information, and email templates, etc.
● Integrating third-party applications
● Import product information
● Develop CMS pages
4. Evaluation
This is the testing phase where the site is evaluated for removing bugs and errors. Internal Evaluation and sample use by users are two of the main tasks in this phase.
5. Site Enhancement
The developer enhances the site in terms of performance, speed, and SEO. Then, the site is emailed to the owner before launching.
6. Launch and Deployment
As the name suggest, the website is launched to make it available for the target audience.
Benefits Of Magento Development Company
A Magento development company will not only hand over an online store to you but provide a lot more support than that. Here are some unsaid benefits of hiring a Magento development company for your project-
Digital Strategy Support
While not interfering with your business strategy, they are experts in executing the digital strategy. There are thousands of online stores roaming on the internet, selling a product or two. To outperform the competitors in the same market, the Magento development company executes strategic support that helps your store stand out from the crowd.
Powerful Technical Team
Performance of an eCommerce store depends largely on the development team. Magento-certified partners hold exceptional technical expertise in developing and designing the store. Taking smart decisions to minimize downtime and delivering the projects becomes easier with professional Magento developers.
Knows the platform more Deeply
While a Magento development agency with basic knowledge can also develop a store for you but with limited functionalities only. On the other hand, a professional Magento development partner knows the platform deeply and helps you leverage the benefits to their fullest. The access to features, themes, and functionalities provided by Magento is used efficiently by development companies.
Quality Assurance
A development team is one that has already worked on several projects. Having experience working on several projects helps them bring the best out of their efforts. So, while working with an experienced Magento development team, one doesn't need to worry about the quality of the project.
Easier to Connect and Recognize
While you might have to search on the internet for some random Magento development partner, the certified developers, and companies can be easily connected via their official websites, Magento Partner directory, or Magento Marketplace.
How to Hire Best Magento Developers?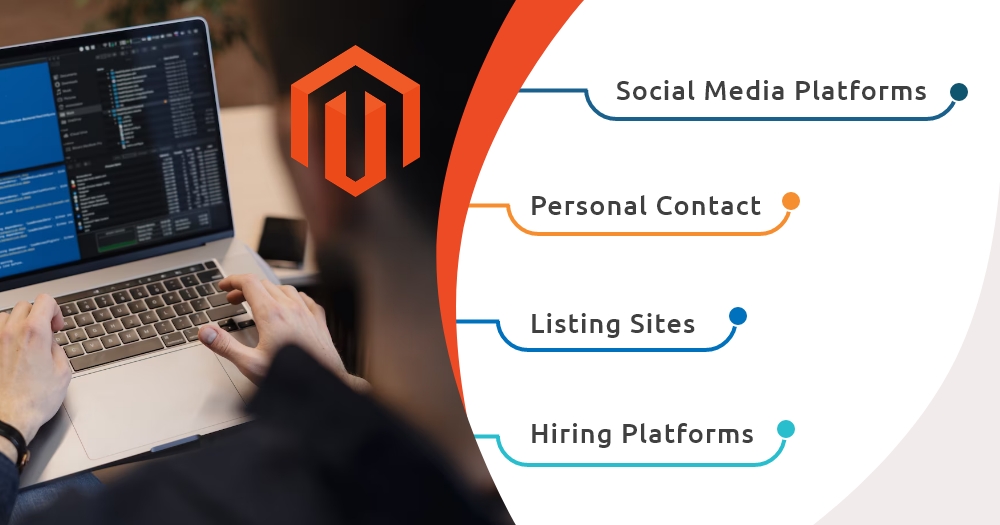 Thanks to the technology advancements, there are multiple methods that you can utilize to hire the Magento developers–
1. Social Media Platforms
Social media platforms like Facebook and LinkedIn have merged as the great place to find the right talent for your project. The individual developers and development team post their services along with their core competencies. You can connect the team over social media handle only, place the necessary requirements and make the deal. There are billions of users on these social media platforms which increase the chances of you meeting the right development partner.
2. Personal Contact
This is the traditional method of hiring Magento development agency where you can contact your friend or family in case, they crossed paths with a proficient developer for their own project. Undoubtedly, this is one of the best methods to hire a Magento developer as you can know all the pros and cons of working with that particular developer.
3. Listing Sites
Listing sites like Clutch and SoftwareWorld can be a good place to find tens of companies in one place, compare them on the basis of your requirements and make smart decisions. These listing websites carry information about hundreds of companies providing certain services. So, it is a good idea to take references from these sites to compare multiple service providers simultaneously.
4. Hiring Platforms
There are multiple hiring platforms where the Magento developers post their services. At the same time, these platforms allow the user to post their project and developers make bids on the project. The owner can pick the one which seems suitable for the project. Examples of these platforms are-
Conclusion: Best Magento eCommerce Development Company
Magento now known as Adobe Commerce has emerged as a platform that assists offline business owners to start their online stores and explore a wide audience base. There is a range of benefits Magento delivers to the store owners which can increase the sales of the store significantly. However, to leverage these benefits, first, it is important to have a eCommerce web development partner to guide you throughout the process. We have enlisted some of the best Magento development companies which might be worth your investment.
FAQ's: Top Magento Developers
1. Which is a Top Magento Development Company?
The NineHertz is one of the best Magento development companies as it provides custom website development according to customer needs in integration with the latest technologies like AI.
2. How Much Does a Magento Developer Cost Per Hour?
Per-hour cost might be different from developer to developer; however, it starts from $25 and goes up to $150.
3. How to Choose Magento Development Companies?
A good Magento developer can be chosen on the basis of their expertise, experience, skills, area of origin, per-hour cost, synchronization with project requirements, certifications, etc.
4. How Do I Find a Good Magento Developer?
To find a good Magento developer, you can turn to social media, listing websites, official websites of firm, or hiring platforms like Upwork and Freelancer.
5. Why Hire a Magento Developer?
A Magento developer knows about the platform inside out and thus can help you leverage the benefits of an online store up to its fullest.