Online games are popular, and most people love that they can earn money playing them. According to our research, crypto game market capitalization has reached $55.38B and by 2025, it is expected to increase to $50 billion, ten times the growth of traditional gaming. Players can also create their Non-Fungible Tokens and become the best game maker by creating their conventible games.
If you want to learn how to earn crypto games to make money, this guide will help you. We'll walk you through the top 20 best and upcoming crypto games you can play in 2022 to earn money. Let's first start with the definition of crypto gaming.
What is Crypto Gaming?
A traditional game is centralized, meaning that all items and experiences (XP) earned can only be used in the same game. Blockchain technology, however, introduces a new way to earn crypto games. However, a crypto-game is characterized by unique assets that can be owned in-game and sold for real-world money. However, various crypto gaming projects now allow players to use their rewards and in-game items.

Players can also earn real money with game. There are several ways in which players can earn money by top play to earn crypto games. Take the example of playing axie infinity. It is possible to buy Axis characters, level them up, and then sell them for a higher price in this game. In addition, Ethereum-based crypto gaming native tokens such as SLP and AXS, can also be earned through a fight with your Axis.
As a result, crypto games are played this way. Take a look at the blog for more information.
Explore the Best Crypto Games to Play & Earn
| Game | Token | Established Year | Availale Platform | Genre |
| --- | --- | --- | --- | --- |
| Gala | ETH TOKEN | SEP,1993 | PC/MAC | NA |
| Smooth Love Potion (SLP) | ERC-20 | 2018 | PC/MAC/MOBILE | Metaverse |
| Decentraland (MANA) | ETH Token | 2020 | PC/MAC | NA |
| The Sandbox (SAND) | Sand | 2012 | PC/MAC/MOBILE | Metaverse |
| Plant vs Undead | Binance smart chain | May 2009 | PC/MAC/MOBILE | Tower defense game |
| Gods Unchained | Gods | 2021 | PC/MAC | Trading card game |
| Illuvium | ILV Token | 2022 | PC/MAC | Auto Battler |
| Age of Rust | (RUSTBITS) | March 2022 | Mobile | NA |
| ZED RUN | ETH | 2019 | PC/MAC/MOBILE | NA |
| Alien Worlds | sci-fi nature docufiction | 2020 | PC/MAC/Mobile | Trillium |
| Farming Tales | Sestertius | 2014 | PC/MAC/Mobile | HRC721 |
| Splinterlands | DEC/SPS | 2021 | PC/MAC/Mobile | Trading card game |
| League of Ancient | token | 1919 | PC/MAC | MOBA |
| Sorare | ETH | 2018 | PC/MAC/Mobile | MMORPG |
| MicroPets | Binance smart chain | 2021 | PC/MAC/Mobile | NA |
| STEPN | $$.Task. | 2018 | PC/MAC/Mobile | NA |
| Star Atlas | POLIS | 2016 | PC/MAC/Mobile | Atlas |
| Blankos Block Party | NFT | 2020 | PC/MAC | NA |
| Thetan Arena | THC/THG | 2021 | PC/MAC/Mobile | Battle Royale |
| Treeverse | MMORPG | 2022 | PC/MAC | $ROOT |
Top Crypto Games List
1. Gala


Due to the unexpected listing, GALA tokens game has risen nearly 300 percent. Though, The price of the cryptocurrency has also risen from $0.02 to $0.12 in just one week, an all-time high. Currently, it trades at $0.080 on CoinMarketCap. The features of Gala Games are similar to those of Enjin in general. To connect the entire ecosystem, they created one utility token. Additionally, GALA is a BEP-20 digital assets based on the Binance Smart Chain, but was built on Ethereum and ENJ previously. Hence, Town Star and Spider Tanks are among the games in which Gala Games has recently expedited. Additionally, Blockchain gamers love Town Star for its features.
Positive aspects:
A long-lasting value
Setup is easy
The cost of nodes is still relatively low
Negative aspects:
Company investment is not being made here
There are still extremely high gas fees for ETH
The rewards for GALA are decreasing every year
2. Smooth Love Potion (SLP)


Blockchain gaming and the crypto world are probably familiar, and people like to start playing axie infinity. Don't you? Thousands of young Filipinos abandon their jobs to earn $2k per month playing this popular blockchain game.
As In the version like axie infinity, you can earn token $SLP. The closest token to owning stock in a corporation is AXS, which represents governance. As holders of these native tokens, you can influence Axie Infinity by voting and proposing changes.
Positive aspects:
There is a possibility of a rise in the value of axes
Stunning visuals
You can now play for free as well
Negative aspects:
Axies can lose value
3. Decentraland (MANA)


Undoubtedly, this will be one of the most popular blockchain games on the market.
Hence, With Decentraland, users can govern a shared virtual world with the help of a global network of users. Moreover, The virtual world of this game allows users to buy and sell digital real estate while exploring, engaging, and playing games.
Positive aspects:
It is possible to auction NFTs and sell LAND for MANA
Decentraland tokens can be used in a variety of ways
Negative aspects:
The terrain in Decentraland lacks variation
When users come across others, they don't interact with them
Hire Certified Game Developers
Request A Free Quote
1200+ Projects Delivered 12+ Industry Experience 450+ Clients Worldwide 200+ Certified & Expert Programmers
4. The Sandbox (SAND)


Sandbox is a fascinating game enriched with fascinating experiences. It is decorated with a mind blogging ambience in an eco-friendly manner. A player is beneficial in numerous ways. This platform's specialty is monetizing with the precise moments in the play. Although this game can be played online by placing bids between the players. Players can build, create, and own assets in the virtual medium from any corner of the globe. Exploring new levels with magnificent enthusiasm in Sandbox is impressive.
Positive aspects:
It is possible to build, play, and trade games and assets
Voxel-based visuals
Metaverse-based platform
Negative aspects:
The Alpha stage is still ongoing
5. Plant vs Undead


Play Plant vs Undead, a relaxing farming game with complete quests and rewards for Players who aren't too interested in combat games will find Plant vs Undead relaxing, for play-to-earn crypto games to earn money.
However, You occasionally defend your plants against undead attacks in this game, but your main game focuses is on raising rare Non fungible tokens plants and building up your farm.
Positive aspects:
Replayability and a lot of content
A highly addictive game
The sounds and graphics are great
Lots of laughs and hours of fun
Negative aspects:
There is a tendency for every wave to start the same way
You will die if you don't eat
Challenges take time to develop
6. Gods Unchained


Gods Unchained is sure to delight card game fans. During the game, players trade cards with their opponents to fight. A trading card is one that players have to purchase from another player. Immutable X is a marketplace where cards can be bought and sold.
The GODS token is the native currency of God's Unchained. In addition to creating NFTs and voting for the governance proposal, it is an ERC-20 token. The Ethereum wallet, such as Metamask, must be used by players.
Positive aspects:
Skills are prioritized over NFT
Trading cards is possible with Immutable X
You can play the game for free
Negative aspects:
Rules are complicated
Create Your Own Crypto Game
Request A Free Quote
1200+ Projects Delivered 12+ Industry Experience 450+ Clients Worldwide 200+ Certified & Expert Programmers
7. Illuvium


In Illuvium, players engage in auto-battles. Additionally, LIV tokens are earned by fighting and winning battles, completing daily quests, and ranking up.
The NFT creatures, Illuvials, can also be collected by players. The marketplace also offers upgrades and trades for illuvial. It is also important to note that Illuvium is run on Immutable X, so there are no gas fees to pay.
Positive aspects:
Easy-to-use
Gas is free
Maximizing profits
Negative aspects:
Trading and purchasing are the only ways to obtain it, not mining
8. Age of Rust


Would you like to go on a treasure hunt? Taking on the adventure of hunting 24 hidden Bitcoins by solving puzzles is the goal of Age of Rust.
The Age of Rust, the top crypto game is based on the ENJIN protocol and is an interactive story game. To collect tokens, players must solve mysteries in a post-apocalyptic world. There are dark sci-fi scenes set in a galaxy ruled by AI. Worth playing is Age of Rust.
Positive aspects:
The game is fun to play
Support for blockchains
Market with a high level of sophistication
Negative aspects:
Mobile compatibility is not available
9. ZED RUN


Are you curious to know the best mobile game ideas as well the best crypto game then, this horse racing game is perfect for you.
An NFT represents a horse in ZED RUN, a blockchain-based game. The qualities of each horse can result in a champion stallion, or you may find that your horse would be better suited as a stud. In addition to blockchain games, our exchange will also offer these tokens for trading.
Positive aspects:
Races are frequent and developers are well-supportive.
Breeding and racing are both ways that players can earn money.
Prize pools and tournaments offer prize money.
Negative aspects:
Prizes are lower due to reduced popularity.
Chances are more important than strategies.
Breeding has become less profitable due to recent platform changes.
10. Alien Worlds


Alien Worlds, a blockchain-based free crypto game based on WAX, is one of the most intriguing play-to-earn crypto games in the metaverse. For this metaverse game, you need Trillium (TLM) currency to mine Non-fungible tokens.
Due to its compatibility with Ethereum, WAX, and Binance smart chain, Alien World is a precious coin. Utilizing free mining tools won't require you to invest any money.
Positive aspects:
Explore a galaxy of planets
Build and develop your own ship
Trading and battles are possible between players
Negative aspects:
Collapsibility is possible at any time
There are some game modes that aren't available
11. Farming Tales


The Metaverse as a place for agriculture? You are going to have a great time playing Farming Tales. Players harvest NFTs in this play-to-earn crypto game based on the blockchain using tools in a crypto farm. To begin farming with real farming experience, you need a set or singular NFT.
Farming Tales offers a variety of farming lands for you to explore. Water towers (water supply) can be purchased for around USD45 and land for as low as USD100.
Positive aspects:
The game has a 16-bit look and feel
The use of NFTs is seamless
Negative aspects:
There is no free-to-play option available
12. Splinterlands


Using Splinterlands, you can earn money quickly. During the trading process, you can earn rewards by swapping cards. Known as DEC, Splinter Land's token is called Dark Energy Crystal. There will be battles, quests, and purchases to make.
Create an account and purchase a spellbook to get started. Creating an account, collecting the crypto convertible gaming cards (500+), choosing your army strategically, and using marketplaces such as Opensea are all the steps you'll need to win.
Unlike other games, Splinterlands allows you to use third-party applications, so it's super fun.
Positive aspects:
A vibrant and colourful art style
A classic card battle game
Negative aspects:
Card purchases are required for playing
13. League of Ancient


In the crypto gaming market, League of Ancients stands out due to its uniqueness. Monthly users number 117 million. Featuring a variety of features, League of Ancients is a play-to-earn MOBA game. Real-time rewards and earnings are available to users.
LOA BEP-20 is the currency of the League of Ancients, which you earn when you win. Your heroes can be chosen according to their specialities. The open crypto marketplaces are a good place to exchange your heroes and NFTs.
In order to win, you must have a hero and a plan. In order to earn rewards, you must beat the opposing team.
Positive aspects:
Playability is excellent
Champions of the world
Good communities can sometimes be found
A great deal of knowledge can be gained
Negative aspects:
The game is extremely addicting
It can affect your daily life in a negative way
This game tilts like no other
People with toxic personalities
14. Sorare


Metaverse introduced the Sorare one of the top NFT games to ensure football enthusiasts could have fun as well. Most football clubs (180) are registered members of this football-restricted game. Your rewards include ETH-backed cards, and you get to bet.
As a free bonus, you'll receive four free cards from football players that will play for you on the field. NFTs or points will be earned for every league win, for that matter. The difficulty of the match determines high rewards.
The cards you will have to play with are so rare, they are legendary.
Positive aspects:
Fantasy football is a great way to earn money
More than 200 official licenses
The MLB edition is now available
Negative aspects:
The game requires you to purchase rare cards in order to progress
15. MicroPets


One of the top metaverse games on the market is MicroPets . Users stake their coins by investing in mystery boxes and in-game characters based on Binance's blockchain.
A multiplayer tower defense game with a trading platform and metaverse are all part of MicroPets. According to a former game director, to earn a higher APY, you must choose rare pets, which value around 555%, whereas the lowest is 100%. MicroPets are perfect for lazy farmers. NFTs are locked for 30 days, ensuring your peace of mind.
Positive aspects:
NFTs power Fortnite
Graphics of Triple-A quality
Negative aspects:
Overambitious
16. STEPN


Gamefi and SocialFi elements are built into the STEPN app to encourage walking, jogging, and running using move-to-earn mechanisms like conventional games.
STEPN's governance token, GMT, is used to purchase Nonfungible tokens sneakers from STEPN. GST game tokens are the only game tokens with an unlimited supply that players can earn by exercising among the top crypto games.
Positive aspects:
User-Friendly
Rewarding Earnings
Negative aspects:
Entry barriers
Fitness Impact
17. Star Atlas


Based on the Solana blockchain, Star Atlas is a virtual reality platform based on metaverse. Playing an astronaut as an online game means purchasing a spaceship, purchasing supplies, and landing on other planets to explore and fight with other players.
A governance token, ATLAS, and a game token, POLIS, are present in this game.
Positive aspects:
Discover a galaxy of planets
Create your own ship by building and developing it
Players can trade and battle each other
Negative aspects:
It won't be fully released until the end of 2022
18. Blankos Block Party


Moola, or MLA, in game currency, can be collected by playing mini-games and completing quests. Credit cards can also be used to purchase Blanko Bucks.
In Blankos, which are NFTs with special in-game abilities, are unique assets created by partner artists. Various perks can be obtained by buying, selling, and trading Blankos. It is one of the most popular "earn crypto games," Blankos Block Party allows users to earn NFTs in their crypto wallet while having fun like coin hunt world and trading them for other crypto coins.
Positive aspects:
A very clean finish is found on Blankos.
It is safe to play mythical games
There is no end to the possibilities of challenges
Negative aspects:
A limited number of game types is possible
A grind can be involved in this game.
Canada, the United Kingdom, Germany, and the United States are the only countries that allow withdrawals from the game.
19. Thetan Arena


Several tournaments, activities, and events can be participated in this game to earn points. Players of all ages can enjoy this multiplayer online battle arena game. Various in-game items and characters are controlled by NFTs in the game. Free-to-play mode is also available in the game.
THC and THG are the two tokens available. Thetan Coins can be spent on NFTs during the game. Additionally, Thetan Gem serves primarily as a governance token but can also be used for character upgrades.
Positive aspects:
Colorful and cute graphics
Reward systems work really well
The game can be downloaded for free
Negative aspects:
There is too much addictive content
20. Treeverse


With a greater focus on NFT communities, Treeverse is an alternative social media platform to Discord and Twitter. He is well known in the NFT community as a creator and collector. Loopify started the NFTtree collectibles project as an NFT artist.
The play-to-earn elements of Treeverse are one of the most attractive aspects of the game, aside from its strong community. In the Treeverse, the native currency is NFTs, which can be exchanged for our native currency, through which the world operates.
Positive aspects:
High-quality anime style
Producing like a triple-A team
The project is being handled by an experienced team
Negative aspects:
It has not yet been released
That's all about the top crypto games now take a sneak peek at different types of blockchain games.
What are the different types of Blockchain Gaming Terms?
Earn by Playing

Players are compensated for playing blockchain and earn crypto games to make money and participate in in-game economies, allowing them to purchase and sell game-related goods and services.

The blockchain-based game model gives players complete control over their digital assets, unlike traditional models like free-to-play-to-earn games with in-game purchases or pay-to-play.

Earn-By-Paying

Under the pay-to-earn method, similar to play-to-earn crypto, users must purchase an in-game asset up-front.

GameFi

GameFi, which emphasizes the earning potential of gaming, refers to both play-to-earn crypto and pay-to-earn models.

For a blockchain game to be successful, the blockchain foundation must be robust, fast, and have low fees.

Ownership of Assets In-Game

There is a reluctance among gamers to pay for in game assets that are not transportable and are controlled by the developer.

As a result of native tokenizing in-game assets, developers can fully own the crypto assets they create.
However, as we have discussed, different types of terms are used in games. Now let's come to the main topic, i.e., what the best crypto games in 2022 are?
What are The benefits of Cryptocurrency in Online Gaming?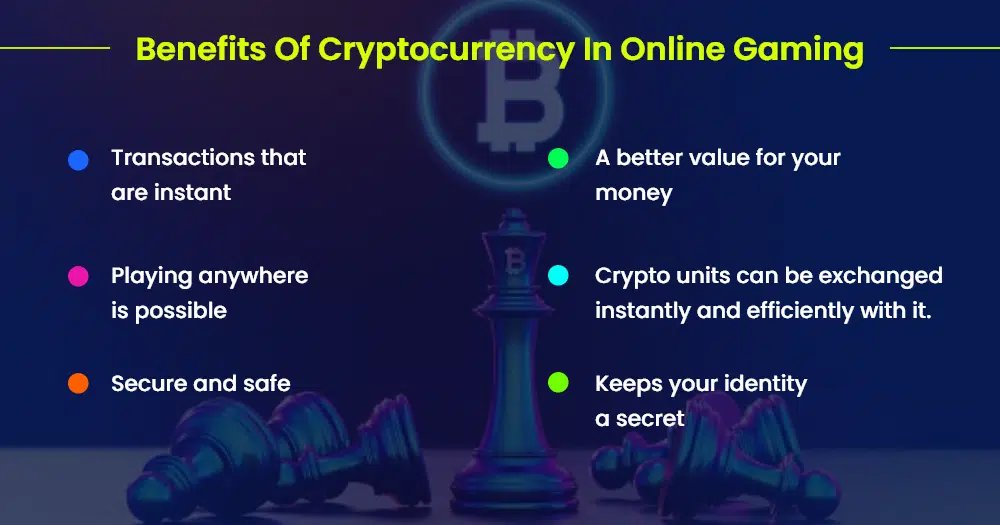 To address the concerns of online game players regarding transactions and frauds, online games are adopting cryptocurrency to solve these issues.
Streamlined payments, real player ownership, decentralized payments, and cross-game compatibility are among the benefits.
Here are some advantages of using cryptocurrency in online games:
Transactions that are Instant

By eliminating bureaucracy and inefficient intermediaries, cryptocurrency enables other players to enjoy their favorite games more quickly and efficiently.

Crypto Units can be Exchanged Instantly and Efficiently with it.

The difficulty of selling gaming software outside of app stores is another problem faced by developers. Nano-payments can be processed by these developers using blockchain technology.

Playing Anywhere is Possible

With cryptocurrency, gamers can play internationally without worrying about security or exchange rates.
Gamers can play without having to confirm their identities or email addresses. Gamers can withdraw and pay from their accounts worldwide without any restrictions using it.

Secure and Safe

Since many online gaming websites lack trust, security is crucial when making multiple purchases.

Online games use blockchain technology to prevent illegal trading of digital assets. As well as eliminating key duplication, it also prevents hackers from hacking and stealing keys.

It Provides players with peace of mind regarding the security and safety of smart contracts.

A Better Value for Your Money

The cost of using cryptocurrency is lower than that of credit cards, bank transfers, and PayPal. You do not have to wait for your money to move with bitcoins, and there are no hidden fees.

Due to the peer-to-peer nature of crypto currency transactions, handling fees and exchange fees can be eliminated in online games.

As a result, other players and the best crypto game developers are more likely to adopt the model. Developers make more money, and other players get more for their money.

Keeps Your Identity a Secret

Occasionally, your personal information may not be secure when you play the online best crypto games.

The best bitcoin game characters are those where you do not have to share personal information.

Users can also keep their cryptocurrency purchases private unless they voluntarily disclose them. As a result, users' anonymous cryptocurrency addresses change with each purchase they make.
Is Cryptocurrency the Future of Online Gaming?
Investors are interested in crypto gaming because there's a growing demand for it. The start-up raised $7.5 million in its first round of funding, led by Mark Cuban. As well as Framework Ventures, Andreessen Horowitz has launched a new $600m fund for Web 3.0 games.
In addition to Solana, Polygon has also begun investing in blockchain games that incorporate decentralized finance (DeFi) into their platforms. It is likely that the crypto gaming industry will grow as more and more investors push crypto gaming platforms.
What Tech Stack is Needed to Build Crypto Games?
A strong technology stack and a team of experts are essential for developing a robust and reliable blockchain/crypto game.
The back-end and front-end developers
Designers of UI/UX
Developers for Android and crypto games ios
Testers and Quality Assurance Team
Team PR
What is the Crypto Game Development Cost?
Depending on the features available, crypto games can provide users with a better user experience. Games are often developed at different speeds per hour depending on the development process. The estimated cost of the game is between $200 to $350K based on the development costs of similar games. The cost of a game may vary depending on its specific features or gameplay and type of crypto game development company you hire as per your gaming project.
Below you will find the development cost crypto game:
The cost of making in the USA is $300k.
The cost of making in the UK is $300K.
The cost of making a crypto game in Canada is $280K.
The cost of making in India is $200k.
The cost of making in Australia is $265K.
Crypto games should include these parameters to achieve maximum efficiency. However, we are one of the best leading game companies. So, feel free to contact us.
Conclusion
There will be an increase in the number of play-to-earn games in the crypto gaming space in the future. The handful of play-to-earn games we highlighted here are only a small portion of the available play-to-earn games.
In order to get started with crypto gaming, all major tokens are available for purchase. Ninehertz provides the best-developed facilities and highly qualified experts. Please contact us on our website if you are interested.
FAQs on Crypto Games
1. What is the mechanism behind crypto games?
players can earn cryptocurrency rewards through playing or by using a non-fungible token marketplace (NFT). Gaming and cryptocurrency are proving to be a successful combination.
2. Is it possible to make money while playing crypto games?
Plant vs Undead, a versatile and unique game with great opportunities and goals, is one of the most popular play-to-earn crypto games out there. You can use a Metamask wallet to store tokens in the game, which runs on Binance Smart Chain. PVU tokens are earned by earning light energy.
3. What games are available for free in the crypto world?
A free crypto game that has become extremely popular in recent years is God's Unchained. Digital card games based on NFTs are available online. Blockchain-based Ethereum cards can be collected, traded, battled, bought, and sold.
4. What is the investment potential of AXIE Infinity?
Axie Infinity is a good investment opportunity because the token is useful for powering the game. AXS is currently trading for $3.6 billion in the game, with over 2.8 million daily players.