Market growth of video editor apps can be attributed to users' increased expenditure on video content for YouTube, Instagram, and Facebook. By 2025, it is predicted that the global video editing apps for android and iPhone market will reach $937.7 million.
In comparison with last year, apps to edit videos will grow dramatically this year, according to the latest reports. Between 2021 and 2027, the global market for video editing apps is expected to grow at a high rate. The mobile app market has seen a boom in photo and video editing apps. With the advent of applications to edit videos, the process of high-quality video creation is now easier than ever.
In this guide, we will review some best video editing apps for android and iPhone like Magisto, InShot, Wondershare Filmora, WeVideo, and more. You might be interested to read a detailed guide on video editing app development.
Quick Guide to Video Editor Apps for Android and iPhone
Despite appearances, all free version of video editing software functions pretty much the same. A video clip can be trimmed, split, removed in sections, picture in picture, and background music can be added. There is no difference between basic video editing.
You need to test drive your apps to edit videos before making a final decision just like when buying a car. It's okay if you like some features, and your neighbor loves something completely different. It is impossible to give a single correct answer.
If you're unsure of what video effects are going to work for you, you should experiment with a few different programs and apps.
Are you looking for the free video editing apps for android or iPhone that will allow you to edit videos? Our full-featured apps have everything you need. These 15 video editing apps have been handpicked by us.
To get started, here are top apps to edit videos. Here You can check all the top trending apps of 2023.
15 Best Video Editing Apps for Android and iPhone
| APPS | PRICE | PLATFORMS AVAILABLE |
| --- | --- | --- |
| Magisto | Free | Android & iOS |
| InShot | Free | Android, iOS |
| Wondershare Filmora | Membership charges | iOS, MacOS, Android, Windows |
| WeVideo | Free and premium plans | iOS, Android, Chrome |
| Adobe Premiere Rush | Pricing according to plans | Android, iOS |
| Splice | In-app purchases | iOS |
| PicPlayPost | In-app purchases | Android, iOS |
| Quik App | Free | iOS & Android |
| KineMaster | Free | Android, iOS |
| Video Shop | In-app purchases | iOS, Android |
| Horizon | In-app purchases | iOS |
| VivaVideo | Pricing for plans | iOS, Android |
| VideoShow | In-app purchases | Android, iOS |
| iMovie | In-app purchases | iOS |
| Hyperlapse | Pricing for plans | iOS |
Best Free Video Editing Apps for Android, iPhone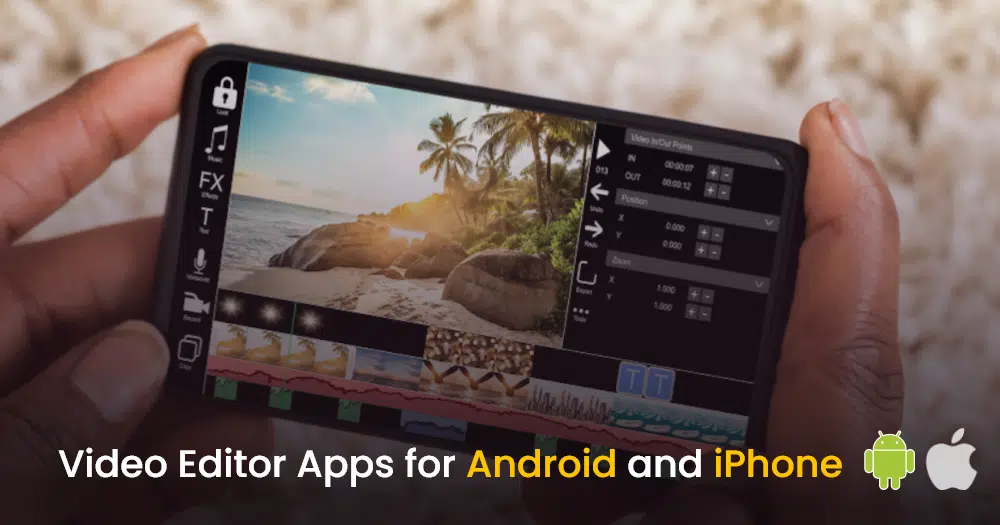 1. Magisto– Best Video Editing App Overall
Supported OS:– Available for Android & iOS
Making eye-catching videos can be done in just three simple steps with Magisto, the best app for video editing. The first step is to choose your editing style, followed by photos or video clips, and finally music.
The pros
Easy-to-use interface for beginners
Easy-to-use templates available
A premium and professional plan is available if you want to make longer videos
2. InShot– App to Edit Videos
Supported OS:– Available for Android, and iOS
Users who need simple apps for editing videos with features such as trimming, speeding up, adding filters, or music will find this best app for video editing useful. Beginners who don't want to devote time to high-level video editing will benefit from InShot's easy-to-use features.
The pros
Royalty-free music library with a large selection
Video backgrounds can be added
Your music or voice-overs can be added
Want to Launch Your Own App?
Request A Free Quote
3. Wondershare Filmora
Supported OS:- Available for iOS, macOS, Android, and Windows
Whether you are a beginner or an experienced user, Wondershare Filmora is the right app for editing videos. Creating an attractive video takes only a few minutes when you use the 'Easy Mode' of the program. Furthermore, it offers a wide range of features.
The pros
With the Effect Store, you can customize your videos with presets, transitions, and themes
Filters, stickers, and effects are available
Features a variety of sound effects and layers of music
4. WeVideo- Best Video Editing App for Android
Supported OS:- Available for iOS, Android, and Chrome
In addition to providing some fantastic features and functionality, WeVideo is also a free editing app. There is a free and a paid version of the cloud-based tool; however, the free plan has a few limitations.
The pros
A library of commercially licensed music and audio editing features are available
4K videos can be exported
Any device can access the videos
5. Adobe Premiere Rush
Supported OS:– Available for Android, iOS
It is one of the best video editing app for android and iOS. There is no denying Adobe Premiere Rush's popularity! You can edit several videos and photos from your smartphone or tablet with the robust mobile video editor.
The pros
Exports in 4K resolution
The freeform editor allows you to customize your edits
Beginners will find it easier to learn
6. Splice
Supported OS: Available for iOS
You can create a moving collage with Splice, a great video editing app for iPhone users. As well as trimming and editing videos, you can customize the length of the transition between scenes.
The pros
The interface is intuitive and user-friendly
Music tracks in a library
Using masks and layers to edit multiple tracks and timelines
7. PicPlayPost
Supported OS:- Available for Android, iOS
Video collages can be made with PicPlayPost. Nevertheless, don't let both videos' sound/music play simultaneously, so that they don't conflict.
The pros
4K export is supported
GIFs and live images can also be created
Watermarks can be added (images or text)
8. Quik App
Supported OS:- Available for iOS & Android
It is one of the best free video editing app for android and iPhone. By editing, trimming, and adding transitions or filters, Quik lets you create captivating videos from videos on your mobile device. Furthermore, if you want more control over the editing process, you can also edit your clips manually.
The pros
Premium filters, powerful editing tools, and a variety of stylistic themes
Create incredible images by capturing frames from videos
Your video can be slowed down, sped up, or frozen
9. KineMaster
Supported OS:- Available for Android, and iOS
KineMaster is also a free video editing app for android and iPhone. Video clips can be edited and enhanced with KineMaster's intuitive interface that includes sound, text, effects, and filters. In addition to recording your own audio, the KineMaster Asset Store offers a number of music tracks and sound effects.
The pros
Make sure your videos are saved in 4K
A total of 2,500 effects, transitions, videos, images, fonts, stickers, etc.
Upload videos to YouTube, Facebook, TikTok, Instagram, and more
10. Video Shop
Supported OS:- Available for iOS, Android
If you are always on the go, Videoshop is an excellent editing app. It allows you to add sound effects, filters, text, animated transitions, and more. Professionals and beginners alike will find it useful.
The pros
Combine different clips into a single video by trimming or slowing down footage
For your videos, record your own voiceover
Share on Facebook, Instagram, and other social media platforms
Convert Your App Idea into Reality
Request A Free Quote
11. Horizon
Supported OS:– Available for iOS
It is the best video editing app for horizontally shooting and capturing moments. You can take horizontal videos no matter where your device is positioned.
The pros
The interface is simple to use
A collection of some interesting filters
By swiping left or right, you can take pictures or videos
12. VivaVideo
Supported OS:- Available for iOS, and Android
In addition to editing videos for social media platforms, VivaVideo is one of the most popular editing apps. Creating attention-grabbing GIFs and videos is a breeze thanks to the simple user interface.
The pros
A wide selection of video filters, including fast motion and slow motion, is available
Multiple video clips can be edited, trimmed, loaded, and merged using a storyboard style of editing
Using pictures and videos, create attractive GIFs
13. VideoShow
Supported OS:- Available for Android, and iOS
It can be used to create attractive video clips, photos, sound effects, music, and slideshows. Additionally, it allows the audience to doodle on videos to engage them and answer any questions they might have.
The pros
It includes effects, stickers, filters, GIFs, transitions, and sound effects
Beginners will find the interface easy to use
Export HD 720P/1080P video in high quality
14. iMovie
Supported OS:- Available for iOS
This popular editing platform is only available to iOS users, as its name suggests. You can use the tool for free, and the interface is intuitive and simple. If you're just starting to learn video editing, this app is perfect for you.
The pros
Clips can be trimmed and edited, music can be added and recorded, and filters can be inserted
Transitions ready-made in a library
4K resolution support
15. Hyperlapse
Supported OS:– Available for iOS
Time-lapse videos can be created with Hyperlapse, an app created by Instagram. The excellent stabilization technology in this app makes it possible to create stunning time-lapse videos without using a tripod.
The pros
Use different social media platforms to share your videos, such as Facebook, Instagram, etc.
Up to 12x video speed can be adjusted
The interface is simple
How To Choose a Free Video Editing App for Youtube Videos?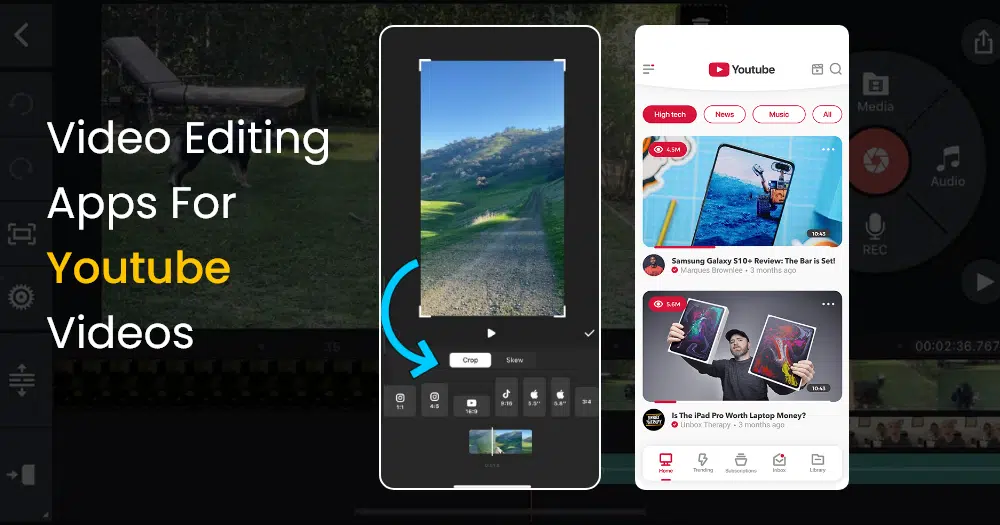 The process of researching and choosing the right video editing software can be overwhelming once you have decided to create videos for YouTube. Making the right choice is important when there are so many options available.
By examining the factors you should consider when comparing video editing software titles, this blog will help guide you through the decision-making process.
1. Price and Budget
Starting with a budget is a good place to start. Several free video editing programs are available, but they may lack major editing features, have poor performance, or only support a limited set of file formats. Higher-end professional software, however, may cost thousands of dollars, and its many features are unlikely to be of any use to you.
In order to edit videos for YouTube, you should consider using software categorized as prosumer. An illustration of some of the more popular video editing software brands for prosumers can be found here.
2. Ease of Use/Learning Curve
Learning and becoming proficient with video editing software is an important consideration when buying it. Buying software and then spending months learning how to use it is the last thing you want.
You can get started with video editing software that provides templates and auto-editing modes. Using auto (express) modes, you can quickly create videos by importing media, selecting a video style, and then letting the software compose your video for you. In templates, placeholder media is already present in a video project, so all you need to do is replace it with your own.
Moreover, you should be able to learn every feature of the video editing software by following tutorials. The ease of accessing tutorials within the program makes them even more useful. By doing so, you can become familiar with a feature as you edit, so you can maximize your time learning and editing.
3. Multi-GPGPU Acceleration and Video Format Support
Make sure your video editing software can edit the video you output from your camera before you invest in it. When editing video from the latest drone, action, and 360 cameras, this is especially important. Software may take time to catch up with constantly evolving video quality and formats.
You can upload your videos to YouTube with minimal difficulty due to the high quality and popular formats supported by most video editing software for prosumer use. It may take a considerable amount of computing resources and time to process 4K videos, so make sure your computer is capable of handling 4K videos.
4. Tools for Advanced Editing
Use advanced editing tools to enhance your YouTube videos. You want your videos to impress your viewers, so you need powerful software.
The editing features in PowerDirector are advanced, but easy to use, so you can create YouTube videos that are professional-looking. The following are some of these features:
MultiCam Designer – uses four cameras to load footage, and quickly output it as a linear video.
Action Camera Center – A great tool for editing, enhancing, and adding effects to drone footage.
Tracking the motion of an object.
360° video editing with advanced features.
Editing using chroma keys (green screen effect).
Color correction, intelligent color matching, and color grading with just one click.
Easy YouTube uploading and fast video rendering.
5. Music, Special Effects, and other Perks
Those videos on YouTube that feature professional graphics, titles, and background music are the most popular. You may have to pay extra for effects and music in video editing software, or you may need expensive plug-ins.
The video editing software you buy should at least include effects and music, otherwise, you may end up with bland videos.
6. Customer Service of the Highest Quality
While you may never need customer support from a company, when you do, you want it to be responsive and helpful. If possible, you should choose a company that offers excellent customer service, like phone support and product FAQs, as well as a forum community to get assistance from other customers.
It's time to get out there and make a decision now that you know more about what you should be looking for. Using the trial version of the software is a good place to start. Nothing beats hands-on experience.
How to Make Money through Video Editing Apps?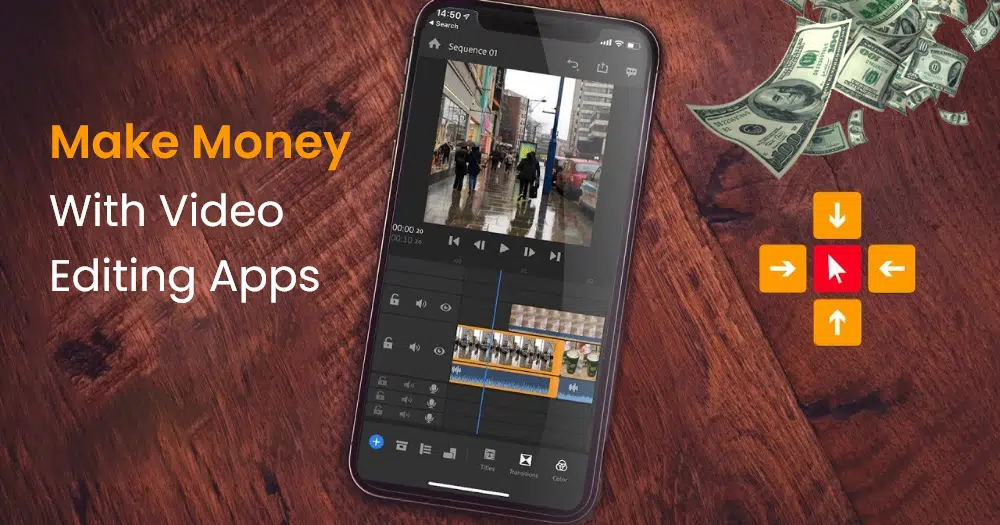 The revenue generated by video editing apps is not limited to one; there are many ways to do it. Keep scrolling to learn some strategies that can be beneficial to you.
1. Freemium Model
Splice, iMovie, LumaFusion, InVideo, etc., are all video editing apps that use this monetization strategy. App developers are allowed to monetize a tiny portion of their services that benefit the rest of the segment they offered free to users at the beginning. First, attract users with lucrative offers that are free of charge, and then earn money with the paid services of your app. Here is a detailed guide on how do free apps make money.
2. Advertisements Within Video Editing Apps
Venture firms are interested in developing apps like Magisto to earn money through this strategy. Apps can display advertisements or promote other businesses or companies within their apps. Utilizing high-end user behavior analysis and information tracking, these in-app ads target the potential customer base directly.
3. Paid-per-download
It is still quite an effective strategy to apply to earn a huge profit, even though it is not used by many video editing apps. These apps are free to download, but there are in-app purchases available.
4. Subscriptions for Apps
It is the most common monetization model, but it is useful enough. Despite being free to use, the app offers some exclusive features that users must pay money to access.
Video Editing App Development Cost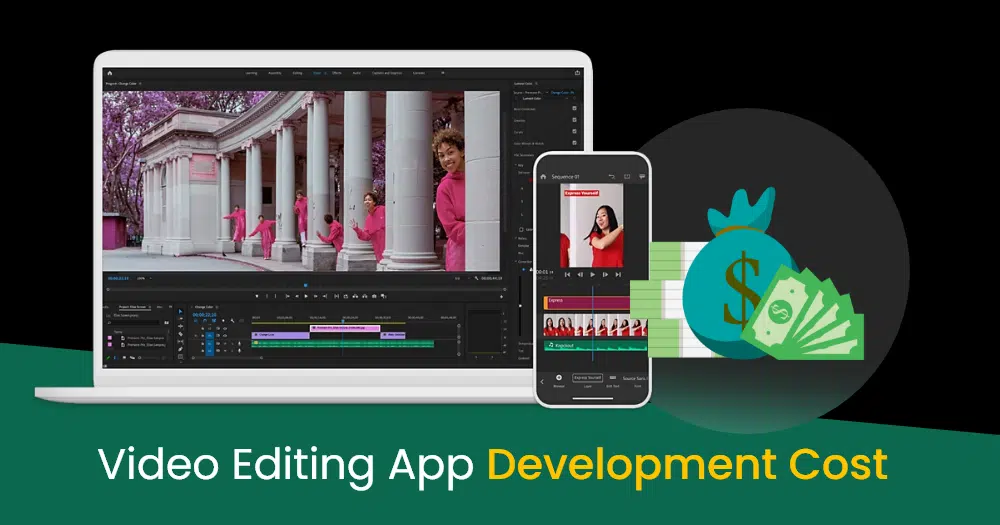 Let's take a look at an average video editing app and the costs involved in developing it. In the amount of $10,000-$30,000, you could develop a single platform app with minimal features. The price may go up to $45,000 if you want to develop your video editing app ideas for both platforms.
This process depends on a number of factors. Considering the following factors will help you estimate the cost of the video editing app:
App features and complexity
Amount of manpower deployed and hours worked
Describes the place or country
Platform preference (iOS, Android, or both)
You should expect the developers to spend more time and expertise on your app the more features you decide to add.
Hire Certified Mobile App Developers
Request A Free Quote
Conclusions
You can find more video editing apps for Android, iPhone, iPads, and desktop than you can shake a clipboard at, so finding the right interface and features may take some trial and error. You should now be able to determine which app is best for you based on the list above! We chose GoPro's excellent Splice app for iPhone because of its fine array of thoughtful features, robust music selection, and stacks of awards and loyal fans.
However, InShot is the clear winner on Android. You can't go wrong with millions of users! Anyone can use this app to get started editing videos, and it's a great stepping stone to perhaps using a more professional app in the future.
Check out The NineHertz for more useful hints and tips about the development of video creation and editing apps for android and ios.
FAQs on Top Video Editing Apps for Android
Q.1 How Does Editing Work?
Video editing software normally includes functions such as converting file formats, joining clips, resequencing clips, trimming segments, rotating or cropping footage, adding sound, changing brightness/contrast, and adding transitions.
Q.2 How Do You Edit a Video?
Logging, first assembly, rough cut, excellent cut, and final cut are the five main stages of video editing.
Q.3 What Can I Do to Improve My Video Editing Skills?
Any skill can be improved with practice, including video editing. Take a look at this collection and decide which tools to use. Install them and start practicing. From your smartphone, you can make simple videos.