According to research by 'Gallup' in 2015, Math as a subject is a major challenge for a lot of students. In the research, Mathematics was on top of the list as the subject students find most difficult.
However, thanks to technology, which has given us enduring mathematical applications and cool math games which can act as a medium to help kids and students in improving their mathematical skills. Mixing maths in games is a great way to learn maths with fun.
Some cool math games are so fascinating that not only children but adults love to play them in their free time. The problem comes when one has to choose from 'n' a number of options when it comes to free math games on the game development services market.
The PC games market is also filled with plenty of math game options. Therefore, it implies that in order to find the best free math games for your child, you need to spend several hours digging on the internet.
To help you out, we have curated a list of the top math games online that are free and entertaining and can be played and enjoyed by all age groups. You might like to know about the best xbox one games and online free car racing games for pc.
So without any further due, let's get started!
Cool Math Games Free Online
| Cool Math Games | Available | Cost |
| --- | --- | --- |
| 2048 | Play Store , App Store | $0.99 |
| Toon Math | Play Store , App Store | free with some in-app purchases |
| Threes | Play Store , App Store | Free |
| Hungry Fish by Motion Math | app store | Free |
| Water Rafting: Cube Roots | Website | Free |
| Math Land | Play Store , App Store | Free |
| King of Maths | Play Store , App Store, Website | Free |
| Math Tango | Play Store , App Store | Free |
| Monster Math | Apple Store | Free |
1. 2048: Best Cool Math Game Overall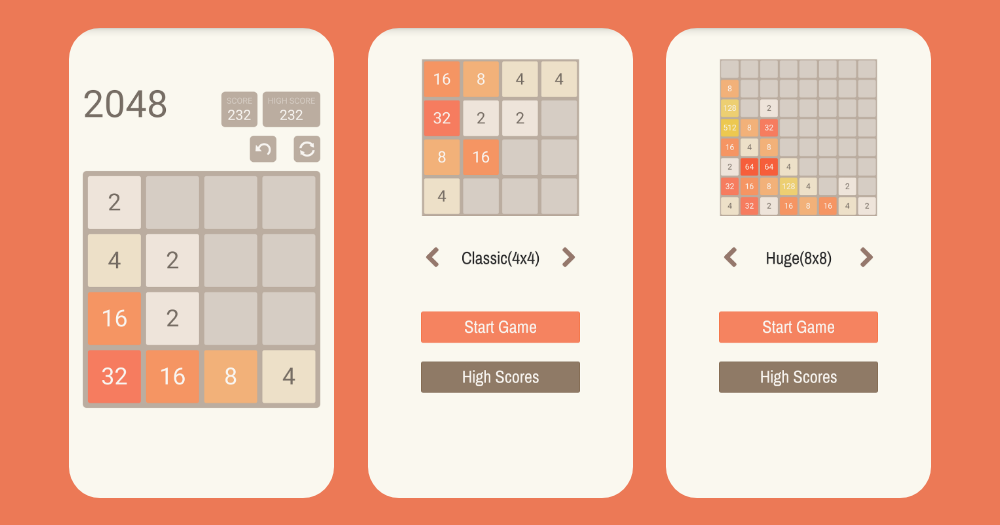 Topping the list of the best cool math games that are free is 2048. This game caused huge excitement among users a few years ago due to its minimalistic interface that has simple rules & requires just a reasonable effort to master. Still, 2048 is considered an enduring math puzzle game and shares a spot among the most popular math games on mobile.
In the game, your task is to move tiles around in such a way that the same number of tiles are combined together. The combined tiles double the number. Therefore, for creating an eight, you need to combine two fours. The game stops at the point when you hit the 2048 number or can't move any further tiles.
The game is family-friendly and comes with multiple board sizes and simple mechanics. It's available on both Google Play Store and Apple App Store. You can play this game without paying anything if you use Google Play Pass. The full version of the game will cost you $0.99.
2. Toon Math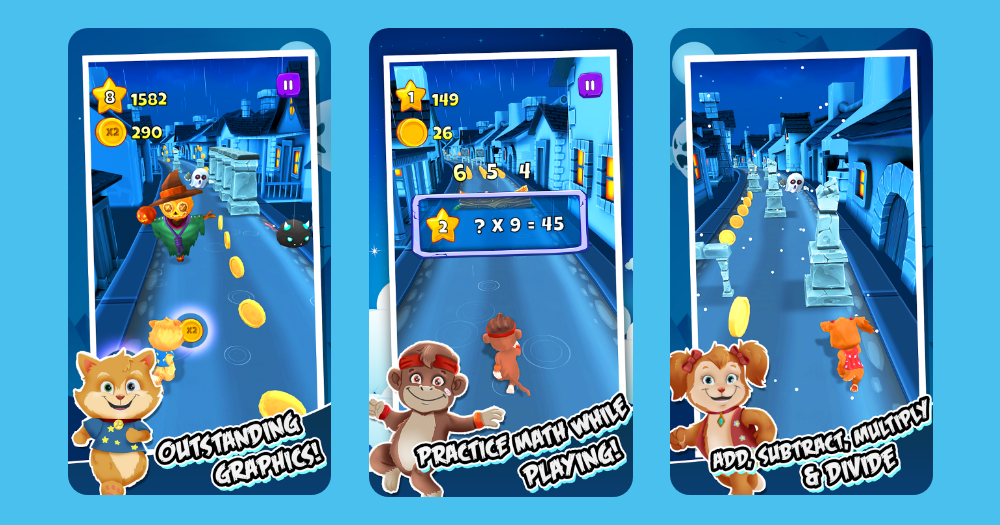 The second spot on the best math games list is grabbed by Toon Math. People who love playing Subway Surf will also love playing this game. Toon Math helps in improving your memory power and stretching your brain a little without much effort so it is always fun to play this game on your phone.
Some people also consider it as an endless runner type game. The plot of the game is such that you are in a world where your friends have been kidnapped and you need to save them which can only happen by solving tasks. You need to prove yourself in the world of Toon Math by showing your smartness so that you save your friends and they will not turn into monsters.
You dodge obstacles and run on a three-lane path while solving simple mathematical tasks at each level. During the game, you have to run, overcome monsters, and collect coins. Level by level, the difficulty level increases, and eventually the game becomes quite challenging.
The reality is that it's a game loved by both kids and adults and can be played over a long period of time. The game can be downloaded from both the play store and the app store. The game is free with some in-app purchases.
Want to Lanch Your Own Mobile Game?
Request A Free Quote
1200+ Projects Delivered 12+ Industry Experience 450+ Clients Worldwide 200+ Certified & Expert Programmers
3. Threes!: One of Top Math Games

The next game on this list is Threes, which some call a twin of 2048 as they both work almost in the same manner. You need to move and combine the similarly numbered tiles. The combined tiles double in value. To make a six, you mash two threes together and two sixes together to make a twelve, and so on.
The game is simple, yet engaging. It is a perfect example of minimalism and beauty. Every touch delights the user – the ease with which you move numbers is so pleasing that you just can't resist playing this mind-boggling game.
While keeping your fingers on, you can see all the results of your moves. You get numbers multiple of 1, 2, 3, and others on the playing field. The game is available on Google Play Store and Apple's App Store. With Google Play Pass, you can download and play it for free. You might be interested to know about game development costs around the world.
4. Hungry Fish by Motion Math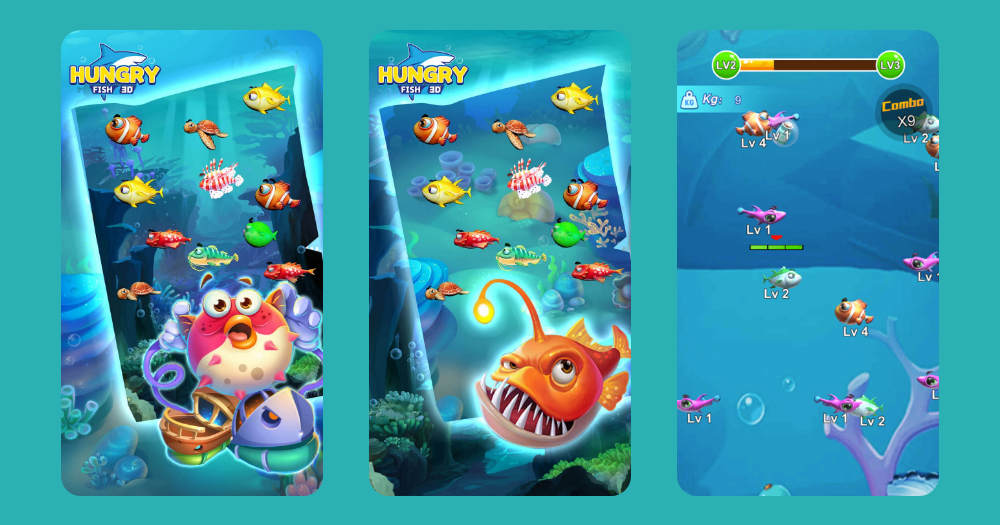 Yet another exciting and engaging game on the list is "Hungry Fish by Motion Math". This is a fun game that can be played by kids to practice arithmetic operations like addition, subtraction, multiplication, etc.
Through the app, the kids can practice addition, subtraction, and negative numbers by feeding the fish the correct diet. The game is specifically designed for kids aged 3 to 11 where they can develop their critical and problem-solving skills by adding negative and positive integers.
The app contains no ads and you can download it for free. However, it does feature in-app purchases for an extra addition level, some negative levels, and two subtraction levels. The game is available on the app store for you to download. Do you know you can earn real money by Playing games online?
5. Water Rafting: Cube Roots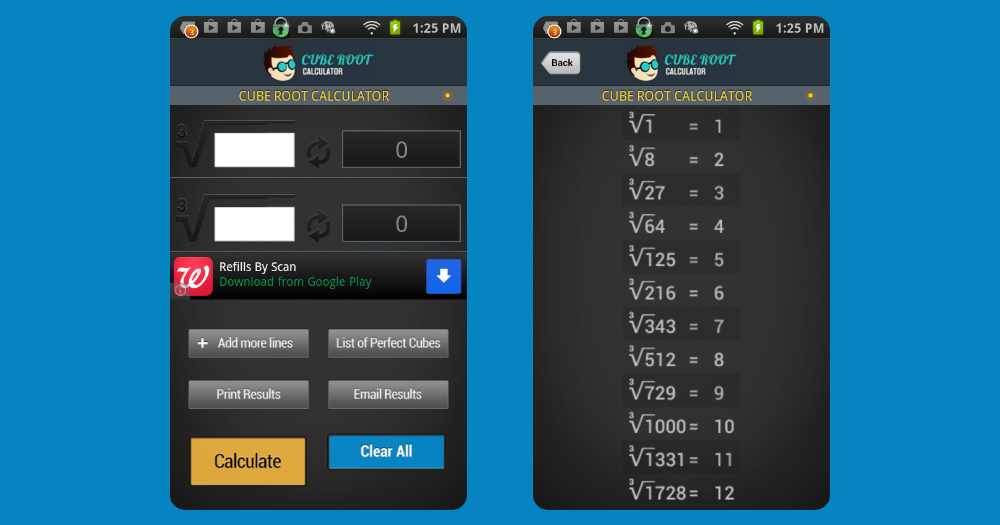 This is a challenging and fast-paced math game for middle-level school kids. During the game, the kids can practice determining the cube roots of multiple perfect cubes while racing toward the finish line. The game can be played online on their website –https://www.education.com/game/water-rafting-cube-roots
6. Math Land: Free Math Game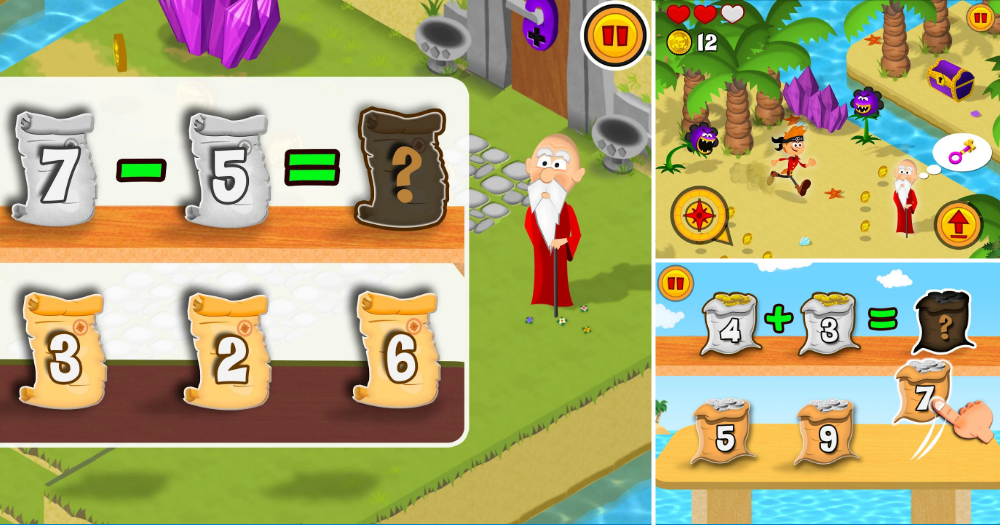 Math Land is a fun mathematical game that is dedicated to kids. The game features simple games with simple math loaded with a pirate theme. Your character is Ray who tries to recover the lost gems from the evil pirate Max. There are 25 levels within the game and it focuses on kids of Kindergarten age. That's not all, the game also contains harder modes for older kids, and even adults who want to uplift their addition and subtraction skills can play it. You have to pay $1.99 to play this fun game.
Convert Your Game Idea into Reality
Request A Free Quote
1200+ Projects Delivered 12+ Industry Experience 450+ Clients Worldwide 200+ Certified & Expert Programmers
7. King of Maths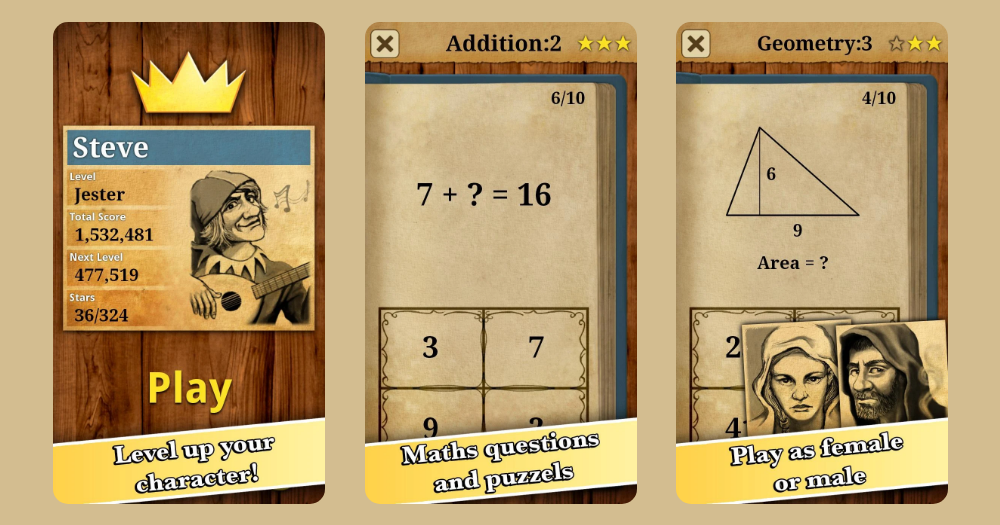 King of Maths is one of the best free math apps to install on your child's phone. If you are searching for the best math games then this app is for you. The app will help your child in learning basic geometry, algebra, division, multiplication, and other mathematical equations.
The developers have given this app a game-like structure where your child chooses between two characters and accomplishes mathematical challenges in subtraction and addition. During the game, the children are asked to figure out missing numbers before they can come to an answer. The game will also help in making your child understand some of the critical mathematical concepts.
King of Maths is one of the most popular mathematical gaming apps intended to enhance the mathematical knowledge of kids in elementary schools. For downloading the app, visit the Apple Store for iOS devices and Google Play Store for Android devices. Another option is to visit their official website to play the game online.
Best Math Games to Play Online
8. Math Tango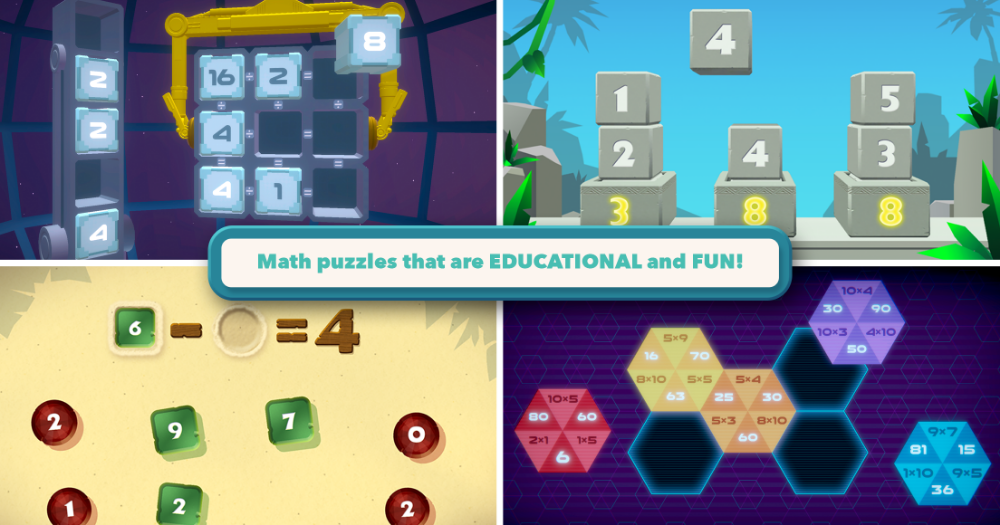 The theme of this game revolves around a beautiful island called Math Tango. During the game, the task is to bring back the magic and wonder of the island. While your child plays the game, he will be guided by Uncle Fibonacci in order to make him ready for the challenges.
The game asks you to complete several challenges and collect gems. This will lead to unlocking monsters who will live on the island. While the game executes, the player will progress through dozens of math lessons as he finishes missions, earn monsters and robots, and create the two fantastic worlds in the game.
Math Tango is a free math app that children love to play on a tablet. Math Tango is a perfect example of learning along with fun. This cool free math game will prove as a game changer for your child's mathematical learning. The game can be freely downloaded from Google Play Store and Apple Play Store.
9. Monster Math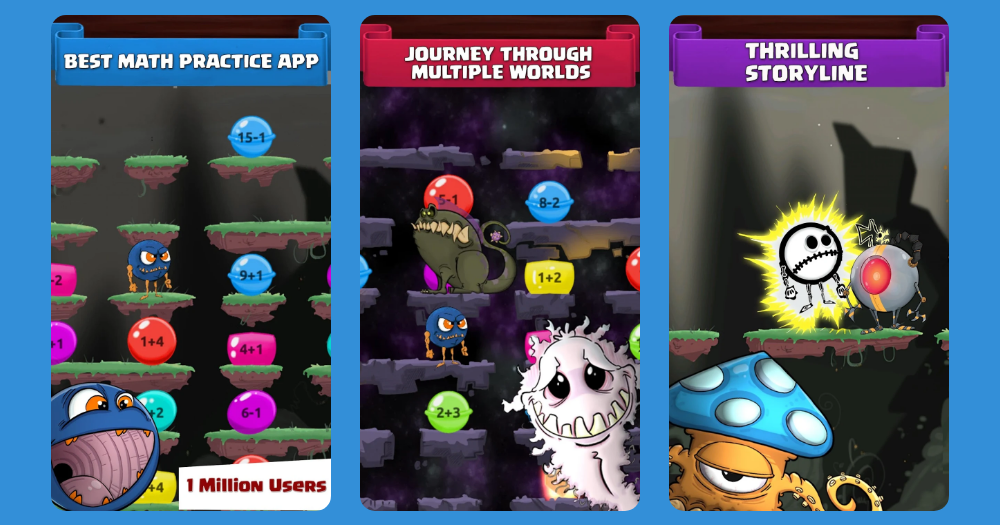 Monster Math is another free math app that is quite popular, especially among children. Your child can practice and learn more than 60 mathematical skills such as geometry, prime numbers, decimals, addition, subtraction, multiplication, division, and a lot more. The age group of 6 – 10 years is ideal to play this game.
The application will send you weekly updates of your child's progress. This super fun game is loaded with mind-blowing elements, from defeating evil monsters to rescuing a friend; the game makes math a super fun and interesting subject to learn and practice. The game is available on the Apple Store for iOS users.
10. Sudoku.com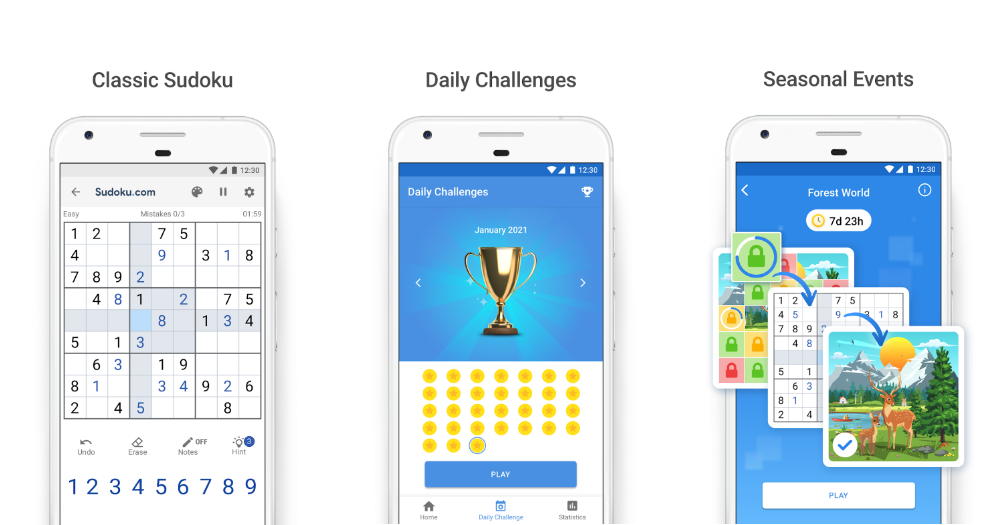 As we say, 'old is gold. Sudoku is one of the oldest and most popular math games of all time. Today, you get to see a cluster of mobile versions of the same game. Although there are other options, Sudoku.com is still the favorite. Most of us are familiar with Sudoku. For those who don't know, in Sudoku you need to fill out a grid of numbers so that each row, column, and sub-grid have numbers one through nine. The game also comes in multiple variants. Sudoku.com has a ton of puzzles for all age groups and buying new puzzles is also quite pocket friendly. You can play the game for free if you use Google Play Pass.
11. Snake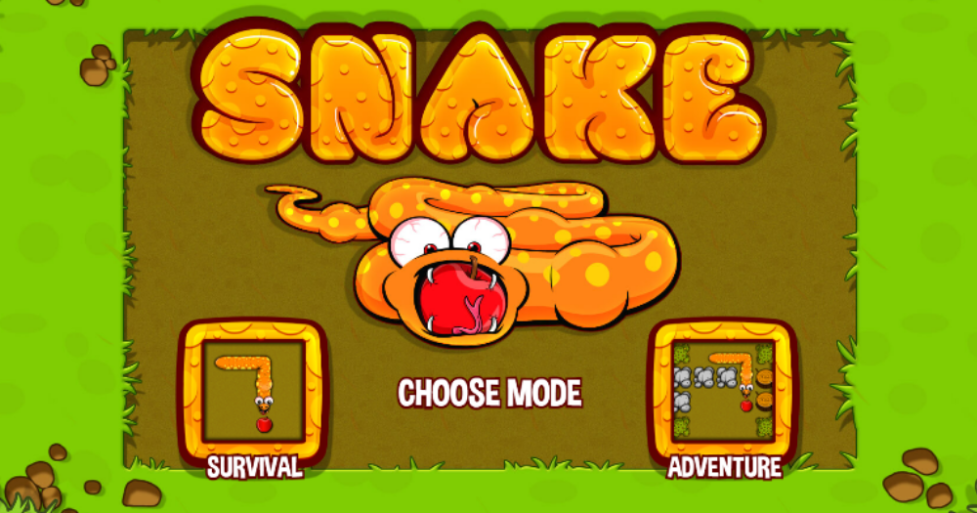 The next best cool math game is our all-time favorite – Snake. For anyone who is searching for cool math games, Snake is one of the most fun and minimal games. Keeping in mind the game's utter simplicity, you need to strive hard if you want to be the highest scorer. The task is to feed the snake with the block of various objects in the game. The snake keeps growing with every bite and you need to take care in case it crashes with its own body or through the wall, the game is over.
In such a case you need to restart the game and start from scratch. The more the length of the snake increases the more the game gets tougher. The game has a mathematical inclination in such a manner that it makes you think faster and increases your calculative skills. You can download the game and start playing it for free.
12. Maze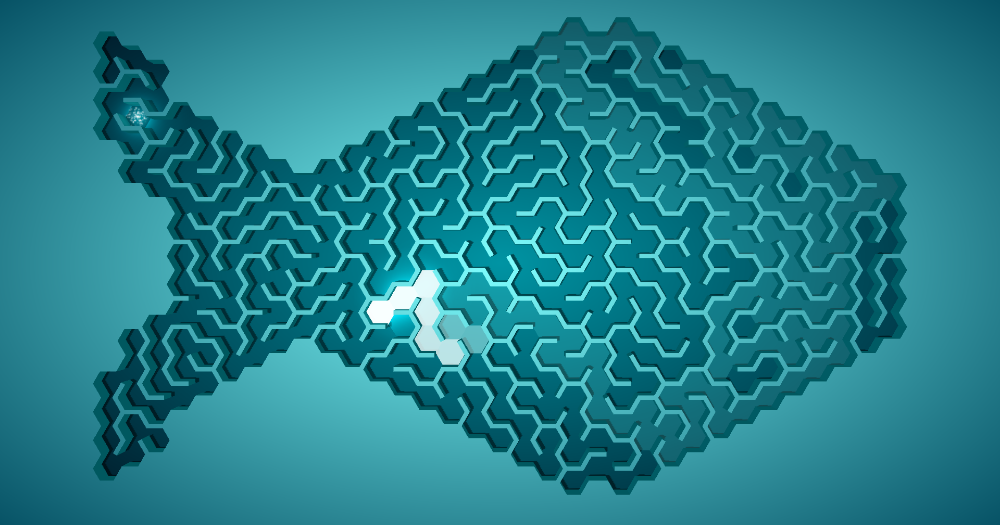 The next cool math game we have is Maze. It is always fascinating to solve puzzles and mazes. The game asks you to navigate a green ball that is lost in the Maze. At the point where the Maze ends, there is a hole that fits this green ball. Finding the maze and navigating is fun in itself. Sometimes you get puzzled while navigating because of the design of the Maze.
Undoubtedly, the maze is a tough nut to crack. The game contains 200 Maze and each Maze requires a unique approach to solve. Math is a subject for sharp people and that's what the game makes you.
The game makes you sharp as you investigate the patterns and navigate the green ball to get out of the Maze, you develop a different approach altogether. Feel free to download it from Google Store and App Store and start playing.
13. Number Rack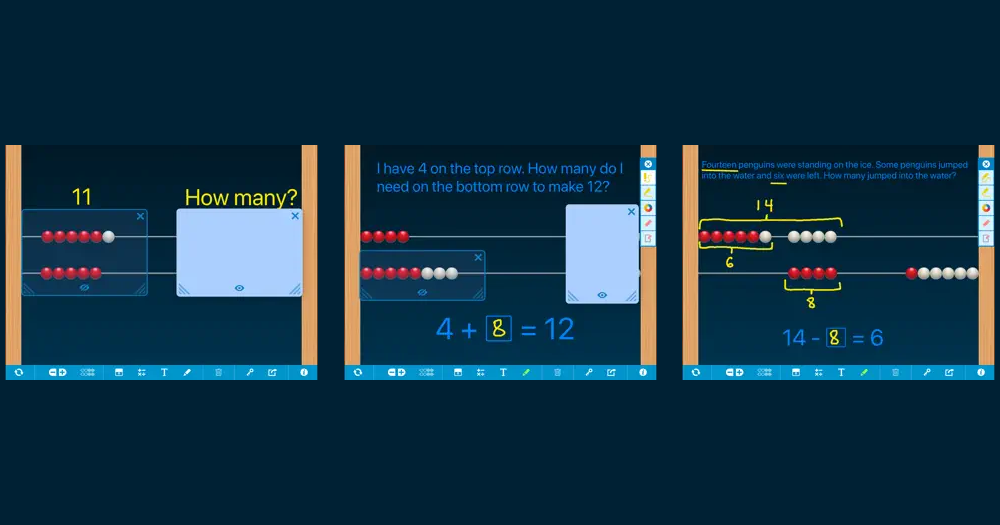 Number Rack is an amazing mathematical gaming app that helps in facilitating the natural development of your child's number sense. When you integrate maths in games, the learning gets easier.
Within the game, there are ten lines of beads, and ten beads on each line can be moved along the line to help you learn simple mathematical operations like counting, addition, subtraction, multiplication, and division.
The game can help your child in discovering a variety of addition and subtraction strategies. The number Rack game is ideal for students studying at the elementary level. The iOS users can download the app from the App Store as it is only available over there.
14. Run 3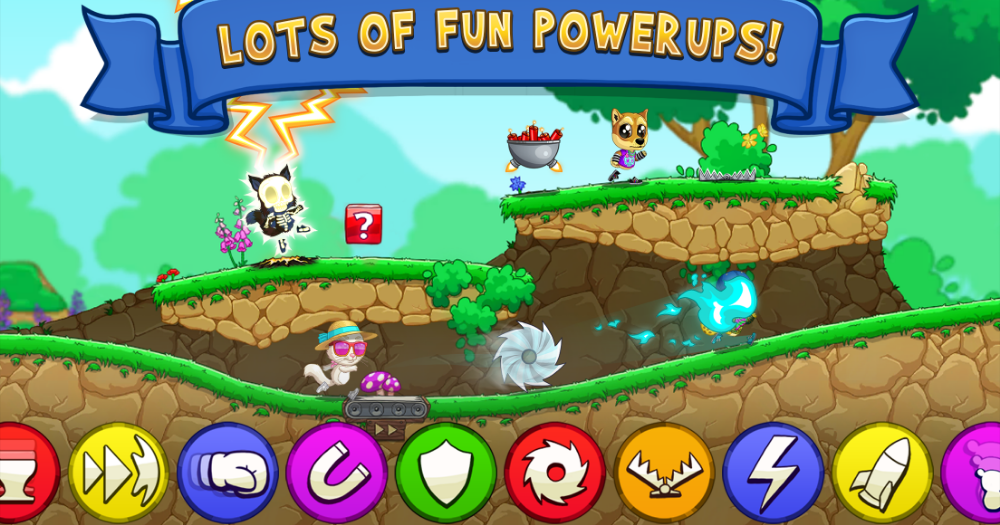 Initially, the game looks quite easy and fun to play but as the levels increase, the difficulty level also spikes up making the game a tough nut to crack.
While you play the game, your task is to navigate a bunny in the vastness of the universe. The character in the game moves forward within a specified path. The catch is, that if you miss the path, you get lost in the universe.
As far as the controls are concerned, you need to use the Left or Right keys to change the game's dimension and the UP arrow key to jump through the void. The game's level is quite interesting but relatively short. However, the rate of difficulty enhances with every level.
Free Math Games Online
15. GCompris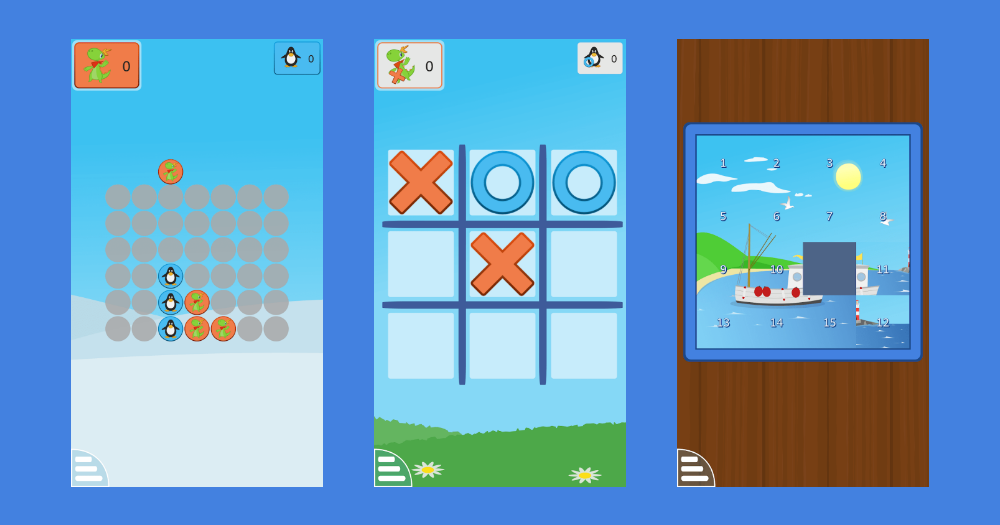 GCompris is one of the most popular cool math games which is largely played among PC users. This free math game lets your kids learn math in a fun and easy way. The game is an all-in-one educational game for kids as it also contains other games like Science, English, puzzles, computers, etc. The game is so addictive that even adults like to play this game in their spare time.
This game comes with a lot of math games that make you and your kids sharper and smarter. The demo version is completely free and you can download it too, whereas you have to purchase its full version from its official website if you want to play all the games in this software. Website link -https://gcompris.net
16. Zap Zap Math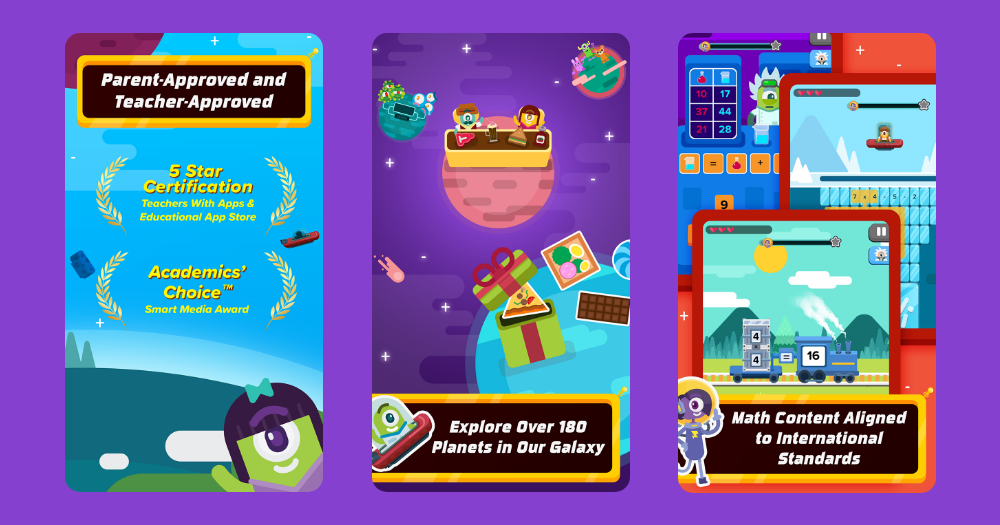 Zap Zap Math is a free math game that helps the players to learn the concepts of mathematics in a fun way. The game contains HD graphics and funny sounds making it damn interesting, especially for kids. Also, it has an ample amount of interesting Maths exercises that will increase the thinking power of your kids.
The questions are arranged properly according to each grade. Some of the practice exercises are namely Plus and Minus, Number Recognition, Basic Multiplication and Division, Shapes and Measurement, Fractions, etc.
There is a free as well as a paid version of the game. With the paid version, you get access to all content but the free version also contains a good amount of games. You can try the free version and in case you like it, you can purchase the paid version. For downloading the game, you have to create a free account on its official website – https://www.zapzapmath.com
17. Heatos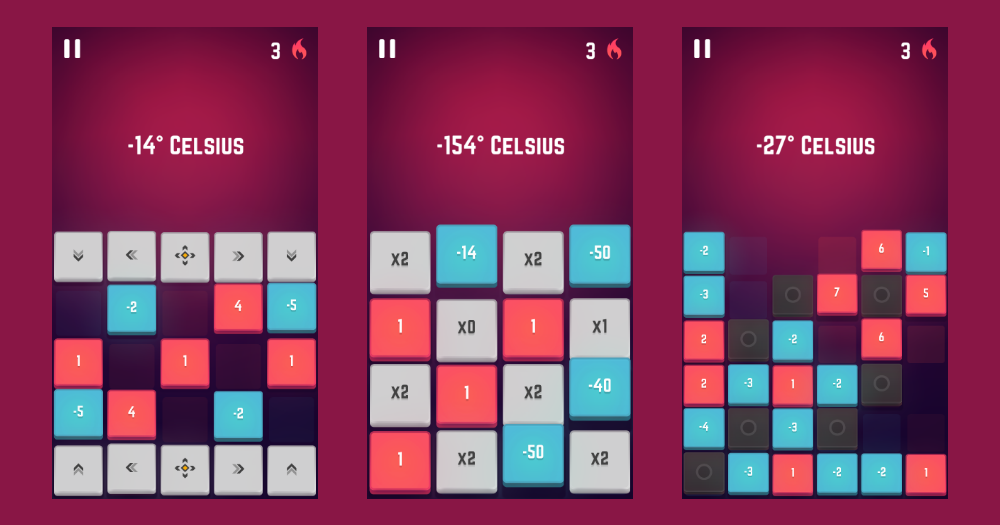 This cool brainstorming math game will prove to be a great source of entertainment for kids and grownups. This game eliminates your stress and relaxes your mind. While you play the game, you need to eliminate the negative temperatures from the playing field, adding up the neighboring cells among themselves.
Always remember that you have to abstain from combining two low temperatures together as by doing so your overall result will get hampered. The player can also simply move the temperature along the playing field making sure that the warmth is intact. Your ultimate task is to keep fighting the cold by using a minimum number of moves as possible.
The standard playing mode comes with heat bombs, drips, and other boosters. You have to strategize your gameplay and make the moves accordingly. The game is available on the App Store for iOS devices and Google Play Store for Android devices.
18. Numtris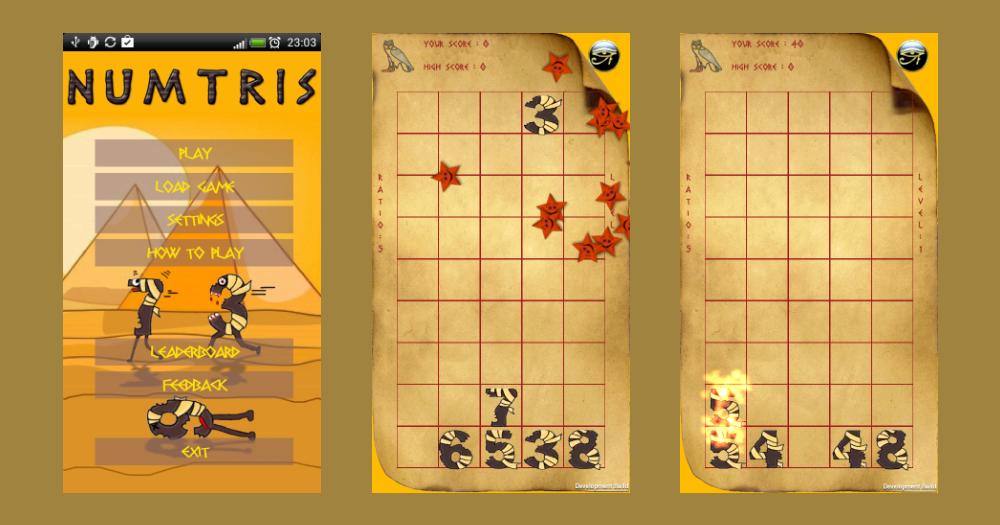 For a long time, Tetris was a favorite pastime game for people belonging to all age groups. The game was so addictive that we used to play it over and over again. Numerous give an identical feel similar to Tetris with a little uniqueness. It is among the top math games that are free.
During the game, you need to perform some mathematical calculations and that's the reason it can be called a logic and numbers game. The game design is quite simple and minimal. Although the gameplay is something to die for. You also have the multiplayer option within the game and you can enjoy this stupendous game with your friends & family. Download it now on the Apple App Store.
19. Mental Math Master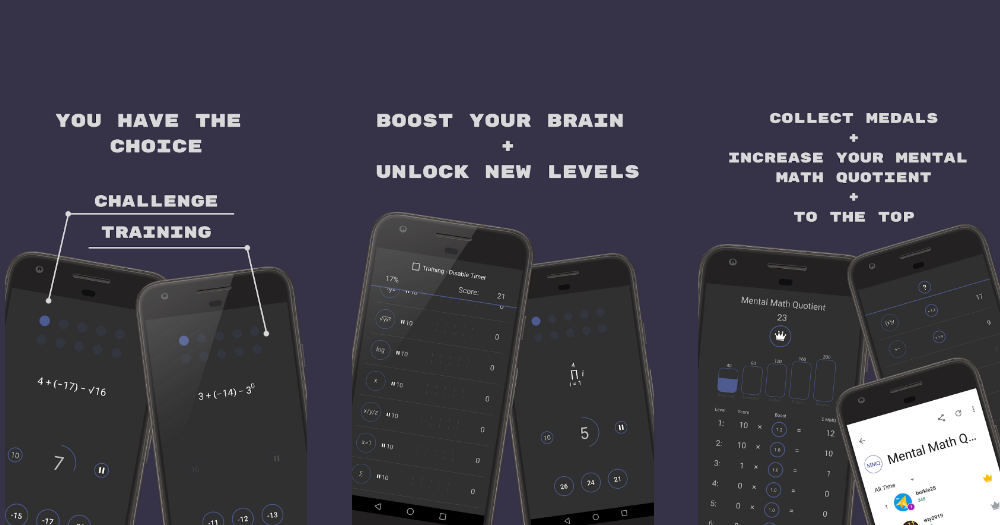 The app was created for people who love to play computer games and solve logic puzzles. The users can develop their mental abilities in mathematics through the game. That's not all, it also helps to build your concentration level, perseverance, and memory power. With each level, you encounter new and complex tasks that will literally blow your mind. You can earn medals which will help raise your self-esteem as well as your overall ranking. The game can be played without any interruption till the time you get tired or reach the top. Go to the Play Store and download it now.
20. Orixo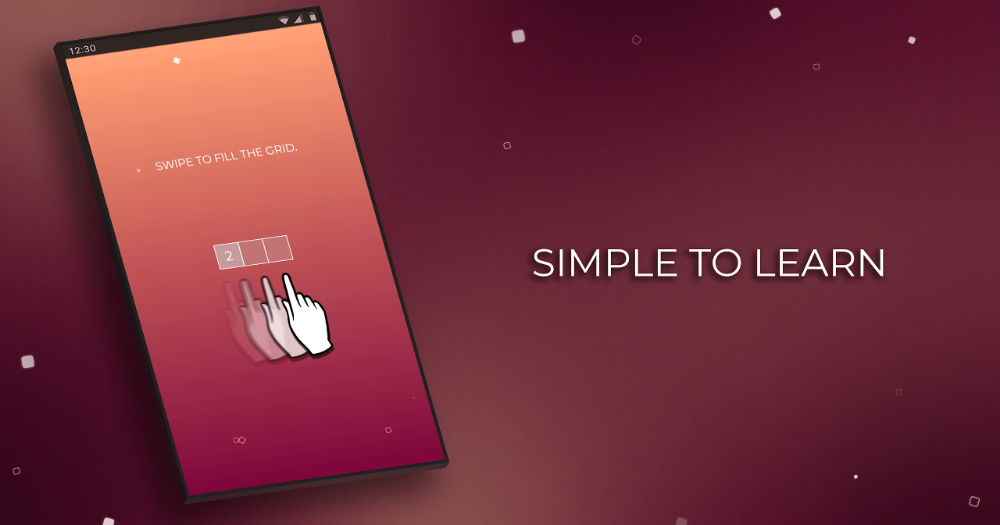 The next on the list of free math games is Orixo which is among the top cool math games of all time. People who are interested in mathematical computations and want to develop their logic may find this Orixo gaming application quite fascinating. This interesting puzzle game will make you solve interesting puzzles with a mathematical touch. There are more than 150 barnstorming levels waiting for you to blow your mind.
Each level comes with a different task and the difficulty increases as your level go up. In the game, the user is required to paint empty cells by the numbers standing next to each other. The layout of the game is similar to Japanese crossword puzzles, but there is a difference that you will notice as the game proceeds. You can find the game on the play store and the app store.
21. The Radiant Math Game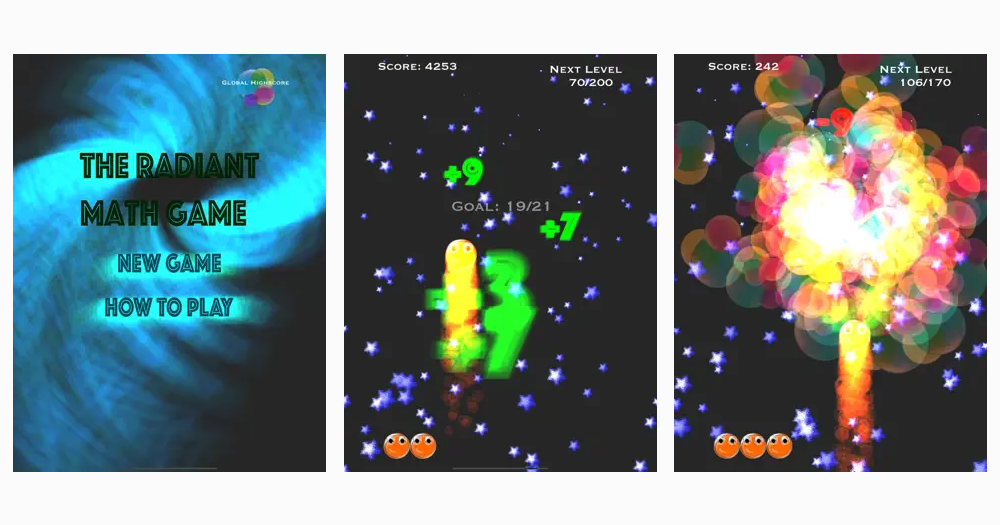 So far we have learned that maths in games is one such formula that always works. Taking this list forward, let's move on to our next game named 'The Radiant Math Game'. Here, in this game, your avatar is like a ball that will sweep through space to stay alive. There are physical obstacles as well as mathematical tasks that you have to solve in order to move forward in the game.
The game has difficulty levels from beginner to pro level. In the beginner mode, your movement speed will increase gradually and you will be collecting positive numbers (highlighted in green) and avoiding negative numbers (highlighted in red).
In subsequent levels, your speed will further increase and apart from avoiding negative numbers, you will also need to solve some examples. On your way, there will be multiple obstacles like rocks, asteroids, etc. that you will need to avoid. Also, you have to save yourself from aliens and dodge lasers and bullets. iOS users can find the game on the App Store.
22. NumberDrop: Hard Math Puzzles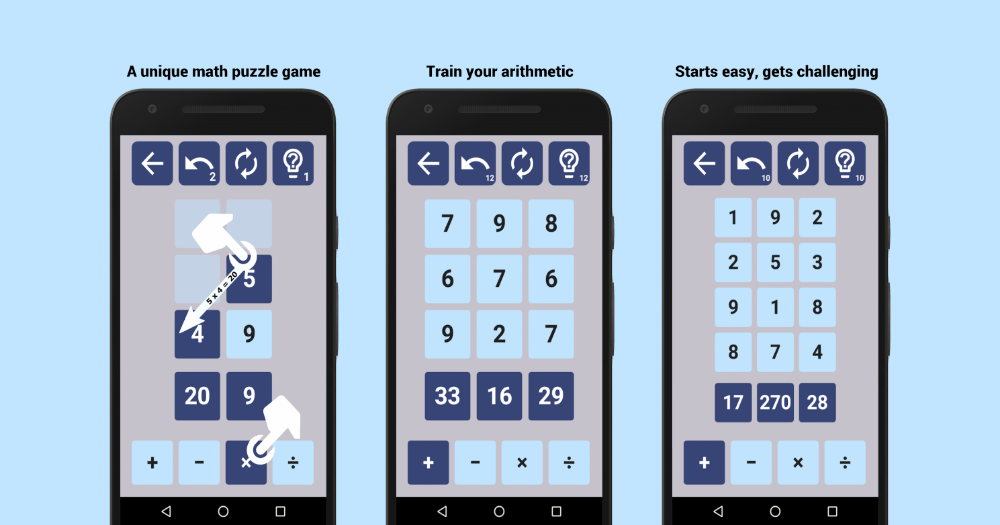 Finally, we have come to the end of the list with a game that is perfectly designed to develop mental math skills – NumberDrop: Hard Math Puzzles. Kids and adults can train their brains by playing this game daily. In the game, the dark blue square numbers must be matched with the numbers at the bottom row of light blue squares; the other rows must be empty.
The game has a minimalistic design so that it doesn't draw your attention away from the game's main objective – calculating the numbers.
The game consists of dark blue and light blue colors acting as a catalyst in enhancing the concentration of the user. The top of the screen consists of four buttons. The first button suggests – "Return to the game", Sound, Help, and Exit. The second one is for returning to a previous step. The third one is to restart and the fourth one is to get a hint.
There are weekly puzzles and random puzzles for you to solve. You can grab a lot of points going from one level to another. At last, to cut the long story short, the game is simple, enduring, and amazes its users with its astonishing 3D effects. Having said that, the primary purpose of this game was and will always be to combine the game and math training process.
Hire Certified Game Developers
Request A Free Quote
1200+ Projects Delivered 12+ Industry Experience 450+ Clients Worldwide 200+ Certified & Expert Programmers
Cool Math Games: Final Words
All well that ends well… In the end, let us conclude by saying that those who don't like math or are afraid of it (especially kids) can consider playing online games that have a mathematical element in them.
By doing so, there are high chances that they develop a sense of likeness towards this extraordinary subject called mathematics. Once the concept is understood, math is actually a very interesting subject.
Memory and intelligence can be developed at any stage. No matter how old you are, it is never too late to start and interesting math games and puzzles can be a great way to kick start this journey.
Therefore, you can play the above-listed free math apps and games if you want to relax your mind or brush up your mathematical and arithmetic skills. Lastly, if you find this article helpful, please don't forget to drop a comment in the comment section below.
Online Games for Math- FAQ's
Q.1 What are the top 10 math games?
The top ten best free online math games are:
Math Playground
Cool Math Games
Multiplication.com
Khan Academy
2048
Sudoku Numbers Puzzle
Toon Math
Heatos
Threes!
NumberDrop: Hard Math Puzzles
Q.2 What are some math games for free?
Here are some free math games:
Math Playground – A free online math game for kids studying from 1st to 6th grade.
MathGameTime – A free online gaming website that has a large collection of cool math games that are free.
Fun Brain – A free online gaming website that has a huge collection of the best math games for kids and adults.
Toon Math – This subway surf clone game (with some differences) is a great pastime for math game enthusiasts.
Orixo – People who love to solve mathematical puzzles will love playing this game.
Q.3 Is Coolmath a math game?
Coolmath is a one-stop math destination for students, and also has a helpful section dedicated to teachers and parents. The platform contains ads but it is an ideal place to learn math with fun.
Q.4 How old is Coolmath?
The Coolmath site was launched in 1997 for teaching math and delivering wholesome fun to kids as well as adults. The site is quite popular among all groups and people love to explore it in their spare time to play some enduring games online.
Can you name some of the popular games on Coolmath?
The best Computer games of Coolmath are as follows:
Run 3
Fireboy And Watergirl In The Forest Temple
Chess
Moto X3M
Papa's Pizzeria
Hangman
Snake
Tiny Fishing
Ball Pool
Penalty Kick Online
Q.5 Is chess a mathematical game?
It is quite evident that math exists inherently in chess. Hence, math can act as a catalyst to improve chess-playing skills. This game exists with us for ages and is still one of our favorites. So, if you like math then you will love chess for sure.
Q.6 Can video games improve math skills?
Yes, they can to an extent enhance your mathematical skills. In fact, some studies and research have shown that if you play educational games then it may lead to improving your analytical and problem-solving skills. Your quantitative reasoning ability will also magnify by playing these educational/mathematical games. Research indicates that on average one can increase his/her math skills from 40 to 80% by playing mathematical online learning games.