Finalizing a game name can be a little tricky. A good game name is one that fit the game's style, theme, and characters perfectly. In this article, you will find the top 100 cool gaming name ideas. To make it even simpler for you, we have shared a list of the best-rated game name generator. Go through the article to brainstorm yourself and select the right game name, the right way!
Top 10 Gaming Name Generators
Below is the list of best game name generators.
| S.No. | Game Name Generator | Website Link |
| --- | --- | --- |
| 1. | Shopify | https://www.shopify.com |
| 2. | TRUiC | https://www.truic.com |
| 3. | ETC Gamer | https://etcgamer.com/ |
| 4. | Plarium | https://plarium.com/en/resource/generator/game-name-generator/ |
| 5. | Gamertag Generator | https://www.gamertag.net/gamertag-generator |
| 6. | NameMesh | https://namemesh.pro |
| 7. | BizNameWiz | https://biznamewiz.com/brand-name-ideas |
| 8. | Anadea | – |
| 9. | Namelix | https://namelix.com/ |
| 10. | Nameboy | https://www.nameboy.com/ |
Funny Gaming Names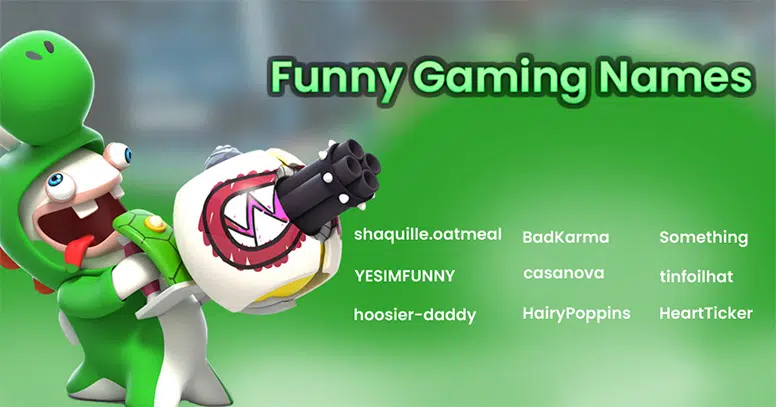 1. Finding Chemo
If the game has a hidden character/item or a puzzle, you can keep the name "Finding Chemo." It is funny, interesting, and easy to recall.
2. The Slaughter
Slaughter means to kill a (player) or animal in a game. Games that include shooting, killing, kicking, or beating players can be named "The Slaughter."
3. The Last Ride
"The Last Ride" is a perfect name for a racing game with high-performing bikes in hilly areas. If you are creating a mobile game for single-player that includes thrill, do name it "Last Ride" or "The Last Ride". For your own game, you can hire a mobile game development company.
4. Orphan On Run
Orphan means someone who lost his/her parents."Orphan On Run" can be the best title for a child who lost his parents in an alien attack.
5. Magician's Saga
Magician's Saga is one of the good gaming name ideas for games in which the player performs tricks and spells.
6. LittleGirlABCD
For child games that teach alphabets, you can name it LittleGirlABCD. It is simple, easy to remember, and enjoyable.
7. Cargo Dash
The game with adventure, in which you load something and deliver it to another end can be named "Cargo Dash." Dash can be synonymous with a moving fuel bar that keeps the excitement active.
Want to Make Your Own Game
Get Free Consultation
8. Dragon BallZ
Games that make players do martial arts and explore around to find golden wishing balls can be called "Dragon BallZ."
9. Fruit Ninja
"Fruit Ninja" is a cool name for a game associated with the slicing of fruits. The 'Ninja' (player) has to slice off the fruits which fall into a juicer.
10. Velor X
If the game involves two teams fighting against each other where gunplay skills meet unique player abilities.
Also Read: How to Create a Mobile Game?
11. Frost Bite
Frost Bite can be an appropriate game name for catching snowflakes. Moreover, any game based on ice-related tasks can be named "Frost Bite."
12. Splash
Splash relates to water. If your game is based on water-based facts for kids, it can be named "Splash." It can be a card game or a mobile game.
11. Predator
A predator is a person who searches for other people (players) to harm and kill them. A game with multi-players, hunting, and shooting grounds can be called "Predator."
12. Sniper
If the game has a multiplayer area where players fight wars to become the best shooter can be named 'Sniper'.
13. The Brutal Man
If a game app like candy crush is based on a story where the player needs to cross stages to fight the giant man, you can name it "The Brutal Man."
14. Brave Firefighter
If a player act as a fireman to save the lives of people against accidental fires, do name it "Brave Firefighter." The tagline can be "Brave firefighter to rescue the world."
Want to Launch Your Own Game?
Request A Free Quote
15. Driving Master
If the game is based on teaching how to drive in a fun way, it can be named "Driving Master."
16. Perfect360
If the game is girly where you need to dress up the player to earn points and cross levels, you can name it "Perfect360."
17. Hit Man
If your player has to torture other players in order to earn points for a living, you may name it "Hit Man." In this game, you are the evil harming others.
18. Phantom
Phantom relates to something non-existent. If the game has ghosts or zombies which include intoxicating other players, you may name it 'Phantom.'
19. The Immortal
An immortal is a person who lives forever. So, if your game includes a player or enemy that cannot be killed, do name it 'The Immortal.'
20. Roboca
Game in which the player is a robot that can be converted into a car. Or a game, where you need to design robots as per instructions, can be named "Roboca."
Best Gaming Names Ideas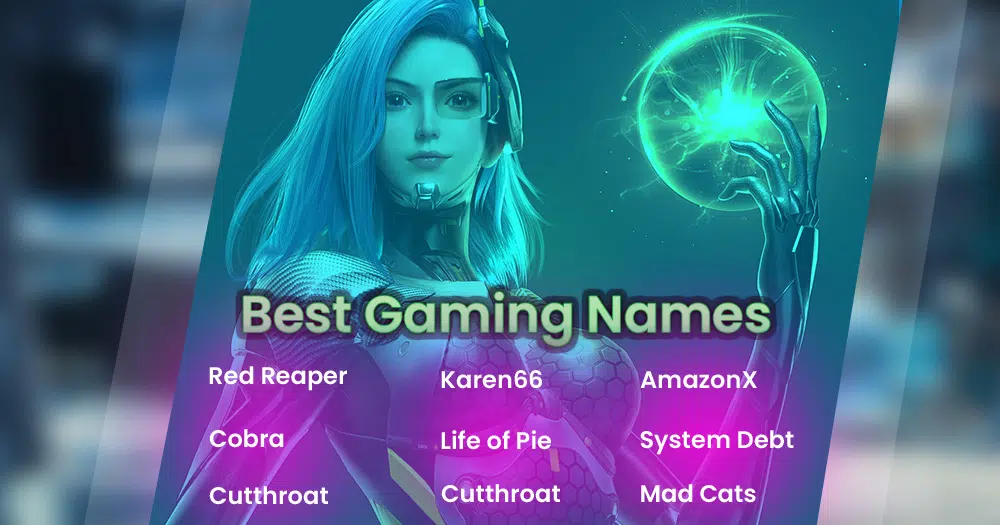 21. Talking Kitty
A child game, where a kitten can talk, walk, sit, dance, and do silly moves as per your instructions can be named 'Talking Kitty'.
22. Palace Dash
If your game allows the player to run through the fantasy world to reach the end location-Palace. Further, it involves a character dodging through trains and obstacles, 'Palace Dash' is surely a great name.
23. Sky Explorer
If the game pulls the player into beautiful narratives in the sky. Further, if it involves medium to difficult stages in the sky, the clouds, keep the name 'Sky Explorer'.
24. Master Doc
A game where the player is a doctor and heals the patients. Further, where players become the master doctor of the hospital, it may be named 'Master Doc.'
25. Lumber Kingdom
'Lumber Kingdom' is a cool name for a game where the player needs to do tasks, and collect things to make a kingdom on his own to become a lumbering giant.
Also Read: How to Make a Video Game?
26. Grenade Pro
A grenade is a bomb that is blasted either by hand or gun. If the game includes blasting things to cross new levels using guns, you may name it "Grenade Pro."
27. The Giant Run
A game in which the character needs to collect items (jelly) to get bigger. Further, the player has to run over a track overcoming hurdles to reach an end that can be called 'The Giant Run'.
28. Trick & Treat
'Trick & Treat' can be an ideal name for quiz-based games. In this, the player can guess the answer to get a treat, later treats can be used to avail hints for the answer.
29. Bridge It Up
A game where players compete with each other to make the longest bridge and win can be named 'Bridge It Up'.
30. Slap And Rush
If your's is a fun game where the player has to slap and run other players to win the race, you can name it 'Slap And Rush'.
31. Deliver It
The name- 'Deliver It' is an ideal name for a game where a player is a delivery person who needs to pick up as many parcels as possible without crashing.
32. Pop It
A game that is about popping bubbles can be named "Pop It". It's simple, clear, and easy to memorize.
33. Roll The Ball
Games where the player has to roll the ball on a track full of obstacles. Such games can be named 'Roll The Ball'.
34. Drifting Legends
Drifting cars is exciting for youngsters. A driving car racing games for PC that involves a lot of stunts and drifts can be named 'Drifting Legends'.
35. Cut The Rope
If a mini-game includes cutting of ropes to free the character, naming it 'Cut The Rope' is a good idea.
36. Dragon Run
Dragon Run can be a good game name where dragons are after you (player) and you need to survive through the jungle.
37. Puzzler
A game that includes codewords, crosswords, and word search can be titled 'Puzzler'.
38. Bubble Shooter
A mini game where the player has to pop bubbles of the same color, without letting it reach the base can be named 'Bubble Shooter'.
39. Aerial Fighter
If a player has to control a warplane and fight on the aerial battlefield, 'Aerial Fighter' will be an ideal name for the game.
40. Aerial Fighter
If a player has to control a warplane and fight on the aerial battlefield, 'Aerial Fighter' will be an ideal name for the game.
Convert Your Game Idea in to Reality
Request A Free Quote
Gaming Nicknames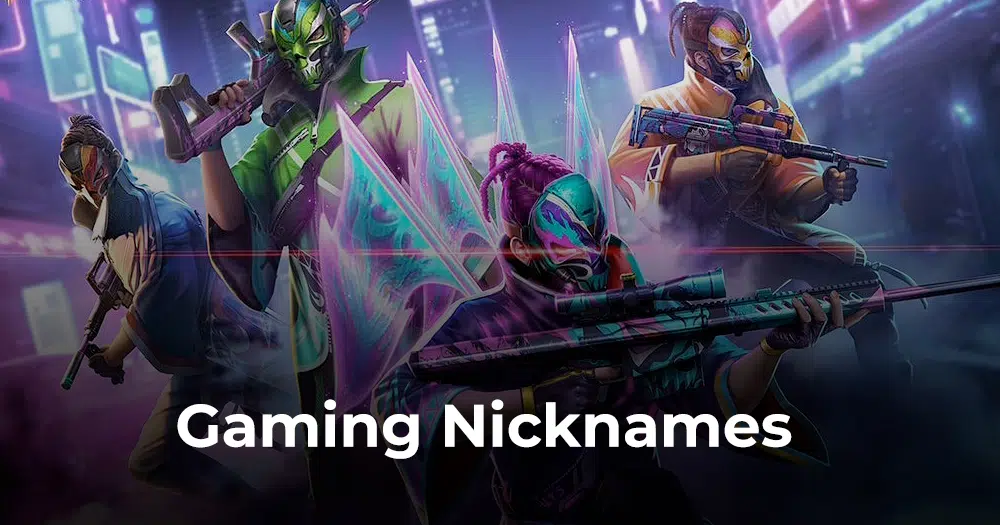 41. Mind Out
For a brain gam1e that includes tricky questions 'Mind Out' can be a cool game name idea. Players can blow their brains out and test their IQ levels while playing 'Mind Out'.
42. Slingshot
For a single shooting android game such as bowling, you can name the game 'Slingshot'. Shooting items can be towers, homes, fences, trees, etc.
43. Drawing Fever
Based on hints, the player has to draw the right item to cross the stage which can be named 'Drawing Fever'.
44. Food Mania
If the game involves characters to cook, serve and sell, you can name the game 'Food Mania'.
45. Wordly
Are you making a word-based game? If your game is somewhat like a crossword puzzle, a good name can be 'Wordly'.
46. Offroad Simulator
If the game is a xbox one game that is in SUV tunning and career mode, you can name it 'Offroad Simulator.' SUV lovers will surely download and play.
47. Madness
A game that involves riding bikes in muddy tracks and has mountain aesthetics can be named 'Mudness'. Mudness can be synonymous with 'madness in the mud'.
48. Antarctic Edge
If you are making a game for users who are crazy for bike rides in icy cool locations, you can give it the name Antarctic Edge.
49. Wrestle Mania X2
A mobile or pc wrestling game, where two or more competitors fight in a ring can be named 'Wrestle Mania X2'.
50. Musical Tiles
If your game has tiles/boxes that make musical sounds on touching, you can name it 'Magical Tiles'.
51. Crewmate
Crewmate is one of the finest gaming name suggestions that can be a name for a game that involves playing in teams. So, if you are searching for cool gaming names ideas for team-based gaming, name it 'Crewmate'.
52. FisherX
Games that involve fishing in the sea just to catch fish and leave other obstacles like sea monsters and sharks behind can be called 'FisherX'
53. CatXFish
If the player in the mobile game is a cat and he is supposed to catch fish, you can simply name it 'CatXFish'.
53. Bullet
A shooting-based game that involves users shooting on different items, can be called "Bullet".
54. Carrom Royale
If you are designing a commonly played game carrom and are exploring for best game name ideas, you may title it 'Carrom Royale'.
55. Knuckle King
Gaming name suggestions For boxing games where two opponents use their knuckles to fight each other can be named 'Knuckle King'.
56. Pool Star
If your double-player game is based on a pool table, "Pool Star" is an ideal name.
57. Rock & Rock
If the player has to roll a metal ball to break the rock, it can be titled "Rock & Roll". Or if your game is based on a similar scenario where objects are other than rocks, you can still use it.
58. Roar
A jungle-based game where the main character is a lion can be named "Roar".
59. BareFoot
A game where the player has to cross levels without shoes on can be titled "BareFoot."
Find List of: Game Companies in New York
60. Golden Stone
A game can be named 'Golden Stone' if it's story-based which makes characters do certain tasks in order to achieve different milestones.
Unique Gaming Names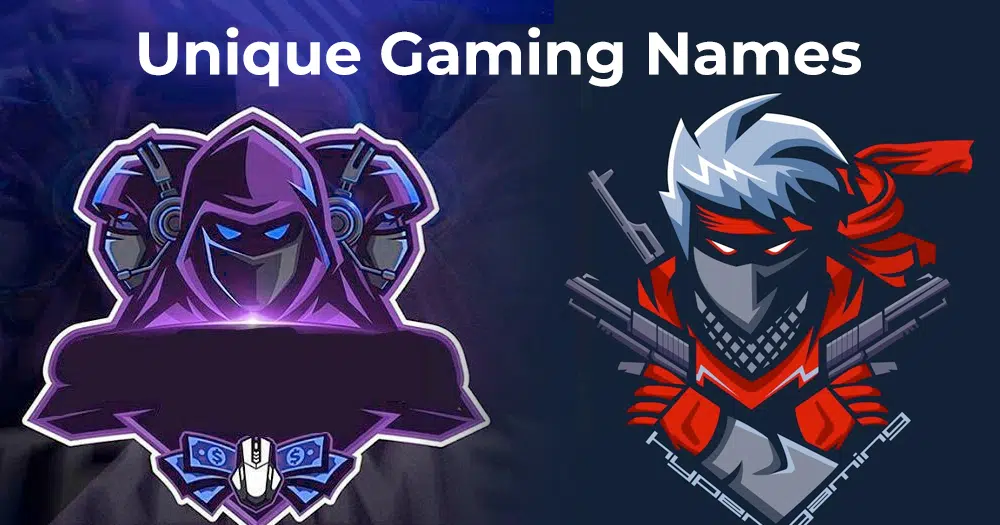 61. Zombies Run
A zombie-based game is the top gaming name suggestions where the dead are after the player- you can name it 'Zombies Run'.
62. NBA Masters
For a basketball sports-based game "NBA Masters" can be a perfect name.
63. Hissardo
Games like snakes and ladder can be called 'Hissardo'.
64. WaterFull
If your game allows the player to fill colored liquids in different vessels, you can name it 'WaterFull'.
65. Zooba
Zooba can be named after a battle game in a zoo.
66. Wonderland
Wonderland can be a wonderful name for a beast and beauty game.
67. Wormzy
A dynamic, cool game with funny graphics where the player has to grow the worm can be named 'Wormzy'.
68. Bozy Zibo
Silly names like Bozy Zibo are best used for mini mobile games.
69. Park In Jam
If yours is a learning-based game letting players park in a traffic area, name it 'Park In Jam'.
70. Smash It
A game where you have to smash the opponent and whosoever hit hard wins can be named 'Smash It'.
71. Doodler
For free writing-related games for kids "Doodler" is a suitable name.
72. Boomarango
If a game is easy to control, involving players throwing boomerangs to cross levels can be named 'Boomarango'.
73. Drunkey
Drunkey can be a name for a drunk donkey (or any other character).
Certified Game Developers [Hire Now]
Request A Free Quote
1200+ Projects Delivered 12+ Industry Experience 450+ Clients Worldwide 200+ Certified & Expert Programmers
74. Fizz-e-Fizz
Shake the bottle to make the highest fizz. Such sort of game can be titled 'Fizz-e-Fizz'.
75. ParallelX
A game where everything is upside down can be called 'ParallelX'.
76. Devil Blade
When the player has to save himself against blades on the run can be named 'Devil Blade'.
77. Gas Man
Gas Man can be a game where the player needs to collect gases to reach high or something similar to gases.
78. Boatspeed
A race with a steamboat or any other boat can be titled 'Boatspeed'.
79. ZOLO
ZOLO can be a fun final destination sort of puzzle game where the player aims to kill and snatch puzzle pieces from others.
80. Gunner Man
The game involving theft, guns, shooting, and killing can be simply named Gunner Man.
YouTube Gaming Names Ideas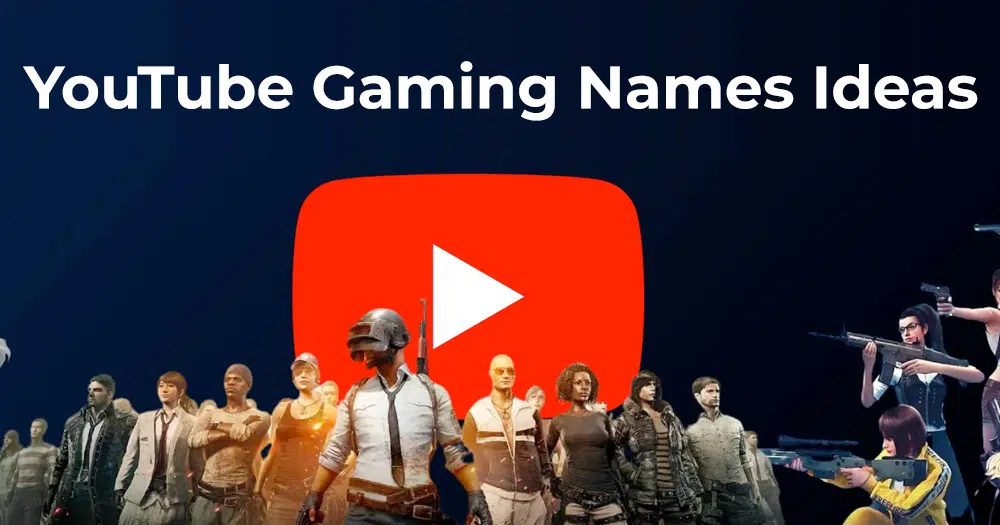 81. Art Of War
Art of War can be the right name for a game where the player needs to use strategy to fight the enemy.
Find List of:: Mobile Game Ideas
82. Goatway
To help goats pass the map (that includes hills, forest, and river) may be titled 'Goatway'.
83. HitRunzey
HitRunzey is an apt name for a game involving weapons to hit, snatch and run.
84. ShopShow
ShopShow may be a name of a beauty stylist-based best gaming name for girls.
85. Mr. Ramp
Mr. Ramp is a classy name for a ramp walk-based game.
86. Loot
Games based on looting, robbing, and destroying may be given a name as 'Loot'.
87. Fire-Bred
'Fire-Bred' can be a cool game that involves players collecting dragons.
89. Fist
A punching-based game can simply be named 'Fist', it's short and easy.
90. Red Hand
Red Hand can be a great name for a hand slapping game where whosoever hand is more red loose.
91. Robber Bob
With 'Robber Bob' you can make players rob the safest stores, malls, and apartments.
92. HarryBee
Build a beehive in 'HarryBee' to collect nectar by saving yourself against other bees (components).
93. Free The Fur
'Free The Fur' is a cool short game name idea for raising a sheep's (animal) fur-related game.
94. Tickly
Answer the tricks with a game called 'Trickly'.
95. Prison Break
'Prison Break' can be a name where the player has to strategically make alliances and break the prison.
96. Hydro
Kill enemies with an acidic breath and poisonous fangs as a giant hydra from the ancient world with 'Hydro'.
97. Tasty Tale
Games like Candy Crush where you need to match 3 same ingredients to earn points. Such games can be named 'Tasty Tale'.
98. Binoda
A game where players can check their trading skills can be called 'Binoda'.
99. Casinata
Cassino-based mobile games can be titled 'Cassinata'.
100. Thrasher
Run through hundreds of obstacles, thrash others to win the game with 'Thrasher'.
Random Game Name Generator List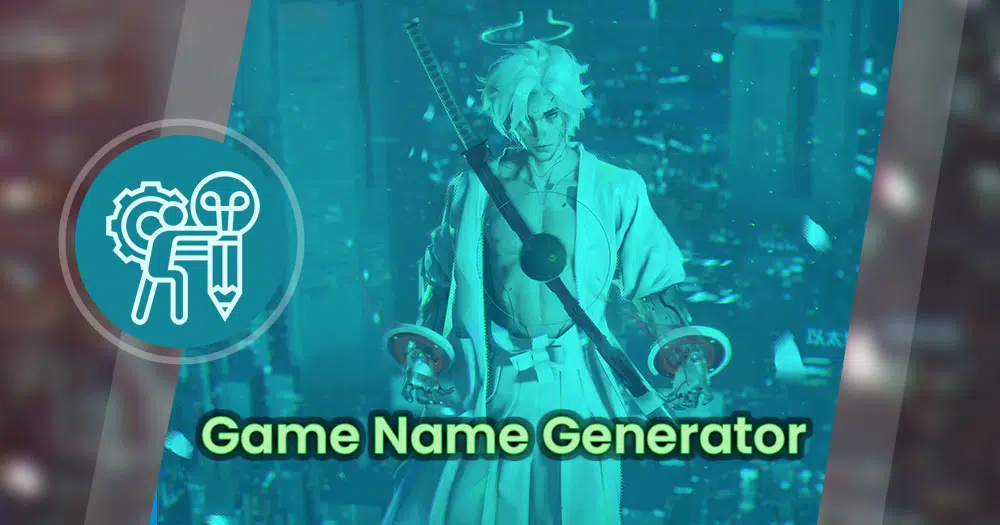 Have a look at the top 20 online game name generator below:
1. Star Name Generator
Star Name Generator is a random game name generator and synonyms that are rare, unique, and exciting.
2. Shopify
With Shopify game name generator, you can get free gaming name suggestions within seconds as well as the domain name availability.
3. Masterpiece Generator
It is a cool game name generator tool that provides you with a form to fill in and suggests several name ideas.
4. TRUiC
TRUiC requires you to fill any game-related keyword and shows several results.
5. ETC Gamer
ETC Gamer is a funny game name generator tool that gives ideas with symbols.
6. Plarium
Plarium games name generator provides you with "play on words" or "in-joke" funny gaming names ideas.
7. Gamertag Generator
Gamertag online game name generator provides you with rhyming word ideas that can be best-fit for story-based games.
8. Gamer Name Generator By AnyTextEditor
With this free pro online game names generator, you can get popular nicknames online.
9. Game Title Generator
You can check 10 million random combinations for any game type, be it games for kids or youngsters. Simply type your suggestion and click "Generate" to generate different titles.
10. NameMesh
NameMesh is a popular utility tool, mainly used for creating names for games, startups, products, etc.
11. Fantasy Name Generator
This tool is an all-rounder web-based gaming name generator tool for fantasy games. Just click on the 'random names;' option and badass 10-20 gaming names will pop up.
12. BizNameWiz
BizNameWiz runs on a detailed search to help you generate fresh game names as well as save you against copyright issues.
13. Anadea
Anadea is a funny game name generator that provides unique gaming names ideas that are catchy and searchable and memorable.
14. Namelix
Namelix, primarily designed for low investment business names, can also be used for generating catchy game names.
15. Nameboy
Nameboy is one of the oldest names for game generators for free gaming title ideas.
16. FOSSBYTES- Random Name Generator
By FLOSSBYTES you can get multiple game name ideas in different languages.
17. Name Generator By Wix
Simply search specific keywords and get results for multiple cool short gaming names ideas.
18. Name Generator By Novanym
A business and online game name generator tool to find a perfect, spellable, and readable gaming name style.
19. Mobile Game Name Generator
For mobile or tablet-friendly games, you can use a simple "Mobile Game Name Generator" tool to access multiple names.
20. Game Name Generator
Names4brands's is a funny game name generator tool is particularly designed for the gaming industry and generates interesting game titles that are positive and gaming-specific words only.
How to Choose Best Gaming Name?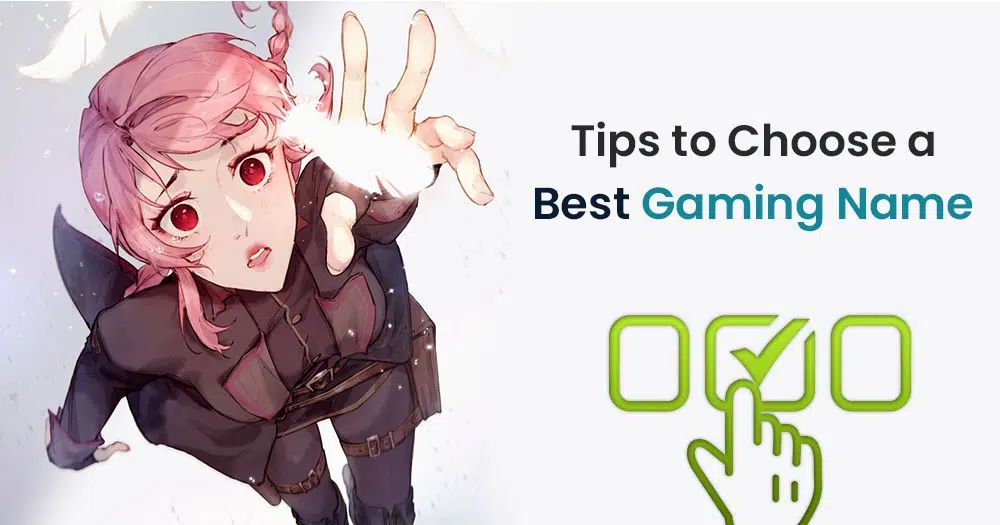 The game name you choose has a huge impact on gamers. With hundreds of games available online, choosing badass gaming name ideas is getting harder day by day. Well, you can relax and select the best game name by following the below tips:
Keep the name short and simple
The game name should relate to the gaming concept
Pick a name that is cool and catchy
Select a unique name
Ensure the game name is appropriate for the audience
It should stand out among competitors
Final Words: Game Name Ideas
As a game developer or producer, you must dive into hundreds of online gaming names ideas to find out the best game title. A perfect game name is creative, spellable, distinctive, and attractive. Moreover, plenty of game name generators are available for free to help you finalize a great name. By doing a little research anyone can find the best game name ever.
FAQs: Gamer Name Generator
Q.1 How do I Choose a Gamer Name?
If you want to know how to choose the best game name then below are the points can help you to decide the best one.
Read the Game Naming Rules
Use a Personal and Creative Gamertag
Best Gamertag Generators
Futureproof Your Username
Don't Try Too Hard to Think of a Gamertag
Think of a Unique Gamertag
Check Username Availability Across Platforms
Use the Same Name On All Your Games if Possible
Use Special Characters
Q.2 What are Some Cool Gamers' Names?
Are you looking for a new gaming name? Either way, it can be hard to choose the perfect gaming name, but here you can take some ideas such as: The Last Ride, Magician's Saga, Cargo Dash, Dragon BallZ, Frostbite, Predator, and Brave Firefighter.
Q.3 What are Cool Xbox Names?
So, you got a new Xbox but wondering what nickname or username you should keep? Here are some cool Xbox name ideas like Seek N Destroy, Pennywise The Clown, Big Damn Hero, Drunk to Win, Blunt Machete, Black Belt, Night Rider, and Brilliant Gamer.
Q.4 What is a Unique Gamertag?
Video gamers usually keep a distinctive nickname which is known as Gamertag often called a username or user ID. Gamertag can consist of any letters, numbers, and special characters in your gamertag.
Q.5 Is There a Copyright on Video Game Character Names?
According to the US Copyright Office, "Copyright does not protect a game's idea, character name or title, or any of the ways to play it.
Q.6 Are Random Game Name Generator Tools Useful?
A name generator can assist you in creating a distinctive handle for any game you like to play. It might even be used outside the gaming industry, like to assist you create intriguing characters for your upcoming projects or novels.