Getting to the different grocery stores in USA can be difficult in our daily schedules. Regardless, with the introduction of the new coronavirus, when most Americans are advised to stay at home as much as possible, shopping for groceries in-store can be especially difficult.
Thanks to the introduction of grocery delivery apps in USA like Instacart, Shipt, Amazon Prime Now, FreshDirect, Peapod, and more. People no longer need to leave their daily duties and spend time shopping in-store. You may have household essentials delivered straight to your front door instead, saving you time and effort.
The introduction of apps aimed at assisting users with ordinary tasks has made our lives easier. One such on-demand service, online grocery delivery solutions, will be discussed in this blog post. We'll go over its basics, including how it works and what it can do for you, as well as the names of the finest grocery ordering apps in the United States, which stand out among the sea of applications available worldwide.
20 Top Grocery Delivery Apps in USA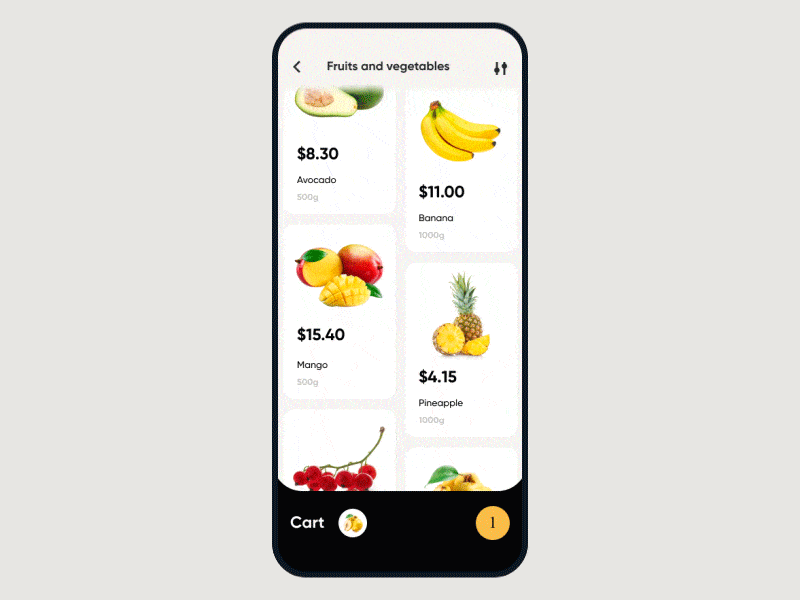 We have pulled out some of the most popular shopping and grocery apps below. A few of them have their own inventory, while others have strong partnerships with supermarkets and shops to deliver the top grocery shopping apps to people in the USA! You can read this guide on how much does it cost to develop a grocery delivery app if you are curious to know.
| S. No. | Grocery Delivery App | Pricing |
| --- | --- | --- |
| 1. | Walmart Grocery | $8- $10 |
| 2. | Instacart | free -minimum order of $35 |
| 3. | Shipt | $14/Month |
| 4. | Amazon Prime Now | $100/year |
| 5. | FreshDirect | $6 on average. |
| 6. | Peapod | start at $10 |
| 7. | Imperfect Foods | $4.99 to $8.99 |
| 8. | Hungryroot | start at $59.94 |
| 9. | Dumpling | pay a set shipping fee |
| 10. | Boxed | $7 shipping fee on orders below $49 |
| 11. | Kroger | $6.95 |
| 12. | Google Shopping | $5 to $7 |
| 13. | 7NOW | $5.95/Month |
| 14. | Postmates | free delivery orders above $12 |
| 15. | Amazon Fresh | Prime membership is required |
| 16. | Safeway | start at $10 |
| 17. | Thrive Market | $9.95/month or $59/annually |
| 18. | Delivery.com | free to join |
| 19. | CheckOut51 | cashback software |
| 20. | HelloFresh | $50-100/week |
20 Best Grocery Shopping Apps (Android & iPhone)
Now explore grocery shopping apps in detail:
1. Walmart Grocery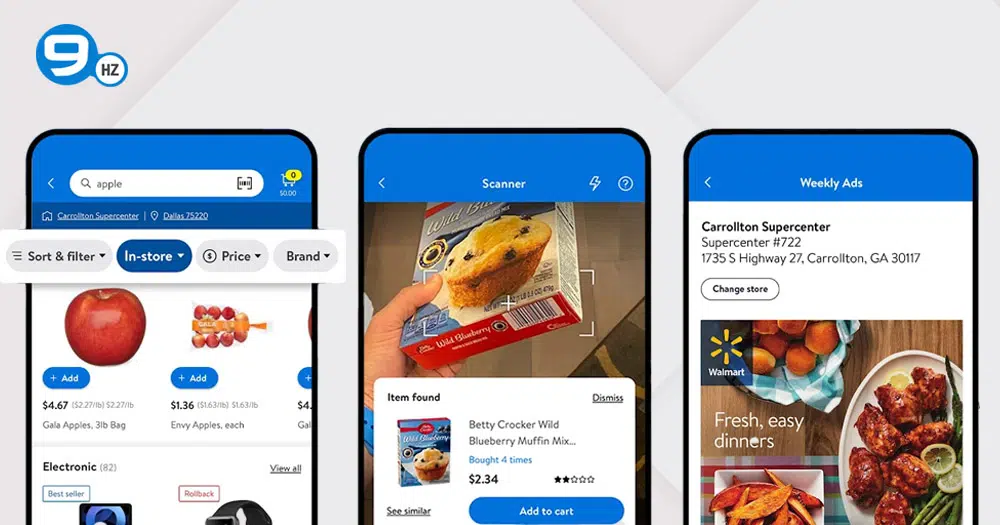 Walmart Inc. is a multinational retail corporation that owns and operates a supermarket chain, including Sam's club. Customers can shop the desired grocery items directly from the Walmart Grocery website or download the Walmart Grocery ordering app and shop online.
Walmart grocery app has recently introduced Delivery Unlimited, a new membership option. When you buy it, you'll get a year's worth of free shipping on all of your shopping.
Want to Launch Your Own Grocery Delivery App?
Request A Free Quote
Pricing and Delivery Fee
Delivery costs vary based on where you stay, but it's usually between $8 and $10. The Walmart Plus membership can get you groceries delivered for $13 per month or $98 per year, on a minimum order of $35.
2. Instacart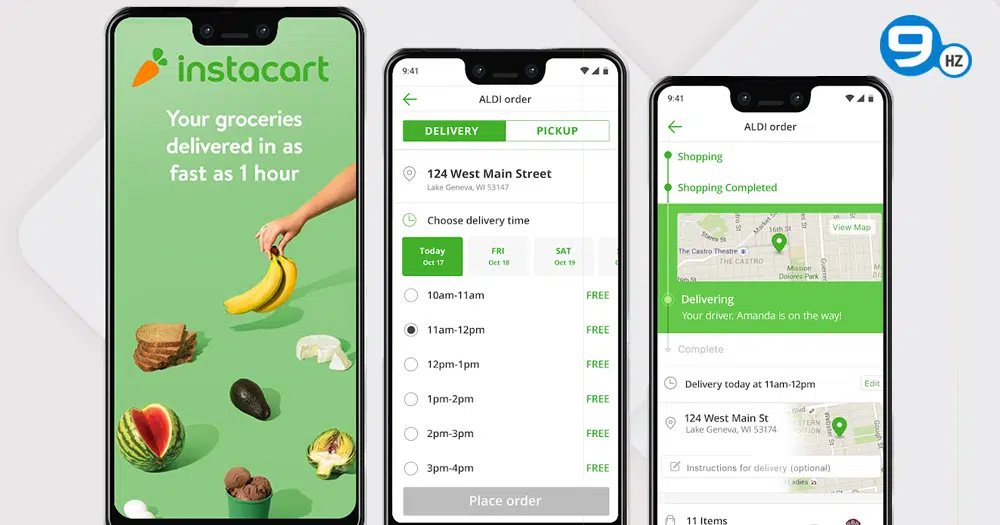 Instacart is one of the most popular local grocery stores in the United States. Instacart, like the name implies, provides same-day delivery of groceries at a variety of pricing. Instacart, which is available in hundreds of cities, is particularly good at finding and delivering the fresh food items on your grocery shopping list from local stores to your doorstep as promptly as possible for a cheap delivery price.
At select retail locations, Instacart also offers curbside pickup. Simply place your order and select a time for pickup, and a shopper will prepare your purchase at the store.
Pricing and Delivery Fee
The delivery fee depends upon the amount of your order and the delivery times. Customers can sign up for an Instacart Express membership, which offers them free deliveries on a minimum order of $35, however delivery prices may be higher during busy shopping times.
3. Shipt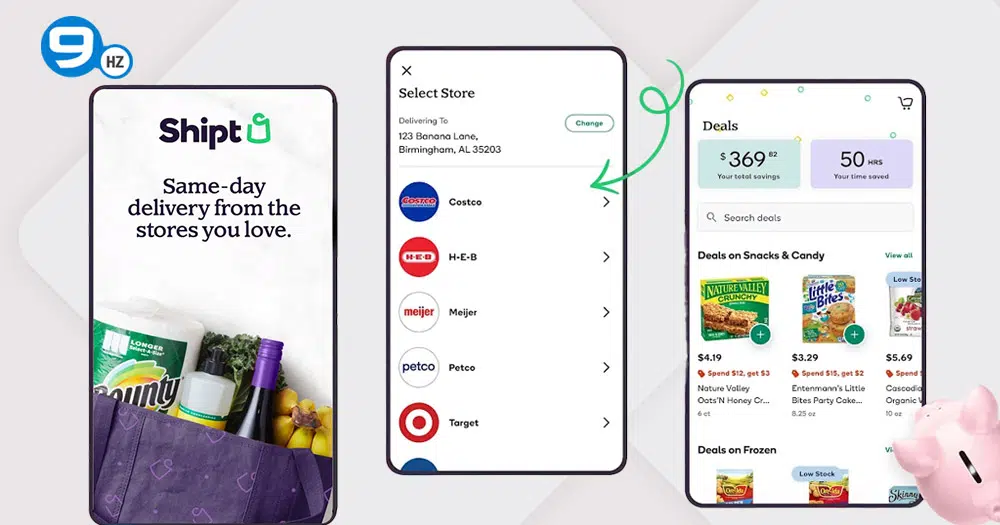 Shipt is a grocery shopping service that enables shoppers to shop from a variety of retailers based on where you live. local shoppers can have their goods delivered in as little as an hour after placing an order, and they can do it whenever the store is open.
Due to increased demand, Shipt has recently collaborated with retailers to provide new delivery options. You may quickly connect with your shopper via SMS if something isn't available or if an order has to be changed.
Pricing and Delivery Fee
A year's membership in Shipt costs $100, or $14 per month. On orders of $35 or more, members enjoy free shipping. At Shipt, Grocery items are also significantly more expensive than the everyday store prices.
4. Amazon Prime Now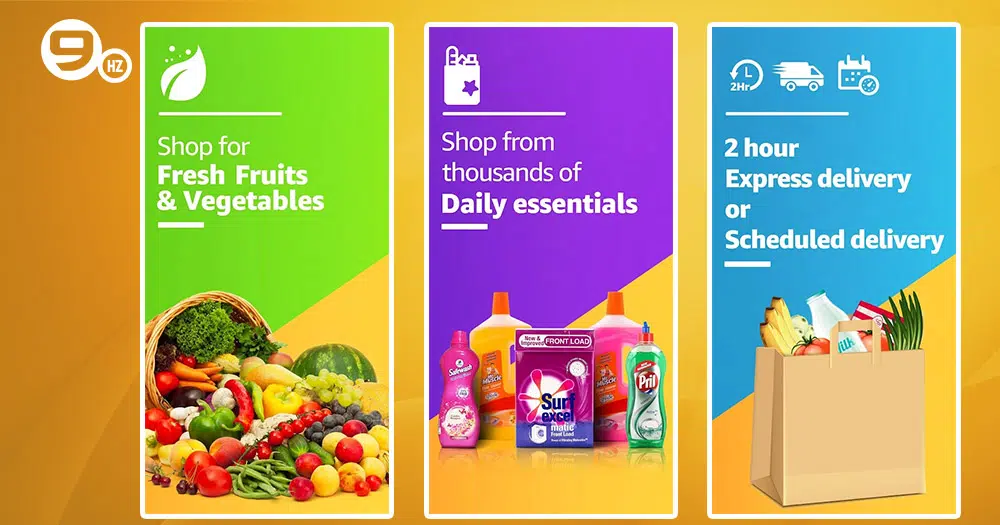 Amazon Prime Now is a top grocery delivery application from Amazon. Amazon's best grocery delivery services are available in more than 40 major cities, and you may buy practically everything on your shopping list, including groceries, cleaning supplies, pantry staples and almost anything else.
Customers can also order a variety of groceries as well as non-food items. It is one of the top grocery shopping services for larger families searching for year-round services that transport huge quantities of supplies.
Amazon Prime Now has partnered with a number of well-known supermarkets to provide consumers with exclusive discounts and deals. You can also rely on secure returns and refunds.
Pricing and Delivery Fee
An Amazon Prime subscription costs $100 per year which includes Amazon Prime Now. Shoppers can avail of two-hour free delivery and shall pay an extra $10 for expedited one-hour delivery. A $35 minimum order is required for free delivery; else, a $5 shipping cost will be applied.
5. FreshDirect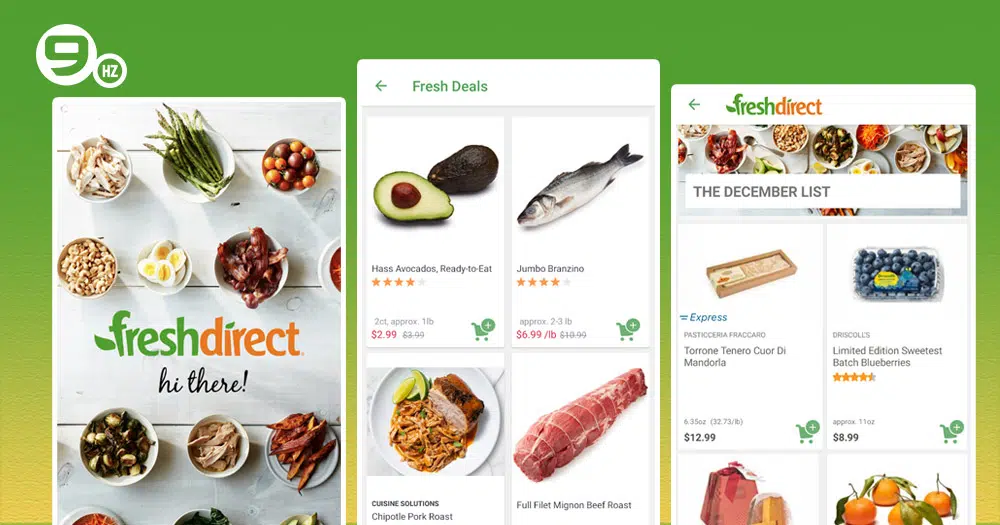 Fresh Direct takes pride in providing the best fresh produce, meats, and cheeses money can buy, as its name suggests. Fresh Direct is definitely worth checking out if you're concerned about where your vegetables come from or whether your chicken is free-range.
Fresh Direct also gives explanatory information for many of its canned goods, in addition to daily quality ratings, so you know exactly how your whole foods arrived on your doorstep. People enjoy FreshDirect because of the high-quality fresh produce and meat selections,
Pricing and Delivery Fee
You'll have to look into the specific shipping charges in your location, but a $30 box should cost roughly $6 on average. People can upgrade to the FoodKick service to expedite delivery arrivals if they don't want to wait for conventional shipment schedules.
6. Peapod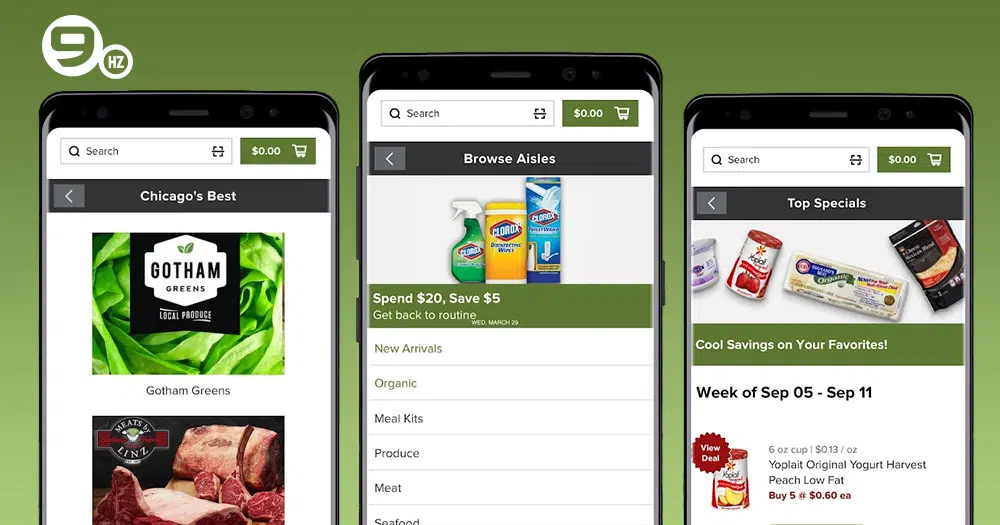 Peapod is the best grocery delivery app that is only available online. It is a little different from other grocery delivery services. While services like Shipt and Instacart rely on merchandise from other local retailers, Peadpod uses its own inventory for many of its items.
Peapod is considerably more like traditional local grocery stores in this way than some of our other choices. Local shoppers can save money on delivery by picking up their own orders because the majority of Peapod's merchandise is held in the company's own warehouses.
Pricing and Delivery Fee
The delivery rates start at $10 for items over $30. For orders above $75, the shipping charge is reduced to $8, and for orders over $100, it is reduced to $7. All orders can also be picked up for free at a Peapod location.
7. Imperfect Foods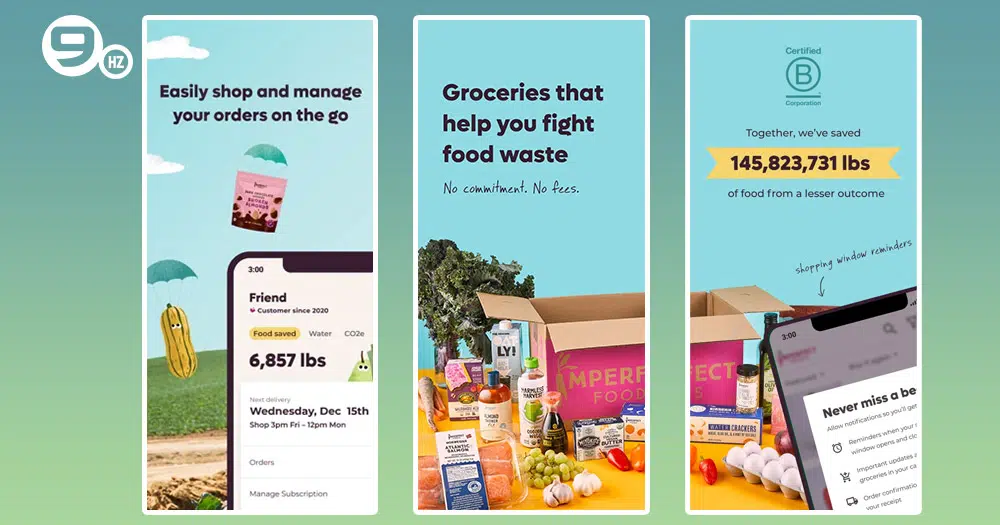 Imperfect Foods supplies food, fruit, and vegetables that aren't as lovely as their store-bought counterparts, to most parts of the west south central region. While some of your deliveries may not be picture-perfect, by using this grocery ordering app, you are helping the environment and the supply chain.
In the past, less-than-perfect whole foods were seen as throwaways and discarded. Imperfect Foods saves the ugly vegetables from the trash – they're still good, just not as pretty as the ones in those country vegetable beauty pageants.
Pricing and Delivery Fee
All of the items at Imperfect Foods are not at the same price. You'll see the total as you add and remove items from your cart. The company charges a $4.99 to $8.99 delivery cost, depending on the location. There is no subscription or service fee.
8. Hungryroot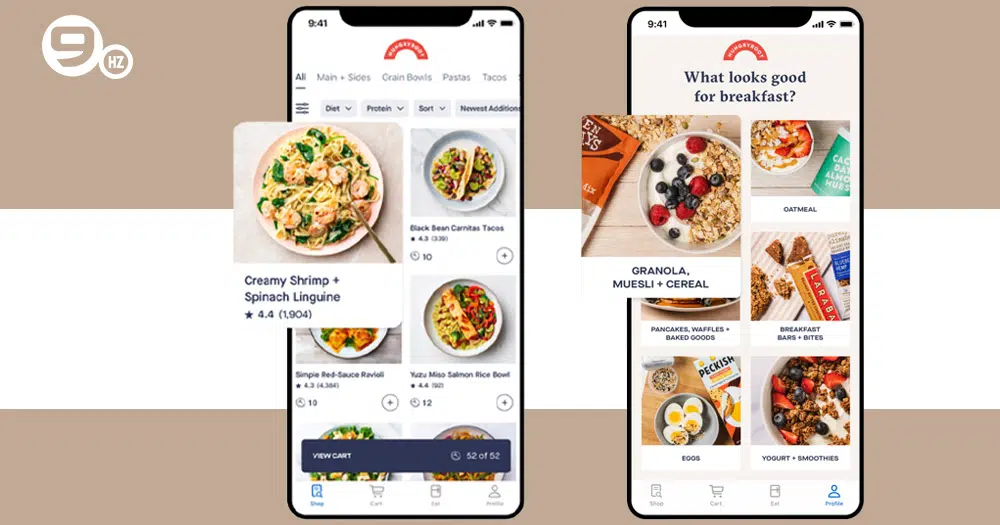 This is more of a weekly meal subscription service, but if you're usually tempted by the checkout-side munchies and goodies, having your meals delivered means you won't be. It is considered one of the leading grocery ordering apps on the west coast because it only suggests healthy food that meets its three-point criteria:
they must be nutritious and produced from whole, high-quality produce
they must be simple and quick to make
and they must taste delicious.
Because it does serve entire meals, this service may fall into the murky area of a meal delivery service, so check out the website to determine if it's good for you.
Pricing and Delivery Fee
Hungryroot's delivery fees start at $59.94 and include three two-serving meals. The size of the plans will vary based on how many breakfasts, lunches, dinners, snacks, and sweets you desire throughout the week.
9. Dumpling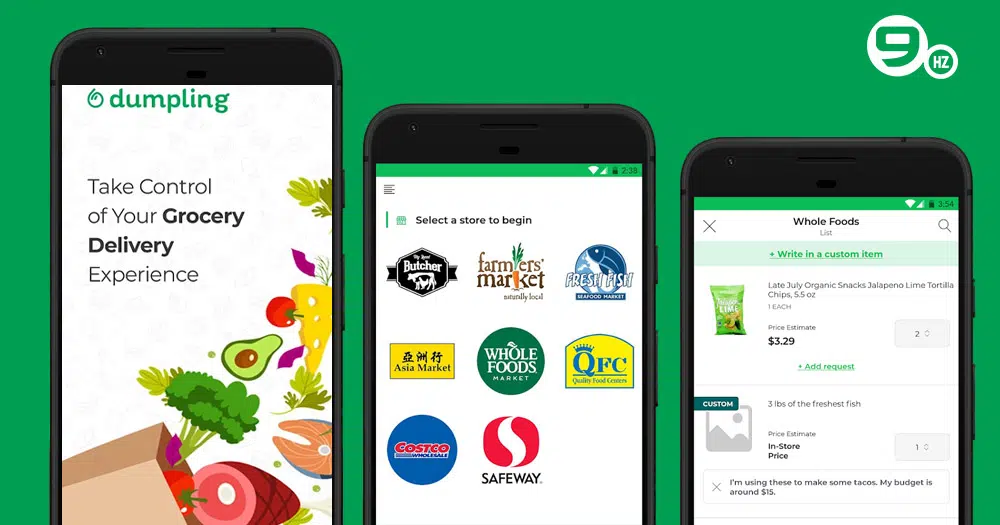 Dumpling may be described as a grocery app with a moral. Dumpling is a startup that aims to make small company ownership accessible to everyone who wants it. It essentially simplifies the technical side of things so that anyone can establish, run, and develop their own local grocery store-based delivery business. You communicate with your own "personal shopper," so you're not dealing with a machine.
Pricing and Delivery Fee
You can only pay a set shipping fee or a percentage of the total order value because you're working with independent contractors who are free to set their own pricing structure. The personal shopper compiles all of the data for you to compare.
10. Boxed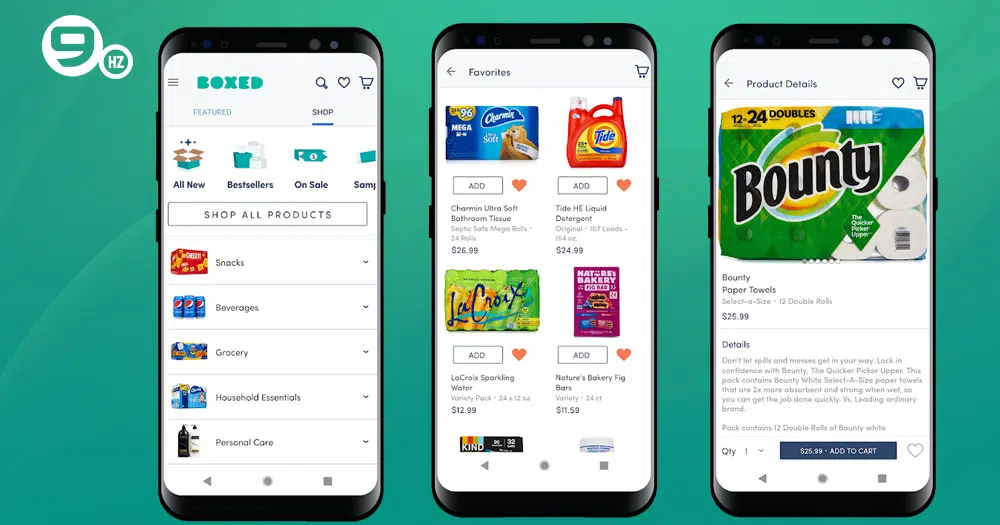 Boxed offers same day grocery delivery and delivers bulk groceries straight to your door. If you're looking to buy your milk, eggs, fresh fruit, and veggies from the top grocery ordering services, Boxed is the right app.
Even if you want a bulk order, you can schedule a delivery with Boxed Express. Although, Boxed Express shipments have separate minimum orders and shipping fees, which can add up. During the COVID-19 pandemic, delivery times have gone up for Boxed, but it still delivers groceries online.
Hire Dedicated App Developers
Request A Free Quote
Pricing and Delivery Fee
The company charges a $7 shipping fee on orders below $49. Above this value of an order, the shipping is free. The customers can opt for a $49/year to avail free shipping on all orders.
11. Kroger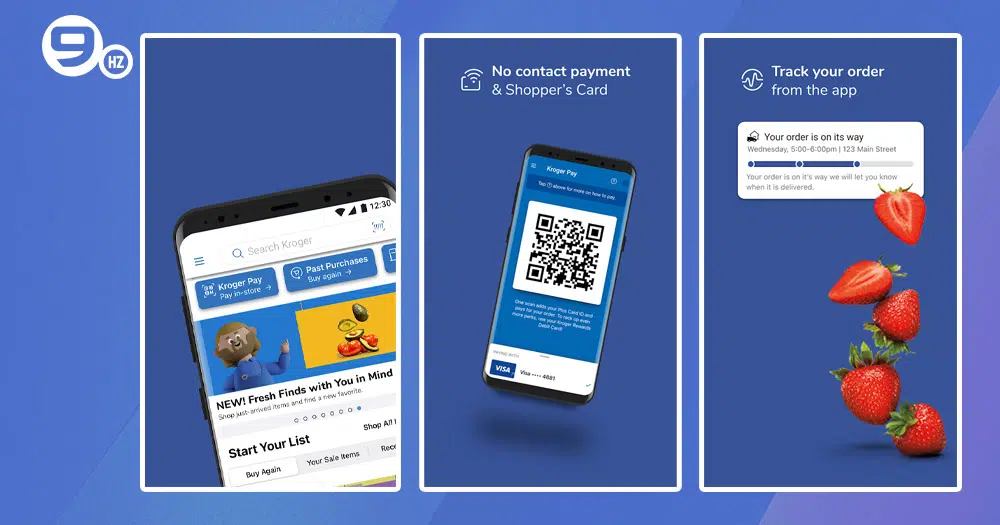 Kroger is one of the finest grocery delivery apps in the United States because it provides an amazing shopping experience. You can save a lot of money by using their shopping app. They offer exclusive deals and customised discount offers for the benefit of their customers.
You may create an online shopping list in minutes and use it to shop in-store or place an order online. The Smart Suggest feature of the app allows you to save a lot of money on certain things.
Pricing and Delivery Fee
For $6.95, a Kroger associate or a delivery driver will shop for you and deliver groceries to your door from a third-party partner.
12. Google Shopping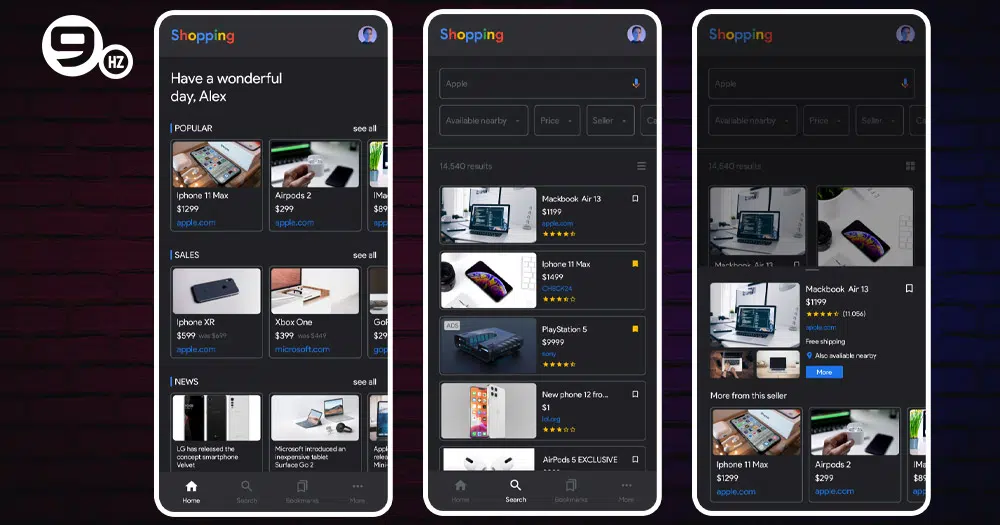 When it comes to online grocery buying in the United States, Google Shopping is the greatest supermarket shopping app to take customer convenience and experience to the next level. It is a fantastic grocery app that you can use right away to get your essentials delivered to your door. It enables you to browse millions of things from multiple stores without having to leave your house.
If you're searching for the best grocery delivery app, you can rest certain that using simply your Google account, you'll be able to check out swiftly and securely. So, whether you're looking for everyday necessities, a present, or something different, the app has it all.
Pricing and Delivery Fee
You'll spend $5 to $7 for shipping if you don't order enough to qualify for free delivery, depending on whether Google or the retailer ships your items.
13. 7NOW

7NOW is certainly the leading grocery delivery apps in the United States, with over 3000 items and counting. Candies, ice cream, baked products, canned foods, groceries, personal care, household basics, and other items are all available. This grocery shopping app, which is available in over 200 cities and 40+ metro areas, is constantly expanding.
Pricing and Delivery Fee
Personal shoppers can receive limitless deliveries for $5.95 each month with no additional delivery price, often within 30 minutes.
14. Postmates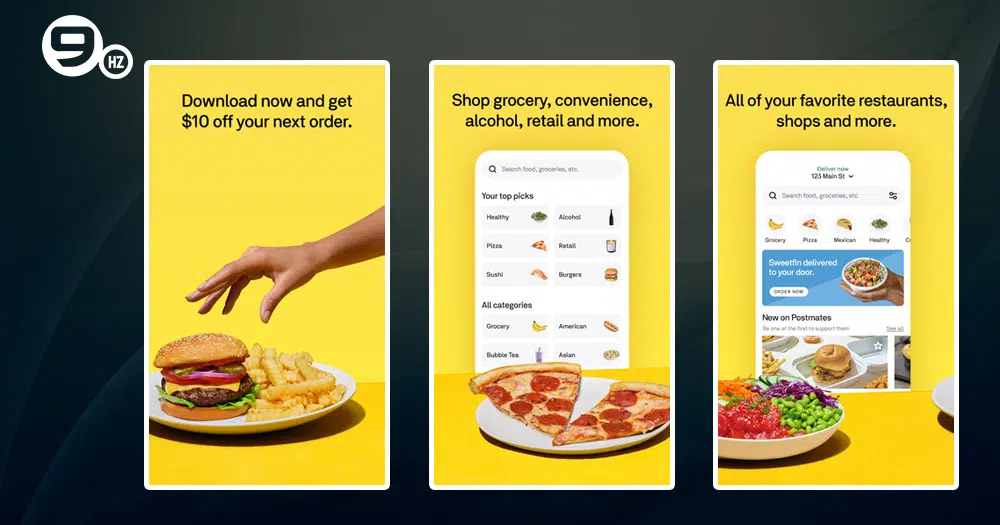 Postmates has a number of supermarkets listed under it, like Walgreens, where you can get all of your basic necessities delivered right to your door. It boasts a large delivery network and provides real-time tracking and delivery status updates.
Pricing and Delivery Fee
You can enjoy free delivery on all orders above $12 with an unlimited membership.
15. Amazon Fresh
You must be an existing Amazon Prime member to take advantage of AmazonFresh. From the familiar Amazon digital interface, you'll have access to plenty of fresh vegetables, packaged groceries, and more.
While many customers use Amazon Fresh to order groceries, the company also works with local farms and supermarkets in each location.
Pricing and Delivery Fees
Your Prime membership is required to use Amazon Fresh features.
16. Safeway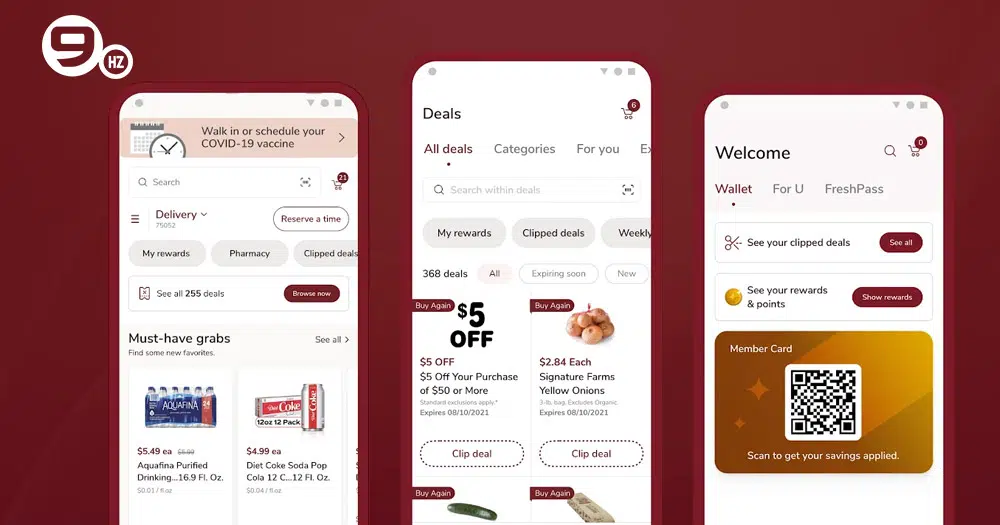 Safeway is a subsidiary of Albertsons Companies, one of the country's leading food and medicine shops. The corporation runs outlets in most zip codes, with a strong local presence as well as a national scale.
Pricing and Delivery Fee
Shipping fees start at $10, but if your order totals $150 or more, they may be waived.
17. Thrive Market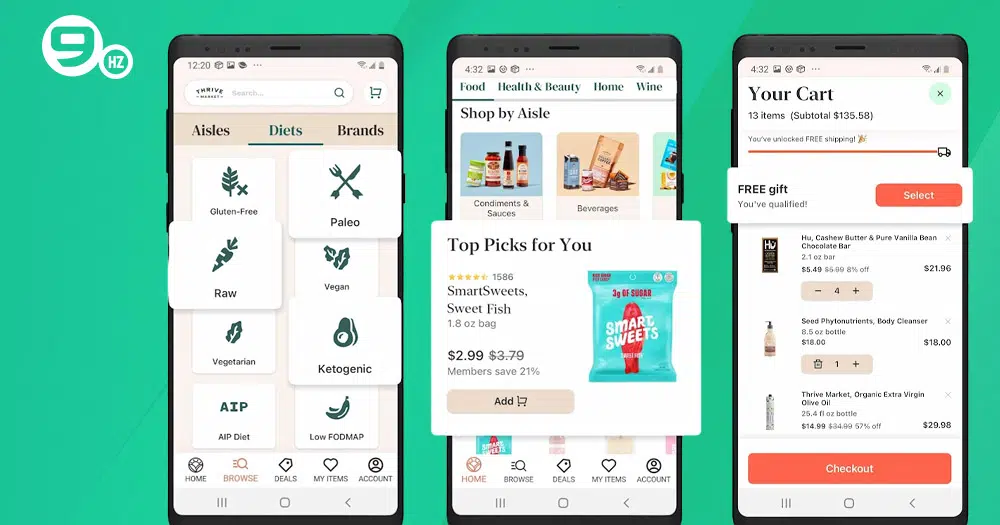 Thrive Market is another best grocery delivery service that is sponsored by its members and focuses on supplying organic products at reasonable prices with carbon-neutral delivery.
There are fresh and packaged foods that are suitable for keto, paleo, and vegan diets. Orders can be filled using the Thrive Market app or online using a web browser.
Pricing and Delivery Fees
You can take a Thrive Market membership for $9.95 each month or $59 annually. The minimum order must be $49 to qualify for free delivery.
18. Delivery.com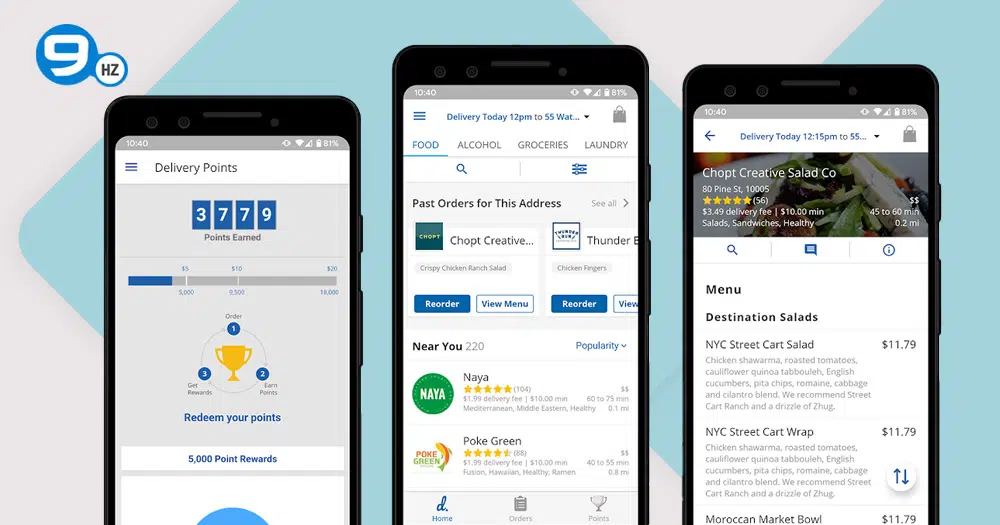 Delivery.com does a fantastic job of delivering groceries, prepared meals, alcohol, household items and even dry cleaning orders from your neighborhood cleaners. It's available in over a hundred cities and is meant to work on even the oldest of devices.
This top grocery delivery app provides detailed results based on your search criteria, including star ratings, cost, delivery timings, distance, and more.
Pricing and Delivery Fees
It's free to join. However, certain orders are subject to delivery charges depending upon the distance.
19. CheckOut51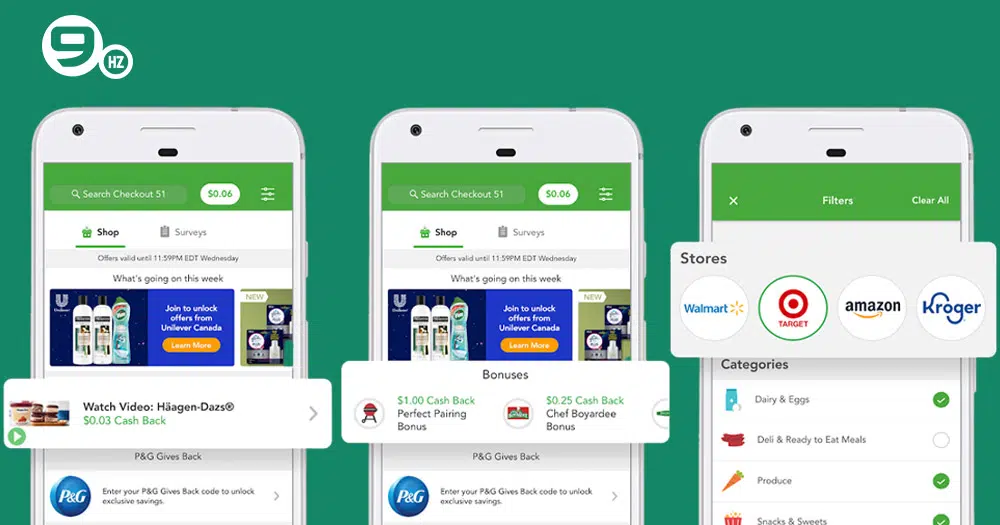 Available for both Android & iPhone users, CheckOut51 is an exceptional grocery delivery app. The application offers rewards & loyalty points to users. The items delivered arrive from its different stores & users always have a high chance to avail of a couple of exceptional offers every week.
Additionally, you can also get an opportunity to earn some fantastic cashback every weekend. You just have to upload a picture of receipts to redeem a particular offer.
Hire Grocery Shopping App Developers
Request A Free Quote
Pricing and Delivery Fee
Checkout 51 is a cashback software that gives users cashback or credits when they shop online, go grocery shopping, or buy gas.
20. HelloFresh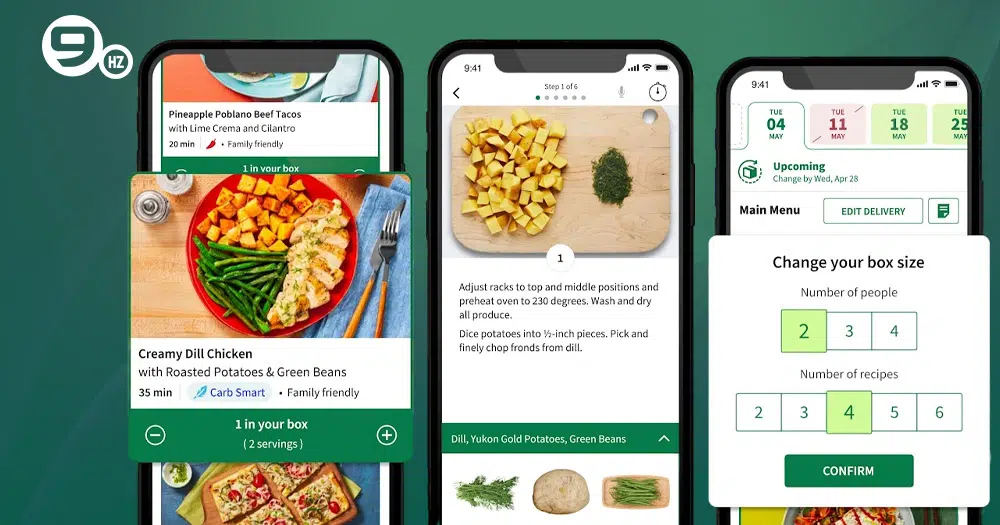 HelloFresh, headquartered in Berlin, is an online store that ships ingredients for a variety of recipes. Unlike other grocery delivery apps that allow you to randomly purchase fruits and veggies, HelloFresh allows you to purchase only the groceries you require.
Pricing and Delivery Fee
HelloFresh works on a subscription model where you can pay $50-100 per week for receiving all three meals for the day
How Do Grocery Delivery Apps Actually Work?
The grocery delivery services have a very simple and straightforward shopping process to order groceries. You'll buy groceries by creating a digital cart at a local supermarket or specialty store, rather than trekking through each aisle to find everything on your grocery shopping list.
If you need prepared foods right away, almost all delivery apps offer same-day delivery, but many also allow you to shop ahead of time and schedule delivery times for the following week. There will be no driving to and from the store, no browsing the aisles, and no lines. So we can say on-demand grocery delivery apps empower old shopping behavior.
Why Use a Grocery Shopping App?
Having these best grocery shopping applications on your Android and iPhone can be immensely beneficial during the COVID-19 pandemic. Since we all practice social distancing, which is one of the most important suggestions for staying healthy, you might wish to download the best grocery shopping app and shop for groceries online. Here you can read about the importance of grocery delivery apps to a business and users.
To Sum Up: Best Grocery Ordering Apps
This concludes our list of the Best Grocery Delivery Apps for Android and iPhone in the United States. Depending on the grocery apps you order from, the service fees and process for having groceries delivered differ. Simply investigate them and determine which one best meets your needs.
FAQ's
1. Which is the Best App for Ordering Groceries?
There are plenty of best apps available to order your groceries, some of them are listed below.
Best overall: Instacart.
Best for ordering household items: Shipt
Best for Prime members: Amazon Fresh
Best for different diets: Thrive Market
Best for fast deliveries: Walmart
Best for personal shopping: Dumpling
2. What App Brings Groceries to Your Door?
Instacart, one of the most well-known local grocery stores, delivers your groceries to your door the same day you place your order. This app is accessible in hundreds of locations and excels at delivering fresh food from nearby retailers to your home for a reasonable delivery fee.
3. What is the Most Used Grocery Delivery Service?
Walmart Grocery is the most popular app for ordering groceries. Customers can purchase the desired groceries straight from the Walmart Grocery website or by downloading the app and shopping online. This app has launched a new subscription option, "delivery unlimited," in which you will receive a year's free shipping on all of your purchases.
4. Is there an App that Delivers Stuff from Stores?
Yes, there are a number of apps that provide store delivery services, like Instacart, Shipt, Peapod, Imperfect Foods, Dumpling, and many others.
5. What is the Most Reliable Grocery Delivery Service?
Amazon Prime Now is a reliable grocery delivery app where you can buy practically anything, including groceries, cleaning supplies, pantry essentials, and other items. To give customers exclusive discounts and offers, it has partnered with a handful of supermarkets. Additionally, you can count on safe returns and refunds.
6. What service is Better than Instacart?
To deliver your products quickly, FreshDirect leverages agile manufacturing. It offers ready-made meals with a minimum order of $30 and has delivery pass options that are more flexible than Instacart Express.