2020 has been a tough year for everyone. From large-scale organizations to small-scale businesses, entrepreneurs, startups, etc. in almost every industry verticals bear the negative impact of the COVID-19 pandemic due to lockdown across the world. The market crashed completely and economies of even developed countries got severely impacted. However, by the end of the year, things started getting normal in 2021 and people started coming out of their homes to kick start their businesses to get back to life.
Besides these odds, the only industry, the mobile industry, not only keeps on growing but also witnessed a surge in demand for mobile app development in various categories. And, customers prefer to hire cross-platform app developers above other platforms. Since people were lacking in budget still want to bring their idea into reality. Cross-platform app development was the only option there, capable of offering mobile apps for different platforms and devices with a single investment. Also, cross-platform app development enables the release of mobile apps faster to market.
Are You Ready to Grow Business Revenue with Cross-Platform App?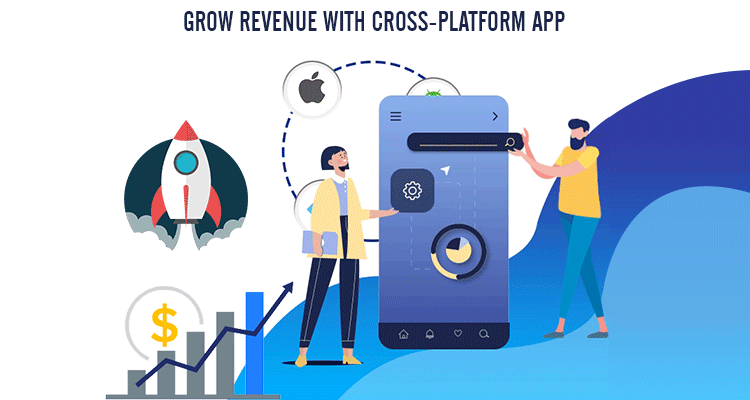 With the growing urge for digitalization of business through websites or a mobile app, vendors started contacting the web and mobile app development companies to make their online presence possible. Since that's the only way remaining during lockdown to run a business without any hassle. Cross-platform app development was the only platform that enabled business owners to roll out their app faster in the market without investing much money when people were about to run out of their savings.
Cross-platform app development enables businesses to expand their market reach with app availability for different operating systems and devices. A vast audience base automatically turns into a huge revenue generation. That way, not only the businesses are getting a boost in their revenue but also the web and mobile app development companies are also making a great revenue with the cross-platform apps' high demand in the market. Join the movement and stabilize or grow your business post-market crash in 2020 as cross-platform functionality is giving the market a boost so that we do not have to face such robust scenarios again.
What Will You Lose if You Go with Native App Development?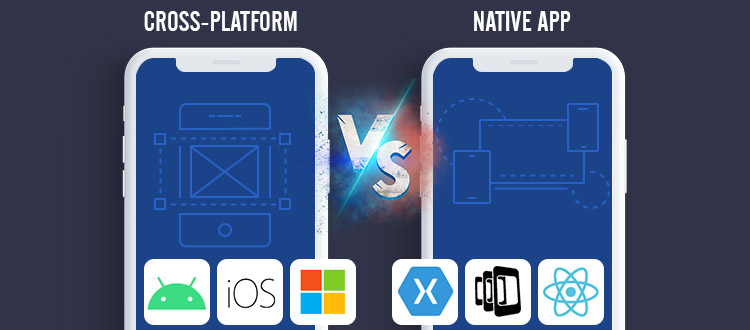 Competition in today's technology arouses the question that native app development is better or cross-platform is better? Every company wants to develop apps with maximum security and advanced technology. Therefore, their evolution from time to time leads us to find out which one is more suitable or convenient.
Key differences between these two:-
| Cross-Platform | Native-App Development |
| --- | --- |
| 1.Cross-platforms are consistent with multiple platforms. So, we can use it on different platforms. This means apps that are made using cross-app development can be used in different operating systems. | While on the other hand, native app development is not compatible with multiple platforms. You need to make different apps for different operating systems. Moreover, it results in increasing the budget and consumes more time. |
| 2. Using multiple platforms leads to the declination of the cost. The same coding is used on different platforms for app development to make it more reliable. | We can use native apps on a single platform which makes it more costly and uncertain. Developers have to use different platforms which increases the budget. |
| 3. Cross-platforms help you in saving your time as its coding is highly usable. Using the same coding on different platforms makes the app development process faster. | Native app development takes a lot of time, as it cannot be used on different platforms. For multiple platforms, developers need to develop different coding in native app development. |
| 4. Users can use this app easily as these apps can be used on multiple platforms. Therefore, cross-platforms attract a large number of app users, which benefits the app development companies. | Native app development is used on a single platform. Thus, it results in reducing 50% of app users. This is one of the major drawbacks of native app development as it results in losing a large audience. |
| 5. In a Cross-platform where more than one platform is used, it's not sufficient to design separate UIs isolation. Each of us uses different internet adept devices such as smartphones, tablets, etc which have different factors and can be used in different circumstances | Mobile UX design focuses mainly on productivity and What actions are possible and how the app intends to be. Developers need to consider all types of users, the one having too much space and the other one having limitations of space. |
| 6. For cross-platforms, developers develop an API to create native SDKs. Using native IDEs it creates apps for both ios and android. They have simplified services and reinforcements given by OS. | Native app development has to develop different designs for different operating systems. As we know that native apps are designed to run on a single device, you have to use different coding languages for different platforms. |
| 7.Cross-platforms tools are mostly web-based, which makes it easier to find skillful developers. Developers have to do one-time coding. Tools like Xamarin, React Native, Flutter allow creating an app that works on different platforms. | In Native app development, apps are developed by tools like Xcode, app code, Xamarin. Developers develop apps by using Java or Kotlin and choose Swift and Objective-C for iOS apps. |
| 8. Using the same coding on multiple platforms makes the cross-platform speed slow. The same coding is used on multiple platforms. Developers must have good knowledge about the ios and android systems. | Native apps have higher speed and better performance than the cross-platforms. Because it has two teams of developers that design different coding for different platforms which ranks native apps higher on the app store. They have high performance. |
Native vs. Cross-Platform is a very popular debate. You must read the Pros and Cons of Native and Cross-Platform Development.
Advantages of Cross-Platform App Development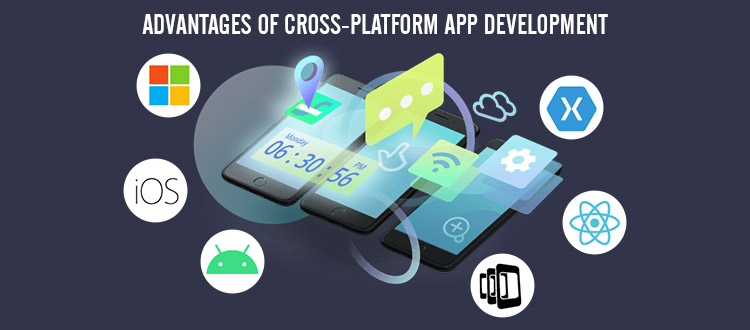 We are using devices nowadays, like smartphones, tablets, computers, laptops, etc., having different operating systems and browsers. User awaits for the same user interface(UI), user experience(UX) having particular features on different platforms.
The budget is going to be low in cross-platform, meeting the foremost requirement of any business. Cross-platforms having a single team of developers can develop different apps at the same time. Therefore, resulting in saving 50% of the budget.
Instead of wasting energy on writing different codes for multiple platforms, you can reuse the same code on different platforms. Therefore, it results in reducing labor work and cutting down monotonous jobs. Using the same code is not the new thing that has come into existence.
Development of the app increases as instead of developing multiple apps, you have to build a single app for multiple platforms. You can use that precious time to think about and work on different coding to create new applications for all operating systems.
Cross-platforms apps have a higher chance to increase the demand or popularity of the apps in the market. Increase in speed, for the development of an app outcome of the product to be held out in the market in a short time.
New technologies and tools like PhoneGap and Appcelerator, making it easier for app developers to develop an app. For example, tools like PhoneGap are being used, so that codes can be easily written in HTML, Javascript, or CSS.
Customers need not think about their devices' storage as they do not have to download different apps for different platforms. This is the worst situation that any user has to face whether to delete this app or the other one.
For all the companies getting the customer feedback, their reviews and calculating their success are major demands as soon as possible. Hence, they will get an idea about the product review in the market and its success.
Costing – Cost Estimation While Building Exceptional Cross-Platform Application
To develop an app you need to have an estimated budget. The professional rate provides a full description of your mobile app cost which takes you to the bank. Professional price can be calculated by the feature, advanced technology store, role, and design used in the app and other important demands. In reality, app development required a lot of work and is composite. Too much logic is used in the development of apps, testing of apps and finally, by checking the app thoroughly it gets situated in the app store.
Evaluating costs in building cross-platform challenges are faced by companies that are complexities of both PC and mobile apps are different. It requires continuous analysis, improvement, and updates. You can also consider this guide on cross-platform app development to enhance your knowledge.
How can we evaluate the cost of app development are given below:-
Foremost you need to find the apps which have the same features you want to have in your app. And then you clear out how this component differs in the app you want to develop. Minimum operation of the product informs you about the role and quality needed in the app to improve the development. Moreover, cross-platforms target 58% of the audience globally, it needs time and effort to build an application.
You need to make your app different or stand out in the market so that the user is going to have an ordinary experience. While less complexity in your app leads to a great user experience(UX). US and Canada, UI/UX designers charge $50 – $150/hr, European charges $25 – $100/hr while in India its cost is between $20 – 49/hr. For example, a mixture of UI/UX design is required to be developed with the animations, graphics, augmented reality, etc.
The location of the app development also contributes to the estimation of the app development cost. If the app is developed in the US then its cost is between 150$-170$ While if that app is developed in India then its cost will be between 35$-40$. Location is the basic necessity for the app in the heading like entertainment, social networking, and security.
Mobile app development also requires back-end or Integrating API. These are much big-budget than separate apps. The most popular app Instagram spent a big amount in establishing the new back-end and front-end. For small apps, a company can cost you around $2000 and $5000, and for large-scale companies, it costs you more than small companies. Therefore you need to get ready to add a good amount to the app estimation. In this, you can take examples of apps that assist you in tracking flights or bring you the best videos online from different platforms.
Sensor data area midway used for process control, for medicine, health care, mainly in health care development app. If your app gathers the data from your mobile phone. These kinds of development take charges from your app, which is a bit extra.
IoT(Internet of things) costs around $30-40k, virtual assistants, machine learning, Augmented reality ranges from $5,000–$10,000, virtual reality, blockchain are some examples of advanced technology. These latest technologies lead to an increase in the estimation cost of the app.
Also Read: 6 Trends You May Have Missed About Cross-platform Frameworks
Cross-Platform App Development Frameworks/Technologies
Precisely cross-platforms is software that allows the single mobile app to run on multiple operating systems. For example systems like android, windows, apple, blackberry, etc. The coding need not be done for different platforms; you can reuse the same coding on different platforms. Here are some of the best framework features which are described which you can use to develop mobile app development.
Some of the features of the cross-platform framework are:-
Ionic
Ionic is an open-source front-end framework. It provides several UI components for developing mobile applications.
Coding modifications result in saving the time of the developers. It is based on the Angularjs structural framework, used to enlarge the HTML syntax to demonstrate attractive features and elements into the app.
This framework uses the Cordova plugin which approaches the device's intrinsic features including camera, audio recorder, GPS, etc.
React Native
This framework is used by cross-platform app development for its exceptional characteristics. It is most preferable not only by developers but also by businesses. It uses technologies like Javascript and Reacts to produce an app using cross-platforms.
There are a lot of sources there from which you can learn React Native, free or paid. Developers can also perform massive functions like video editing, image editing, and many others. React native focuses on UI, which helps in removing extra time and provide trouble-free ally for the applications.
Flutter
Google in 2017 introduced a cross-platform framework named Flutter. Which is mainly designed to develop high-speed development of apps for android and ios systems. It provides apps that can simply run on multiple platforms consistently and vital.
Flutter is the best choice to develop a Minimum Vital Product (MVP) as it commences an evolution process with an effective cost structure.
Xamarin
If you know any of the C-language, then you can run Xamarin easily for a better career option.
Xamarin is a rationalized framework that is used to develop mobile apps using C, C++, C#, and .Net other than JS libraries and HTML. It has an amazing native UI and has an enormous group of libraries. It is a more preferable cross-platform framework as it reduces the time and cost of mobile app development and 75% of coding will be the same.
In other words, it keeps up with 'Write Once and Run Anywhere'(WORA).
Native-script
This is an open-source framework that is free and based on Javascript. Developers didn't need to know any extra expertise for native app development. It can simply access the API for ios and android. And it also provides attainable and platforms native UI.
Moreover, Native script features allow you to write coding with both Angular and Vuejs which convert them into typescript or javascript. If you know some of the coding languages like C, C++, Javascript, etc. Then here are some of the best frameworks you can learn for cross-platform app development.
Besides, if you are in a dilemma about which technologies are best or which framework you should Native-Script.
Also Read: Planning a Startup? 7 Strong Reasons to Choose Flutter for Your Startup Mobile App
Brief Introduction of Cross-Platform Languages
HTML
HTML is one of the most commonly used programming languages for developers across the world. And almost every developer knows how to code in HTML as it is one of the basic programming languages developers learn at the beginning of their career as a developer.
This language is used to design the website that is going to present as a mobile application. It is more preferable from the business point of view as its cost is also low as compared to other languages. Moreover, HTML is the open-source framework language as anyone can update, improve, Develop new facilities on the developed mobile applications.
C++
This language gives the maximum production and authority in mobile app development. The market holds a large number of android based systems to which C++ is considered to be a worthy choice.
This language altogether is free to use. However, C++ is also appropriate for ios development making it saving development time. Besides, it is also used for QML/Javascript and is generally working on 3-D game graphics and GUI applications.
C#
C# known as C sharp is the object-oriented language. This language is also used for mobile app development largely for the windows mobile platform. Visual Studio IDE and IIS Hosting do charge a fair amount in C#. It allows us to do a lot of things that we can reach by using Java, objective-c, and swift.
Once you become friendly with the language, it is easy for you to develop games, computer apps, mobile apps, etc. This language is most preferred by the developers because of its dynamism.
Java
Java is an open-source language and has vast choices of different tools, libraries, and frameworks. Java is mainly executed on Windows, ios, Android, and UNIX. Its major demerit is that it has excessive resource exhaustion which makes it difficult to write complex figures with better performance.
Java is used everywhere whether it is a smart tv, navigator, different kinds of lodgers, or from robots to mobile devices.
JavaScript
Javascript is used for building complex mobile applications which is to add vigorous actions to the web pages. It uses some of the frameworks to design the mobile apps are Phone Gap, AngularJS, Durandal, jQuery.
However, both user and server-side use this language to develop any kind of mobile application for any platform. It has 2 drawbacks that its inheritance is object-based and encapsulation is attained with a conclusion. To overcome these drawbacks you can use typescript. Which provides you to write code with encapsulation, generic like in other languages.
Python
AI developers and software experts love to use this language. This language is used to write different kinds of scripts. However, recently this language is massively used by developers to develop mobile game apps across the globe. Python has outstanding graphics, animations, and unique features.
Python is also used to develop various android apps development. However, python uses different tools that convert python apps into android apps as android does not support native python development.
Know What the Future Holds for Cross-Platform App Development?
In today's world, there are a large number of platforms that are there to develop mobile game apps. Based on the research, we can state that developers built 83% of apps for android users, 53% for ios users, and 3% for other operating systems. So, developers need to develop various apps that can run on different platforms. Not only this, as seen from the business point of view cross-platform developed apps are more preferable by developers or mobile app development companies.
There is a huge demand in the market for innovative, creative, and with new features mobile gaming apps. Therefore, Cross-platforms demand also increases as the same coding is used for different platforms.

Conclusion
From the above article, you can clearly state that cross-platform is the best platform for the short term and long-term perspective. This functionality is supporting to give the market a boost post lockdown 2020 across the world by consuming less money from business owners and enabling their services and products available at customers' doorsteps. On the other hand, developers get benefited from the ease of developing apps for different platforms with minimum effort and saving maximum time. Fee courses or open-source networks are also available which can help you in developing apps. With the trending technology, Cross-development apps are trending in the market.
Frequently Asked Questions-FAQs
Q.1 How Much Does it Cost to Develop a Mobile App?
There is no fixed amount of money to develop a mobile app. If you are thinking of making a native app, it costs around $100,000. For cross-app development it costs between $10,000-$250,000.
Q.2 How Long Does it Take to Do the Coding of Your App?
If you know the basic coding languages like C, C++ then you take around 30 days to develop an app. You will not succeed in one-time coding, but after putting some more effort into your coding you can. You just need to dedicate your time to learn to code for app development.
Q.3 How Often Should the Mobile App Be Updated?
The update of an app will depend upon the new technology which comes in the market and is useful for your app. It should be useful to overcome your weakness in the app. However, how the competitive apps are performing and what changes we have to make in our app to make it better and more reliable.