Are you looking to enter an industry with a promising revenue stream? The step-by-step guide is for you! Online marketplaces for digital assets are becoming increasingly popular. Hence, it is a perfect moment to learn how to create an NFT marketplace.
This blog is an excellent start to learning how the NFT marketplaces work from scratch. We will discuss tips and tricks and go through specific steps of building a custom NFT marketplace. We will also tell you its must-have features and things to keep in mind while developing an NFT marketplace.
What Is an NFT Marketplace?
When studying the current NFT market, a primary thing to consider is its definition. The NFT marketplace is your ticket to buying and selling a digital asset ranging from art to music to entire virtual worlds.
NFT Marketplace is a platform that makes it simple to store and exchange non fungible Tokens (NFT). Non fungible tokens are generally available for purchase or auction at a set price. You'll need a crypto wallet to make trades and store your non fungible tokens to use such a crypto marketplace.
Users can create an account, upload digital artworks, and sell their work on an NFT marketplace. In general, niche marketplaces are more popular than conventional counterparts because they include everything a client would require and specialize in selling some online artworks and cater to a specific demographic.
Successful NFT Marketplaces in The Industry
The most popular and talked-about NFT marketplaces include OpenSea, Axie Infinity, CryptoPunks, Rarible, SuperRare, NBA Top Shot, and Foundation. These NFT marketplaces may serve as examples for those learning how to build an NFT marketplace. Let us know about a few NFT marketplaces below.
1. OpenSea
It is one of the largest online decentralized NFT marketplaces for buying and selling crypto-collectibles in the United States. Here, the creators and customers interact peer to peer.
2. Atomic Hub
Atomic Hub is a fantastic NFT marketplace for digital art. It occupies leading positions via Wax blockchain. Creating an NFT collection is simple on this platform. Users can create their own items from scratch or use a common theme.
3. Rarible
It's a platform based on Ethereum blockchain technology with a market index that shows the circulating supply of various digital items. This art NFT marketplace is for artists who want to exchange songs, domains, photos, cards, and metaverse components.
4. SuperRare
The SuperRare Clone is a white label NFT marketplace that allows creators to trade their NFTs and contains exquisite and straightforward features and functionality. The marketplace does not allow anyone in. Only proven authors with outstanding NFT artworks can publish and sell their pieces.
Why Is It a Good Idea to Create NFT Marketplace in 2022?
NFTs are undeniably here to stay. With an increasingly inventive host of crypto enthusiasts contributing to existing and developing marketplaces, their use cases will expand.
Collectors are educating themselves with information on technology, current trends, and marketplaces that promote NFTs relevant to their interests. Moreover, the industry is open to newcomers as long as their products bring value to clients.
There is also statistical evidence that NFT marketplaces like OpenSea are becoming increasingly popular. The market capitalization of NFT has risen rapidly, doubling between 2018 and 2020. Moreover, the global turnover of NFT marketplaces was $338.04 million in 2020.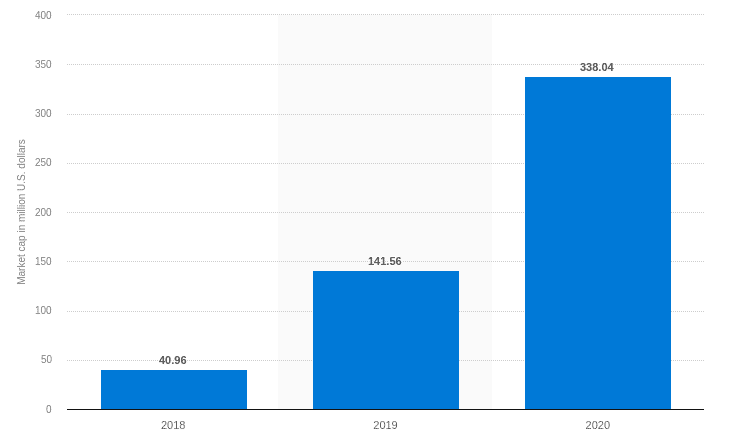 Image Source – Statista
Develop Your Own NFT Marketplace
Request A Free Quote
1200+ Projects Delivered
12+ Industry Experience
450+ Clients Worldwide
200+ Certified & Expert Programmers
Things To Consider When Building an NFT Marketplace
Here are some factors you should consider while learning how to create an NFT marketplace:
1. Security
Security is an essential feature of an NFT marketplace. It enables the safe transaction of NFT tokens among traders. The in-built security features like CSRF prevent traders from transaction loss and other hack attacks.
2. Transparency
Your NFT marketplace must be transparent enough to give users a clear view of all NFT transactions. Leveraging the blockchain network ensures a smooth trading experience by providing an error-free payment mechanism.
3. Decentralization
A decentralized NFT marketplace enables you to replicate and share all data across the blockchain networks. When a new block is introduced, the blockchain network updates to allow modifications.
4. Monetization Model
A well-thought-out monetization strategy while building an NFT marketplace can help you make a lot of money. For instance, OpenSea does not charge any fees to list a product. Yet, the platform deducts 2.5 percent off the item cost during sales.
Top Features To Include In Your NFT Marketplace Website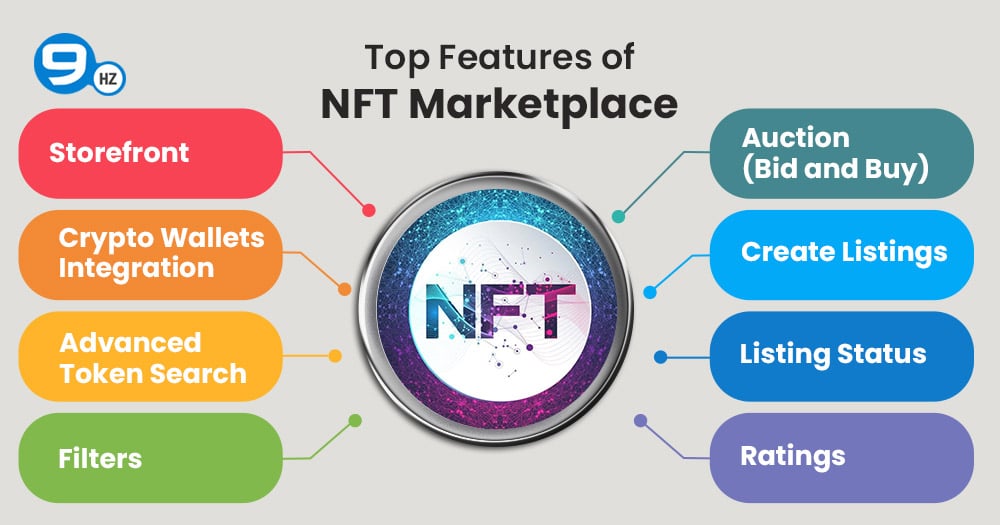 You can easily offer to create an NFT marketplace for numerous businesses, artists, and celebrities looking to launch their NFTs.
However, there are some essential features that you must not miss to incorporate into your NFT marketplace to become successful.
1. Storefront
Since all NFT marketplaces are like e-commerce platforms, they need a storefront for displaying the inventory. The inventory can be in the form of digital art, videos, songs, trading cards, other digital assets or unique physical objects or documents.
A storefront that functions as a dashboard improves the chances of being more successful. It should also provide information such as bids, previews, owners, and pricing history, among other things.
2. Crypto Wallets Integration
Not all NFT marketplace solutions are appropriate because some may pose a risk to the security of funds. Users require a secure location to receive and store NFT tokens. As a result, when you create your own NFT marketplace, you must have an initial wallet that allows users to save and submit tokens safely.
Instead of forcing your customers to sign up for other online crypto wallets, create and offer a connected, "native" wallet. To integrate your platform, you can either build your wallet or use existing wallets like Formatic, Coinbase, or MyEtherWallet. Make the process of saving, submitting, and retrieving tokens as straightforward as feasible.
3. Advanced Token Search
Your marketplace should allow users to obtain complete information on the products they require quickly. Client satisfaction improves when they can search easily.
Every product should be organized and displayed with some features in your NFT marketplace app (for instance, art, images, music, videos, memes).
4. Filters
This feature is similar to the previous one since the goal is to assist clients in quickly and easily select the desired product. You may separate all offers into different groups that influence customer decisions.
The filters can be – price, new items, hot deals, best-sellers, and other factors. Users will select things they require more quickly, which increases the likelihood of buying them.
5. Auction (Bid and Buy)
Any NFT marketplace work must include the ability to both purchase and bid on products. It attracts more users because some people prefer flexible pricing and don't want to pay full price for collectibles.
The NFT marketplace should also include a bid validity date and information on the current status of those offers. It will assist them in deciding whether to purchase or continue to place new offers. A separate key feature that you can include is – an auction watchlist.
6. Create Listings
At the time of marketplace creation, make it possible for your customers to build and send digital collectibles. Ensure that they will be able to complete it with the least amount of effort.
Additionally, develop a page where they may upload files and describe the product in depth. Tags, titles, and descriptions are all critical pieces of information you can include.
7. Listing Status
Checking the status of the confirmation procedure is possible with the listing status feature. This functionality comes in handy when it comes to implementing collectible verification. It is helpful to those who give products and complete the product authentication process.
8. Ratings
It's a feature for newcomers who aren't sure where to start or how to work in an NFT marketplace. Users can determine whether or not a seller is trustworthy by looking at their rating.
Participants on an NFT marketplace can rate others and write comments based on their own experiences. It allows others to check a user's credibility.
Steps To Build an NFT Marketplace Platform
When creating an NFT platform, you're essentially creating an e-commerce platform. The main distinction is that this software requires blockchain technology and knowledge of NFT standards because it deals with cryptographically protected products.
Here are the steps do you need to take for NFT development
1. Choose Your Niche and Finalize a Strategy
Choosing a specialized niche can assist you in getting your NFT marketplace development project off the ground. If you have a rough idea, talk to developers about it so you can establish a strategy and estimate the duration of launching the marketplace.
Experts advise focusing on a vertical NFT market rather than a horizontal market. The first implies that its members aspire to deliver goods/services that meet the needs and expectations of a specific consumer segment.
You'll need to consider the following questions when you finalize your development strategy:
Do I want to create from scratch or use a white label NFT marketplace?
How will my NFT marketplace platform be different from others?
Will my clients be able to develop their NFT assets on the platform?
Which of the NFT standards should we back?
How will the customers pay for non fungible tokens?
2. Define Project and UI/UX Design
The documentation and design of the project are the initial steps in creating a NFT marketplace. It's a routine, but if you don't have any documents, you risk losing time in the future.
Once you are done with the documentation, you can move on to prototyping the user interface (UI). At this stage, you should already know whether your users prefer mobile apps or a desktop experience. Your user interface must be simple and easy to use. A good UI/UX improves usability and gives the platform a nice feel and aesthetic.
3. Move To Creation
Next, it's time to put your design ideas into action. The front-end development requires you to choose the framework for your objectives. Some people may consider hiring a professional NFT developer to ensure high performance and reputation since proficient NFT developers can help save time and money.
4. Use Smart Contracts
Back-end development for an NFT marketplace is not the same as for a traditional marketplace. The NFT marketplace is a decentralized platform. Hence, most of the data is verified using the latest technology stacks.
5. Testing and Deployment
You should not hurry to release the service until you check its functionality. The final product should correspond to your expectations. Hence, testing and deployment are the last quintessential stages.
QA and testing focus on detecting and avoiding potential problems. The approach guarantees that you're not wasting your time and money coding something that doesn't click with customers. After testing, you can update the design to incorporate feedback from real users.
Software QA and testing also ensure that your NFT marketplace project runs well. Furthermore, this phase provides app credibility and excellent functionality.
6. Monitoring and Upgradation
Finally, even after the formal launch, you must continue to work on your NFT marketplace if you want it to be a huge success. Great products are constantly evolving to address new opportunities and satisfy their clients.
The admin portal enables you to keep track of various aspects of your NFT marketplace performance. It includes tools like Google Analytics and custom analytics that pull data from the platform's key functionalities.
Role of Smart Contracts in Marketplace Development
Smart contracts are the backbone of a decentralized NFT platform. It is a pivotal factor to consider while learning – how to build an NFT marketplace! A smart contract is a self-executing contract in which the client and seller's agreement are written in the line of code. Data is dispersed throughout a decentralized network. Smart contracts are built on Bitcoin.
Each smart contract has unique, original data kept in a contract and blockchain to ensure safety and immutability. These contracts work in tandem with blockchain technology and self-generate to the full extent of their capabilities.
When a buyer sends money for a product they want, the seller should give them the right to have it. If all conditions are met, the contract handles payment on its own.
You will need smart contracts throughout the NFT marketplace development process to:
Process and manage cryptocurrency payments.
Introduce any kind of Defi functionality (loans, trading, etc.).
Handle any cross-chain NFT interactions.
ERC-721 and ERC-1155 are common forms of NFT smart contracts. Other blockchains have established standards similar to those described above. Binance Smart Chain, for example, BEP-721 and BEP-1155.
The critical distinction between ERC-721 and ERC-1155 is the number of different digital assets you want to introduce. Unlike ERC-721, which fuses into a single asset, ERC-1155 allows you to have many things, such as in-game swords. You could also want to support a royalty feature, which would pay creators a commission every time their NFT is sold.
Hire NFT Marketplace Developers [Upto 50% OFF]
Request A Free Quote
1200+ Projects Delivered
12+ Industry Experience
450+ Clients Worldwide
200+ Certified & Expert Programmers
Custom NFT Marketplace Development Cost
For those who have limited budgets, this question is of great importance. The cost to build an NFT marketplace can start from $15000 and can go upto $ 58,020. However, the cost to create a thriving NFT marketplace depends entirely on the project's scope and the volume of work needed. For example, if you decide to use a ready-made solution that is ready to be used, the cost will be lower. Some tools might be more expensive but effective and time-saving. Another factor that impacts the fixed price is the platform you choose for your NFT project and whether or not you wish to include any Defi features. The NFT platform can be the OpenSea SDK or a custom solution on Ethereum.
The below table depicts cost/hour depending upon the features you wish to add.
| Features | Cost/hour ($15- $60) |
| --- | --- |
| Shopping cart | $720 – $2880 |
| Inventory management | $630 – $2520 |
| User Profiles | $630 – $2520 |
| Home page | $1260 – $5040 |
| Search and filters | $1440 – $5760 |
| Product page | $630 – $2520 |
| Reviews & Ratings | $720 – $2880 |
| Author panel | $1980 – $7920 |
| Payments | $630 – $2520 |
| Notifications | $480 – $1920 |
| Authorization and Security | $1080 – $4320 |
| NFT management | $1440 – $5760 |
| UX/UI Development | $630 – $2520 |
| Buyer panel | $960 – $3840 |
| Etherium incorporation | $1440 – $5760 |
| Admin panel | $1325 – $5100 |
| Total | $15,995 – 58,020 |
How To Earn Money From an NFT Marketplace Website
Different NFT marketplaces make money by charging a commission on each traded NFT. Other decentralized finance possibilities, such as NFT trading or loans, can be included in this company model.
To encourage users to join and mint their own NFTs, some companies eliminate fees for adding NFTs entirely. The costs, however, will always apply to both vendors and buyers.
You can also form relationships with NFT art studios to sell their goods to art collectors on your platform. Overall, monetization strategy is another area where you can implement new ideas. Furthermore, you can fall back on fees if all else fails.
Ready To Build Your Own NFT Marketplace?
Given NFT's increasing popularity, now is an excellent opportunity to build an NFT marketplace platform. As a crypto enthusiast, it is up to you to ensure that you grow along with them and enjoy the many benefits that blockchain technology and NFTs offer.
By covering all the details on how to create an NFT marketplace in this article, we hope you are well-prepared to build NFT marketplace. On the other hand, you can even hire an experienced development team to start from the ground up on your project.
Besides, you can always reach out to our experts if you still wonder how to make an NFT marketplace!