The tech world is emerging at an accelerating pace as new technologies arise and fall regularly. If you've been giving attention to the mobile development scene, you probably came across one convenient technology called Flutter. In this article, we are going to discuss how to create flutter app and how you can make money from the apps made with Flutter. We will also discuss how flutter app development companies can help you with this. Further we will calculate how much does it cost to develop a flutter app?
What is Flutter?
Flutter is a famous open-source mobile SDK development framework used to build native-like applications for Android and iOS platforms with just a single codebase using the Dart programming language.
Google introduced Flutter in 2015, but it officially launched in December 2018. Since then, the technology has created commotion in the market with its exponential growth for mobile app development adoption.
This framework helps in the development process by making cross-platform apps similar to native apps while maintaining visual compatibility between different platforms.
Facts About Flutter App Development
According to a recent developer survey, Flutter is the most successful cross-platform mobile framework adopted by global developers.
It is reported that 42% of dedicated mobile app developers use Flutter for their mobile app development.
In March 2021, Google announced the second version of Flutter (Flutter 2.2) with additional advancements and enhancements promising to give a more satisfying experience for flutter developers and users alike.
Create Flutter App & Start Making Money
Request A Free Quote
How to Make Money with Flutter App Development? [Monetization Strategies]
There are so many monetization strategies present in the mobile industry that you use in different kinds of apps made with Flutter. It all depends on your app type, requirements, and how you want to earn money from creating a flutter app. Here, we mention some fantastic and trending monetization techniques that you will love to use in your app.
In-app Purchases (IAP) to Unlock Additional Functionality
It is the most trending technique that is observed in many Flutter mobile apps. In this strategy, the app is free to download. But to unlock some add-ons, the user has to pay some charge that improves and expands their in-app engagement.
Premium Apps
In this model, you have to pay for the app before trying it out. This model is dropping fast as people feel hesitant to pay unless they trust that brand. The premium model is most suitable for brands that survive with the majority of the market share and can defend the competition with a faithful fanbase.
Freemium Model
It is the most common model used by many Flutter app development companies to monetize their client's apps. With this approach, flutter developers have to lock some exciting content in the free app that encourages the user to update to the paid one or monetize the free app with an in-app advertisement.
Subscription
This model is somewhat similar to the Freemium model. With this approach, the app is offered free to download with restricted access to the content. It demands users choose a subscription plan in order to get access to the full benefits.
The Partnership Model (Sponsorship)
Using this mobile app monetization model, Flutter app development companies collaborate with sponsors/advertisers to make profits. The advertisement company will give compensation to the users upon fulfillment of specific in-app actions.
Top Characteristics of Flutter That Motivate to Create Flutter App from scratch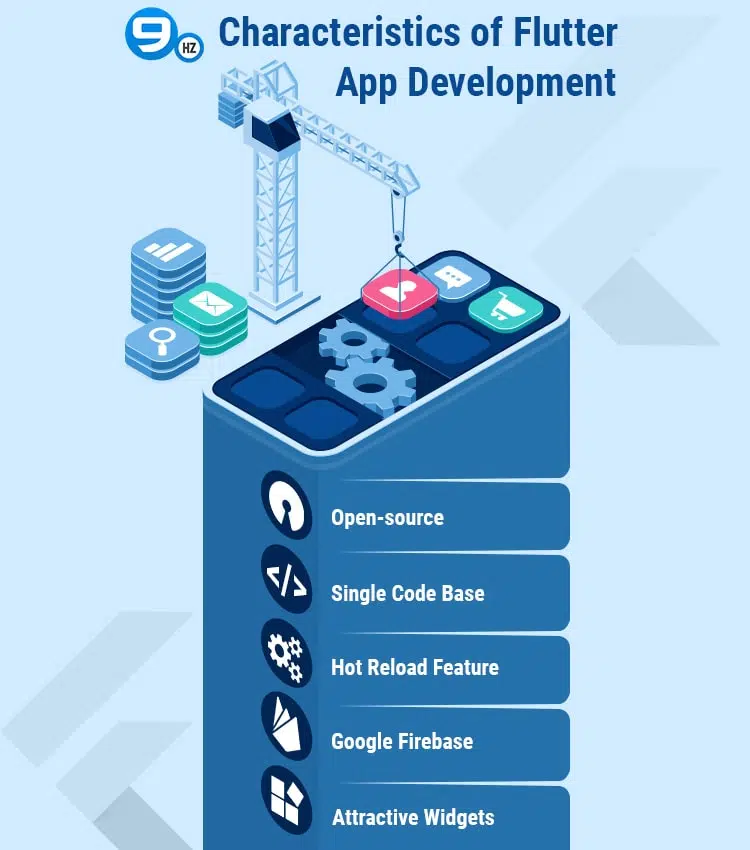 Open-Source Platform
Flutter is the most popular open-source software developed by Google. create a mobile app with flutter and it will convert your productive app idea into an ideal business solution. It has a built-in material design (for Android apps), Cupertino Widgets (for iOS apps), and rich motion APIs that are helpful to create beautiful and user-friendly apps.
Single Code Base
When it comes to developing a native app-like experience with just a single code base for both iOS and Android platforms, Flutter is an ideal choice. App development with Flutter can give users a seamless UI and UX design in less time, effort, and budget.
Hot Reload Feature
It is the unique feature that only the Flutter framework is providing. This Hot Reload feature allows flutter developers to test the app immediately and efficiently. flutter Developers can create a user-friendly design by adding additional features to the app and test them simultaneously.
Support of Google Firebase
To build scalable and attractive apps, Flutter mobile development enables developers to take the advantage of Google's firebase assistance as a backend. In addition, Google Firebase helps many Flutter development companies to develop the app's backend with great ease.
Attractive Widgets
The idea of Flutter app development is based on its rich widgets. With the use of this technology, developers can easily make fantastic UI designs by combining attractive widgets. They can also develop custom widgets to give a native-like experience. These widgets can result in creating a user-friendly app with smooth functioning.
Also Read: Flutter Guide 101: What is the Future of Flutter App Development?
Why build Flutter App for Your Business? Reasons to Choose Flutter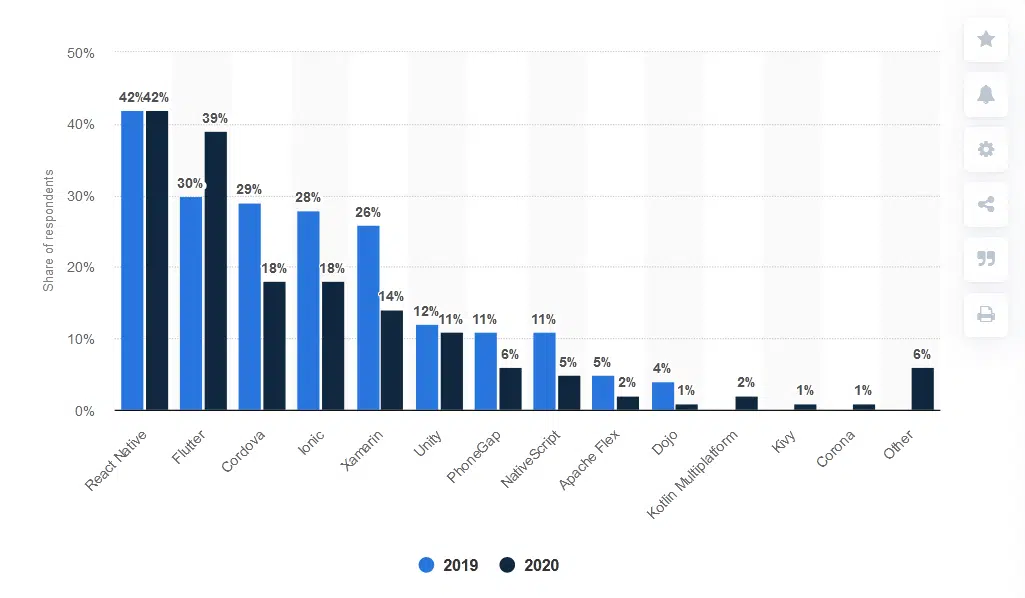 Source: http://www.alcax.com/
For spreading your business online, there are so many factors like platform durability, its performance, and many more things that are most important for business growth. Any difficulties and faults in any of these factors may lead to uncertainties, including direct and indirect financial troubles. By keeping this in mind, Flutter app development services contain less risk in these aspects because of some noted reasons. You should also read these 7 Strong Reasons to Choose Flutter for Your Startup.
Provide Better Developer Potency
Because of its ready-to-use widget accessibility, the developer can quickly write a program as syntax requires less code. Along with this, its hot reload feature benefits Flutter development companies to find and fix bugs swiftly and effectively. Hence, Flutter requires fewer person-hours to develop apps.
Requires Low Cost for App Development
Building apps with Flutter provides an easy and effective interface, and also it requires fewer man-hours for application development. As a result, the Flutter app development cost is comparatively low compared to other cross-platform frameworks or native app development.
Full-Fledged Administration and Resource Consumption (cross-platform)
With the Flutter app development, developers can execute anything into a Flutter app that a native app can perform, just with a little more work on the native side. It promotes an easy way for communication between platform native code that helps in making robust and user-friendly apps.
More Responsive Time to Market
To create Flutter application requires less time to develop, which indicates that Flutter is much better and faster than other cross-platform frameworks. This faster app development helps developers to promote the app in the market very quickly.
Want to Launch Your Own App?
Convert Your App idea into Reality
Top 5 Apps Made with Flutter
App development using Flutter promotes developers to generate native-like cross-platform with little to no accommodation. The framework has been trusted by startups and well-built brands for app development. Here are some famous apps built on Flutter. You might be interested to know why flutter app development is trending.
Google Ads
App Type: Utility
The Google ads allow users to view campaign statistics on Android smartphones. In addition, it gives real-time notifications, allows you to get in touch with google experts, add/edit/remove keywords, and many more.
Alibaba
App Type: eCommerce
Alibaba is a wholesale marketplace that uses the Flutter app development services for promoting global trade. This app enables you to purchase products from suppliers around the world with just one app.
Hamilton Musical
App Type: Entertainment
This app is especially for exclusive everyday news and videos, regular lotteries for Chicago, New York, London, tour locations, daily contest games, commodities stores, and more. It is the most famous app that is developed on Flutter.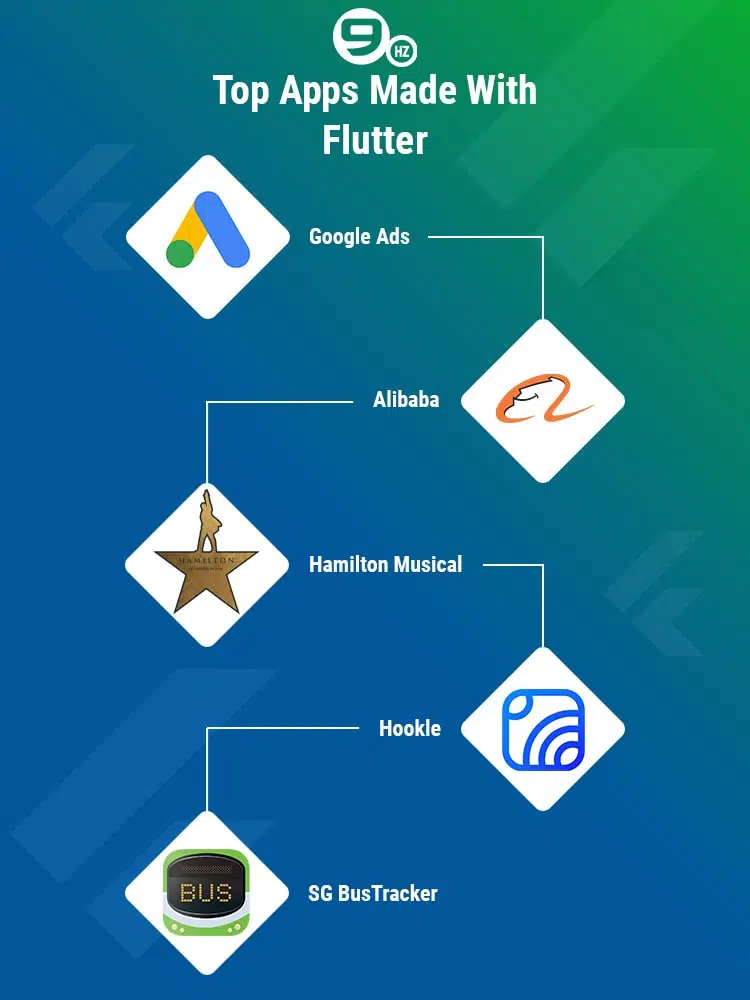 Hookle
App Type: Social
Another app built using Flutter is Hookle, which enables users to share and receive posts, observe social activity, and operate multiple social media accounts. It is a fantastic app that lets users stay in touch with their family and friends.
SG BusTracker
App Type: Maps & Navigation
It is a tracking app that gives an expected time of arrival for buses in Singapore. The users can see the listing of buses of nearby bus stops, along with place availability marked with color codes: Green indicates that seats are available, Yellow is for standing availability, and Red for showing limited standing.
Also Read: React Native vs Flutter vs Ionic, Which One is Best for Your App in 2021?
5 Biggest Updates in Flutter [What's New to Create Flutter App solution?]
When it comes to development to advancements and updates, the creators of Flutter are constantly innovating and enhancing the Flutter framework to make it a more valuable and robust helping hand for developers. Some significant updates that you should know about Flutter are as follows to create custom flutter app.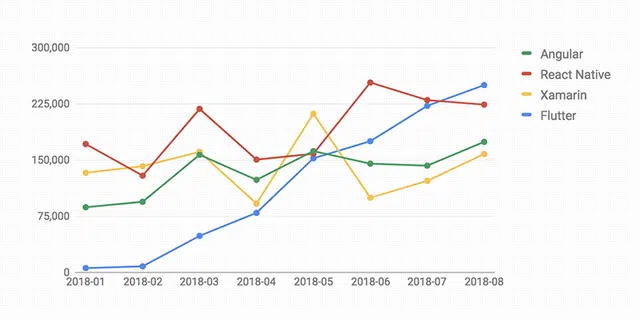 Update 1: Updated Payments Mechanism
With the introduction of Flutter 2.2, significant advancement has been published in the payment range for mobile applications. By using this payment update, a new payment plug-in is introduced that is built by the Google Play team. With the help of this plug-in, developers can install features to receive payments for material goods for both Android and iOS apps.
Update 2: Apps Size Can Now be Reduced
To make apps less bulky and lightweight, in Flutter 2.2, the Android apps will now allow having deferred elements. It makes Flutter android app development quicker and accessible. With deferred components, the Flutter elements required for the precise functioning of the app can be downloaded at run-time, and thus, no requirement to place extra code into the app.
Update 3: Null Safety is Now Default
To make the app performance remarkably fast and impressive, the Null safety feature becomes the default for fresh projects. With the Null Safety feature, the Flutter app development company can show whether a variable or value can be void or not, right from the code. Through this update, null-pointer-related failures can be reduced and checked easily.
Update 4: Dart Comes up With Advanced Features
In this Flutter 2.2 release, Dart also gets upgraded to version 2.13. With this latest version, Dart will now increase assistance to the native interface. This amazing update will help in enhancing readability and help developers in refactoring scenarios.
Update 5: Web Development is Now More Influential
When we talk about Flutter web development, 2021 brings many notable updates that make web development more powerful. Expert developers can now utilize service workers for background caching so that the web app will become faster and give better performance.
How Much Does Flutter App Development Cost?
The app development with Flutter consists of various things that you must take into consideration. The average Flutter app development cost is about $2,00,000 and, in some situations, more. It all depends on the complexity, design, features, etc that you want to add to your app. Targeted platforms, the development team location, team size also play an important role in estimating the cost. These tips can help you to hire flutter app developers. The most fundamental team required for app development is:
A business analyst (BA)
Designers
Developers
A project manager
A QA tester
The NineHertz: Flutter App Development Company
The NineHertz is the leading Flutter app development company that stepped towards providing online goals to businesses with experienced Dart programmers. We offer Flutter app development services that accommodate your budget without negotiating the quality of products. With 12+ years of expertise, we have delivered hundreds of successful projects in different industry verticals.
When it comes to Flutter app development, our expert developers utilize Dart to give native-like performance and a robust user experience that converts our clients into happy clients. We are also famous for providing custom API development assistance and integration solutions. It promotes us in building robust and attractive apps that promote your business online and increase your revenue.
Whether you have a logistics business or want to offer various health care, education, transportation, or any other online services, we can help you put your best foot forward, no matter what the industry is. Hire dedicated flutter developers from The Ninehertz. Our Flutter mobile development services include:
Cross-Platform Application Development Services
Flutter IOS And Android App Development Services
Custom Flutter Development Services
Dart Application Development
Flutter App Maintenance & Support Services
Testing & QA Services
Conclusion: How to Create an App with flutter?
As you can see, Flutter is the most advanced and innovative mobile app development technology in the market right now. So, for businesses that want to promote their business online on Android and iOS, Flutter is the best choice. Flutter provides best-in-class apps with high UI and UX design with high performance. So, if you are thinking of getting your business online, move ahead with your idea by using the best services of Flutter.
Hire Certified Flutter Developers
Award-winning app developers
FAQs: Flutter Mobile App Development
What is Flutter App Development?
Developing rich apps with the same code on both platforms by utilizing the Flutter as UI framework is known as Flutter app development.
What Apps are Built With Flutter?
Some famous brands that were built with the help of Flutter are:
Reflectly
Alibaba
Hamilton Music
Google Ads
Which Programming Language is Used to Create your own Flutter App?
The Dart programming language is used for Flutter mobile app development.
Is Flutter Backend or Front End?
Flutter is an easy-to-use language that provides services for both the backend and front end.
How Much Does it Cost to Create a Flutter App in India?
The Flutter app development cost is based on various factors like app complexity, features, size, development team location, and many more things. The estimated cost of building a basic app is evaluated between $5,000 and $15,000.