Eliminating the needs of unnecessary human workforce, and performing the tasks with more efficiency, speed, and accuracy, Artificial Intelligence has gained recognition from all industries. AI in Mobile apps has made it possible for people around the world to experience the new technology in their palm.
Thanks to the advanced capabilities this technology offers, the artificial intelligence market size has been currently valued at $100 Billion which is all set to touch the milestone of $2 Trillion by 2030. The statistics well represent the worldwide adoption of artificial intelligence in Mobile apps and other software.
Businesses are benefiting by integrating AI technology into their operational process. While it brings a significant competitive advantage, streamlining repetitive tasks is another benefit. This blog will talk about how artificial intelligence is enhancing the use case of mobile applications and driving innovation throughout the market. Here is an ultimate guide on how to build an AI app.
Hire Certified AI App Developers
Convert Your App idea into Reality
Mobile Apps and Artificial Intelligence
Mobile app development is being widely used by organizations and individuals to connect to their target audience and build recognition. More than 27 billion mobile apps were downloaded from Google Play Store only in the first quarter of 2023. Here, you can get an idea about the reach of this mobile software among the popular for different purposes.
Businesses and startups have lately begun to ensure their online presence with these apps only. However, due to high exposure to smartphones and the internet, this platform is also getting competitive. So, the landscape demands some innovation, and artificial intelligence in mobile apps opens a completely new view of how things are going to work and look. If you are looking for AI development services, The NineHertz can be the perfect project partner for you.
Ways Artificial Intelligence Enhances the Mobile App Usability

Let's dive into the different ways artificial intelligence enhances mobile app development industry-
1. Better User Experience
By fostering a personalized experience, AI enabled apps helps to ensure a better user experience. Artificial intelligence completely relies on the high quantity of data that can help it to make smart decisions and adopt a favorable approach. By analyzing the customers' emotions, their purchase history, user intention, etc, it delivers a customized experience to each customer, while establishing a stronger brand-user relationship.
2. Automated Operations
Machine Learning (ML), being a part of the artificial intelligence suite, encourages automated operations for businesses coming from different industries. When integrated with mobile app development, artificial intelligence can perform numerous tasks, with more efficiency, and more quickly. At the same time, Machine learning also eliminates errors when dealing with data which results in even higher accuracy for the tasks.
3. Conversational User Interface
AI technology can talk to humans better than humans. By integrating the capabilities of AI into mobile apps, a conversational user interface can easily be integrated that can guide the users through the app features, functionalities, and forums. This concept is mainly used in financial and management applications that help to foster automated voicemails and text messages to users.
Also, artificial intelligence plays an important role to analyze payments, balances, and spending, and providing financial recommendations to users on the basis of market forecasts.
4. Automated Reasoning
It is called artificial intelligence because it never stops learning. AI technology improves productivity by taking data from experiences and then using the same information to provide better services and streamline the tasks in future. Rideshare apps are a big example of this technology where these mobile apps integrated with artificial intelligence track the different routes taken by the drivers around the city. This data is then used to suggest the best and shortest routes to drivers with the least traffic.
5. Perform Monotonous Tasks in One Go
Artificial intelligence is known for its capability to decrease human efforts and perform monotonous tasks with greater efficiency, accuracy, and speed. The practices like calculation, testing, data entry, sending messages, scheduling, and reminders are completed within seconds, in a few clicks. Such applications of artificial intelligence in mobile app development save a lot of time and effort for employees that can be used for some productive tasks.
6. Better Customer Retention
Artificial intelligence helps businesses in knowing and understanding about their customers. While a big part of shopping has gone online, AI keeps track of all the customer data such as their purchase history, customer intent, their likes and dislikes, user behavior, and much more. Using this data, a strong recommendation system is built that suggests relevant and useful products/services to the customers, enhancing their brand experience and introducing a spike in revenue.
At the same time, the tasks like sending shopping vouchers, discount coupons, and insight into products or services attract customers toward brands. Thus, the predictive pattern and sending the shopping invitation to the customers with artificial intelligence bring more customers and thus more revenue to the business.
Hire Dedicated App Developers from The NineHertz
Convert Your App idea into Reality
AI Technologies for Mobile Apps That Bring the Changes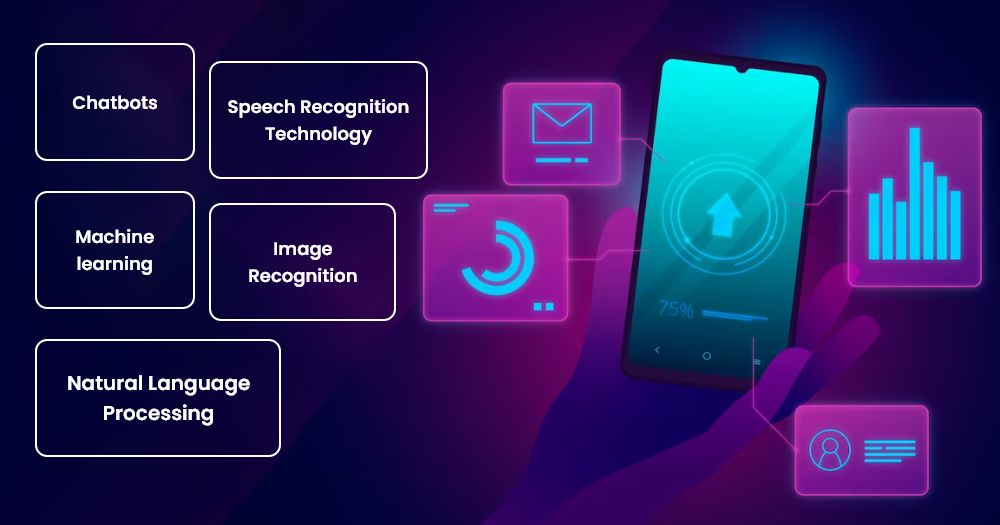 There are a lot of day-to-day AI technologies that have bought changes to mobile apps and thus consumer experience. Being a smartphone and internet user, you must be familiar with all or a few of these names which have managed to secure their space in every business case study.
1. Chatbots
You must have noticed that small button in the corner of most websites and applications, called chatbot. Well, there used to be a time when a complete team of customer support had to sit in front of the screen, waiting for the message and giving the reply. However, AI-integrated chatbots have transformed the scenario completely. The chances are, when you put a query on the chatbot, the response is given by an artificial intelligence robot. The technology is smart enough to analyze the problem, question, or feedback submitted by the user and give a suitable response according to the trained data.
The AI-based chatbot requires no human workforce to attend the screen 24*7. Getting instant responses and quick solutions to problems helps to provide a really enhanced experience.
2. Speech Recognition Technology
This is another widely used AI technology for mobile applications. Giving commands has become significantly easier with this concept where even if a person doesn't want or know how to type, the technology converts human speech into a language that can be understood by the computer and give the output. Integrating speech recognition technology in mobile app development helps to receive input from users in an easy form and then utilize the right feature and functionality to give the output.
3. Machine Learning
Many businesses are utilizing machine learning technology in their mobile application, allowing them to learn the user behavior and provide a personalized experience. A recommendation system is one of the best examples to understand the application of machine learning where a company suggests the product, service, or content according to your interest.
Take Netflix for instance, as soon as you are finished watching a movie, it will instantly send you the recommendation for another similar film and chances are that you will end up watching it too. That's how machine learning ties a customer to a service.
4. Natural Language Processing
This AI technology is rapidly becoming familiar to a big audience base, eliminating the need for a human translator. You must have enjoyed its features in numerous apps in the form of voice-operated GPS systems, digital assistants, customer service chatbots, speech-to-text dictation software, and many other consumer conveniences. Natural language processing basically enables computers to process human language in the form of voice data or text.
5. Image Recognition
Image recognition is a comparatively new technology that can recognize objects, texts, and various things from a digital image or picture. Google Lens is a good example to define the application of an image recognition system which makes it easy for internet users to find similar visuals, identify strange objects, and much more.
Core Competencies of AI in Mobile Apps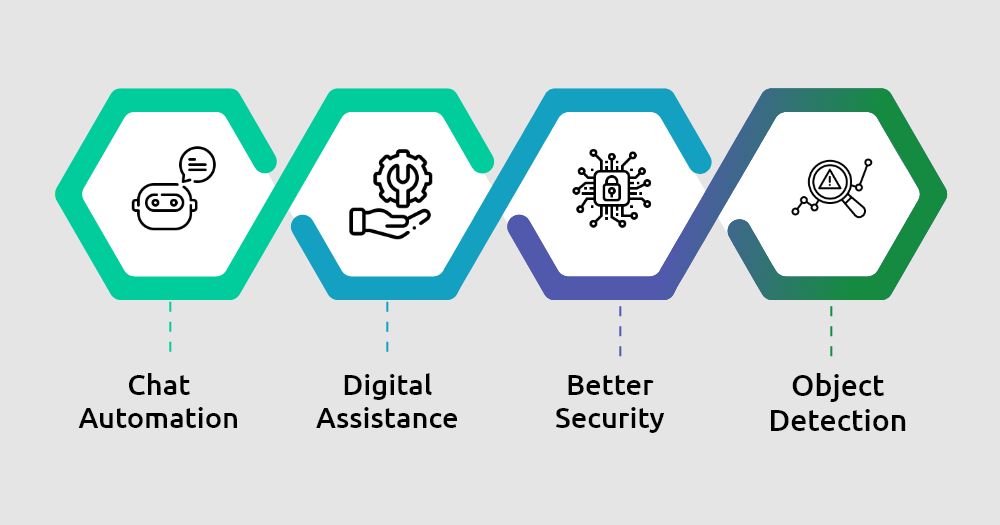 Artificial intelligence has emerged as a concept that not only enhanced the user experience by instilling automation but also placing better security for the data. Let's go through some of the core competencies of AI in mobile apps that make the mobile application a more handy option for all of us-
1. Chat Automation
To beat the huge competition in the market, your availability to customers 24*7 has become a must-have option rather than just a choice. While hiring a team of customer support or service that can address the queries of your customers can be a really expensive decision. At the same time, you can not control how each support member will behave with your customer which can result in a huge risk to your brand image.
So, the chat automation options introduced by artificial intelligence does a wonderful job for you where the queries and problems of your customers can be addressed, and entertained automatically by the bot. Moreover, the automated chatbot only interacts according to the standards set by you. According to Gartner, the automated Chat bot support will reduce the call center agent support cost by $80 Billion.
2. Digital Assistance
As interpreted in the above section, digital assistance support allows the apps to take command in voice form and give the right output. It doesn't only helps the people who can not type but also makes the process even faster. Not only in assistance but generating the content has also become quicker as one can receive the text output just by speaking the lines one after another. Also, delivering dynamic call scripts and adjusting the dialogue suggestions according to customer input is also a great application of digital assistance in AI. So, digital assistance features in mobile app development ease the navigation and enhance user experience.
3. Better Security
Security has always been the concern of users in this digital age where their personal data is open to huge risks and chances of breaching. The emergence of mobile banking apps and services has surely delivered a lot of convenience but has also encouraged the frequency and severity of fraud. So, artificial intelligence fosters the high-speed analysis of data that helps to detect potential cybersecurity threats and thus prevents the chances of hacking and breaching.
Moving ahead, AI has also enabled biometric security systems in mobile app development which requires the inputs like fingerprint, face recognition, cornea recognition, etc.
4. Object Detection
While the terminology might sound somewhat basic, its application has brought a lot of ease to various industries. For instance, healthcare professionals can use artificial intelligence to better diagnose the disease. One can upload a photo or visual of a potential anomaly, and AI will suggest the diagnosis. Similarly, image recognition software helps to quicken the underwriting and claim processing tasks. It can even assess the damages by reading the images of accidents. You might be interested to know differences between Artificial Intelligence Vs Machine Learning Vs Data Science.
The Process to Implement AI in Mobile Apps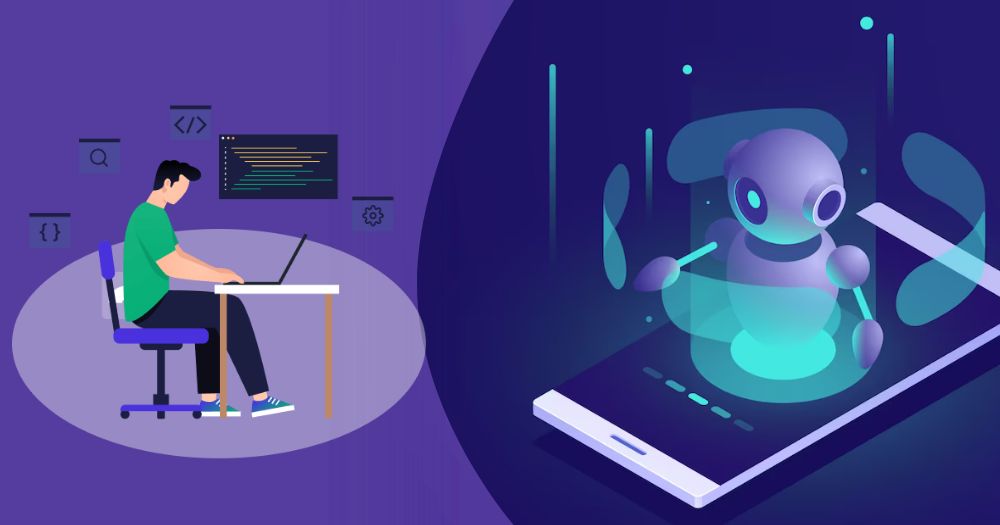 While each application integrated with artificial intelligence delivers a different use case, the process of implementing the AI also changes from time to time. However, there are certain steps that allow the easy and seamless integration of AI in mobile app development. Here are the vital steps of this process-
1. Identify the Challenges
The very first step is to identify the challenges that have to be addressed by AI. It helps to prioritize the challenges and decide upon the technology that can be used well to solve those particular challenges. So, it becomes easier to maximize the benefits of AI implementation in mobile apps and solve the challenge.
2. Data Analysis
Artificial Intelligence works entirely on the basis of data collected and then processing the information to provide the best output. So, the second step in the process is to understand where the data will come from along with the quality and quantity of data. Once the sources of data have been identified, a data analytics tool is used to govern and organize the data in a manner that it can be fed to an AI model.
3. Metrics Implementation to Measure
Metrics refers to the key performance indicators. Here, you must set some milestones that must be achieved by the use of AI apps. It helps to identify how much value the app delivers in the task. At the same time, this milestone helps significantly to put the right functionality during the installation of AI in mobile apps.
4. Solution Implementation
This is the core phase of the process which requires the expertise of engineers and developers in AI technologies. The development team installs the AI capability in the mobile solution as well as analyzes the potential chances of pitfalls that might be confronted in the future. So, these kind of errors are fixed instantly.
5. Work on Integration
Most of the time, AI-based applications fetch data from third-party sources and tools. So, different types of APIs are integrated into the mobile app development process to bring the benefits of data. However, the higher the AI capabilities, the lesser will be the need for APIs.
6. Result Monitoring
As the name suggests, this is the final phase where the output results of AI apps are monitored to see if the outcome matches the vision or not. The functionality of the app is checked and necessary improvements are made
Summing Up: Artificial Intelligence in Mobile Apps
Having gone through the above article, you must now be familiar with how AI is transforming the scenario by increasing the use cases of mobile apps. Along with automating tasks, Artificial intelligence helps to increase the accuracy of tasks and productivity. Chatbots and voice inputs are some of the examples that well represent the burgeoning input of this new technology in our traditional applications. So, it has never been a better idea than now to foster AI capabilities in Mobile apps.
Build an AI-Powered Mobile App
Convert Your App idea into Reality
FAQ's on AI in Mobile Apps
1. How Does AI Work in Mobile Applications?
Artificial intelligence is integrated into mobile applications to automate the workflow of the app, understand consumer behavior, analyze the data, and give the calculated output to ensure a personalized experience for the user.
2. What Core Capabilities Does AI Instill in a Mobile App?
Artificial intelligence instills a lot of core competencies in a mobile app. It includes
Chat Automation
Digital assistance
Security
Natural Language Processing
Predictive analysis of user behavior
Object detection
Personalization
3. What are the Benefits of Using AI in Mobile Applications?
AI in mobile applications helps to enable chat automation and voice assistance that provides better navigation to the users and more efficient feedback support for any query.
4. What are Popular Examples of AI Powered Mobile Apps?
Google Assistant, Amazon Alexa, Cortana, ELSA, Face App, and Replika are some of the most famous AI-based mobile applications being used by a large pool of audiences.