Virtual games are the best thing that has happened to the gaming industry. With advanced technology and virtual gaming, unexpected and unreal experiences have been witnessed. But Metaverse has a lot to contribute.
In-game assets are quite popular these days. There are top NFT games that are changing the aspects of unity, casino, ludo, Android game development. But what makes Metaverse NFT helps to collect assets through playing for the users? The NFT gaming is rising and providing in-game items will help users to earn money. if you want to invest in NFT games you can hire an NFT gaming platform development company.
Let's understand how it will change gaming in the future.
What is Metaverse?
Metaverse creates virtual spaces with augmented reality and virtual reality. It helps to give a surreal virtual experience and is a virtual world. It will make users feel like they are living that moment in real-life and take you anywhere in the world in real-time. The NFTs (Non-fungible tokens) are another significant medium of transaction in the gaming industry.
The developers prefer the virtual items game for a more efficient experience and gaining digital art purchase knowledge. The rich virtual factors attract gamers.
What is NFT?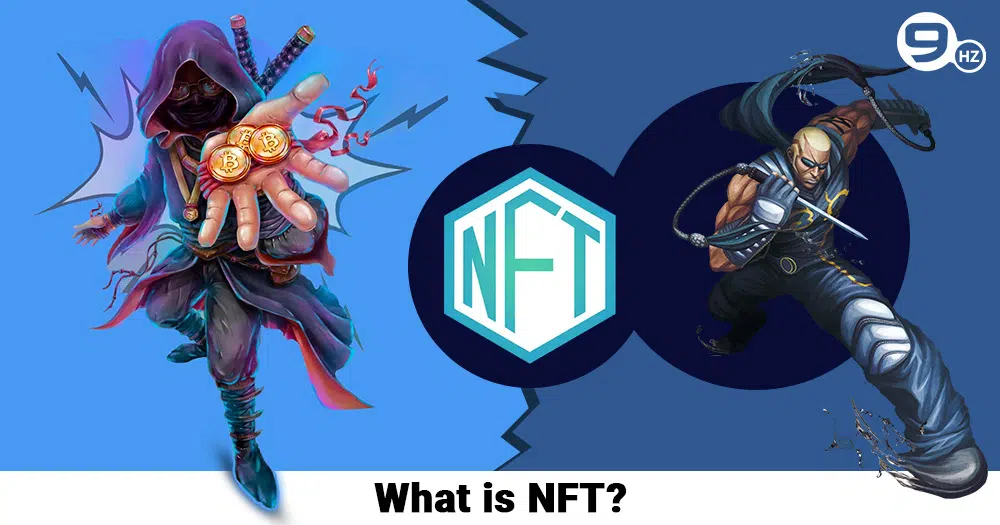 Non-fungible tokens, or NFTs, are cryptographic assets on a blockchain that include distinct identification codes and metadata that identify them from one another. They cannot be traded or swapped at equivalency, unlike cryptocurrency.
The different types of Android and iOS game development prove to be one of the promising assets for the gaming industry. The NFT will allow other players to sell and explore.
Hire Certified NFT Game Developers
Request A Free Quote
1200+ Projects Delivered 12+ Industry Experience 450+ Clients Worldwide 200+ Certified & Expert Programmers
How are NFTs integrated into Metaverse?
For Metaverse, managing different currencies in every play becomes challenging. Even though it transforms successfully, it still remains a task. Thus, in a world of digital assets, where there is one uniform currency, NFTs play a huge role in it. It helps developers or owners to transfer game to game with one token which is accepted universally and for every game.
NFTs will be bought using either cryptocurrency or standard currency. The confluence of these two technical breakthroughs will result in the world's most stable and advanced digital marketplace.
How Does NFT Metaverse Change Gaming in the Future?
1) Play To Earn Games
One thing NFTs have changed in the gaming industry is play to earn. The digital asset has shown that playing games are not only beneficial to game developers but players also. It helps game players to purchase game items with NFTs under the ownership and in-game items there is no barrier.
It is accepted everywhere and has taken gaming projects to different levels. Play-to-earn NFT games are not a new concept but Blockchain games will take gamers to another zone. The real-world value is behind the profit and play-to-earn games is a perfect example of it. Earlier, digital real estate had the power but Metaverse games have changed the scenario in terms of economy.
2) Open and Fair Economy
Metaverse will bring and promote an open and fair economy to game development, developer and players. It creates a game model where players get financial gain and easy access to game items.
Metaverse tokens are the instrument for the progression in virtual matches. Blockchain technology has increased the trading volume by making it accessible for everyone and use of Metaverse tokens for multiple uses.
It opens the game for financial and social opportunities by embracing the gaming NFT marketplace. Metaverse is positioned to become a major part of the next phase of the internet by merging the immersive surroundings of virtual reality, the addictive playability of video games, the interaction of social media, & the value propositions of binance NFT.
3) Virtual Worlds
The virtual world has always something new to contribute and is making its way for thriving services. Today, there are plenty NFts game which is considered a good investment because of purchasing virtual items.
The Metaverse has doubled the fun for the players and game developers. Due to this the social experiences among players also has enhanced. The best NFT games to earn money cannot be determined without it.
The play-to-earn gaming economy will embark on blockchain games and empower players to promote crypto tokens. Under the influence of full ownership, the NFT marketplaces is increasing.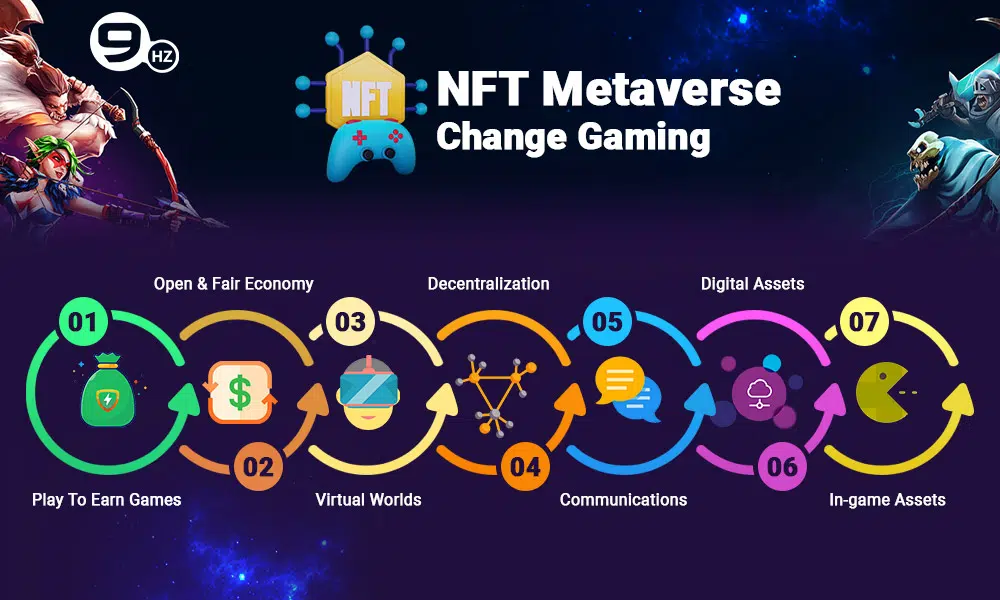 4) Decentralization
Earlier, the virtual worlds were managed and owned by corporations, crypto metaverses are often decentralized, with some or all Metaverse games components built on blockchain technology. As a result, binance NFT tends to deviate from today's game industry's mainstream corporate structures and value extraction strategies.
The unique structure of blockchain games can provide participants with more fair involvement options.
Meta (earlier known as Facebook) CEO owner, Mark Zuckerberg believes that there is tremendous potential growth of Metaverse in the future. Even presently, there are multiple examples of uses of Metaverse like virtual gaming with headsets, fastest internet speed, ultra technology, and much more. The digital land of gaming projects will be covered with gaming NFTs and Metaverse.
5) Identity and Communications
In metaverses, NFTs will also play a key part in identification, community, and social interactions. A user's support for a project or thoughts on the virtual and real-world may be communicated by holding particular NFT assets. Trending NFT 3D avatars is one example of such NFTs.
This allows people with similar NFTs to form groups and share their experiences and produce material together. The identity of the player is recognized with NFT and Metaverse in the gaming model. NFT is used as access tokens to enter and bounce between different parts of the metaverse. NFT gaming is promoted through this process and blockchain gaming makes it even better.
6) Digital assets and In-game Assets
The binance NFT is one of the finest examples of assets. The binance smart chain is quite helpful because it helps to trade and sell. It is great because binance NFT offers multiple deals and is quite popular in a marketplace with the team.
Hire Metaverse Game Developers
Request A Free Quote
1200+ Projects Delivered 12+ Industry Experience 450+ Clients Worldwide 200+ Certified & Expert Programmers
Let's See a Few Examples of Metaverse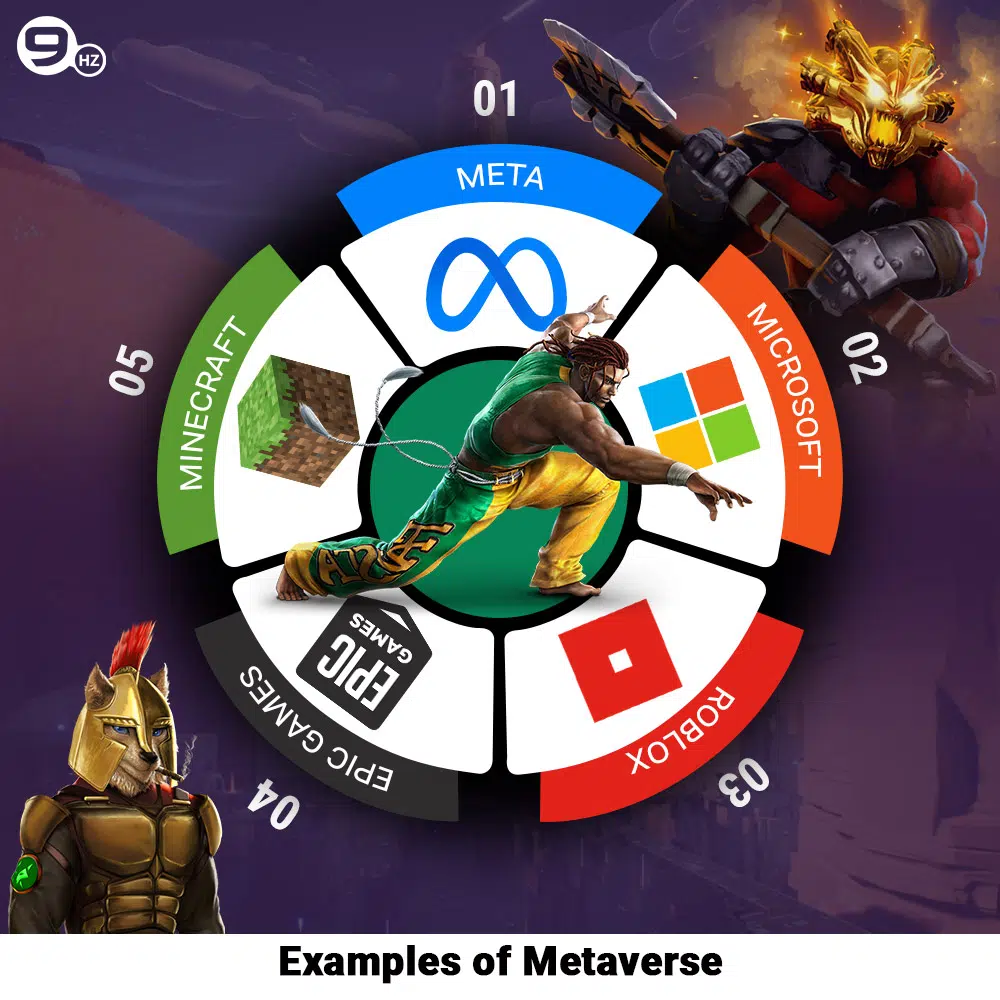 1) Meta
Zuckerberg believes that the metaverse will eventually replace what we see on the internet. The internet of today can make it immersive and provide embodiment for a more realistic sense.
2) Microsoft
Microsoft is a forerunner in the IT industry, and everything they say can be seen as the future. The company is developing mixed reality and XR (extended reality) apps.
3) Roblox
Roblox is home to a plethora of user-generated games, including role-playing games like Brookhaven and Bloxburg, in which users can build homes, work, and play.
4) Epic Games
Time Sweeney, Fortnite's CEO, indicated that Epic is aggressively investing in the metaverse game development. In future virtual world games, you will be able to build and customize your virtual doppelgangers.
5) Minecraft
Minecraft is a computerized version of Legos in which players can create their own avatar and play as they choose. Due to lockdown, the breakout of pandemic grew in popularity among kids, who turned extensively to the virtual connection.
Final Words
Even in the early stages of development, it is clear that Metaverse games have a bright future. The present situation clearly states that Metaverse's NTF has plenty of social potential and advantages of financial opportunities. The use of NFTs games presents numerous ways for people to play games.
Top NFTs Games like Axie infinity, Crypto Kitties, the sandbox, battle racers, and much more witnessed the surge in the gaming environments.
By adopting Virtual Reality services in video game development, social media, and essential crypto, the metaverses and NFT blockchain gaming will become an integral part of the new era of the digital space. The key element is to stay updated with Metaverse.
The Future of nft games will definitely be true by opening a world of opportunities and emerging factors.
FAQS