Food delivery app development is increasing rapidly in the current time. In our busy schedule, people prefer to save time. On-demand food delivery app is creating a different scenario in the world. After reading the article, you will find about food delivery app development costs, requirements, and features.
Large communities are using a food delivery app to get comfort. These food apps are offering you to select any online food delivery restaurant or a variety of dishes to deliver food items at your home or workplaces.
Types of Food Delivery Mobile Apps
Primarily, three types of on-demand food delivery mobile apps are available as classified below:
Business to Consumer (B2C) or Aggregators

Also known as Enterprise to Person (E2P), E2P apps deal in transactions of various product services between provider and single person. Some of the examples are Starbucks, McDonald's, or McDelivery are types of B2C mobile apps. Aggregators provide the best user-friendly environment, single-click payment options, and real-time location tracking.

Business to Business (B2B) or New Delivery Services Provider

B2B apps also defined as Enterprise to Enterprise (E2E) to create business strategies between different companies. These on-demand mobile apps help businesses and consumers to find suitable places. CaterNation and Emerge are the best illustrations of E2E apps.

There are two types of B2B mobile apps.
Vertical: Provide services for a single business or industry.
Horizontal: Provide services for multiple businesses.
Full Stack Food Delivery Mobile Apps or Consumer to Consumer (C2C)
C2C mobile apps used to exchange products and services. Consumers' mobile apps are similar to every user. Some good examples of C2C apps are Zomato, Munchery and Frichti. Along with companies dealing with these on-demand food delivery apps, control the complete working from cookies to logistics.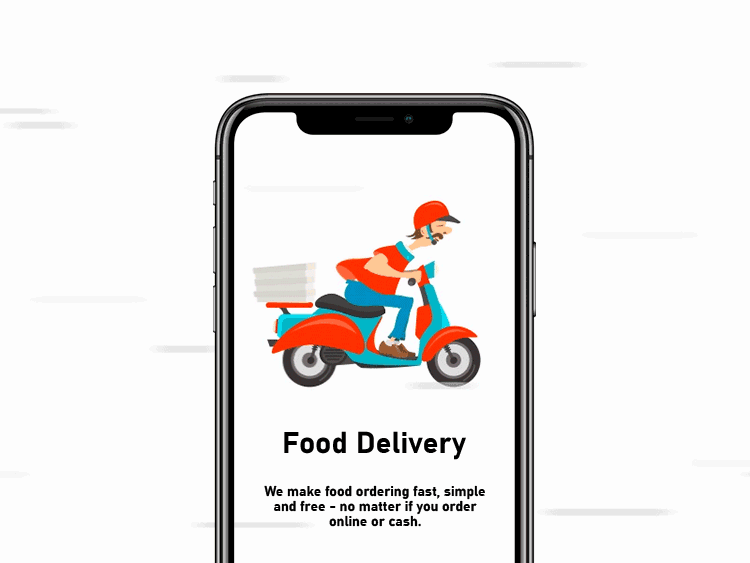 Benefits of Online Food Delivery Mobile App Development
Easy food ordering steps
Compact analysis for food expenses tracking
Increase customer relationship management values
Free marketing for brands
Delivery boy tracking is simple
Mobile-friendly app to order online anytime
Increase in overall growth of orders from restaurants
Smart, convenient and quick delivery
Higher transparency and trust
Check working hours of restaurants
Why Are On-Demand Food Delivery Mobile Apps Required in COVID-19 Crisis?
According to Statista, the food delivery segment amounts to volume of US$122,739m and platform-to-consumer delivery with a market volume to US$62,798m in 2020. By 2024, it is expected to grow to US$164,002m in the USA market and by 2030, the food delivery industry expected to reach to $300 billion.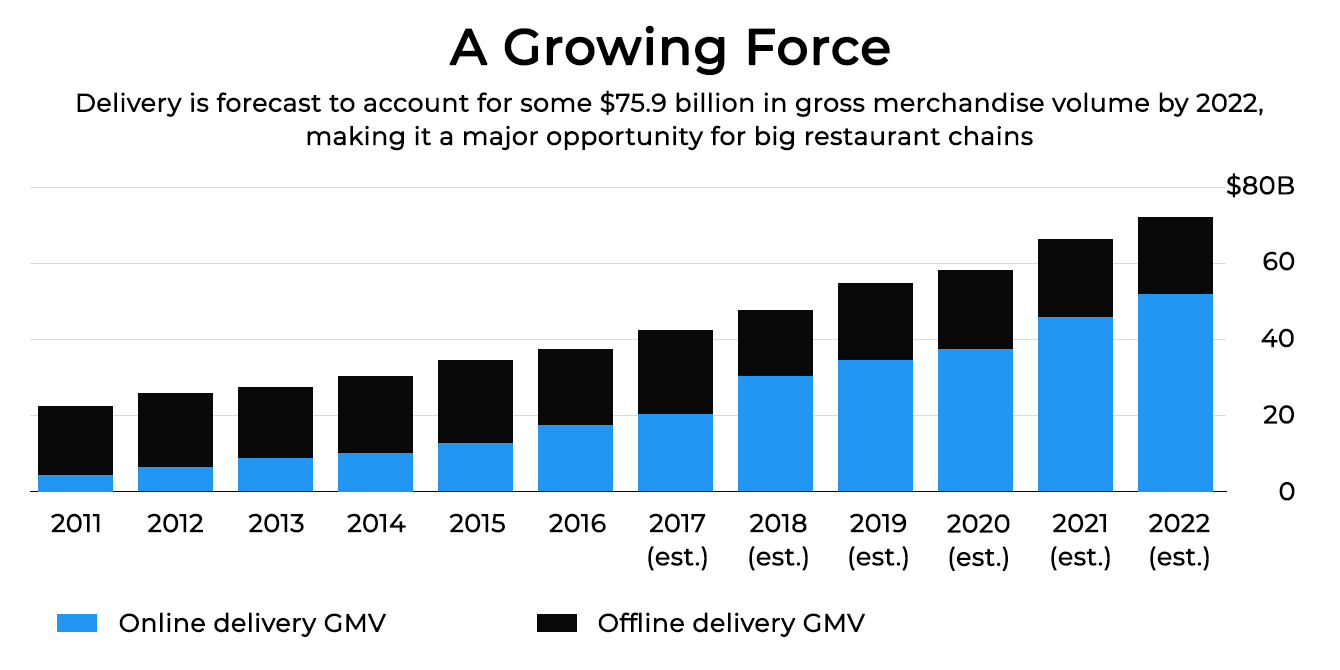 Source: Seeking Alpha
Use of On-demand food delivery app has raised the bar in the market and created curiosity among the younger generation. Also, not disclosed, but everyone knows about the COVID-19 pandemic. In this time, all need to live their life with safety. Therefore, online food ordering is the best thing if you have a craving for trying different tastes. It can also save time, and everyone can receive extraordinary service by food delivery mobile apps. Additionally, food delivery mobile apps market cap has increased during the crucial COVID-19 time. Generally, the situation is in your hands when you order food online by using food delivery mobile apps with enhanced features and convenience.
How Does Food Delivery Mobile App For Restaurants Work?
Along with complete guide on Online food delivery mobile apps work in simple steps as follows;
Open food delivery mobile app
Explore the restaurant of your choice
Select items or food
Add your items into cart for ordering
For placing an order, you can select payment options according to your comfort COD/ online payment
Restaurant manager app receives the information and payment confirmation
Processing of your order at the restaurant
Finding delivery executive at the delivery user panel
Order for delivery
Provides navigation menu to reach customer location
Food delivered by the delivery executive to the customer
Review or rating option after successful delivery
It is a straightforward process for ordering food from an online food delivery mobile app.
Online Food Ordering App Development Feature Panels
Food Delivery Mobile App – User Panel or Customer Panel
Sign up/Sign in Step: In general, the customer needs to register on the app and sign in with the username & password.
Address or Location: Customers can either select auto deduct live location or use a manual address option.
Customer Dashboard: Users can watch various restaurants. Also customers can filter restaurants according to requirements.
Order Food: Select the menu, add to cart, and checkout for ordering.
Cart option: On the other hand, users can avail promo code and offers while checkout.
Payment Options: Users can select Cash on delivery option or online payment by using debit cards and credit cards or any UPI app.
Food Delivery Mobile App Wallet: Users can also add money into the wallet for the easy, faster, and simple checkout process.
Offers and Coupons: Users can apply applicable promo codes and offers to the particular order.
Order Tracking: Users can track the status of orders like how much time a restaurant will take time in food processing. Later, customers can also track the delivery executive's live location.
Call/Chat Option: If customers want to mention any special comment, the option to call or chat is available.
Delivery Rating or Review: Users have the option to add comments on overall delivery ratings after the successful food delivery.
Order History: Users can watch all previous or current food delivery history with each item in the last tab history.
Food Delivery Mobile App – Restaurant Panel
Restaurant Registration: Create a restaurant profile with the correct information.
Dashboard: Restaurant owners can view all types of orders history like pending orders, future orders, an order placed, and canceled orders.
Menu management: Manage all food items in the menu bar for each defined category.
Food Order Management: Restaurant managers can view upcoming orders and update the status for each order.
Order Cancellation: Restaurant owners may cancel the order if items are not available.
Chat/Call: With the help of chat and call restaurants can receive special requests or comments from customers.
Order Data History: Manage all previous orders and history.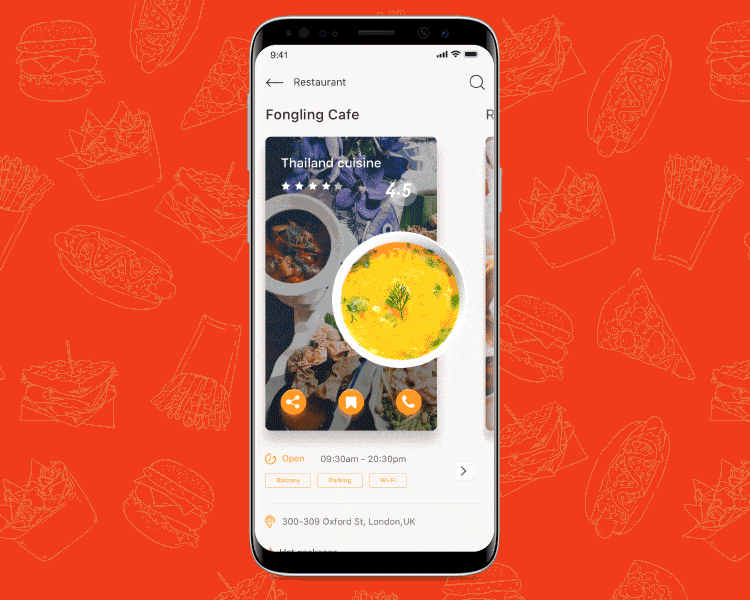 Food Delivery Mobile App – Admin Panel
Admin Dashboard: You can view different types of orders information for the specific restaurant.
Analytics Data: Analyze customers' growth for a particular area with the help of 3rd party platforms.
Payment Management: Manage all payments process for the restaurant.
Transaction History or Order ID: View the transaction history, payment process, and order id for each specific order.
Menu Management: Furthermore, this feature manages all menu items by adding or deleting different types of dishes.
Restaurant Profile: Create, add, edit a restaurant profile, with name, phone number, other details.
Food order management: View the history of future orders and use them to update their status.
Order Cancellation: Manage orders that can be canceled from the restaurant manager.
Chat/Call: Get queries from users regarding orders.
Order History: View previous orders with date, time, and order summary.
Push Notifications: Send push notifications to users, restaurant admin, and delivery executives, including offers and news.
Offers / Promo Codes / Coupons: Generate various types of offers and coupons to customers at the time of order.
Food Delivery Mobile App – Driver Panel
Sign up/ Sign In: Delivery executive can register by using email id and phone number.
Driver Dashboard: View order summary and graphs as accepted, delivered, and canceled.
Active Status: If the delivery executive turns "ON" active status order request will be placed, which can be either accepted or rejected by the driver. In case active status is "OFF" the order will not be received.
Navigation with Google Maps: Navigation helps to explore the location of restaurants and customers.
Call/Chat: Food Delivery executive can receive a call from customers for inquiry and information related to order.
Order Summary: View the history of previous orders delivered at a particular time.
Advanced Features of the Food Delivery Mobile App
Sign up or Sign in Using Social Media Accounts: Social media sign up or sign in option allows users to create an account by using social media accounts.
Behavior Tracking: Allows to track user behavior and helps to provide related food items from favorite restaurants.
Multiple Order Booking: Help users for multiple orders at one time.
Book for Others: The user can order food for others by entering the same information with a different location and pay online in advance.
Custom Packages: With the help of the feature, customers can place customized orders on special requests.
Re-ordering: For placing the same order set in the past, you can save time and effort because the food order is placed on a single click.
Group-ordering: Moreover, multiple members can be created, and each member can select orders from the menu of their choice to place orders.
Text Order: Ordering by text can help users to get food ordered offline by a simple text message from registered mobile number while facing internet connectivity issues.
Push Notifications: You can send notifications and alerts to customers, drivers as well as restaurants.
Catering Request: The function provides a catering request to users for the guests at various places. Thus, the catering request order can be placed by establishing the desired budget.
Franchise Management: In most cases, franchise management helps users to control the franchise.
Real-Time Analytics: Real-time allows customers to analyze real-time happenings in the app.
Role-Based Dashboards: It helps to track business growth in a particular area. As a result, related actions can be performed to improve performance.
Multiple Payments Mode: Enables multiple payment options to users in the app while placing orders.
Navigation & Tracking Feature: Apart from this, tracking features are useful for delivering food in the mobile app. As a result, navigation helps users and drivers to track order and location, respectively.
Marketing Tools: Marketing offerings can help to get more customers by creating offers and attractive deals.
Loyalty Programs: Loyalty offers and rewards.
CRM Integration: In short, CRM maintains a customer relationship with the food delivery of mobile app users.
CMS Integration: Uniquely, CMS integration controls and enhances the quality of food delivery mobile app content.
In-app Calling: Calling feature enables the user, restaurant, and driver while using the app.
In-app Chat: In-app chat calling option is available to chat with users, customers, and restaurants.
Bill Splitting: Likewise, splitting of bills offers users to pay in parts by multiple payment methods.

Technology Platform For Online Food Ordering App Development
Mobile Platform: iOS, Android, Web
Cloud Storage Compatibility: Google, Azure, AWS
Call & SMS Verification: Nexmo, Twilio
Push Notifications on Mobile: Twilio, Push.io
Payments Types: Google pay, PayPal, Net Banking, Credit Card, Debit Card, UPI
Database: Cassandra, Hbase, Postgress, MongoDB
Location Tracking or Navigation: Google Maps
Real-Time Analytics: IBM, Storm, Hadoop, Flink, Cisco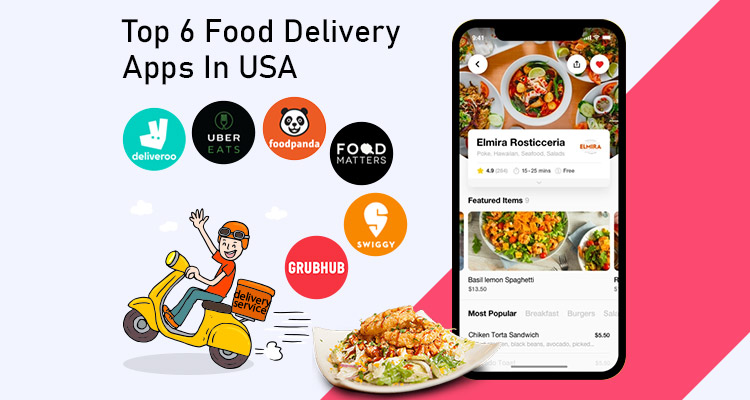 Top 6 Best Selling Apps Built By Food Delivery App Developers in 2020
List of top food delivery apps that has acquired an exponential growth in the food industry.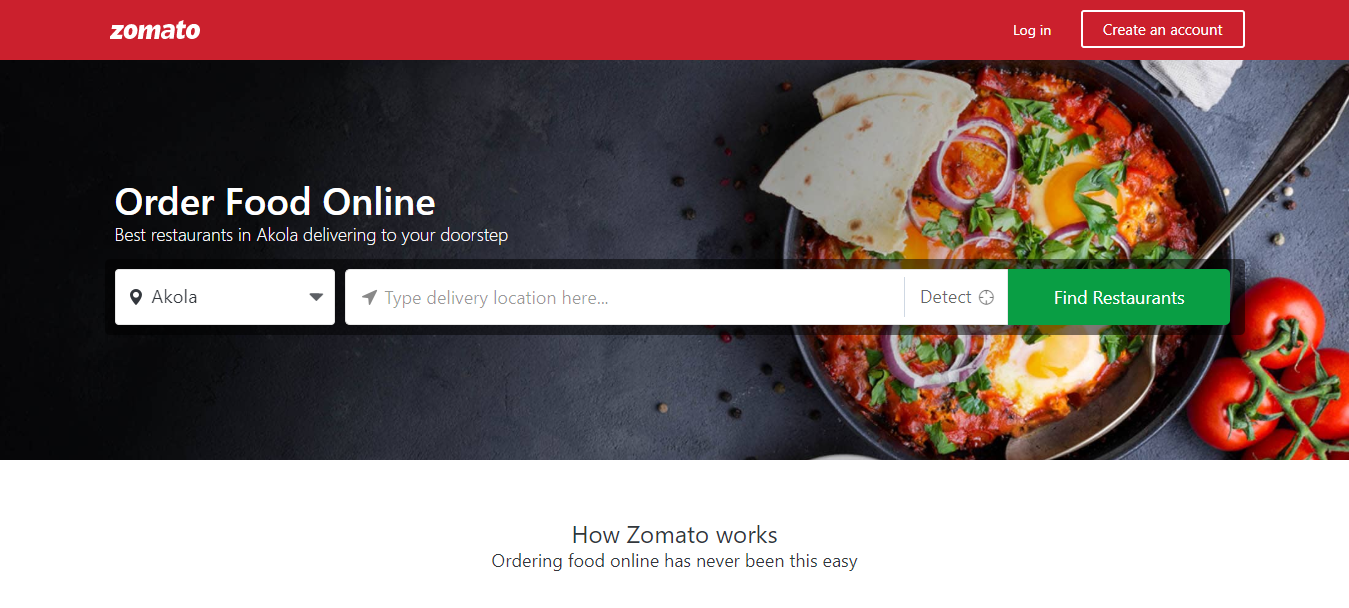 Used worldwide to explore thousands of restaurants, also used to order online food founded in 2008.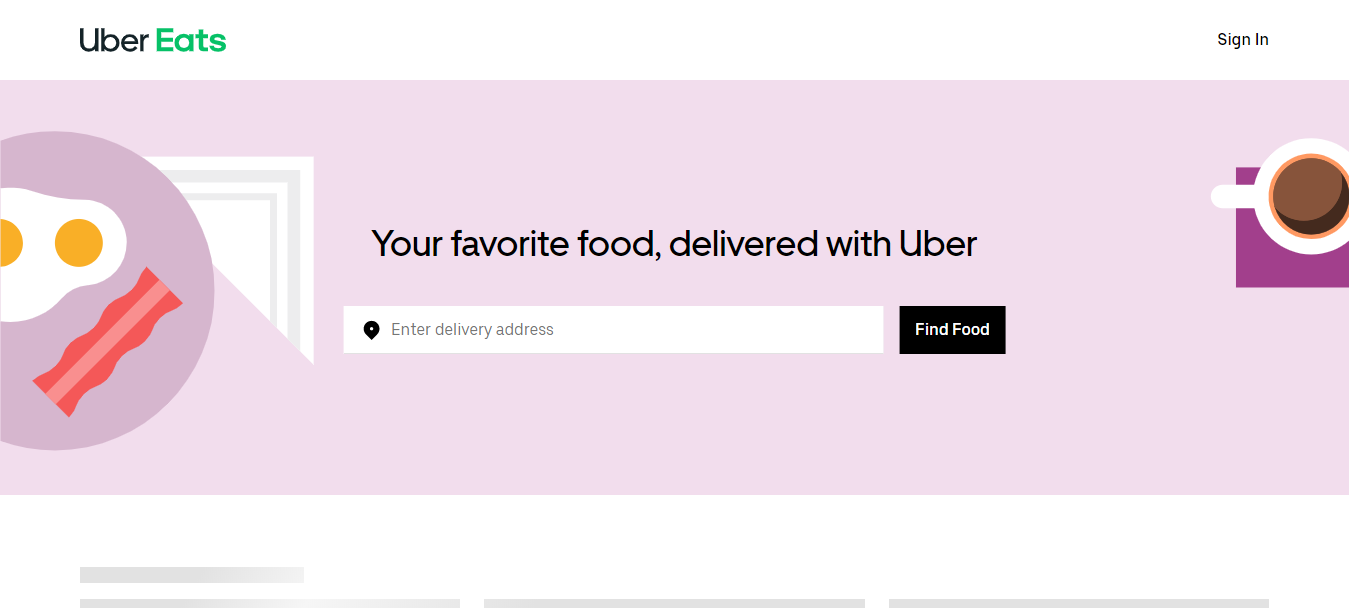 Uber Eats was founded in 2014, and it is an American online food delivery and ordering company.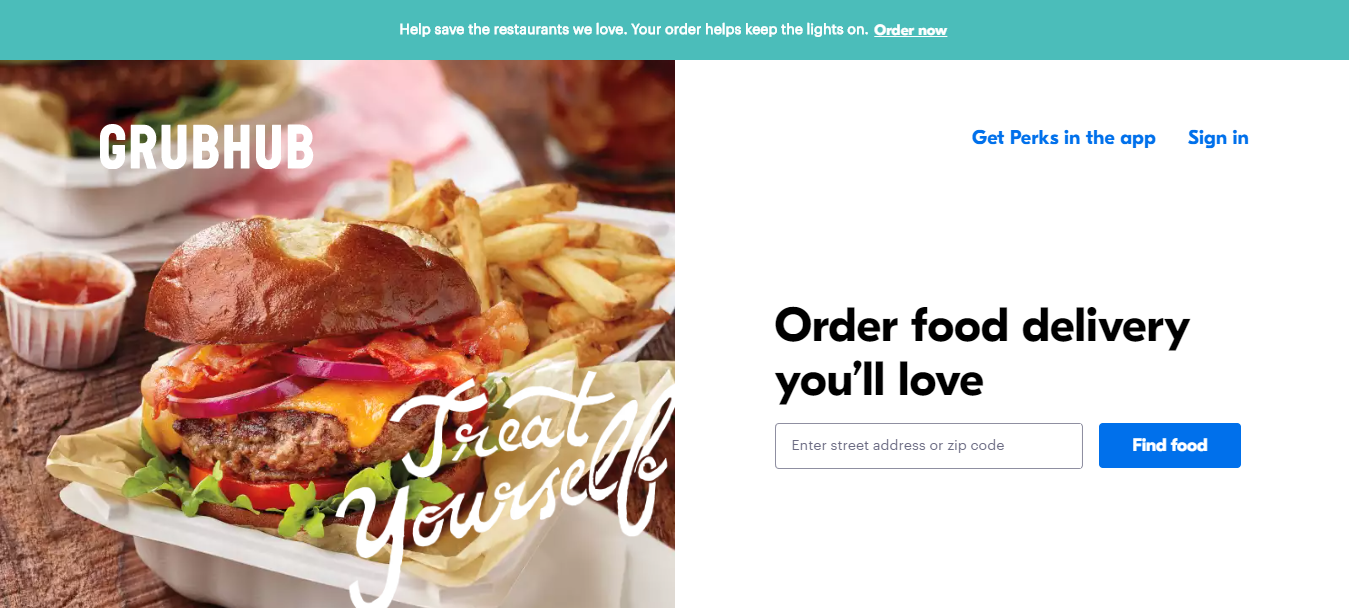 GrubHub Inc. used for takeaway orders and also the oldest American online food ordering company founded in 2004.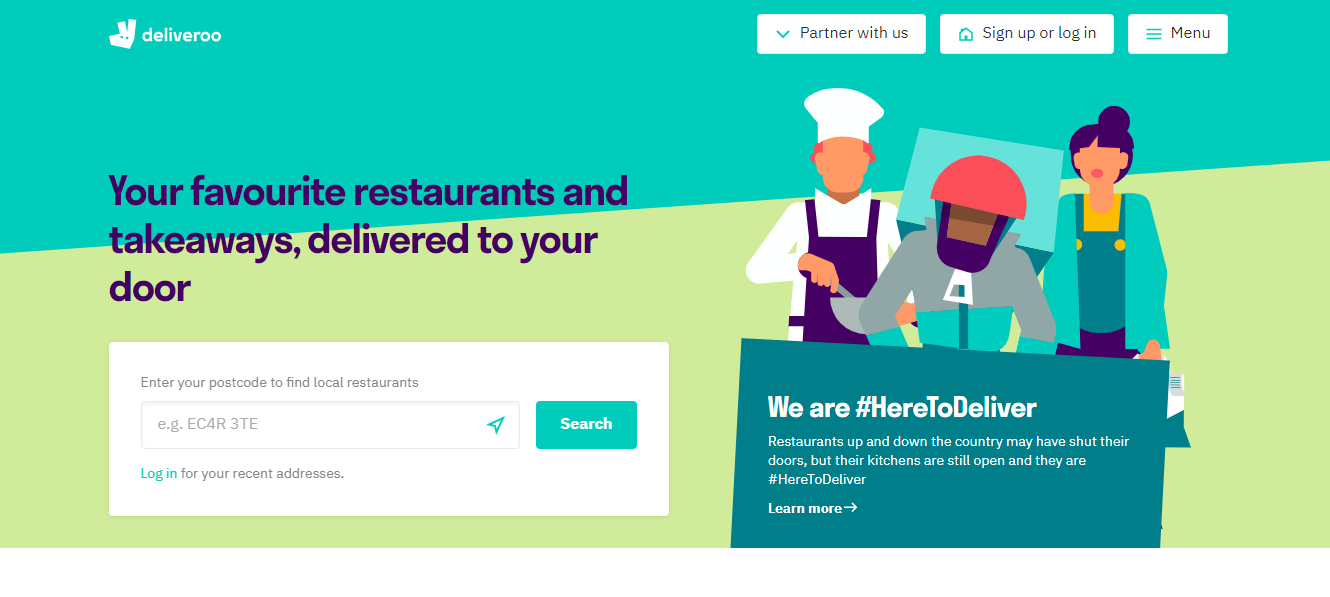 Previously, Deliveroo is known as Roofoods Ltd. It is an online food delivery company established in 2013 and used across 200 cities in the UK.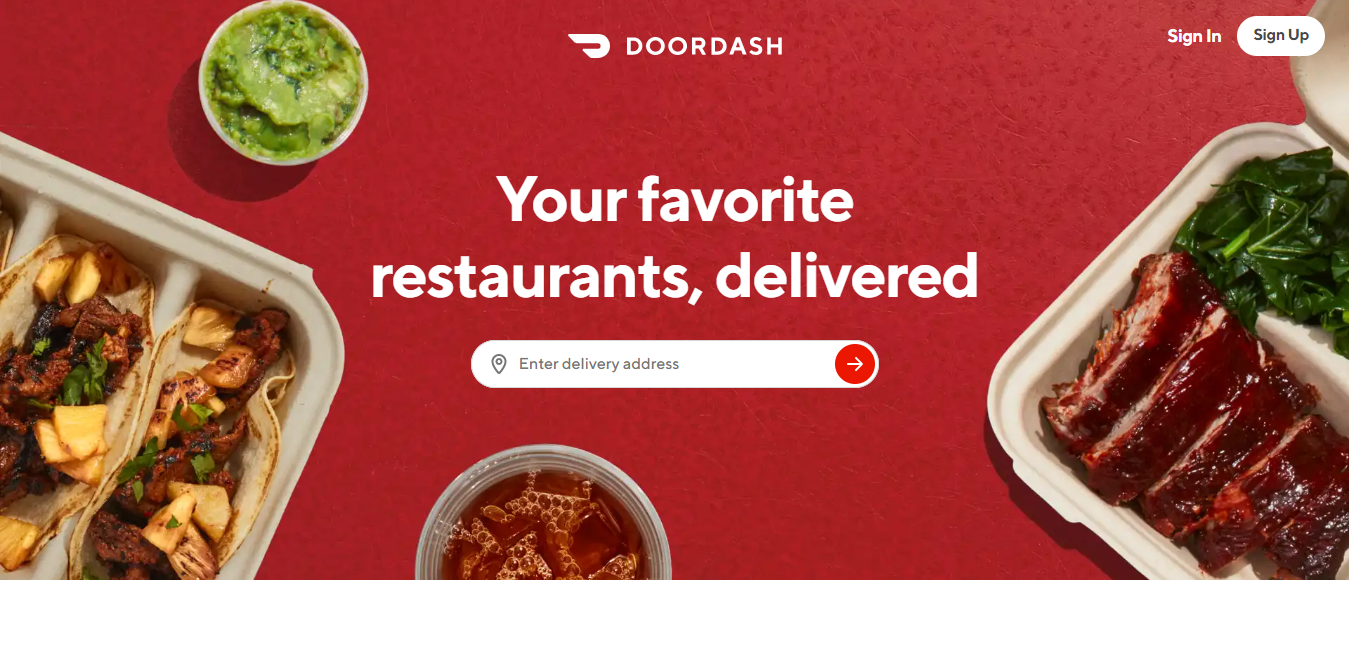 DoorDash is a food delivery company situated in San Francisco. In general, it provides on-demand food delivery services to customers founded in 2013.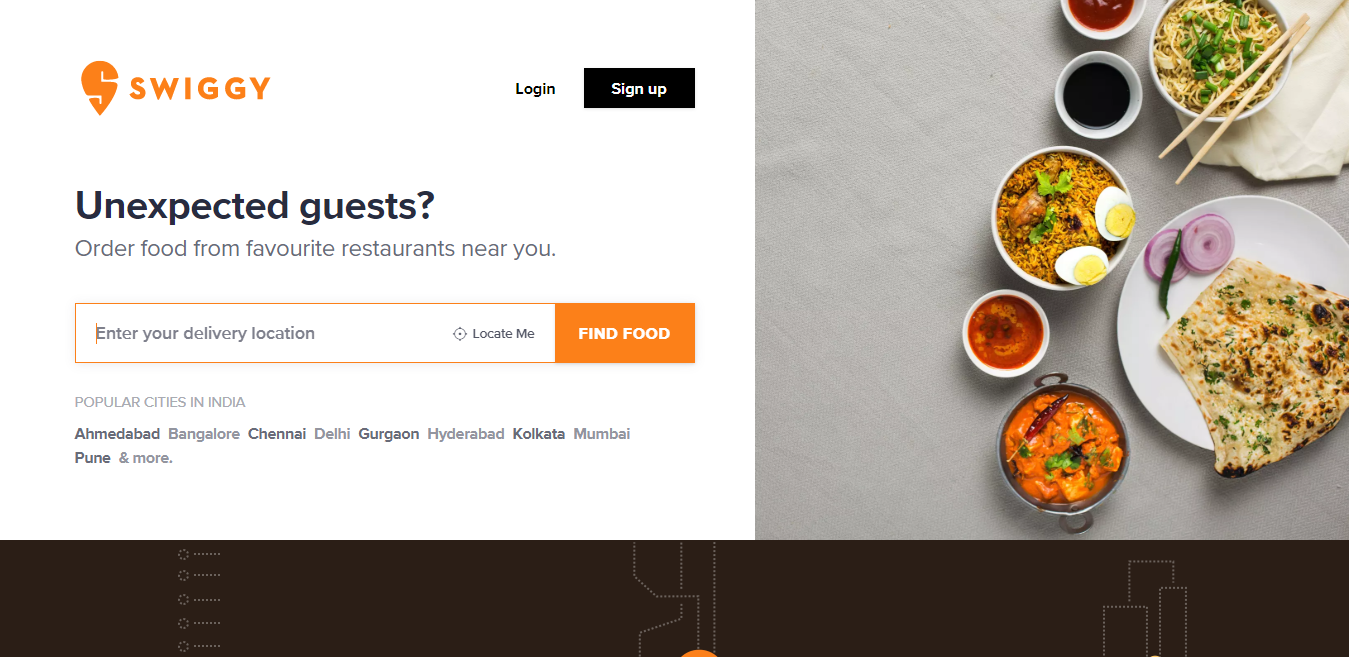 Swiggy helps order food from your favorite restaurants. It was founded in 2014 and is headquartered in Bengaluru.
How Much Does It Cost For Food Delivery App Development Like Zomato, Grubhub?
Food delivery app development cost varies in between $10,000 to $20,000. The cost of app depends on the various factors such as database, web and mobile technologies, server, functionality, etc.
Hybrid App Cost: However, the hybrid cost for developing a food delivery mobile app can vary between USD 7,000 to USD 20,000. For the successful app development process, you can build your dream food ordering app in Ionic or Hybrid technologies.
Native App Cost: For the most part, the average cost for native food delivery app is around USD 15,000 to USD 30,000.
Additionally, the food ordering app development cost depends on the following conditions:
The complexity of the food delivery mobile app. If more features are present automatically, the cost will increase.
Depends on the mobile app platform compatibility that means if food delivery app is compatible with iOS and android both, then the cost will increase.
Mobile app development cost is higher in the USA and other countries than India.
More API integrations will increase food app developers' time. Hence, the cost will be higher.
| Region | Cost per hour |
| --- | --- |
| USA | $50 to $250 per hour |
| Eastern Europe | $30 to $150 per hour |
| India | $15 to $80 per hour |
Future Of Food Delivery App Development
With the help of Food Delivery Mobile apps, restaurants are getting more orders. Hence, customers prefer to order online food on most of the days. Food delivery will increase in the upcoming time. The effect of food delivery AI integration will increase in the mobile app development industries in the future. Above all, for gaining more profits in the food ordering app development field, all you need to go with the best food delivery mobile app development company.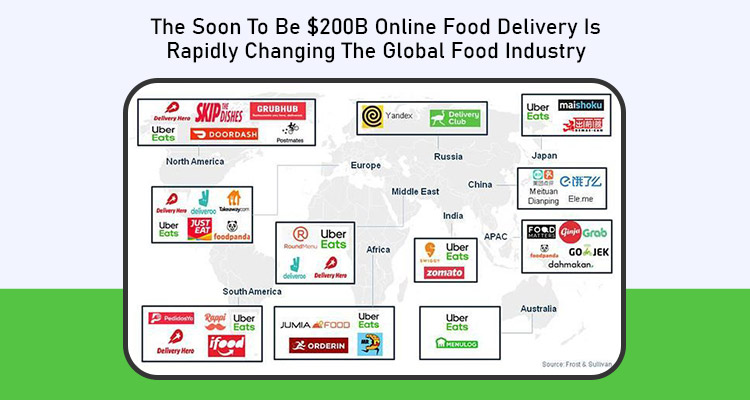 FAQ
1. Which are most popular food delivery apps clones you can create?
Online food delivery mobile app development is transforming the Food and beverages industry. Our Food delivery app clones like GrubHub, Swiggy, Zomato, Postmates, etc are in huge demand.
2. How much time does a developing company take to build food delivery mobile apps?
For Hybrid food delivery apps require 3 months whereas Native food delivery apps need 4 months for accomplishment of the project.
3. On which web technologies does Online Food delivery App like UberEats, Zomato and Swiggy works?
Dedicated web developers have created successful web platforms for placing food order.
UberEats: PHP, JAVA, ASP.NET
Zomato: PHP
Swiggy: WooCommerce