Nowadays, there has been an increasing popularity for EV Charging Stations, but the complexity arises when refueling, which is now solved by apps for EV Charging Stations. Today, there are around 50,000 public EV Charging Stations in the United States, as per the Department of Energy Data reports. With these apps, one can get strategic ways to quickly locate the closest places to power up one's electric vehicle. Some of the best EV charging apps that could help find and provide the facility of charging the battery through public stations are highlighted below.
Best Apps for EV Charging Stations
| Name of App | No. of Downloads | Price |
| --- | --- | --- |
| PlugShare | 1 Million+ | Free |
| EVHotels | 10,000+ | Free |
| EVgo | 100,000+ | Free |
| ChargePoint | 500,000+ | Free |
| ChargeHub | 100,000+ | Free |
| EV Connect | 10,000+ | Free |
| Chargeway | 5,000+ | Free |
| ABRB | 100,000 + | Free |
| Google Maps | 10B+ | Free |
| EVmatch | 5,000+ | Free |
| Open Charge Map | 10,000+ | Free |
10 Best EV Charging Apps
Let's discuss all EV charging apps in detail. you might be interested to know about the best rideshare apps in 2023.
1. PlugShare: Best EV Charging App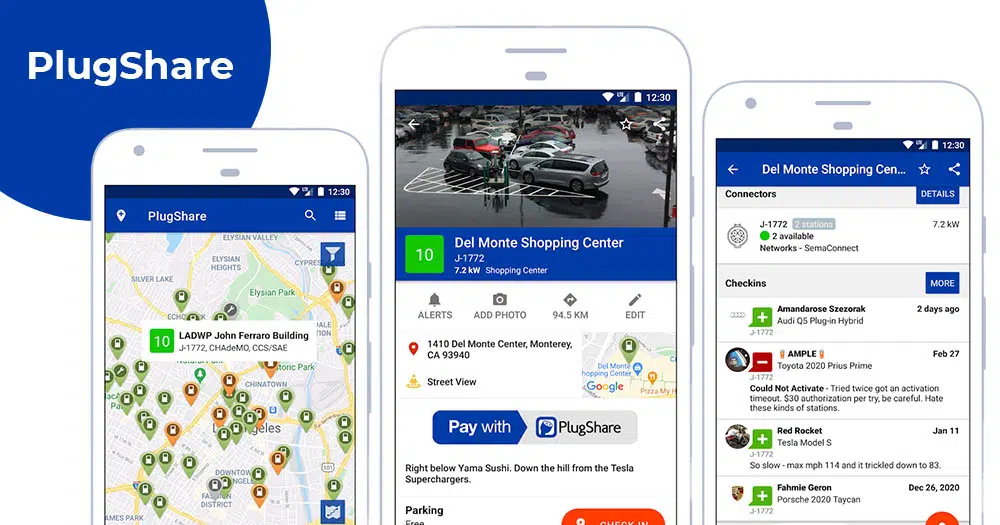 PlugShare is one of the free apps in the US and Canada. The app currently holds popularity because of 300,000+ active users and a robust database with 140,000+ EV charging Stations. The app is considered one of the best apps for ev charging stations because of its convenience, secure payments, and real-time updates for users. With the app, EV drivers can search for the best station rankings for their availability. The Unique Selling Proposition of the mobile app is that it has a PlugShare Trip Planner feature. This feature helps users map out their destination to stay charged throughout the journey.
2. EVHotels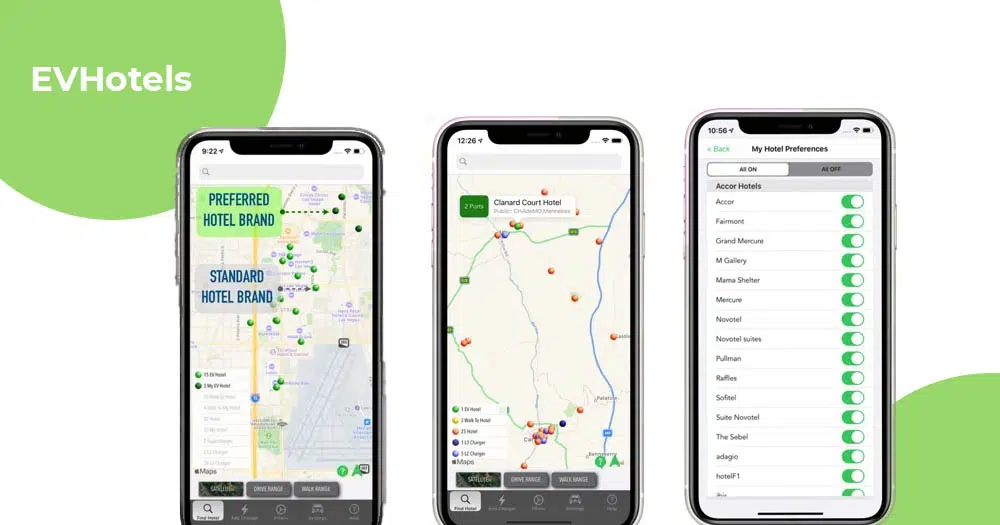 EVHotels is known for its strong charging network because of charging and lodging on a single platform. The mobile app has partnered with more than 170 international hotels. The app for electric cars makes travel plans easier by directing EV drivers to a hotel that suits the best for their preferences. It identifies hotels with an EV charging option or is within walking distance from charging stations.
3. EVgo: One of Best EV Charging Station Apps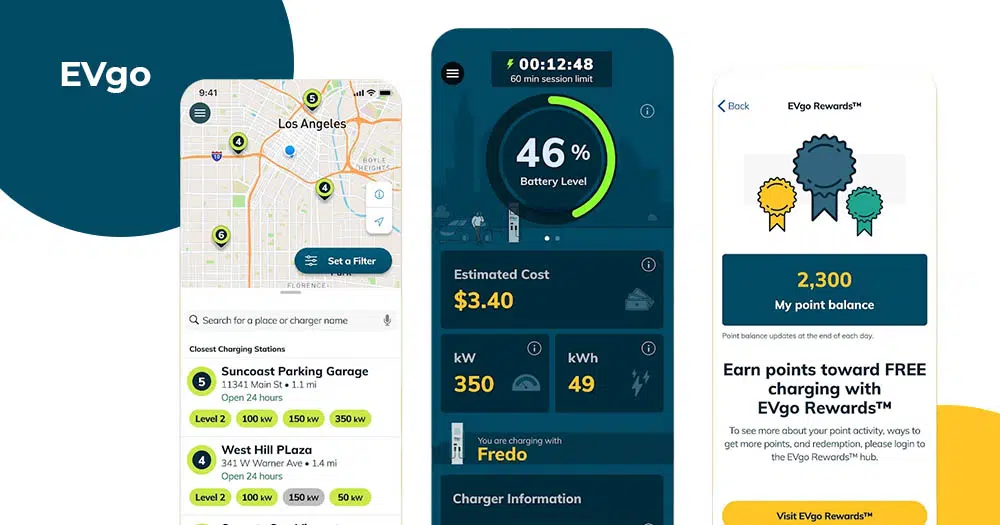 The EV charging station apps make charging much better than traditional gas stations. This app is known for its most extensive network in the US of DC's fast-charging stations. The charging speed is very high and can get an EV car charged in less than an hour. The limitation with the app is that it only works for EVs that are made compatible to work with DC fast charging points. The app's revenue system is a subscription model, where users do monthly subscriptions worth $6.99, a reasonable amount to ensure options for drivers in need of charging their electric car.
4. ChargePoint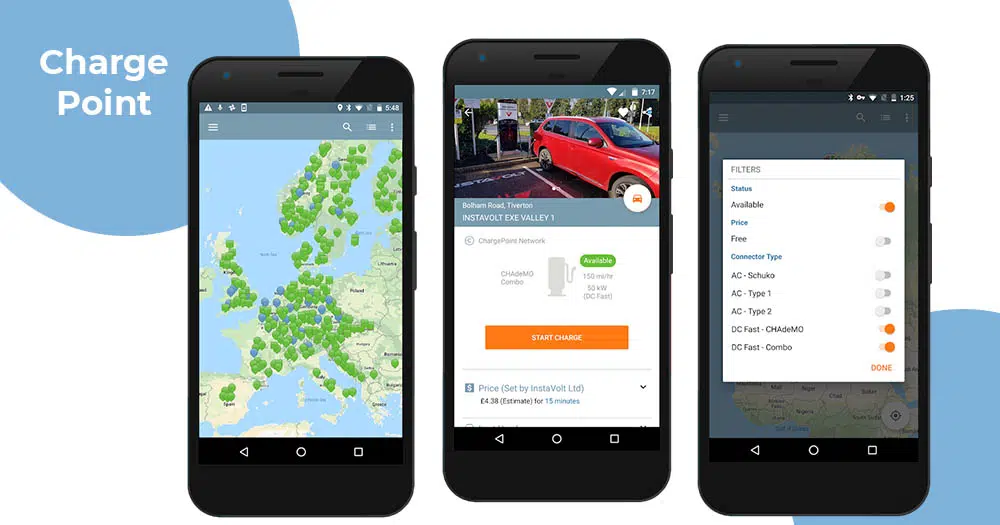 With ChargePoint, users quickly spot nearby charging stations within major charging stations and ChargePoint Networks. In addition, there is an option in the app that lets drivers check the level of their vehicle's charging. If the users are also availing of the home ChargePoint setup, they can also activate the EV charging remotely. In this way, they can help with facilities given by the app, including optimal electricity rates and the history of the vehicle's charging.
5. ChargeHub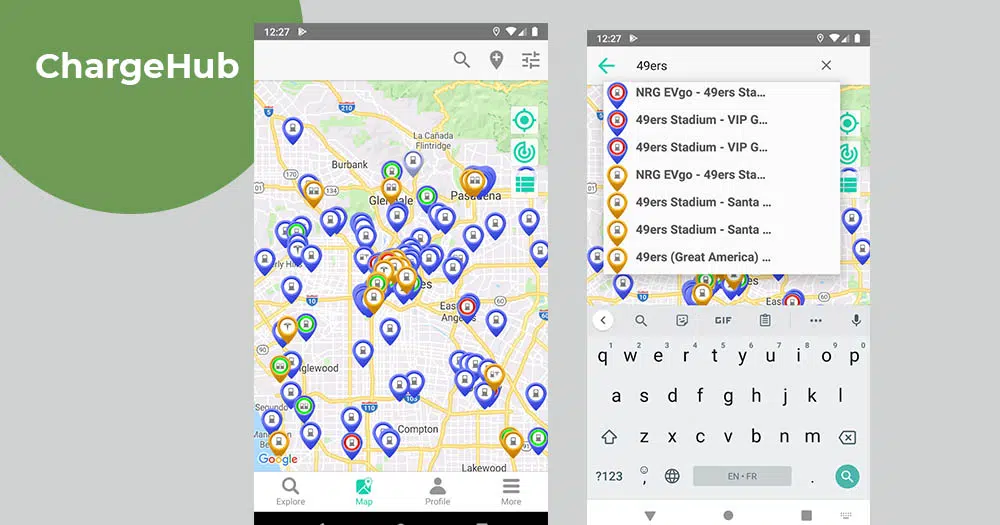 The app also ensures that one plans for traveling long distances hassle-free, with readily available information regarding charging stations. They can also connect with other users to learn about private home charging stations. In addition, the app has given a feature in terms of showing new charging stations to users in their areas.
Best EV Charging Stations Apps for Android
6. EV Connect
With the EV Connect app, EV drivers get a sleek and intuitive interface that allows them to search for the closest charging station per availability and accessibility in the power level of some locations. Moreover, while driving, the users get 24/7 support which helps them stay assured throughout their journey.
7. Charge way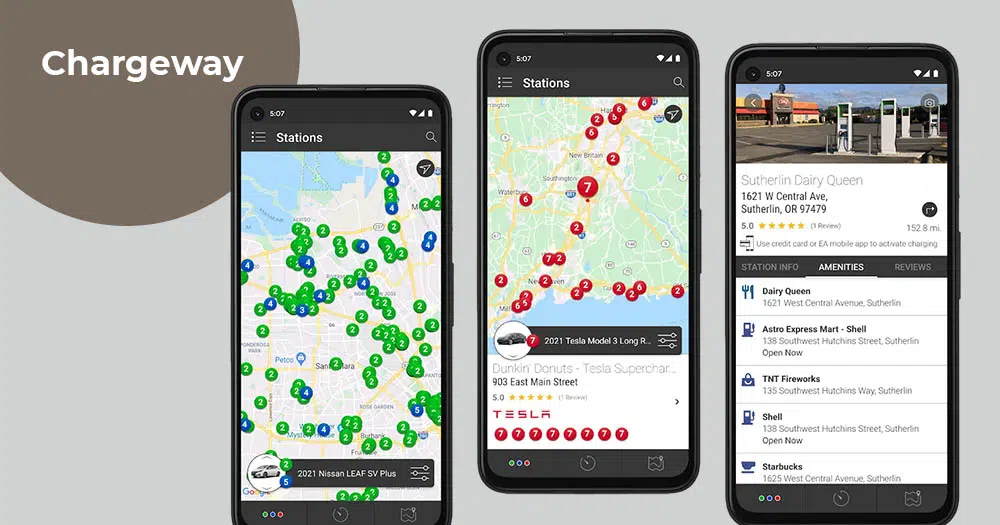 Drivers using Chargeway easily spot the charging station based on a number and color-coded system. The color-coded system can identify various charger connector types. Some of them include J1772, the CHAdeMO connector, and the Tesla connector. In addition, the number system can predict the charging speed of the ev station. The scale ranges from 1 to 6, where a rate of 1 would take around 8 hours for 40 miles, whereas a six would indicate an impressive charging speed of 30 minutes for a range of 200 miles.
8. A Better Route Planner (ABRP)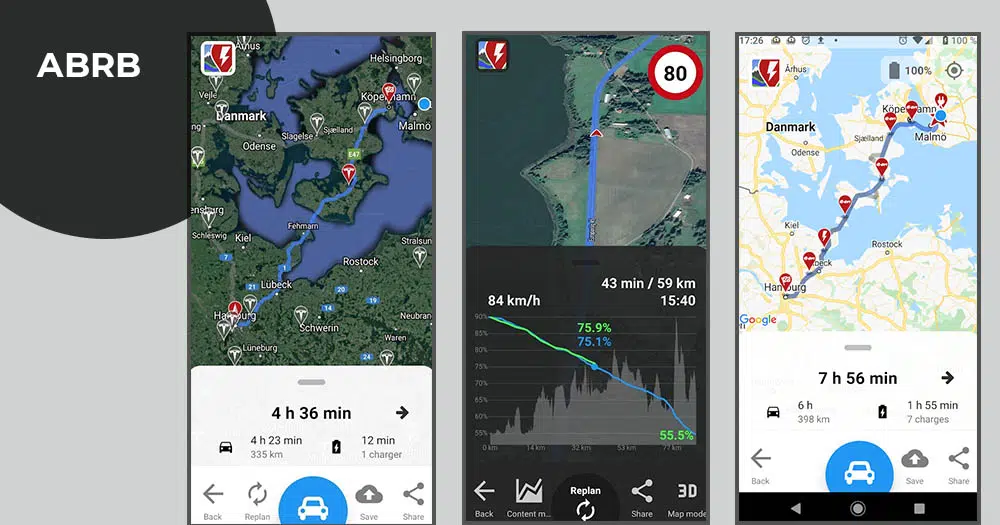 ABRP is one of the most recommended platforms for EV drivers where they are given a trip itinerary with suggestions throughout the journey or where and when to stop for charging the vehicle. The essential functions of EV are accessible, and for additional features like supporting multiple components, the user will be asked to buy a premium account worth $4.99/month. With the premium account, users can easily see past trips, share current routes, and access information regarding traffic data and peak periods, where charging stations are hectic.
9. Google Maps' EV feature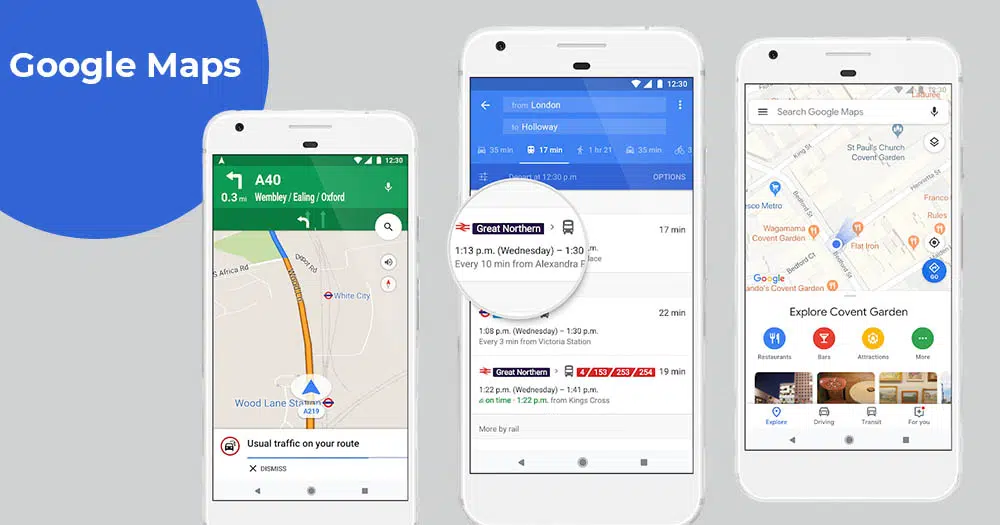 With the EV feature, one can quickly assess a car's battery level on arrival and departure and provide timely battery alerts. Moreover, the app also finds charging stations that are compatible based on charger types, charging speeds, and payment networks. This way, the user will get a list of nearest recharge points via Google Maps. Furthermore, if the user has a membership, it will be easy to select some of the specific stations close to some groceries or cafes. In this way, the user can relax in some restaurants while the vehicle gets charged.
Develop Your Own EV Charging Station App
Request A Free Quote
1200+ Projects Delivered 12+ Industry Experience 450+ Clients Worldwide 200+ Certified & Expert Programmers
10. EVmatch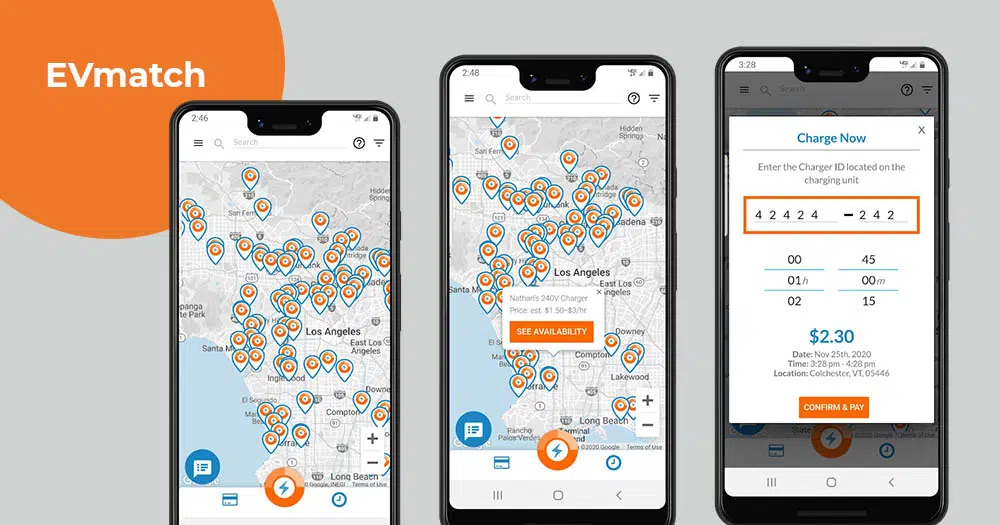 EVmatch is used by many EV drivers in the United States for its peer-to-peer charging network. The app allows a secure payment for finding and reserving a private EV Station. In addition, the searches can be filtered using the type of connector needed, availability of EV remote stations, price, and charging speed. It is free for both Android and iOS users.
11. Open Charge Map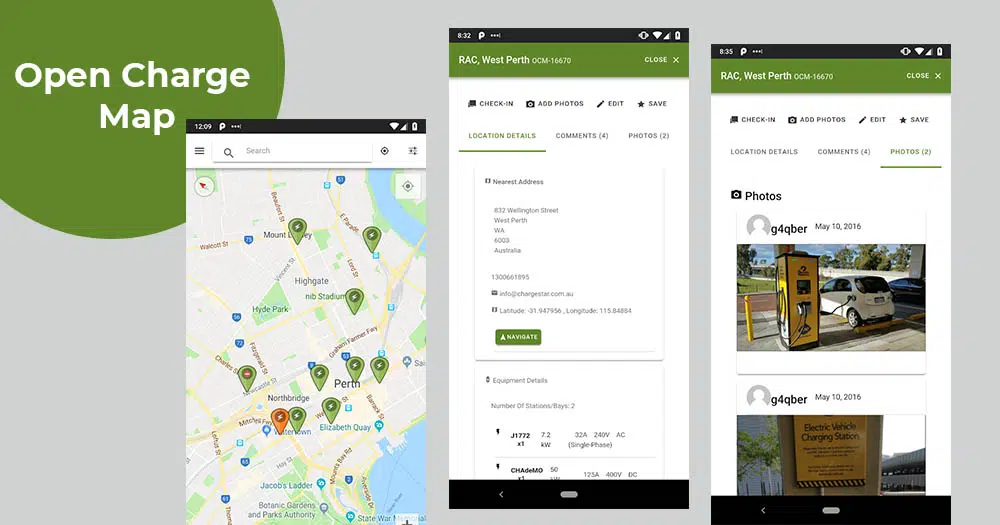 With Open Charge Map, one can find EV charging stations globally. The app is free for both Android and iOS users. The app is an open-source project where users can search and submit their preferred charging stations and rate them. This app also gives the user an option to choose a filter based on the connector type required and the speed of the charger. In this way, they can conveniently plan for their routes based on chargers available.
EV Charging Station App Development Cost
There is a massive demand for the development of mobile app because new charging stations are getting installed every day. EV fast chargers are pretty profitable because it has a high potential to beat even petrol pumps in terms of profitability. There are plenty of benefits to developing EV charging station apps. It will allow countries to assess daily profitability and check reasons for failed payments or locations not covered with EV charging stations.
This way, EV Charging apps will utilize the development cost to cover all urban and rural areas with EV Charging stations. This is done so that when EV drivers' the destination is in these locations, then no issue will be faced by EV driver apps and the driver himself in finding an appropriate place with the facility of charging points. The scope of development is very high in this market as per some projections made by Bloomberg New Energy Finance (BNEF); demand for EVs has been rising with improvisations made in batteries compatible with changing infrastructure and new market economies.
Another prediction made is to produce over 500 types of EV models that will be made available worldwide. Heavy funding will be required for the EV charging station apps.
| Region | Price (on an hourly basis) |
| --- | --- |
| North America | $140-$160 |
| UK | $100-120 |
| South Asian countries | $25-$40 |
The table depicts development cost region-wise on an hourly basis.
Best EV Charging Apps: Wrap up!
These apps have served one of the best features for ev drivers which includes enabling alerts, whenever a charging station is approaching. These apps will help users in all of the long journeys. Many of the apps have zero cost for primary features like looking for a nearby ev charging stations. With premium membership, users can avail of advance features and stay assured for rest of their journey.