Metaverse Companies | Today, the metaverse industry is becoming one of the developing sectors globally. Wondering why? That's because of people's newfound interest in investing and spending on virtual concerts, events, and articles. You'll be surprised to know that there are 400 million active Metaverse users. This number indicates the rapid growth of the market. In this article we will explore the best metaverse companies and what are they building.
Moreover, according to the statistics, the metaverse market was worth $478.7 billion in 2020 and is expected to be worth $800 billion by 2024. Some even state that in the near future, 25% of people will spend an hour on the metaverse platform, and 30% of companies will offer services and products for the metaverse.
Given the rising interest of people in investing in the virtual world and making it a gigantic contributing element to the virtual economy, many have started or are interested in offering metaverse development services. Now, so many companies provide metaverse development and improvement services that choosing the right one to contact can take time and effort.
If you're searching for an ideal metaverse company, this blog is for you. It will walk you through a list of the best metaverse companies that can help you develop various digital solutions, virtual worlds, video games, etc. But before diving into the list, it's essential to understand what metaverse is and what a metaverse company does.
What is the Metaverse?

Metaverse is a vast virtual world where people can replicate their real-life experiences, such as buying or selling virtual goods, attending events, and much more. Moreover, it is a concept of introducing virtual worlds through blockchain, Augmented Reality (combining both the digital and physical worlds, like Snapchat filters or Pokemon Go), Virtual Reality (for example, wearing an Oculus Rift headset to explore these online worlds), web 3.0, and cryptocurrency to transform how people engage.
Whether you need a platform for commercial purposes, research purposes, or training, the metaverse is a future that everyone will be a part of one day. And for that, the metaverse companies are busy working to bring the future to the present, providing an immersive experience for a digital twins-based product or service for every existing industry. You might be interested to read about metaverse use cases.
10 Best Metaverse Companies
| Metaverse Companies | Established Year | Location |
| --- | --- | --- |
| The NineHertz | 2008 | Atlanta |
| Meta | 2004 | California |
| Roblox Corporation | 2004 | California |
| The Sandbox | 2011 | Hong Kong |
| Unity | 2005 | California |
| Decentraland | 2015 | China |
| Bytedance | 2012 | China |
| Axie Infinity | 2018 | France |
| NVIDIA Corporation | 1993 | California |
| Microsoft Corporation | 1975 | Washington |
Let's discuss all companies in detail:
Top Companies Building in the Metaverse
1. The NineHertz: Best Metaverse Company
The NineHertz is a marvelous metaverse company with so many years of experience in the metaverse market. They assist businesses in building their own metaverse and 3D virtual spaces. With the help of cutting-edge technology, NineHeartz professionals create immersive and interactive 3d virtual space that you can use for various purposes, including events, training, and marketing campaigns.
They're at the forefront of this exciting new field and can help you build creative and immersive experiences and 3D virtual reality environments tailored to your specific needs.
2. Meta
Topping the list of the leading metaverse companies is, of course, Meta. Probably, everyone knows that Facebook CEO Mark Zuckerberg rebranded it as Meta. This significant change in the name indicates that they're here to lead the way. So, Meta has been working on project Cambria and hardware such as Oculus VR. Additionally, the company is dedicated to working on various software projects related to the metaverse.
The most notable examples would be the projects under their Horizon division. This comprises Horizon Marketplace, where users can buy and sell within the metaverse's massive economy. Moreover, there are Horizon Home and Horizon Worlds that offer 2 different scales of exploration. Home is a cozy setup, while Worlds opens up a digital world or universe.
3. Roblox Corporation
Next on the list of popular metaverse companies is Roblox Corporation. It is an American video game developer founded in 2004 and based in San Mateo, California. As of 2021, the company has over 1,600 employees. It has millions of talented developers and creators who thrive on producing immersive multiplayer interactive experiences.
The company has a Roblox metaverse with the help of its Roblox Studio, desktop tools, and software. The Roblox platform offers online media & digital entertainment platforms. In September 2021, the company accomplished the acquisition of Sway, an application that emphasizes AI filters and developing motion effects.
Furthermore, in November 2020, Roblox acquired 3D Avatar creator Loom.ai, strengthening the metaverse environment capabilities. This acquisition helped tremendously support real-time facial animation through advanced computer vision, neural networks, deep learning, and visual effects.
4. The Sandbox
The Sandbox is a metaverse based on the Ethereum blockchain. It allows users to create and monetize digital assets and games. Surprisingly, no one owns the Sandbox outright, but the users own parts.
A LAND is a Sandbox section you can own and monetize depending on what you put in it. The VoxEdit editing tool enables the users to create 3D objects, while The Sandbox Game Market lets users develop 3D games for free.
The Sandbox has bagged huge investments from various sources, from Snoop Dogg to the government of Dubai. By mid-2022, the company had more than 2M registered users and 350,000 monthly active users as recently as April.
5. Unity
Another one of the top metaverse companies on the list is Unity. Unity is a gaming development engine rather than a "metaverse platform" like Decentraland is. For example, Unity software helps other budding metaverse companies and individuals build their own metaverse platforms, virtual worlds, and epic games.
Unity already powers around 71% of mobile games and half of all PC and console games. Today, more than 2.5 billion people play games developed with the Unity engine. Gaming is and will remain one of the most well-beaten paths into the metaverse world. Therefore, it only makes perfect sense for a company like Unity to be the front and center of the metaverse and the gaming industry.
6. Decentraland
Decentraland is a virtual-reality platform and metaverse company. Unlike other metaverse companies, it is backed and powered by the Ethereum blockchain and is one of the most renowned names in the space.
The Decentraland users operate in LAND. It is a non-fungible digital asset separated into parcels, which community members can own and purchase from each other using Decentraland's cryptocurrency, MANA.
Within Decentraland, metaverse users can create metaverse applications, games, and an epic games store using any third-party 3D modeling tool before importing their creation into Decentraland's "Builder." Virtual land and property in Decentraland have been sold for millions of dollars, including one $2.4 million purchase in 2021. This purchase was considered a virtual real estate record at the time.
7. Bytedance
Next on the list of top metaverse companies is Bytedance. It is best known as the parent company of TikTok. TikTok overtook Facebook on the Internet, and Bytedance continues the competition as one of the more substantial metaverse companies. Although they're in the early phases of this competition, they've already spent $772 million to create an entire virtual reality headset company called Pico.
8. Axie Infinity
Created by Vietnamese company Sky Mavis, Axie infinity is another one of the marvelous metaverse companies in the metaverse. Unlike other metaverse companies, it is an NFT collecting and digital pet community game. In Axie infinity, users are allowed to purchase and sell "Axie," customizable creatures. You can pit these against each other in a battle for prizes, like Pokemon.
Axie Infinity is likelier to Decentraland and The Sandbox than Roblox. Why? Mainly because it's NFT-based and famous for its in-game economy instantiated in the Ethereum blockchain. According to statistics, Axie Infinity had almost 3 million monthly active users in late 2021, although that figure has declined. A few estimates suggested that today, its daily active user base is around 22,000.
9. NVIDIA Corporation
NVIDIA Corporation is an American technology company built in Delaware, located in Santa Clara, California. It is a computing technology provider to help solve challenging computational problems.
The company designs graphic processing units for the global gaming, computing, and professional markets. Its strength is its advanced GPU architecture to build virtual worlds and create meta platforms, AI, virtual reality, and high-performance computing.
In August 2021, NVIDIA Corporation expanded the NVIDIA Omniverse metaverse collaboration and simulation platform. The platform is known to deliver an advanced experience with the help of Blender and Adobe integrations.
10. Microsoft Corporation
Microsoft Corporation, also known as Microsoft, is well known for producing computer software, personal computers, consumer electronics, and other services. Headquartered in Redmond Campus, Redmond, Washington, U.S., Microsoft is a Meta-focused company developing a series of Metaverse applications on the top of the Mesh platform.
It is also building a new augmented reality chipset for Metaverse with Qualcomm for providing access to new features. Unlike other metaverse companies, Microsoft is one of the forefront companies creating a metaverse by updating AltspaceVR to make Metaverse Technology a much safer virtual space for users and players in the near future.
What are Metaverse Companies?
Metaverse companies develop methods to access the metaverse and various spaces, elements, and experiences within it. This could include virtual environments, live performances, digital products, and even architecture.
This decentralized vision also indicates that companies can diversify into an embedded internet with easy-to-use devices. But there's still a lot of work to be done on the metaverse. The metaverse is currently somewhat of a "proto-verse." Like people had to use different programs in the early Internet days to access sites, the metaverse is in a similar early state with many virtual worlds not entirely connected.
What Are Metaverse Companies Building?
Metaverse companies aim to create metaverse projects beyond the human imagination. However, most of their work is confined to the seven layers of the metaverse. The following terms describe one of the most fundamental principles of the metaverse.
1. Infrastructure
Here, infrastructure means the networking implementations and hardware that powers the metaverse. This is more or less similar to the ground on which buildings are constructed. The metaverse infrastructure comprises networking like cloud systems, 5G, WiFi, and MEMS. This also incorporates physical components like GPU cores which process metaverse data.
2. Discovery
Discovery is a collection of the methods people use to discover new content. This may comprise elements like ad networks or AI that search for people interested in specific goods or services. However, it also refers to social motivators like word of mouth, which is known to spark people's interest in a brand.
3. Spatial Computing
Spatial computing means 3D elements of the metaverse space. This majorly covers the 3D engines and elements used to model the multiverse. But anything that incorporates spatial positioning comes under this arch. Even plotting your real-world position with GPS to fit it within Augmented Reality is still said to be spatial computing.
4. Human Interface
People interact with the virtual and physical world in various ways. When that interaction extends to the metaverse, it's called a human interface. This incorporates communication methods such as voice commands, gestures, and neural interfaces. But even wearable gadgets like smart glasses fall under the more extensive over-arching human interfaces.
5. Decentralization
Decentralization means the fact that no single entity can be the owner of the metaverse. Companies may create elements that depend on or work with each other. This is the most common vision of the metaverse's economy. But it can also be seen in elements such as AI agents or the edge computing design methodology.
6. Creator Economy
Creator economies mean the average person can create and sell goods. Any of the design tools or materials used to build metaverse content sit under the over-arch of a creator economy. Creating and using those tools is part of the metaverse's creator economy.
Metaverse Vs Web 3.0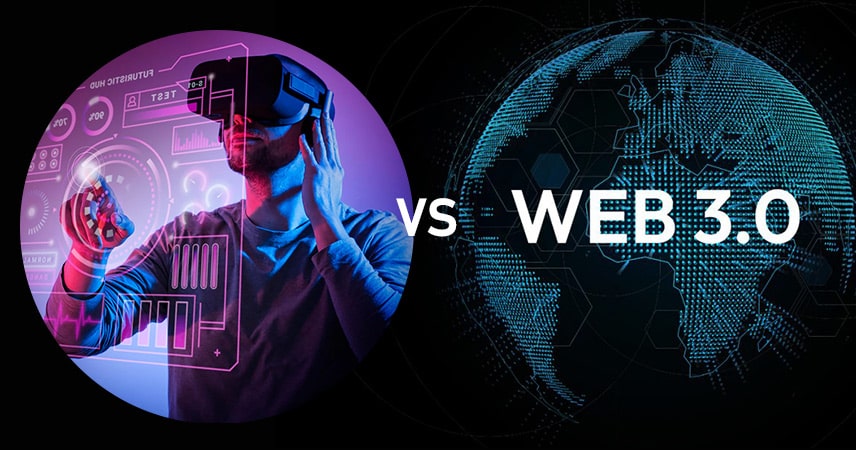 The most significant difference between web3 Vs metaverse is that you can use Web3 to access the metaverse. Web3 is about control and decentralized ownership, putting the web in the hands of its users and the community. In contrast, the metaverse is a shared digital reality where users can connect, build economies and interact in real-time, and it doesn't matter who owns it.
Web3 is built on blockchain and cryptocurrencies, while the metaverse takes the help of technologies such as AR/VR and digital currency. That's because Web3 is decentralized and has no significant corporate influence or control.
There's also a difference in how people use the two. Web3 is the trending set of standards for how you should use and govern the internet. In comparison, the metaverse is more about gaming, social media, retail, and other virtual and digital experiences.
Future of Metaverse
With the Metaverse on its path to changing how users interact online, more and more companies are searching and working on creating ways to get involved with the Metaverse. By incorporating virtual and augmented reality, the Metaverse has generated multiple opportunities for businesses and individuals to make money online.
Tech giants such as Meta, Microsoft, and NVIDIA have the potential, talent, and resources to revolutionize the "future of social media." And what's best is that several businesses happily contribute to making the concept successful.
Although some of the world's most powerful and influential companies investing massively in metaverse projects, it would be false to claim that the hype has been fully sustained.
According to recent reports, Meta shares are down 62% this year, and the company's Horizon Worlds game is failing to live up to expectations. Dencentraland's MANA token is off 81% year-to-date, and the active user bases of several platforms are being questioned.
So, the predictions for the near future remain rosy for metaverse investors. Gartner predicts people will spend at least one hour a day in the metaverse by 2026. But only some are confident that everyone can spend long periods in virtual environments without feeling uneasy.
Top Companies Investing In the Metaverse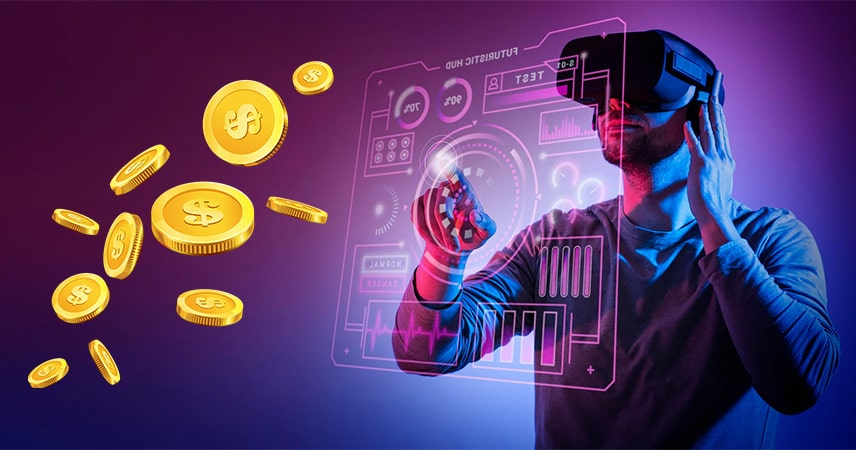 Although many are still not sure about how to describe the metaverse and dismiss the idea of it as a fad, there is an early mover advantage for being early on a technology trend! At least, it seems that way, looking at various corporations and tech giants investing millions in building their capabilities and platforms for the Metaverse. According to statistics, more than $120 million have been invested in building out metaverse technology in the first five months of 2022. Wondering who these investors are? Here is my other guide on how to buy land in the metaverse. Below is the list of the top 5 companies investing in the metaverse.
1. Meta
The future of social media and 3D interaction tops the priority list for Facebook. Undeniably, no company has more riding on the Metaverse than Meta, and it goes beyond the change of name. Facebook is investing billions and hiring 1,000 people in EMEA to bring their vision of our future online social interactions to life. They own some of the greatest assets and infrastructure to deliver on this vision:
Horizon Worlds
Research teams for the development of new technology in the future of blockchain, AR/VR, human-computer interaction, crypto, speech recognition, etc.
Meta Quest 2 – the most popular VR headset.
2. Microsoft
Surprisingly, Microsoft is the leader when it comes to the top 10 companies holding metaverse-related patents over the past 5 years. We're sure you must have heard of Minecraft. It is one of the most popular games among teenagers and children. Microsoft created that. Minecraft had 141 million active players in 2021 and is one of the most viewed categories of videos on Youtube. Moreover, they're the developers of Hololens, the most advanced mixed-reality headset. Today, it is used by enterprise clients and the US Army and owns Mojang studios.
3. Epic Games
Epic Games is another one of the companies well-positioned as a major player in the metaverse. According to the statistics, in April 2022, Epic Games announced raising $2 billion (at a $31.5 billion valuation) to invest in the Metaverse and build the future of digital entertainment. The company also owns Fortnite, one of the most popular multiplayer games, Rocket League, Fall Guys, and the Epic Games Store. These titles attract millions of players for immersive experiences.
4. NVIDIA
Everyone knows that NVIDIA graphic cards are the best that there are. But that's not all that makes it one of the biggest companies in the world. In the previous year, the company announced the launch of Nvidia's Omniverse, "an easily extensible platform for 3D design collaboration and scalable multi-GPU, real-time, true-to-reality simulation". In January 2022, the company also announced that it would grant free licenses to creators, artists, and developers who will help build virtual worlds in the metaverse.
5. Google
How can one expect another one of the largest tech giants to stay out of the trend? Although Google is not synonymous with the metaverse, the company has already invested billions in the future of VR, AR, XR, and 3D content in the cloud. Moreover, they're yet to discover the full scale of plans in this space, but there are rumors about the relaunch of Google Glass and new consumer devices.
Conclusion
Now that you're familiar with the best metaverse companies, you know which metaverse leaders to shake hands with or look up to. Moreover, one thing is clear with these tech giants investing so heavily in the metaverse market: people's hopes have risen. There's no looking down from here, and expectations are high. The only thing to do now is to wait and watch how and when these companies are able to get us to witness the creative, immersive, and marvelous virtual experiences in the coming future.
FAQ's
A) What Companies are in the Metaverse?
Tech giants like Facebook, Amazon, Microsoft, and Google have their own virtual worlds. Therefore, they already have a competitive edge over the other metaverse companies in the market.
B) What Companies Invest in the Metaverse?
Tech giants like Amazon, Alphabet, and Linden Labs, creators of the first immersive virtual platform Second Life, Meta, Epic Games, and Microsoft, are investing heavily in creating their metaverse platforms.
C) What Company Owns the Metaverse?
No one owns the entire metaverse. Metaverse is not a real physical world or thing that you can own. It is a virtual 3D, digital or virtual world open for everyone to participate. Different people or teams create different metaverses.
D) Who are the Big Players in the Metaverse?
Meta currently dominates the metaverse market, followed by Decentraland. It is one of the most well-known metaverses right now, as it hosted around 300,000 monthly active users at the end of last year. Other metaverse companies that can be called the leading players are Epic Games, NVIDIA, Google, Microsoft, Apple, Snapchat, etc.