Android 11 Vs Android 12 | From the beginning, Android has always been about personalization, letting you choose the device, service, and experience that best suits your needs. Android has grown to over 3 billion active devices worldwide by offering an open ecosystem that gives you options.
Android 12 builds on everything you love about Android, focusing on creating a truly personal phone that adapts to you, creating an operating system that is secure by default and private by design, and improving the interoperability of all your devices.
Although not every phone has joined the group yet, there are a number of new features of android 12 that will entice users to switch to Android 12. If you can't wait for Google's new operating system to arrive on your smartphone, you can now download and install the Android 12 developer preview.
Today, we'll look at what's new in this version of Android, as compared to Android 11. In this article, you will get a clear idea about the difference between android 12 Vs android 11. You might be interested to know the how to create an android app.
Android 12: Overview of Android New Version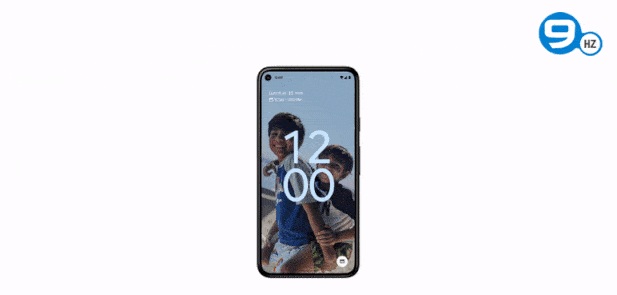 Android 12 demonstrates how far mobile software has progressed since its debut. Android, which began as a challenge to Apple's iOS at the dawn of the modern smartphone, has since developed into its own. To the displeasure of many, Google has recently abandoned the public dessert codenames in favour of focusing on developing Android a more mature operating system. This is quite evident in Android 12.
But, with Android 12, Google has also taken one of the operating system's key ideas to its logical conclusion. Android has been all about customization and making the phone feel like yours since its inception. In comparison, Apple's unified vision for iOS has only recently incorporated some more personalization tools and features in ios 13, iOS 14, and iOS 15.
Google revamped the entire operating system from the ground up this year with the new Material You design language. This new direction, a development of the Material Design we've seen over the last few years, focuses on you and adapts its color palette to your wallpaper. But Android 12 is more than just a nice face. Google, too, has taken a stand on privacy.
Now that we know what Android 12 is all about, let's find out when it will be released and what new features it will have! Here is an ultimate listing of android app development companies for your next app development project.
Android 12 Release Date
Android 12 was released publicly on October 4, 2021, through the Android Open Source Project (AOSP), and supported Google Pixel devices were released on October 19, 2021. Android 12 became accessible for previous Pixel phones, though the company hasn't provided an official compatibility list.
Then, later this year, devices from Samsung, OnePlus, Oppo, Realme, Tecno, Vivo, and Xiaomi will receive Android 12.
It will be left to devise manufacturers to get Android 12 to your phone, which can take months, so don't be surprised if your specific smartphone doesn't support the upgrade until 2022.
Meanwhile, the new software is now available in beta for certain devices, including phones from Oppo, Nokia, OnePlus, Xiaomi, ZTE, Asus, TCL, and iQOO – as well as a slew of Pixel phones.
Android 12 What's New?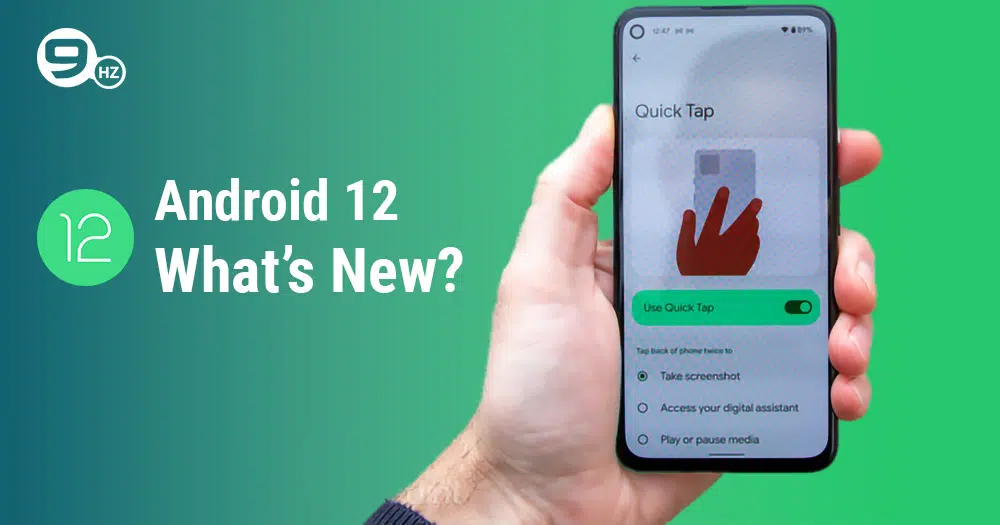 Android 12 is currently available for some phone brands officially. It provides a slew of enhancements. As previously said, the new version focuses on a new UI that adapts to you, which Google refers to as Material You. It also contains several of the new features mentioned by Google at I/O. There are also several feature upgrades that increase the functionality, stability, and performance of android 12. Here are some of them.
1. Material You
Android phones have always been known for their customization, allowing you to choose the device, service, and experience that is best for you. As a result, the OS now has more than 3 billion active devices worldwide. Now, Android 12's new UI builds on everything you love about Android and focuses on creating a profoundly customized phone that adapts to you.
"Android 12 includes the most significant design update in Android's history," according to Google. As a result, Android 12 is more expressive, dynamic, and personalized than ever. When comparing Android 12 versus Android 11, it's worth noting that the new UI allows you to totally customize your phone with a custom color palette and redesigned widgets.
2. Fluid motion
With Android 12, your phone responds to your touch swiftly and smoothly, with smooth motion and animations. For example, when you dismiss your alerts on the lock screen, your clock will get larger, letting you know when you're up to date. Google has also reduced interactions and redesigned the entire underlying infrastructure to improve the fluidity and efficiency of your experience. As a result, your device will be faster and more responsive, with improved power efficiency.

3. Android 12 is more Personalized
Google employs color extraction, which decides which colors are dominant, which are complementary, and which simply look good. while selecting a wallpaper It then applies those colors to the entire operating system, including the notification shade, lock screen, volume controls, new widgets, and much more.
4. Revamped notifications
Google is updating the look of notifications in Android 12 to make them more modern and functional. When you tap on notice, it will transport you directly to the app icons or action you want to perform, rather than through an intermediary provider. According to the android app developers blog post, this should make everything faster.
In addition, Android 12 introduces a new button that allows you to snooze unimportant alerts for a set period of time. You may also enable adaptive notifications ranking, which allows Android to reorganize your alerts based on how you interact with different google apps, and reset the ranking if you don't like it.
5. Privacy Dashboard
When comparing Android 12 vs Android 11, one of the most noticeable additions of Android 12 is a Privacy Dashboard, which provides users with greater visibility into the data that apps access. The new Privacy Dashboard provides a unified view of your permissions settings as well as what data is being accessed, how frequently, and by which apps. Furthermore, you can ask an app for information on why it accessed sensitive data.
Launch Your Android App in Less Than 4 Weeks
Request A Free Quote
1200+ Projects Delivered 12+ Industry Experience 450+ Clients Worldwide 200+ Certified & Expert Programmers
6. Approximate Location
Apps can now be restricted to seeing only your approximate position rather than a precise one thanks to new approximate location permissions. Weather apps, for example, do not require your actual location to provide an accurate forecast.
7. App Hibernation
App Hibernation allows users to put apps in a "hibernation" mode while they are not actively being used. Notably, hibernated programs' storage use will be optimized, and their permissions will be withdrawn.
8. Android TV remote
If you're a part of the Android ecosystem, you may use an Android TV device in addition to your phone, and Android 12 now includes a built-in control for Android TVs. The function is compatible with Chromecast with Google TV and TVs that have Android TV integrated into it, and it provides basic software controls, access to Google Assistant, and volume controls.
Previously, you had to install an app to use your phone as a remote for your Android TV, but that will no longer be necessary.
9. Scrolling Screenshots
Google is delivering a feature that third-party manufacturers have previously highlighted – scrolling screenshots. With Android 12, you can now show more content in a single screenshot. If you want to capture a long Twitter thread, for example, use the new "capture more" button that appears when you snap a screenshot.
10. Smoother Autorotation
Google is also working to improve a simple feature known as autorotate. With Android 12, the operating system will now attempt to keep itself aligned by using your face. This use case is intended for those who use their phones while lying down or in bed, and Google says it will not store any photographs acquired using this way since it will employ its "Private Compute Core" system to keep everything private.
11. Faster Mobile Game Downloads
With the company's new "play as you download" function, gaming on an Android device will become faster. Android 12 enables players to be able to start a game while it is downloading, similar to how you can do on some consoles, according to an announcement made at the Google Games Developers Conference.
12. Better Integration with Chrome OS
You can currently use Nearby Transfer to share photographs between a phone and a Chromebook, but Google is attempting to remove some of the friction. According to Google, Chrome OS's Phone Hub will be expanded to include a new feature that will allow you to view google photos on your phone without having to wait for those photos to upload to the cloud. This feature is powered by Wi-Fi Direct.
Want to Launch Your Own Android App?
Request A Free Quote
1200+ Projects Delivered 12+ Industry Experience 450+ Clients Worldwide 200+ Certified & Expert Programmers
13. Haptic Feedback Coupled with Audio
This feature is most likely familiar to you from gaming consoles. You can feel it as your controller shakes in response to a screen explosion. This capability is built-in to Android 12. When things happen on the screen, game makers can make your phone vibrate. There are other non-gaming applications for it as well, such as synchronizing vibration with custom ringtones.
14. Easier Wi-Fi sharing
This is a somewhat small new feature. The QR code approach is still available, as it was in prior Android versions. However, a little button has been added below that allows you to use Nearby Share to give your Wi-Fi credentials to someone else's phone. It's faster when sharing with numerous people and eliminates the need for you to hold your phone up for everyone to scan.
15. Rich content insertion
This modest yet entertaining function is new in Android 12. It's an API for developers that allows their programs to transfer media between them. You will be able to copy and paste an image from one app to another. It should also function with text that has been marked up (bold, italic, etc.), videos, audio files, and other media. It would eliminate the need for a middleman when exchanging photographs from one app to another.
16. Quick Tap
Following in the footsteps of Apple's Back Tap gesture in iOS 14, Google has added a new Quick Tap function in Android 12. You can launch an app of your choosing, manage media playing, take a screenshot, list recent apps, and activate Google Assistant with a simple double-tap on the back of your phone.
17. Direct share in the Recents overview menu
In Android 12, the rapid image sharing feature from the Recents overview menu has been enhanced even more. When you drag and drop photographs from Instagram, a Chrome web page, or other comparable apps, a list of your recommended contacts appears at the bottom for quick and easy sharing. This streamlines and simplifies the process of sharing material from the Recents overview.
18. Dim the Screen
If you find your phone's screen brightness to be too bright even at the lowest level, Android 12 includes a new Extra Dim option that dims it even further. This is ideal for anyone who frequently stares at their phone's display in a dark room, as the extra-low brightness will reduce eye strain.
19. Conversation Widget
Google revamped widgets in Android 12 and included a useful Conversation widget to go with it. Regardless of the app you use, the widget will allow you to access your most frequently used conversations with a single press.
Android 11 Features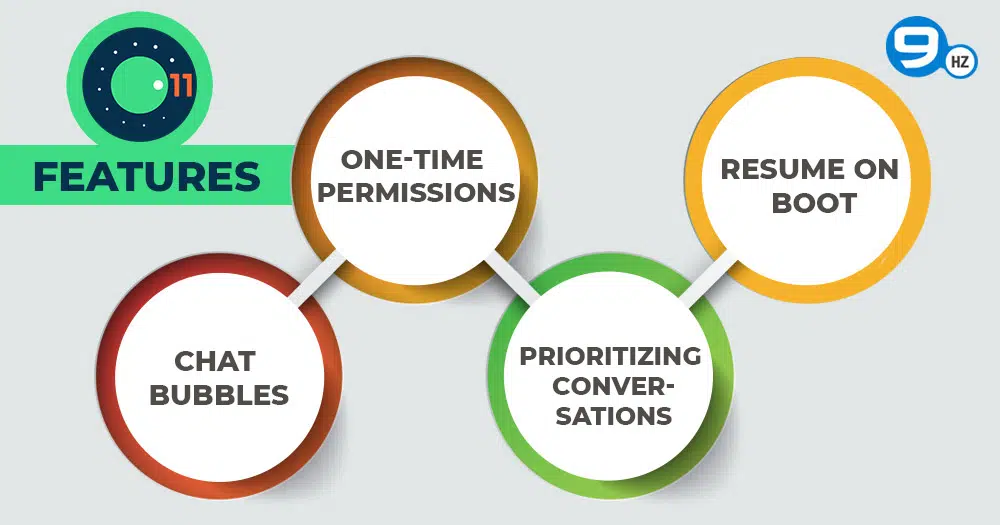 The 2020 version of the Android operating system, known as Android 11, was released in the summer of that year for Google Pixel phones. It has since found its way to other brands' flagships, including Samsung, OnePlus, and others.
There are numerous minor upgrades as well as new features oriented toward developers rather than the casual user. The following are the most significant changes that every user should be aware of.
1. Prioritizing Conversations
Communication and messaging apps have been prioritized in Android 11. From the notification shade, you may swiftly read and respond to messages from many google apps. You may also 'Star' essential conversations so that they appear on the lock screen even if they are in do not disturb mode. There are two types of notifications: alerting notifications and silent notifications, and you can select which ones should remain active.
2. Chat Bubbles
With the new version, you can pin chats to the top of the list at all times. This allows you to multitask while keeping the dialogue going in the form of bubbles. To enable this feature, simply find the thread in the notifications and long-press it. Then, choose whether or not to use the chat bubble. This option is compatible with the most popular communication apps on your phone.
3. One-Time Permissions
You can now grant apps permission to access device locations only once. This way, you don't have to allow applications lifetime access to phone status information, and they must ask for permission to use it each time they are used. There is also the option to reset permissions on your apps, which allows you to delete permissions from all apps that you haven't used in a long time. You will also be notified when something occurs so that you can keep track of it.
4. Resume on Boot
This feature allows programs to access Credential Encrypted (CE) storage after an OTA reboot without requiring the user to first unlock the device. In layman's terms, this means that the apps can immediately resume normal functionality and receive messages. Learn more about android 11 features.
Key Difference Between Android 11 Vs Android 12 Features
| No. | Android 12 | Android 11 |
| --- | --- | --- |
| 1. | Android 12New Lock Screen | Android 11Improved Messaging Notifications. |
| 2. | Android 12A New Theming System | Android 11"Chat Heads" Style Feature For Messaging Apps |
| 3. | Android 12Quick Settings Visual Overhaul | Android 11Easier Access To Google Pay |
| 4. | Android 12More Compact Notification Shade | Android 11Quick Access To Smart Home Controls |
| 5. | Android 12New Settings Menu | Android 11Approximate Location Permissions |
| 6. | Android 12New Privacy Dashboard | Android 11Permissions Expire For Unused Apps |
Other Android 12 Features to Have A Look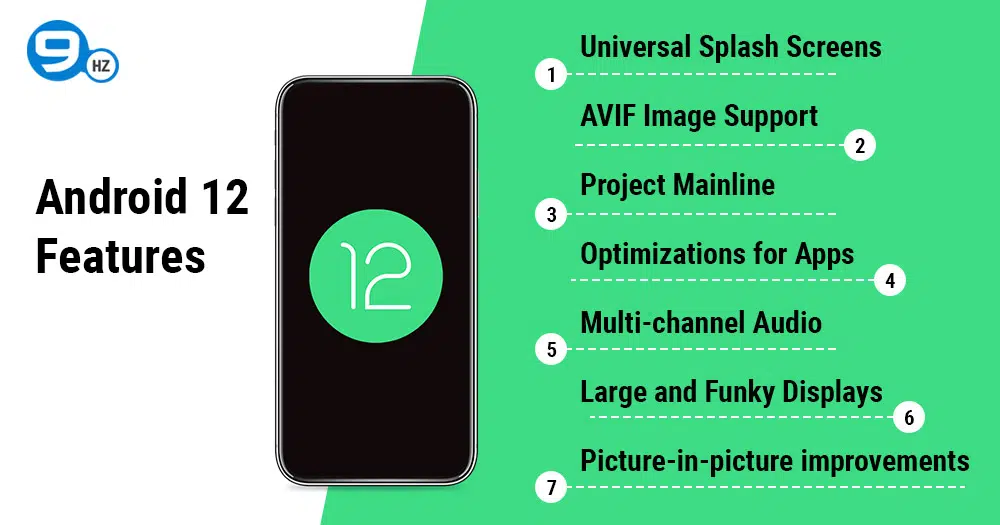 HEVC media transcoding: Apps that do not support HEVC can be transcoded into AVC, a more widely available video compression format, by Android 12.
Universal Splash Screens
Material You significantly improved the cohesion of the Android experience. Part of that involves automatically displaying a splash screen for every program, regardless of whether the developer supports it or not. If developers choose, they can change the splash screen.
AVIF Image Support
AVIF is an image codec, similar to PNG and JPEG. It guarantees the same quality as JPEG but with much-reduced file size. It employs the AV1 codec, which was initially introduced in Android 10.
Project mainline improvements
Google announced that ART would be included in Project Mainline and made accessible for download via the google Play Store. Other modules are being added as well.
Optimizations for apps
Other app optimizations include Google preventing background programs from launching foreground services. There are also changes in latency and task allocation that could increase performance.
Multi-channel Audio
MPEG-H passthrough and offload are now supported in Android 12. Audio mixers, resamplers, and effects now have a total channel count of up to 24.
Optimizations for large and funky displays
Essentially, Android 12 features improved compatibility for devices such as televisions, foldable screens, and tablets. Notably, Google is also working on a version of the operating system centered on this, dubbed Android 12L.
Picture-in-picture improvements
Smoother transitions and enhanced controls depending on what content is in the picture are some of the enhancements to picture-in-picture mode.
Android 12 Compatibility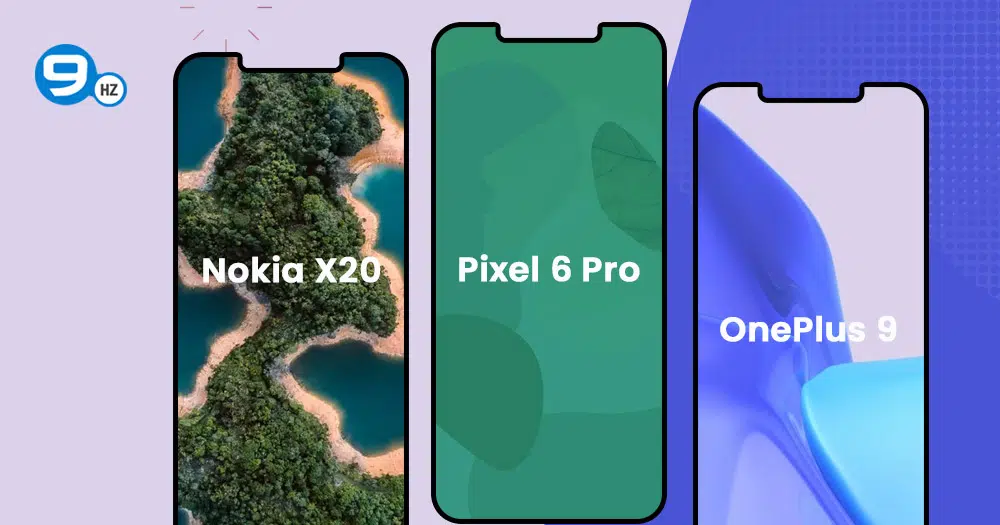 Android 12 will most likely be available to the majority of phones, though some may have to wait a while. Given that the Pixel 3 and 4a versions support the beta, it's almost certain to touch every recent Pixel handset, most likely starting with the Pixel 3 and progressing to the forthcoming Pixel 6 and Pixel 6 Pro.
In terms of the beta, we can look at the list of compatible phones to get an idea of which phones will be first in line for the finished Android 12. These are their names:
Pixel 6 and Pixel 6 Pro
Xiaomi Mi 11 / 11 Ultra
Xiaomi Mi 11i / 11X Pro
TCL 20 Pro 5G
Vivo iQOO 7 Legend
Sharp Aquos Sense 5G
ZTE Axon 30 Ultra (only Chinese models)
Pixel 3 to Pixel 5 (including XL and A-series phones)
Oppo Find X3 Pro
Nokia X20
OnePlus 9 / 9 Pro
Asus Zenfone 8
Realme GT
Tecno Camon 17
We anticipate that all of these will be included in the final Android 12 release, and most likely pretty soon (with the Pixel phones getting it on day one). However, major recent handsets such as the Samsung Galaxy Z Fold 3 and Z Flip 3 are certain to do so, as are most lower-end and less popular phones if they are current.
Google has stated that Android 12 will be available this year for devices from Samsung, OnePlus, Oppo, Realme, Tecno, Vivo, and Xiaomi.
Android 12 Performance And Efficient Power
Android 12 will be more power-efficient. Google claims that it will cut CPU time for core system services by up to 22% and the utilization of large cores by the system server by up to 15%, resulting in longer Android 12 battery life. With Android 12, smartphone touch responses will be more intuitive and faster. The user interface will have fluid movements and animations. With the new OS, Google Assistant will be easier to use. Android users will be able to summon the digital voice assistant.
Review: Android 12 Vs Android 11
With all of this, Android 12 is a significant release with a completely new look and a strong emphasis on privacy. Google went all out to make the new version more appealing to more users, particularly with the Material You theming system. Google intends to release additional Android 12 features this year, particularly for Pixels. We're already looking forward to Android 12L, which will include an optimized UI for foldable phones and tablets.
So to get the best possible outcomes and develop future-ready applications, Hire Android app developers or Android app development companies who consider these features and develop applications accordingly to give users a next-level UI and UX experience.