The NFT marketplace for photography is known to have boomed since the last year, i.e. 2022. And now, even more, is expected from the NFT market in 2023. With millions of dollars worth of artworks processed, it goes without saying that an increasing number of individuals (both nft photographers, collectors, and investors) are interested in this digital NFT market.
Today, ample artists across the world are interested in creating their own photography collections on photography NFT marketplaces like OpenSea, Nifty Gateway, Foundation, and other NFT marketplaces. This has led many people to research the best marketplace to sell, mint, and invest in digital artwork. Many NFT Marketplace development services providers offer a wide array of NFT solutions to cater to all your requirements in this booming industry.
But before we dive into the list of best photography NFT marketplaces, let's understand what exactly is NFT photography and how does it work?
What is NFT Photography?
NFT (Non-Fungible Tokens) photography is a verifiable asset that is easy to trade on the blockchain system. Non Fungible Tokens transform digital art and other collectibles into one-millionth shares in a company worth billions.
This means nft photographers can upload their pictures to an NFT photography marketplace and sell them on the blockchain. On the other hand, investors and collectors, once they buy photography NFTs, can own and store them in a virtual gallery. They can even resell them in the future and earn profit out of it.
Want to Launch Your Own NFT?
Request A Free Quote
1200+ Projects Delivered
12+ Industry Experience
450+ Clients Worldwide
200+ Certified & Expert Programmers
NFT photography is the same as stock photography. The only difference is that the cryptocurrency exchange market is involved, and both parties, the creators and the investors, can benefit financially.
In the digital world, selling your digital artwork online on nft sites as a creator is more beneficial than curating in an art gallery. Likewise, investing in the NFT collection has become more common than buying physical pieces like hardcopy photos and wall paintings.
15+ Best Photography NFT Marketplace
| NFT Marketplace | Blockchain Support | Fees | Wallet Support | Currency Support | Exclusivity | Royalties |
| --- | --- | --- | --- | --- | --- | --- |
| NFT Marketplace OpenSea | Blockchain Support Ethereum, Polygon, and Klaytn | Fees 2.5% | Wallet SupportMetaMask, Trust wallet, Fortmatic, and more | Currency SupportEthereum (ETH)/WETH, USDC, and DAI | ExclusivityOpen | RoyaltiesCustomizable (Up to 10%) |
| NFT Marketplace Quantum Art | Blockchain Support Ethereum | Fees Unknown | Wallet SupportWalletConnect and WalletLink compatible wallets | Currency SupportETH | ExclusivityApplication required | RoyaltiesUnknown |
| NFT Marketplace Foundation | Blockchain Support Ethereum | Fees 15% | Wallet SupportWalletConnect compatible wallets | Currency SupportETH | ExclusivityInvite-only | Royalties10% |
| NFT Marketplace MakersPlace | Blockchain Support Ethereum | Fees 15% | Wallet Support MetaMask and Civic | Currency SupportETH and credit card | ExclusivityInvite-only/ Application required | Royalties10% |
| NFT Marketplace SuperRare | Blockchain Support Ethereum | Fees 15% | Wallet Support MetaMask, Fortmatic, and WalletConnect compatible wallets | Currency SupportETH | ExclusivityApplication required | Royalties10% |
| NFT Marketplace Nifty Gateway | Blockchain Support Ethereum | Fees 5% | Wallet Support MetaMask | Currency SupportCredit card, ETH | ExclusivityApplication required | Royalties10% |
| NFT Marketplace Rarible | Blockchain Support Ethereum, Tezos, and Flow | Fees 2.5% | Wallet Support MetaMask, Torus, Mobile Wallet, and more. | Currency SupportETH, RARI, WETH, DAI, ATRI | ExclusivityOpen | RoyaltiesCustomizable |
| NFT Marketplace Unique One Photo | Blockchain Support Ethereum and Binance Smart Chain | Fees 2.5% | Wallet Support WalletConnect compatible wallets | Currency SupportETH and BNB | ExclusivityOpen | RoyaltiesUnknown |
| NFT Marketplace Portion.io | Blockchain Support Ethereum and Palm | Fees No fee | Wallet Support MetaMask | Currency SupportETH | ExclusivityOpen | Royalties11% |
| NFT Marketplace Ephimera | Blockchain Support Ethereum | Fees 10% | Wallet Support MetaMask | Currency SupportETH | ExclusivityApplication required | Royalties10% |
Best NFT Marketplace for Photographers
Let's explore every photography nft marketplace in detail:
1) Open Sea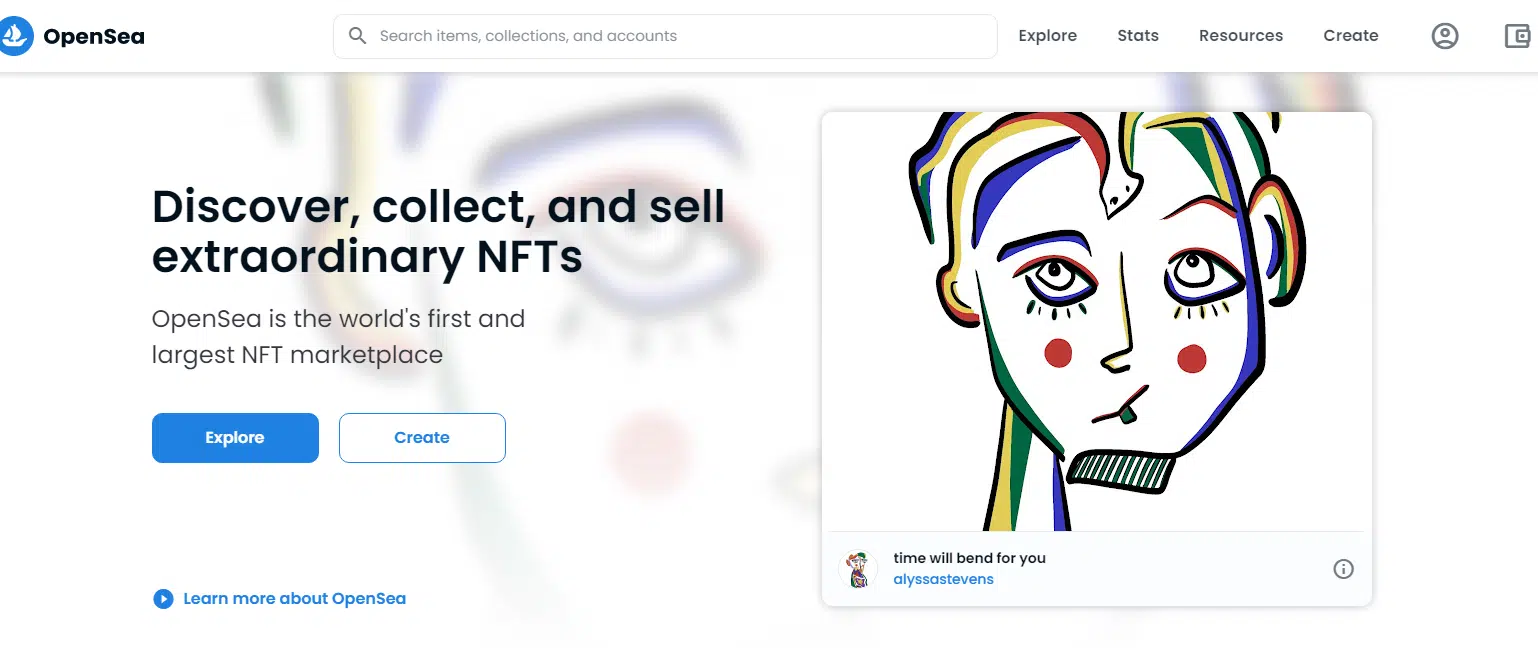 Let's start with OpenSea, by far the largest NFT marketplace with over 80 million tokens, increasing every day. But why is it so popular?
This largest NFT marketplace supports 150 cryptocurrencies and, therefore, it's easily accessible for everyone. The network's native cryptocurrency on the site is ETH, USDC, and Dai. However, more are accepted for the transactions such as UNI and WHALE. In addition, most of the crypto wallets are easily accepted on OpenSea and that is a super advantage.
Let's Discuss Your NFT Project Ideas
Request A Free Quote
1200+ Projects Delivered
12+ Industry Experience
450+ Clients Worldwide
200+ Certified & Expert Programmers
OpenSea also offers the lazy-minting feature that allows creators to publish their NFT photography for free and pay only once they sell. Thanks to this feature, you can edit the token and its description after publishing and it won't cost you anything.
Furthermore, OpenSea supports both standard and Dutch auctions. Creators are allowed to start a private, bundle, and scheduled sales, which is not allowed on other NFT marketplace for photographers. The gas fees can be 2.5% on primary sales as well as on secondary sales and up to 10% for royalties. OpenSea is one of the best photography NFT marketplace and home to other art forms like music, video art, sports, cars, etc.
2) Rarible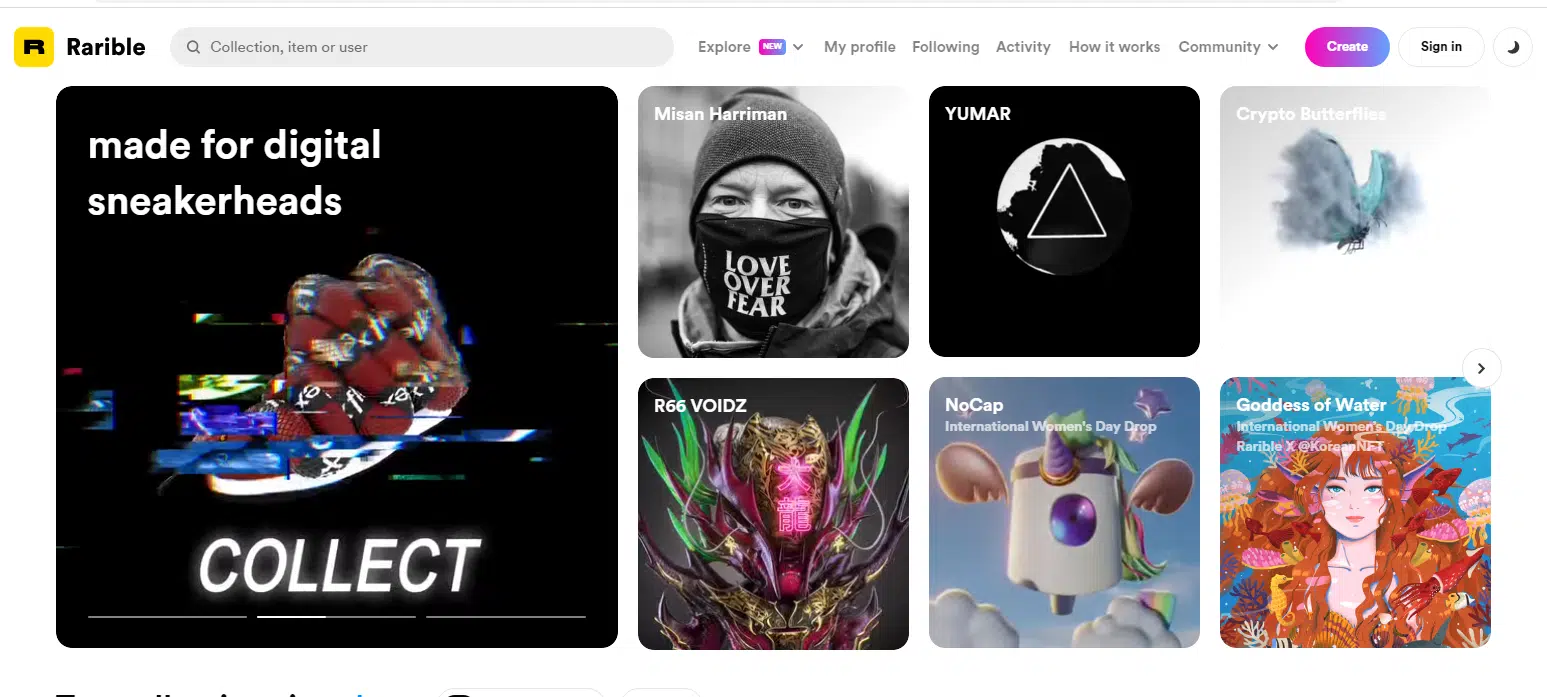 Rarible is said to be one of the best NFT marketplaces for NFT photographs that you should consider for selling your photos as tokens. This platform based on the Ethereum network accepts this cryptocurrency as well as others like Flow and Tezos. Rarible is better and is mostly known for a variety of GIFs and 2D images in NFT form.
Some serious creators even make a decent income out of their NFT photography on Rarible with tokens reaching up to 1,000 dollars and sometimes even more, totally depending on the NFT collection.
In addition to this, Rarible recently started their cost-free minting process, Lazy Minting. Now, the creators don't have to pay to mint any photos unless there is a sale. This allows artists to save money since they only have to pay if they sell their artwork.
3) Atomic Market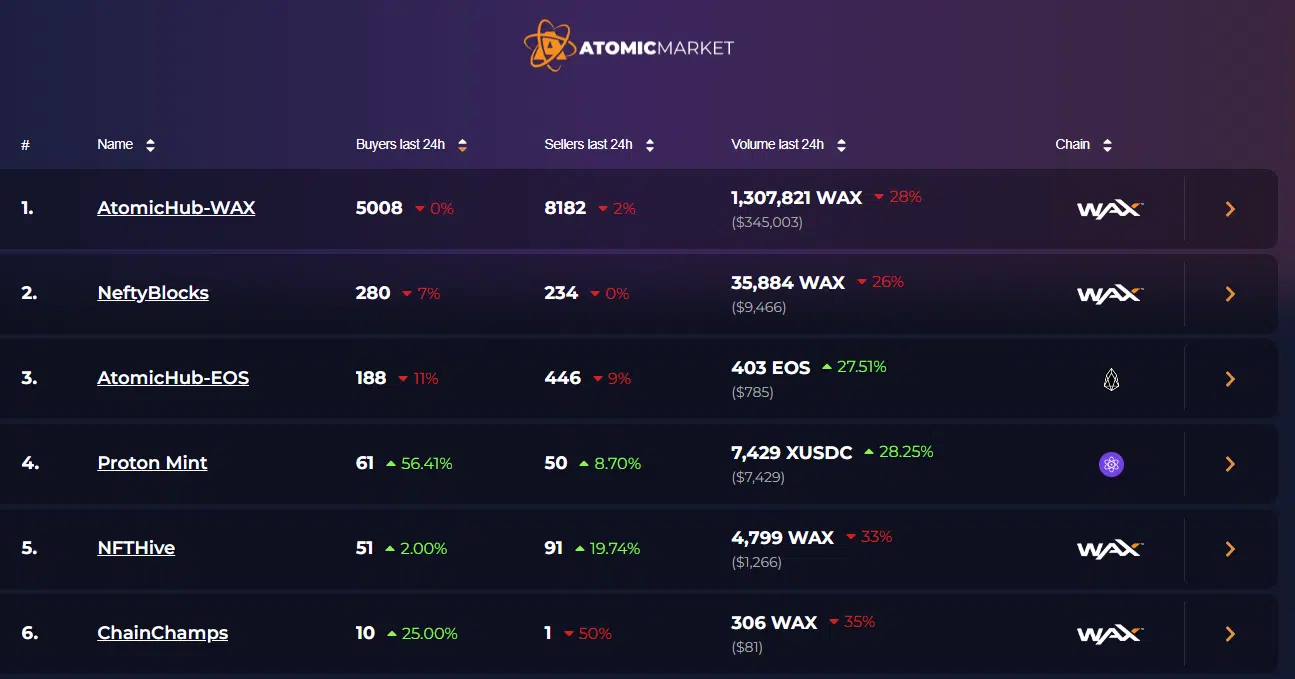 Atomic Market is a developed smart contract that offers shared liquidity in the NFT marketplace for photography and is widely used by a number of websites. This shared liquidity means everything that is listed on one market appears on all other markets too.
A marketplace for Atomic Assets is available on the eosio platform. Users of the (standard) Atomic Asset can tokenize and create digital assets. They can even buy, sell, or auction art assets through the Atomic Assets marketplace, open to anyone.
Using Atomic Market, you can list your own NFT for sale while also skimming through the existing listings. You will see a verification checkmark on NFTs from well-known collections, making it easier to differentiate them from fake NFTs.
4) Portion

The portion is another NFT marketplace for photography that allows approved artists to sell their work and keep 100 percent of the proceeds. Note, that the owner can be tracked on the Ethereum Blockchain and can be automatically transferred without any need for a middleman. Portion's established community of collectors is intriguing because of the plethora of creators and their works available on the platform.
Joining Portion as a creator entails completing an application process in which you must demonstrate your portfolio. Getting into Portion provides you with more exposure to collectors over a longer period of time than the rest of their approved creators.
5) Super Rare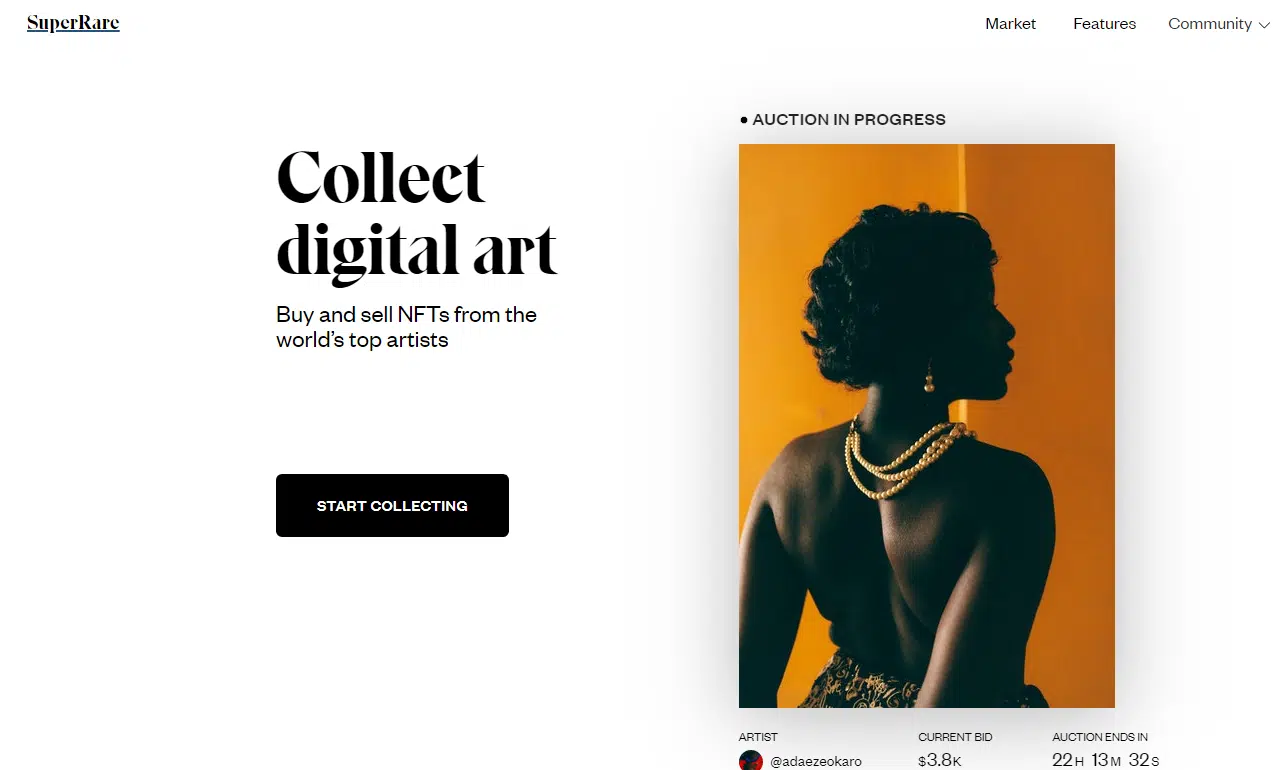 Super Rare is another NFT marketplace founded in 2018. The NFT platform primarily focuses on the authenticity of digital assets. Governed by the network of artists, creators, collectors, and curators, SuperRare onboards a small number of creative artists to maintain the platform's authenticity.
It allows NFT photography artists to submit their profiles and wait for approval from the platform. Super Rare pays all its artists a 10% royalty. It charges a 15% seller fee, which is said to be the highest fee in the NFT marketplace. The Ethereum network-based platform supports the following crypto wallets – Fortmatic, MetaMask, and Wallet Connect compatible wallets.
6) Nifty Gateway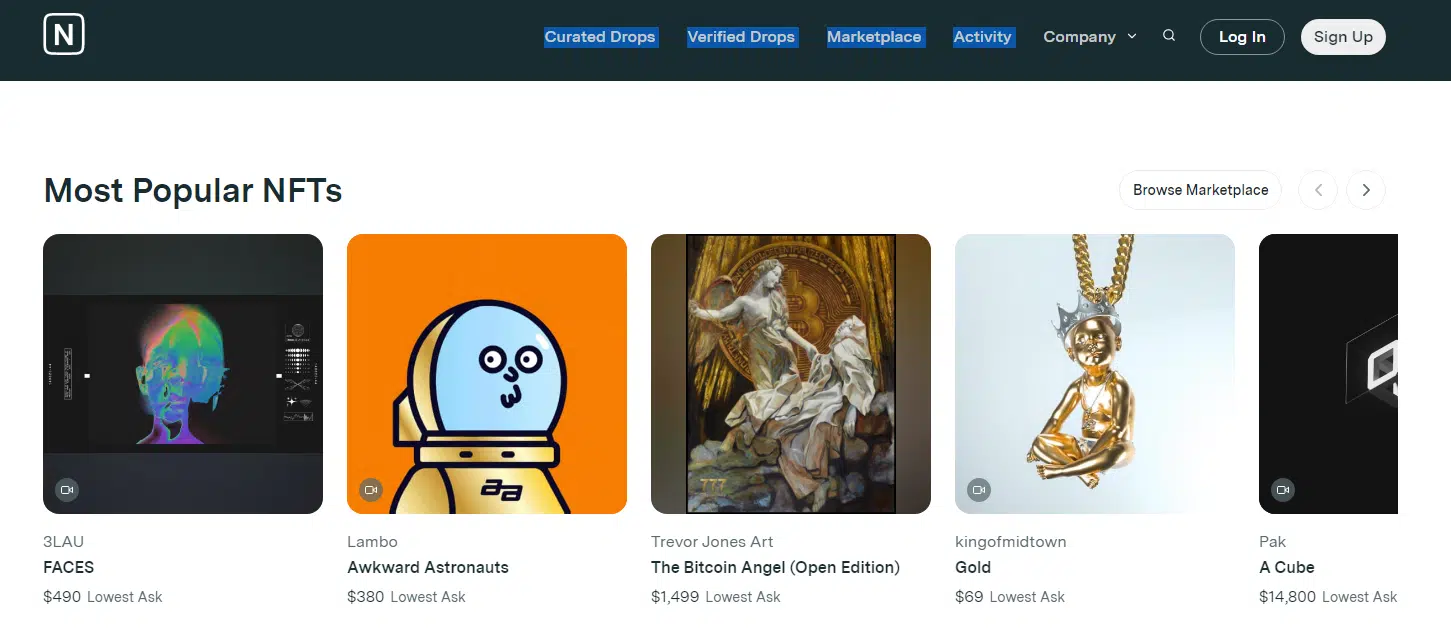 Nifty Gateway is home to some well-known creative artists who are well-known within and outside the NFT art world. To join this platform, you do not need an invite. However, you have to undergo a stringent vetting process that starts with a survey. It asks about your long-term career goals and asks you to upload a video recording, introducing yourself and the work you do.
Nifty Gateway charges only 5% in fees on the sales price and an additional 30 cents on the transaction costs. This fee is in addition to the gas fees. All artists are paid 10% of the royalty on the sales price of all secondary market sales of their artwork on Nifty Gateway.
7) Ephimera
Ephimera is a platform for buying and selling NFT photography and video art NFTs. You do not require an invite in order to join Ephimera as a creator or an artist. However, applications are only accepted at specific times, so you must follow them on social media to know about the next round of applications. If you're a buyer, the application process will be a lot simpler.
Ephimera allows you to mint only 1/1 of artworks and not editions or copies of the same artwork. However, you can create a series of thematically linked artworks.
For primary sales of an NFT, Ephimera takes 10%, and you can keep the rest. For all secondary market sales, it takes 5% and you get 10%. The work quality on this platform is quite high, so you can expect the application process to be fairly competitive.
8) Foundation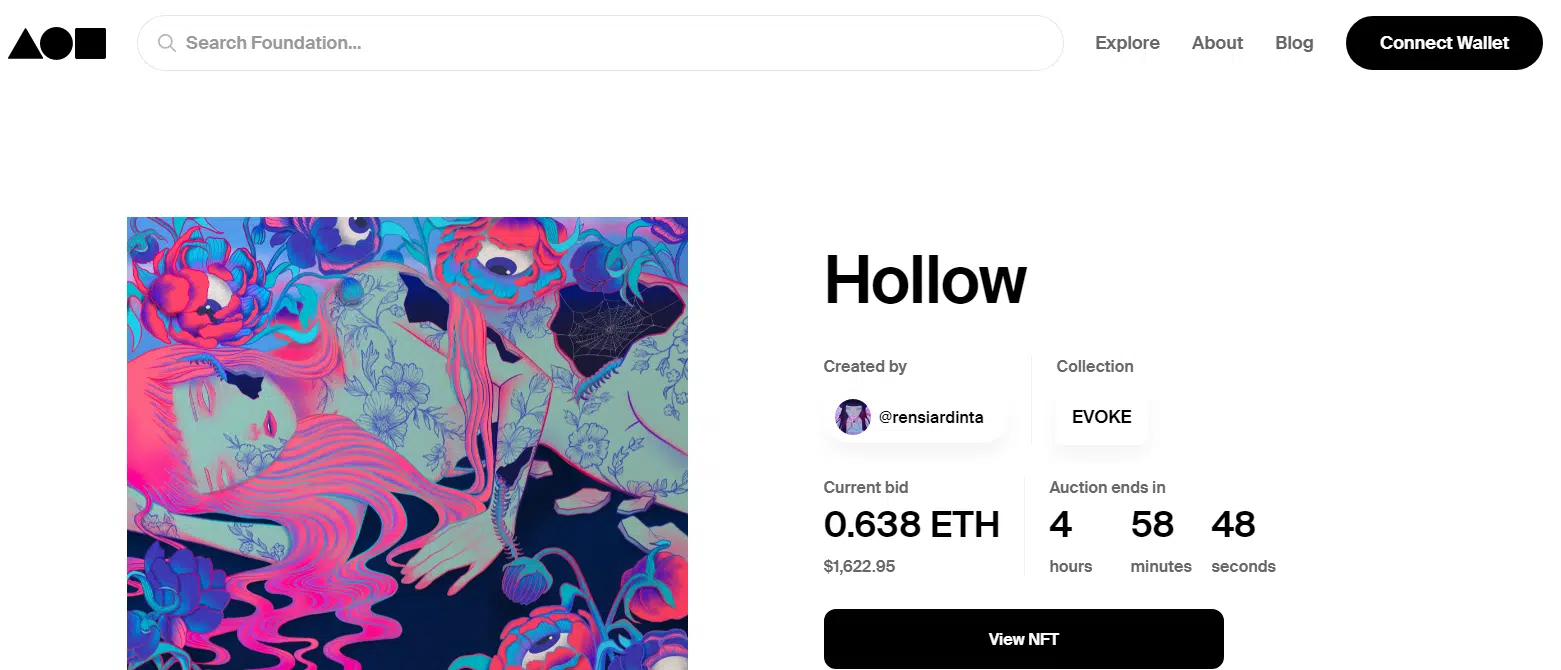 Foundation was launched in early 2021, but it has quickly gained popularity and established itself as one of the exclusive and higher-quality NFT marketplace for photography.
If you want to join Foundation, you can do that only by invite. The best way is to have friends who are already on the platform, someone who can send you an invite. To start buying NFTs on Foundation, all you need is a Meta Mask digital wallet. There are no initial fees, but you have to pay gas fee and for minting each time you create a new NFT. These costs can easily add up to 40 dollars a shot depending on current gas fee rates.
9) Hit et Nunc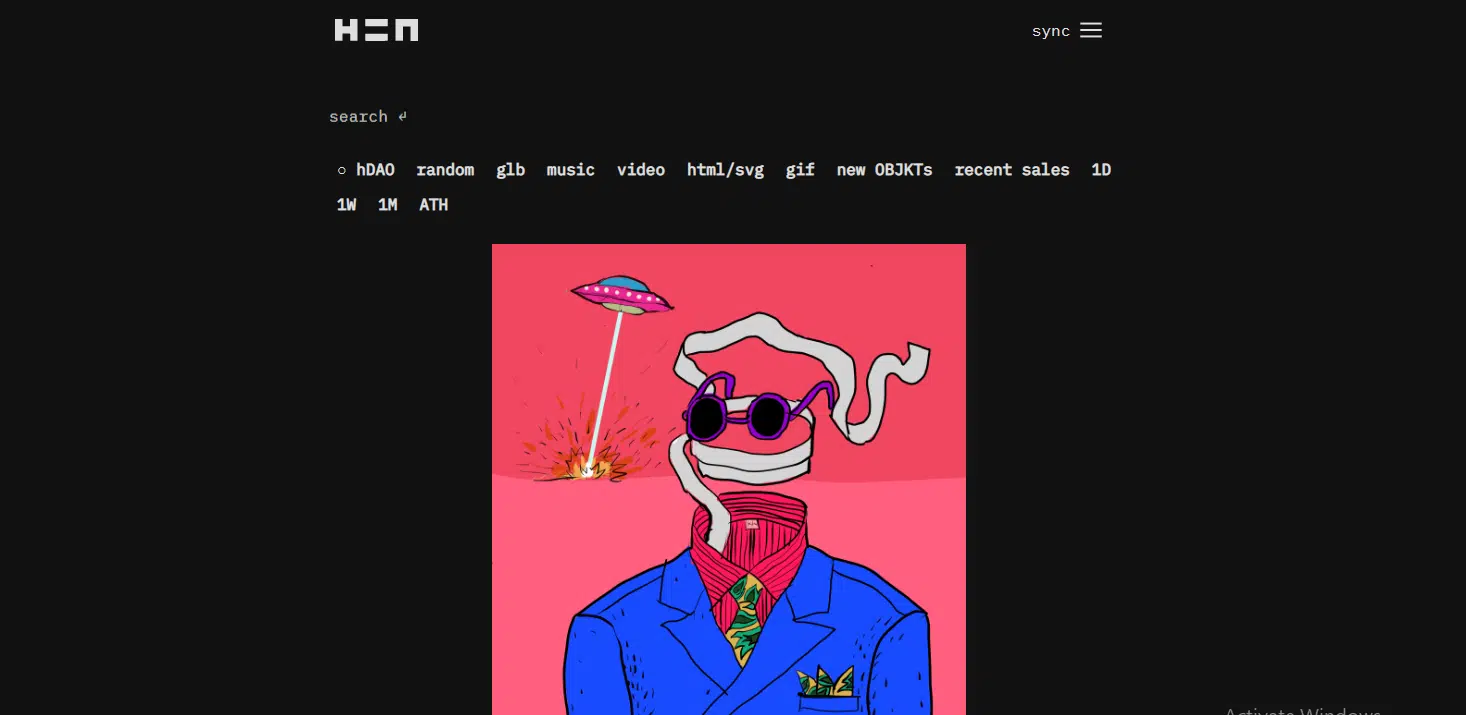 In Latin, Hic et Nunc means "here and now". It is a highly techy UI layout that even in its bare simplicity, can be confusing to non-tech folk. This techiness is reflected in the type of artwork that is available for purchase on the platform. The general quality of the artworks appears to be higher in comparison to other platforms.
You do not need an invite to join Hic et Nunc. However, the process of creating a profile is techy and some may find the whole experience a little intimidating. Unlike most of the NFT marketplaces, Hic et Nunc doesn't run on Ethereum. Instead, it uses the Tezos blockchain. Meaning, it won't work with some best crypto wallet like Metamask or any other ETH wallet.
Want to Invest in NFT Development?
Request A Free Quote
1200+ Projects Delivered
12+ Industry Experience
450+ Clients Worldwide
200+ Certified & Expert Programmers
On Hic et Nunc, the tokens are known as OBJKTS. Minting fees for OBJKTS are way lower than other NFT marketplaces: typically less than a dollar. The NFT site charges its 2.5% "maintenance fee" from the buyer and not the seller. This makes Hic et Nunc an economical site to sell from.
10) Mintable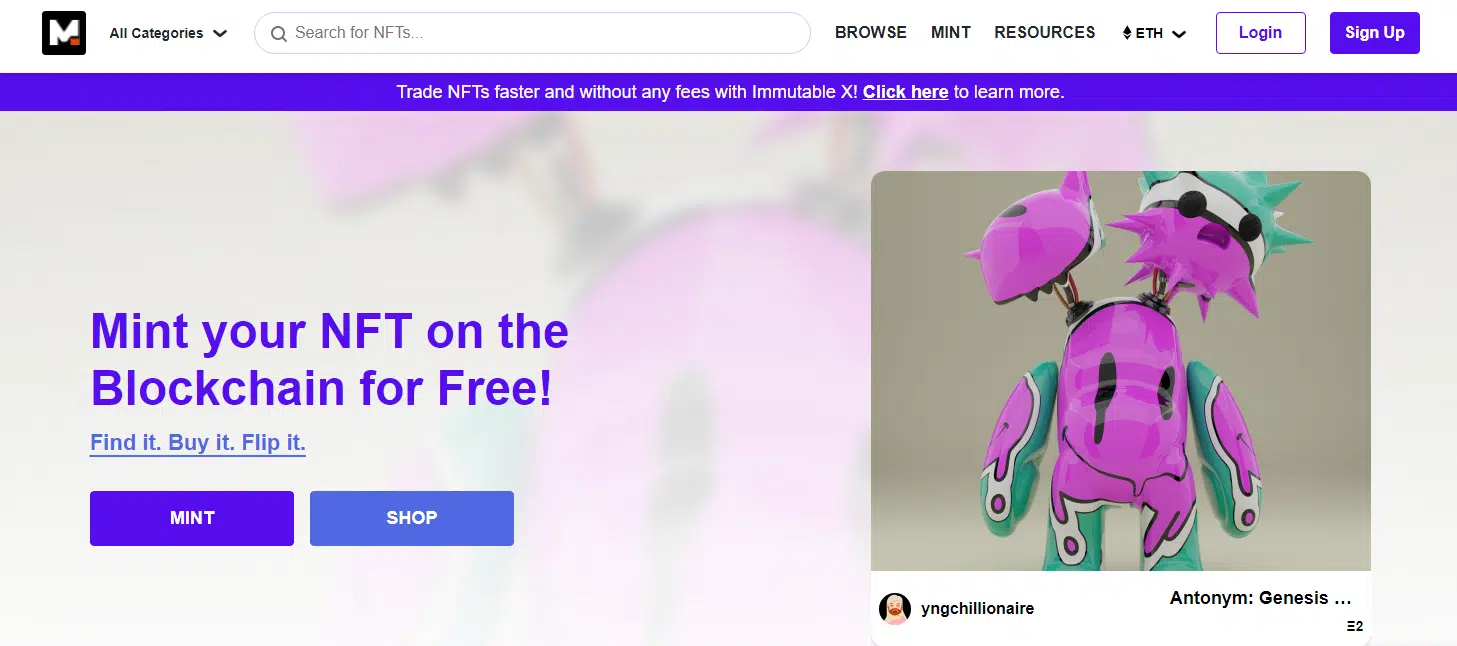 Mintable offers gasless minting, making it a cheap option. But it is recommended to create a "store", and it involves certain costs. You can then set it as a list at a "buy now" price, or set up an auction that can last anywhere between 12 hours and 7 days.
There's not much crypto-geekery here as on some other NFT marketplace for photographers, but there's a huge collection of photography on Mintable when compared to other marketplaces.
11) Quantum Art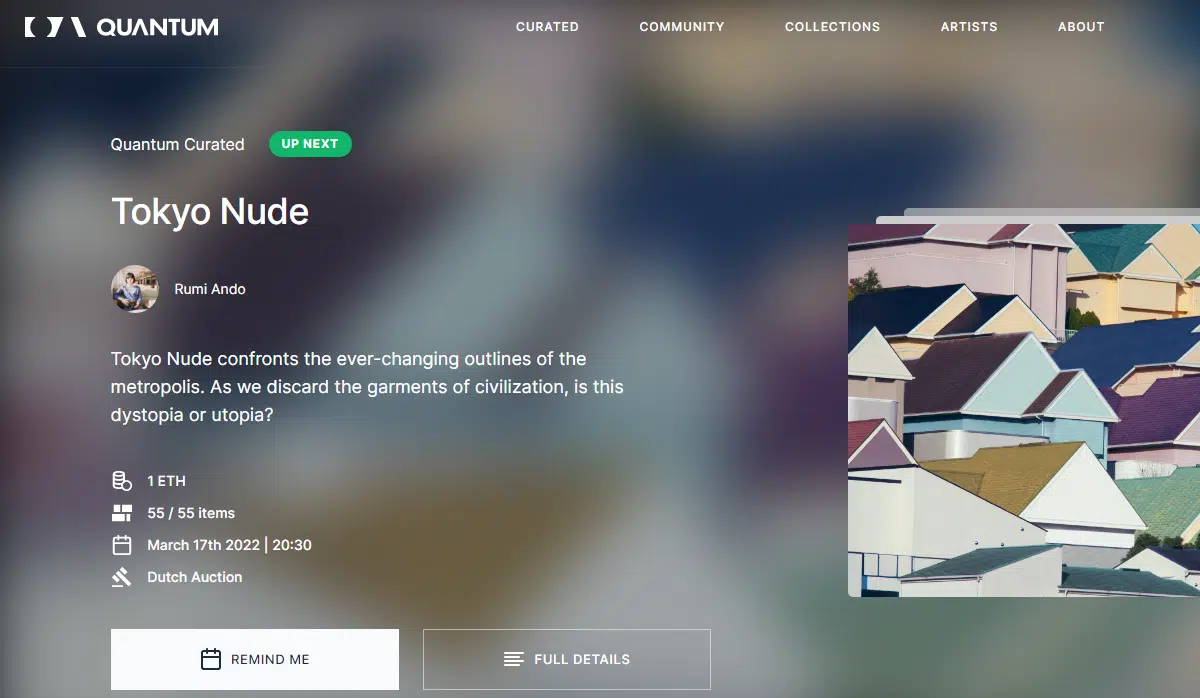 When talking specifically of the NFT photography marketplace, Quantum Art is the most reputed platform for photographers and one of the best NFT marketplaces. However, not everyone can mint NFTs on Quantum Art. Only approved artists are allowed to can do so. Currently, there are 14 registered photographers on the platform.
To get selected for selling on Quantum Art, you need to apply and provide them with the following details:
Twitter username
Your NFT photography portfolio
A project statement
Around 10 to 15 JPEGs that you want to sell
An artist statement
While this may seem a tedious process, it allows Quantum Art to remain a top-class and competitive platform in the NFT photography marketplace.
12) Know Origin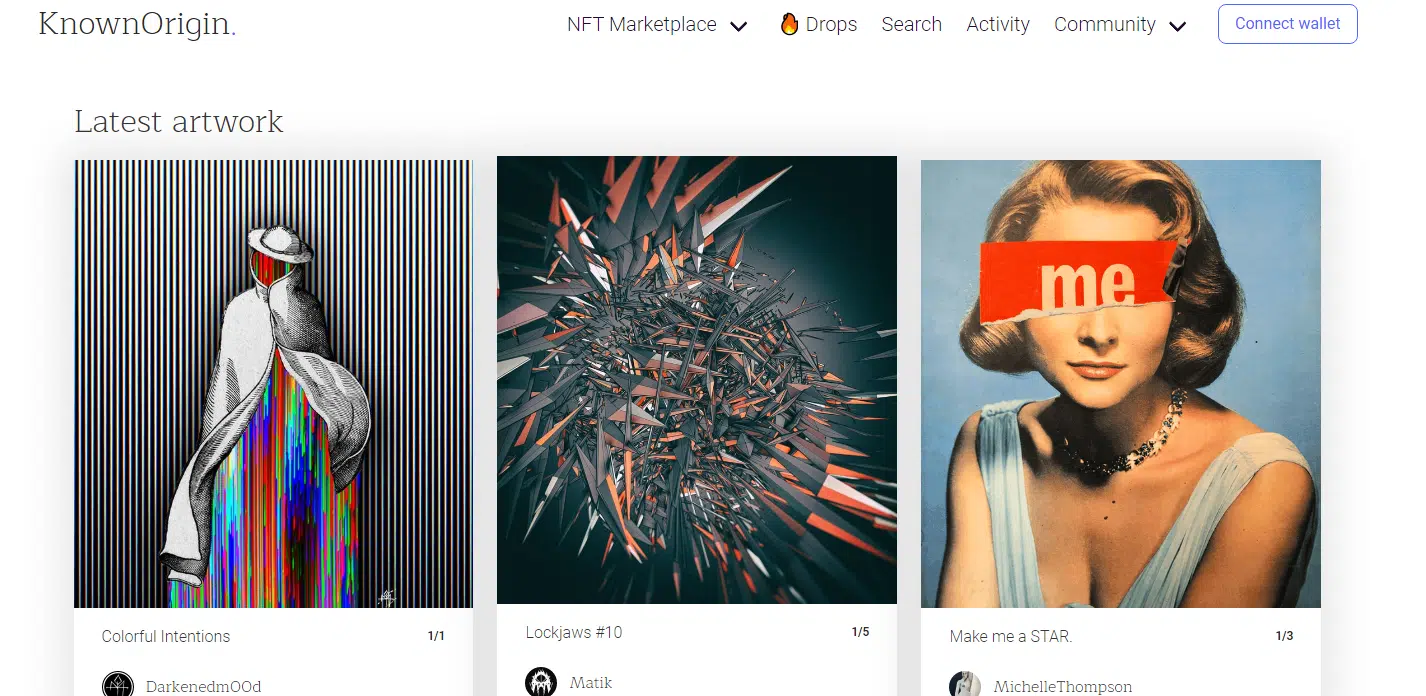 You do not need an invitation to join Know Origin. Though, if you apply for it, you will be properly evaluated on the quality and strength of your photography portfolio. A referral from any creator already on the platform is also very helpful for your application (although it doesn't guarantee acceptance).
You can list your NFTs either as "buy it now" or in an auction format. The fees at Know Origin are relatively high. It takes a 15% commission on the primary sale, and then 3% on all the secondary or future sales of the same artwork, with 10% going to you again each time the work is resold. The photography on Know Origin often departs from the usual sunsets and landscapes, but along with more "artistic" images also available.
13) Obscura


Another one of the best platforms in the NFT photography marketplace is Obscura. Although it's a small platform with only a few hundred NFTs available each year, it is indeed a unique platform. It operates every 4 months and, just like Quantum Art, they follow a process to select the photographers and the shot they wish to put on sale on the platform.
Among a huge collection of unique artwork available on the platform, you can find artistic and dramatic photos of destroyed Afghanistan, Kabul, stunning photos of the Coca plantations in Colombia.
14) Makersplace


Makersplace is an Ethereum-based NFT platform existing since 2018. For a very long time, endless artists have been sharing their artwork and their editions on the platform. You can come across photographs and tokens from unknown creators as well as various popular artists on Makersplace. Also, there are some popular art pieces sold recently including Blvck Lion from JTYauck for over 3,000 dollars.
The fees on Makersplace are usually higher than on other NFT platforms. The site takes 15% service fees and 12.5% depending on the type of sales. This fee is used for platform maintenance and for its transaction processing fee. For instance, if you spend 1,000 dollars on an NFT, you need to calculate an extra 150 dollars or more for the compulsory gas fee.
One of the unique features of Makersplace is that it offers the possibility to pay through credit card and PayPal instead of crypto wallets only.
15) Tux Art


Tux Art is a new player on the block and with all that it has to offer, it's here to stay for a long time. No doubt it's a small platform with only a few NFTs available but the available photographs are real pieces of art.
Out of all, "Volcan de Fuego" is said to be one of the best, available for 7ETH (about 23,000 dollars at the time of writing) and Taranaki Dreams available for 6.5ETH (around 21,600 dollars). There are many more photos of national parks, glaciers, landscapes, and more from all around the world. Tux Art is a decentralized market and the users are recommended to collect and sell at their own risk.
16) Unique One Photo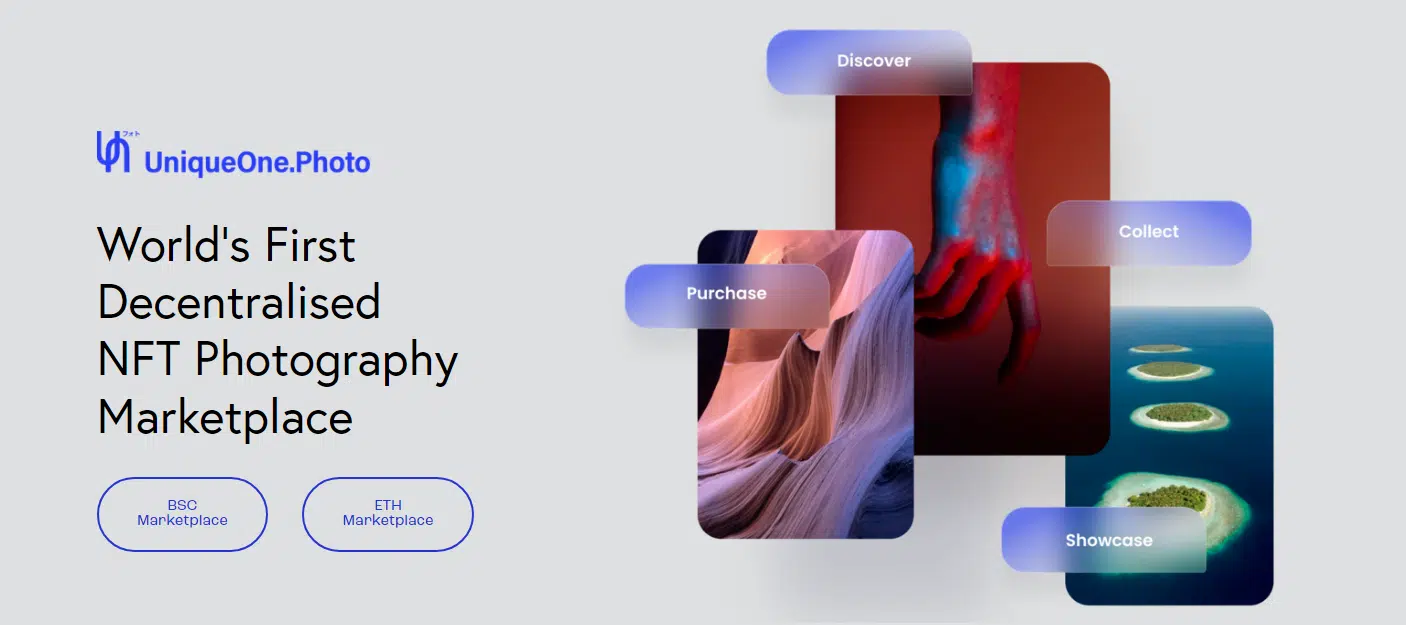 Another NFT marketplace on this list is Unique One Photo, dedicated solely to photography. The platform appears to be committed to making sure that contributors and artists are paid fairly for the sales of their work. Moreover, the photographers aren't charged any fees, instead, a 2% commission is levied on only the purchaser.
This platform has only just been launched. Still, it's in the process of onboarding some higher-quality photographers. If not, there's a risk of sinking.
How is NFT Marketplace Helpful for Photographers?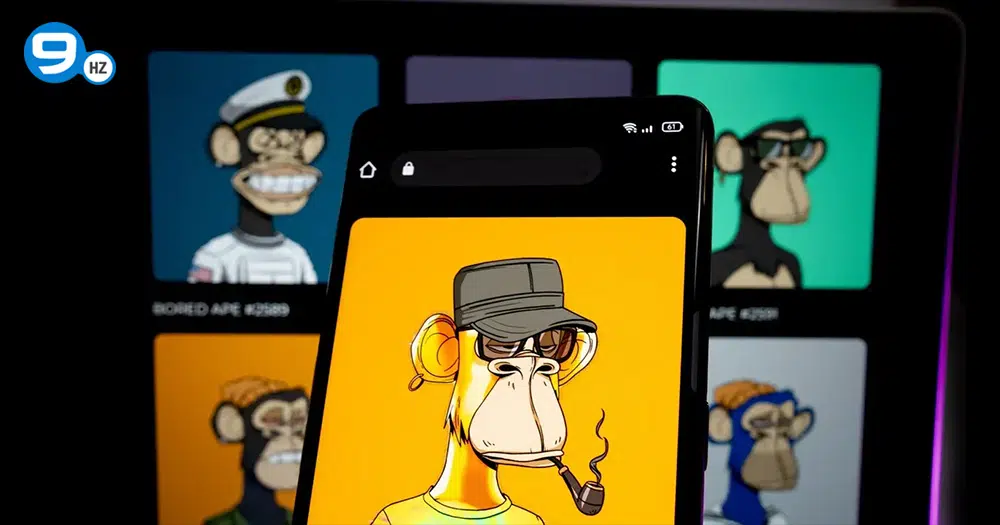 Since most of the images are digital, through the concept of NFT, it is easier for photographers to earn money and gain legit and due recognition for their photographs and art. The intriguing thing is that although the buyer has the ownership right of the particular token, the photographer still holds the copyright and reproduction rights. For instance, Ravi sold his digital image named "Agency Life" for around $10,000. He still owns the right to license the pictures under the collection, use them on his social network, and can earn some percentage of royalty when his pictures change hands. You might be interested to know the most popular NFT tokens list.
How to Sell Photography or Digital Artworks as NFT?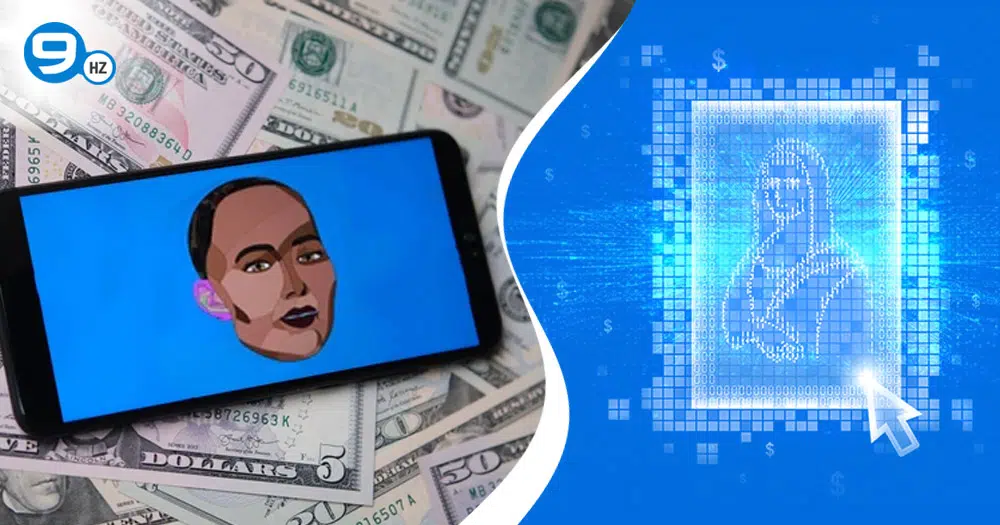 Posting and selling your photographs like other nft photographers on a photography NFT marketplace is not complex as you may think, and the best part is that anyone can do it. While the process is slightly different between various platforms, the principle and functioning remain the same.
The first step is to connect your crypto wallet to the NFT marketplace where you can sell your photo and limited edition digital artworks. The NFT market is closely related to the crypto world, and, therefore, cryptocurrencies are needed to mint, sell, and process all the NFT transactions.
Second, you need to "create an item" to start selling your photographs. It's a simple process, all you have to do is fill in all your necessary details. For example, your full name, your user name, external links if asked for, the price, description of the photography NFTs, and more.
Next, you must pay "gas fees" to mint your photograph as an NFT art and to sell it on the NFT marketplace. The gas fees can be anywhere between 50 – 500 dollars depending upon the time of day and the number of users trading on the network.
One of the interesting facts is that some sites in the photography NFT marketplace allow minting your art for free – this is called lazy minting. You essentially mint your NFT photography for free of cost and pay the gas fees once it's sold. You might be interested to know how to create NFT and earn money.
Though, if you don't want your NFT to be advertised on the NFT marketplace anymore, you can simply "burn" it. However, you have to pay gas fees to do this process. Minting Non-Fungible Tokens isn't a complicated process and you can get familiar with them easily after the first time.
What Is The Biggest NFT Marketplace for Photographers?
The biggest NFT marketplace by far in the NFT world is OpenSea. It has more than 80 million pieces of digital artworks minted and over 1 million registered users. It's also one of the go-to platforms for many creators, digital artists, and investors. Transactions worth millions of dollars are recorded each day. Here is a must-read article on investment in the metaverse for you.
Conclusion
With help of this list given above, you've gathered all the information you need to know about the best NFT marketplace for photography. From OpenSea to Foundation to Tux Art and more all of them are unique in their own way and you must check them out.
FAQ's
1. Can we Sell Photography as NFT?
A nft photography marketplace provides photographers a platform to upload their creation as an NFT in order to be bought and sold.
2. What is the Best NFT Marketplace for Photography?
If you're looking for the best nft photography marketplace, then the NFTHub is your number one choice. With its innovative user-friendly interface and intuitive design, it's easy to find some of the best nft photographs available on the web.
3. Is NFT Good for Photographers?
Non-fungible tokens (NFTs) have the potential to revolutionize photography. For photographers, nft photography allows them to monetize their work in a way not seen before, by leveraging the blockchain system that nfts operate within.