In today's chapter, we will discuss Azure vs AWS certification. Although many of you might give AWS a winning edge over Azure, it's not as easy as it seems. Both the cloud services have their own bright and dull side.
Therefore, we will monitor both of them intensely depending upon various factorials like – data transfer loss rate, data availability rate, and pricing of cloud storage. Considering all the facts, you can choose the best one for your career from AWS or Microsoft azure certification and carry a step forward towards your bright career.
Azure vs AWS Certification: Which Offers Better salary and job Opportunities?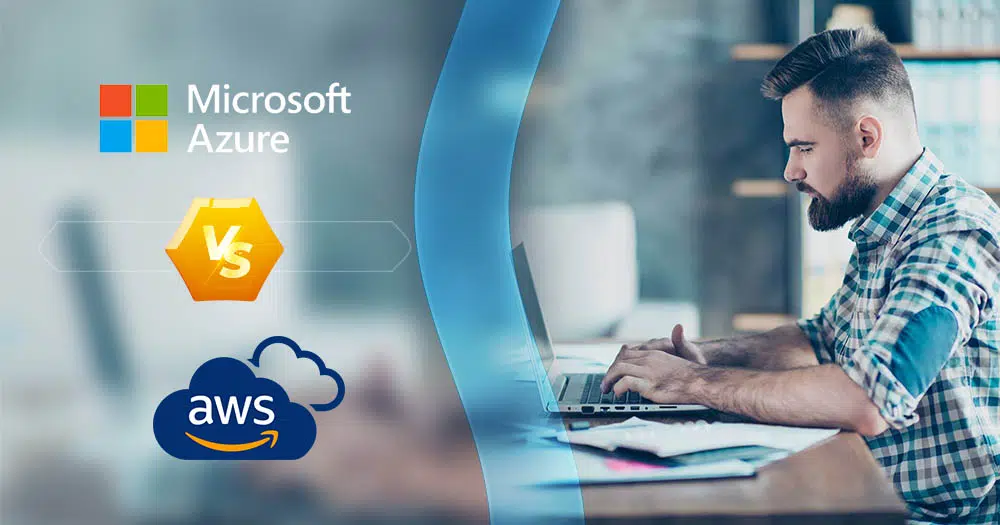 As discussed above, both of cloud certification has their own pros and cons. Anyhow, we are going to compare them on three major factors i.e., salary, validation, and importance. Comparing these cloud services to these factors will you in better decision making.
| Factors | Azure | AWS (Amazon Web Services) |
| --- | --- | --- |
| PayScale | According to the recent survey conducted by global knowledge, an IT professional from the U.S. with Azure certifications earns up to $126K annually on average. | On average, the salary of an AWS certified professional in the U.S. is around $154K per annum. The number can even go higher if the candidate has a good portfolio and experience. |
| Validation | The Azure certified professionals will also be prioritized in the companies running Azure and its features. Even the companies looking forward to adopt Azure will prioritize such professionals because they will need candidates with expertise and a deep understanding of the same. | One of the most trusted certificates in the IT industry is AWS. Therefore, the AWS certification holders can quickly get a reputed job role in any company as their certification help to validate their knowledge. |
| Recognition | .Net Platform is a well-reputed open-source framework of Microsoft with numerous appreciable tools and programming languages. Once an individual cracks Azure certification, it means that they are also capable enough to integrate .Net infrastructure. | All the AWS-certified candidates are honored with a badge that can be further used for attending summits. Apart from it, you can also use it to polish your resume. |
Azure vs AWS Salary
After a clear discussion regarding azure salary vs AWS salary, it is pretty evident that the AWS certified solutions architect is getting a bit more paid than the others.
Job Opportunities After Azure and AWS Cloud Certification
AWS certified cloud practitioner may have the upper hand in the salary. Anyhow, the consistent growth of Microsoft certified Azure fundamentals is dominating the industry with creating more job opportunities for IT professionals.
Azure vs AWS Certification: Market Share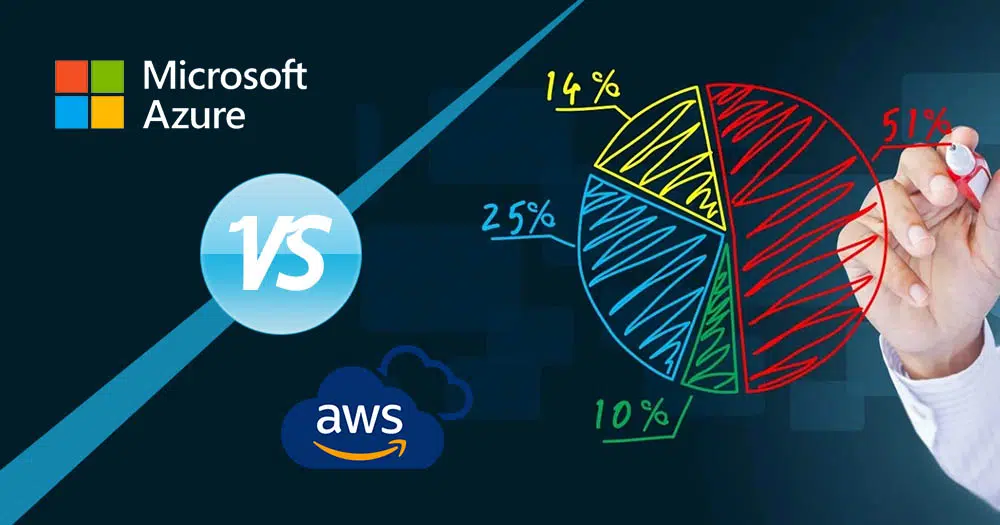 Undoubtedly, AWS and Azure are the leading cloud service providers in the market. They are looking forward to rule the industry by grasping the large piece on their plate. According to the current stats, AWS holds 41.5% of the market, whereas Azure comes second with 29.4% share. You might consider AWS superior with this fact; anyhow, there is one more fantastic fact yet to reveal. Back in the year 2017, the revenue generated by AWS with 47.1% market was around $3.6 Billion. In that same year, Azure generated revenue of $6.9 billion with less than 10% share. According to the FY report of the year 2018, the revenue of Microsoft from Azure grew around 90%, which is double the growth rate of AWS. Whereas google cloud platform is far behind both of them.
Azure vs AWS Pricing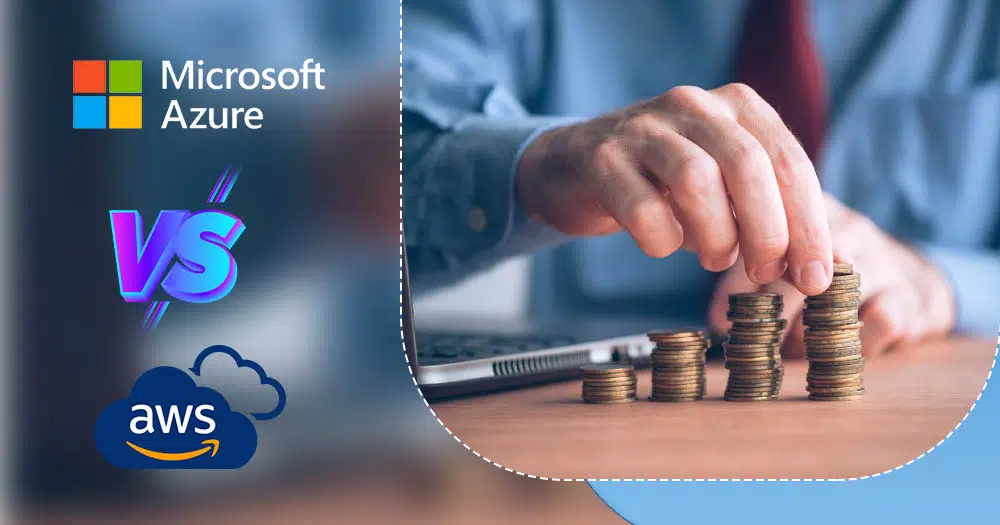 The pricing of both AWS and Azuro can be another factor used for the comparison. Therefore, here is the pricing table of both cloud service provider that you can consider while differentiating them.
General Purpose
| VCPU | Memory | AWS Pricing | Azure Pricing |
| --- | --- | --- | --- |
| 2 | 8 GB | $0.66 | $0.62 |
| 4 | 16 GB | $0.856 | $0.852 |
| 8 | 32 GB | $1.71 | $1.70 |
Computer Optimized
| VCPU | Memory | AWS Pricing | Azure Pricing |
| --- | --- | --- | --- |
| 2 | 4 GB | $0.64 | $0.57 |
| 4 | 8 GB | $0.81 | $0.79 |
| 8 | 16 GB | $1.63 | $1.59 |
Memory Optimized
| VCPU | Memory | AWS Pricing | Azure Pricing |
| --- | --- | --- | --- |
| 2 | 16 GB | $0.685 | $0.688 |
| 4 | 32 GB | $0.89 | $0.97 |
| 8 | 64 GB | $1.78 | $1.95 |
What Should You Learn Azure or AWS?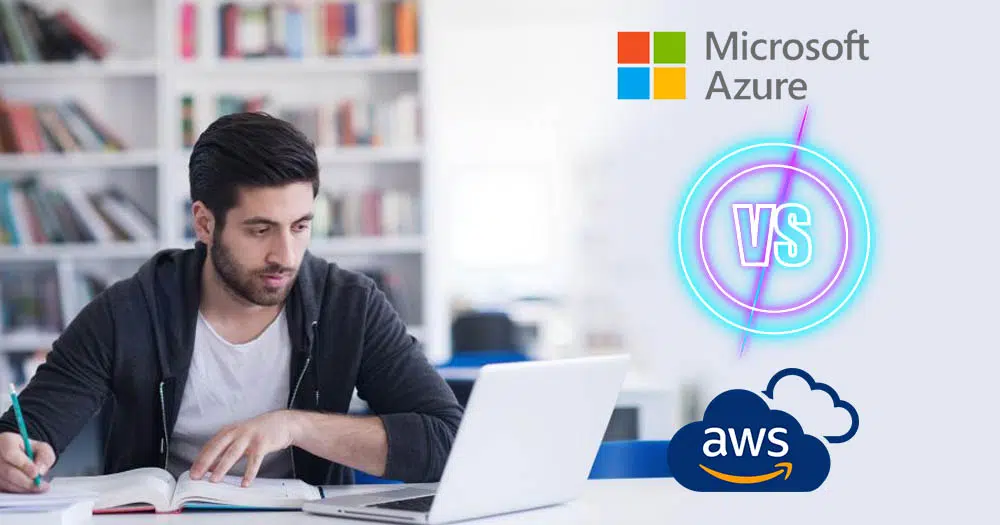 Before picking any one of them, acknowledging their type, services, growth, and licensing would be a great move. Therefore, here is a quick glance of the same, it would help you understand the roots of the cloud solutions and their products.
| Parameter | AWS | Azure |
| --- | --- | --- |
| Cloud Type | VPC (Virtual Private Cloud) | Virtual Network |
| Connection Type | Direct Connect | Express Route |
| Storage Services | S3, SDB, EBS, AWS Import and Export, CloudFront, etc. | Blob Storage, Table Storage, Containers, Tables, Azure Drive, etc. |
| Database Services | Oracle, MySQL, and DynamoDB | SQL Sync and MS SQL |
| Deployment Services | AWS, AMI, Elastic Beanstalk, Traditional Deployment Models, etc. | CSPKG (fancy zip file) uploaded via portal or API via Blog storage |
| Availability | 81 zones | 60+ zones |
| Market Share | 32% | 21% |
| Popularity | 41.5% | 29.4% |
| Growth in Revenue | 32% | 50% |
| Hybrid Cloud | Reinventing Hybrid cloud | Excels in Hybrid cloud |
| Licensing | Offers Flexibility | Closes fast with AWS |
| Linux Ecosystem | Linux support | In process |
Azure or AWS Cloud Platforms: Pros and Cons
Amazon Web Services Cloud
| Pros | Cons |
| --- | --- |
| AWS has more availability zones, therefore the users get cloud storing services at a competitive price. | It is quite picky with private clouds in order to promote its own cloud infrastructure. |
| It offers minimal data loss rate to the users during storage and server transfer. | AWS offering vast range of products leads the user to confusion and picking the right one can be quite a tiring task |
Azure Cloud
| Pros | Cons |
| --- | --- |
| It offers significant support to the hybrid applications, helping out companies to store the sensitive information of their customers. | Bugs and glitches are often found in Azure services and getting them fixed costs additional bucks. |
| Azure also delivers ease of transition as majority of the organizations use Microsoft for on-premise systems. | It shows less flexibility on the non-window platforms when compared to AWS. |
Conclusion
In the end, we are sure about the bright future of the cloud; ample job opportunities can be seen in this field in the future. Choosing any one of them over the other won't do justice to the other as both of them, i.e., AWS and Azure, outperform each other in various aspects. Therefore, you can use the above factors for comparison and choose the right one accordingly. You can either learn Azure or AWS, totally depending upon your interest, future goals, salary package, job opportunities, etc. Just make sure to give your all while learning cloud computing to make the best out of it.