Magento vs Shopify | Don't know which one to choose? Guess what, you are not alone as there are 'n' number of eCommerce store owners in the market who find it difficult while making a choice between these two eCommerce giants.
Both Shopify and Magento are suitable for mid to large-size businesses and are among the popular eCommerce platforms. Shopify being a fully hosted platform comes with a variety of capabilities, set pricing, and user-friendliness. While on the other hand, Magento gives you the choice between Open Source and Commerce, both known for their multiple features and customization capabilities.
In this article, we'll be comparing both Magento vs Shopify to help you make the right decision for building eCommerce website. In this guide, we will explore the differences between Shopify Vs Magento. You can hire certified developers from top magento development services.
Magento Vs Shopify: Market Stats
Both Shopify and Magento are quite popular and in-demand eCommerce platforms having 10% and 1.72% market share respectively.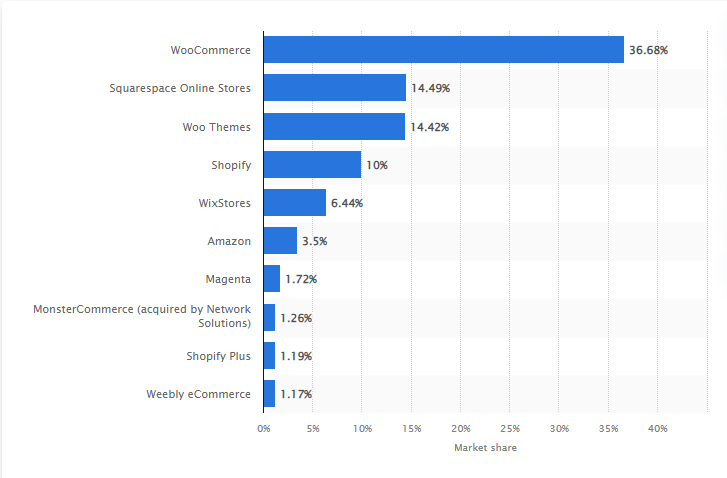 Source: Statista
Sites are lower in number compare Magento to Shopify but they constitute all high-traffic websites. Shopify on the other hand is popular among sites having less traffic as per W3Techs (Web Technology Surveys).
The below diagram depicts the market position of Shopify and Magento as compared to the most popular CMS (Content Management Systems) in terms of popularity and number of visitors.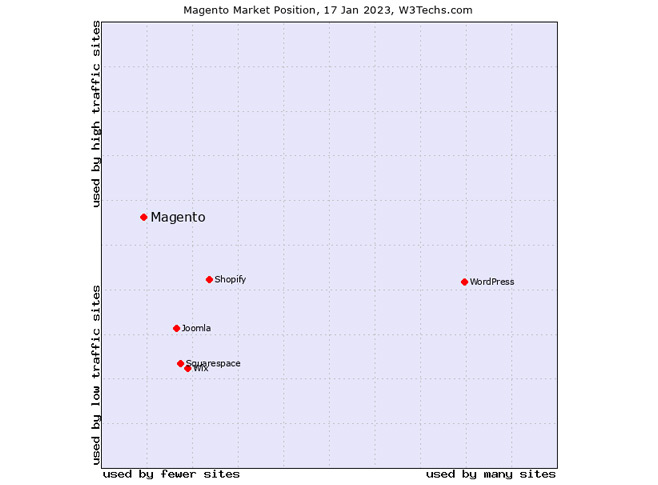 According to the second quarter of the 2021 financial report of Shopify, the platform is used in more than 175 countries with over 1.7 million businesses globally.
Magento has a network of more than 315,000 sites globally covering multiple industries including beauty, fashion, healthcare, verticals, electronics, pharmaceuticals, sports, and more.
According to BuiltWith, Magento supports more than 200,000 live websites and more than 500,000 sites have used this platform previously.
Magento Usage Statistics
Currently, 102,723 live websites use Magento 2 in their eCommerce solution.
As far as usage statistics of Shopify is concerned, there are currently 3,489,406 live websites that use Shopify along with 1,396,992 websites that have used it in the past.
Hire Certified Magento Developers
Request A Free Quote
Shopify Usage Statistics
According to the report published by Envisage Digital, Magento occupies 9th place in the list of top ten content management systems used around the globe. Online stores that use Magento perform transactions of more than $155 billion in volume per year.
The countries where most of the Magento-based businesses exist include USA, UK, Netherlands, Germany, UAE, Scotland, etc. The USA alone constitutes almost 11% of all Magento stores.
Shopify takes third place in terms of market share as per Statista.
USA is a hub of the majority of Shopify-based businesses constituting almost 60% of all the Shopify plus stores, followed by Canada and UK with a share of 9% and 10% respectively. As far as the popularity index is concerned, Shopify has strong roots in countries like India, Denmark, Spain, Finland, and Australia.
What is Magento?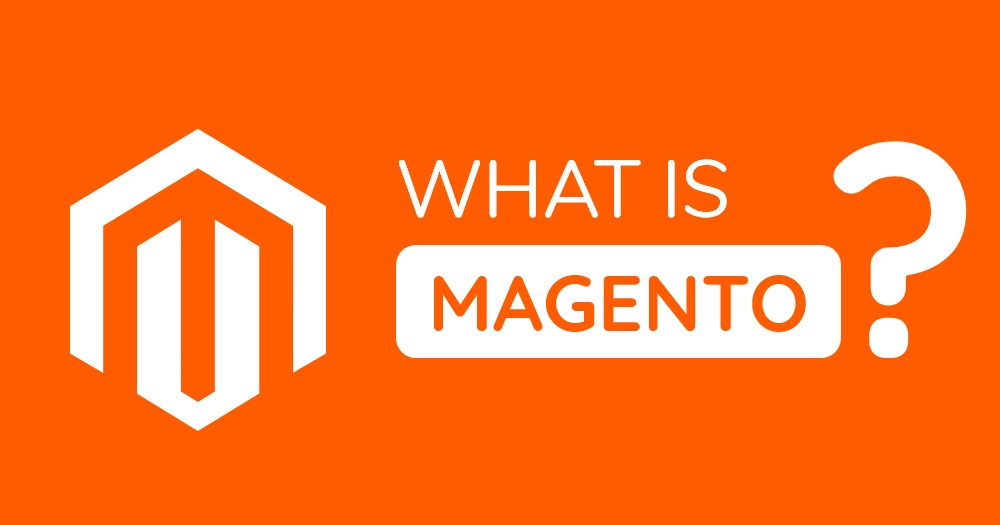 Magento is known for its diversity as flexibility, scalability, and customization go hand in hand with Magento. It is ideal for enterprises and businesses with previous technical knowledge and coding experience. The platform has two editions – Magento Commerce and Magento Open Source. If you want to build your own store on Magento, hire developers from a top top Magento development companies.
1. Magento Commerce
This is Magento's premium paid edition which is recommended to those sellers and developers who are looking for a one-stop solution for optimizing the performance of store websites to accelerate sales.
2. Magento Open Source
This particular edition is a free and self-hosted platform that provides functions to assist you to build and develop a unique online store/website from scratch.
Some extensive features of Magento include:
Built-in functionality for global stores
Multiple payment options
Unlimited Customization options
Robust search engine optimization capabilities
What is Shopify?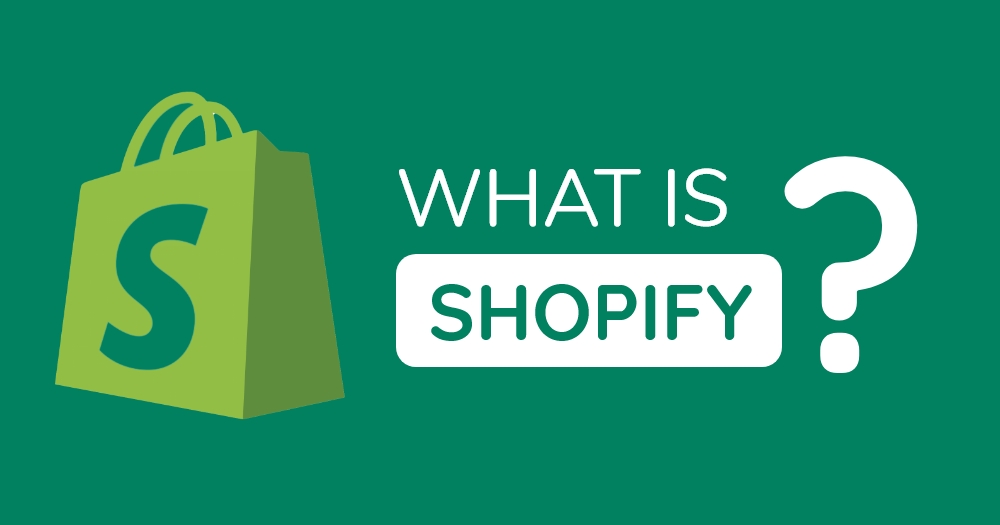 Shopify is a one-stop best eCommerce platform that allows its users to develop their online store or website without much technical knowledge. This website builder is quite user-friendly and allows you to perform multiple functions easily like managing inventory, accepting payments from customers, and more. It comes with two editions – Shopify and Shopify Plus. If you want to create your own website on Shopify, hire developers from top Shopify development companies.
1. Shopify
This self-hosted eCommerce platform allows its users to customize their online store, sell products and grow eCommerce business.
2. Shopify Plus
This multi-channel platform comes with a paid subscription which provides enterprises with utmost customization, support, and other enhanced features unlike the free version.
Some extensive features of Shopify include:
Multi-channel integration
Website and blog support
Multiple payment options
Quick loading time
Optimized website performance
Magento Vs Shopify: Pros and Cons
Let's start with understanding the pros and cons of each platform. Although both of these platforms have a number of benefits to offer, they also have certain limitations that you must consider before making your final choice. You can also check the
benefits of using Magento eCommerce
for online stores.
Magento Pros and Cons
| Pros | Cons |
| --- | --- |
| Large User Community with excellent user support makes it an eye candy for ecommerce business & startup. | Not beginner friendly, as there are certain things that only a professional or someone having prior coding skill can understand. |
| The platform is quite flexible and offers you tons of options in terms of customization. | There is a learning curve attached as the platform doesn't spoon-feed you. |
| There are plenty of attractive themes that you can choose for your online store | Installation is not easy as it takes a lot of time to set up |
| Offers you a robust customer support | The cost to set up your store is quite high |
| No real coding skill is required for Magento Commerce | |
| It is a free-to-use and open-source platform | |
| Multiple Magento extensions to choose from | |
Shopify Pros and Cons
| Pros | Cons |
| --- | --- |
| Multichannel selling feature where you can sell on platforms like Facebook, Amazon, and eBay, etc. | You have to pay the transaction fee with every transaction you pay (except those who use Shopify payments) |
| Shopify plan Offers you multiple attractive and responsive themes | You have to pay for most of the themes in Shopify Plan |
| Optimum customer support | Integrating apps into your store is a complex process |
| Multiple payments options | |
| Easy to use without much coding knowledge | |
| Large community support | |
Magento Vs Shopify Comparison Guide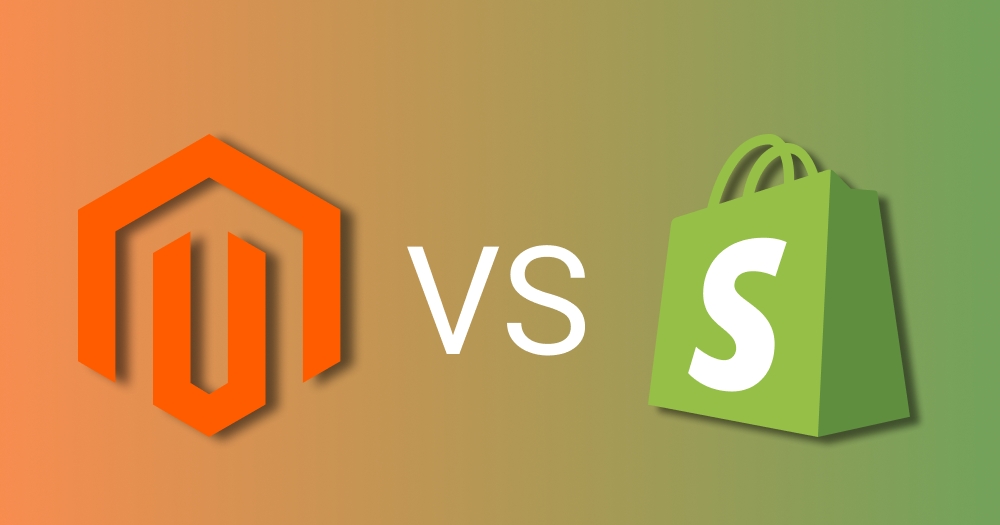 Let's understand the difference between Magento vs Shopify with the help of an intuitive analogy. Suppose there's a car with two versions – One is Manual & the other is Self-Driven.
You can imagine Shopify as a self-driving car that has the functionality to manage things automatically in terms of code, programming and other processes pertaining to the back end.
The biggest advantage of using Shopify is that users having zero coding knowledge can also easily set up their online store. But the drawback is that you don't have full control on your website due to limited customization options.
Whereas, you can imagine Magento as a manual car where the user has full control over the website and he can specify inputs and customize the website the way he wants. Although, this platform demands you to have some prior coding experience.
Still have some confusion? Following below is a table that underlines the fundamental differences between Magento vs Shopify to help you understand them in the short and crisp manner. You might be interested to know the difference between Magento and Salesforce.
| Criteria | Shopify | Magento |
| --- | --- | --- |
| Year of Inception | 2004 | 2008 |
| Technology used | Ruby | PHP |
| Ideal For | Small to midsize businesses | Large Scale businesses |
| Product Catalogs | Small | Large |
| Solution Type | Hosted | open -source |
| Versions | Shopify 2.18 | Magento Community Edition (CE) 2.4.5 |
| No. of apps and add-ons | 4200+ | 3600+ |
| Current Live Websites (in the US region) | 2,581,140 | 59,739 |
1. Magento Vs Shopify: Pricing
Pricing remains one of the most critical factors when choosing an online portal for your business. Between Magento and Shopify, the one which offers a better price will surely take the cake. Let's find the price difference between Magento and Shopify.
Magento Pricing
The Magento pricing structure is quite flexible depending on the plan you choose. What we mean by that is that you don't need to pay a monthly subscription. You can download and install it for free to set up your store. However, you'll be required to pay for a domain and a hosting provider for publishing your website.
Magento Pricing – Cost Breakdown of Magento Store Development
| Cost Factors | Magento (Open source) | Magento Commerce Cloud | Magento Commerce |
| --- | --- | --- | --- |
| Cost of Licensing | 0 | $40,000 per year | $22,000 per year |
| Domain Cost | $20 per year | $20 per year | $20 per year |
| Hosting Cost | $1,200 per year | 0 | $1,200 per year |
| UI Development | $3,200 | $3,200 | $3,200 |
| SSL Certificate | $50 per year | 0 | $50 per year |
| Magento Development | $3200 | $3200 | $3200 |
| Premium Theme | $200 | $200 | $200 |
| Magento 2 Extensions | $180 | $180 | $180 |
| Total Cost | $8050 (Minimum) | $46,800 (Minimum) | $30050 (Minimum) |
Note:
The costs mentioned are the minimum limit
Signing up for services like marketing, support and maintenance, and SEO will enhance the existing cost.
The table doesn't take into account the costs of integrating 3rd party systems like ERP, marketing, automation, etc.
Shopify Pricing
Shopify follows a subscription based model. You can choose out of the 5 pricing tiers ranging from $9 to $2000 per month. This plan includes both domain name and hosting. Also, the platform offers its users a more affordable set of website templates and themes. Most of the Shopify theme are affordable.
When we compare the pricing of both Shopify and Magento, Shopify merely charges $180 in exchange for its best website template, whereas the price of Magento can range up to $499. Lastly, calculating transaction fees as per your plan can be a quite complicated process for a newbie.
Shopify Pricing – Cost Breakdown
| Cost Factors | Basic Shopify | Shopify | Advanced Shopify |
| --- | --- | --- | --- |
| Pricing | $29 per month | $79 per month | $299 per month |
| Staff Accounts | 2 | 5 | 15 |
| Inventory Locations | Up to 4 | Up to 5 | Up to 8 |
| Reports | No | Standard | Advanced |
| Third party calculated shipping rates | No | No | Yes |
| Shipping Discount | Up to 77% | Up to 88% | Up to 88% |
| USPC Priority Mail Cubic Pricing | No | Yes | Yes |
| In person credit/debit card rates | 2.7% + 0¢ USD | 2.5% + 0¢ USD | 2.4% + 0¢ USD |
| Credit card rates online | 2.9% + 30¢ USD | 2.6% + 30¢ USD | 2.4%  + 30¢ USD |
| Transaction fees if not using Shopify payments | 2.0% | 1.0% | 0.5% |
| Shopify POS LitesA | 2 | 5 | 15 |
| Shopify POS Pro (per location) | Up to 4 | Up to 5 | Up to 8 |
| Sell in 133 currencies | yes | yes | yes |
| Sell in multiple languages | Up to 20 | Up to 20 | Up to 20 |
| International domains | No | Yes | Yes |
| International pricing | No | Yes | Yes |
Now here is the monthly as well as annual comparison of Shopify to help you decide which plan is better in terms of cost saving.
| Shopify Pricing Plans | Shopify Basic | Shopify | Shopify Advanced |
| --- | --- | --- | --- |
| Monthly | $29 | $79 | $299 |
| 1-year $/month | $14.44 | $39.44 | $147.78 |
| Savings | 50% | 50% | 50% |
Now, let's sum up via a table for learning more about the differences between the pricing of Magento vs Shopify
Option Fee
Shopify Pricing
Magento Pricing
Monthly
Lite Plan: $9

Shopify Basic: $29

Shopify: $79

Advanced Shopify: $299

Shopify Plus: starts from $2000

–
Themes
Free – $180
Free – $499
Hosting
In every monthly plan hosting costs are included without extra expenses except Shopify Lite
The price depends extensively on the hosting provider you choose on Magento
App
Start from $15 per month
Free – $15,000
Developer
–
Up to you
Domain
Free and purchase option through Shopify at $14/year
$10 – 15 per year
Transaction
Shopify Lite: 2.4%

Basic Shopify: 2%

Shopify: 1%

Advanced Shopify: 0.5%

Shopify Plus: 0.15%

(Stripe) 2.9%+30¢
Magento Vs Shopify – Pricing: The Verdict
As both Magento and Shopify are two completely different systems, giving a fixed answer on which platform is more affordable is quite tricky. Magento is an open-source platform where the price structure completely depends on your needs.
Whereas, Shopify comes with three fixed-price plans that seem to be less expensive initially, but you have to pay for additional themes and apps.
2. Shopify Vs Magento: Ease of Use
If the platform you choose is too hard to use then things might get difficult during the process of creating your dream eCommerce store. This might lead to serious repercussions in terms of tarnishing your brand image.
Till now we can say comfortably that as far as usability is concerned, Shopify is a better option. Shopify is an easy-to-use drag-and-drop website builder where customizing is way too easy by moving elements around the page exactly how you want. As a Shopify marketplace admin: you can change colors, fonts, or the position of any block within seconds.
Magento on the other hand is considered complicated in terms of installation and administration. However, with its Commerce edition page builder, things get a lot easier, but not everyone can afford it. Therefore, Magento store administration is harder, although there is a solution. The admin can integrate it with WordPress blog streamline content management.
Having said that, Magento marketplace gives you the flexibility to change the functionality of your eCommerce online store the way Shopify can't.
Shopify Vs Magento – Ease of use: The Verdict
Shopify is ahead of Magneto in terms of usability without a doubt. But Shopify is less flexible than Magento as Magneto enables you to customize your online shop but for that you need to have a certain amount of technical experience and coding knowledge. In a nutshell, go with Shopify if you are a newbie and with Magento if you have some coding experience. You might be interested to check my other guide on Magento or Wocommerce.
3. Magento or Shopify: Themes
The theme of your online store will be a key factor in user retention. Statistics prove that more than 50% of visitors cite the design of a website as the most critical factor in determining a business's credibility.
As it says, the first impression is the last impression, hence you need to design your layout in such a manner that it creates an impact on your user instantly.
Shopify, with its large pool of free and paid themes seems to be way ahead than Magento. Although, modification can be done only to some extent. Getting deeper and fully customize the theme without any prior coding knowledge is not possible. In order to build something unique you need to avail services from a skilled developer who can alter a limited number of features as the platform is not open source.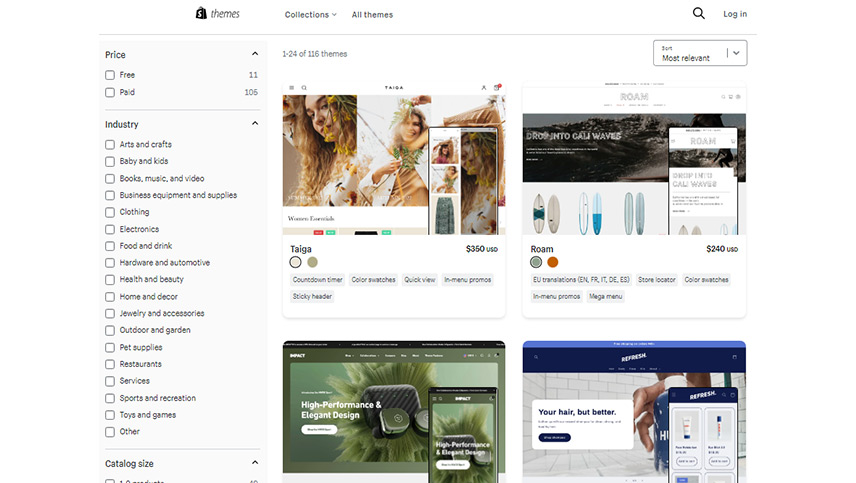 On the other hand, Magento also has multiple themes to offer – 11 to be precise. The price range lies between $30 to $499. If you are a developer, you can easily create your dream store, implement any feature, and redesign it for meeting your brand requirements. As the community of Magneto is quite massive, more themes are available from Magento Partners.
Shopify Vs Magento Themes: The Verdict
Shopify consists of a much wider and cheaper range of themes than Magento. Customizing Shopify themes doesn't require coding knowledge and this makes it quite convenient to tailor your chosen template to the requirements of your brand.
4. Magento Vs Shopify: Sales Tools
Magento is enriched with an inventory system that is loaded with built-in features like multiple product variants, bulk product database import, total visitor count, and total revenue reports. Apart from that, following are some of the unique sales tools offered by Magento marketplace:
Multi-channel selling options for integrating your store with multiple social media and eCommerce platforms.
Checkout customization for enhancing your online store checkout just like the way you want it to be.
Option to set fixed price discounts and percentages.
Ability to recover abandoned cart rate.
Now here are some tools offered by Shopify marketplace to help you sell products and make money:
Abandoned cart recovery options for recovering potentially lost sales.
Multichannel selling options for selling products on social media and popular eCommerce platforms.
Both digital and physical products can be sold on Shopify.
Shopify partners with DHL express, Canada Post, USPS, and UPS to deliver your products from any courier service.
Magento Vs Shopify – Sales Tools: The Verdict
Shopify app store is enriched with a more appealing range of sales tools as compared to Magento app store. Shopify offers plenty of built-in-tools like multichannel selling which is something that Magento offers only after installing expensive extensions. You can use Shopify apps to use to analyze google analytics data.
5. Marketing Features: Magento Vs Shopify
Effective marketing tools help any business in maximizing its scalability in terms of customers. Therefore, you need to put great emphasis over this domain.
Shopify offers some great marketing tools along with the functionality to run email campaigns via third party integrations with Klaviyo, Seguno, Constant Contact, and others. Advertising and selling on Instagram, Facebook, and Pinterest are also possible. One great feature that Shopify offers is that it is multilingual, hence you can sell your products in various languages. You can check marketing data by using Shopify apps.
Whereas, Magento depends on its marketplace for the maximum of its marketing tools. For example, extensions such as Remarkety must be installed for running email campaigns. That's not all you need to avail services from an experienced developer in order to integrate your marketing tools. There are quite a lot of built-in marketing tools that Shopify offers to maximize the scalability of your online eCommerce store.
Magento Vs Shopify – Marketing Tools: The Verdict
Here, Shopify clearly stands out. Both Shopify and Magento rely on their respective app marketing tools for the most critical marketing features, but Shopify helps you to a great extent in advertising on social media as a built-in feature.
Hire Dedicated eCommerce Development Company
Request A Free Quote
6. Payment Processors and Transaction Fees
Payment processors are absent in Magento, however, you can download one from the Magento marketplace. This implies that you need to make a payment in the form of a transaction fee for each payment.
Talking about Shopify, it has a payment processor known as Shopify payments and here you need not to pay any transaction fees apart from regular card processing fees. You can opt for other payment options and not choose Shopify payments. In that case, here are the charger you need to pay for every transaction you make:
Shopify Basic: 2.9% + 30¢ / transaction
Shopify: 2.6% + 30 ¢ / transaction
Shopify Advanced: 2.4% + 30¢ /transaction
For payment gateways – Magento supports more than 150 payment gateways, most of which are centric to large-scale businesses. If you wish you can integrate standard payment processors, for e.g., Square or Stripe from the marketplace.
Shopify supports over 100 payment gateways such as Apple Pay, Amazon Pay, PayPal, and more. But there is a transaction fee attached with each of them.
Shopify Vs Magento: Advantages and Disadvantages
After having all this discussion, here's a comprehensive guide that highlights the advantages and disadvantages of both these platforms to give you a better understanding at a glance:
Magento
Shopify
Advantages
● Timely Updates

● Interactive admin interface

● Multiple payment options

● A pool of 1500 extensions and plugins

● Can manage decent amount of traffic

● Highly customizable options

● Simple drag and drop functionality

● Timely updates, automatically implemented

● Easy to understand

● Highly secured and reliable

● Highly advanced analytics capabilities

● Faster time to launch

Disadvantages
● Demands coding knowledge

● Resource Intensive

● Security is dependent on the configuration level

● Extensive documentation because of the number of legacy versions

● Ideal for business enterprises

● Limited store control

● Expensive plug and play functionality

● Not hosted on your server

● The process of store migration is slightly complex

● Not fully customizable or you can say it's a little complicated
Conclusion: Magento or Shopify
Magento or Shopify – Which one is a more desirable eCommerce platform?
Both Shopify and Magento differ in some sense based on several parameters which must be understood before laying the foundation of your dream eCommerce business. Just think about these factors before making your final decision.
What is my total budget?
What are my business requirements in general?
Do I have an in-house development team or I am looking for a drag and drop platform that will make my website without any hassle?
What level of customization does it need?
Where does my business stand in the next 5 years?
Answer these questions in the most logical and rational manner because a strong foundation is the key to long-lasting success. You can always take assistance from Magento and Shopify-certified companies like The NineHertz to discuss your business requirements. We have experts that can guide you in the best possible manner to help you build a top-notch eCommerce platform.
FAQs
1. Which One is Better: Magento or Shopify?
The war between these two eCommerce giants is quite neck to neck so it's hard to choose one platform. However, for a newbie who is just starting his business and wants a one-stop destination where he gets all the main services, should go with Shopify. Whereas if you have a good budget or a developer, you can opt for Magento where you can freely customize your website.
2. Is Magento the Same as Shopify?
No, they actually differ in some parameters despite being the top eCommerce platforms in the market. While Shopify is a hosted platform that offers an all-in-one service to construct your online business, Magento is an open-source solution that provides its users complete control over their site.
3. Why use Magento Over Shopify?
In general, Magento is a good platform to build your online eCommerce store. Magento users get robust eCommerce features for setting up their stores. If you are a Magento user, you get full customization options to build your site.
4. What is the Disadvantage of Magento?
Magento marketplace has a complex and large structure. So the development process demands a really experienced and skilled team of developers and testers. As far as cost of development is concerned, building a site using Magento requires a large investment of time, knowledge, and money.