If you want to start your online selling journey, the best and quickest way is through ecommerce website builders. These tools take care of almost everything, right from inventory management to payments and shipping. Hence, you would be getting everything that is required to run an e-commerce store on a single platform. As per statistics, by 2023, Wix is the leading website builder in the world – the Israel-based company accounting for over 43 percent of global market share.
Therefore, whether you are about to set up your new online store or planning to scale up your existing one, hire eCommerce website developers. So let's just get straight into it.
What are Ecommerce Websites?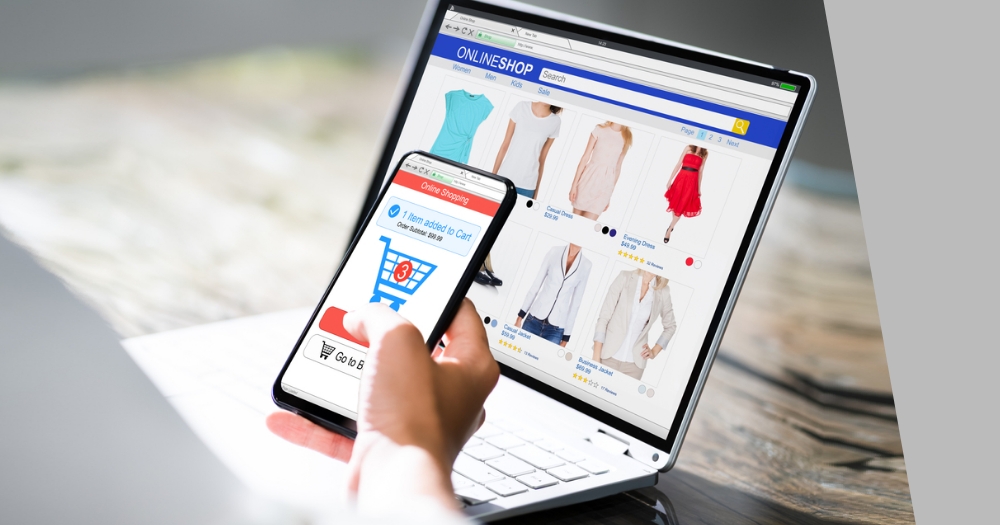 E-commerce websites are those that allow people to sell and buy physical goods, services, and digital products through the internet. An e-commerce website helps businesses in processing orders, accepting payments, managing shipping and logistics, and offering customer services.
The term e-commerce simply means the sale of goods and services through the internet. The main difference between e-commerce and physical commerce is that transactions related to ecommerce occur entirely over the internet rather than at a brick-and-mortar location.
Top 10 Free Ecommerce Website Builders
Website Builder
Price
Best for
Ratings
Weebly
Free

Connect: $5 per month

Pro: $12 per month

Business: $25 per month

Business Plus: $38 per month

Free Website building tools
5/5 Stars
BigCommerce
Starts at $29.95 per month.
tools that are well-versed in handling complex business needs
4.8/5 Stars
Web.com
Offer Starter Package – $1.95 per month.

Full price of $10 per month after the initial month.

Library of Stock Photos, Videos and Online Store Templates.
5/5 Stars
Squarespace
Connect with the sales team to get your quote
Highly customizable templates.
4.8/5 Stars
Square Online
Connect with the sales team to get your quote
Multiple payment options
4.7/5 Stars
Shopify
Starts at $29/month
Global selling in 133 currencies.
5/5 Stars
Wix eCommerce
Starts at $14/month
Comes with free and easy website building tools.
5/5 Stars
Strikingly
Starts at $8 per month (billing annually)
Zero code website builder with built-in eCommerce features
5/5 Stars
Webnode
Free with limited features. Price starts at $4.90 per month.
Pre-formatted online store templates
5/5 Stars
Maropost
Essential: $71/month,

Essential Plus: $179/month,

Professional: $224/month,

Custom Enterprise Plan

Easily build a responsive and feature rick online store
4.5/5 Stars
10 Best Ecommerce Website Builders
Let's explore the best free ecommerce website builders in detail.
1. Weebly – Best Ecommerce Website Builder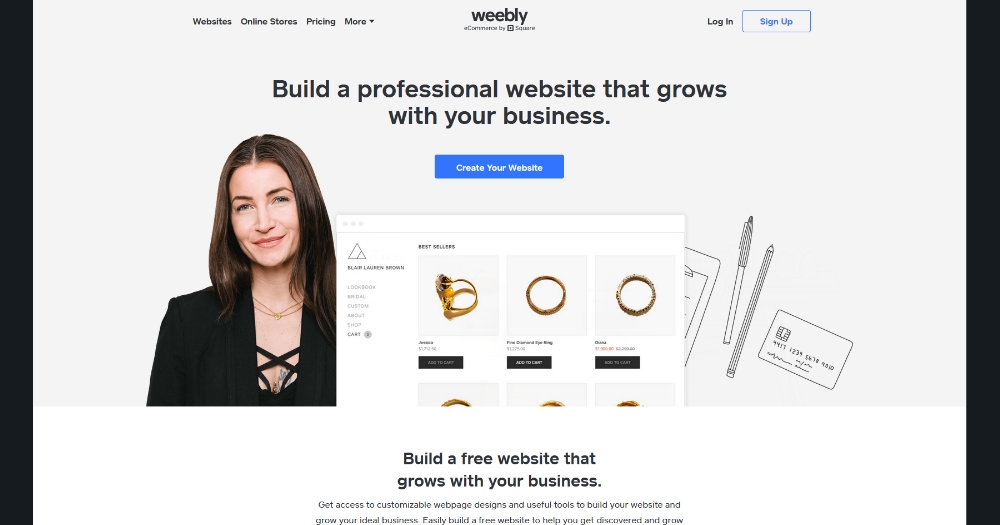 Best for tools related to free website building
Weebly comes with a free version that is highly valuable. The platform offers great tools related to website building, email marketing, order management, and more. All of this when combined together in a bundle helps extensively in making your online business a sure shot of success in the long run.
Features of Weebly –
Get expert assistance to build and launch a website
Gives you a free domain with the pro and higher plans
Order management tools including payments and shipping
Tools for setting campaigns of automated email marketing
Want to Make Your Own eCommerce Website?
Request A Free Quote
Our Verdict
Weebly integrates with Square to provide customers the option to pay freely the way they want. Also, they offer you customizable designs so that you can easily build your website following basic steps.
Pricing of Weebly –
Free: $0
Connect: $5 per month
Pro: $12 per month
Business: $25 per month
Business Plus: $38 per month
2. BigCommerce – Free Ecommerce Website Builder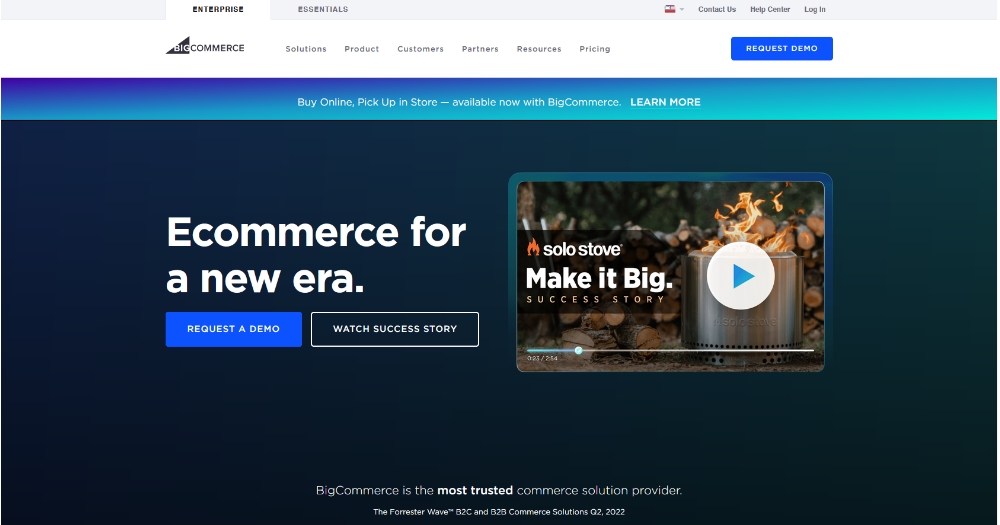 Popular for simple tools for handling complex business methodologies
BigCommerce is a famous and probably the best ecommerce website builder company that help you with eCommerce development solutions. It is an open SaaS platform where you can easily build and grow your online business. Other facilities include selling globally, multiple payment options, and more.
Features of BigCommerce –
The platform offers advanced designing tools for building your eCommerce store.
Easy-to-use tools to handle complicated business operations
Option to sell around the globe
Get insights into your consumer behavior via analytics
Our Verdict
When it comes to eCommerce business, BigCommerce is one of the trusted platforms. This robust eCommerce website builder helps in choosing from multiple shipping and payment options, get 'round the clock' support, and a lot more.
Pricing of BigCommerce –
Comes with a 15-day free trial and the plans include,
Standard: $29.95 per month
Pro: $299.95 per month
Plus: $79.95 per month
Enterprise: Customized pricing
3. Web.com
Famous for its huge library of stock photos, videos, and templates
Another reliable and robust platform on the list is Web.com which is quite famous for creating an eCommerce website for free. Here, you get an ample amount of design layouts, custom themes, and stock photos/videos to choose from. All of this can be used together for creating an attractive online store.
The platform also offers multilingual support and multiple payment options which in turn helps you cater to both local and international customers.
Another example of a good user experience within the platform is the functionality to integrate social links into the e-commerce website. Apart from this, there are also tools related to performing functions like order tracking, inventory management, and order history viewing.
Features of Web.com –
Better checkout experience
Real-time shipping rates
Easily monitor your consumer's behavior with Google Analytics
Inventory management
View Order History
Our Verdict
With tons of templates, layouts, and stock photos, creating an online e-commerce store with Web.com is very convenient. Also, with each plan you subscribe to, you get a free domain. Therefore, if you are searching for an ecommerce website builders that provide a wholesome online store management experience, then you can definitely go with Web.com.
Pricing of Web.com –
Starting price – $1.95/month, Full price of $10/month after the first month.
4. Squarespace
Best for appealing, easy-to-customize templates
Squarespace – If you want to start an eCommerce business then Squarespace is a one-stop destination for you. The platform features range from web-building tools and selling products to appointment scheduling and tax calculations and many more.
Features of Squarespace –
Allows you to schedule appointments
Sell products and services easily online
Build a beautiful website for your brand
Web analytics to track consumer behavior
Our Verdict
With Squarespace, you get a plethora of customizable templates so that the process of building beautiful websites gets way too simpler. Also, you get some cool additional stuff from this single platform, for example, custom domains, email marketing tools, and much more. Here are some unique website name ideas for your online store.
Pricing of Squarespace –
Contact the sales team to get a quote directly
5. Square Online
Known for offering multiple payment options
Square Online is a scalable online platform that is ideal for creating eCommerce websites for retailers, food businesses, professional services, and other medium and large-sized business units.
Features of Square Online –
Enriched with email marketing tools
Build a store, send invoices, and take payments
Workforce management tools, including other parks and benefits
Option to sync payments, business accounts, and cash flow.
Our Verdict
We strongly recommend the Square Online platform as it comes with features that make your business a big success in the long run. The platform will let you sell online, send invoices, receive payments, get CRM & banking tools, manage your teams, and much more.
Pricing of Square Online –
Contact the sales team in order to get a price quote directly.
6. Shopify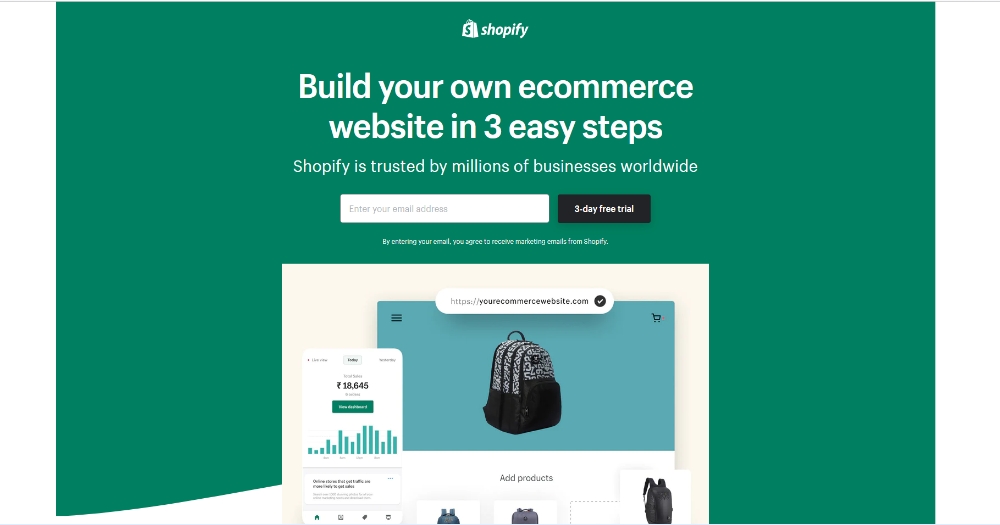 Best suited as an easy-to-use platform for building your global online business
Shopify is a popular website builder loaded with powerful features and a wide range of themes. It is a reliable option for an established business with its excellent inventory management support. With Shopify, one can easily sell globally, set prices, and accept payments in more than 130 currencies.
Features of Shopify –
Build an online store with 'n' number of product listings
Multilingual; sell in 20 languages
Sell globally with 133 currencies
Free SSL certificate
Our Verdict
More than 1,700,000 global businesses have shown their trust in Shopify. This easy-to-use platform is eye candy for most businesses nowadays. Shopify is easy to use and gives 24/7 customer support and a 14-day free trial.
Pricing of Shopify –
There is a free trial for 14 days and the pricing plans are as follows:
Basic Plan: $29 per month
Shopify: $79 per month
Advanced plan: $299 per month
7. Wix eCommerce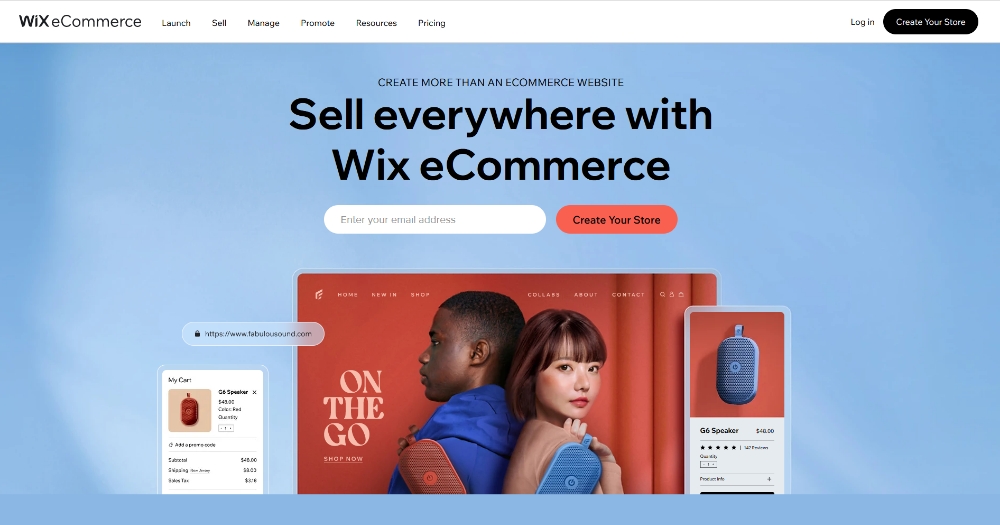 Best for small online stores
Many consider Wix eCommerce as the best eCommerce website builder. Here, you get more than 500 website-building templates, options to add advanced features to your website like receiving online bookings, editing the mobile version, and much more. The platform gives you total freedom over your site's design, thanks to its drag-and-drop feature.
Features of Wix eCommerce –
Easy to use
Plenty of design freedom
Powerful features
Free trial available
Mobile editor for on-the-go changes
Product videos and credibility
Gives you the option to sell on Instagram
Our verdict
Wix lets you create your online store for free. You need to purchase the premium plan if you do not see unwanted ads. You get plenty of mind-blowing templates to choose from for creating your website.
Pricing of Wix eCommerce –
Pro: $23 per month
Combo: $14 per month
VIP: $39 per month
Unlimited: $18 per month
8. Strikingly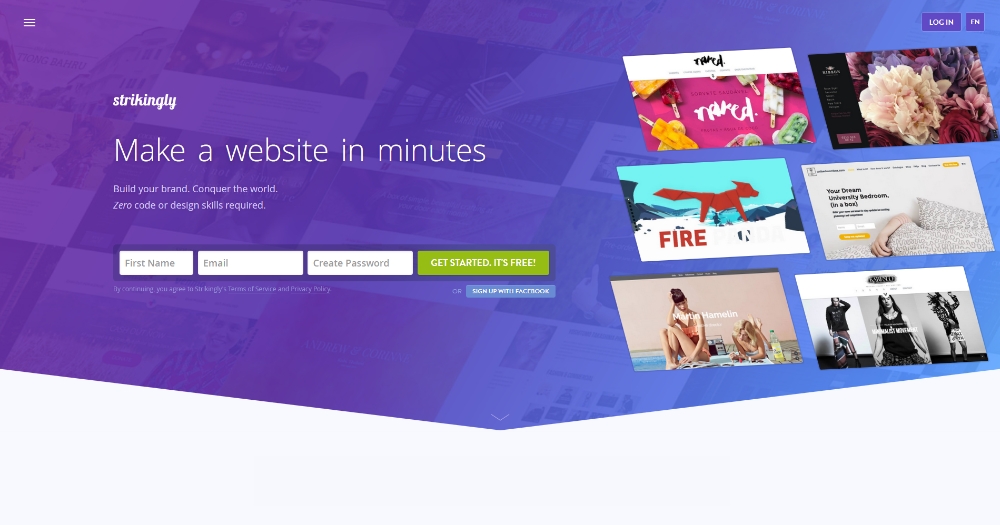 Strikingly is a simple, easy-to-use, and free website builder that's ideal for personal rather than business websites. The primary motive of this platform is to get you online in an easy and affordable manner. With Strikingly, you can easily build a website with just a few clicks within no time. You don't need any prior coding knowledge to use this tool.
Beginner friendly interface with built-in eCommerce features is enough to help you set up your dream store. You get a lot of useful tools over here and on top of that, you can easily integrate your online store with payment gateways like PayPal and Stripe.
Features of Strikingly –
Built-in analytics
Dedicated blog page creation
Click and edit the interface
Add social feeds
Our Verdict
This free website builder helps you in creating an online store from zero without having any prior tech knowledge. This beginner-friendly platform will definitely save you money on hiring developers.
Pricing of Strikingly –
The different pricing plans are as follows:
Limited: $8/month
VIP: $49/month
Pro: $16/month
The free plan (lifelong) with limited capabilities
14 days free trial also available
9. Webnode
Webnode lets you build your online store in a cost-effective and time-efficient manner. Creating an online store is easier using this platform as you get a massive pool of attractive customizable templates to choose from.
Choose your favorite template and start designing with various elements and components available for you. You can even select from a wide collection of local and special domains. Plus, you can also integrate your website with a professional email account.
Last but not the least, the platform also offers analytics tools to monitor your website's performance in terms of sales, website visits, bounce-back rates, etc.
Features of Webnode –
Extensive collection of pre-made eCommerce templates
Add components like texts, and pictures, easily
Integrate multiple payment methods
Create 100 unique mailboxes
Our Verdict
It is very easy and simple to create an online store with Webnode. From writing descriptions of products and uploading images to setting prices, Webnode is a great choice if you wish to build a responsive e-commerce online store.
Pricing of Webnode –
It is free but restricted to limited features.
The premium plan starts at $4.90/month.
Mini plan: $8.90 per month
Standard plan: $14.90 per month.
10. Maropost
An eCommerce marketing software that helps in creating responsive and visually appealing online stores. You get to choose from a massive pool of more than 40 ready-made-themes to create a custom online store that matches your brand image. You can integrate multiple features into your store to deliver an exceptional shopping experience for your users.
Say, for example, you can create as many product categories as you want to depending upon your requirement. Further, you can add intuitive filtering features so that it becomes easier for consumers to find what they are searching for. Lastly, you can also integrate your store with payment gateways like Stripe, and PayPal, and with leading shipping carriers.
Features of Maropost –
More than 40 themes to choose from
SEO-friendly store creation
Multiple payment gateways
Robust B2B features
Our Verdict
With Maropost you can easily create responsive and attractive online stores from scratch. The website builder provides you with all the necessary tools and features that your store would be needing to deliver a seamless user experience.
Pricing of Maropost –
Essential: $71/month
Professional: $224/month
Essential Plus: $179/month
Custom enterprise plan
What are the Types of Ecommerce Sites?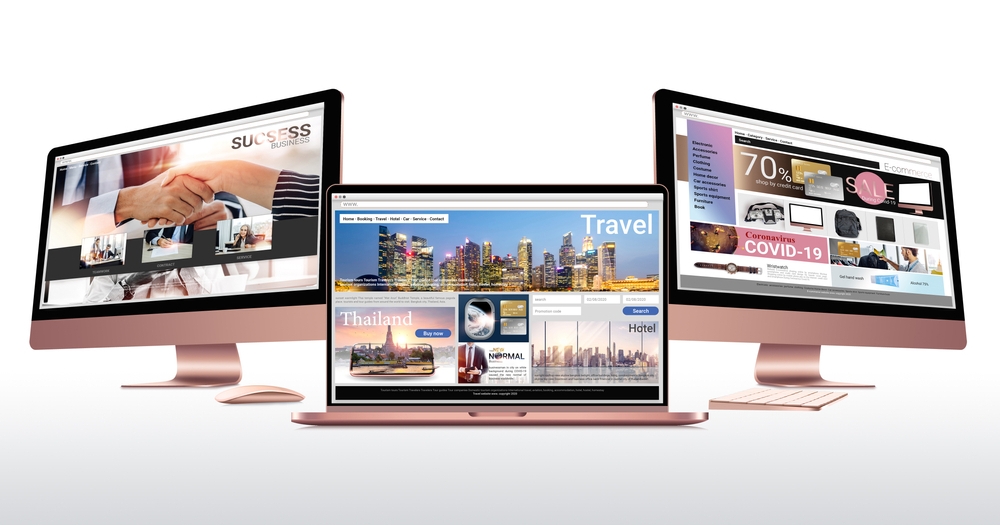 The ecommerce scope is vast, but the ecommerce sites can be categorized according to the parties involved:
Business-to-consumer (B2C): This is the most common ecommerce version where the exchange of goods and services takes place between a business and a consumer. For example, buying a pair of shoes from your favorite online shop.
Business-to-business (B2B): A B2B platform helps in facilitating e-transactions between two businesses. If your venture sells t-shirts, you might buy the stuff in bulk from an online wholesaler.
Business-to-administration (B2A): A B2A website helps in conducting electronic exchanges between an organization and a public institution. Say, for example, a company's website that designed your city's web portal.
Consumer-to-consumer (C2C): Under the C2C marketplace, the exchange of goods between 2 or more consumers takes place. Some famous examples of C2C platforms are – eBay and Etsy.
Consumer-to-business (C2B): Under the C2B platform, businesses are offered goods and services from individuals. An example could be a paid influencer whose job is to promote the company's products or a freelance SEO expert who works with companies belonging to a specific industry.
Consumer-to-administration (C2A): Under a C2A website, the consumer is allowed to provide information on goods and services to the government. It acts as a bridge to establish communication between the government and consumers. Some examples include filling out tax returns, scheduling health appointments using an online service, etc.
What are Website Builders?
Simply put in words, a website builder is a platform that allows you to create a website without having any prior coding or designing knowledge. By and large, website builders contain drag-and-drop tools so that adding text, images, and other elements to your website becomes quite easy.
Website builders assist you in building your website via templates and sections. There are plenty of paid website builders available in the market like Zyro, Wix, Carrd, SwipePages, etc. As far as free web builders are concerned, they come with limited functionality and features but are enough to kick-start your website. And in case you need additional features, you can always purchase their premium plans.
How to Choose the Best Ecommerce Website Builders?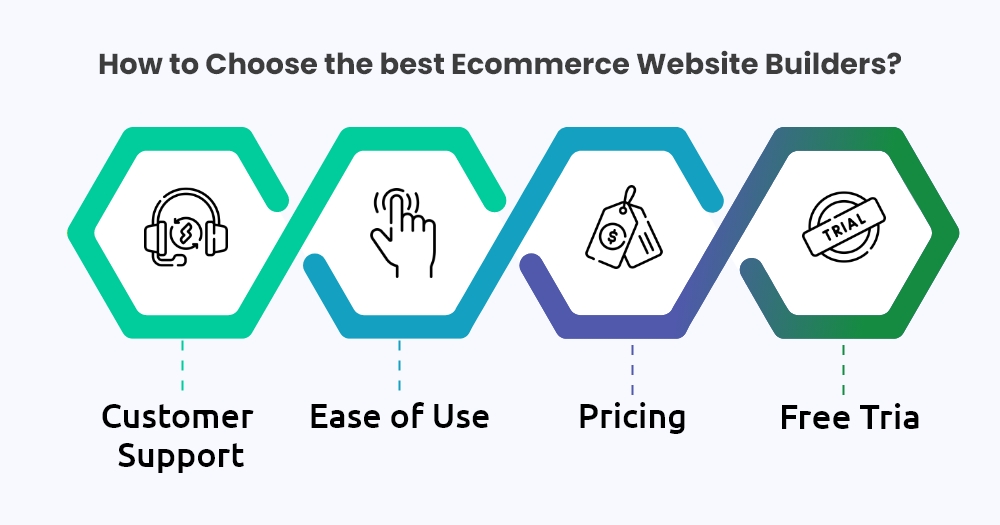 Your budget and business needs will decide which ecommerce website builders is best for you. However, regardless of which website builder you choose, several features can make your e-commerce journey smoother. We have listed some of the most important features to look for in a website builder:
Customer Support

If by any chance, you face problems while using your ecommerce website builder, you should be able to get In touch with customer support to resolve your query as soon as possible. Choose a provider that guarantees uninterrupted customer support via phone call or live chat or both.

Ease of Use

The primary factor that differentiates an average e-commerce website builder from a good ecommerce website builder is its ease of use (even if you have no prior tech knowledge). A platform that provides an easy drag-and-drop builder option along with tutorials to help you get started should be given preference.

Pricing

The more features and services you need in an ecommerce website builder, the more the pricing gets increased. It's always recommended that you compare pricing plans of different available options before finally making your decision.

Free Trial

A free trial is a great tool for testing out an ecommerce website builder to see whether or not it's a good fit for your business. There are providers in the market who offer free trials for different time periods and it is a great marketing strategy.
How to Make an Ecommerce Website for Free?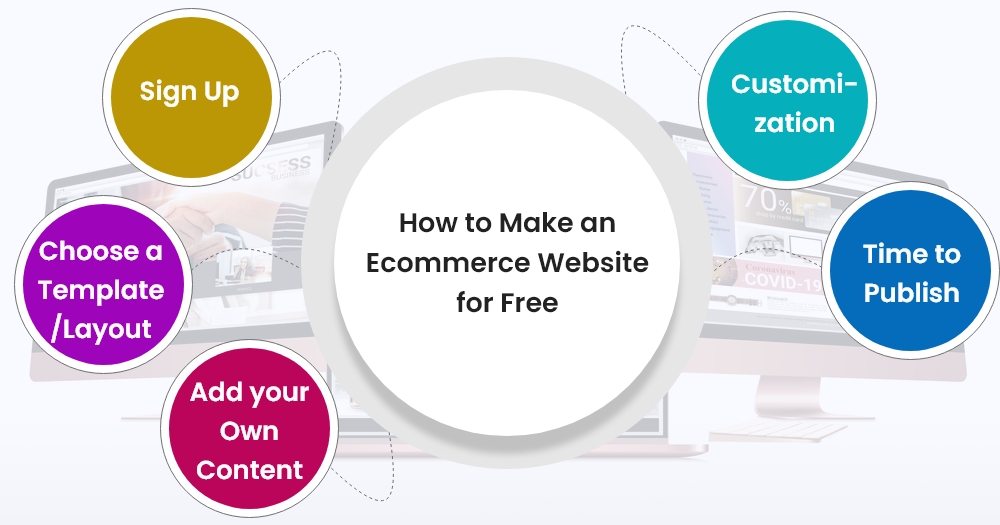 One common thing in all the website builders that we have listed above is the easy-to-set-up functionality. From builder to builder, the process and learning curve differ slightly but here are the steps to be followed broadly.
Sign Up

The first step is signing up with your concerned website builder. This will require an email, password and possibly a username.

Choose a Template/Layout

Some free ecommerce website builders will let you select a template to work with while some will use design assistance to mock up a website for you based on your answers to a few questions.

Add your Own Content

Remove and replace the placeholder texts and images with your own content.

Customization

You can further customize your design with different layouts and colors. Most of the ecommerce website builders (except Wix) let you switch templates after publishing.

Time to Publish

At this stage, your domain name will be generated and your site will be live for everyone to see.

The entire process could take anything from 15 minutes to a few hours depending on how much time you took in steps three and four.
Conclusion
In the end, all we can say is that although these ecommerce website builders offer you a free plan, however, at some stage you will need to upgrade to a paid plan. So it is highly recommended that you also look at the pricing of the plans.
Some best ecommerce website builders offer plans that are much more affordable than others which implies that in the long run, you might be unable to afford to stick to the same website builder. So even if you have to upgrade to another plan, you should always select a website builder that is there with you on a long-term basis.
FAQs
1. Which Free Website Builder is best for E-commerce?
What we suggest is that you can choose any one of these three – Wix, Square Online, and Squarespace. When it comes to building an online store, all of them offer great value for money. They all are quite reasonable and offer great set features.
2. Is Wix E-commerce Free?
Wix comes with a 14-day free trial where you can begin to set up your online e-commerce store. But one of the limitations of opting for a free trial version is that payments cannot be accepted unless and until the plan is upgraded.
3. Can I Build my own Ecommerce Website?
Yes, you can and there are multiple ways through which an e-commerce site can be built. E-commerce platforms such as BigCommerce and Shopify can be used as they provide everything you need to get started. Another option is that you can use WordPress along with a WooCommerce plugin or Ecwid plugin. You can also use a do-it-yourself website builder with drag and drop features like Squarespace.
4. What is the Most Successful Ecommerce Website?
Amazon is the most successful and used e-commerce website without a doubt. As per Statista, Amazon had up to 2.4 billion visits (desktop & mobile) in May 2022, and it is by far the most visited ecommerce site in the United States.