Mobile game publishers have been on the rise, and the publication of mobile games has significantly changed in this continuously changing and rapidly evolving sector. If you want to publish your game, choose the best game app publisher from our list.
For many, mobile gaming is a significant new frontier. We all have acquaintances who are glued to their smartphones to play games like Disney's Tsum Tsum or Candy Crush. Research suggests global mobile gaming revenues were estimated at 152.5 billion U.S. dollars in 2022. This makes mobile gaming the most significant segment of the digital gaming market.

Source: influencermarketinghub.com
While entering this industry indeed seems lucrative, publishing games also have many struggles. To make it easier for you, we've curated a list of some of the best game publishers to support, publish, and increase your game's reach.
Let's have a Closer Look at the Top 30 Gaming Publishers in 2023.
List of Mobile Game Publishers in the Gaming Industry
1. The NineHertz
Being one of the best mobile game publishers, The NineHertz offers to publish mobile game app development services at affordable rates. It creates the funnels to make award-winning games that hit the top charts. This Indian developer has become a juggernaut in PC and mobile games.
| Company Name | Founded Year | Projects | Website Link |
| --- | --- | --- | --- |
| The NineHertz | 2008 | Dangapur | https://theninehertz.com/ |
Want to Launch Your Own Game?
Convert Your Game idea into Reality
2. Nintendo
This is a Japanese multinational video game company that publishes games either developed internally or by another company. Nintendo can dominate even the higher-ranked corporations with its distinctive selection of innovative mobile games, including the wildly successful Animal Crossing: Pocket Camp in 2017 and Super Mario Run.
Company Name
Founded Year
Projects
Website Link
Nintendo
1889
Super Mario
The Legend of Zelda
Pokemon
https://www.nintendo.com/
3. Microsoft
Since its founding in 1975, Microsoft has grown into a global technology company. Microsoft only concentrates on producing, selling, and supporting software and consumer electronics. It helps mobile game developers work on titles for Microsoft PCs and its flagship Xbox system.
Company Name
Founded Year
Projects
Website Link
Microsoft
1975
Halo
Gears of War
Forza
https://www.microsoft.com/en-in/
4. Tencent Games
Tencent, a Chinese multinational conglomerate holding corporation, is the world's largest video game publishing firm. Tencent's mobile game development company has surpassed revenues of $500 billion.
The company focuses on various aspects of information technology, including social networking, music, e-commerce, and even artificial intelligence.
Company Name
Founded Year
Projects
Website Link
Tencent
1998
League of Legends
Clash of Clans
PUBG
https://www.tencent.com/
5. Electronic Arts
The American video game company Electronic Arts, also called EA, was established in 1982. With its heavy reliance on microtransactions and loot boxes for monetization, EA is currently one of the more controversial companies.
Hire Game Development Studio
Request A Free Quote
Despite this, EA continues to dominate as one of the biggest mobile game publishers in the U.S. and Europe. It significantly benefits from having exclusive rights to Disney-related intellectual property.
Company Name
Founded Year
Projects
Website Link
Electronic Arts
1982
Madden
Star Wars Battlefront
Apex Legends
https://www.ea.com/
6. Sony
This is a 1946-founded Japanese global conglomerate firm. Like Tencent, Sony dabbles in various industries, including consumer goods, finance, entertainment, and gaming. Sony's game library speaks for itself.
Therefore, it should be no surprise that their expertise in gaming also extends to mobile devices. They have set aside billions of dollars only for the creation of engaging games.
The PlayStation—the most popular gaming console in the world—was made by Sony Interactive Entertainment, its gaming division.
Company Name
Founded Year
Projects
Website Link
Sony
1946
Spider-Man
Ratchet & Clank
God of War
https://www.sie.com/en/index.html
7. Activision Blizzard
This American video game holding company is based in Santa Monica, California. It is recognized as the most prosperous independent interactive entertainment studio in the world, creating and publishing addictive games.
Company Name
Founded Year
Projects
Website Link
Activision Blizzard
2008
Call of Duty
Guitar Hero
Skylanders
https://www.activisionblizzard.com/
8. Disney
Looking for Mobile Game Publishers?
Request A Free Quote
The Walt Disney Company owned Disney Interactive Studios—an American video game publisher and developer. The studio published Disney and non-Disney branded video games worldwide, with titles featuring its consumer brands, including Disney, ABC, ESPN, and Touchstone. Although the company is no longer functional now, it was a massive name in its times.
Company Name
Founded Year
Projects
Website Link
Activision Blizzard
2007
Where's My Water?
Nemo's Reef
Marvel Future Fight
https://disney.fandom.com/wiki/Disney_Interactive_Studios
9. Bandai Namco Entertainment
In 2006, Namco Limited and Bandai Games merged to form Bandai Namco, a worldwide video game developer, and mobile game publisher. Although Bandai Namco may go unnoticed in the Western hemisphere, it is the third-largest in Japan, after Sony and Nintendo.
Company Name
Founded Year
Projects
Website Link
Bandai Namco
2006
Tekken
Pac-Man
Dragon Ball
https://en.bandainamcoent.eu/
10. Ubisoft
The French video game developer and publisher Ubisoft is a joint venture between Tencent Titles and EA, but it continues to publish innovative games under its own imprint.
Before an agreement was made in 2018 to thwart any potential takeover, Vivendi Games slowly acquired more Ubisoft shares to increase its gaming sector's dominance.
Company Name
Founded Year
Projects
Website Link
Ubisoft
1986
Assassin's Creed
Tom Clancy series
Far Cry
https://www.ubisoft.com/en-us/
11. Capcom
Founded in 1979, Capcom is a Japanese video game developer and publisher. Capcom is well renowned for producing arcade-style games that are very entertaining. A game with at least one million sales is considered a platinum title. And Capcom presently publishes more than 80 video games considered "diamond titles."
Company Name
Founded Year
Projects
Website Link
Capcom
1979
Street Fighter
Mega Man
Resident Evil
https://www.capcom.com/
12. Square Enix
The role-playing video game brands Dragon Quest and Kingdom Hearts are just a few of the many that Square Enix, a Japanese entertainment conglomerate, production firm, and video game studio. It was developed to serve as a service provider for independent game developers, offering assistance with community building, fundraising via Kickstarter, or game release support.
Company Name
Founded Year
Projects
Website Link
Square Enix
2003
Final Fantasy
Dragon Quest
Kingdom Hearts series
https://www.square-enix.com/
13. Gamehouse
With millions of players worldwide, Gamehouse is one of the largest developers, publishers, and distributors of casual games. Gamehouse provides more games and ways to play them online via downloads, smartphones, tablets, and popular social networks.
Company Name
Founded Year
Projects
Website Link
Gamehouse
1998
Doodle Jump
Sally's Spa
Tiki Towers
https://www.gamehouse.com/
14. Take-Two Interactive
American video game holding company Take-Two Interactive is one of the biggest publishers in the United States and the biggest in New York City.
Recently, Take-Two Interactive declined an offer of $1.9 billion from EA in favor of purchasing smaller companies and supporting independent mobile game publishers. Even though Take-Two Interactive's games are some of the most popular and highly acclaimed in the world, their brand recognition may not be as great as that of other gaming publishers.
Company Name
Founded Year
Projects
Website Link
Take-Two Interactive
1993
Grand Theft Auto
Borderlands
NBA 2K
https://www.take2games.com/
15. Mail.Ru
VK, known as Mail.ru Group until 12 October 2021, is a Russian technology company. The firm has also been in the games business for a decade now. Mail.ru is a publisher and releases games in critical markets, and being a licensor too, it provides licensing for other products.
Company Name
Founded Year
Projects
Website Link
Mail.Ru
1998
Horoscopes
BeepCar
Cloud Mail.Ru
https://www.gamesindustry.biz/companies/mail-ru
16. Nevosoft
As a leading casual game publisher and developer, the firm has produced various projects that have garnered professional and received many accolades. In addition to cross-platform online social games, the company's game library includes games for several digital platforms, including iOS, Android, WP, Windows, and Mac.
Company Name
Founded Year
Projects
Website Link
Nevosoft
2002
City Cat
Holy War
Vogue Tales
https://android.nevosoft.com/
17. Niantic
An American software development company based in San Francisco, Niantic is best known for developing augmented reality mobile games. It has established itself as a household name and a business worth paying attention to due to its immensely popular augmented reality game, Pokémon GO.
Company Name
Founded Year
Projects
Website Link
Niantic
2010
Pokémon GO
Ingress
Harry Potter: Wizards Unite
https://nianticlabs.com/?hl=en
18. FDG Entertainment
Founded in September 2001, FDG started as a producing and publishing studio of download games for Java-compatible mobile phones.
Company Name
Founded Year
Projects
Website Link
FDG Entertainment
2001
Banana Kong
Oceanhorn
Red Ball
https://www.fdg-entertainment.com/
19. Wargaming Labs
This is an award-winning online game developer and publisher. One of the free-to-play MMO market leaders, the company delivers authentic gaming experiences and services across PC, console, and mobile platforms. Wargaming has worked with significant industry players to distribute games across all leading platforms.
Company Name
Founded Year
Projects
Website Link
Wargaming Labs
1998
World of Tanks
Master of Orion
Gods of Glory
https://wargaming.com/en/news/wg_labs/
20. Versus Evil
It is an independent American game publisher of video games with a primary focus on assisting outstanding indie developers in bringing their original, innovative, and ground-breaking video game ideas to market across multiple platforms.
Company Name
Founded Year
Projects
Website Link
Versus Evil
2013
The Banner Saga
Fear The Walking Dead: Dead Run
Let Them Come
https://versusevil.com/
21. Game Garden
Being one of the fastest-growing companies in the Russian games market, this game publishing company has about 25 million players worldwide.
Company Name
Founded Year
Projects
Website Link
Game Garden
2009
Lily's garden
Fairy Farm
Farmdale
https://game-garden.com/about/
22. Riot Games
Based in Los Angeles, California, Riot Games, Inc. is an American video game developer, publisher, and esports tournament organizer. The company has delved into various game genres with titles such as Legends of Runterra, Wild Rift, and Ruined King: A League of Legends Story, among others.
Company Name
Founded Year
Projects
Website Link
Riot Games
2006
League of Legends
VALORANT
https://www.riotgames.com/en
23. G5 Entertainment
Being a leading developer and publisher of high-quality free-to-play games for smartphones and tablets, the company makes games available through the Windows, Mac, Kindle Fire, Google Play, and iOS app stores.
Company Name
Founded Year
Projects
Website Link
G5 Entertainment
2001
Hidden City
Mahjong Journey
Virtual City
https://www.g5e.com/
24. Zynga
The industry leader in social gaming, Zynga publishes games from outside developers on its brand-new platform, allowing cross-promotion among its sizable player base and its in-house statistics.
Company Name
Founded Year
Projects
Website Link
Zynga
2007
Farmville
Zynga Poker
https://www.zynga.com/
25. Jam City
As an award-winning entertainment company, Jam City is one of the popular indie developers and publishers of mobile social games. The firm dabbles in different gaming genres.
Company Name
Founded Year
Projects
Website Link
Jam City
2010
Panda Pop
Snoopy
Family Guy
https://www.jamcity.com/
26. ZeptoLab
Gaming and entertainment giant ZeptoLab operates on a global scale. It is most recognized for creating the critically acclaimed smash franchise Cut the Rope®. Additionally, since the initial game's release in October 2010, users worldwide have downloaded these games more than 1 billion times.
Company Name
Founded Year
Projects
Website Link
ZeptoLab
2008
Pudding Monsters
Cut the Rope®
https://www.zeptolab.com/
27. Playlab
Playlab is a leading game developer and publisher indulging in social games. The company strives to create the best games for iOS and Android devices along with Facebook.
Company Name
Founded Year
Projects
Website Link
Playlab
2012
Super Slam
Jungle Cubes
https://code.org/playlab
28. Chillingo
Electronic Arts subsidiary Chillingo is a top mobile game publisher with several internationally acclaimed titles. The UK-based company publishes games for iOS and Android platforms.
Company Name
Founded Year
Projects
Website Link
Chillingo
2002
Iron Force
Tiny Troopers
Angry Birds
https://www.ea.com/ea-studios/chillingo
29. Nanovation
Nanovation is a mobile game publishing company in Silicon Valley, California. The company's focus is on publishing high-quality games.
Company Name
Founded Year
Projects
Website Link
Nanovation
2015
Slip Away
Sky Wave
http://www.nanovationlabs.com/
30. Mixi
Japanese mobile publisher Mixi deals primarily with social networking, but they also published a viral freemium game called Monster Strike.
Company Name
Founded Year
Projects
Website Link
Mixi
1999
Crossroad Tales
Monster Strike
https://mixi.co.jp/en/
Game Publishers Vs. Game Developers – What's the Difference?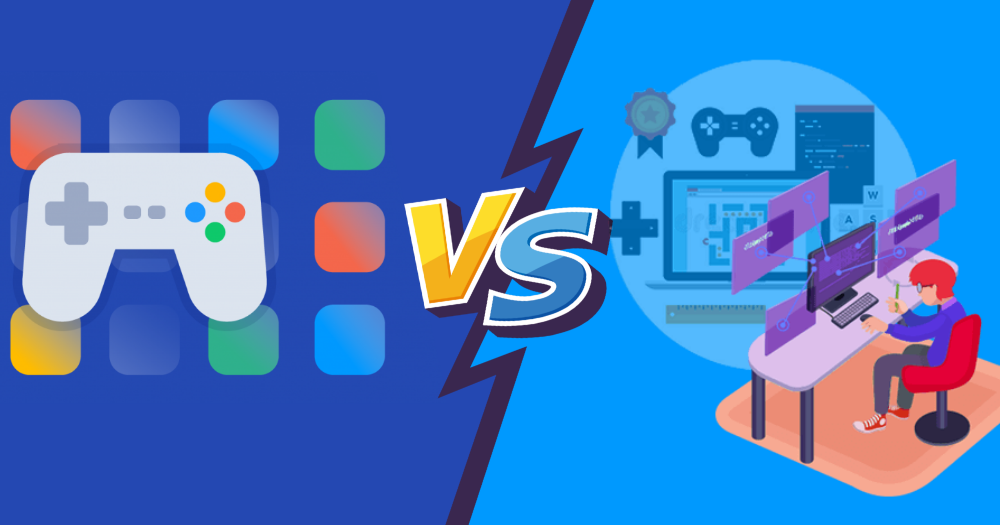 This question has many gamers and investors alike confused. However, there is a clear distinction between the two. The person who transforms a notion or idea into a playable game is known as a game developer. They design the game's aesthetics, mechanics, and mood.
A publisher, on the other hand, is a company that takes a game that has either been internally or externally developed and then markets it to increase its profitability.
If there is peace in the mobile game development industry, the relationship between the publisher and the developer must remain strong. The harmony can aid the developer and publisher in making better choices regarding the gameplay, marketing, and general condition of the game.
What is the Average Cost of Publishing Mobile Games?
The average price of developing a mobile game is between $3,000 and $1 Million+. The majority of game companies use a royalty split. Usually, the revenue share ranges from 10% to 20%. One of the main reasons why game developers sign into a contract with the publisher is because the publisher covers all expenses. The publisher also receives a portion of the developer's royalties until the game's investment is recovered. The developer team starts to receive the first deductions after the publisher has recouped the costs.
Conclusion
Whether you are an independent developer or a game startup looking to launch your game—every modern video game today requires a publishing company. We sincerely hope this list of the top 30 mobile game publishers has made your job easier!
Hire Mobile Game Developers for Your Next Project
Request A Free Quote
Can't find what you're looking for? If there is a particular gaming publisher you're looking for that isn't on our list yet, let us know in the comments.
FAQs
1. How Do I Get a Mobile Game Published?
There are two routes to get your mobile game published:
Find a publisher
Self-publishing
While both have their own pros and cons, working with a publisher also comes with its perks. It provides a standard route to success from support, advice, funding, and prestige.
2. Do Mobile Gaming Need Publishers?
Whether you publish a game yourself or use a third party, every game needs a publisher. For any game to be successful, publishing is a crucial stage that requires expertise.
3. How Much Does a Game Publisher Charge?
They charge a reasonable revenue share ranging from 10% – 20% of development and publishing costs on the app store. Publishers can help you with everything from advice and management of the game development process, financing, and distribution to game marketing via various channels.
4. Where Can Indie Game Developers Find Publishers For Their Games?
Indie game developers can take advantage of the gaming network they have built up over time, or they can try to send cold emails by researching and verifying the same game publishers.
5. Can I Publish My Game for Free?
There are websites where you may publish your game for free and get feedback, advertising, and perhaps even a cash stream. However, outsourcing a reliable mobile game publishing company can help you reach a better audience. Thus, giving better results.