Mobile games have become increasingly popular in the last few decades. Right from the iconic Tom & Jerry cheesecakes, Angry Birds, and now Wordle, mobile games are a choice of many. Given the popularity and the demand, it is only natural to see a rise in demand for new mobile game ideas, especially android game ideas.
The gaming app industry has also seen a rising demand for mobile game developers who can convert your game app ideas into reality. Like game developers, mobile device companies need to constantly evolve to meet the developments of the mobile gaming market.
As you must know, and if you don't, you will now – downloading these PC games, racing games, math games, and other general knowledge games requires an active google play service account or an iCloud account on your mobile phones. As more and more people get smartphones and computers with internet connections, the mobile game market will widen its reach.
Need Help with Game Development?
Convert Your Game idea into Reality
As a result, if you're thinking about making a mobile game app or mobile game ideas, it's a good choice to consider. You may select from several mobile game types while creating your own mobile game app. Here is an ultimate guide on how to build a mobile game.
We'll look at the main trends in the mobile game market, the mobile games that the audience enjoys, and 40+ mobile game ideas which you can use to find the appropriate game for you in this blog.
Best Mobile Game Ideas for Android and iOS
| Mobile Game App Ideas | Examples |
| --- | --- |
| 1. Sports Game | Cricket, Basketball, Table Tennis, Boxing |
| 2. Educational | Math Games, English Games, general knowledge, Science Game |
| 3. Racing Mobile Game | Car Racing, Bike Racing, Swimming Race, Mountain Bike Racing, |
| 4. Board Mobile Game | Snake and Ladder, Ludo Gaming App, Stock Market, 8 Ball Pool Game |
| 5. Card Game App | Teen Patti, Rummy, poker game, Blackjack |
| 6. Fantasy Sports | Fantasy Cricket, Fantasy Football, Fantasy Basketball, Fantasy Badminton |
| 7. Casino Game App Ideas | Wheel of Fortune, slot machine |
| 8. Kids Games | Talking games, alphabets game, Counting Game, Cooking Games |
| 9. Best Puzzle Games | word search, murder mystery, Escape rooms |
Sports Mobile Game Development Ideas
1. Cricket
Cricket is one of the most loved games in the mobile game industry. Game app development can be a tricky task, especially if you want to make it unique. You can let the players start with basic teams of 11 or individual players. The game can also have a practice arena where the gamers can improve their batting and bowling styles. As they unlock different levels, characters inspired by leading batsmen and bowlers can become available. You can also let your gamers trade these character game characters with friends or family. Dream 11 is a great example of sports game development, learn how to design game apps like Dream 11.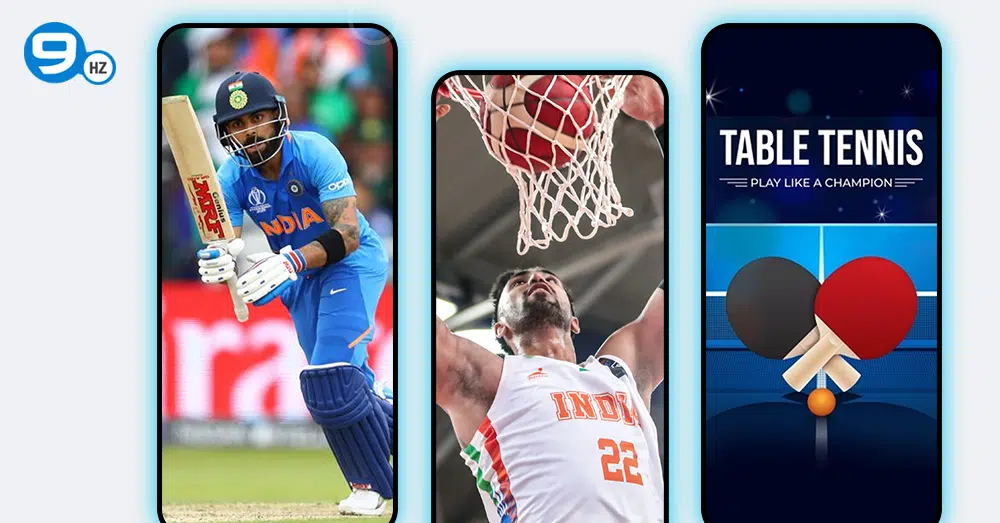 2. Basketball
How about you bring the real-life hoop shots to reel life? You can create different levels with gradually increasing difficulty. The players can be given chances to shoot 1-pointers, 2-pointers. or 3-pointer shots. You can also introduce time-based levels as a way of receiving bonuses. To make it more difficult, you can integrate a feature where the basket keeps moving on the screen or introduce certain distractions. Similarly, you can also add a buzzer. The second the buzzer goes off, the player has to shoot. The mobile game development for such features can be tricky but worth it!
3. Table Tennis
An intensive game of table tennis improves mental acuity by increasing mental alertness and attention. A table tennis mobile game can readily become a hit if you integrate varying difficulty levels and the speed at which the players can serve. Similarly, to make it more realistic, you can add sound effects for strikers and bounces. The mobile game app development for table tennis can be done in a way that lets gamers compete against friends and family in different rooms. This will make the game more competitive and engaging.
Launch Your Own Mobile Game in Less Than 4 Weeks
Request A Free Quote
4. Boxing
Imagine having the option to punch somebody when you are super angry or frustrated. Well, we are talking about punching somebody in reel life. Your boxing game can have characters inspired by real-life boxers. The games can choose the boxers of their liking or go against a friend in a match. To make it more interesting, you can also put top players against each other to keep the leaderboard going. Figure out a way to monetize this, and your gamers will love the game even more!
Educational Mobile Game Ideas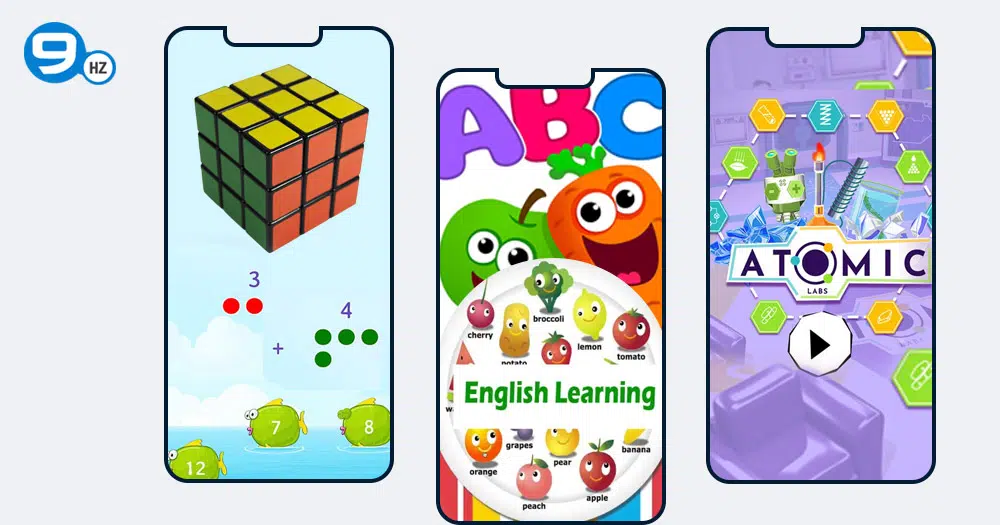 1. Math Games
Most parents don't appreciate the children playing games on their phones. But what if there was a chance to learn something out of it? Would they still dislike it? Maybe not. Cool Math games where gamers answer sums involving addition and subtraction with a clock ticking can improve their mental maths. Similarly, you can include simple word problems or complex math solutions for adults. You can also ask them to guess number patterns. The opportunities are endless! You can learn more about making educational games for kids.
2. English Games
Basic English games that ask gamers to spell the word correctly, choose the correct sentence, or fill in the blanks with appropriate words can become increasingly popular amongst adolescents. You can gradually increase the difficulty level and reward your games for every level they cross. For making it more competitive, you can allow them to play in groups and introduce the leaderboard concept.
3. General knowledge Games
A general knowledge game serves two purposes- entertainment and awareness. You can have different categories such as sports, music, authors, history, and geography to make it comprehensive. You can also reward your games that cross certain levels with virtual coins. Similarly, you can also have a live round where winners can get a chance to win real money!
4. Science Game
Mobile gaming apps take inspiration from branches of science like physics, chemistry, and biology, allowing science lovers to test their knowledge. These games often put concepts into videos and pictures. These features make them a popular choice among those who find it difficult to understand concepts.
Racing Game App Ideas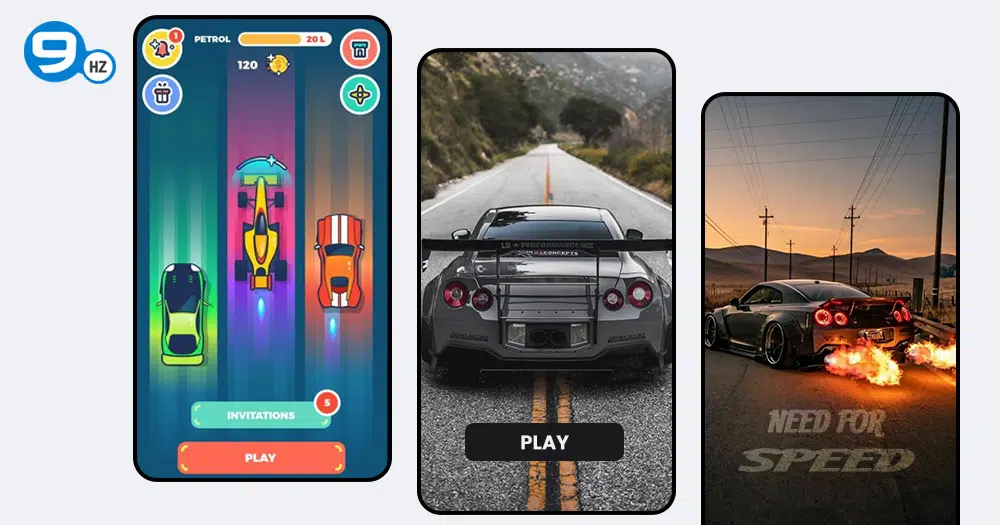 1. Car Racing Games
Engage your gamers with racer cars that can accelerate from 1 to 100 in milliseconds. Offer them designer skins, customized models, power updates with virtually captivating terrains, and watch them go ga-ga over your car racing games. You can also introduce a trunk with power suits, car accessories, headgears, and rewards that your gamers can unlock as they break records!
2. Bike Racing Game
A bike racing game app that allows your gamers to ride in different conditions with challenging tracks will definitely do well. Integrate it with a multiplayer feature that lets them race against their friends and family and reward them for staying on top of the scoreboard. Give them a chance to modify their bike parts and powers as they cross levels, beating their loved ones.

3. Swimming Race Game
A swimming game app is a relatively new concept compared to cars and bikes. Your gamers can actively switch between their character's strokes to finish first. You can also reward them for deep dives and participating in different competitions. Pair it with attractive swimming pools, diving boards, and trophies to make it a successful game. In short, make it a blend of the character game app and swimming.
4. Mountain Bike Racing Games
Riding on mountainous terrain requires more skill than riding on flatter terrain. Introduce racers bikes with power upgrades and safety gears for all your gamers. Set up traps and hurdles to make it more interesting. Add simulating sound effects and animations to make it more gripping!
Board Mobile Game App Ideas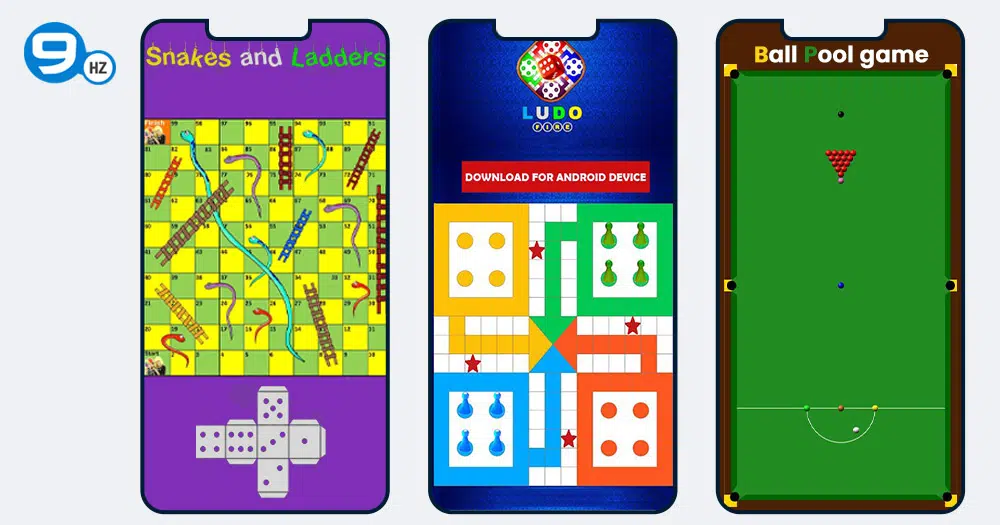 1. Snake and Ladder
Board mobile game ideas like snake and ladder will always be a part of the trending games. This iconic board game can be made more interesting by introducing different snakes and number boards. You can play around with numbers to make it mathematically difficult. Integrate a multiplayer feature so that friends and family can play it together!
2. Ludo Gaming App
The development of games like Ludo King is yet another iconic board game mobile game that continues to be one of the most trending games of all time. You can introduce different player icons and customize the game to accommodate 6-8 people. This will require customizing your ludo board into a hexagon or other shapes.
3. Stock Market
The stock market is one of those board games that has gained popularity. It is a fun educational experience in the form of mobile games that gives you an experience of playing real games in trading. Such mobile apps are rare to come across, at least as of now. You can definitely invest in developing mobile games like these to make enormous profits. You can also modify some game rules to make it more engaging!
4. 8 Ball Pool Game
8 Ball Pool mobile game app ideas took the entire gaming industry by storm when they were first introduced. This board game has a large following in the game world, and with the appropriate visuals, animations, and controls, your 8 Ball Pool game may be a huge hit in the app stores.
Card Game App Ideas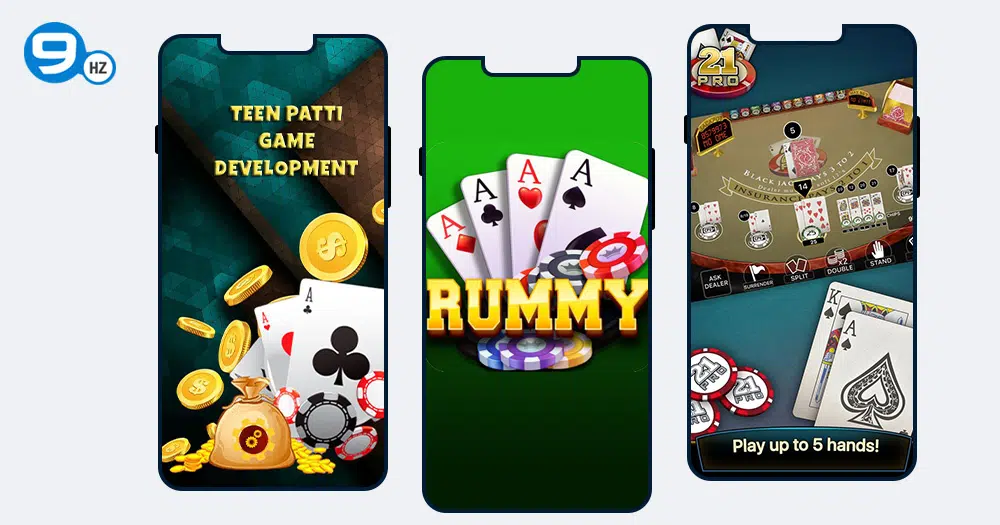 1. Teen Patti
Teen Patti as a mobile game has caught a lot of attention. With Teen Patti Mobile Game, you can give consumers a one-of-a-kind casino experience. Add a variety of game modifications to keep the game interesting and the users engaged.
2. Rummy
Rummy is a basic yet addicting example of a building card game. The game's rules are straightforward, and most card enthusiasts like playing it. Add a variety of game versions to appeal to a broader audience. You can also introduce special cards and tweak the rules a little to include them in a deck. These cards can prove to be real game-changers as they will serve as an element of surprise.
3. Poker Games
The poker game is a well-known card game that is also one of the most popular casino mobile gaming apps. To keep the poker game exciting, include elements like social network sign-in and pals, daily incentives, several dealers, and so on. Include a variety of variants.
4. Blackjack
A Blackjack game may make you a lot of money. It is quickly becoming the favorite mobile phone game of many card players. Your Blackjack game may become an immediate hit for card players with appealing graphics, excellent animations, and engaging gameplay.
Fantasy Sports Mobile Game Ideas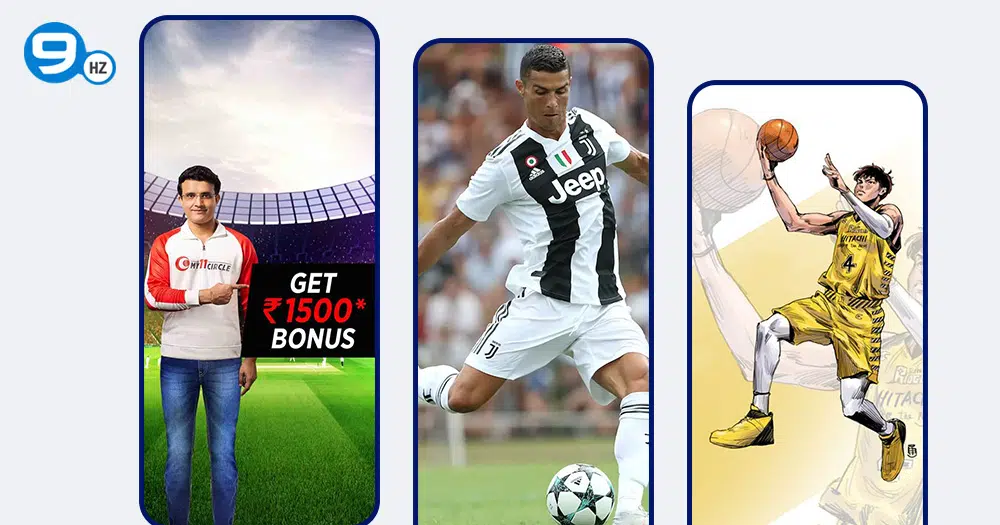 1. Fantasy Cricket
Cricket games are inarguably the most loved sports mobile game ideas. Let the game players create their own playing 11 for the live matches. Give them a chance to use their cricket knowledge to earn money while enjoying the game! You can also incorporate features like player leaderboards and offer incentives for staying on the top. This will make the game competitive. And undoubtedly, such a game will be loved by game players.
2. Fantasy Football
The number of cricket fans and football fans only differs by a margin. Another loved game in most parts of the world like the U.S, Canada, Mexico, and Japan, the love and passion for football is spreading like wildfire. In this fantasy game, mobile gamers can pick their team, place bids, and make assumptions. Provide them with incentives for placing these bets and see how the gamers love it.
3. Fantasy Basketball
Who wouldn't love to have LeBron James, Michael Jordan, or Stephen Curry in their team? Sports games like these bring the real to the reel and serve you as a mobile gaming app. Besides, if you are someone who loves the sport, knows the tricks, and keeps a track of all the baskets, wouldn't you enjoy putting your strategies to work? The real scores during the game will determine the player's score, thereby keeping them hooked.
4. Fantasy Badminton
Badminton enthusiasts will like this Fantasy mobile gaming app. Players can pick their teams, and points will be awarded depending on the performance of the actual players. Such an app is the finest app for badminton enthusiasts who want to have fun while also earning money.
Casino Mobile Game Ideas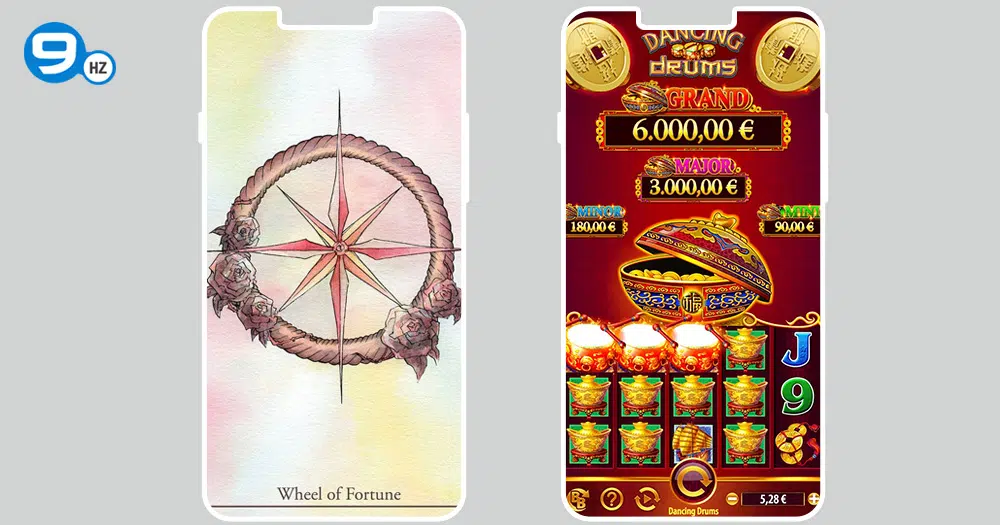 1. Wheel of Fortune
The Wheel of Fortune game may be played for real money, virtual gambling set coins, or you can spice it up with various awards and in-game assets. To encourage mobile gamers to play your mobile game regularly, employ daily login rewards. Here you can find a list of the best money-making games.
2. Slot Game
The secret to creating ranking game development ideas is to create a slot machine with beautiful visuals, original concepts, and outstanding animation. Make your game idea the perfect slot game by including exciting prizes, different skins, and varied features.
Mobile Game App Ideas for Kids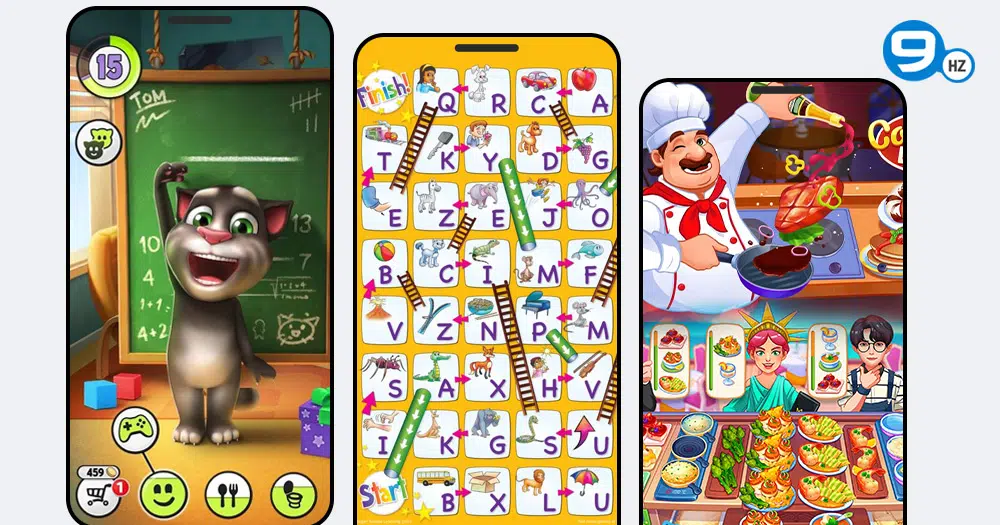 1. Talking Games
Talking games like Talking Tom have been extremely popular in the past. To make your game virtually different, you can integrate different animal sounds. You can also include popular nursery rhymes and poetry, a feature that many games lack. This will turn your game into a learning experience, making it a win-win for parents and children. Here you can check my other guide on the best virtual pet games.
2. Alphabets Game
Games can be a fun way of teaching your children. Your alphabets game can introduce different features like guess the letter, guess the word, match similar letters, etc. This will help children learn, recognize, and understand alphabets better. Educational games like these also receive support from parents because it helps their child's growth.
Launch Your Own Dream Mobile Game App
Request A Free Quote
3. Counting Game
If you can teach children how to recognize letters, why not extend it to numbers by introducing a counting game application? For starters, the game can help children in counting by displaying objects. For deeper learning, they can be asked to match items of the same quantity, add a certain number of objects to the cart, etc. Educational mobile game app ideas like these can become a hit if you add exciting elements and visually appealing graphics.
4. Cooking Games
Surprisingly, cooking games happen to be a popular choice amongst kids. With their attractive visuals and sounds, they are well received by children. Baking pizzas, making milkshakes, serving donuts, and baking cupcakes are a few gaming ideas that you can base your games on. You can introduce different topping options, customers, and machinery. Kids can unlock these machines as they cross different levels. With each level, you can introduce a new food item. The game development process for such games is usually the most exciting part.
Best Puzzle Mobile Game Ideas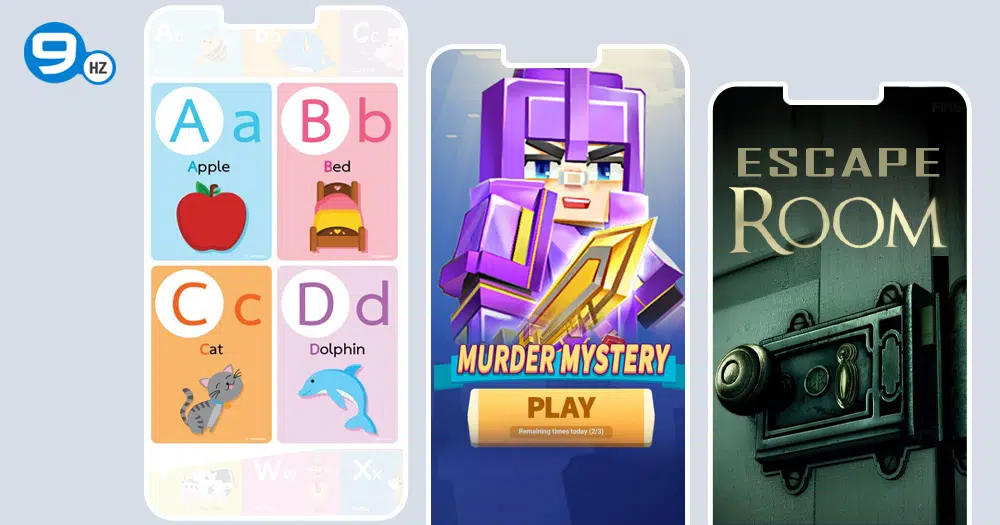 1. Word Search
You can add 1000+ word search levels to your game to offer your customers an unlimited dosage of their favorite word search game, much like completing word searches in books and newspapers. Similarly, you can also have a different sub-type where the gamer has to guess the word depending on the hints, much like the crossword puzzles. You can also turn it into a match puzzle game. You can read a guide on creating a puzzle game like candy crush.
2. Murder Mystery
Among puzzle games, the murder mystery games are highly popular. To complete the levels, players must locate the concealed objects which are listed as proof. Gamers must piece together important information to solve a crime. Come up with intriguing situations, murder weapons, and increase their difficulty per level. You can also add a few legal aspects to make it more interesting. 
3. Escape Rooms
Escape rooms are a part of the relatively new mobile game ideas. The goal is to locate the key or password using the clues and escape the room, whether it's a room, a jail, or something else. The game is quite challenging and will keep people interested throughout the stages.
Top Trends of Mobile Game Industry
AAA games
Augmented reality games
Hyper-casual games
Battlegrounds
Simulation
Games with artificial and machine learning
Blockchain-based games
Cross-platform gaming
Cloud gaming
Types of Games that the Audience Prefer
Casual Mobile Games
Puzzle Games
Arcade Games
Action
Racing
Adventure
Card
Board
Word
Why Choose The NineHertz for Mobile Game Development?
The Ninehertz is a leader in affordable game creation services. We have top-notch developers who will bring your dream mobile phone games to reality with their extensive knowledge and years of hands-on experience. These games will enhance the user experience of mobile gaming. Our solutions are tailor-made to meet your mobile game ideas. Leave it to us to create the best gaming apps for your audience!
Hire Certified Game Developers Under $20
Request A Free Quote
Conclusion
There is no doubt that with an increase in the number of mobile phones and mobile phone users, the number of mobile games has increased. Game developers are constantly brainstorming to find creatively distinct mobile game development ideas and android game ideas. The market is booming, and if you are looking to make investments, the right time is now!
FAQs
Q.1 What are the Current Gaming Trends?
As per the latest reports, AR and VR games to the gaming charts. They are closely followed by AAA and hyper-casual games.
Q.2 What Tools Can You Use for Developing Games?
You can use several tools like unreal engine, smartfox server, unity, HTML-5, Photon, etc.
Q.3 Why is Mobile Gaming so Popular?
One of the most important factors contributing to the gaming industry's growth is that online games are accessible to anyone. For some, purchasing gaming systems and high-priced electronics is out of the question. As a result, people prefer to download offline versions of internet games on their phones.
Q.4 Which Game is Most Loved by People?
Most popular online games include PUBG, Minecraft, Fortnite battle royale, and more.