Need a hire Flutter developers online for your business? As the Flutter framework is revolutionizing the mobile app development industry, to jump on the trend, all of us want a native Flutter developer for an astonishing web appearance. As there are plenty of options available on the internet, it becomes quite confusing sometimes while choosing a suitable mobile app developer.
In order to simplify the process, we are going to disclose the top ten tips for hiring a suitable flutter app developer online.
But before deep-diving into the topic, let us understand what Flutter development is. Flutter is an open-source SDK (Software Development kit) by Google. Google developed this framework for its personal use initially but then later it was made available for everyone. The framework is quite popular due to its mind-blowing user interface for developing applications. There is a special feature in the framework called Hot Reload that allows the developer to see any immediate change in the application.
10 Tips on How to Hire Flutter Developer Online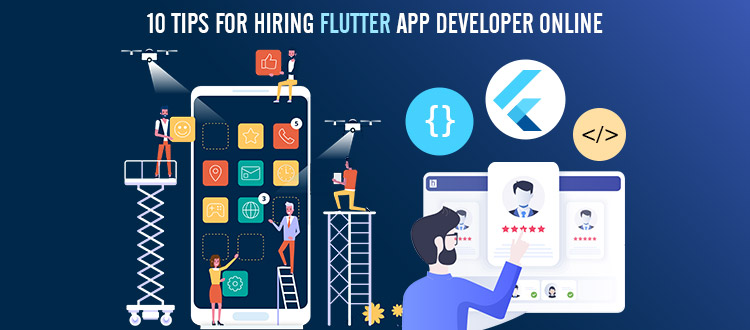 1. Research Relevant Technology
Having knowledge of related technology is mandatory while hiring a tech professional. Unfamiliarity with the relevant technology is a bad sign and there are higher chances that your developer might not keep up with your expectations. Proper research and analysis are very important before starting the hiring process as it not only helps you but also your developer in understanding your requirements precisely. If you are planning a startup, here are the reasons to choose flutter for your startup mobile app.
2. Searching Online A Flutter Mobile Developer
Internet is a great source of good flutter app developers who can contribute to your app development project. But the most important thing is that the internet is like an ocean where finding the right person is in itself a big task. Hence, you need to pull up your socks as the process is going to be tough. Depending upon your project, you need to frame your search and act accordingly.
3. Monetary Estimation
The app development process must be completed by keeping a check on the overall budget at the same time. You don't want your budget to get expanded as it increases your overall project cost. This can seriously impact your revenues. Hence you need to be very careful. All you need to do is conduct random inquiries on various freelance websites to get an idea of the base price/average price. After getting the idea of the base price, you can do further bargaining depending upon your project's requirements.
4. Examine Portfolio
Understanding and analyzing the developer and his skills are the most vital part of the overall hiring process. You should not conduct the hiring process in a hurry, rather, you need to conduct the hiring process in a very systematic manner to cover all the relevant points. Perform proper investigation about the developer's portfolio. A portfolio can give you the exact vision of the developer so that you can make up your mind whether to hire the developer for your project or not.
5. Look for the Right Skill/Expertise
You have to make the ultimate decision regarding the choice of developer depending on his skills, experience, and expertise. Whatever your project requirements are, note down all of them on a piece of paper and conduct your search accordingly. Stick to your plan and do not deviate from your plan. These things will help you chose the perfect developer for your dream project.
6. Go Through Client Reviews
This pro tip works great in assuring yourself regarding the behavior of your developer and how the overall developing process functions. Search Information related to the developer's previous clients and conduct meetings with them or at least talk to them over the phone in order to know their experience with the developer. Sometimes, making such an inquiry is a very tedious task but you have to take that pain to make the right decision.
7. Look for Experience of Flutter App Developers
One needs to decide about the experience requirement before hire a flutter app developer online. If your project demands creativity, research and analysis, and complexity in design, then you must go with the experience. This is because your project is huge and you cannot take the risk as a lot of your resources are at stake. Hence, in such a case an experienced developer is the best option, otherwise, it is okay to hire a fresher or freelance developer. This might also save a lot of your cost.
8. Choose Apt Technology
Always try to contribute by crafting your ideas in your dream application. And you must not feel hesitant in doing that. Provide detailed information to your developer so that it is easier for the developer to integrate all your requirements in your application and make it exactly look like you wanted it to be. Choose a suitable technology or framework and decide on an appropriate theme and plug-ins accordingly.
9. Look for the Best Customer Support Service
App development is a continuous phenomenon and you need a developer who is constantly in touch with you even after completing your application. This is because there are plenty of technical things waiting for you as soon as your application development phase is completed. For that reason, you need to have uninterrupted support and assistance from your developer to resolve your queries. Always talk to his past clients to know more about him concerning his support and assistance services.
Also Read: Flutter Guide 101: What is the Future of Flutter App Development?
10. App Development is Not Just Confined to Coding
The application development process is not as easy as it looks. The job of a developer is to create an attractive web portal for the client. Hence, for that, he needs proper time to perform development in an efficient manner. The process is enriched with a lot of technical stuff and for that, you need to provide adequate time to your developer to execute things in the correct manner. Must check why flutter app development is trending.
Also Read: Why Flutter 1.12 is the Best Google Version of the Year 2020?
Best Way to Hire Flutter Developer Online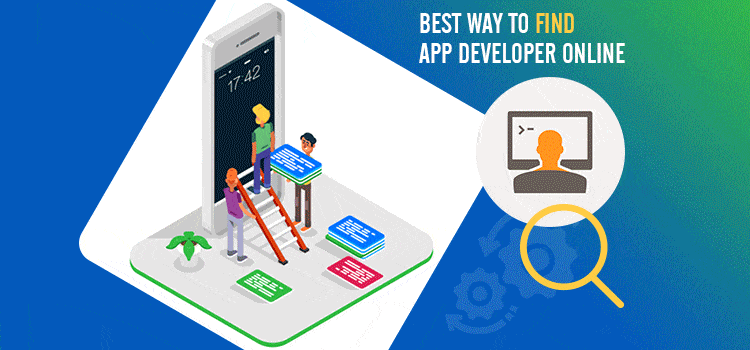 There are plenty of platforms over the internet to find app developers and some of them are pretty good too. If your project is comparatively big then you must go for a renowned mobile application development company such as The Ninehertz. The Ninehertz is an IT company working in mobile and web development for the past so many years. We have delivered thousands of successful projects to our clients. If your project is smaller involving less or no complexity then you might also go for hiring a freelance developer. Some popular platforms to hire a developer are listed below:
Fiverr
Upwork
Toptal
Freelancer
PeoplePerHour
Envato Studio
Guru
Nexxt
DesignCrowd
DesignContest
Final Words

In the end, let us conclude by saying that we have tried our best to provide you the relevant information, however perfection cannot be guaranteed. We would recommend that in case you are planning to start a software development venture, then there is no best option than hiring an in-house Flutter Development team. On the other hand, while finding mobile app developers for an enterprise or a startup, outsourcing a Flutter Application Development Company is beyond comparison.
All you need to require is to make sure that the company is reliable and belongs to a country where the cost is minimum and quality is top-notch. The best example is India where you get quality developers and development companies at affordable prices. In the US and Europe, the per-hour cost is way too high, hence it becomes next to impossible to hire developers from those regions. This is why people prefer Asian countries like India to initiate their app development process.