On-demand grocery delivery apps are the new trend in this technological world with the extended use of smartphones across the world. It ends up the need of you standing in a long queue at the grocery store and wasting your valuable time. You can purchase required household products at reasonable pricing from anywhere anytime with numerous payment options. And get delivery at your doorsteps. In this guide, we will discuss how much does it cost to build a grocery delivery app and how to develop a grocery shopping app in 2022?
There are several on-demand grocery delivery apps available in the market like BigBasket, InstaCart, Fresh Direct, Purple Carrot, Blue Apron and others. If you are looking for grocery delivery app development, this blog is for you. It will provide you with all the required information that's much overlooked for grocery app development.
So let's start with!
Factors to consider while Build Grocery Delivery App in 2022
Address the pain points of the customers

First of all, the main focus will be on developing an easy to use, user-friendly application. So that it can easily be accessed by the end-users and encourage user engagement. In addition to this, it should be capable of addressing certain pain points of the customers. One of the factors that ensure the success of an application to a great extent. In terms of grocery app development, InstaCart with a unique feature of one-hour delivery service is the best example to describe this point.

Analyse strengths and weaknesses of the competitors

Before developing an application, it is crucial to perform thorough market research. It will give you an idea of competitors' core strengths and weaknesses considering which you can find the issues needed to be explored and addressed. It will give you an edge over the competitors with the addition of unique features.

Attractive design and layout

The application you are going to develop should be simple yet have an impressive design with stunning visuals. Also, it should feature simple navigation and superior functionalities.

Other personalized experiences to the users

The application should also provide some personalized experiences to the users with features like 'favourite' and 'popular' in its design layout. So that users can find products of their preferences.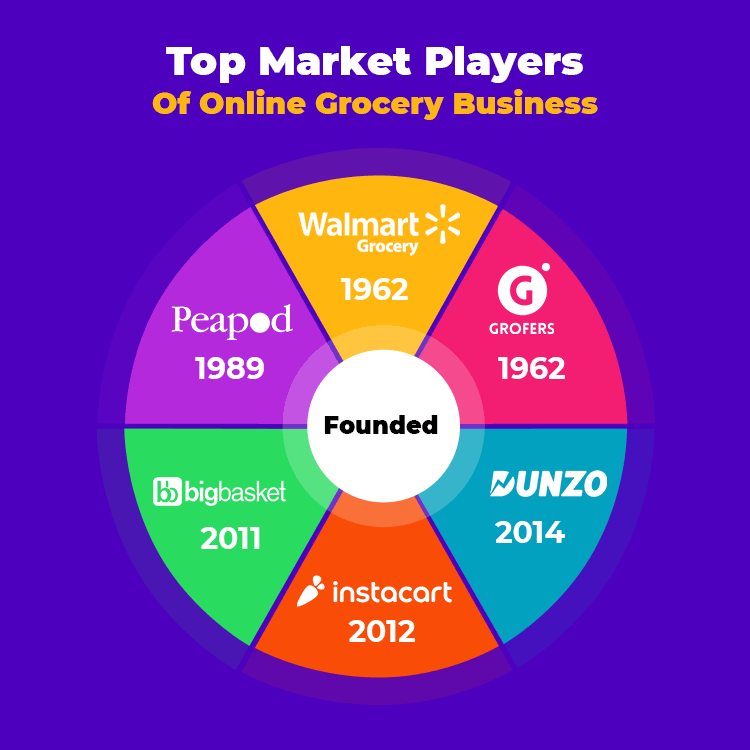 Types of Grocery Shopping Apps
Generally, there are three types of grocery apps which are highly popular in the market to serve customers. They are:
The E-Commerce Grocery Delivery App
The E-commerce apps like Flipkart, Amazon, etc which offers a wide range of grocery items among others are known as E-Commerce Grocery Delivery Apps. using these apps, customers can also pick an appropriate delivery time according to their availability.
Individual Grocery App
Those apps which are entirely dedicated to fulfilling grocery needs only are the Individual Grocery App. It includes popular names like BigBasket, InstaCart, Grofers and others.
Shopping on these grocery apps provides users with an exceptional and outstanding experience as compared to visiting retail shops. Additionally, the customers get benefited with the services like a grocery list, grocery IQ and delivery.
Supermarket Grocery App
Supermarkets like Costco, Publix, and others have also joined the race for grocery app development with its increasing popularity. The applications used by these supermarkets or in-store are the outcome of functionalities from personalized and e-commerce grocery apps.
Using these applications, these mega stores can notify customers with the ongoing or upcoming offers/schemes. They use push notifications and beacon technology to do so, whenever the customer is in the range of the store.
Want to Develop Your Own Grocery App?
Talk to Our Grocery App Development Experts. Get Your Free Quote.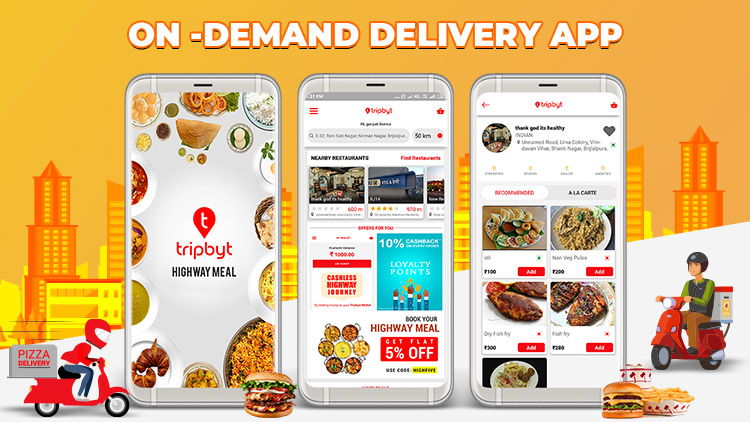 Online Grocery Delivery App Development Benefits
Grocery app development leveraged both the customers and app owners with numerous benefits. We have listed down here. Have a look.
For Customers
Time-saving

In the time when we lead hectic and stressful lives. The technology provides millennials with a comfortable and convenient one. In such situations, on-demand grocery apps like BigBasket, InstaCart come into a role and save a lot of time for the users.

Convenient

Grocery delivery apps are easy to use and streamlined. It lets users place an order from anywhere, regardless of location. The only thing users need is their smartphones with an internet connection and they can use their time saved in doing other productive tasks.

Prevent Over-shopping

It's natural whenever you visit a mall or at a grocery shop, you end up purchasing things which are not that much of your use. Due to the temptation issue. While it is not the case with the grocery apps, you will be focused on the things which are on your shopping lists and avoid over-shopping.

Saves Money

Time to time, grocery apps come up with alluring offers and discount schemes from festival season offers to loyalty programs and discount coupons. Not only, it saves users money but also attracts more customers to the application.

Quick and Secured Payment Processes

Grocery apps like BigBasket, InstaCart provide the facility of making payments through different options available. You can pay online at the same time while placing an order. Or you can choose for cash on delivery and make payment whether online or offline when the ordered items get delivered at your doorsteps.

For Grocery App Owners
Suitability

The grocery app which offers convenience to the customers is the suitable option for the business owners when it comes to addressing their needs. That is why nowadays business owners are preferring to opt mobile apps over the website. Not only it provides a quick and hassle-free service to the customers but also helps service providers in gaining the loyalty of their customers.

Instant Gratification

Nowadays, users focus is not only on purchasing good quality products but also they want to feel special with the provided shopping experience. And it becomes much easier with the quick and hassle-free service provided by the online applications. This makes customers grateful and keeps them loyal to your brand.

A Competitive Edge

In the competitive world, where everyone is trying their level best. It is necessary to stay a step ahead with your competitors. So concerning a more effective approach and taking initiative towards it to address customer's certain pain points efficiently can give you an edge over the competitors.
Why is the Grocery Delivery Mobile App an Essential in the Current Era?
In this technological world, people choose to perform most of their daily life activities using their smartphones. From listening to music, watching movies, TV, booking Taxi to online shopping and several other activities. This has increased the demand for apps for performing almost every task related to people's daily life. Grocery shopping is one of the tedious and time-consuming tasks in this fast-paced life. People can't afford to stand in a long queue at the supermarket for billing and making payment. This makes entrepreneurs and start-ups come up with the idea of an online grocery delivery app.
Currently, the online grocery shopping business is flourishing with the increased use of grocery apps from the people around the world. It is evident in the survey report mentioned below: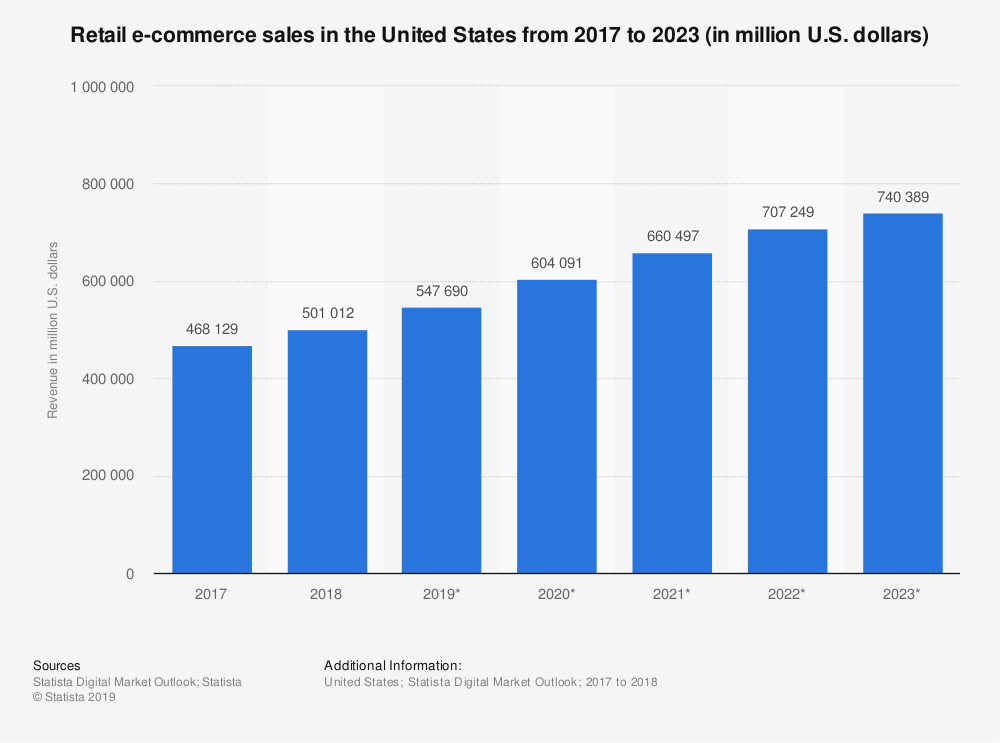 Source: Statista
In the year 2012, the online grocery business generated revenue was $6 billion which reached $22 billion last year with gradual growth over the years. This ongoing year, it is expected to touch $21.7 billion or over that.
Last year there were 5.1 billion mobile users as per the data-portal survey. This count definitely is reached to whole new parameters this year. Therefore, who would be that fool to miss that potential customer and opportunity, if they are willing to enter this marketplace. It is the right time. With the growing numbers of mobile users, the demand for grocery delivery apps for shopping for essential household items is also growing with each passing day. This is an important reason behind the requirement of grocery apps for the online grocery business.
Besides this, critical situations like the COVID-19 pandemic world is facing today, these grocery apps like BigBasket, InstaCart come up as blessings. When we are forced not to go out of the home due to nationwide lockdown. It became so hard to go grab essential services like food, grocery shopping etc. To cater to such essential requisites, on-demand grocery apps come up as a blessing and their popularity in the market is growing exponentially. These apps are dedicatedly delivering food and grocery to the doorsteps of the people. And people are depending on these apps for ordering groceries and getting instant delivery.
In addition to this, the measures adopted by these service providers to ensure safety from the spread of COVID-19 and understanding online shopping behavior, enhancing public trust in them. Consequently, huge growth is noticed in the sales of business ventures providing the facility of online grocery delivery.
So, if you are looking to enter this marketplace, it is the best time to introduce a grocery delivery app like BigBasket and InstaCart and set foot into the venture.
Get Robust and Reliable Grocery App Like BigBasket!
In a Cost-Effective Way
How On-Demand Grocery Delivery Applications Works?
To handle the complete scenario of grocery delivery at your doorstep, a grocery delivery app consists of at least three mobile apps:
Ordering App for Customers
It is the main app through which customers place their order and make payment more conveniently. This app helps shoppers to buy groceries from the stores where they can get all the items in their shopping list in budget pricing and get orders delivered in less time.
Delivery App for Drivers
It is a separate app used by the delivery workers. This app gives them a glance of order details and their income from orders' delivery.
Admin App for Vendors, Merchants, Admins
This app is used by grocery shop owners. Here they can check the availability of ordered items, their income, brand visibility and others to manage, grow their business by making efforts appropriately.
What Are The Key Features Of A Grocery Delivery App?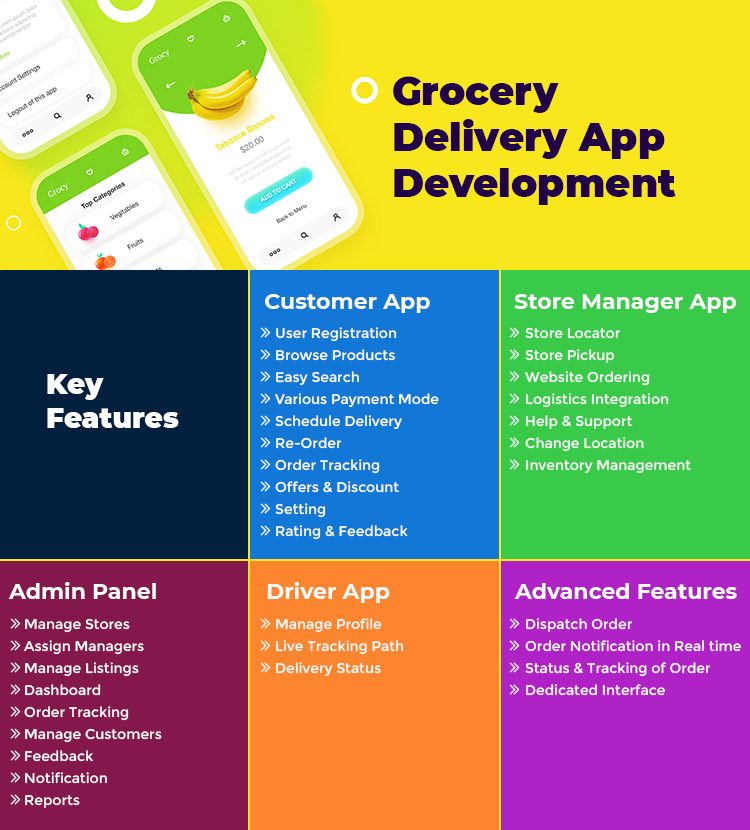 Let's have a look at some of the basic yet essential features of a grocery delivery app:
As mentioned above, a grocery app consists of three different apps to make one. Accordingly, we listed down the must-have features.
Order Application for Customers
Sign up/Sign in: Facilitates Sign Up/Sign using Email ids/Phone numbers and password.
Choose Supermarket: Allows supermarket selection from the list to check out products available
Location: Avails providing the delivery location with complete address
Search & Filter: Offers product searching ease with product name or category name using multiple filters
Buy: Select available products and add them to the shopping cart
Shopping Cart: Users can check selected products, their prices before checking out
Payment: Avails selection of payment mode through available different options
Wallet: Provide a view of the available balance and recharge wallet options
Return & Cancel: Allows return or cancel of the placed order if not satisfied with the product or changed the mind
Schedule Delivery: Allows scheduling of delivery based on your availability or convenience
Track Order Delivery: Users can track order delivery and check the current status of the order delivery
Delivery Order History: View date-wise order summary and details of all the previous delivery orders
Rate & Review: Users can rate and review the particular product
Wishlist: Allows addition of products you want to purchase or keep it for future reference
Chat/Message: Allows enquiry of the placed order from the delivery person through chatting
Notifications: Notify about a placed order, promotional schemes, offers and deals
Offers & Coupons: Lists all the deals and offers to save your money
Store Admin App
Order management: It manages all the orders and suggests nearby stores relevant to the order
Manage Inventory: Help stores in managing item inventory of the store and its details as well
Accept/Reject Order: Stores Accept/Reject order according to the availability of the product
Receive Payment: Stores receive payments after the delivery of the completed order
Review & Ratings: Provide a view to the reviews & ratings of the particular orders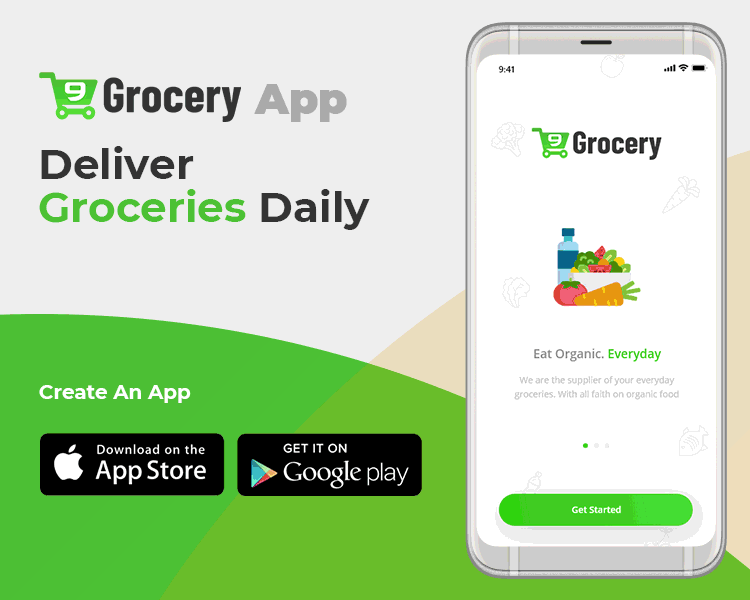 Delivery App for Drivers
Sign up/Sign in: Allows Sign Up/Sign for delivery drivers using their Email id/Phone number and password
Dashboard: Give a complete view of all the orders: completed and ongoing
Status: Avails setting delivery status-ON/OFF
Order Request: Flashes order request along with scheduled delivery time. Drivers can accept/reject the request
GPS-Navigation: Provides directions to the grocery shop and the customer locations
Chat/Message: Allows conversation with users regarding their query about the order
Payment: View the summary of the payment received including the mode of payment
Wallet: Drivers can check here the amount received from order delivery and withdraw it
Order history: It keeps the record of the past completed deliveries with transactions and user details
Push Notification: Provides notifications related to the order status or changes made to the order
Admin App for Vendors, Merchants and Admins
Dashboard: Provide information related to various orders along with order management for the particular shop
Order Assigning Logic: System works automatically to detect the driver's current location and assign the order to the nearest one for a specific order
Manage Payments: Manages received payments, and release store and drivers share according to the decided terms and conditions
Manage Stores: Avails management of stores along with providing a view to the order of the particular stores
Assign Order: Facilitates viewing and assigning of the incoming order to a particular driver for the specific order
Delivery Order History: Provides a summary of the completed order with their date and other details
Push Notification: Send push notification regarding any system related news/offers to the customer, stores and delivery driver
Offer & Coupons: Allows admin to create new offers and coupons for the customers
API & Synchronization
SMS Gateway: Helps to send SMS notifications of the grocery/promotional offer with the Integration of SMS API
Payment Gateway: Simplifies payment process with the Integration of payment API
Email: Automate sending emails to the customer for order-related details with the Integration of email API
Analytics: Provides analysis of the number of user registrations, order confirmation, order cancellation, and delivered orders with the integration of 3rd Party Analytics API
Geo-Location: Provides real-time tracking and geo-location of the delivery drivers with Integration of API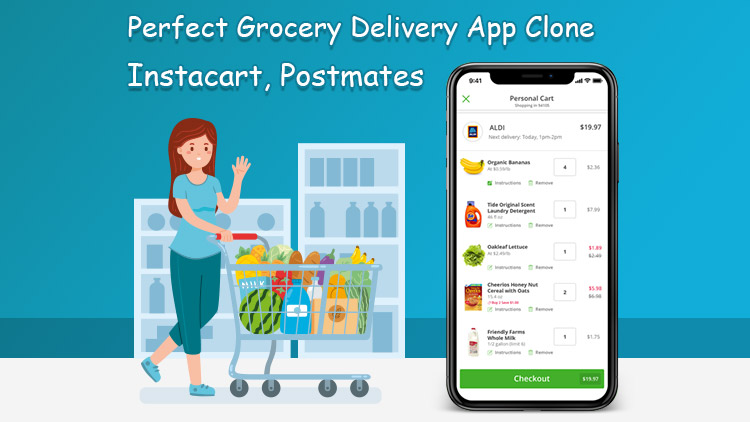 Best Grocery Delivery Apps in USA
You can read our another blogs for details about best on-demand grocery delivery apps in USA. Over time, numerous players have entered the grocery delivery online business. Though, ones which have managed to survive time to time and turned out as unprecedented leaders are the following:
BigBasket
InstaCart
Grofers
Amazon Prime Now
Walmart Grocery Delivery
We know you also dreamt of joining this list of market leaders in the online grocery delivery market and why not, everyone wants to generate revenue as massive as these players collect.
How Much Does it Cost for Grocery App Development Like Walmart, Grofers, Bigbasket?
The cost of developing a Grocery app like BigBasket and InstaCart depends on several parameters like the complexity of the project, the platform you choose and the developers' cost based on their geo-location since it changes from country to country.
If estimated, the cost for the grocery delivery app will fall in the vicinity of around $ 10,000 to $ 40,000 for a single platform. Whereas, if you go for the cross-platform grocery app development, you have to pay extra. The development cost will be in the range of $30,000 to $60,000. Though the application will have additional features and help your business by attracting more customers.
Hire dedicated developers and choose the platform according to your business needs, app benefits and then estimate the overall costing which will help you to stand out of the competition.
| Developers | Cost per hour |
| --- | --- |
| U.S. developers | $50 to $250 per hour |
| Eastern Europe developers | $30 to $150 per hour |
| India developers | $10 to $80 per hour |
What is The Future of Online Grocery Ordering Delivery Apps?
Undoubtedly, the future of online grocery ordering delivery apps is bright. The online surfaced reports are suggesting the same. According to them, within the next decade, the eGrocery market will grow five times in the US alone and people will spend more than $100 billion. We expect the same to be observed globally.
Also, the number of Americans buying groceries online is likely to grow by five times from the current figures in the next year. Whereas it was proposed from the eGrocery store market analysis that nearly 20 million new consumers will join online grocery shopping by the end of 2018. This figure may have increased to a whole new level with the increased smartphone users day-by-day.
By the year 2024, the eGrocery market sector is expected to generate revenue of US$84460 million, which is a mind-blowing figure. Therefore, it is the best time to introduce a fully-fledged online grocery delivery app and strengthen your feet in the market.
Conclusion
The ease of use and user-friendly characteristics of the application increase its popularity in the market and it is the right time if you are looking for on-demand grocery app development. Because there are no plethora of grocery delivery apps in the market yet. The thing you need to do is thorough market research keeping end-users in mind. So that you can find their pain points and address them with your unique solution.
To bring your idea into reality there are renowned app developers in the market. You can shake hands with any of them to complete your grocery delivery app development project, considering your business needs and more importantly budget.
FAQ
1. How much do you need to spend on the grocery delivery app development?
There are several factors which play a significant role in deciding the cost of grocery delivery app development. Likewise added features, app screens count, app design complexity, location of the develop and others. If you go for a native app the average cost for the development will be $18000 USD. On the other hand, for a hybrid app, you have to pay an average amount of $25000 USD.
2. How much time grocery delivery app development requires to accomplish?
Developing a grocery delivery app for your online grocery business. And want to know the time period for its development. Here are several factors which affect its development duration which is the experience of a developer, functionalities included to the app, testing and its deployment. On an average, grocery delivery app development requires 3 months of the time period for the Hybrid App whereas the native app development tools 4 month time.
3. What are the ways grocery delivery apps use to make money?
There are several ways using which a grocery delivery app makes money. It includes delivery charges, peak pricing, commission charges, advertising, paid listings, and others.
4. Why do we prefer Flutter over others to build Grocery App?
Flutter app development is the right approach for the development of a grocery app. Since It is an open-source platform from Google which allows the development of cross-platform or hybrid apps. That means you can develop a grocery delivery app that can run on both the iOS and Android platform using a single code base. It results in the saving of time and money going to be spent on its development. Other than this, Flutter apps provide an impressive UI experience with amazing visuals. There are several other features and development benefits Flutter app development offers. You can check it here.