Pioneered by Uber, Postmates, and Airbnb, the on-demand courier delivery app is currently one of the most widely used business models. The concept has redefined comfort and convenience for consumers. And the pandemic has also fuelled industry growth. With such hype, many businesses want to tap into this market and uncover growth opportunities. Let's explore how to create on-demand courier delivery app and outshine the industry.
The on-demand economy is witnessing an all-time high by attracting more than 22.4 million consumers annually. Today, consumers use on-demand delivery to get anything you can imagine—from delicious food to the latest gadgets.
The number of smartphone owners using at least one delivery app climbed from 31.4 million in 2018 to 44.1 million in 2020. This rising trend is not expected to die anytime soon. That said, an on-demand delivery service can take nearly any business to a new level.
It goes without saying that you need a reliable on-demand app development solution at your disposal if you want to build a profitable delivery service business. But how can one create one?
This post will provide a step-by-step tutorial on creating your on-demand courier service app.
But first, let us understand what are on-demand courier apps.
What are On-Demand Courier Delivery Apps?
An on-demand delivery platform allows customers to order desirable products whenever and wherever they want. In one app, users can shop for the goods they wish to purchase and arrange for them to be delivered, all in just a few minutes. It's arguably the most convenient and flexible online shopping option. These parcel delivery apps represent instant and well-coordinated communication between a customer, a seller, and a delivery company.
Top 5 On-Demand Delivery Apps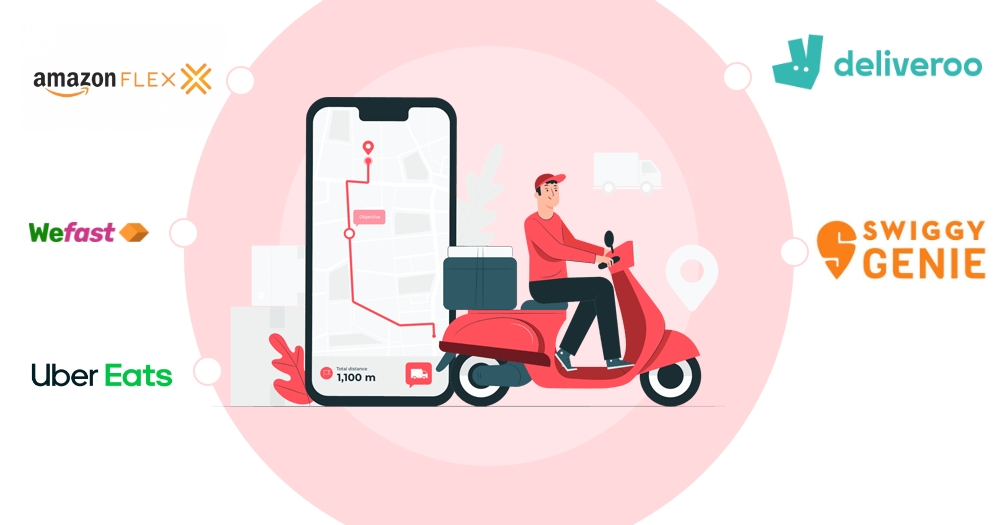 While there are a plethora of on-demand courier delivery mobile apps in the market, only a few of them stand out. Each of them is based on different models.
Here are the top 5 on-demand courier delivery apps that dominate the market.
| Top Courier Delivery Apps | Year Founded |
| --- | --- |
| Amazon Flex | 2019 |
| Uber Eats | 2014 |
| Wefast | 2016 |
| Deliveroo | 2013 |
| Swiggy Genie | 2020 |
Everyone is aware of Amazon Prime's superb service and delivery. We now have Amazon Flex, one of the best parcel delivery options available for everything and everything, including Amazon Prime, Amazon Prime deliveries from neighborhood grocery stores, and much more.
Simply put, Amazon Flex enhances the convenience of Amazon Prime for customers. Users can choose the well-known next-day delivery or book a time slot for a weekday that suits them.
Want to Launch Your Own Delivery App?
Request A Free Quote
2. Uber Eats
It is one of the top food delivery services worldwide and one of the most well-liked applications. Uber was already a well-known app that provided reasonably priced driving services, but more recently, they began to deliver restaurant meals.
People are happy with the app's overall user experience and accurate restaurant ratings.
Even better, app users can book orders for later in the day or the following week. The app offers a wide selection of restaurants from which you can place an order. The app's ability to track deliveries is another benefit for users.
3. Wefast
Wefast is one of the well-established courier services. They assist restaurants, and online retailers reach their customers by partnering with them. Additionally, customers use Wefast to order things on demand from the store of their choice for parcel delivery.
4. Deliveroo
Deliveroo is a British food delivery service like Uber Eats and Just Eat. Users are generally happy with their experiences using this app, as seen by the positive ratings and recommendations. Deliveroo's mission is to provide speedy food delivery, with orders typically arriving within 30 minutes of placing them. Additionally, they keep expanding to attract new clients for their couriers and work tirelessly to widen their network of partners to enhance the user experience.
5. Swiggy Genie
A well-known food delivery service called Swiggy provides food for restaurants in all India's main cities. Additionally, Swiggy has unveiled a brand-new service called "Swiggy Genie" in conjunction with its extensive delivery network. It is a hyperlocal delivery service. You can ask the rider to deliver any package from point A to point B, including groceries, clothing, documents, meals, etc.
How to Create a Courier Delivery App?

On-demand delivery app development won't ever be simple, regardless of your strategy or business model. You must make several decisions in the order they are listed below to achieve this.
A step-by-step guide to create an on-demand courier delivery application.
1. Validate Your App Idea
The first stage in developing an app is to create a flowchart to conceive the process flow and gain a better grasp of it. You must validate the idea to ascertain whether your target audience needs the proposed solution.
Answering the following question will help validate your Unique app ideas:
Why a courier app?
What is the future scope?
How open-minded is the market?
How widespread or popular are the services?
What problem does your app address?
Convert Your App Idea into Reality
Request A Free Quote
2. Choose the Business Model
You will need to select a business model based on your location, the local delivery ecosystems already in place, the competition, your market, and customer expectations. Also, consider aspects like company objectives, resource accessibility, and scalability.
3. Hire an Experienced Team
Designing and developing an on-demand delivery app is no easy game. It requires a full-fledged team of designers, developers, QA Engineers, marketers, and product managers. It is ideal to outsource your app development to a reputed app development company. The agency will help you develop the app and enable you to launch and promote it smoothly in the market.
4. Determine the Scope of Features
You can begin working on the practical implementation of your idea once you have finished all the theoretical components. Prioritizing the features your app needs can be an excellent place to start.
Some courier delivery systems require multiple apps to operate correctly. Each user, administrator, and courier delivery agent requires their apps. You must be careful while selecting the features for each app in this situation.
5. Create MVP
A minimum viable product is a stripped-down version of your app that has the bare minimum of features to offer the needed service. There are no special features on the MVP. It simply fulfills the requirement. You can create a minimum viable product once you've narrowed down the functionality of your courier delivery app.
You can publish the MVP on the App Store and Play Store for mobile devices and attract some early adopters.
6. Learn and Improve
You can gain valuable insights from user feedback after the MVP is available on Google Play or Apple Store. Additionally, reporting and analytics can provide meaningful data to help you make insight-driven business decisions.
7. Testing
Your courier delivery software must complete the testing phase after being developed. You will test each app component at this step to ensure it runs well.
After testing, Aside from a few critical post-launch actions for the app, you should be ready for ongoing upgrades and improvements.
On-Demand Courier Delivery App Features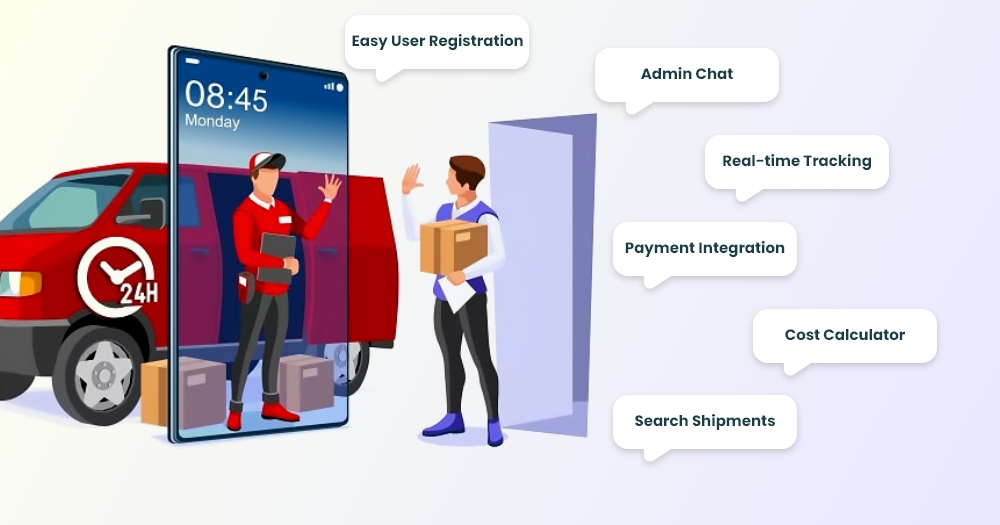 The number of app features you may consider and include in your courier delivery application is limitless. But a few fundamental characteristics must be unwaveringly included to ensure the app doesn't mess up the essential functionalities.
1. Easy User Registration
Users have become weary of registering for several platforms and services. Another issue is having trouble remembering passwords. Your app should have social sign-in features so users can quickly register and sign up using their social media profiles or email addresses.
2. Admin Chat
It is one of the must-have app features as it enables administrators to communicate with users and delivery personnel. A coordinated effort produces higher service quality.
3. Real-time Tracking
It is one of the most apparent advantages of the GPS and mapping combination. This feature fills a significant need for delivery managers, users, and administrators and can assist the administrator in matching drivers based on their geography and availability. Additionally, it enables users to locate their location with uncompromised precision.
4. Payment Integration
Today, there are numerous options for making digital payments. Your application should be coupled with a flexible payment gateway that accepts all standard payment methods to enable all of these payment methods. For instance, debit cards, credit cards, net banking, and wallets.
5. Cost Calculator
Your on demand delivery service app must have a cost calculator. The calculator facilitates transparent pricing by enabling customers to calculate the parcel and shipment charges through the app.
6. Search Shipments
This feature allows customers to search the list of shipments by tracking number, references, vendors, and more.
7. Multiple Packaging Option
Customers must access various packaging options on the market. Thanks to this feature, the security of users' packages will be ensured when shipping. It should be stated what each sort of packing costs based on its size.
Hire Certified Mobile App Developers
Request A Free Quote
On Demand Courier Delivery App Development Tech Stack
Organizations and app developers often find it challenging to choose the best tech stack for on-demand courier delivery app development among many top technologies to begin working on. However, picking up the right tech stack depends on the project's needs and the team's expertise in building it.
Here is a list of the tech stack you can utilize for various functions of your on-demand delivery apps.
| Task | Tech Stack |
| --- | --- |
| Project documentation | Confluence |
| Cloud Storage | Amazon AWS, EC2, RDS, S3, Digital Ocean, etc. |
| Native Mobile App Development | OS (Objective C, Swift), Android SDK (Java) |
| Hybrid Mobile App Development | Ionic, React Native, Angular, React JS, Xamarin, etc. |
| Payment integrations | Stripe, EWallets, Braintree & PayPal |
| Navigation integration | Core Location Framework for iOS, Google Places API for Android |
| Push Notifications | Firebase, Twilio, Push.io |
How Much Does It Cost to Create Online Courier Delivery Apps?
The cost of developing an on-demand courier delivery service application ranges from $10,000 to $50,000. Although an online courier delivery app is determined by its features, platform (iOS or Android), and required deliverables. Additionally, the cost varies depending on whether you select custom software, a ready-made solution, or a monthly or annual subscription plan.
However, you must answer the below questions to get the cost estimation of a courier delivery app solution.
Are you planning to create an MVP or a finished application?
Which mobile app development company do you intend to work with for creating and developing apps?
What kind of post-launch services will you need?
Which mobile operating system are you choosing? Is it Android, iOS, or both? Depending on your needs, you can select either one of the platforms or both of them.
What features are you hoping to include in your application for courier delivery?
How Does a Online Courier Delivery App Make Money?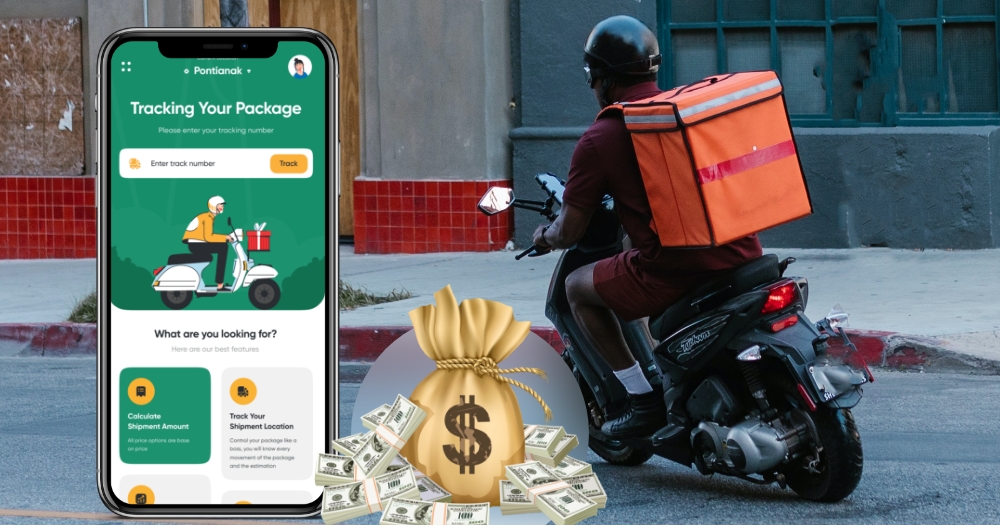 Once you introduce a suitable monetization model, developing an on-demand delivery app pays off handsomely. You can choose from any of the below models to kick-start your delivery business.
1. Aggregator Model
If you are a startup or a novice entrepreneur, you don't have to develop an on-demand delivery app for your business and spend money on it. Instead, you can join a group of related businesses that sell their products in an online marketplace for on-demand delivery.
For instance, UberEATS, Foodpanda, and Instacart operate on the same model.
2. Dedicated App Model
Almost every business that sells its products can begin offering delivery on demand. An organization from any sector can gain a significant competitive edge and expand quickly and effectively with a custom delivery app.
For instance, pizza delivery giants like Domino's operate on the same model.
But to get there, you need to design a high-quality on-demand delivery app or hire a dedicated group of experienced app developers.
3. Package Tracking Model
According to this business model, the firm needs a single application to track every item, irrespective of the carrier since all of the carriers' data is gathered simultaneously. Using its ID, the packages can be easily added. Additionally, the app's push alerts keep the user informed about the status of their orders.
4. Branded Delivery Model
Under this business model, you can use mobile applications with order-tracking capabilities. Some online merchants additionally offer a comprehensive breadth of successful delivery. The main benefit of using this application is that it informs the consumer when a shipment is ready to be shipped, shipped, or delivered.
By giving their end-customers convenience and transparency, many retailers use these branded package delivery apps to gain an advantage over their competitors.
5. Postal and Courier Application Model
This is the ideal model for you if you own a postal or courier business. Giants like FedEx and DPD have leveraged this business model and subsequently created applications. You can further monetize your mobile application by offering same-day delivery services.
Apart from the above models, you can leverage express delivery, same-day delivery, and premium delivery to monetize your app idea.
On-Demand Courier Delivery App Development Company
Want to build your own parcel delivery app? You can rely on The NineHertz!
With decades of experience in leveraging the latest tech stack and developing top-notch mobile apps, The NineHertz has the expertise to create fantastic on-demand apps. We have thoroughly understood what it takes to create a successful on-demand product through our extensive experience creating Uber-like apps.
Our pool of 575+ dedicated application developers has completed and delivered award-winning applications.
You can easily count on us for first-rate on-demand delivery services.
Conclusion
On demand applications have taken industries by storm with their efficiency and ROI. Several enterprises have grown and penetrated previously inaccessible market segments. The core of the on demand delivery market in the age of technological advancement is an on-demand courier delivery application.
But simply developing a courier service application is insufficient. Their creation is influenced by various elements, including technologies, market factors, etc. This article should have made it easier for you to comprehend the on-demand courier delivery market and prepared you to create your own app.
So, if you are ready to improve your business performance through an on-demand app, get in touch with our top mobile app developers right now!
FAQs on Delivery App Development
1. How Do I Get An On-Demand Delivery App For My Business?
Three parties are involved in the on-demand delivery app: the customer, service provider, and delivery boy apps. A web admin panel is also included to manage the business operations. You must outline the features you want to include in an on-demand delivery app before an on-demand delivery app development company can create a quote for you.
2. What Is An On-Demand Courier Delivery App?
The on-demand courier delivery app is a platform that enables businesses to meet customer demands through a mobile app by immediately offering door-to-door delivery or pick-up services. Customers can also track deliveries and send shipment notifications. This also includes free live tracking, which can be used for any package sent. With an on-demand courier delivery app, customers never have to worry about missing their packages again.
3. How Long Does It Typically Take To Develop A Courier App?
Depending on your needs and the technology stack, developing on-demand courier service apps can take some time. The length of time for a custom solution often relies on your needs and the app's complexity. Additionally, apps can be made available within two business weeks for ready-built solutions or subscription models.
4. How to Develop an On-Demand Delivery Service App?
Developing an on-demand courier app is no easy game. It requires an integrated tech stack, an experienced and qualified software development team, and much more. To develop an on-demand app correctly, reach out to an app development company and get a consultation to validate your idea. Then move on to the discovery phase to lay a solid foundation for your on-demand delivery app development.
5. How Much Does Building An On-Demand Courier App Cost?
The cost of creating a delivery app depends on a multitude of factors. For example – the features, the platform (iOS/Android), & the needed deliverables. Additionally, the cost varies depending on whether you select custom software, a ready-made solution, or a monthly or annual subscription plan.