Gone are the days when people used to visit restaurants to satisfy their food cravings or go to stores to buy anything they wanted. Time has changed and now all this is possible with On-demand delivery applications. In this guide, we will find out how to make an on-demand delivery app and the cost and features of on-demand delivery app development.
An on-demand delivery app gives you the flexibility to request a product or service and get it delivered to your doorstep while sitting at home through the app. Amazing isn't it?
Today on-demand delivery applications such as GrubHub, Uber, Zomato, Airbnb, Lyft, and Bolt have completely revamped the whole system and shaken it to the core. In fact, most of these businesses have doubled their income during the pandemic.
That's the reason every sort of business regardless of its product or service is looking to develop an app to capitalize on the current market. You can name it as 'fear of missing out', but the demand for an on-demand delivery application and on-demand app developers, in general, is at an all-time high.
This blog will talk about everything related to how to build a delivery app and start your business. Let us take you through everything you should know regarding the cycle of building an on-demand delivery app step by step. But first of all, let's see some of the interesting facts and statistics of this domain to give you some chills.
Interesting facts and stats
As per Statista, platform-to-consumer delivery revenue is now above $70,000 million. Even before the pandemic hit the global economy, trade pundits predicted annual growth of 8.2%. No wonder people have round-the-clock access to a massive range of professional services and goods which is just one click away.
Further, talking user penetration, it has now reached up to 10% and the amount of money people spend on these apps is growing exponentially across various industries.
In 2026, people using such applications are anticipated to download 143 billion apps from the Google play store which is 30% more than what was downloaded in the year 2021. Talking about the App Store, the number of downloads will reach a whopping 38 billion by the end of 2026. This is almost 15% more as compared to the year 2021.
Let's take a deeper dive into the stats with the graph & pointers mentioned below:
In 2020, the global app revenue increased to $318 billion. This was more than $60 billion (approx.) as compared to 2019.
By the end of 2025, the global on-demand app revenue is likely to touch the $335 billion figure.
Of all the global users using mobile applications, more than 50% are active users of these on-demand mobile apps.
There are almost 60% of customers are willing to pay an extra amount for same-day delivery.
You have no idea how gigantic it can become in the upcoming future as technology is shaping so rapidly and people are getting more and more prone to smartphones.
Want to Launch Your Own Delivery App?
Convert Your App idea into Reality
What are On-demand Delivery Apps?
With the explosion of smartphones and the widespread use of the internet, it is quite evident that you have used an on-demand delivery app somewhere sometime. Some common on-demand services include booking a guesthouse, ordering food online or booking a cab, etc.
App for delivery helps in ordering any sort of service that will be provided to you only on demand. The process is quite convenient and simple – just one tap and you get what you need. There are generally two aspects of an on-demand delivery application:
The primary side belongs to the user base from where the services are demanded.
The secondary side belongs to the enterprise that accepts the order and fulfills your request.
You might be interested in how to build an app and start making money, here is a complete guide.
Top 5 On Demand Delivery Apps
Therefore, here is a list of the Top 5 delivery apps that you can consider before starting on-demand delivery app development.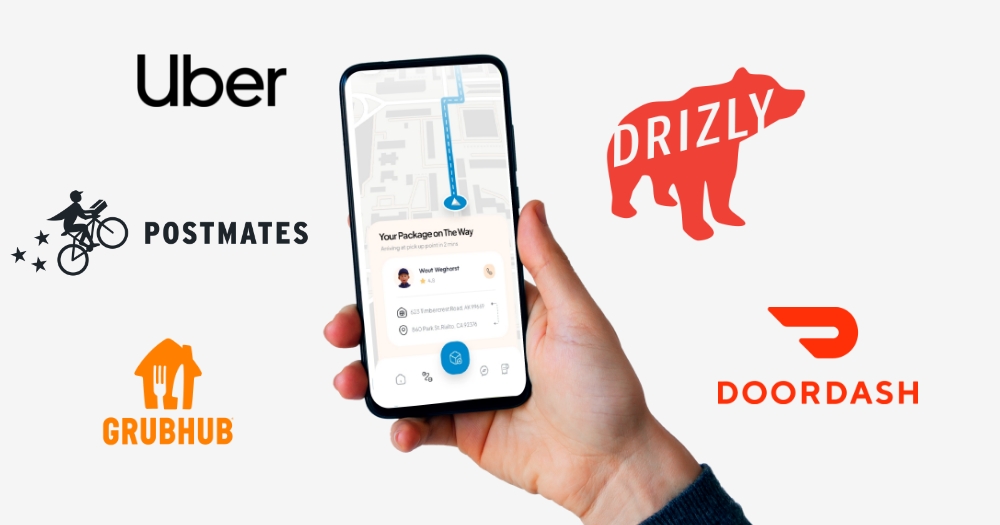 App Name
Specification or features
Available on
Uber
· Round the clock ride booking facility

· Real-time ride tracking

· Ride sharing option with other co-riders

· In-app payment

· Variety of rides

Google Play Store and Apple App Store
Postmates
· Order food, groceries, and kitchen appliances easily

· Real-time order tracking

· All major cards are accepted

· Subscription available

· Order almost anything

Google Play Store and Apple App Store
Drizly
· Order liquor anytime

· Price comparison of different stores

· In-app payment

· Scan credit card to save

Google Play Store and Apple App Store
Grubhub
· Famous food delivery app in USA

· Connects more than 50,000 restaurants, snack bars, and cafes

· Highly customizable app

· More than 30 unique features

Google Play Store and Apple App Store
DoorDash
· Connects restaurants and cafes to food delivery

· Highly valuable brand in the US

· Order food easily within seconds

Google Play Store and Apple App Store
1. Uber
This online cab booking phenomenon has disrupted the entire transportation industry to the core. The logistics services are totally revamped with this ride-sharing economy given by Uber and apparently became a form of commute for residents living in the USA. The parent company Uber has also launched its own food delivery app called UberEats which helps customers order food online from their favorite cafes and restaurants.
2. Postmates
The initial motive to create this kind of app in the first place was to deliver different kinds of goods to people living in various parts of the country. As they saw a massive spike in the online food delivery business, they straightaway jumped into the food delivery domain and they soon became an unbeatable force and disrupted this segment of the market as well.
3. Drizly
When all kinds of items are being delivered to your doorstep then why not alcohol? The creators of Drizly understood this vacuum and created an app that fulfilled the need of the hour. Drizly is a quite popular alcohol delivery app in the US for all sorts of booze orders. Their market share is quite massive in the country with orders ranging from 1 to 1000s liquor bottles at a time.
4. Grubhub
When we talk about famous food delivery apps in the USA, GRUBHUB stands alone. Through this application alone the food is being delivered to more than 1000 cities all across the USA. It connects over 50,000 restaurants, snack bars, and cafes. The app is highly customizable and the UI is quite user-friendly with more than 30 unique features to offer. That's not all, the app has a real-time tracking option so you can easily track your order with just a single click.
5. Doordash
The last on the list is Doordash – another renowned food delivery application in the USA that connects hundreds of food outlets in the USA. Incorporated in 2013 and since then it has become one of the most preferred food delivery apps with a value of more than 16 billion USD. This app offers service across all major cities in the US and follows a strict policy of same and timely food delivery.
3 Types of Delivery Apps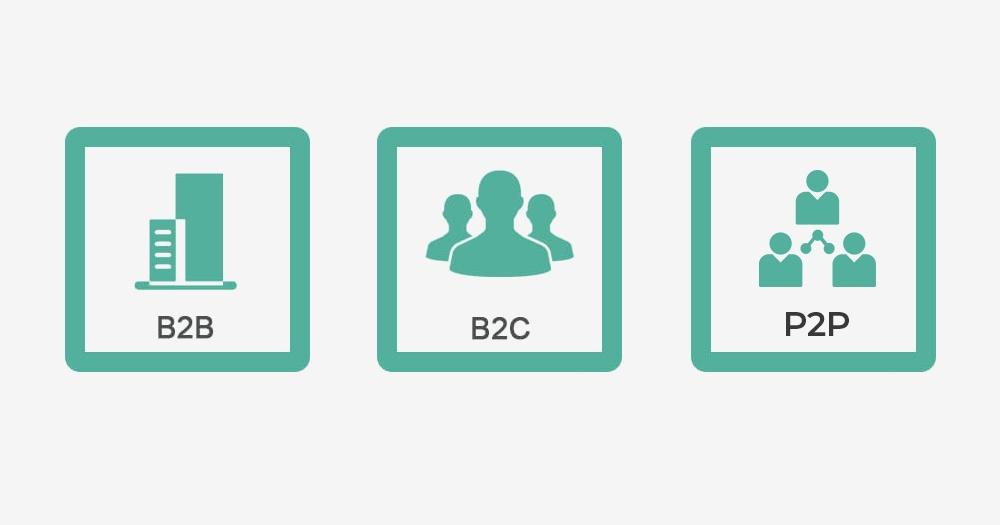 Categorically there are three types of on-demand delivery mobile applications – Business to business, Business to consumers, and, Consumers to consumers. Let's understand them one by one:
1. Business to business (B2B)
When we talk about B2B on-demand delivery mobile applications, they were intended to connect businesses from businesses. In this scenario, both the service takers and the service providers are the implementers and not the end users of the product or service.
App Complexity: Usually the complexity to create such type of apps is quite high because of the inclusion of varied features like payments, registration, invoicing, and scheduling.
Example: Manufacturing materials, semiconductors, and clothing and car parts.
2. Business to consumers (B2C)
The job of B2C apps is to facilitate business enterprises to make the products and services available to the end users. This particular business model is adopted by those ventures who carry the delivery capability to take the products from their office to the end user. Some examples include Dominos, Starbucks, etc.
App Complexity: B2C apps contain less features compared to B2B apps. The process of development takes less time.
Examples: Real Estate apps, food delivery apps, and grocery delivery apps.
3. Person to Person (P2P)
This is the third category of these on-demand apps and these are those that connect the end users to the end users. Some popular brands offering such services include eBay, Etsy, and BlaBla Car. Under this model, users themselves create products and services for other users to buy. Here you can find a list of best app ideas.
App Complexity: Consumer-to-consumer apps are regarded as the simplest apps to develop as they exclude many of the common features present in other apps like business registration. These include features such as payment processing, consumer registration, geolocation, mapping, reviews, etc.
Examples: Airbnb, PayPal, Venmo, etc.
How to Build an On-demand Delivery App?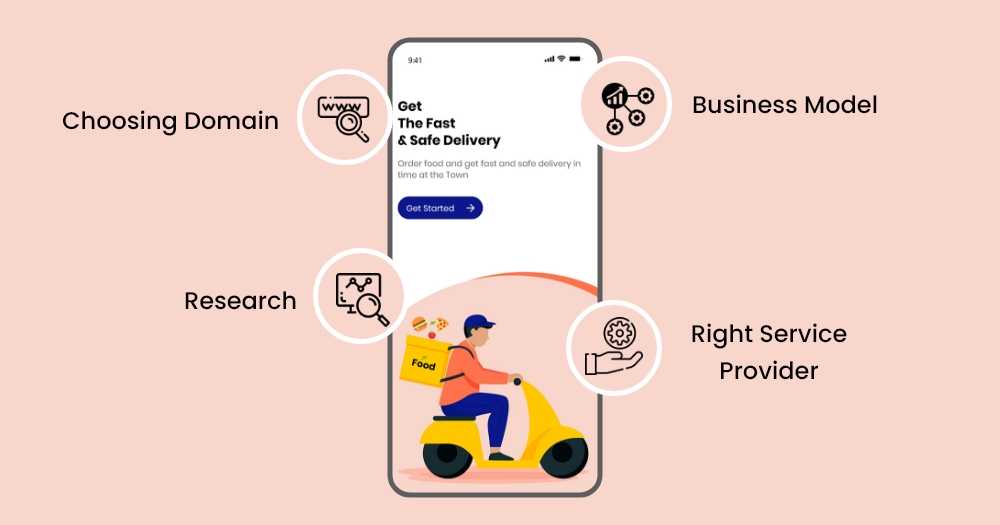 Here are the steps that must be followed in order to build a fully functional on-demand delivery mobile application:
Step 1: Choosing the Appropriate Domain
This is the very first step for on-demand delivery app development. Before you finalize your domain, make sure that there is a buzz about it in the market and secondly, the name should sound catchy and related to your product/service. If you are already thinking about any particular idea, then you are good to go. If you lack the idea, you must look around to see what customers are demanding seeing the trend prevailing in the current market.
Step 2: In-depth Research and Analysis
As soon as you have decided on the style of the on-demand delivery mobile app development, perform an in-depth market analysis and assessment to define what type of target audience you are catering to. Targeting an audience related to your niche is very important for an app to become successful in the long run. This will save a lot of your time, energy, and resources. The trick lies in identifying a target audience based on demographics such as age, location, gender, income, profession, lifestyle, and preferences.
Step 3: Select the Right Business Model
A business model refers to the strategy of any company to perform business operations in a fruitful manner. It contains the following information – goods/services, market positioning, and anticipated costs. So here are the different types of business models:
Peer-to-peer model – Under this model, the products and services are exchanged with the consumers directly by the person making the delivery.
Subscription model – Under the subscription model, companies handling deliveries will offer countless shipments in exchange of a monthly fee.
The business-to-consumer model – Under this business model, the order can be placed directly and the company will be delivering it to your doorstep or you can collect it from the store.
Business to business model – This model can be referred to as a business plan in which brands cater to business owners and not individual people.
A three-sided business model – Three parties are connected together under this model – the company, the driver partner, and the customers. This is to fulfill the request of the customer. It is similar to UberEats.
Step 4: Picking the Right Service Provider
Now as you have decided your requirements, performed decent research, and chosen the right business model – it's time that you choose the right service provider for you. So whether you want to build a mobile or a web app, it is always recommended that you must seek professional help in the from of an experienced mobile app development company like us.
We are a trusted company with years of experience which can help you build your dream app without any hassle. Nevertheless, last but not the least, you must take user feedback very seriously as it highlights that you put your customers first by making regular improvements on things that they don't like. This will help in building a strong and robust foundation for your client base. And then you can always scale your product based on user feedback.
Delivery App Development Features
One must list the features he wants to integrate into the app before hiring an on-demand delivery app development company. It is important that these features are determined as per their users. Such users or say parties are divided into three major categories – Customer, Service Provider, Delivery Boy (Driver), and Administration (Admin).
We have listed the features of these participants to let you get a clear idea of your app.
Customer App Features
Below are customer app features to create a delivery app:
Registrations

It is sort of a registration form that will pop up demanding the user to enter his details like name, age, address, contact number and more.

Payment

This is one such integral section of any mobile app that should be highly safe and secure. Customers can make the payment via any of the payment gateways such as wallets, credit/debit cards or COD (Cash on delivery).

Social Media Integration

It allows a user to sign up using his social media account. This eliminates the process of signing up which some users find tedious. Also this feature will let the customers share their feedback with their friends and family connected on their social media. As a result your reach will increase more and more.

Geolocation

Tracking the order and direction finding is an integral part of any mobile app. This feature will enable your customers to get real time updates without any trouble.

Ratings and Reviews

On-demand apps must be loaded with review and rating features for the customers. It can help service providers to work on their services.

Help and Support

You should address the queries of your customer and get them solved ASAP. This will make your brand credible and trustworthy.
Service Provider App Features
Below are service provider app features to build an on-demand delivery app: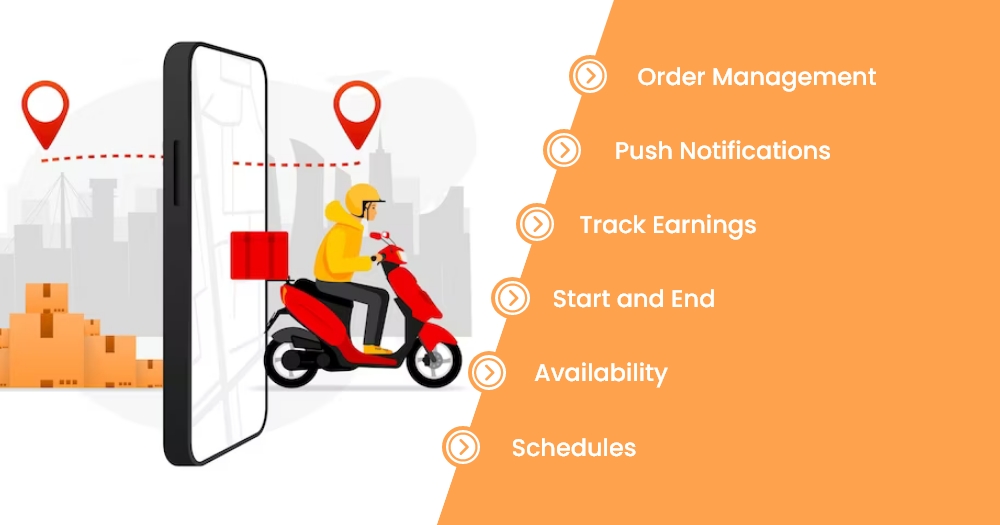 Rejecting and Accepting Orders

The service provider is given the authority who permits them to accept and reject any order request.

Push Notifications

As soon as the request is placed by the customer, the service provider will get a notification in the form of an alert.

Track Earning

This feature is quite critical for a service provider. A track record needs to be maintained for tracking the entire revenue.

Start and End

The next feature we have on the list for service providers is that they work with a module for streamlining the overall process related to product delivery.

Availability

Depending on the user/customer, the service provider can easily pick and choose the timeframe.

Schedules

The service providers can operate in a very flexible and convenient manner while scheduling products or deliveries.
Delivery Boy App Features
Explore delivery boy app features to make an on-demand delivery app: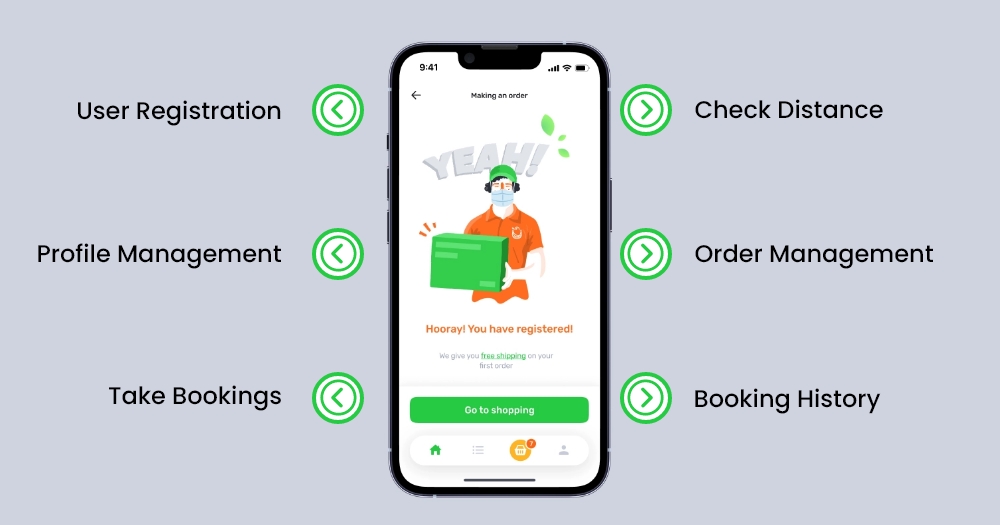 User Registration

A courier delivery boy can easily register through the necessary details mentioned

Profile Management

This feature allows the delivery boy or the driver to create, update or delete and profile.

Take Bookings

A delivery boy can approve or disapprove new delivery requests based on demographics.

Check Distance

Checking the distance from the current location to the delivery point becomes convenient

Order Management

The driver can pick up any order and update its status from time to time like picked-up, on-its-way, and delivered.

Booking History

Delivery can easily manage to track the history of previous booking(s).
Admin App Features
F admin app features to create an on-demand delivery app: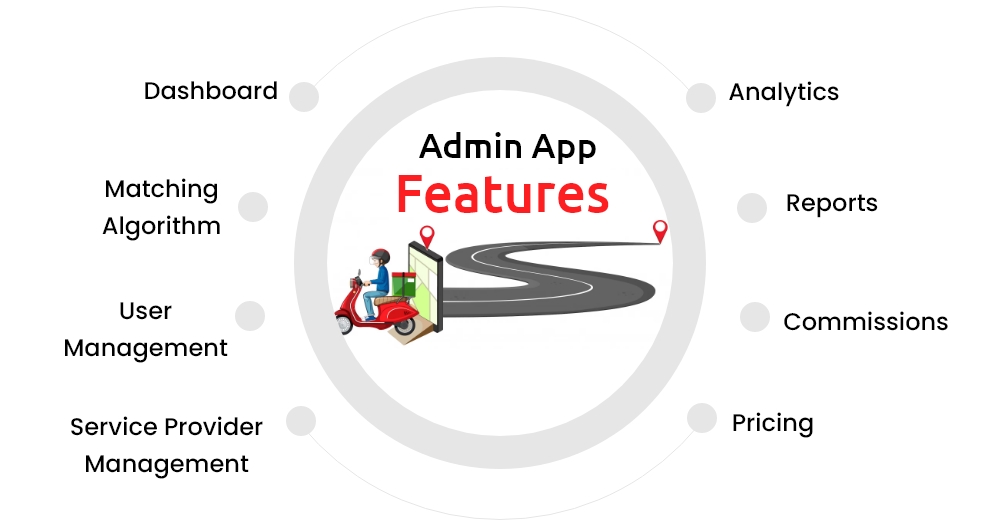 Dashboard

This comes under one of the most vital parts for admin whose sole responsibility is to add a customizable and easy to access dashboard.

Matching Algorithm

Depending on the requirement, the request of the customer will be matched up with the service provider. The matching process consists of two sets of algorithms – automatic and manual, through which matching the parties by the admin is like a walk in the park.

User Management

The users should be allowed to order details, rewards, discounts, payments, and cancellations. This helps the user in resolving issues and ensures an uninterrupted experience.

Service Provider Management

Admin must target the performance of service providers in terms of rates, reviews, and overall performance. They can introduce bonus systems to keep up the motivation of the service provider community at large.

Analytics and Reports

This takes into account all the essential information in terms of product cancellation, product repetition, and service availing time.

Manage Commissions and Pricing

Admin holds the access to perform a number of things including commission charges for profits and transactions, and product pricing depending on the demand.
Launch Your Own On-demand Delivery App?
Convert Your App idea into Reality
Tech Stack to Create On-Demand Delivery App
There are two important components of an app – frontend and backend. Let's start with the frontend tech stack for an on-demand delivery app development followed by the backend:
1. Front-End Development
For Android
Native Android App Platform : Android SDK (Java), Kotlin
IDE : Latest Android Studio
Platform SDK : Latest Android SDK
For iOS
Native iOS App Platform : (Objective C, Swift)
IDE : Xcode 11, AppCode
Platform SDK : iOS SDK, Cocoa Touch
For Web
Web Platform : HTML5, CSS3, JavaScript, TypeScript
JavaScript Frameworks: Angular JS, React JS, Vue.JS, Express.JS, etc.
2. Back-end Development
Programming Languages: Ruby, Elixir, Python, PHP, Java, etc.
Web Servers : NGINX, Apache
Database Servers : PostgreSQL, MySQL
Web Frameworks: Ruby On Rails (recommended), Phoenix
Cloud Server Platforms : Amazon Web Services (AWS, EC2, S3, etc.)
On Demand Delivery App Development Cost
The on-demand delivery app development cost can vary widely based on a number of factors like app complexity, the number of features integrated, and the type of development platform – iOS, Android or both. So there is no such fixed amount to that but generally, the price to construct an on-demand delivery app can start from $30,000 and go up to $150,000.
Therefore, the more you'll be specific regarding what exactly you want, the more it will get easier for any app development company or an independent developer/freelancer to quote a price.
Factors Affecting the Cost of On-Demand Application
Notifications
In-app communication
Geo-location
Infrastructure and storage
Payment gateways
Number of platforms and more.
For now, it is quite clear that on-demand app development cost is directly proportional to the app's complexity and the number of features to be added. We have bifurcated the cost further for you to understand more deeply:
Total Documentation Cost: $1000 to $2000 (40 hours)
UI and UX Designing:$1500 to $3000 (60 hours)
Development Cost (Frontend/Backend): $6000 to $20,000 (400 hours)
QA Testing: $2000 to $4000 (80 hours)
Adding up all these figures will constitute a number that would be around $15000 to $45000.
Last but not the least, one thing you must understand is that app development is not as easy as it sounds. Some people take it lightly and consider it as good as a 'Walk in the park', and that's where they make the biggest mistake.
You must understand that all your resources including your brand's reputation are at stake so you must put great emphasis on this process. And the first thing related to that is choosing a good and reliable app development partner.
In order to build an on-demand application there is a recipe in which skills and experience are the major ingredients. Hence, make sure that you are hiring a team that has the right amount of experience and skill set that is demanded in this arena.
How Do Delivery Apps Make Money?
There are several ways of monetizing an on-demand delivery app. Here are some of the major streams which can fetch you a good amount of money:
Delivery Charges

As a restaurant, waiting for customers is a lack of opportunity cost. In such a case logistics partners act as a savior for the restaurants to earn a good chunk of money with the help of a delivery app. You can add delivery charges either by showing them as flat charges or keeping it within the bill in the form of delivery charges.

Delivery charges are one of the major sources to generate a good amount of money for businesses dealing in groceries, medicines and food. Data shows that more than half of the profit comes from online deliveries. The market is filled with apps that are giving special discounts to attract user engagement.

In-app Advertisements

One of the best ways to generate handsome revenue from on-demand apps like Uber, Grubhub, and Zomato is via in-app ads. These apps use marketing tactics that is useful in attracting more users and customers. So when we talk about efficient marketing, ads generally stand at the number spot on the list.

The exposure to the vendors or merchants becomes way too much more as compared to the competitors belonging to the same platform. With advertisements, vendors can grab the maximum attention of their targeted audience.

Priority or Extreme Hours

At peak hours a vendor can fluctuate prices to generate maximum profit. He can easily limit the service, location and price depending upon the peak hours. This business model helps in generating a good amount of revenue especially when the market is disrupted.

A good example can be during the pandemic when there were restrictions to ordering groceries and food online. The cherry on the cake is that there is no scope for the user to bargain as the price will be fixed. Therefore, it is ideal to make a prior decision on the maximum demand prices for the portal.

Sharing Apart of Orders

Any time any of the restaurant or departmental stores receives an order via the on-demand delivery app; the company must charge the restaurant/store for some share. Since the application platform is responsible to grab orders, it is the right of the company to get a share of the revenue. A fixed proportion of money has to be paid by the restaurants after receiving orders from the application.

Paid Features

Two types of feature models are there namely paid and freemium. Under this revenue-generating model, the user can buy the plan within the app to avail of exclusive benefits that are only for paid members. The benefits can be special discounts, free delivery, combo packs, and free service. All the necessary factors need to be kept in mind like business profit while deciding the model and structuring the price to make it more significant.
Which is the Best On-Demand Delivery App Development Company?
Feeling puzzled about which app development team to choose? The NineHertz offers affordable and genuine on-demand delivery app development services to assist businesses in their business operations. We have a team of experienced app developers who are well-versed in their craft and possess in-depth knowledge in the IT domain.
The company holds years of experience in delivering top-notch mobile applications within the timeline and that too at a pocket-friendly price. So as a business, if you want to put your best foot forward, you must partner with a company that is credible and experienced at the same time.
We offer round-the-clock support and maintenance services for our clients as we treat each and every client as a part of our family. We put our best to build quality-oriented products and that's the reason we are able to maintain a 100% customer satisfaction record for so many years. You can contact us anytime to meet the custom needs and requirements of your brand.
Create Your Own On-demand Delivery App?
Convert Your App idea into Reality
Conclusion
At last, it is correct to say that no matter what the company's size is, an on-demand app can be a game changer for it. That's the reason so many new ventures are jumping into this domain. If you are also planning to launch your own on-demand app, then you can go through this article as we have done our best to provide you with the most genuine and detailed information. So what are you waiting for? Just contact a good app development company and kick-start your project. Lastly, if you find this article helpful, do not forget to drop a comment below. We value your feedback!
Below are some Similar Guides for you:
how to build a courier delivery app. [Complete Guide]
On-Demand Food Delivery App Development like GrubHub [Cost & Features]
How to Develop Medicine Delivery App Like 1MG?
FAQ's
1. What Does the Audience Look for in an On-Demand App?
The on-demand segment is reaching enormous heights and with technology evolving like crazy, this is just the start. This phenomenon has changed the way we used to tempt the audience towards on-demand delivery service. The following points must be followed by the app developers:
There is no such thing called 'it has happened by accident.
Strategized funnel must be followed
A strategized advertising campaign must be adopted
Always conduct surveys before starting the app development process
2. How to Get Funding by Attracting Investors in an On-Demand Business?
A unique and appealing app idea forms the backbone when it comes to attracting investors or getting funding. A valuable app idea is always an eye-candy for investors. For example, there could be other apps in the market that are similar to Uber but what is that particular thing or thing that Uber is offering and the other apps aren't? That's what makes the difference. This is the reason Uber has become a giant over the years and still dominating the whole transportation industry market.
3. Can We Have an On-demand App for Enterprise?
Well, that completely depends from enterprise to enterprise. Any commercial activity like ordering food or booking a ride can run seamlessly with the on-demand app. Nevertheless, it does not mean in any sense that other types of enterprises cannot consider having an application similar to on-demand.
4. How to Create a Successful on-demand Delivery App?
The app should be user-friendly and run seamlessly to attract customers. Here are the steps that must be followed if you want to create a successful on-demand app:
Identify your target audience and analyze their needs
Find out their common challenges and make a list
Go through your competitors
Create features within your as per your target audience
Construct a checklist for functionalities identification