Having a busy schedule is the main problem that every person faces nowadays. But in this tech-oriented world, you can get what you want with just a single tap. With the help of your mobile phones and applications, you can make things available for you while sitting at your home. Home services are the modern solutions for old-fashioned problems. There are so many on-demand home service apps available in the market that allow you to get things done at your home without going here and there searching for services. And Urban Company (UrbanClap) is one of the best examples of on demand app development solutions. You might be interested to know about best on demand app development companies.
What is UrbanClap/Urban Company?
Urban Company (formerly known as UrbanClap) is an online platform that connects with online customers and professional start-ups. It is really hard to find professionals that stand on your needs. Whether you want an electrician, Beautician, Plumber, UrbanClap has answers to all your questions. It is an app that provides a large number of home services to make your livelihood easy and comfortable.
The Urban Company App at a Glance
Founder: Abhiraj Bhal, Varun Khaitan, Raghav Chandra
Founded: November 2014; 6 years ago
Headquarters: Gurugram
Industry Type: Consumer Service
Revenue: US $29.59 million (2020)
Area Served Inside India: Ahmedabad, Indore, Bengaluru, Chandigarh, Delhi NCR, Hyderabad, Jaipur, Kolkata, Ludhiana, Mumbai, Lucknow, Chennai, Nagpur, Bhubaneswar, Pune, Surat, Vadodara, and Visakhapatnam
Outside India: Dubai, Sydney, Abu Dhabi, and Singapore.
Users: UrbanClap app is currently used by over 3 Million+ people.
Rating: The average rating of UrbanClap is 4.2.
Services: There are 107 services available on UrbanClap.
Customer Reach: 5000 daily customer reach on average.
Transactions: Monthly transactions of UrbanClap are about $4,50,000.
Want to Launch Your Own App?
Convert Your App idea into Reality
UrbanClap App Business & Revenue Model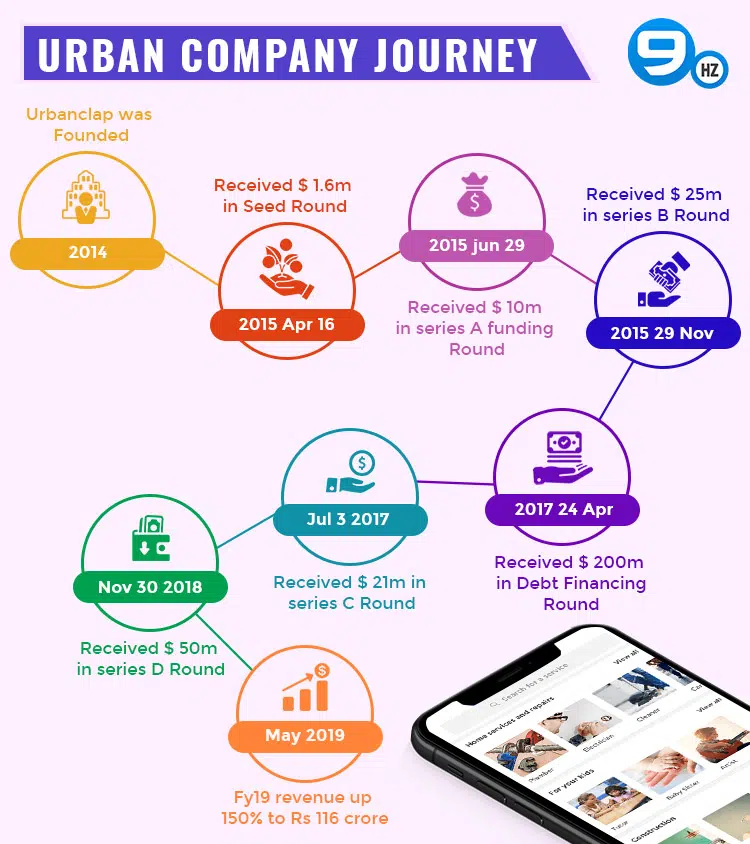 UrbanClap's yearly revenue was a little around $1.7million in 2017, and considering then, it has just evolved. It has secured a total funding of $110million, which is Large! Urban Company FY20 revenue jumps 103% led by demand in beauty and wellness. And considering the current scenario of UrbanClap, the company wants to expand itself globally. That's why the company changed its name from UrbanClap to Urban Company.
The revenue model of UrbanClap is similar to various freelancing sites. Registration of professionals is free at the early stage, but some percentage will be transferred to them as commission once they get an order. The percentage lies between (15%-20%). Other revenue models are;
For the fixed charges services like plumbing, electrician, UrbanClap gets the payment directly from the customers on the app. After this, they transferred the fixed commission amount into the service provider account.
For the services that do not have fixed amounts like an interior designer, yoga instructor, UrbanClap charges the experts for lead generation and sponsored listing.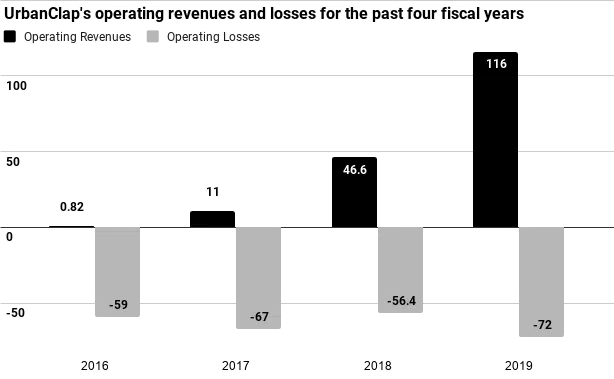 Source: https://www.nairventures.com/
Future Notes: It is noted that soon UrbanClap is bringing premium listings for professionals (subscription) so that they can get added benefits according to the price of premium listing regularly.
Launch Your Own Home Service App
Request A Free Quote
1200+ Projects Delivered 12+ Industry Experience 450+ Clients Worldwide 200+ Certified & Expert Programmers
How Does Urban Company/UrbanClap App Work?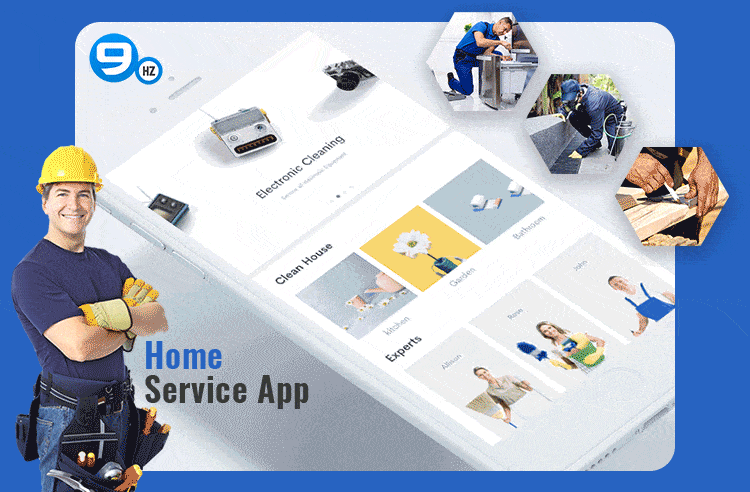 To provide you the best and affordable home services, UrbanClap works for you. It is a medium platform that helps professionals to find work and at the same time enables you to get the best for your in-house services. It will save your time and also make things available for you at a very reasonable price.
It follows two types of operations:
According to Service Provider End
For registration yourself on the platform, he/she has to undergo concentrated preparation so that he/she can give the best.
After registration, the service provider gets the notice if any customer chooses any service. They can accept or reject the service according to them.
If the service provider accepts the service, both the service provider and customer get the same notification.
Moreover, the service provider can also cancel the service if any emergency occurs. But they have to pay the cancellation charge for the same.
According to Customer End
If someone wants professional services for their home, they can use this app for making things done
They can download the app anytime and can choose the services according to them.
Once they select the service, the services pop-ups occur on the screen, including the information of various packages. The customer can select the package according to the budget.
After this, the user will be asked to select the preferable date and time.
Also, the customer can know about the service provider by checking their profile.
For payment, in the UrbanClap app, the user gets various payment methods.
After the work is done, the user will give feedback about the services.
Services Categories Provided by Urban Company (UrbanClap) App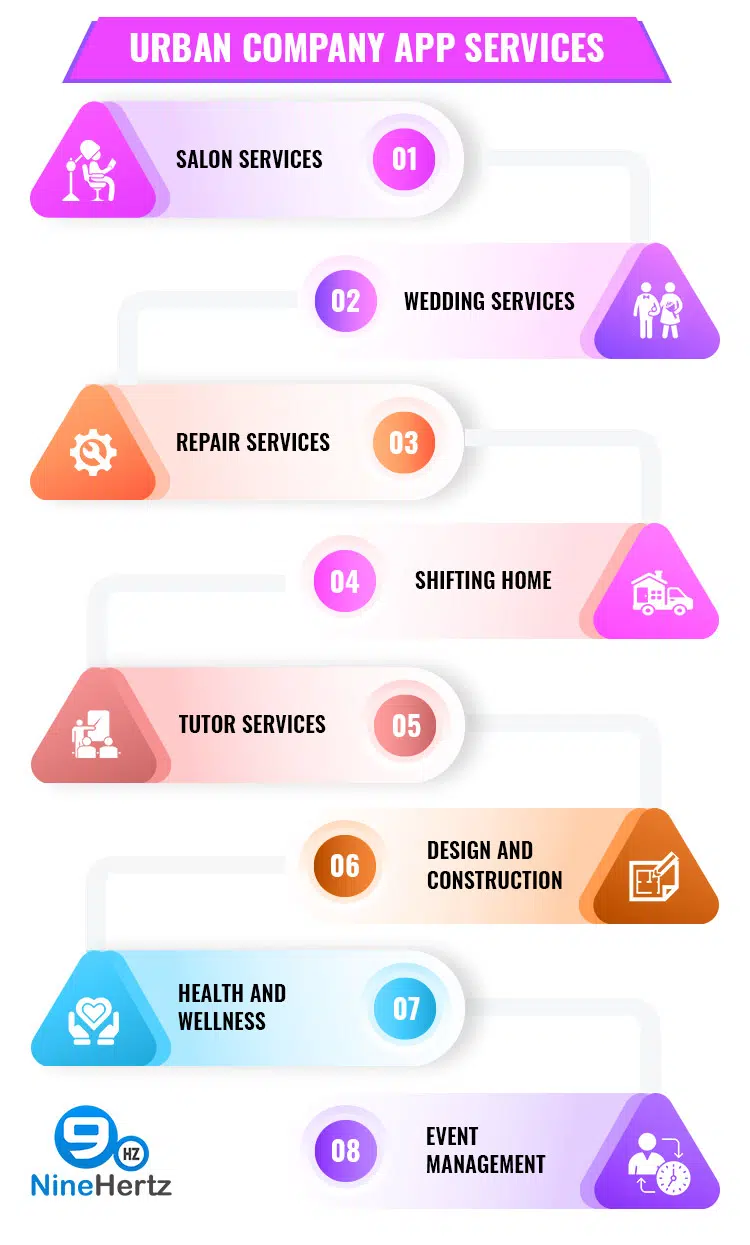 Urban Salon Services: Haircuts, Hair Styling, Spa, Facials, Clean-up, Bleach & Deep Clean, Manicure & Pedicure, Body Massage, Waxing, Threading, Head Massage.
Wedding Services: Wedding Planner, Pre-wedding photoshoot, Bridal and Groom Makeup, Pre-wedding bride and groom beauty package.
Repair Services: Geyser/Water Heater Repair, TV and Freeze, Plumber, Washing Machine, Electrician, Carpenter, Home Deep Cleaning.
Shifting Home Services: Packers and movers, Bathroom Cleaning, Pest control, Home Cleaning, Kitchen, Sofa, Carpet, Water Tank, and other home accessories.
Tutor Services: Mathematics Tutor, Home Tutor, English Tutor, Commerce Tutor.
Design and Construction Services: Interior designer, Architect, Wiring, CCTV camera setup, Painters, Modular Kitchen designer.
Health and Wellness Services: Fitness Trainer, Physiotherapy, Dietician, Yoga trainer.
Event Management Services: Birthday Party, Event Photography, Party Makeup Artist, Party Organizer, Festival Party, Inauguration Party, and other business events.
Kids Related Services: Baby portfolio photographer, Dance tutor, Drum class, Guitar lessons at home, Home Tutors.
It is worth mentioning here that if you want to build an app like UrbanClap, you need to practice a lot as it is not easy to do. It is also noted that there is a great opportunity for the one who wants to build an UrbanClap clone app because this app is high in demand and may get the biggest success ever.
Steps for Home Service App Development Like Urban Company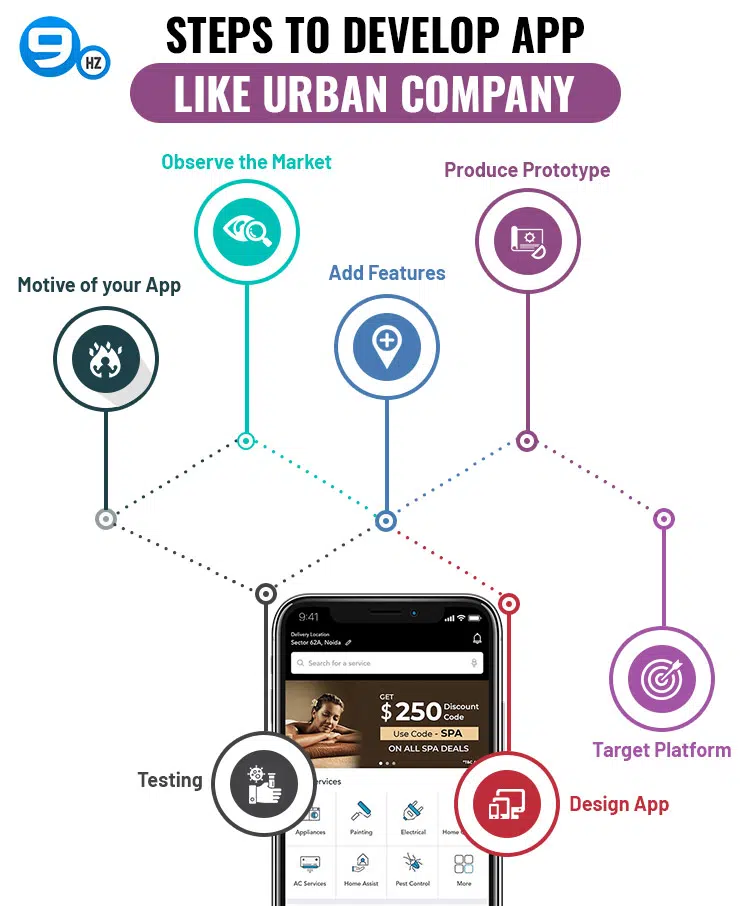 Develop the Motive of Your App
The first step of creating an app like UrbanClap is to decide what you want to serve your customers.
Observe the Market
Analyzing the market will give your many advantages. Firstly, they help you in knowing the needs of your customers and secondly, enable you to design an app that is different from your competitors.
Decide What You Want to Add and What Don't
At this stage, you will decide what features you want to add to your on-demand app. To build an app similar to Urbanclap, some must-have features are:
User Registration/Login
User Profile
Forgot Password
Change Password
Edit Profile option
You should also add some other features like Social media integration, location tracker, different payment methods, and more.
Success Tip: Always add some unique features that make your app different from others. It will have a good impact on your users.
Produce Prototype
Prototyping helps you in attracting investors to your app. It will help in seeing the tangible advantages of an app rather than just imagining it.
Choose the platform to Target
Choosing your app's right platform is very important to achieve success. You can choose any platform like iOS, Android, Web app, Cross-platform app, Hybrid app, and many more. You can check the complete guide on cross-platform app development and know which is a better development platform.
Start Designing your App
Creating an on-demand app with a lightweight yet attractive design is essential. It must keep in mind that to create an Urban Company clone app, you must provide a smooth and clutch-free functioning so that it can work properly without taking so much time.
Testing Should be Done
This is one of the main points that help you in finding the mistakes in your app. Testing your app is essential to make your application bugs and error-free. For performing testing, always hire an experienced Quality Analysts team that has the knowledge of all types of testing.
Urban Company (UrbanClap) App Clone Features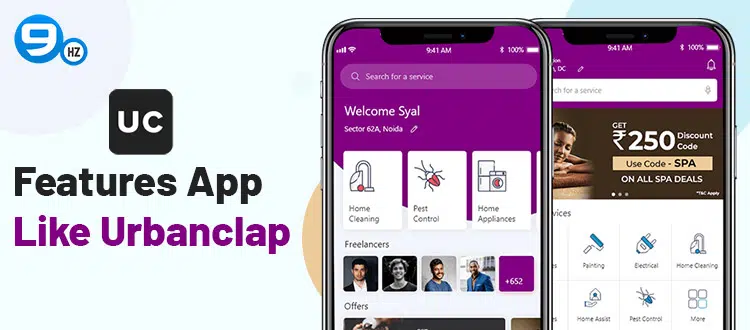 Features for Customers
Easy Login process to provide comfortability.
User-Friendly interface to gain user's attention.
Advanced search options for easy accessibility.
Access to view service provider profile for giving more information about services.
Numerous payment gateways to stop delaying the payment process.
Security of data and payment for user's confidentiality.
Easy login with social media platforms like Facebook for making the login process easy.
Services and account history for future working.
Previous payment history for future mishappening.
Service feedback option to improve services.
In-app chat feature for live chatting between customers and service providers.
Features for a Service Provider
GPS location tracking system for reducing traveling time
Fast Registration and login process for presenting comfortability
Must include service charges for added benefits
In-app chat option with customers to know more about customer's needs
Managed payment methods for maintaining incoming, outgoing, and commission amounts
Fixed availability & service times for service provider's knowledge
Work and payment history for future access
Option to take feedback from customers to know more about expertise and mistakes.
Features for Admin
Full access of control panel
Can able to see the location of customer and service provider
Price and plan management authority
Backup and restore facility.
Backup and restore facility.
Set ads and promotional activities
Complete CRM, CMS integration
Finance and tax management
Sales Analytics
App Like Urban Company Development Cost & Required Time
The cost and time of building an app similar to UrbanClap are based on many things that you want in your app. But the estimated amount of home service app development like Urban Company may come in between $10,000 to $30,000 that covers basic features for a single platform.
If you want to add more features, functionality to your app and also want to display it on various platforms, the cost of developing may vary from $50,000 to $80,000.
Small Company Cost: $10 – $40 / Hour
Intermediate Company Cost: $40 – $100 / Hour
Enterprise-level Company Cost: $100 – $250 / Hour
When we talk about time, it takes about eight weeks to build a more advanced app like Urban Company. The time limit may also get increased to 24 weeks if you want to add some more goodies. It is also based on various specifications, device compatibility, and more.
Here are some hourly-based estimated time for creating an app like Urban Company:
Simple app: 300 hours
Moderate app: 400 to 600 hours
Multifaceted app: Around 900 hours
Highly multifaceted app: More than 900 hours
Want to Launch Your Own Home Service App?
Request A Free Quote
1200+ Projects Delivered 12+ Industry Experience 450+ Clients Worldwide 200+ Certified & Expert Programmers
Advantages of Home Service App Development Like Urban Company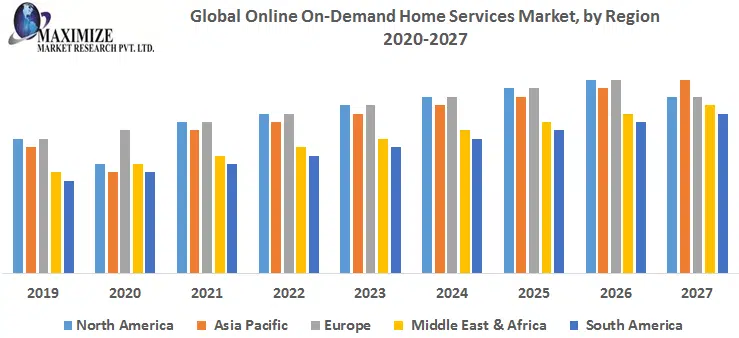 Source: https://www.maximizemarketresearch.com/
Encourage Direct Marketing
Making a mobile app similar to UrbanClap will help you boost sales by presenting generic information, rates, booking reports, user accounts, broadcast feeds, search choices, and more.
Establish Better Communication With Customers
Apps are the best source by which we can increase communication channels' ability. Customers can quickly get information about anything regarding services, and you can also solve their queries on the app.
Boost Visibility in the Market
On-demand apps for businesses provide guidance in the development and present economic growth. It is the best way to attract user attention.
Urban Company (UrbanClap) App Alternatives in the Market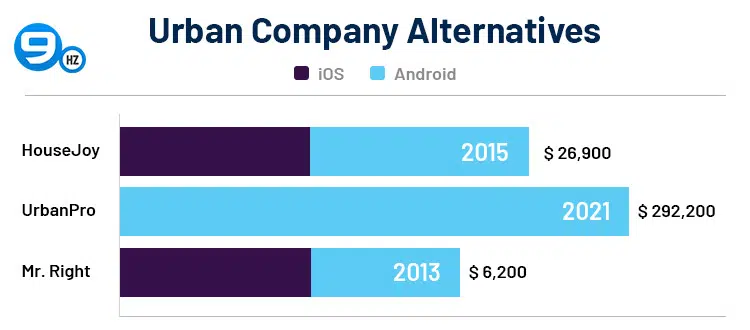 | Brand Name | HouseJoy | UrbanPro | Mr. Right |
| --- | --- | --- | --- |
| Founded In | 2015 | 2021 | 2013 |
| Website Worth | $ 26,900 | $ 292,200 | $ 6,200 |
| Operating System | iOS and Android | Android | iOS and Android |
Future of Making Home Service App like UrbanClap/Urban Company
Urban Company (UrbanClap) is the most known and successful app in providing home services to make people's life easy in today's world. Everyone in this generation wants easy to manage things; therefore, this is the main reason why the UrbanClap clone app has to gain success in the future market.
UrbanClap expands its roots regularly to keep its competitors behind. They are now trying to increase their home services in various additional cities. Currently, they are operating in Dubai in making their services available effectively.
As we know On-demand home assistance app is a strong and scalable platform that presents quality and comfortable services at the user's doorstep. If you are thinking about building an app similar to UrbanClap, it is the right decision for gaining instant user attention as the need for on-demand apps is rising increasingly. Now it's your time to make services available for your customers.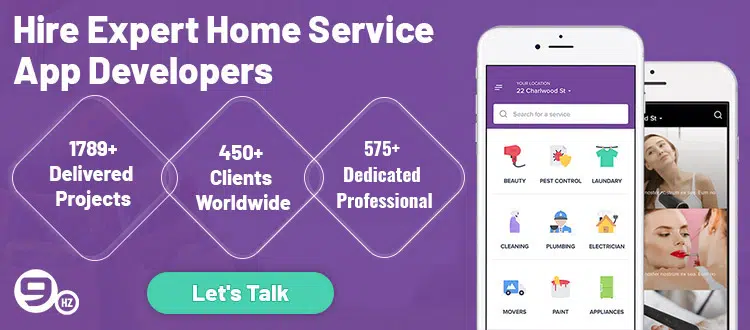 Conclusion
UrbanClap is standing at the number 1 position in delivering the best home services. Almost every person in this world uses the internet to follow up with their day-to-day works.
As a result, more growth is being invented in this field; the requirement and need for applications for on-demand home services will raise it. By originating your on-demand services with a mobile app like UrbanClap and other on-demand alternatives like Zimmber, HouseJoy, and many more, you can produce impressive start-ups as a businessperson. So go ahead with your idea and move forward in the industry.