The gaming industry has taken a boom in the last few years. If we talk about numbers, according to NewZoo, the worth of the video gaming industry was $159.3 Billion in 2020. Video games are not just something for fun now, players and users expect much more from video game developers. Creating such products that just do not satisfy the player's needs and exceed their expectations is what video game development companies are thriving for. This is increasing demand to hire video game developers to create unique video games.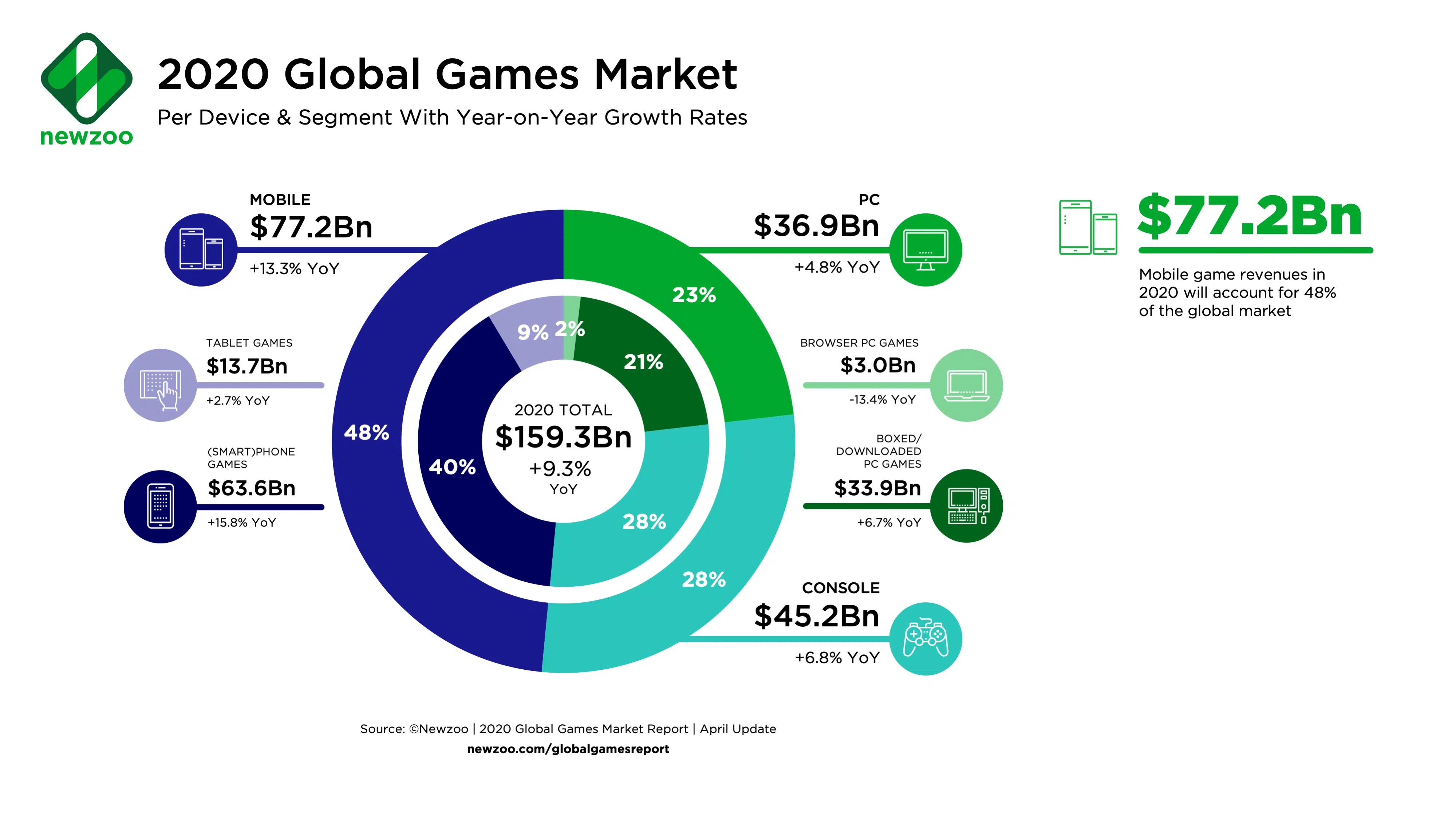 Source: https://newzoo.com/
Though kickstarting a new game-making studio is not an easy task. This business requires a team with a huge passion to create games and earn money from these video games. The idea of the approach is to create such unique games that will reach millions of people in the world and gain popularity. This growth demands more professionals in this field.
This just can not be obtained by finding someone with a good CV, the whole process includes a deep dig down to grab the right talent. Here you can go through my other guide on how to create a video game. Read on to learn more about Video game development companies and the process of hiring video game developers.
What Do Video Game Developers Do?
If you want to develop a quality game-making studio, it is important to have a good idea and a good team of game developers. Before hiring a game developer for your game-making studio, let us know what these developers do. As the name suggests, they "make" games. But that is not the only job they do; the role of developers is to code the base engine from the ideas of the design team.
They build a playable game for the users with the video game graphic designer concept. They also work with the designing team to help develop character design, level design, animation, puzzles, and unit testing. In short, their job revolves around gaming narration to gaming creation, coding, and programming. This role requires deep understanding and the capability of the execution of the game plan.
The game developers are involved in almost every stage of game production, i.e., from the planning, production to the final testing and launching of the product. There are several other core tasks associated with this job: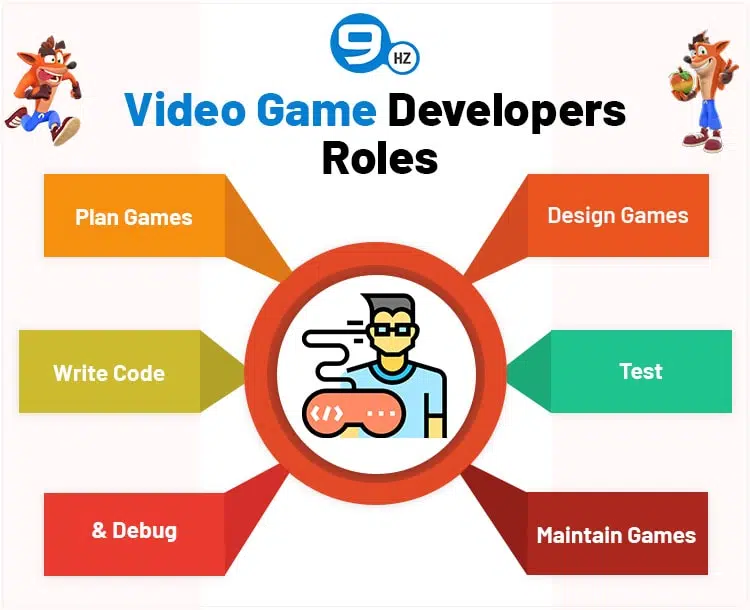 Plan Game Projects
Game developers plan the storyline, characters, design specifications, scoring, and progression after receiving the game's specification and feature request.
Design Games
At this stage, the game developers use computer applications to make animating characters and creating levels to make the game more marketable.
Write Code
The core task of game developers is to work with code and program the game. At this stage, they set the codes that implement the game's logic and the final product is developed.
Test and Debug Games
Once the game is shipped to users, the work of game developers doesn't end here. A game developer needs to keep an eye on the errors and handle the requests of fixing them. They inspect the code errors written by them to troubleshoot code and fix bugs.
Maintain Game Projects
Once the production is done, game developers continue to handle the requests for new features and the latest updating in the games. The latest update comes with improvements in the game like new levels, characters.
Hence, you can divide the role of game developer into three categories,
Software Engineers who work with the code directly to convert imagination into reality.
Content Creators who work at the design specifications of a video game
video game graphic designers in the end give the jurisdiction over the work of engineers and creators to see it through
Want to Hire Video Game Developers?
Get Free Consultation
Why Hire Certified Video Game Developers for Game Development Studio?
pre-production
production
testing
pre-launch
launch, and
post-production
Pre-Production
At this stage, you build the foundation of your project. The detailed information about all the aspects should be noted like
Game budget: This is an important aspect as this will decide the features you will be able to afford while developing the game. The net profit at the end is to be discussed earlier only.
Gaming platform: There are multiple platforms available where you can make the game. It is your requirement that defines, if you want to develop the game on a console, iOS, Android, PC, or maybe cross-platform.
Game genre: This is the time you have to decide whether you want to develop an "AAA" game or an indie game based on your budget and the scope of future work.
Game mechanic and plot: As per the story planned, you need to decide upon the avatar of the player or characters. If you want to create a game that grows, you have to input more diverse-in-game content.
Monetization: The main point is to think upon the earning view through the game. The ways through which you can earn are, sell your game, have in-app purchases, or monetize through ads. It is your call to decide upon one.
Production
This stage is the longest as the body of the game is designed at this level.
Graphics, design, and animation: video game graphic designers prepare the skeleton at this level. The challenges and incentives for the players are decided at this level. 2D and 3D artists create the game atmosphere engaging and attractive by creating characters, environments, textures, visual effects, etc.
Programming: The mechanics of the game via coding and live video play is built at this level. At this stage, professionals are required who are well-versed with computer programming languages.
Sound Design: All sound effects that make the game more interesting like voices, music all are created by the sound engineers.
Testing
After designing the game, it's time to test the game before you launch. Testers check if all the levels are working and displaying correctly or not. They unlock the achievements and see the correctness to achieve a 100% playthrough.
Post Production
After the launch of the game, there could be bugs and errors that you might have missed at the testing stage. Players' comments and suggestions provide a new idea to integrate. Hence, further improvement and up-gradation can be done even after launching.
Once you have an idea about the development process of the game, you know about your requirements, i.e., how many and what professionals you need in your team. Now the next step turns out to find a game development team with good expertise for your game development studio.
Also Read: How to Develop E-Learning Mobile Game?
6 Traits To Look For When Hiring Video Games Developers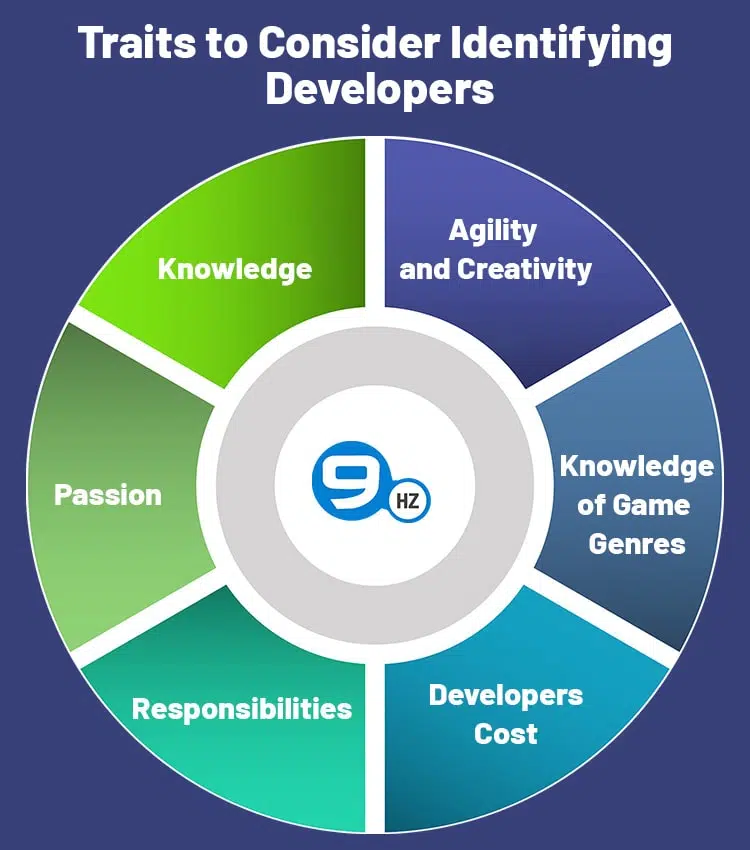 1. Passion for Game Development
The first and foremost thing is to make sure that the developer has a love for video games. The enthusiasm and love for games are what make this business successful. This is not an easy task and requires a lot of patience as the certainty of whether the game will earn money is not fixed. Hence, you need a bunch of people who have a great passion for making game videos and let go of all the obstacles that game development carries.
2. Knowledge of Scripting Languages
A candidate with good knowledge of coding and scripting is equally needed. The game developer should be well-versed with the scripting languages. Java, Python, and C+/C++, also other common programming languages are used to develop games. To check the individual more on the knowledge, you can ask them to demonstrate a program with the example of codes given by you. You also need to make a check on the individuals if they are ready to team up with other mates as the game design company is just not an individual's effort and it needs everybody to get along and cooperate as one.
3. Agility and Creativity In-Game Concepts
A creative mindset helps create an outstanding gaming app. This business has no restrictions, hence every individual that you hire should be capable enough to spark that maturity and creativity. Players enjoy if the gaming apps provide them with a complete package of graphics, art, sound, programming, interactivity, and writing. Along with these skill counts, the app must run well.
4. Knowledge of Game Genres and Trends
The latest technologies have brought lots of bugs with them. Hence, constant support by the game app developer is always needed. As we all know how frustrating it gets when an app crashes. This turns into a big disappointment and a huge negative remark for the business. The goal should be to develop an app with the best in-app experience by reducing bugs and maintenance costs. They should be well equipped with the knowledge of the latest technologies to create unforgettable journeys. There are many game genres already established such as first-person shooters, side scrollers, puzzle games, etc, hence it is important to know the genres chosen by the developers and to grow with them. One who can adapt to the latest technological advancements can build an immersive gaming framework.

5. Video Games Developers cost
There has been tremendous growth in the demand for video games in the past few years. Hence, the need for video game developers has also been increased, this has increased career opportunities too. In this industry, the cost is determined as per the standards of the industry as well as the individual skillset. As per an estimate, based on ZipRecruiter data, the game developer earns an average of $101,644 annually, and salaries reach as high as $167,000 or as low as $35,000. There are freelance game developers too who earn an hourly basis. Hence it is important to set your budget and payment type in advance. Read this detailed article on mobile game development cost.
6. Define the Responsibilities and Deliverables
It is important to decide the delivery time prior only. There should be a work agreement and copyright terms including the delivery of work and payment, schedule, milestones, and a penalty clause if any, confidentiality. This agreement should be signed at the initial stage of the project to avoid any hassle later on.
The task to hire skilled video game, developers, for your video game development company is quite challenging. Though there are ways like game development communities, online freelance networks, and online hiring platforms that help in finding talented game developers.
On online game development communities like TIGSource, IndieDB, you can post your job details as per the skills required and provide them access to the community members.
On the other side on a free online platform like Develteam, you can post the job offers along with the description of the project wherein developers can discuss and communicate through the comments section.
The third option available is online sites, where visitors can access the profiles of hundreds of freelancers.
Want to Hire Video Game Developers? 7 Superior Sites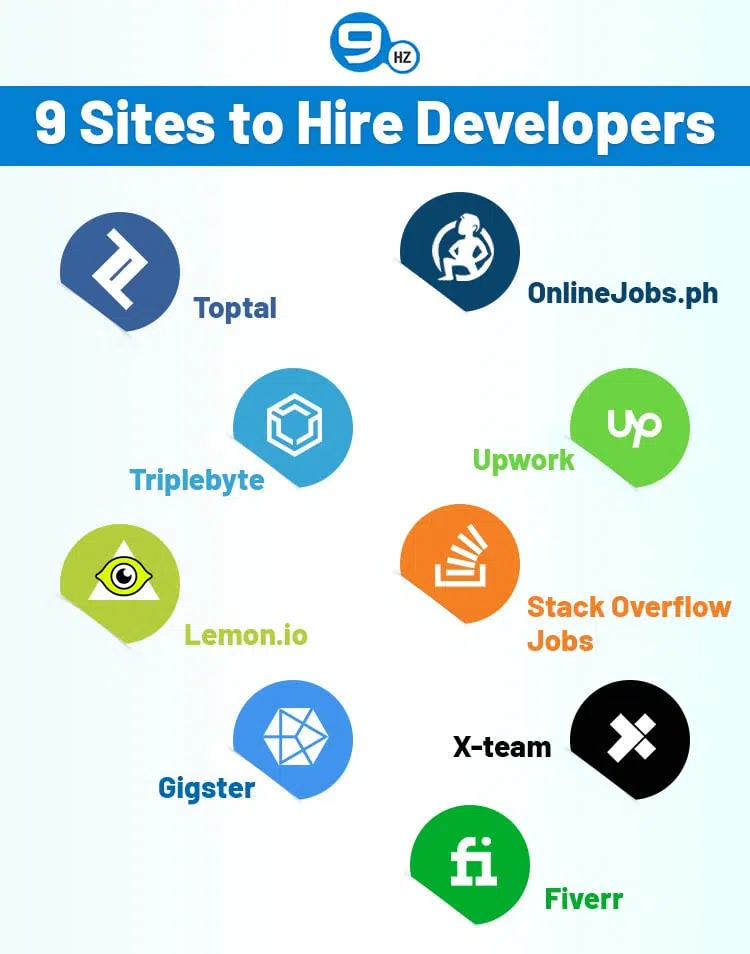 1.Toptal to Hire Video Game Developers
To connect various businesses with expert project managers, software engineers, designers, and finance experts, Topal is a well-known freelancing platform. It is a fastly expanding network linking the most skilled freelancers in the world, spread across the globe. You can get the best freelancers for your project here with great ease.
2. OnlineJobs.ph
OnlineJobs.ph is founded in 2009 by Utah-based entrepreneur John Jonas to connect the modest Filipino workforce with company owners in North America and throughout the world. Over the last decade, this platform is the leading one to find qualified professionals in the Philippines. The site has almost 250,000 resumes in its database–a large talent pond!
3. Upwork
This is the most famous freelancing platform all over the world. Adopted by companies such as Microsoft, Airbnb, and GE, Upwork coordinates companies with freelancers attending to operate on larger functional and complex projects. One can easily hire professional freelancers with just a few clicks.
4. Triplebyte
Triplebyte is another well-known freelancing platform that is specifically used for hiring software engineers utilizing a background-blind method to help engineers in displaying their technical abilities. It is the most trusted platform by tech companies because it helps them to find the best talents all over the world.
5. Lemon.io
Lemon.io is a go-to freelancer platform where you can hire trusted developers on-demand. They have very strict measures like background checks, coding skills evaluations, real-life test tasks, live interviews, etc. for adding any developer to their network. Only the developers who fulfill all the obligations can add to this network.
6. X-team to Hire Video Game Developers
Founded in 2006, X-team is dedicated to providing a skillful on-demand developers team to the leading brands. They have a huge community of developers in 60+ countries all over the world. To expand businesses in this digital age, X-Team helps owners to work properly with the right set of teams.
7. Fiverr to Hire Video Game Developers
It is another online marketplace for freelance services. This platform promotes developers to offer their services all over the world. Fiverr strikes out the middleman of employing, firing, and HR departments. The expert freelancer can directly contact the businessman with great comfort.
How to Hire Freelance Video Game Developers?
Many freelance game developers work for extra income. Being a freelance game developer is a challenging task as it requires high patience to earn money. They are self-employed developers who design games using the programming languages, Java, JavaScript, Python, and PHP. They generally work on an ad hoc basis. They are not bound to any contract and can take as many projects at once. They mostly charge on a per-hour basis. This way they give their time dedicatedly to a single project. You can hire any freelance video game developers from the above-provided 9 sites too.
9 Super Video Game Development Companies [You Must Know]
There is a big pool of best game developers in India and finding one of your interests is a challenging task. Let us make this easy by listing down the top Indian video game development companies for the years 2021-22-
1. The NineHertz
The NineHertz is the fastest-growing video game development company dedicated to delivering top-notch solutions for web and mobile. Since 2008, they have developed so many successful apps among different industry verticals. They have an experienced team of smart developers, business consultants, project managers, and marketing leaders that help your business to achieve success.
2. Hyperlink InfoSystem
Hyperlink InfoSystem is a famous mobile game app development company. It was established in 2011, since then, they are providing software development solutions like iPhone, Android, Windows app development, and website building. They are known for providing cost-effective app development services to their clients all over the UK, Japan, USA, Canada, and across the world.
3. Infosys Limited
Infosys Limited is a well-known multinational consulting, outsourcing, and IT company situated in Bengaluru, India. This brand currently serves customers in over 40 countries and has revenues of above $10 billion. They offer various mobile and web app development services that lead your business to touch the heights of success.
4. Zensar Technologies
Zensar Technologies is ranked amongst India's top 20 software services agencies by the NASSCOM. Zensar has a specialized team in offering a comprehensive range of software development solutions. To serve the global clients, they have control centers in Hyderabad, Pune, and Bangalore in India, Japan, China, and the UK.
5. Fgfactory
Founded in 2010, Fgfactory is providing full-fledged gaming app development services. Since their establishment, they have delivered more than 300 projects in the areas of vector graphics, GUI, 2D, 3D, animation, and amazing cross-platform game development.
6. TCS
Tata Consultancy Services (TCS) is one of the world's biggest IT services firms and the most populous in India. Their chief services involve information systems, web and mobile application development and maintenance, enterprise software solutions, and other business process services.
7. Unanimous Studios
Unanimous Studios is one of the top mobile apps and game development companies in India. To provide the best app development services to their clients, Unanimous have an expert team of developers adopt new trends technologies with great ease.
8. TIMUZ
TIMUZ is a well-known brand in the name of building attractive mobile apps for their clients. Founded in the year 2010 in India, they are delivering the best-in-class designing, development, testing, and deployment services to a broad range of games crisscrossing different genres like casual, puzzle, RPG, racing, action, skill, arcade, adventure, strategy, etc over all platforms.
9. Scientific Games
Scientific Games is a dedicated brand for developing amazing and robust mobile gaming apps for all platforms. They have expertise in delivering state-of-the-art, exceptional interfaces to their clients and help them to touch the heights of success in this gaming world.
What is Custom Video Game Development?
Players and users expect more from the game as this business is growing. Gaming communities seek different ideas and initiatives to increase the player bases, few games have been abandoned at the first go while few are getting better as the year rolls on. Custom games are those games that are in trend these days. They run like a common video game but come with a lot of twists.
By custom games, players can team up or play against chosen players or bots. Third-party software helps in editing the names of characters, items, and textures. This improves the overall experience of the game by adding graphics and quality content. It has also been observed that after the introduction of custom games, there is an increase in the number of smartphone users.
You all must have experienced such games that are quite trending these days and have turned out as an addition to a lot of people. The biggest example is the games PUBG, Dota2, and League of Legends that have achieved great popularity within some time with their innovative features. The custom game development is available for multiple platforms like VR Headsets, AR/MR, Mobiles, consoles, and PC.
Perks of Custom Game Development
The game stays in the market for a long run and earns popularity because of the innovative features
The variations help keep the community hooked and engaged.
Custom games help to save cost with higher user engagement. Hence, hiring video gaming companies is cost-effective
Provide more depth to the existing video game.
Most of the custom games are multiplayer. You can sync the contacts of the players by harnessing the strength of social media. Hence, the pain of physical submission of contacts is not required.
The addition of more functionalities, game choices, and features ensures the popularity of the game.
Custom games are developed on the back of all essential factors, hence can be scaled anytime as per the needs of the players.
Custom games are developed using the latest technologies for the best user experience.
A custom business app is easy to maintain as one can have complete control over it.
Conclusion: How to Hire Video Game Developers?
The gaming industry is emerging as the most dynamic industry and has left behind most of the entertainment industry too. The growing digitization has brought a lot of changes in this industry also and it has become quite popular among the youth. Also, with the growing use of smartphones, every next person keeps games in their pocket. The video games are just not about plaything now, it provides relaxation as well on a higher level. This has to bring employment to many as the demand for video games developers is increasing day by day with the demand for unique and creative games every day. The new introduction of artificial intelligence has also given this industry a significant look.
I hope this article will help you with your question regarding game development and about how to hire game developers for your next project. Be keen and cautious while hiring one for your development company and do consider their skill level, if it matches your needs not.