In this digital world, if you want to grow your business, an online presence is a must. And it can only be achieved through a captivating website, which not only provides an amazing customer experience but also stands apart in the competition. But web development requires a web developer. So based on your project requirement you can hire Indian web developers. Now the question arises of what steps should be followed to hire the best web developer and develop a killer website.
In this article, we are going to discuss the points that need to be considered before you hire a website developer and a web development company in India.
How to Hire Indian Web Developers in 2022?
Before hiring Indian web developers, it is important to know your project size and goals. Because it brings clarity and lets you decide which web developers will be best suited for your project.
Define Your Project and Scope of Work
So have a look at different types of web development projects
Simple web project: A web development project which requires the development of a simple website or integration of some new features to the existing one falls in this category. In wake of the integration of additional features, one can ask for a contact form, a subscription button, a CTA button, a new template design, and much more.
Medium web projects: several types of projects fall into this category. It could be the development of static and dynamic web apps, online stores, and others that require third-party integration likewise APIs, chatbots, databases, CRM, CMS, and others.
Large-scale projects: as the name refers, these projects require sophisticated technologies and huge databases (cloud web hosting services) to store data of all the users. The development of a video-sharing social media app or social networks is part of the large-scale projects category.
Other than this, there could be other projects based on the following three cases.
Build a project from scratch. In this case, customers who are willing to hire a website developer could be existing businesses or start-ups. The existing businesses could look for automation of some business process, either adopting in-house or a dedicated web development team. While the reason behind choosing a web development team from start-ups may be the eagerness to enter their niche as soon as possible without wasting time and money.
Looking for expansion of your in-house team with the integration of an extra specialist for the ongoing project. You can fulfill this requirement by hiring a free Indian web developer, or outsourcing a developer from a web development agency for a particular time.
Contemplating over using a new technology of which nobody has experience of working on it within your in-house dev team. In such a scenario, either you would wait for the developers to learn the technology or go for hiring an Indian web developer from an outsourcing agency who has hands-on said technology.
Web Developer from India According to Your Project Need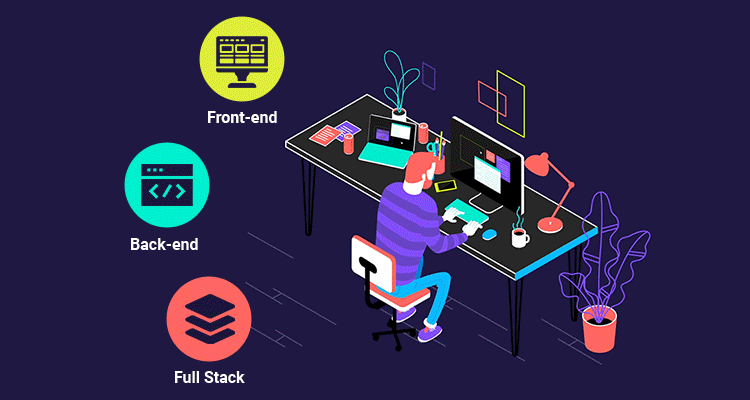 In the web development sector, there are three types of developers available in the market. Back-end, front-end, and full-stack developers. Let's start with
Back-end Web Developers from India
The developers who handle the working of the website through website structure, behind the front-end are known as Back-end developers. They help in improving the speed of the website, resolve technical issues and perform third-party services integration duties into the web architecture. Back-end developers mostly use technologies like PHP, Java, Python, and Ruby while they prefer to choose databases from SQL-MySQL, SQLite, MongoDB, and others.
Indian Front-end Web Developers
Front-end developers create the user interface of the website where users interact with your business. You can hire a front-end developer for tasks like reviving the design or layout of the website. But you must understand the difference between a front-end developer and a web designer. Web designers' work is targeted to user experience. They create the website layout, color scheme, and other visual elements for offering an amazing user experience. Whereas, the front-end developers offer functionality to the website using technologies PHP, ASP.NET, Angular8, React.JS, Vue, HTML, CSS, Javascript, and others.
Hire Certified Indian Web Developers
Request A Free Quote
Full-stack Web Developers in India
Full-stack developers are those individuals who have experience working on both the platforms, the front-end and back-end of the website. This quality of these individuals makes them highly preferable among start-ups companies. Because they have limited resources and choosing separate developers costs heavier as compared to hiring a single full stack developer.
After a clear interpretation of developers here, it's time to choose the right developer according to your project.
Where to Find Skilled Indian Web Developers?
Nowadays, it is easier to find the best developers according to your web project requirements. Thanks to several online platforms available in the market which lets you hire a .net developer or a web development team accordingly. If you are looking for a web development company in India, you can filter searches based on specific requirements like project size, budget, and timeframe. Here we have created a list of a few popular platforms you can go through to find the best option.
To hire a freelance web developer from India, you can visit the following websites
Upwork
Upwork is one of the most popular job marketplaces where you can find freelance web developers for your work project. A group of two Greek entrepreneurs founded it in 2003 and within 10 years it recorded a mind-blowing figure of around 3 million freelancers and 54000 clients across the globe. It charges 20% from the first bill of $500 and 10% of the remaining project at the end of it. Users can take advantage of features and facilities like time tracking, milestone payment.
Freelancer
One can use this platform as well to find a remote Indian web developer. Freelancer came into existence in 2009 and since then the brand has acquired eight freelance marketplaces. Here users can take advantage of a feature-limited free membership other than multiple paid membership options. Like Upwork, it charges 10% as a commission fee. The feature list here consists of online chat, automated payment per achieved milestone, and others.
Toptal
Toptal is a dedicated platform to serve only the best designers and developers across the world. Since it performs a rigorous testing process which makes it possible only for the top 3% of designers and developers to apply for positions. Companies like Airbnb and J.P. Morgan uses this platform as their recruitment tool.
Hire Dedicated Indian Web Developers
Request A Free Quote
We Work Remotely
A project of 37Signals, We Work Remotely was specially founded to offer remote work positions for talented people across the globe. However, the testing process is not that sophisticated like Toptal but it attracts great talent. Majorly one will find candidates here from the technical background, so it is one the best place to find web developers.
LinkedIn
LinkedIn is a professional networking site where professionals can maintain their connections, collect recommendations and share their work history with different organizations. Along with it, the platform makes it possible to reach out to potential developers scanning through their resumes and portfolios.
Also Read: How to Become Web Developer?
These are a few platforms one can use to hire a freelance web developer whereas to hire a web development company in India, visiting the following websites is a must.
Clutch

Clutch is a B2B platform that timely releases ranking lists of companies based on different parameters like research, reviews, ratings, and others. Here you can find out an ideal partner for your web development project concerning the strong and weak points of the company.

SoftwareWorld

Like Clutch, SoftwareWorld is also a review website that rolls the listing of top-ranked developers considering reviews and the location of the customers. In addition to this, you can leverage the listing of renowned web development companies with their expertise in a particular domain.

Tech Blogs

The blog posts like you are reading now, which offer technical knowledge, handy tips related to web development, also provide a platform to hire a web development company. If you find their blogs, relevant and useful don't hesitate to contact them for your next web development project.
What Qualities Should a Skilled Developer Possess?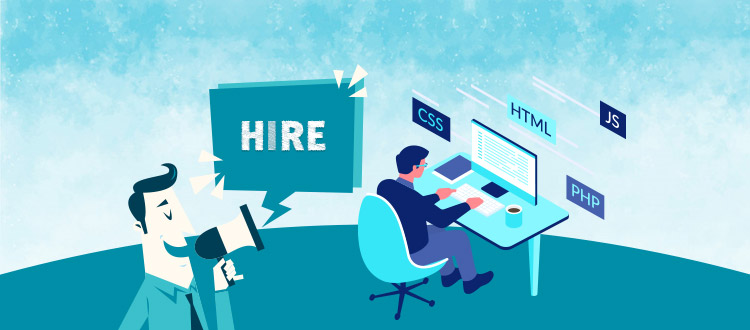 Here we are mentioning a few qualities that ensure the credibility of a skilled developer:
Creativity
A skilled developer should be creative enough to find more than one solution to a problem. One of the most important qualities to look for before hiring a web developer. Because programming offers different ways to reach out to your end goal. Other than finding or creating solutions for the occurred issues so that the website can perform seamlessly. The web developer from India should know what course of action will be suitable to solve the problem.
Detail-oriented
Programmers must pay keen attention to the details of a project if they are willing to deliver the best product.
It is noticed that those who only have a big picture in their mind end up neglecting small bugs or issues. On the other hand, the programmers who pay attention to every detail, focus on all tasks segments and their implementation, improves the overall user experience of the website.
Collaboration Skills
It is one of the characteristics of a skilled developer that needs to be in your top priority list. Whether you are hiring a web developer or a web development company for your business or project.
Ultimately, they are going to collaborate with you and your other teams likewise writing, marketing, support, etc. to work on the project. Also, there is a possibility that your project will grow in the coming future and need more than one Indian web developer to fulfill your requirements. That's where collaboration skills play a vital role in the field of web development.
Passion and Curiosity
There could be different reasons behind a person becoming a web developer. However, the most important and crucial characteristic that motivates the person to choose the sector is passion and curiosity.
Web development that is a dynamic world always has the opportunity for those who are keen to explore and learn something new. Their curiosity and passion lead them towards improving and updating their skill sets.
Important Things to Keep in Mind While Hiring Fully Remote Developers
Fully remote developers are those who work on their schedule and from any location. Before hiring them you need to consider a few more things other than the above-mentioned characteristics of a web developer.
Since working remotely is completely different from working inside a company office. So the qualities and characteristics of a good remote developer will also differ from an in-house developer.
In-house developers work under the circumstances where they are surrounded by other employees and have leaders or executives. Who timely checks out their work and motivates them to attain their set goals through meetings and casual conversations throughout the day.
On the other hand, Indian web developers who work remotely remain in a lonely and monotonous environment that turns out to be mentally draining for them. They are required to have the following characteristics in top priority over general qualities of in-house developers. So that they can work successfully and maintain productivity to deliver high-quality work regularly.
Self-motivated
Web developers who work remotely should be self-motivated since they have to work for hours without any outside motivation. The benefit in-house developers enjoy from the presence of employees in their surroundings other than the leader or executives who take care of the work progress towards set goals. Self-motivation will let them work efficiently and deliver high-quality work within the given deadline.
Self-critical
The remote developers should be constructively self-critical so that they can produce high-quality work every time. Since in the absence of a manager and founder who remains responsible to influence and criticize the work of in-house developers. There are high chances, remote developers may end up performing inadequate work.
Initiatives
Initiatives are essential in development work whether performed remotely or in-house. In the case of remote developers, they must have the initiative ability. Since with in-house development, they always have a manager or team leader who keeps on prompting and encouraging their developers to seek out and address problems.
These are the qualities that a remote developer not only possesses in abundance but also has developed and demonstrated throughout its career.
What is the Web Development Cost in India?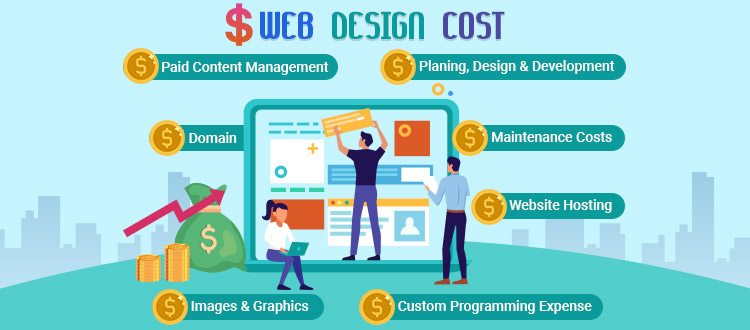 It is not easy to estimate the budget of a web project since it involves several variables that need to be considered. Likewise speed, quality of code, the scope of work, and others.
Generally, the golden rule of choosing two out of speed, quality, cheap price is highly popular and used mostly in outsourced projects. It applies to web development agencies as well.
Besides this, the budgeting of a web project can also be estimated by knowing exactly what you will get for a set price, or you can ask your developers for estimated hours to complete the project if they charge on an hourly basis.
However, it is not that easy for most of the developers to give you an exact hours estimate at the beginning of the project due to the way the development works. Instead, you can contact developers at each stage of the project to know they are on time or require more hours to complete the project.
Also, the skills and programming languages you are going to adopt influence the cost of the project along with the developers' location.
So if you are on a tight budget and don't want to exceed the cost of your project, it is better to go with a set price. However, it is a bitter truth that not every developer likes to work this way but being clear just from the beginning will help you in the long run.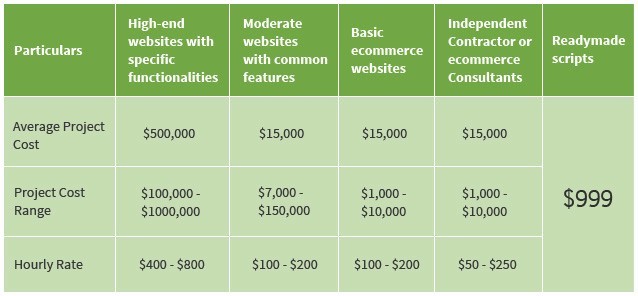 Source: LinkedIn Pulse
Opt for Hiring Model of Indian Web Developers
There are three types of popular working models you can choose from according to your project requirements.
The Project-based Model
The model is majorly selected by the start-ups or well-established businesses that want to complete a small web development project. The scope of work and timeframes for different stages are predefined in this working model. Whereas the web development team handles the project management and the choice of technological solutions here. Ultimately, the web development team remains responsible for all activities in this business model.
A Dedicated Team Business Model
The model works better if you want to implement complex functions to your website without wasting time and money on hiring-in house specialists. Likewise the integration of cloud storage, or AI Chatbot development. In this business model, either you can control the project roadmap or handover the responsibilities to your dedicated web development team. Here, the party which handles the project management process remains responsible for the success of the project. If the PM is from the customer side, they will handle the development team.
Out Staff or Extended Team Model
The business model is best suited if you are planning to work on a big project without exceeding your budget. However, you will be required to have an in-house CTO and project manager to handle responsibilities like assigning tasks to the extended team, monitoring progress management, and leading web developers on the technical front. This working model provides customers with all the responsibilities, validation, and control.
Select a Payment Model
After deciding you want to work with a single web developer or web development team, you will be required to make payment for these individuals every month like regular workers. Whether you opted for our staff or dedicated team working models. But in the case of a project-based working model, you have a choice of selecting between the following payment models.
Fixed Price Paying Model
If you are working on a small web project with a clear scope of work and time frame, this payment model is the best-suited option.
Time and Material (Pay as You Go) Paying Model
You can choose this payment model if you are working on a small, medium, or large-scale project but it is hard to estimate the scope of work and time frame for the project. This model allows you to make payments to each developer at an hourly rate considering the total time spent on development.
Final Words
In the development sector, there are numerous freelance Indian web developers and web development companies available in the market. It is hard to choose the best according to your project requirements. Sometimes you want to make minor changes, add new features and functionalities. On the other hand, you may have a requirement of developing a website entirely from scratch. In such different conditions, it became difficult to choose the right option for most of the businesses which don't have any technical knowledge related to web development. To help them out, this article demonstrates a few important steps, following them will give you a deep understanding of your project requirements. And you can easily decide to hire a web developer or a web development company in India accordingly. Hope this article will help in clearing your doubts and give you the right path to hire the best web developer in India.