Don't let Magento eCommerce development challenges prevent you from succeeding!
Building an online store is essential in the contemporary era, where everything is accessible with a single click if you want to connect with your target audience and raise brand awareness.
Setting up the environment, configuring the store settings, choosing a theme, adding products, and integrating payment and shipping methods are all essential stages in creating an effective online store with Magento eCommerce.
In this guide for Magento eCommerce development, you can easily perform each step and build an e-commerce website that is safe, useful, and customized to your business's needs.
What is Magento?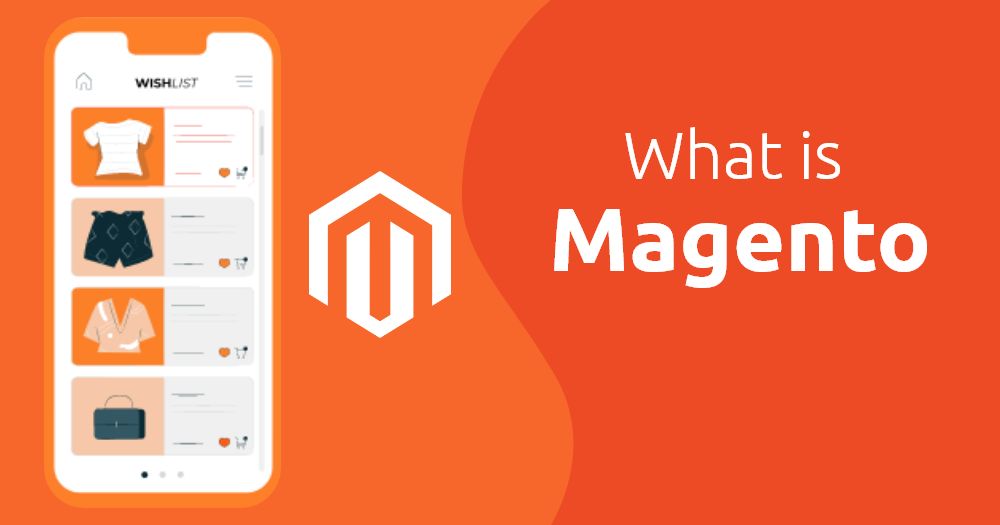 Magento is a popular open-source Adobe Commerce platform that enables businesses to create online stores with reliable features, flexibility, and scalability.
It was launched in 2008 and has since grown to become one of the most popular eCommerce platforms in the world, powering almost 250,000 online stores globally.
Businesses can efficiently manage their inventory, create custom storefronts, and process payments thanks to its comprehensive set of great features and tools.
Moreover, it provides a selection of Magento 2 extensions and plugins that assist companies with search engine optimization, tracking user activity, and integration with third-party services for their online stores.
The flexibility of this advanced development is another significant result, as Magento's theme enables businesses to develop their online store, making it appropriate for businesses of all sizes as any company's eCommerce requirements may change as it grows.
The Magento commerce platform offers tools, modules, and extensions to create customized online stores for each industry vertical for business development.
Want to Launch Magento eCommerce Store?
Hire Certified Magento Developers
Magento eCommerce Development- Step-by-Step Guide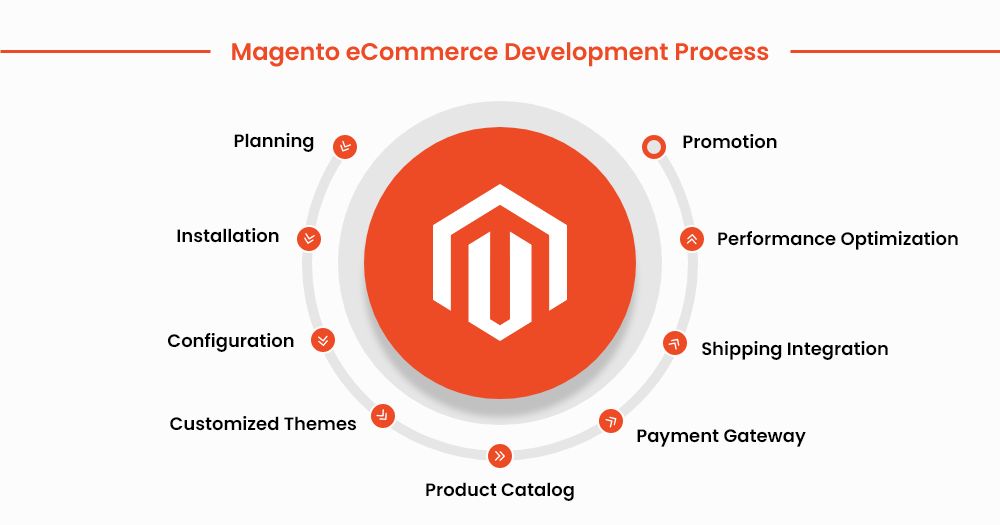 Here is a complete guide to Magento eCommerce development that can help you create a seamless online shopping experience for customers, boost sales and revenue, and establish a strong online presence for your business.
Step 1: Planning and Preparation
The first step is to identify your business goals, define your target audience, and develop a project plan with the help of the best Magento development companies. You can also discuss the abilities and functionality you want to include in your online store.
Step 2: Installation and Configuration of Magento
The next step is that the developer will help you download the latest version of Magento from the official website for its installation and for this, a domain name and a web hosting account are also required. Once you have installed Magento, you will need to configure it to suit your business needs as this involves setting up payment and shipping options, creating categories and product pages, and customizing the design of your online store.
Step 3: Customized Themes
Selecting from the wide range of pre-built themes from the Magento commerce cloud, which can help you to create your eCommerce store is the other step that you need to follow.
However, if you want a unique design that reflects your brand identity, you may need to customize your theme by hiring Magento partners to meet your needs.
Step 4: Product Catalog Management
It is an important factor for stores on the Internet as they need to create categories, add product descriptions, and images, and manage inventory levels. Using the technical expertise that offers a comprehensive catalog management system, allows you to easily manage your product catalog.
Step 5: Payment and Shipping Integration
The ultimate goal for e-commerce stores is to make customers a purchase. For that, you need to integrate payment and shipping options offered by Magento integrations with popular payment gateways like PayPal, Stripe, and Braintree.
Step 6: Security and Performance Optimization
To ensure that your web-based shop is safe and operates at its best, you will need to implement security measures and optimize its performance. You can use Magento extensions to improve the security of your online store.
Step 7: Launch and Promotion
Once your Magento commerce is fully functional, it's time to launch it. To make it visible to a larger audience you can promote your e-commerce store using digital marketing channels like social media, email marketing, and paid advertising. You can also optimize your Magento website for search engines by using SEO best practices.
Need Help With Magento eCommerce Development
Hire Dedicated Magento Developers
Benefits of Magento eCommerce Development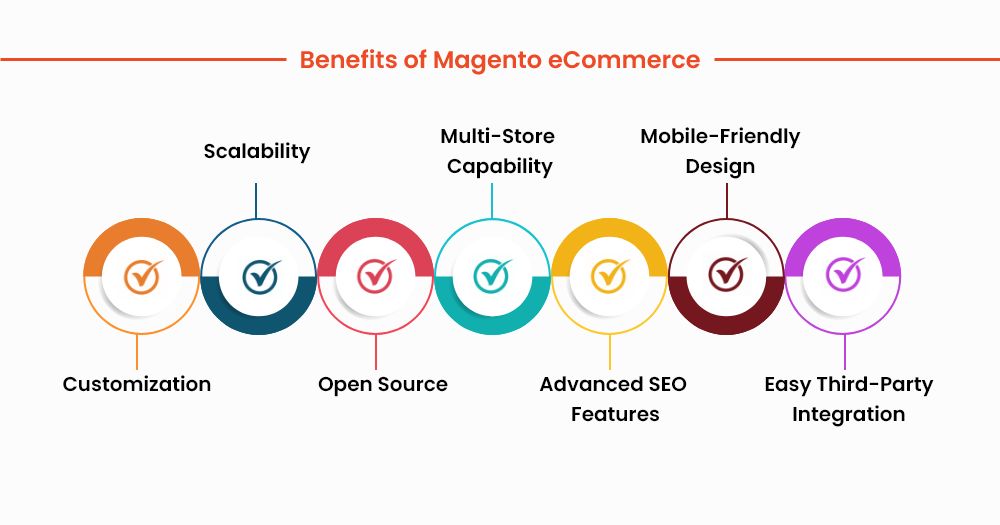 Choosing the best Magento e-commerce platform offers several advantages for businesses of all sizes, making it a top choice for company expansion.
So here are some great benefits for all business sizes:-
1. Customization and Scalability
Magento offers a high degree of customizability, allowing businesses to create unique and tailored eCommerce experiences for their customers. Being a scalable platform, Magento can handle large volumes of traffic and transactions. As your business grows and expands, you can rest assured that your online store can handle the increased demand.
2. Open Source Platform
As it is an open-source platform, which means that the source code is freely available for use which makes it an affordable option for companies of all sizes. Additionally, it has a large community of developers who contribute to its development and provide support.
3. Multi-Store Capability
The key feature for using multi-store capability enables businesses to manage multiple online stores from a single backend. This is particularly useful for those with multiple brands or product lines, allowing for easy management of inventory, orders, and customer data across all eCommerce stores from one place.
4. Advanced SEO Features
The Magento platform offers advanced SEO features such as setting up meta tags, sitemap, and optimizing product descriptions to make your store search engine friendly. These improvements can help improve visibility and increase traffic to Magento's website, and rank better for search engine results.
5. Mobile-Friendly Design
Magento covers a mobile-friendly design that is optimized for mobile devices as in the contemporary era customers are using mobile phones to shop online.
A Magento design ensures that your Magento eCommerce store is accessible and easy to use on all devices, increasing customer satisfaction and improving conversions.
6. Easy Third-Party Integration
Easy third-party integration with various tools and platforms, including payment gateways, shipping providers, and marketing tools is possible. Also, you can perform custom integrations of your eCommerce store with popular eCommerce platforms like Amazon, eBay, and PayPal, allowing you to reach a wider audience and increase your sales.
Magento has all the capabilities you need to build a profitable online shop, including customization, migration services, advanced SEO attributes, and a mobile-friendly design.
Tips for Successful Magento eCommerce Store Development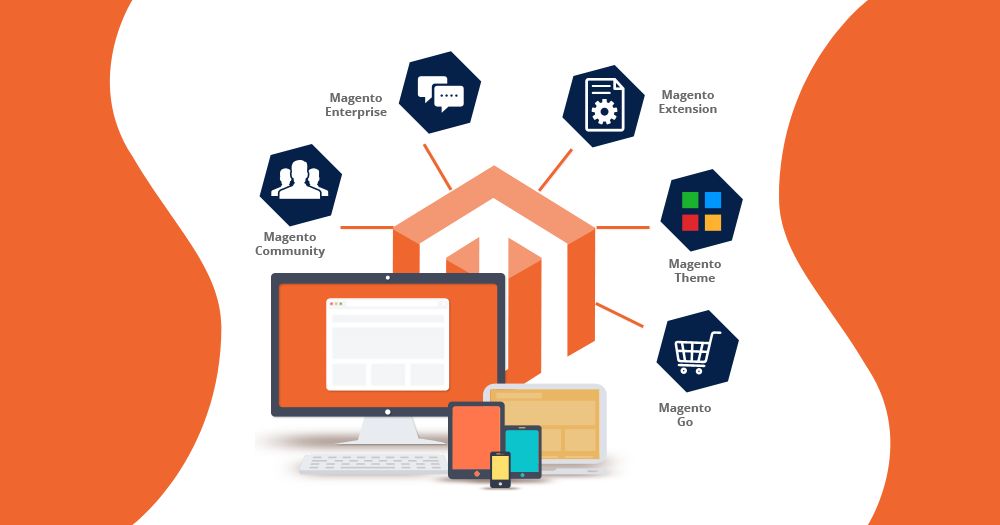 Magento Commerce is a powerful platform that can help businesses build a successful eCommerce website. However, building a successful online marketplace requires more than just choosing the right platform.
By implementing these tips, you can ensure that your Magento e-commerce store stands out from the competition, attracts and retains customers, and drives sales and revenue.
Whether you're just starting or looking to optimize your existing store, our best eCommerce website developers will help you build a thriving eCommerce business on the Magento platform.
1. Establish Your Aims and Objectives
Before you start your implementing your idea, it is important to define your goals and objectives to your Magento eCommerce developers. What objectives do you have for your internet store or mobile app? Are you looking to increase sales, improve customer engagement, or expand your market reach? Understanding your goals and objectives will help you make informed decisions throughout the Magento eCommerce store development process.
2. Choose the Right Theme
The success of your e-commerce business depends on your choice of Magento theme as it should create a smooth user experience and complement your identity and design. The theme should also be search engine optimized and mobile-friendly. The Magento partners offer a huge selection of both free and premium themes.
3. Optimize for Speed
The success of a Magento eCommerce store is heavily dependent on the speed of the website. Utilize techniques like caching, compression, and reduction to speed up your Magento online business. Additionally, you can employ a content delivery network (CDN), optimize your images, and minify JS and HTML files.
4. Focus on User Experience
Your e-commerce store or app should offer a seamless buying experience, be simple to use, and be visually appealing. Use tools like autocomplete search, product filters, and fast view to enhance the user experience. Additionally, you can offer user ratings and reviews of the products, as well as product suggestions based on user activity.
5. Optimize for Search Engines
Tools like SEO-friendly URLs, meta tags, and sitemaps to make your Magento internet store more search engine-friendly. You may also optimize images, add keywords to your pages, and write excellent product descriptions. You can monitor the effectiveness of your website and make data-driven decisions using tools like Google Analytics and Google Search Console.
6. Provide Multiple Payment and Shipping Options
Multiple shipping and payment alternatives can boost customer satisfaction and boost conversion rates. You can use third-party systems like PayPal, Stripe, and Authorize.net as payment alternatives. Further, based on the customer's location, you can offer numerous shipping options and real-time shipping rates.
7. Use Analytics to Make Data-Driven Decisions
Monitoring can offer insightful information on how well your Magento online business intelligence is performing. To monitor user behavior, website traffic, and conversions, utilize tools like Google Analytics.
8. Providing Excellent Customer Support
You can provide customer support through various channels, including email, phone, and live chat. Even comprehensive FAQ sections and customer reviews help customers find the information they need.
Why Choose The NineHertz for Magento eCommerce Web Development?

Developing a Magento online portal can be complex and challenging, requiring specialized knowledge and expertise. This is where The NineHertz comes in.
The NineHertz is the ideal partner for Magento eCommerce web development managed services because we have an experienced team of developers and offer cost-effective solutions for eCommerce stores or mobile apps.
1. Experience and Expertise
The NineHertz has extensive experience in developing Magento eCommerce websites. Having more than 14 years of experience in the IT sector, Our team of certified Magento eCommerce developers has the expertise to handle complex projects and provide customized solutions that meet the specific needs of our clients.
We have completed numerous Magento projects for clients across various industries, including retail, healthcare, finance, and education.
2. Customized Solutions
At The NineHertz, we understand that every business has unique requirements and goals. That is why we provide customized solutions that are scalable, flexible, and cost-effective to meet the specific needs of our clients.
3. The Agile Approach to Development
We follow an agile methodology to deliver high-quality solutions within tight deadlines. Our graceful approach emphasizes collaboration, flexibility, and rapid prototyping, enabling us to respond quickly to changing requirements.
4. Competitive Pricing
We understand that cost is a crucial factor for businesses, and we strive to provide cost-effective solutions that deliver maximum value to our clients.
We provide transparent pricing and work closely with our clients to develop solutions that meet their budget requirements.
5. Continuous Support and Maintenance
We provide continuous support and managed services that cover bug fixes, security updates, performance optimization, and enhancements. We have a dedicated team of support professionals who are available 24/7 to address any issues that may arise.
6. Robust Security
We follow industry best practices and use robust security measures to ensure that our client projects are secure and protected from threats.
We implement measures such as SSL encryption, secure payment gateways, and two-factor authentication to provide a secure shopping experience for customers.
7. Quality Assurance and Testing
We follow strict quality assurance and testing processes to ensure an error-free and seamless user experience. Our testing services include functional testing, performance testing, usability testing, and security testing.
We use automated testing tools and manual testing processes to ensure that the solutions we deliver are of the highest quality.
Contact us today to learn more about our Magento eCommerce development services.
Explore Related Guides:
Magento Vs Shopify
Magento Vs Woocommerce
Magento Vs Salesforce
Conclusion: How to Build Magento eCommerce Store?
At last, Magento eCommerce development is an essential aspect of building a successful online store. From choosing the right hosting provider to customizing your store's design and functionality, we've provided a comprehensive overview of the steps involved in creating a successful Magento store.
By following the steps outlined in this guide, you can confidently build an online site that is secure, scalable, and delivers a seamless user experience to your customers.
Due to Magento's broad capabilities and our expert guidance, you're sure to succeed in the world of eCommerce.With the right approach and the support of a reliable Magento eCommerce development partner like us, you can create an online business that stands out from the competition and drives significant revenue for your business.
FAQs: Magento eCommerce Development
1. What Programming Language Does Magento eCommerce Web Development Use?
Magento eCommerce uses PHP as its primary programming language as it is free and open-source and was created with web development in mind.
It may use other web technologies like HTML, CSS, and JavaScript for front-end development and MySQL for database management.
2. How Much Does Magento eCommerce Development Cost?
As it is an open-source eCommerce platform, the cost of building and running a Magento web page depends on various factors, including hosting, development, design, and maintenance.
Magento community edition starts from $15,000.
Magento enterprise starts from $22,000.
Magento commerce cloud pricing starts from $40,000