It's no secret that social media has taken over the world. In just a few short years, social media apps like Snapchat have become an integral part of our lives. We use them to connect with friends and family, share news and experiences, and stay up-to-date on current events. But the messaging app isn't just for personal use. In this guide we will explore how to create an app like snapchat in scratch.
Apps like Snapchat are also powerful business tool. Companies use social media to connect with customers, advertise their products and services to use all the features of available photo messaging app to generate revenue. And it's working. According to a recent study, Digital social network is one of the most effective forms of marketing, with 79% of big companies reporting increased traffic after investing in messenger app like Snapchat. And it's only going to become increasingly popular.
As new social media platforms are launched and video editing becomes more accessible, businesses needs will continue to find new and innovative ways to use social media to their advantage. So what does this mean for the future? Only time will tell, but one thing is certain: social media is here to stay.
Interested in video chat app development like snapchat? You're not alone – over 332 million people use Snapchat every day with 1 Billion plus downloads on the google play store and 200k positive feedback on the App store.
Want to Launch Your Own App?
Convert Your App idea into Reality
What is Snapchat App?
Snapchat is a multimedia messaging app that allows users to send text messages and video and audio messages as well as make audio and video calls. Snapchat owners Evan Spiegel, Bobby Murphy, and Reggie Brown when they were students at Stanford University.
Snapchat mobile app offers a number of unique features, such as Snapchat app filters including face filters, augmented reality filters, and branded geofillters, which let app users add special effects to their photos and videos. Snapchat has become extremely popular in recent years, particularly among younger app users. In 2022, it was estimated that there were over 332 million active Snapchat users worldwide.
The chat app has been continuously evolving since its launch, adding new key features such as Snap Map (location sharing feature with their friends), Story Feature (which are user-generated collections of photos and videos), and Group Chats (which allow up to 32 people to chat together).
Snapchat revenue generated by 36% in 2021 with $1.7 billion. The Snapchat tech stack includes React Native, Node.js, and amazon web service. Mobile app like Snapchat has been through a lot of changes in its history, but Snapchat remains one of the most popular mobile apps on the market.
Snapchat Facts and Statistics
with 70% of American teenagers reportedly using Snapchat. Despite its popularity, Snapchat has struggled with a monetization strategy, which has led to repeated rumors about a potential acquisition by Facebook. The app has also become a popular platform for brands and businesses; according to Business Insider, Snapchat boasts more than 3 million active advertisers. As the app continues to grow in popularity, it is likely that these numbers will only increase.
Founder: Evan Spiegel, Bobby Murphy, Reggie Brown
Founded: September 2011; 9 years ago
Developed by: Snap Inc.
Operating System: Android, iOS
Services Type: Photo sharing, Instant messaging, Video chat, Multimedia
Website: www.snapchat.com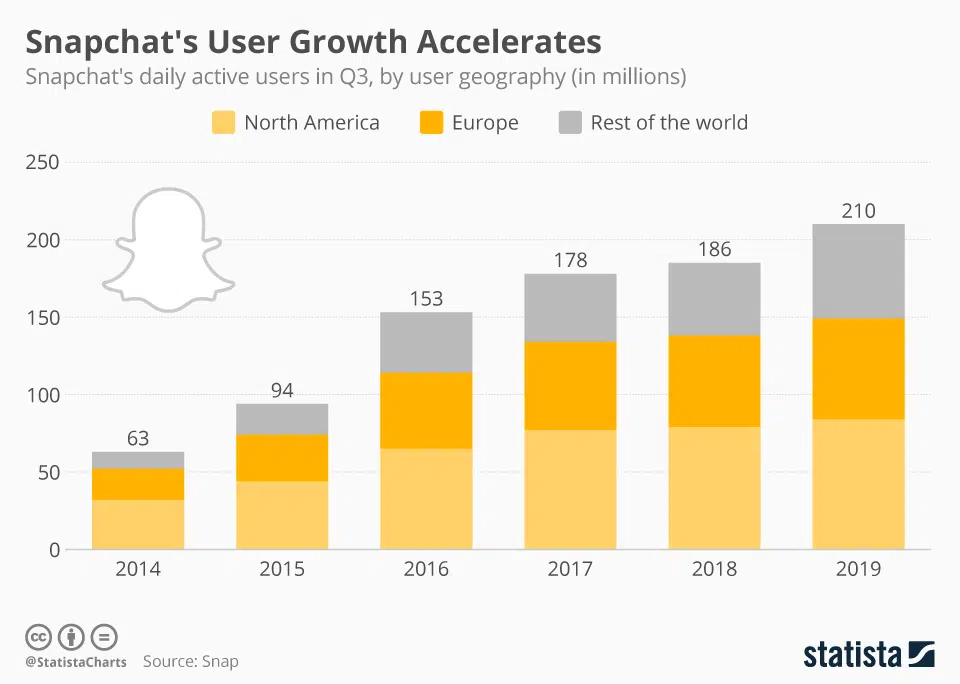 Source: Statista.com
Essentially in March 2020, Snapchat had 229 million daily active users.
The average estimation is more than 4 billion Snaps are posted each day.
The app reaches a vast $33 billion in revenue.
For the full year 2020, Snap revenue increased by 46% to $2.5 billion.
The daily video views on Snapchat have grown by 400% year-on-year basis.
Snapchat is recognized to be successful between the younger ages, especially those who are under the age of 16, pointing to much secrecy attention for parents.
How to create an App Like Snapchat?
If you're looking to make an app like Snapchat, there are a few things you'll need to consider. First, you'll need to decide whether you want to develop iOS app or Android app. Then, you'll need to find reputable mobile app development companies that has experience building app like Snapchat. Once you've found a development team, you'll need to come up with a unique concept and feature set that will set your app apart from Snapchat. Finally, you'll need to market your app effectively in order to attract users and ensure its success. By following these steps, you can make your own Snapchat like app.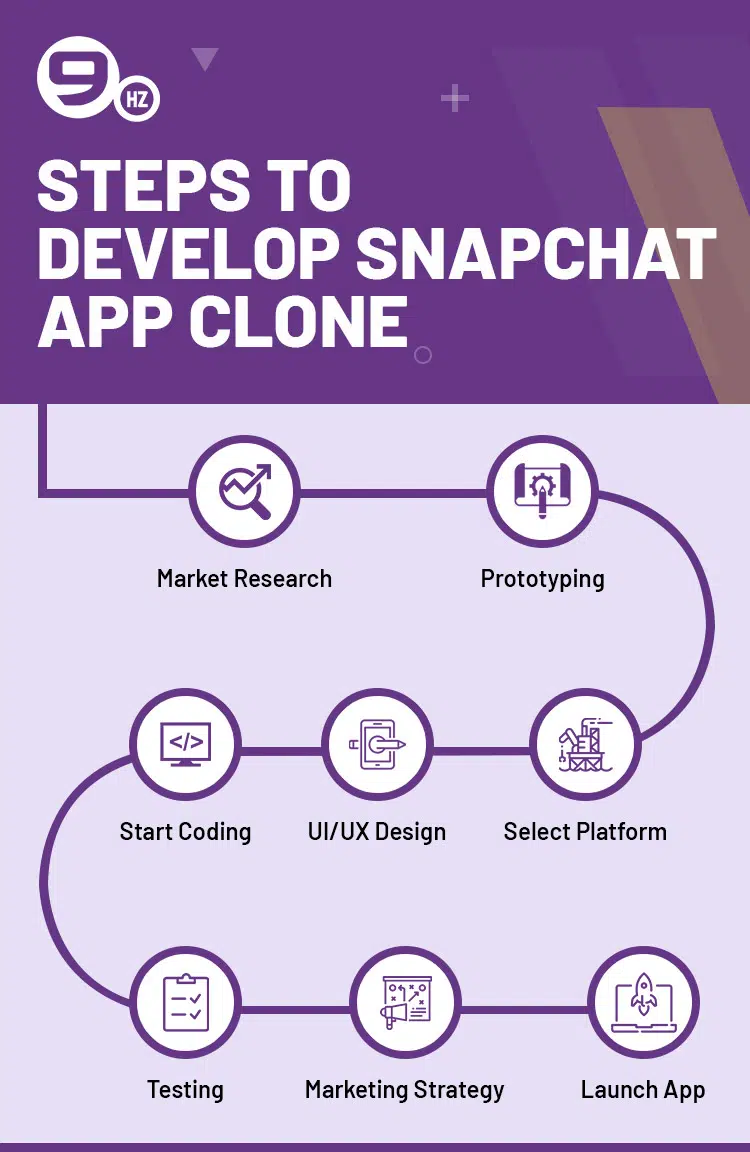 If you want to develop an app like Snapchat so you need to follow this step-by-step guide that will help you to make Snapchat like app. In this guide, we mention all the necessary steps that you must consider to make an app like Snapchat .
1. Market Research to Create an App Like Snapchat
It's no secret that Snapchat like app development for android and ios platforms is one of the most popular trends in the market, with millions of users sending billions of snaps every day. If you're thinking about creating an app like Snapchat, it's essential to do your market research and understand what users are looking for in a photo sharing apps. The development process on ios and android platforms can be complex, so it's also important to create a minimum viable product (MVP) that includes the core features users will want.
Some of the main features that users are looking for in a Snapchat like app include the ability to send disappearing messages, create filters and lenses, and add text and stickers to their photos and videos. It's also important to create a user-friendly interface that is easy to navigate. If you can create an app like Snapchat that meets these needs, you'll have a good chance of success in the marketplace.
Some of key factors you should consider for market research:
What is your target audience?
Who are your competitors?
What are the requirements of your business?
What is your budget?
What are your app requirements, and what are the features you want to include?
2. Start Prototyping to Make an App Like Snapchat
When you're thinking about developing a new app like Snapchat, it's important to get started on prototyping as soon as possible. This will help you to map out the complex functionality and determine how it will work in practice. A prototype can also be a valuable tool for communicating your vision to potential investors or partners.
If you're not sure where to start, there are plenty of software solutions available that can help you create a basic app prototype. Once you have a prototype, you can share it with your project manager or development team to get feedback and refine the app's design. Ultimately, prototyping is an important step in the development of an app like Snapchat that can help to ensure your app's success.
3. Select App Platform
When it comes to developing a mobile app, especially an app like Snapchat, there are two major platforms to choose from android and iOS platform. Both platforms have their pros and cons, so sometimes it's important to choose one platform that best suits your needs. The android platform is typically more affordable and offers a greater variety of customization options to develop an app like Snapchat. However, iOS apps tend to have better app performance and a more polished user app experience. If you're unsure which platform to choose, consider developing your app for both android and iOS. This way, you can ensure that your app will reach the widest possible audience.
4. UI/UX Design of App Like Snapchat
Chat app is all the rage these days. With the advent of a small messaging apps like Facebook messenger (functionality-wise), people now have a new way to communicate that is different from traditional text messages. And, with the popularity of similar apps like Snapchat, it is no wonder that UI/UX Design of App Like Snapchat has become such an important topic.
When designing an app like Snapchat, it is important to keep in mind the messaging app's key features: messaging, sharing photos and videos, and messaging groups. In addition, Snapchat's user interface is designed to be simple and user-friendly, with a focus on content discovery. As a result, UX/UI Design of App Like Snapchat must take these features into account in order to create an engaging and successful app.
5. Start Coding to Build App Like Snapchat
If you're interested in coding and want to develop Snapchat clone. Creating a successful app requires a dedicated team of developers with a multiple project managers. In addition to front-end development, you'll need designers, UI/UX experts. On the back end, you'll need node.js and NoSQL(not only SQL) database experts.
you want to include, you may also need developers with experience in , Face detection, Face tracking, push notifications Augmented reality, and Face recognition. Finally, it's also important to have at least one experienced project manager who can keep everyone on track and ensure that deadlines are met.
6. Integrate Machine Learning Algorithm
Deep neural networks are enabling automatic video editing for apps such as Snapchat. These machine learning algorithm are able to automatically crop and resize photos, as well as apply filters and other effects. The software behind Snapchat's deep neural networks machine learning is constantly improving, making it possible for the app to offer more sophisticated features in the future. For example, deep neural networks could be used to automatically create short video montages from a user's photos and videos. This would provide a unique and engaging way for users to share their memories with friends and family. As machine learning algorithms continue to advance, we can expect to see even more amazing features from Snapchat and other such apps.
7. Quality Assurance Testing
Quality assurance testing is a process that helps to ensure that the final product meets the standards set by the developer. QA engineers will test the app on various devices to make sure that it works properly and that the main feature is accessible. They will also check for any bugs or glitches that may exist. Once the app has been thoroughly tested, it can be published on the Google Play Store. By taking the time to conduct quality assurance testing, developers can help to ensure that their app will meet the needs of their users. double make sure your app stand out from the rest in terms of functionality.
8. Launch
After months of development and testing, your app is finally ready for launch. But before you hit the "publish" button, there are a few critical things you need to do to ensure success. First, you need to create an app store listing that accurately reflects your app's features and benefits. Your app's name and icon are also important considerations – they should be eye-catching and memorable. Once your app is live, you need to promote it through social media and other channels. And finally, you need to have a monetization strategy in place to generate revenue. These are just a few of the things to keep in mind as you prepare to launch your new app. With careful planning and execution, you can make your social media app a success.
Want to Launch Your Own App?
Convert Your App idea into Reality
Things to Consider While Creating an App Like Snapchat
However, if you want your app to stand out from the crowd, there are a few things you need to consider during make an app like snapchat.
1. Simplified User Interface
Focus on delivering a unique and engaging UI to the app users. What can you do to create an app like Snapchat more fun and easy to use?
2. Scalable Database
Make sure your app follows structured data efficiently by handling a large number of users from all around the world.
3. Secure App Development Process
Ensure your app development process is secure. By following these tips during social media app development, you'll be well on your way to create an app like Snapchat.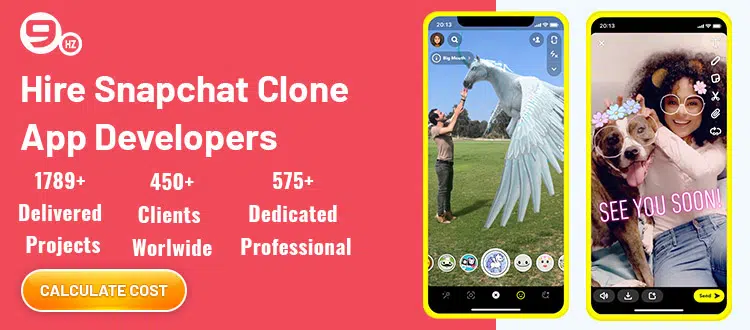 Also Read: How to Create an App Like Netflix
Best Features to Make an App Like Snapchat
If you want to create an app like Snapchat, you must first understand what made Snapchat so successful. Yes, Snapchat has been known for its unique features that allow users to create custom content for their friends and followers. Some of the most popular snapchat features include custom geofilters, Snapcodes, special lenses, and video and audio calls. These features allow users to create unique content that is specific to their location or event.
In addition to these custom solution, Snapchat also offers all the necessary features that are essential for any social media platform. These include the ability to send and receive messages, create and manage groups, and view snaps. Finally, one of the most popular Snapchat feature is Story. This allows users to send pictures and videos.
Here we are going to know more details about specific Snapchat Features.
1. Snaps
Snapchat is a photo and video sharing app that allows users to send Snaps, which are self-destructing images and videos (vanishing messages) in few seconds, to their friends. A key feature of the app is that it offers a wide range of drawing tools that can be used to personalize Snaps. In addition, users can add text captions to their Snaps. One of the main attractions of Snapchat is that Snaps self-destruct after a few seconds, meaning that users can share intimate or embarrassing moments without worrying about them being leaked or shared without their consent. the Snapchat team does have the ability to view and save snaps if they are deemed to be in violation of the app's terms of service. As a result, users should be aware that their snaps may not always disappear completely.
#2. Snapchat Lenses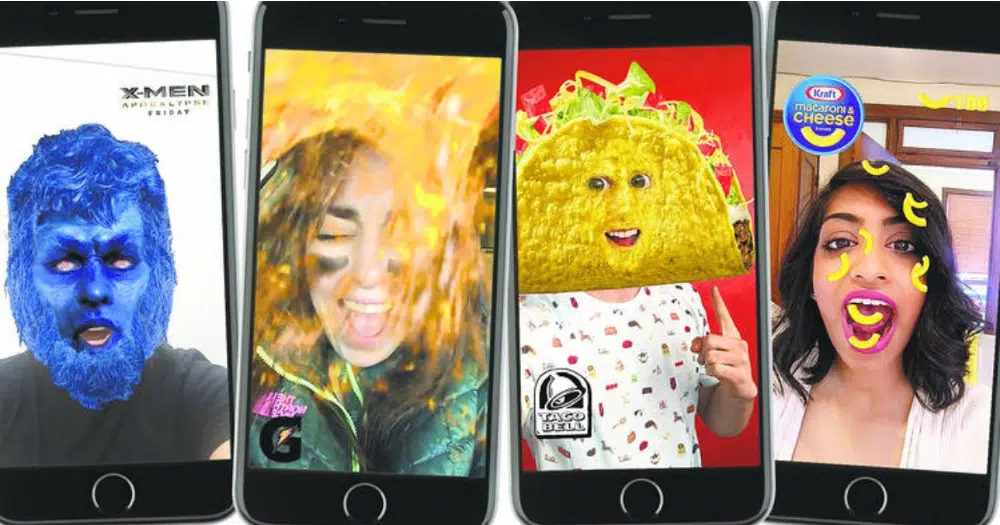 One of the most unique features of the app was called image processing capabilities, which allowed users to apply Snapchat filters and lenses to their photos and videos. the company partnered with a number of third-party developers who created their own custom lenses for the app. As a result, snapchat is able to offer an ever-growing variety of lenses to its users, giving them even more reasons to use the messenger app on a daily basis.
3. Snapchat Geofilters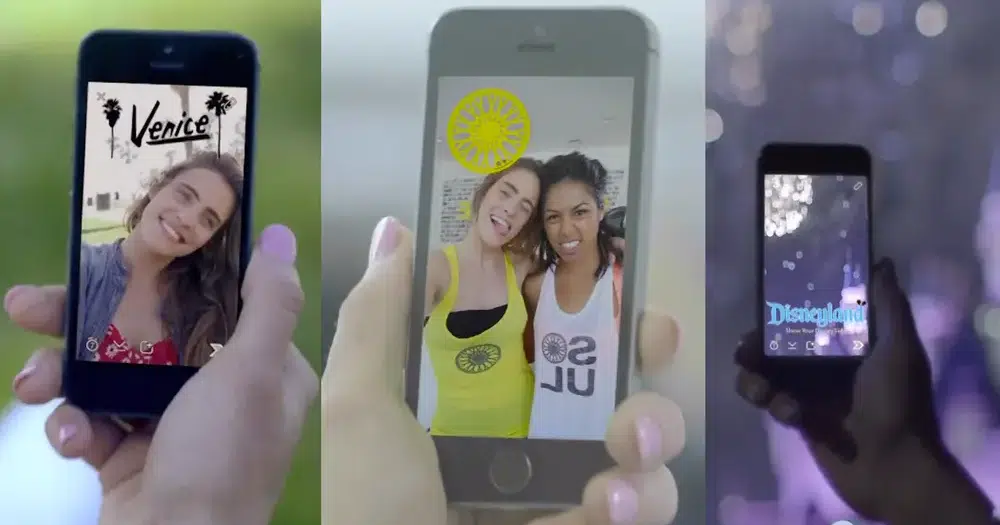 Snapchat branded geofilter is a popular way for users to add an extra layer of fun to their snaps. The dedicated team of developers behind the app platform has done an excellent job of curating geofilters for users all over the world. Whether you're in New York City or Paris, there's sure to be a geofilter that's perfect for your snap. While Snapchat started out as a simple messaging app, it's now so much more. Thanks to geofilters, users can share their location and add a touch of personality to their snaps.
4. Stories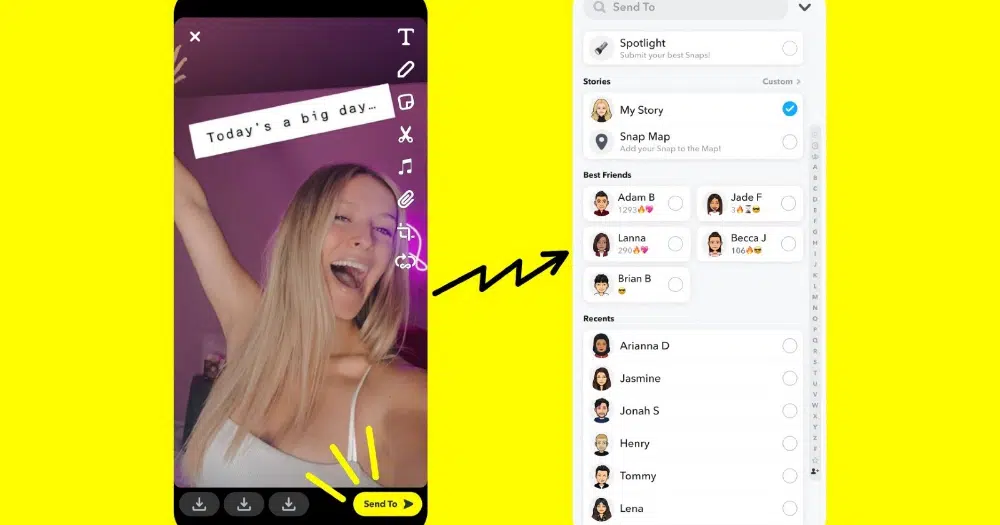 Stories is one of the important Snapchat features because they document and collect our everyday moments. They let us relive events and even show other users what we're up to. What's great about Snapchat's story is that it only lasts for 24 hours before it disappears forever.
This encourages users to be more present in the moment and not worry about capturing perfection. As a result, the stories are more authentic and personal. Snapchat's story feature has also inspired many other apps to include such a function.
However, there are a lot of social network apps like Snapchat but none of them have been able to replicate the same level of success story. This is largely due to the fact that Snapchat was one of the first apps to offer this type of functionality.
5. Discover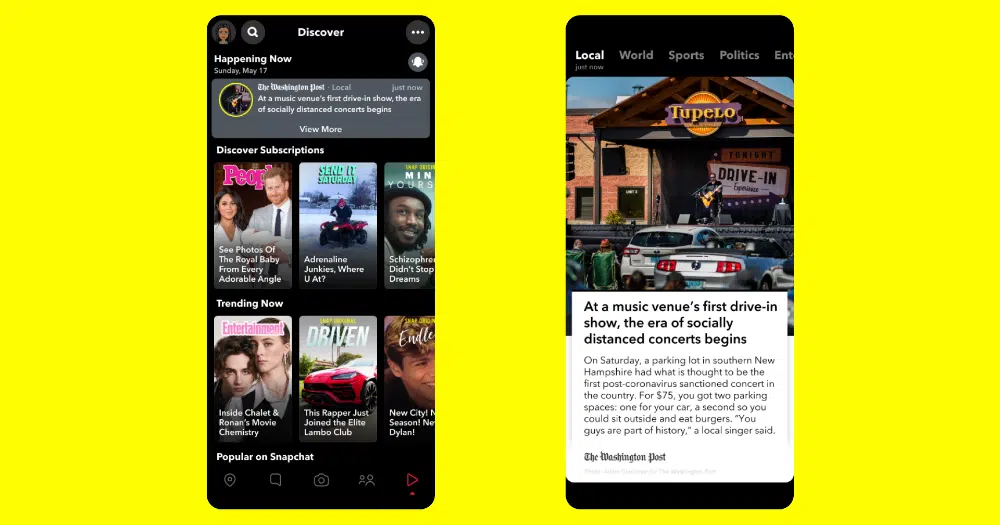 Discover is a feature on Snapchat that offers interesting news content from big companies like CNN and Cosmo. When you open the Discover section on Snapchat, you'll see a list of relevant stories from different editorial teams. You can swipe left or right to read them. Discover is small messaging app similar to other social networks like Instagram and Twitter where less features are provided, but it's designed specifically for mobile devices. This makes it easy to consume content on the go. Snapchat is also working with companies like Coca-Cola to create special editions of Discover. These editions give users an inside look at how the company creates its products. Discover is a great way to stay up-to-date on the latest news and trends.
6. Search for Friend and Adding friends
Snapchat's "Search for friends" feature is a way to find friends based on your current location. You can find friends by adding their Snapchat username or by finding their phone number in your phone's address book. Such a feature is beneficial for Snapchat users who want to find friends in their area. Adding friends on Snapchat can be done by simply entering their username or phone number into the app. Once you have added a friend, you will be able to see their Snapcode (a unique code that can be used to Adding friends). The "Search for friends" feature is a great way to find people near you who are also using Snapchat.
7. Video and Audio Calls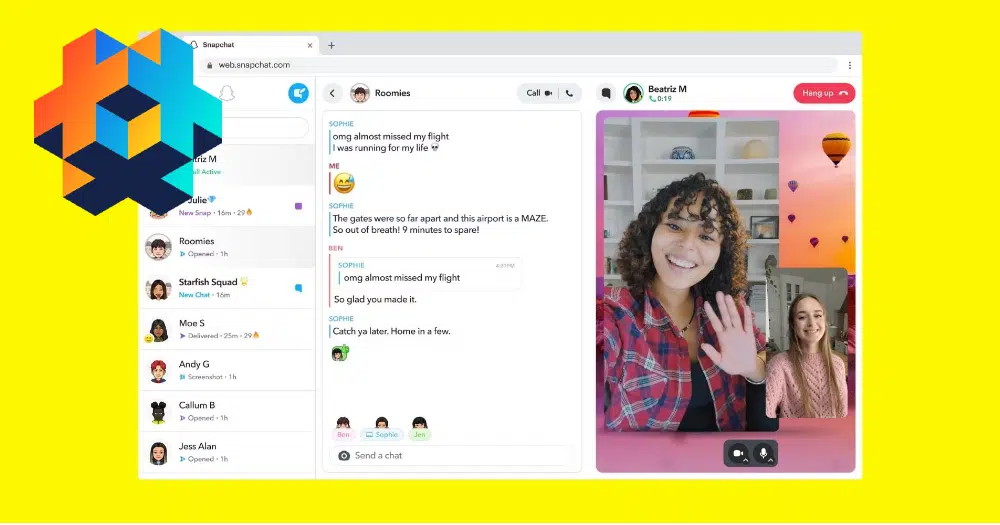 Video and audio calls are a online communication feature on Snapchat that lets you connect with other users in real-time. Video calls are perfect for catching up with friends or family, and audio calls are ideal for quick conversations. To start a video or audio call, simply open up a chat with the person you want to call and tap the video or phone icon at the top of the screen. You can also use video or audio calls to conference call with up to 16 other Snapchatters. Snapchat calls is currently only available on iOS and Android devices, but the Snapchat team is working on bringing this feature to Windows and web browsers soon.
8. Snapcash
This feature will let users send money to their friends and spend it with a debit card through Snapchat. There is an obligation that you have to become 18+ years old to use this feature.
Tech Recommendation to Create App Like Snapchat
The technology stack recommended for app like Snapchat is mainly classified into 3 major categories:
Development languages: There are so many development languages used by Snapchat. Objective C, Python, Cocoa Touch, and PHP are the most beneficial languages that are used by Snapchat. You can also get ideas from this for your Snapchat Clone App.
Hosting: Hosting is the most important thing on which you build your app. Snapchat server uses google compute engine, amazon was services, Semantic UI for Front-end, and Google App Engine for Back-end functionalities. This will help in the smooth functioning of your app.
Marketing: To make your app widely known, marketing is a must, not for Snapchat but for all kinds of apps. Marketing, Sales & Support, Analytics are the most important factors that implement your market strategy and bring it towards success.
Cost to Build an App like Snapchat
The development cost of the Snapchat like app depends on a number of factors, including the features and complexity of the app, the development platform, and the experience of the development team. Generally speaking, the cost to develop an app like Snapchat will fall somewhere in the range of $40,000 to $150,000. Of course, the exact cost will vary depending on the specific requirements of the project details. Nevertheless, this gives you a good idea of the development cost for an app like Snapchat. So, if you're looking to develop a similar app , be sure to keep this figure in mind.
How much does it cost in different countries are as follows:
United States (US): cost between $80000 – $150000
Europe: cost between $60000 – $120000
India: cost between $40000 – $80000
How The NineHertz can Help you in Snapchat Like App Development?
The NineHertz is a leading mobile app development company that can help you build an app like Snapchat. We have a team of experienced developers who have extensive expertise in make an app like Snapchat. In addition, our consulting services can help you to assess your business needs and determine the best course of action.
It also requires a deep understanding of business processes and user needs. That's why you need to partner with a reputable app development company like The Ninehertz. We have a team of experienced business analysts who can help you document your requirements and create detailed wireframes. We also have a strong project management team that will oversee the development process from start to finish. Plus, we offer 24/7 support so you can be confident that we will always be there to help you with any issues or challenges you may face.
Whether you're looking to build a new app from scratch or want to integrate cutting-edge features into your existing product, we can help you achieve your goals. Contact us today to learn more about how we can help you build an app like Snapchat.
How Snapchat Generate Revenue?
If your aim make an app like snapchat, you must have to know how it works and what business model is followed by Snapchat. By this, you can get challenging great idea like Snapchat that helps you to create your own app. Here we exactly describe snapchat business analysis.
Recenly snap inc Announces Snapchat Financial Results for 2022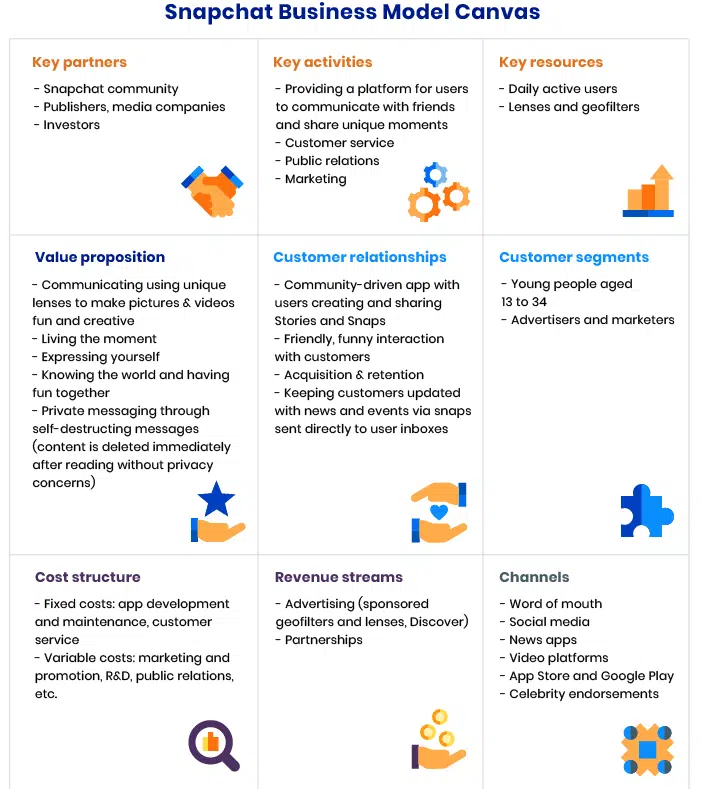 1. Powerful Advertising Campaign
Snapchat offers a variety of monetization options for advertisers, including the Discover section, Story, and Snap Ads. These options allow businesses to reach a wide audience and Snapchat makes money from their campaigns.
Additionally, Snapchat's revenue is expected to grow significantly in the next few years, making it attractive who want to advertise their products and services.
2. Sponsored Snapchat Filters & Lenses
Snapchat offers to app users a variety of fun and engaging app features, including face filters, branded geofilters, and lenses. Now, businesses can taking advantage of Snapchat's popularity by creating their own customized Snapchat filters and branded geofilters.
This is a great way for businesses to reach potential customers and create buzz around their brand. And with the help of new in-app purchases feature Snapchat users can buy any Snapchat filter.
3. Snap Store
Snapchat is one of the best social network apps known as a photo sharing app with video and audio calls feature, Snapchat launched its very own online store, Snap Store, where Snapchat users can purchase exclusive Snap-branded merchandise. The store offers a range of products, including clothes and accessories for users' Bitmoji avatar characters, as well as Snap Streak hats and T-shirts. The launch of Snap Store is a clever way for the company to increase its revenue generation and engage its user base in a new way. With exclusive merchandise on offer.
Hire Certified App Developers
Convert Your App idea into Reality
FAQ's On Snapchat clone App Development
Q.1 How Long will it Take to Create Snapchat Like App?
The development time for a Snapchat clone app will vary depending on the features and functionality you wish to include. Generally speaking, you can expect the development process to take anywhere from twelve to six weeks. However, if you wish to include more advanced features or functionality, the development time could increase significantly.
Q.2 What Programming Language Does Snapchat Use?
The various programming languages used by Snapchat are Python, Objective-C for iOS, Ruby, Android-SDK, JavaScript, Cocoa Touch, and PHP.
Q.3 What are Some of the Features I can Include in My Snapchat Clone App?
Some of the features list you may want to consider adding to your Snapchat clone app include:
Photo and video sharing
Location-based filters
Lenses and filters
Self destructing messages
Snap Map
Stories
Group chat
Audio and video calling
AR filters and effects
Text Captions
Q.4 Can I Monetize My Snapchat Like App?
Yes, you can monetize your Snapchat clone app in a number of ways, including in app purchases, subscriptions, and advertising but it totatally depends on your project budget.
Q.6 What Development Tech Stack Does Snapchat App Use?
Snapchat is a mobile app that allows users to share photos and videos with friends. The Snapchat app is developed using a number of following technologies, including the following:
Objective C
Java
Swift
React Native
Node.js
MongoDB
Amazon Web Services (AWS)