We all live in a social-oriented world where people love to make new friends and stay connected with their current ones. Almost all peoples of our generation love to express their feelings through images, videos, emojis, and many more. And being an absolute solution for this, there are so many multimedia messaging apps like Whatsapp, Messenger, Line, Pinterest, Snapchat, present that is widely used by young generations in Asia, Europe, North America, South America, and Australia. Snapchat is the most popular and attention-grabbing platform that is widely used by Americans. It's a great time for multimedia messaging app development like Snapchat. Besides many companies focus on creating multimedia apps, they also focus on creating on-demand mobile applications for benefits in day-to-day life.
What is Snapchat App?
Snapchat is one of the biggest success gainer apps in this technology field. Mainly, Snapchat is the best multimedia messaging app that enables you to share your pictures, demographics in a very innovative and advanced way with your friends. Users of this or you can say that snappers of this app can capture pictures and videos, join subtitles and various effects to them, share them with the world as stories, or post them to selected users.
Today's teenagers say that they love to share their emotions through pictures rather than just text, which is why Snapchat is gaining much popularity.
Snapchat at a Glance, Multimedia Messaging App
Founder: Evan Spiegel, Bobby Murphy, Reggie Brown
Founded: September 2011; 9 years ago
Developed by: Snap Inc.
Operating System: Android, iOS
Services Type: Photo sharing, Instant messaging, Video chat, Multimedia
Website:

www.snapchat.com
Latest Snapchat Trends You Should Know About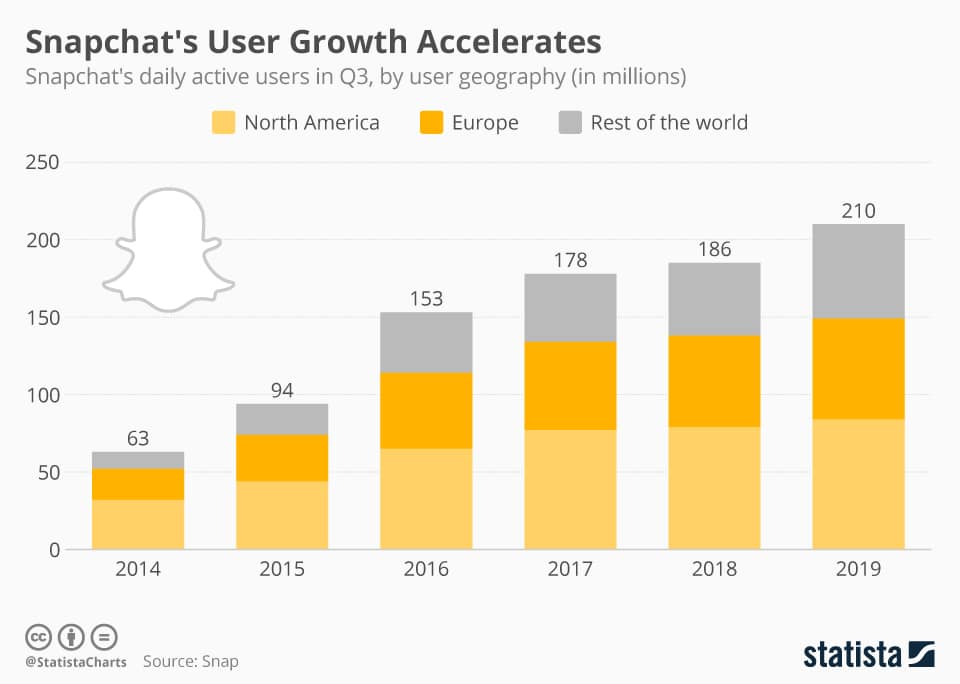 Source: Statista.com
Essentially in March 2020, Snapchat had 229 million everyday active users.
The average estimation is more than 4 billion Snaps are posted each day.
The app reaches a vast $33 billion in revenue.
For the full year 2020, Snap revenue increased by 46% to $2.5 billion.
The daily video views on Snapchat have grown by 400% year-on-year basis.
Snapchat is recognized to be successful between the younger ages, especially those who are under the age of 16, pointing to much secrecy attention for parents.
How Does Snapchat Make Money? Business Model Canvas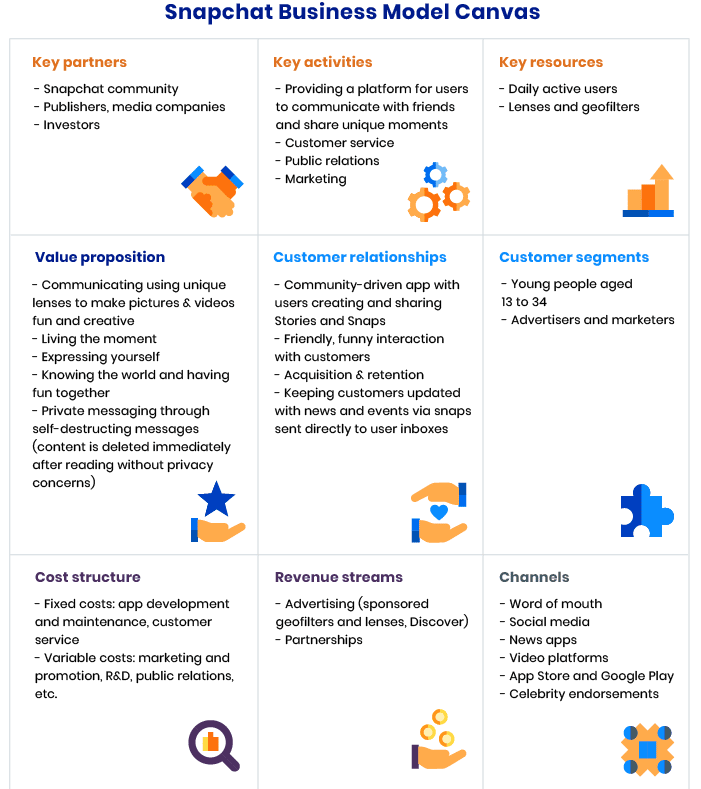 If your aim multimedia messaging app development like Snapchat, you must have to know how it works and what model is followed by Snapchat. By this, you can get the challenging idea that helps you in developing your mobile application. Here we exactly describe this model canvas.
Key Partners
Publishing, media companies
Investors (e.g., Alibaba)
Key Activities
Presenting a platform for users to connect and tell stories through images and videos.
Value Proposition
Self-destructing messages: content removed quickly after browsing without privacy concerns
Bizarre filters and lenses to create pictures and videos fun and artistic
Creates urgency!
Key Resources
Lenses and geofilters
Millions of DAU (daily active users)
Customer Relationships
Acquisition & Retention
Create a friendly, funny interaction with customers
Customer Segments
Young people aged 13 to 34 (mainly female)
Advertisers
Channels
Social media
News apps
Video platforms
Cost Structure
Fixed cost: app construction and maintenance
Variable price: marketing and promotion, etc.
Revenue Streams to Make Money
Advertising (sponsored geofilters and lenses, 'discover')
User purchase
Advertising API
Core Technologies of Snapchat Clone App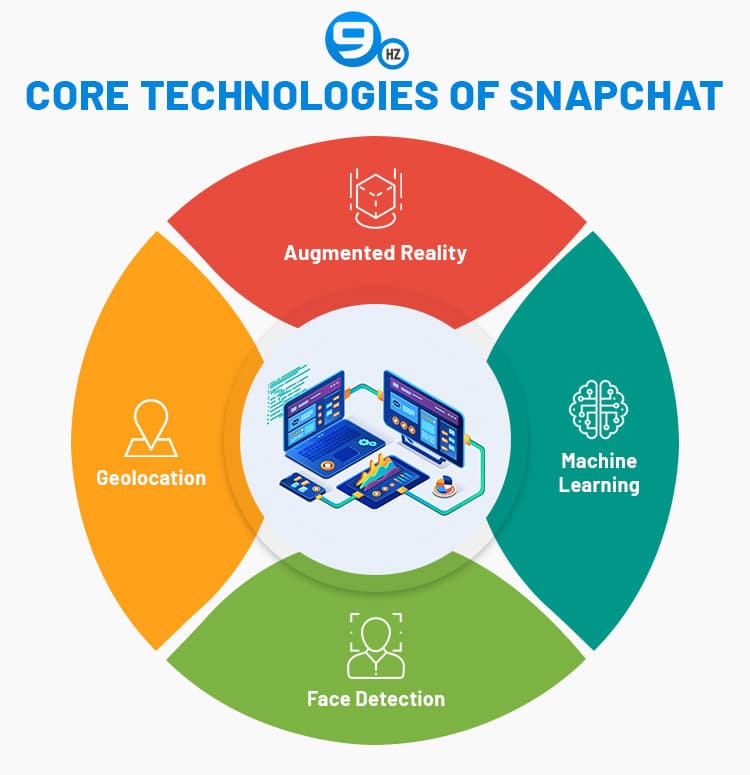 Augmented Reality: Snapchat gives augmented reality filters to its users to make their pictures more attractive and creative
Machine learning:

Machine learning technology

is executed in many Snapchat operation sections. The first is the discovery part of self-management.
Face Detection: Face detection is an essential feature of Snapchat. It plays an integral part in video and image framing and editing.
Geolocation: There is a Snap Map feature present in Snapchat where you get data on your friends' current location. You can only see if a user grants you to see the location.
How to Monetize Multimedia Messaging App Like Snapchat?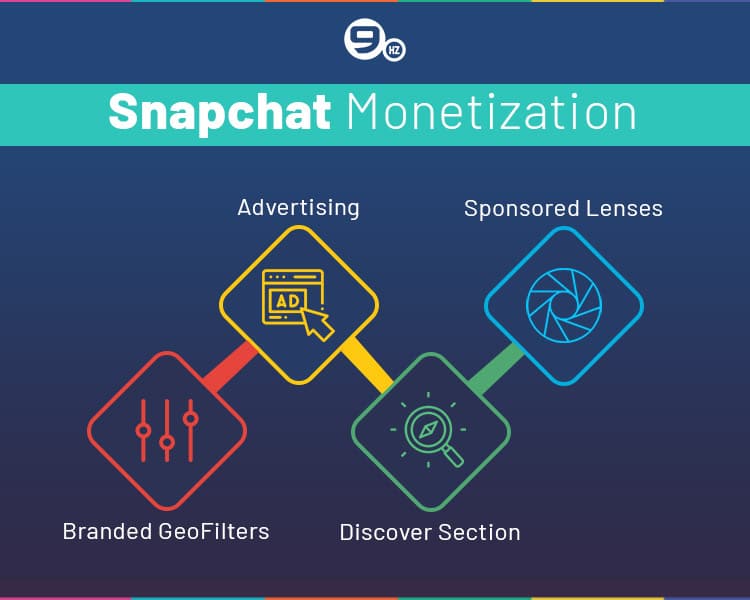 Branded GeoFilters: In this, brands are permitted to build Snapchat filters of their own. Depending on the geolocation, users can locate fun augmented reality filters that stay free for 30 days—the app prices businesses $5 for coverage of 20,000 square feet. It is noted that sponsored national geofilters are expected to be around one-fifth of the value of Sponsored Lenses.
Advertising: Snapchat's primary revenue comes from advertising Snap Ads. Mainly, they show 6-10 second video ads designed particularly for upward smartphone screens. These ads are also very interactive, enabling users to swipe up and enter video, blog, or app download. Snap Ads start around $3,000 per month in ad spend.
Discover Section: This is the main option that you should choose if you want to build an app similar to Snapchat. This discovery option is displayed in the story so nobody can miss it. Snapchat's algorithm shows systematized content according to the user's situation and choices.
Sponsored Lenses: This monetization approach is comparable to Geofilters. Businesses spread by their individual customized lenses that emerge at appropriate places. In this way, they can advance their brands or any events.
This ad type is famous among big corporations. Sponsored Lenses fluctuate according to day like:
If the ad is running Sunday-Thursday, the cost is around $450,000 per day.
If it is run on Friday and Saturday, the cost is $500,000 per day.
For celebrations and special occasions such as the Super Bowl, the price will be $700,000.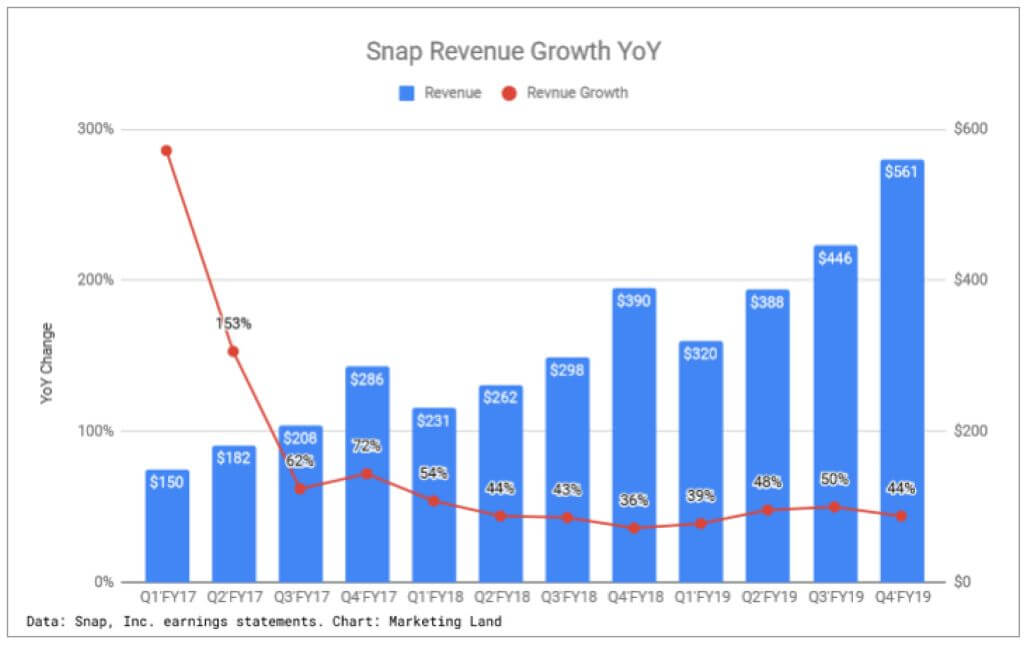 Also Read: How to Develop Hotel Price Comparison App Like Trivago?
What are Famous Snapchat Terms?
If you are the new one for Snapchat, you might get confused with the terminology generally used in Snapchat. It is also worth mentioning here that if you desire to build a Snapchat clone app, you need to add these kinds of terminologies to make your app more attractive and appealing. Here we mention some most popular terms used in Snapchat.
The users of Snapchat are known as Snapchatters.
A video or picture taken on Snapchat is known as a Snap.
If you respond on snaps, it is mentioned as Snapback.
A story is known when you put your pic or video that is shown to your followers for the next 24 hours.
A score is named a number of sent and received images and videos in chat.
In Snapchat, there is also an option by which you can go live video chat if they are online. This option is known as "here".
How to Make Multimedia Messaging App Like Snapchat?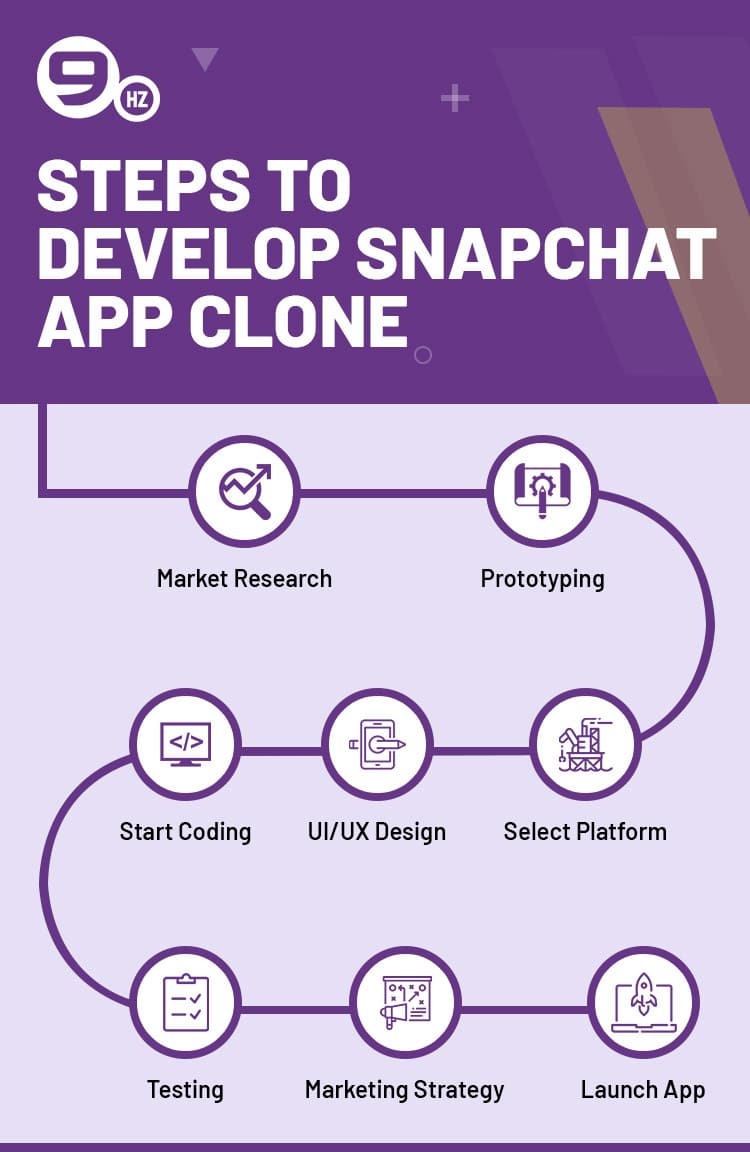 This step-by-step and straightforward guide will help you to make a Snapchat clone app. In this guide, we mention all the necessary steps that you must consider to make your app unique.
Do Market Research for Snapchat Clone App
It is the initial step in which you have to consider things that you need for your business. Start studying your market and discover your direct and indirect competitors. Several things that you must consider in this step are:
What is your target audience?
Who are your competitors?
What are the requirements of your business?
What is your budget?
What are your app requirements, and what are the features you want to include?
Start Prototyping
In this stage, the experts develop rough wireframes that show you how your app looks like and the functions performed by your app. This prototyping will help the experts in finding the improvements so that no mistake can be made and nothing is left.
Select Your Desired Platform
This step requires you to concentrate on the platform on which you want to publish your app. It may be Android or iOS, or both. This step depends on your budget and your target audience. But it is suggested that you always choose both platforms to make your app available to a wide range of audiences. One can also consider building a cross-platform application for both major operating systems.
UI/UX Design of App Like Snapchat
Now the designing part begins! It is possibly the central part of an app's developing process similar to Snapchat as this part is dedicated to how your users go to view the app. In this step, you will have to make sure that your app is user-friendly, appealing, interesting, just like Snapchat.
Now, You Can Start Coding
Once the designing process is done, it's time to integrate the features you want to add to your application. As the development step goes ahead, your Snapchat-like app developer might simplify particular demands toward the design functionality.
Testing is Crucial
Testing your application is necessary for the developing process to find out the bugs and errors before launching the app. This process also lets you rectify your mistakes and enables you to add the needed functionalities to your app.
Create a Marketing Strategy of Your Multimedia Messaging App
Building a solid marketing strategy will let you make your app available to a broad audience. Marketing your app on social media and other influential platforms will help you gain more and more success, making your app popular.
Success Tip: Always create your strong marketing strategy before at least 2 months from the date of launching. It will help you in saving your time.
It's Time to Launch
Now your app is ready to launch. Make your app available on both the Play Store and App Store so that you can get what you want. Also, start marketing your app on social media from the day of launching so that the users will know about your app from the very start. Here are 8 ultimate mobile app marketing stats you must know.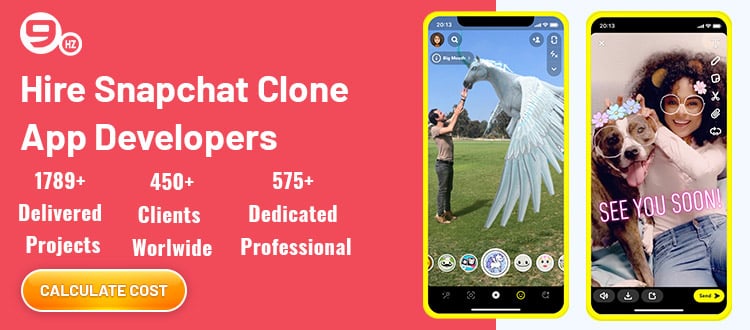 Top Snapchat App Features: Should Include in It's Clone App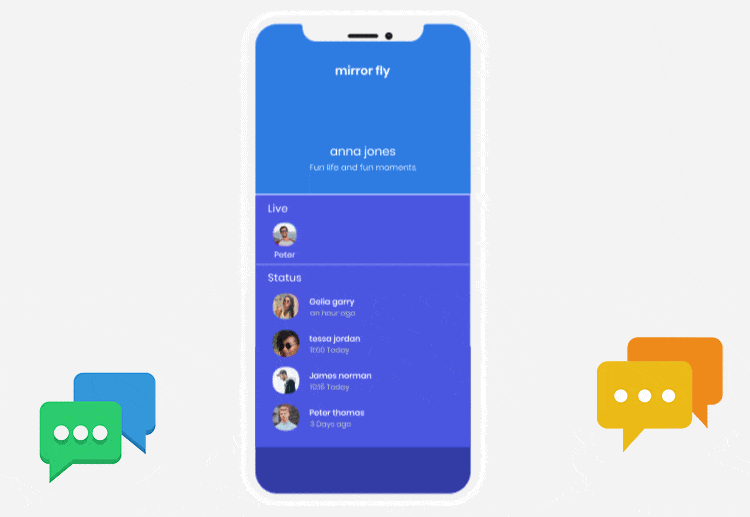 Fascinating Stickers
As we all know that no online communication is completed without top-notch stickers usage. That's why Snapchat also uses this to help its users communicate with their friends using stickers according to their emotions. So, it is suggested here to add these kinds of fascinating stickers in your new multimedia messaging app development so that the users cannot bore by using your app.
Adding New Friends
Everyone likes to meet new peoples and make new friends. It is the core function of any social media apps. Besides the conventional ways of attaching friends via usernames and phone connections, Snapchat presents some bright ways:
Snapcodes: This will enable you to make friends by scanning a personalized QR code.
Add Nearby function: This function accesses your location and finds out the nearby Snapchat user whose location is also on. It will let you make friends with your nearby users.
Stories and Discover Option
Stories are now the most common function that every social media site is using. A story is a snap that distributes for 24 hours to all of your friends and then vanishes. The viewer can see your story as much as they want, and you also get informed if someone has viewed your story.
The Discover option is mainly developed to provide a unique approach to exploring Stories from various editorial teams. Discover is a feature where you can discover sponsored stories from well-known organizations like BuzzFeed, CNN, Mashable, People, and many more.
Geofilters
A "Geofilters" is an uncommon graphical surface open when the user is in a specific geographical area, such as a town, event, or address. To allow this functionality, you have to add location in your photos, and for achieving this, the developers use geocoding. Note that geolocation is remarkably popular nowadays, and it is worth considering applying this highlight in your new Snapchat Clone app.
Astonishing Lenses
Lenses are the most known and exciting feature of Snapchat. The lens is mainly a funny real-time effect that you can add to your photo. Under this feature, you have a variety of seven lenses every day, the number constantly stays the same, but the lenses themselves exchange to provide uniqueness every day.
Video/Audio Calls
It is also the most common feature that is used to let users communicate with their friends. Snapchat always brings the things that the users need, and hence this feature will allow you to send photos while chatting and let you leave an audio note if your friend isn't online.
Snapcash
This feature will let users send money to their friends and spend it with a debit card through Snapchat. There is an obligation that you have to become 18+ years old to use this feature.
Also Read: How to Develop Home Service App Like Urban Company/UrbanClap?
Technology Used in Multimedia Messaging App Development
The technology stack of Snapchat is mainly classified into 3 major categories:
Development languages: There are so many development languages used by Snapchat. Objective C, Python, Cocoa Touch, and PHP are the most beneficial languages that are used by Snapchat. You can also get ideas from this for your Snapchat Clone App.
Hosting: Hosting is the most important thing on which you build your app. Snapchat uses Google Compute Engine for hosting, Semantic UI for Front-end, and Google App Engine for Back-end functionalities. This will help in the smooth functioning of your app.
Marketing: To make your app widely known, marketing is a must, not for Snapchat but for all kinds of apps. Marketing, Sales & Support, Analytics are the most important factors that implement your market strategy and bring it towards success.
Best Snapchat Alternative Apps for 2021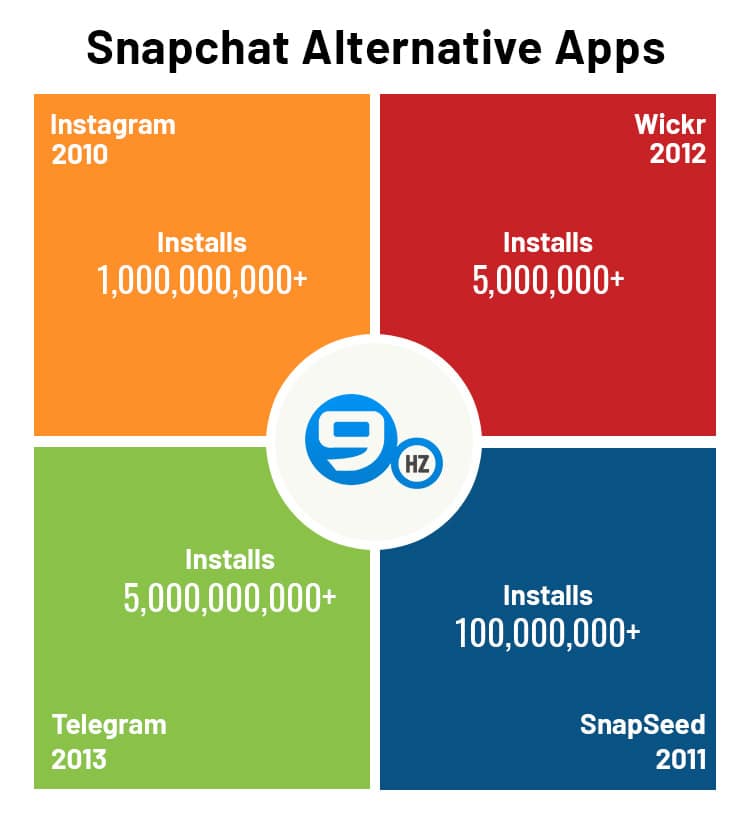 Instagram: Instagram is the most popular app that provides various goodies to make communication more interactive and appealing. It is supported by iOS, Android, desktops, Windows Phone, tablets, and macOS.
Wickr: Wickr is another app similar to Snapchat that presents everything that a user may need: encrypted messages, voice notes, video and image distribution, etc. This application is mainly accessible on iOS and Android.
Telegram: It is the most popular easy to use messaging application that is used for many things. With Telegram, you can make audio/video calls, send mixed files, organize group chats with up to 200,000 members, and many more.
SnapSeed: This app is mainly used for editing photos and videos. But this application did not have any sharing option in it. Also, you are not able to send messages to your friends. This app is only present on iOS and Android.
The Comparison table is mentioned below:
| Brand Name | Founded in | Supported Platform | No. of installs |
| --- | --- | --- | --- |
| Instagram | 2010 | iOS and Android | 1,000,000,000+ |
| Wickr | 2012 | iOS and Android | 5,000,000+ |
| Telegram | 2013 | iOS, Android, Desktop, and Web | 500,000,000+ |
| SnapSeed | 2011 | iOS, Android, Windows Phone, Desktop, and Web | 100,000,000+ |
How Much Does It Cost to Develop an App like Snapchat?
Basically, the cost of building a mobile social media app like Snapchat depends on many things that you want in your app. The app's complexity, advanced features, and many more things play an important role in deciding the social media app like Snapchat development cost. But the estimated price of creating a Snapchat clone app is around $45,000 to $60,000. The costing of different countries are as follows:
United State (US): $150 – $210000
Eastern State: $50 – $70000
India: $40 – $55000
Conclusion
For the above discussion, it is noted that Snapchat provides advanced features to its users that make them more satisfying. It mainly focuses on the user's needs and wants and hence updates itself to meet users' requirements. If you also create an app similar to Snapchat, you need to think and work innovatively so that users prefer your app to meet their communication needs. Make your app more user-friendly, appealing, and attractive so that users use your app more.
FAQ's On Snapchat
Q.1 When Did Chat App Snapchat Come Out?
Snapchat was launched in the market in July 2011.
Q.2 What Programming Language Does Snapchat Use?
The various programming languages used by Snapchat are Python, Objective-C for iOS, Ruby, Android-SDK, JavaScript, Cocoa Touch, and PHP.
Q.3 How To Delete a Snapchat Account?
If you want to delete your Snapchat account from your Android phone, here are easy steps that you follow:
Go to https://accounts.snapchat.com/accounts
/delete_account from any browser.
Note: You cannot delete your account from the actual app.
Insert your username and password to login into your account.
Click on the "Login" button.
Enter your username and password once again for confirmation.
Choose "Delete my account", located at the bottom.
Now your account is deleted!
If you want to delete your Snapchat account from your iPhone, here are easy steps that you follow:
Open the Snapchat app and touch the yellow Snapchat ghost icon.
You will see the gear icon in the upper right-hand corner, click it to go to the Settings page.
Pick the "Support" option.
Type "Delete an Account" in the Search for solutions bar.
Insert your Snapchat password.
Tap the Delete My Account button.
And your account is deleted.
Q.4 How to Change Snapchat Username?
To change your username in Snapchat, follow these steps:
To open settings, Tap the settings sign in the 'My Profile' section
Touch 'Name' under the 'My Account' part
Change your Display Name and tap 'Save'
Q.5 What Do Snapchat Emojis Mean?
Gold Star: Gold Star is displayed when someone replayed a person's snaps in the past 24 hours.
Yellow Heart: is displayed when you share most snaps to this person, and they send the most maximum snaps to you.
Baby: When you just fitted Snapchat friends with any person.
Birthday Cake: When it's the birthday of that person.
Hourglass: It is displayed when your Snapstreak is about to end.
Q.6 How to Make a Snapchat Filter?
The easiest way to make a Snapchat filter is:
First, go to the "Create Your Own" website to begin and pick "Create Filter."
Upload your custom-made design. You can also redesign Snapchat's existing template.
Set the date and time for when your filter will be ready for use.
Set Geofence (it helps you target the precise location).
Now, wait for the Snapchat confirmation.