NFTs are flourishing in popularity nowadays which may not sound surprising, considering the breakthrough they have reached. A number of people are making it a passion to buy or sell NFTs and artists are leveraging its potential to build a way to the digital world. The fact that NFTs give a platform to people to make good money lures them to become an NFT artist and attract both money and fame.
So how to create NFT and earn money with it? If the idea of creating an NFT intrigues you then you first need to equip yourself with all the knowledge of the world about how this works. This is why we've got you this section that will help you get started. Check the list of the top money-making apps.
What is NFT?
An NFT (non-fungible token) refers to a digital asset expressing real objects like music, art, videos and collectibles. One can purchase or sell cryptocurrency online. In recent years the charm of NFTs has come to the light. In 2014, a digital artist Kevin McCoy minted the first NFT "Quantum" composed of a video clip.


So you know that it is a digital asset that can be sold on blockchain but why would you want to make an NFT? What is in the store for you after selling NFTs? And why would anyone buy them?
Well, many buyers feel delighted to spend a staggering amount on NFTs out of their interest in owning a Particular NFT created by the personalities or brands they like. There are many other NFTs that attract people for their potential of increasing worth in the future. Here you can find the best NFT ideas.
How Does NFT Work?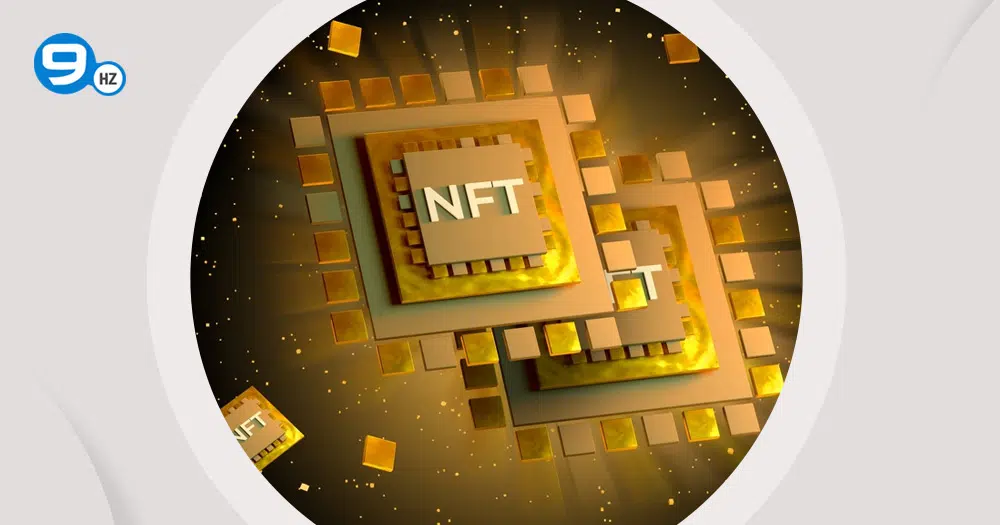 Before you start creating NFTs, it is imperative to do your research on how NFT works and how they are purchased and sold using cryptocurrency. Most NFT platforms offer users to make transactions through Ethereum blockchain and require to set up a digital wallet into which you receive money from the buyer's wallet. For instance, if you are using the OpenSea marketplace, you need to have Ethereum and a wallet in order to take part in the process. Coinbase Wallet and MetaMask are two of the most popular crypto wallet options.
Once you have chosen the suitable NFT platform, realized the most fitting blockchain technology and set up a crypto wallet, you can start minting NFTs. When you begin to sell an NFT, you will find more than one option to make it marketable. You can make selling NFTs worthwhile by keeping a fixed price. Another option which you can use to sell an NFT is to hold a timed auction where people can bid the price within the set time. If you are opting for NFT auctions, you will have to keep a minimum fixed price. You might be interested to learn how NFT ticketing works.
Now let us move ahead and learn how to create NFT.
How to Create NFT?- A Step by Step Guide
Are you ready to create non-fungible tokens? Well, there are many steps that you will need to cover while creating an NFT. But the very first action of yours would be to decide what type of digital file you wish to create and sell.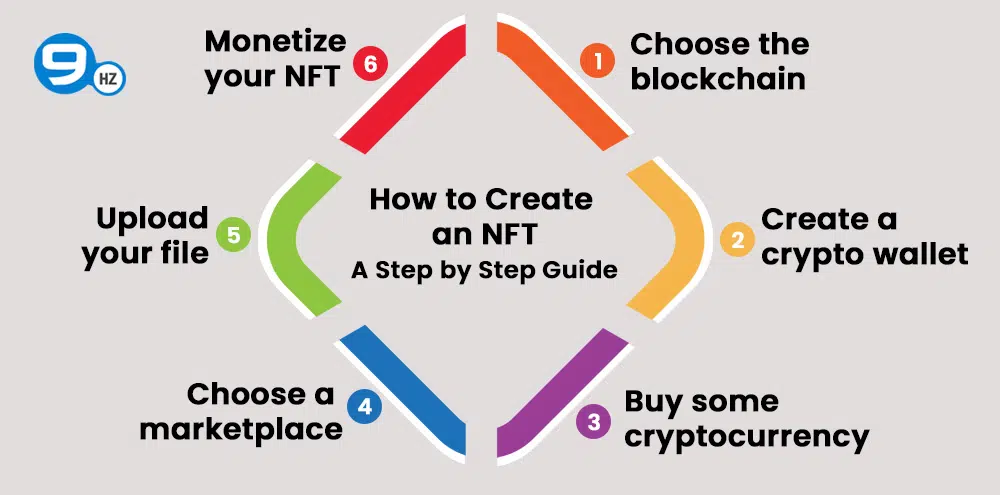 It can be a tricky question and is going to make you determine a lot of factors.
To shape your decision, it is a good idea to determine your goals and expectations from NFT. For some, creating your own NFT is a way to make money, others do it to promote their brand. Asking yourself what you really wish to accomplish from this decision is crucial to start with the process. It is after that will you be able to move on with a plan.
For instance, if you are new to the market then you'll first need to make your way into the business world and earn a following in order to establish a potential for NFT sale. But if you are an artist who is already selling his works then your goal would be to direct his work to the world of digital art.
The most ideal way to start with your own NFT sales is to create something which you have a passion for and be skilled enough to take on the competition. Once you have decided what type of NFT you want to create and what your vision is, you will need the following steps to create and sell NFTs:
Choose the blockchain
It is all about minting your digital asset into an NFT. In order to head on with the minting process, you need to choose your blockchain technology which you'd like to use for your NFT. Ethereum blockchain is the most preferred option among digital creators and artists. Apart from that, Binance Smart Chain, Cosmos and Tezos are also on the list of popular options.
Create a crypto wallet
Once you have chosen the best NFT marketplace, your next step would be to set up a digital wallet in which you can keep your cryptocurrencies as well as NFTs. In this step, you need to be very considerate while choosing a payment wallet. You must check its compatibility with the marketplace and the blockchain.
There are countless crypto wallets out there and you'd definitely like to opt for the one that is seamless to set up and is packed with safety. Note that a major number of NFT wallets are based out of the browser and offer safety.
Buy some cryptocurrency
You need to pay fees when you create an NFT. These fees are known as gas fees. Paying gas fees is important to carry out a transaction across the blockchain. So, you need to make sure that your digital wallet has enough funds to cover the transaction fee when you mint your NFT. Note that you have loaded your wallet with compatible crypto. For example, in order to use the Ethereum network, you have to have an ETH wallet.
Choose a marketplace
As you move on to mint your NFT piece, you will have numerous NFT marketplaces to select from. Platforms like Rarible and OpenSea are the most popular NFT marketplaces among NFT sellers. It is important to note that every marketplace comes with its own offerings and restrictions.
So, you need to make sure that you perform a thorough research before you make a choice. While you make your considerations, you must start off with comparing the fees involved in the process. Each marketplace offers services at fees that depend on the type of NFT and the way you wish to mint it. You can also ask for NFT marketplace development services at highly affordable prices.
Upload your file
After covering the above-mentioned steps, you will now be all set to mint NFTs. Generally, the NFT marketplaces provide sellers the instructions to upload their file to the platform. In this process, you have to turn your digital file such as PNG, MP3, or any type into an NFT.
Monetize your NFT
In the final step to create an NFT, you need to take a call on how you'd like to make your NFT marketable. It depends on what your platform is offering. You can sell NFTs at a fixed price or you can opt for the option to set a timed auction that will allow those who are willing to buy your NFT to give their final bid within the set time. Platforms like Nifty Gateway, SuperRare, and NFT ShowRoom offer the option of NFT auctions.
You can also market your NFT using the online auction without any deadline. The interested ones will have time to submit the final bid and you can close it whenever you wish to. In this option, you will have to come up with the minimum price. You will also need to determine your royalties in order to keep on cashing out of your piece if it is resold.
While deciding on the price, don't forget to consider the fees you have paid. Setting a price below the fees will only bring you loss.
Develop NFT Games Now!
Request A Free Quote
1200+ Projects Delivered 12+ Industry Experience 450+ Clients Worldwide 200+ Certified & Expert Programmers
Different Types of NFTs
One of the notable facets of a non fungible token is that they denote the provenance of an asset. NFTs help control the access to rights of individuals on their assets which brings the exclusivity factor to existence. As the scope of innovations in NFTs is growing, it is safe to say that their applications will have a reach to a multitude of sectors.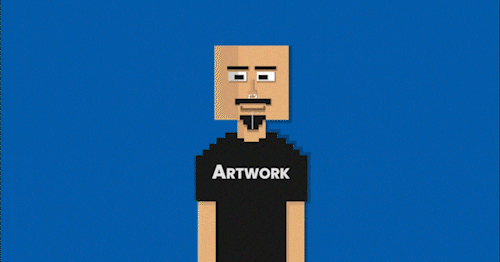 This brings us to one major question: what are the different types of NFTs?
While their rapid development is hinting at the emergence of numerous types of NFTs, there are some NFT types which are pivotal in setting the headlines as of now.
Let's take a trip to the list of 10 most popular types of non fungible tokens:
Artwork
Music and media
Gaming
Collectibles/ Trading Cards
Virtual items
Real-world assets
Identity
Domain names
Event tickets
These NFT types indicate the boost in the NFT ecosystem and also prove to be the powerful candidates for its future.
Ways to Earn Money from NFT
There are ways in which you can earn passive income using non-fungible tokens. Here is how to make extra money from your unique digital assets: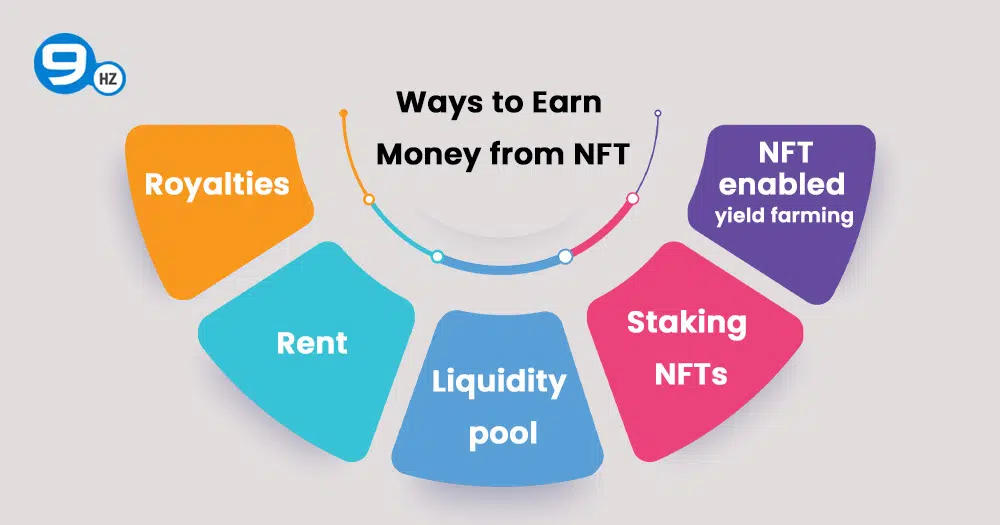 Royalties
One of the best ways to ensure a clear way to income in the entire NFT sales process is royalty fees. Creators get to enjoy the royalties on their NFT whenever it gets exchanged across the secondary market. It acts as a passive income for them after their NFT has been handed over to the other entity. Leveraging this factor, creators can earn a share from the sales price of the NFTs. For instance, if the royalty percentage for a game is set at 8%, the owner will receive 8% of the sales price every time their game is resold to a new entity.
Rent
Another incredible way to earn money from your NFT is to rent it out. This option works out well especially when your NFT is already attracting others. This practice is carried out with certain terms demonstrating a deal between two parties and is administered by smart contracts. This gives the freedom to come up with the lease rate of the NFT as well as desired duration of the rental agreement.
Liquidity pool
Liquidity pool refers to a collection of digital assets that are locked in a smart contract and can be used as collateral, loans etc. There are many platforms that reward their users with NFTs in exchange for a liquidity pool. The owners can sell such rewards to liquidate their positions in liquidity pools.
Staking NFTs
Staking your NFTs means that you are depositing or locking them in order to generate passive income. The income generated from staking is generally distributed in the form of tokens.
NFT-enabled yield farming
NFT creators and NFT artists have the freedom to farm for yields with the help of NEFT-enabled products. The term Yield farming is used for the method of using multiple DeFi protocols to generate the highest yield using the digital assets one has.
11 Best NFT Marketplaces
When you decide to make an NFT, you come across the stage where you need to make a choice for NFT marketplace. Choosing the right marketplace to sell your NFT collection is a crucial step for which you must check out the best options and compare them after a strong research. As you move on to this step, you will find many online platforms.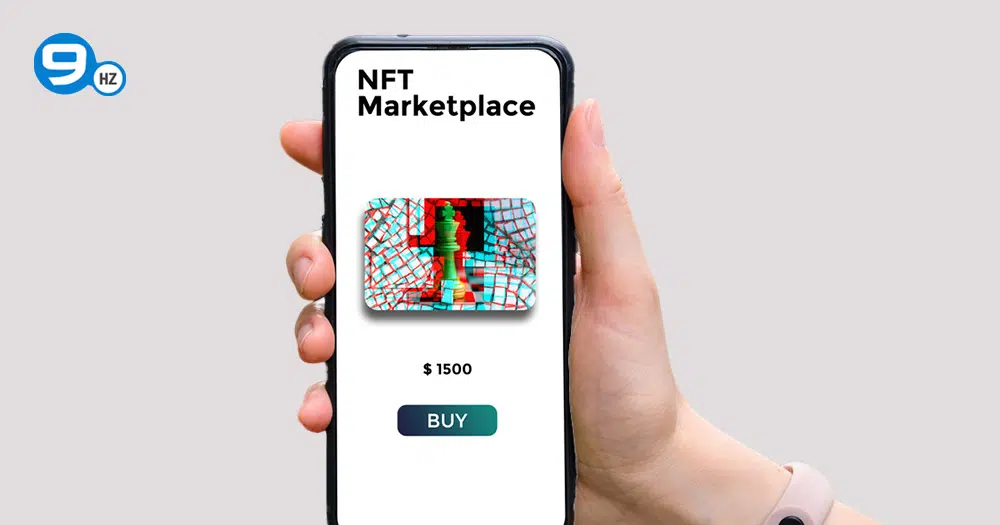 When you decide to make an NFT, you come across the stage where you need to make a choice for NFT marketplace. Choosing the right marketplace to sell your NFT collection is a crucial step for which you must check out the best options and compare them after a strong research. As you move on to this step, you will find many online platforms.
1. OpenSea
OpenSea is one of the most preferred NFT marketplaces that offers a host of almost every type of NFT. This NFT marketplace supports over 150 cryptocurrency payment tokens. Besides, you can create an account on OpenSea without paying anything and it is pretty easy to use. Its popularity among a large number of NFT creators and a stock of all NFT types might make you consider it for NFT creation.
2. Rarible
Rarible is another popular NFT marketplace that lets you sell single pieces of art as well as NFT collections. Brands, especially from industries like gaming and sports, participate in the sale of many NFT collections on this NFT platform. It has its own token that is called RARI and lets users take part in moderation as well as the option to vote on upgrades.
3. Nifty Gateway
Nifty Gateway is the NFT marketplace that is the most interesting and monetarily huge NFT sales take place. It is a platform that hosted the sale of two of the most expensive NFTs – Pak's The Merge and Beeple's CROSSROAD.
4. Binance NFT
One of the giants of crypto exchanges, Binance offers Binance NFT to those who are looking for a reliable platform to indulge in NFT art sales. It has its own blockchain. It allows you to use ETH, BUSD and not to forget, BNB to bid.
5. Async Art
Async Art is dedicated to the type of NFT artwork that is composed of layers and a master. Master refers to the NFT and layers are what tell elements that create the digital art and are alterable. This platform is known for programmable art and allows artists who own NFTs to own different layers and modify the artwork.
6. SuperRare
SuperRare is known to be the host of NFT art. It has a special corner for the type of NFT that puts artistic touch above anything. This platform reportedly only accepts 1% of the NFT artists. So if your work is selected then you have to consider yourself elite.
7. MakersPlace
MakersPlace is yet another NFT marketplace that doesn't fail to catch the attention. It is probably because it celebrates serious art. You will explore the works of established galleries and artists here. It earns NFT buyers full ownership of the artwork. MakersPlace allows NFT artists to sign their art. One of the interesting points about it is that it only lets limited scope to mint NFTs.
8. KnowOrigin
KnownOrigin is quite an old one of the NFT platforms that welcomes digital artists to sell an NFT that is rare and in the category of collectibles. It features a Drops, a service that allows a digital artist to take charge of the number of copies that are being released. What makes it exclusive is that one needs to apply in order to join it and it examines the applicants before accepting them.
9. Foundation
Foundation acts as a party where only a few are invited. Curated by the community, this platform works with a limited number of artists. If you want to join the Foundation, you will need to have an invitation from an artist.
10. Axie Infinity
The Axie marketplace is an NFT-enabled video game that counts among the largest platforms out there. This marketplace lets you have an exclusive trading experience with digital pets that can be bought and sold here using the MetaMask wallet.
11. Mintable
Mintable is a place where you can search for a new NFT, purchase as well as sell one. It hosts a variety of categories of non-fungible tokens including art, collectibles, music and gaming items. You can also check the top NFTs on its homepage.
List Of 11 Best NFT Marketplaces
No.
Marketplace
Types of NFT
Blockchain
Features
1.
Marketplace OpenSea
Types of NFT Art, photography, music, collectibles, sports and more
Blockchain Ethereum, Polygon, and Klatyn
Features

Variety of different NFT types
Supports more than 150 crypto

2.
Marketplace Rarible
Types of NFT Art, photography, and games
Blockchain Ethereum, Flow, and Tezos
Features

Low gas fees
Allows you to choose from blockchains

3.
Marketplace Nifty Gateway
Types of NFT Digital art and verified drops
Blockchain Ethereum
Features

Allows you to buy Fiat currency
Uses limited

4.
MarketplaceBinance
Types of NFTAll
BlockchainEthereum and BSC/td>
Features

Secure marketplace/li>
Low fees

5.
MarketplaceAsync Art
Types of NFTProgrammable art
BlockchainEthereum/td>
Features

Supports number of artists and creators/li>
Allows creators to alter their art over time

6.
MarketplaceSuperRare
Types of NFTDigital Art
BlockchainEthereum
Features

Accepts rare art
Features a gallery mood

7.
MarketplaceMakersPlace
Types of NFTCommercial art
BlockchainEthereum
Features

Platform to buy NFTs from renowned artists
Collection of excellent art

8.
MarketplaceKnowOrigin
Types of NFTArt and photography
BlockchainEthereum
Features

Easy to use
Well-curated collections

9.
MarketplaceFoundation
Types of NFTDigital art, fine art 3D art and photograph
BlockchainEthereum
Features

Limited NFTs
High quality works

10.
MarketplaceAxie Infinity
Types of NFTArt and games
BlockchainEthereum
Features
11.
MarketplaceMintable
Types of NFTArt, music, media animation, games, and video
BlockchainEthereum and ImmutableX
Features

Offers courses
Variety of NFTs
Are NFT Marketplaces Safe?
You need to be careful while spending money to purchase an NFT. First of all, you should only invest with keeping in mind that you could lose money in NFTs. So, it is recommended that you are sure what you are approaching. Experts suggest that one should not make any investment out of sudden impulse. Also, one should take time to do research on the project they wish to execute. If you are a newcomer then it would be a good idea to gain knowledge from someone experienced who they know in order to create NFTs. Experts also suggest maintaining privacy and not falling prey to suspicious links.
Conclusion
Creating and selling your own NFT sounds interesting and if done right, it can be rewarding. You need to be cautious while navigating across the NFT world. Financial investments go on and off. While one NFT art has the potential to bring the desired treats, it can also fall into the security risks. Besides, you could also lose money. So, it's better to give as much time as it takes to learn and understand this market and be sure about your decision before you bring your first NFT art to the stage.
FAQ's On How to Create A NFT?