With globalization and urbanization at its peak, the rise of the real estate sector is no surprise! The real estate sector is globally recognized as the first choice for many long term investors across the globe. Real estate sector is a combined term for representing four sub-sectors – retail market, housing, hospitality, and commercial complexes. The growth in this sector is evident from the fact that the demand for the corporate environment and office spaces is increasing every day. Consequently, many commercial complexes and integrated townships showed up in the last few years. There are such many reasons that's why real estate app development is industry demand.
Real Estate App Development Guide: Market Overview
As per the reports, the real estate market is all set to hit 1 trillion USD by the end of the year 2030. Besides, it is also expected to add 13 percent to India's GDP by the year 2025. All the four sub-sectors under real estate are proliferating and providing the country with all the means like infrastructure, facilities, etc. for supporting India's growing needs.
Sectors like IT, consulting firms and e-commerce portals have put forward a high demand for work areas and office space. The current market trends suggest that the total office space leasing in the top eight cities of the country will cross 100 million square feet by 2020. Also, the in trends co-working space across the top seven cities has also shown a three-fold increase from 2017 to 2018.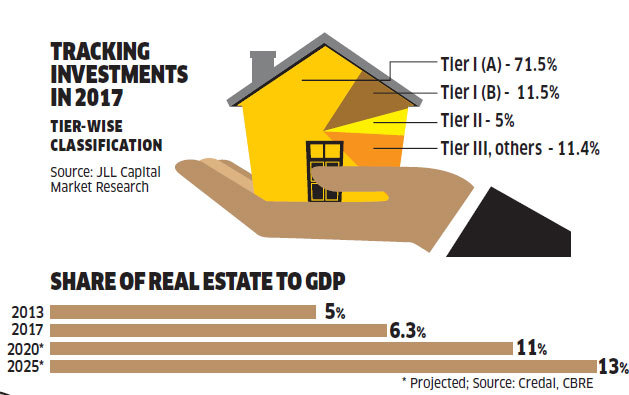 (Source: Google Pics)
Investments/Developments of Real Estate Apps in India
With an increase in demand for office spaces and residential accommodation, the Indian real estate sector has flourished in recent years. The period of 2009-2018 was a golden period for the real estate sector. It is evident from the fact that; The Indian real estate sector got institutional investments worth USD 30 billion during this period.
Apart from that the Private Equity numbers and total Venture Capital investments also crossed the USD 4.47 billion in the year 2018 and reported a total transaction of USD 546 million in the Jan-Feb 2019 period.
According to the stats and numbers released by the Department of Industrial Policy and Promotion, the total FDI equity reported for construction development sector amounts to USD 24.91 billion during the April 2000-December 2018 period.
Best Real Estate Apps in India
One can easily find many real estate apps in the Google Play Store or iOS store. These apps are easy to use and cover even the remotest regions of the country. These apps have revolutionized the concept of buying/selling home. Apart from this, these apps also provide for easy to find and budget-friendly renting options.
Here's the list of best real estate apps in India:
99acres Real Estate and Property
When it comes to the best real estate app available in the market, 99acres Real Estate & Property is definitely my first choice. This app comes with easy to use features and has revolutionized the use of mobile for buying/selling houses. From farmhouses, commercial spaces, flats houses to coworking spaces, you'll find it all on 99acres Real Estate & Property app.
CommonFloor Property Search
CommonFloor Property Search app is the next name on this list. This app provides all the details about the properties for sale/rent in the major cities of the country. Besides, this app also has the options for 3D view, featured videos and provides all the necessary details for every listed property.
MagicBricks Property Search
MagicBricks Property Search is the next name on our list. This app is interesting to use and comes with user-friendly options. The app provides users with various filters to choose a property of their choice and refine their search.
Housing-Real Estate and Property
Housing-Real Estate & Property app also makes this list. It comes with easy to use interface. This app provides many search options. One can easily find budget-friendly accommodations, flats, commercial complexes for sale/rent on this app.
India Property Real Estate App
India Property Real Estate App suits every user. The app is specially optimized for mobile use. It comes with various customization options and comprises of the clean interface. The whole searching process is very easy on this app. Users quickly find the property of their choice after the first search itself.
Types of Real Estate Apps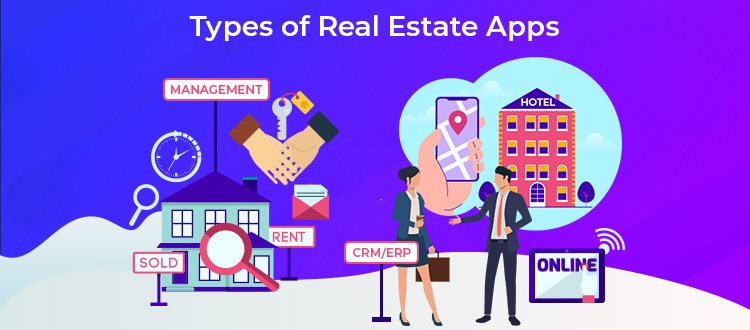 There are many types of real estate apps available in the market. One can choose from a wide range of options based on their demands. Real estate apps can be categorized as:
1. Property Management Software
Property Management Softwareis a one place solution that maintains the logs of every property available. It keeps the logs of every transaction involved during buying/selling of properties. The list of properties available for sale gets updated from time-to-time.
2. Real Estate CRM/ERP
Real Estate CRM/ERP is an in-house implemented model. In this type of app, a complete layout of the working plan is made. This app model guarantees the proper utilization of resources. Besides, customers satisfaction is the key agenda for these apps. A follow-up and appointments are scheduled for the interested buyers/sellers.
3. Online Property Booking Solutions
Since every sector is showing their presence on the internet, real estate sector has also followed the same trends. Many famous builders and developers list the available properties for sale/rent option. The buyers can check the details about every project using these softwares. This software support real-time booking of properties and one doesn't need to go out and search for properties.
4. Rental Property Management Software
Most of the real estate apps in the market come with rental options. They allow for booking rental properties. These apps list all the major rental options in the major cities across the country. This software is of great help for all kind of people, and these softwares have managed to garner a lot of attention in recent years.
New Technology Integration to Boost Your Real Estate Sale
These days most of the realtors are using the latest technology to boost their sale. The trend of smart homes and the use of new augmented reality and virtual reality techniques is at its peak.
Some of them are:
1. IOT
Internet of Things or more commonly known as the Internet of Things is doing wonders in this field. The concept of smart homes and user-friendly homes is in trends.
IOT has helped in following ways to boom the sale of real estate properties:
It helps in predictive analysis of the maintenance cost.
The use of sensors to visualize the built area provides more clarity.
Helps in developing disaster resistant structures.
Provides analysis technique to calculate the rate of return.
IOT comprises of implementation of new technologies. Making use of temperature control sensors, smart lights, home automation, etc. to ensure security and safety as well as adding more premium features to the houses is all a part of the Internet of Things. It is a wide field to discuss and holds a lot of potential in the coming years.
The developers have been trying their best to improve the housing facility and are aiming to shoot their stats by providing the clients with the best and easy-to-use features. It involves making a network of home appliances where internet is the connecting medium. Thus, complete home appliances can be accessed easily.
2. AR
Though the concept of augmented reality is new, it is performing miracles for the real estate sector.
It acts more like a marketing trick.
Provides buyers with better visualization of the listed property.
Acts as a standard medium for a clear interaction between the clients and sellers.
Helps the realtors to promote their business and develop brand value.
The concept of augmented reality has helped in the predictive analysis of the rate of return. Though it has taken a toll against the traditional brokers, but it has managed to take the whole experience of the real estate market to a professional level. This technology helps in making proper 3D models of the property and attracts the attention of the clients by providing them with more clarity.
3. VR
Virtual Reality helps in delivering the rendered visualization of the listed property.
It helps the sellers to provide a better 3D view of the entire property.
It provides a complete picture as per the demands.
It helps in analyzing the maintenance cost.
Besides, it also allows the sellers to go for Virtual Property Showcases as well as display Architectural Visualization.
These days most of the apps organize interactive visits, which include a 360-degree view of the house as well as perform virtual staging. Thus, it provides a better view of the entire property.
VR and real estate share a "hand-in-hand" relation. It has broadened the scope of e-commerce too. One can make changes to interiors and opt for different options by taking an interactive tour of the whole property. Also, the concept of VR has revolutionized the concept of online buying and made the global search a way too easier.
4. Automated Valuation Models
These models are of great help for automatically predicting the value of a property. The predictive analysis is done easily and doesn't take much time now. Earlier, it was a tedious job and wasn't easy to predict future costs. But, the modern technique of automated value models has made it easier to do the analysis.
5. Smart Home Technology
There is no doubt in the fact that smart home technology has helped in increasing the sale of houses. The real estate sector witnessed a boom in stats with the advent of this concept. People are opting for buying homes that are backed by this technology. Features like security cameras, unlocking of a door, automated control, etc. are part of smart home technology. Definitely, intelligent home technology is the feature of the real estate sector.
Also, the fields of data science, predictive analysis, cloud computing, and 3-D printing have made it easier for developers to create a cost-effective model display of future projects. These technologies have made it easier for the buyers to calculate the ROI of the properties. Definitely, this also attracts the buyers as they attain more clarity of the whole scenario and can make a wise choice
Need For Real Estate Apps
Mobile applications are the best way to deliver efficient real estate services. Mobile apps are sure to save, time, cost, energy, and labour. With the advent of mobile devices, real estate services are available even on the go. With the strength of digital platforms, a real estate app will provide you with a great diversity on a single interface. Before you visit the physical site, you can comfortably browse through estate pictures and decide if it's worth your time.
Real estate apps such as MagicBricks, 99acres, and Proptiger, will showcase you a wide range of properties, all within the scope of your requirements. Excellent properties both luxurious and budget-friendly. These apps can take into consideration all of your requirements and refine their search accordingly. Properties can be found based on a location, apartment type or a budget range.
The physical world realtors, generally have a location-specific reach. The online, real estate apps, however, has no geographic constraint. On a single platform, you can browse real estate across the nation. Yet another benefit of real estate apps are its commission sharing advantage. Unlike physical realtors, where multiple individuals surround you like vultures for the commission, online apps, saving you the hassle. On these apps, you will easily come across direct sellers/renters, who demand no commission. Even if you do come across agents, rest assured it will be an authentic agent.
Finally like every other online app, you will achieve healthy user reviews. Reviews that will help you judge the quality of the property/seller. With such easy communications and cross-references, your real estate decisions will prove smooth and prompt.
Features of Real Estate Apps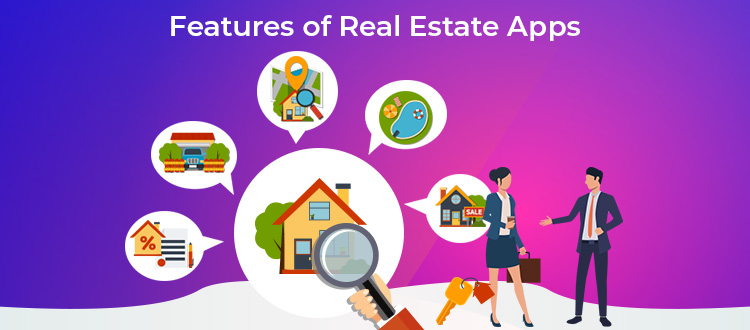 The features of a real estate app, are more than one. Every feature of a typical real estate app is carefully designed to increase efficiency, quality, and transparency of the process.
1. A Direct Marketing Channel
Mobile applications are the best place to promote ads and campaigns. Now, when your real estate business has its own dedicated mobile app, it's the absolute best. Your real estate app will not only provide real estate services but act as a direct marketing channel as well. With the increase of mobile devices and prominence of mobile applications, your business will penetrate a greater chunk of the audience.
2. Increases Brand Value
The topic of marketing is never complete, without including the scope for branding. As it happens, like marketing, branding too receives a major impact from mobile applications. A mobile application is an interactive medium. It makes your brand engaging to the audience. With a higher engagement rate, your business gains transparency with the audience. Finally, the app will also allow your customers to provide feedback and help you deliver better customer services. Features that will add up to fetch brand loyalty.
3. Platform Independent
These mobile apps can be designed such, that they need not rely on a fixed platform. Android devices, iOS devices, and PCs, all equally support these apps, giving access to all users comfortably.
4. Support for Geolocation
The present audience has very much gotten the hang of the Global Positioning System. They prefer every bit of their information to get synced with their google map. Hence, once your app integrates Geolocation, it will aid the customers in making their purchase decision.
5. Easy to Use Interface
Real estate applications are not about designing brilliance, but, user-friendliness. Much like the e-commerce applications, real estate applications focus more on getting you towards your purchase through the most optimized steps. Payment procedures, design layout, search filters and every other element of the app strives to keep your experience simplified.
6. Clarity of Listed Property
The properties listed on these applications come with very authentic data and metadata. Starting from price, location, area, facilities, furnishings, landmarks, Geolocations and communications, clarity is at its best. Additionally, you will also find pictures of the property for cross-checking the info.
7. Interaction Between Buyers and Sellers
If a customer is interested in a property, and further wishes to interact with the seller, the app allows so as well. Apart from direct contact numbers, registered buyers and sellers can also interact over texts, and exchange desired information.
Real Estate App Development Cost
The cost for real estate mobile app development depends totally on the features offered and type of the app to be set up. A full-fledged real estate management software will cost around USD 4000 to $5000. While the cost of complete real estate CRM/ERP software will range in between USD 5000-10000. Apart from these, the cost of simple online booking software is comparatively less. Thus, it totally depends on the needs of the client and the proposed layout of the real estate app.
Learn More: How to Develop a Successful Real Estate Mobile App for Property Listing
Conclusion
No doubt the real estate sector holds a lot of potential. Since it is one of the key sectors from an investment point of view, setting up a real estate app is of great importance. Thus, more real estate apps are showing up every day. With this article, you're all set to launch your own real estate app.
Do notify us in the comments, if any query persists.
That's all from the story. Stay connected to know more.