It is quite unbelievable to see the way digital presence is increasing day by day and transforming the overall business concept of marketing. Every industry is deploying the mechanism of digital marketing to cater maximum amount of customers. The real estate business is one of them. We must all agree that gaining a potential customer at times to buy a property is a very challenging task. There is no guarantee to crack the deal. Hence, we must consider the importance of digital presence, especially in the Real Estate industry where the competition is very rigorous and paying capacity is limited to a specific group of people. Property listing app development has great scope in the market.
Hence, we must take a step further and emphasize the importance of digital presence to generate maximum conversions in the Real-Estate market by reaching the maximum number of people. Developing a fully functional real estate mobile application is an effective way to reach out to the maximum number of clients in less time. This will help you in generating leads and conversions without any hassle. Mobile technology has completely revolutionised the business operations of multiple industries including real estate without any doubt!
In this article, we will discuss how mobile-specific features can bring value to both your business and your clients. We will be discussing the features mandatory for a successful real estate brokers app and answer the question of how much does it cost to develop a real estate mobile application.
How Real Estate Mobile App Can Grow Your Business?
Let us begin this discussion by giving an example. One such example is Zillow. Zillow, at present, has more than 160 million active users a month. Over 90% of the real estate firms have their websites with property listings. There are only a few players who have their presence on mobile devices. Hence, having an app for your brand can be a very fruitful step for your business as having a website is only the first step.
Taking the discussion forward, let us see the market share in terms of monthly visits of the top players specifically in the US market.
Zillow is the clear winner in the list but there are other players also proving their potential and making a huge amount of profits every consecutive year. We cannot underestimate the importance of mobile technology and undoubtedly it is the future. The experts of mobile technology can develop desirable interactivity to attract customers to explore the best possible results with minimum efforts. Because users, at the end of the day, are looking for maximum utility to survive in this dynamic industry.
If you are also into the real estate business and planning to create a fully-fledged real estate application in the market to cater to the maximum number of users so stay tuned with this blog as we have a lot to offer.
Trulia vs. Zillow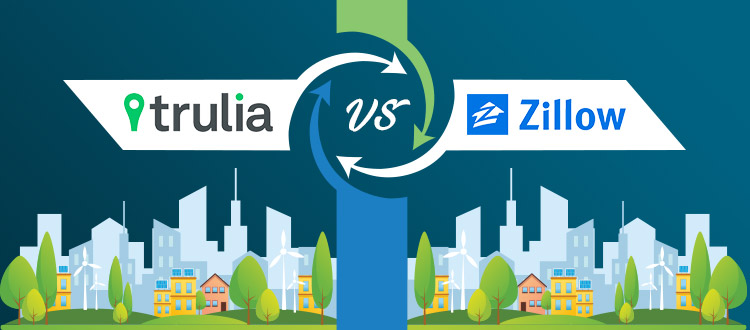 Trulia and Zillow are the two most popular websites in the US. Both of them have their mobile applications boasting millions of unique monthly users. At present, both belong to the same company which means Trulia has been sold to the Zillow group at a price of $3.5 billion in the year 2015. However, for users both the platforms are distinct.
As far as the platforms are concerned, both of them are quite similar. Users are provided with real estate databases full of apartments and houses for rent and sale. Both of them contain a core feature in which the listings with photos and detailed descriptions of the properties are displayed. However, there exist some key differences.
Trulia offers more information in terms of neighborhoods where the application provides the access to its users of 34 different maps showcasing details of schools, crime rate, an average level of income, and other significant traits of a particular area. This is very helpful for the users as it is not just confined to the details of the property, rather, it focuses to learn more about the environment around it. Also, the platform offers useful tools to calculate monthly costs for mortgages, payments, taxes, and insurance.
Zillow, on the other hand, provides the information in terms of estimates of each building based on the market and the information available in the public domain. This is also called Zestimates. Both users and agents are benefitted in this way as they get to learn more about property market value ensuring to crack the best possible deal. A Zestimate works as a starting point or a suggestion which is helpful for the sellers and realtors so that they can make use of it as a reference to put prices on their estates.
Why Property Listing App Development in Demand?
Mobile applications make lives easy for people. Also, their look and feel are so impressive that it gives a mind-blowing user experience at just a tap. They are easily accessible. Today, we live in a technologically driven environment and want an easy and simple way to get things done and mobile apps exactly fulfill this particular need. Property listing application development can help property buyers and sellers.
As we can see, there are problems in real life and people are looking for solutions. Mobile applications prove to be a great medium in solving these problems without any difficulty. For example, there was a time when people wanted a system where they need not go to a restaurant, rather the food shall be delivered to their doorstep. An application for on-demand food delivery like UberEats and Swiggy made this dream a reality where you can enjoy your food ordered from your favorite restaurant in a couple of taps.
Similarly, there was a time where people used to wait for hours for a cab or taxi. Now, with apps like Uber and Ola, you can simply book a cab within seconds and you don't need to wait at all. We can give many such examples where the applications came as a savior for us made our lives easy and convenient. This is the power of technology and we can clearly see that.
If you are working with talented professionals then you can implement all innovative features in your application without compromising on user experience. The NineHertz you get to work with experienced IT professionals having years of experience in creating fully functional mobile applications. We have experience working on multiple frameworks and know the nitty-gritty of the job.
Why Create a Real Estate Mobile App?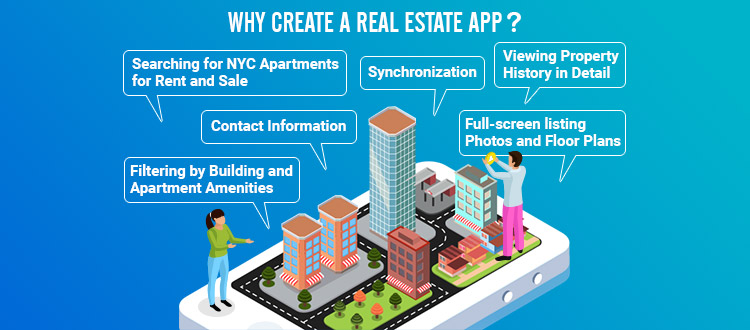 As per the National Association of Realtors in the year 2016, more than 44% of home buyers saw the property first online and then made up their minds. Now, the majority of people prefer to see the property online to conclude their decisions.
The medium of going online is mostly mobile devices as people nowadays prefer to use mobile phones for services like ordering food to search for homes. Statistics show that today almost all people use mobile phones for accessing the internet. Moreover, people mostly spend their time on mobile applications. As per the data, on average more than 80% of mobile time is consumed via apps.
Let us see the related figures concerning various countries across the globe:
The image clearly depicts that when you consider mobile devices that include both smartphones and tablets, the figures for mobile minutes are quite astonishing. The report suggested more than 80% of mobile time in the market. In Latin America, the levels appear marginally higher, followed by Argentina, Brazil, and Mexico, and so on.
The question is, why do people spend so much time on applications rather than on websites? First apps are faster and are mobile-friendly. Secondly, applications have access to the hardware of mobile devices allowing lots of mobile-specific features. For example, via applications, you can do multiple functions like send push notifications to users, use hardware like a camera or microphone, and even make use of Augmented Reality that is only prevalent in mobile devices.
Also, remember that when your target audience changes and a new generation becomes your client and buys houses a mobile presence is very significant. Talking about facts and figures, as per research conducted by the National Association of Realtors, 46% of Generation X homebuyers and 58% of Millennials have found their homes/houses on a mobile device (smartphone or tablet), compared to 33% of Baby Boomers.
How Does the Property Listing Application Work?
The functionality of a real estate app or property listing application is quite simple to understand. The primary objective of any app development agency, whether iPhone, Android, or both, is to create a design that is such that UX and UI should be simple, but creative and unique at the same time. The property owners can list their houses/properties on the app after submitting all the necessary information concerning the property along with the details of the exact location of the house with images. Here, the property owners are also required to mention the amount on which they want to sell off their properties.
Advantages or Benefits of Real Estate App Development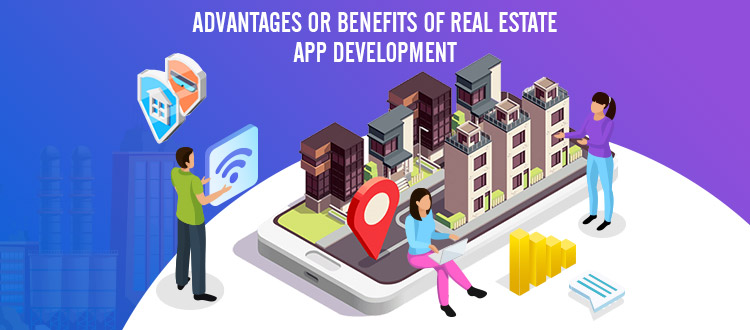 There are plenty of advantages associated with taking your real estate business online via a mobile application network. Here, are the main advantages you can capitalize on by having a mobile application for your real estate business:
A Mobile application for your real estate business can help in creating awareness and improving the digital presence.
The function of a real estate mobile application works indirectly with qualified business leads.
Having a real estate mobile app (iOS or Android) for your business will open up new horizons for creating revenue.
If you have a mobile application for your real estate business, then you are already ahead of most of your competitors as they might not know the significance of having an app that you know.
You can create a loyal and stable customer base for your business as they get value for their money because an app makes it very easy for the user to search, buy and sell the property within a few taps.
The Strategy Involved in Property Listing Application Development
Your business model is responsible for deciding the set of features for your application. You may want to build a real estate mobile platform where independent real estate brokers and agents put properties up for rent and sale and where renters and buyers look for houses.
NOTE: A very important point here to mention is that in order to create a property listing app platform, you have to frame it keeping in mind that there are going to be three main groups involved with it namely, homebuyers, real estate agents, and administrators.
Another option here is to make a mobile application that only features listings. If you are running a big real estate agency having multiple options of niches, you can create such an app your clients will use. Thorough market research needs to be done in order to find out whether your customers would actually want a mobile app and whether it will be profitable for you or not. To check the profitability of the application, an app builder for an MVP can be used. But its functionality will not be sufficient for fulfilling your business needs.
For separating user roles, you can either make two different user roles in one single mobile app or you can make two separate apps. The best practice to moderate your platform is to develop a web application for administrators. There are mainly three user roles supported by the features for a real estate platform and they are namely agents, buyers, and administrators. If you are planning to create a mobile application particularly for your real estate agency, you just have to decide the features you need and make calculations regarding the price of real estate mobile app development which you will be known late in this article.
Top 4 Technology Trends in the Real Estate Industry
The real estate industry is considered one of the most dynamic and unpredictable industries and hence the prices in such a market tend to change frequently seeing the sensitivity of the market. Also, the demand for houses is increasing tremendously, so people are looking to explore more effective ways of establishing communication with owners, agents, buyers, and renters. These are four major technologies used in real estate companies for making the services more effective.
Big Data
Big data helps in storing and processing large chunks of data and gather information concerning each user to make predictions regarding their decisions and behavior. In real estate, big data is used in pair with artificial intelligence for suggestions and provides the results the users are looking for.
Blockchain
Blockchain is widely used in the real estate business due to its transparency for preventing fraud in business operations. This is possible as it allows to double-check all the documents and ensure that the documents are not changed or altered. Blockchain also helps in reducing the amount of red tape and avoid endless mediators charging fees for their services.
Artificial Intelligence
Artificial Intelligence is mostly used to analyze the requirements and preferences of users for making the most suitable and personalized suggestions. The user can save a lot of his time. AI can also help in managing property by streamlining maintenance requests, tracking changes in prices, listings, etc. AI can also be very helpful in analyzing prices and also provide assistance in risk management.
Virtual and Augmented Reality
Augmented Reality is very helpful in increasing sales by visualizing property to potential buyers and renters and help them visualize how it will look like post-purchase. The technology is ideal for remote virtual tours around the property. All this can help buyers and sellers extensively in saving their time and enhancing property marketing.
Also Read: Real Estate App Development Guide
Topmost Features in Real Estate Apps for Buyers and Agents
Here are the top 14 features that can definitely help you in building a real estate app like Zillow, so let's start:
Onboarding
Onboarding should be extremely simple. This is the reason why social media accounts are being used for the purpose of signing in. Users can also register themselves via emails or contact numbers but you must make sure that you are not making onboarding compulsory at the beginning stage. Give permission to your users to access the app first freely.
Personal Profiles
For both buyers and agents, personal profiles are different. Agents should have access to have a look at their schedules, properties, and profiles of potential buyers who have contacted them. Hence, while browsing the property listings, buyers should see the list of properties.
Database and Listings
A big database forms the backbone of your application. It is a core feature, and you will need to have lots of listings for potential buyers if you want your app to be successful. All the information concerning the properties in the database should be reflected in the listings. Please ensure that the listing is enriched with all the information the buyers most interested in, like pictures.
Property Profiles
Comprehensive and detailed information concerning the property must be included in a property profile. Display more pictures, list a price for purchase or rent, provide a description of the property, and let the potential buyers contact a real estate agent to ask about the property.
Filters and Categories
Throughout the process of buying or renting a house, finding the right property is the most difficult part. That's the reason, you would be needing an advanced filter and categories for your mobile application as they are considered the primary tools that buyers will use.
Calendar
By integrating a calendar into your mobile application, it is extremely easy for both real estate agents and clients to schedule their appointments and link them to properties.
Favorites
If your customers have complete access to shortlist properties then it is a very motivating indicator to help them in making their decision easier. Favorites should be visible in a menu or in a user's profile.
Price Calculator
Adding a calculator to your mobile application would be a great idea so that the users can find out the price of a home including the amount of loan and interest in various banks. The calculator should be accurate, well-detailed, and should allow the users to choose the home's price, the initial payment, and the loan amount considering the loan duration.
Maps
A lot of valuable information can be provided to users via Maps. They can be very helpful to users. Apart from locations, maps can also be used to see the data and statistics across multiple regions. You can easily find such statistics by conducting a little bit of research on government sites before you create your app. Information regarding average incomes, crime rates, risk of natural disasters, schools, and infrastructure can be seen through maps, and users are highly benefitted through these apps as they can make their lives a lot easier and they make decisions quickly.
Call Button
A mobile application or a website is just the first step towards buying a house. In order to make a second step, you need to motivate them to call a sales agent for cracking a deal. Different ways can be offered to the users to get connected to an agent like:
Call Button
Callback Button
Request for a consultation
Online Chat
Push Notifications
Two important objectives are achieved with the help of push notifications. First, it helps in user retention and they get regular reminders of your app so that they make use of it quite frequently and secondly, such notifications allow you to reach out to users and notify them regarding popular events like:
Changes in Price
New and latest properties in the locality
Any updates concerning the properties
Push notifications should be personalized which means only relevant messages that will bring value to the users must be sent to create maximum value.
Analytics
Analytics is considered one of the most important tools for any kind of application or website. Whether you have a mobile application for your real estate agency or a platform where real estate agents meet their customers, you need to monitor each and every step of your business growth. If you have a realtor app for both iOS and Android, you need to collect the analytics from both applications and compare them. This is because user behavior differs in these two categories. Analytics is very helpful in providing valuable insights into the performance of your application and also they can show you the success rate of your business model. You can frame strategies for your target audience by using analytics.
Real Estate Agents Listing
Real estate applications should not only have property listings but also agents' listings. It can be done successfully by using the property listing template and with some changes. Details namely a photograph, little description, location, number of properties, credibility sources, and ratings should be present in the listing.
Real Estate Agent Profile
Real estate agents' applications should have a database of profiles of brokers where they can show their worth in terms of credibility, ratings, and properties. This will not only help the agent to sell his services but also to manage the clients. An agent should be able to integrate a property into their catalog, add a description, photos, and edit if required. For bringing credibility to your platform you should have a well-planned verification strategy so that buyers know exactly what they get after contacting an agent concerning a certain property.
The Cost Associated with Property Listing App Development
Property Listing App Development cost depends on three major things:
Technologies
Feature Set
Hourly rate of the development company you hire
The location or area of the property listing app development company you hire is the key factor in determining the hourly rates. For example, in a state like the US, you can hire a developer and develop your application by paying over $150 per hour. You have also another option where you can outsource your app development to some other country in Eastern Europe by paying $35 per hour. You may be interested to know "how outsourcing app development can prove to be an effective startup strategy?"
You can save money even for small projects which you can then invest in areas like sales and marketing. If you are planning to create two real estate applications for Android and iOS then you will have to stretch your budget. Hence, it would be better to create a cross-platform application in the initial stage.
Now let us see the number of 8-hour days necessary to develop the feature we have mentioned in this article. You can choose the features you want to integrate into your app and calculate the approximate price of your real estate application. You should be well aware that communication, setup, business analysis, and designing will require additional investment.
| Feature List | Estimate in Days |
| --- | --- |
| Personal user profile | 1-3 |
| Properties catalog | 3-5 |
| Onboarding | 3-6 |
| Categories | 1 |
| Property profile | 2-4 |
| Filters | 3-6 |
| Favorites | 2-3 |
| Price calculator | 3-5 |
| Calendar | 3-5 |
| Callback button | 1 |
| Call button | 1 |
| Online chat | 5-10 |
| Maps | 4-12 |
| Analytics | 2-4 |
| Push notification | 2 |
| Real estate agents listing | 2-4 |
| Adding a property | 3-6 |
| Real estate agent profile | 3-5 |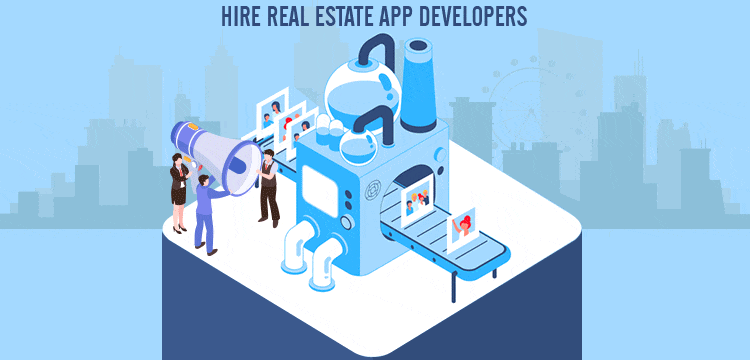 Final Words
The market is filled with uncountable real estate companies and every year new players are entering the market. Attracting customers is such a challenging task in this environment where the deal cycle takes a very long time and the competition is huge.
A real estate company can be successful in the long run by adopting strategies like making offers and creating a smooth and easy process of choosing a property. As Millenials are forming a major chunk of the audience for real estate organizations, you need to start speaking their language which is none other than mobile!
Now as far as the cost is concerned, it can be different as it depends on multiple factors like features, versions, etc. But if you are thinking to create a real-estate app like Trulia or Zillow, then you need to make a significant investment and it will be worth it. So go ahead and kick start your real estate business and drop us a mail to have a discussion on your project so we can turn your vision into a reality. The NineHertz is a reputed IT services company that will help you in building your dream real estate mobile application.