Cut-throat competition from rideshare and taxi booking app solutions like Uber, Lyft, and Ola have created serious challenges for the taxi and the transportation business. Gone are those days when people used to wait for hours to book a cab or taxi. Now, booking a cab/taxi is just a tap away. You can easily book a taxi via a taxi booking app like Uber which simplifies your taxi booking process and gives you a far better experience than booking a cab traditionally.
That is the reason why taxi booking businesses are facing a hard time as their customer base is now shifting towards these app-based taxi-hailing services which provide a far better cab booking experience. Traditional methods are facing challenges in terms of inefficient phone call bookings while their competitors are capitalizing the opportunity by giving their customers a better experience by using real-time mobile booking channels.
As far as the statistics are concerned, a report suggests that the traditional taxi business loses more than $20 million on a daily basis just because the passengers are not able to find a cab. The term 'Call a Taxi' has changed into 'App a Taxi' in this 21st century. The technology has completely transformed the whole user experience and now most businesses have understood the importance of bringing their businesses online to maximize the revenues.
In this article, we will try to explain to you the importance and significance of having an online presence in the taxi booking or transportation business. You have no idea how crucial it is to launch a mobile application for your taxi business. Just stay tuned & read the full article to extract the maximum amount of benefit.
Significance of Having Taxi Booking App Like Uber for Business
In the current scenario, the interaction between passengers and drivers has turned virtual and everybody is seeking rapid mobility services. Hence, the most critical decision for your taxi business would be to invest your resources in taxi booking app development for your business to establish a smooth functioning mobile booking channel.
Businesses should always welcome new technologies as stagnancy leads to death. You will suffer a huge opportunity cost when in this era of smartphones, you are not having an online presence for your brand via an application. Even if you are running a small-scale business, let's say of just 25 cabs, still you can take your business to a next level with the help of an app and maximize the revenues.
Benefits of Taxi Booking App Development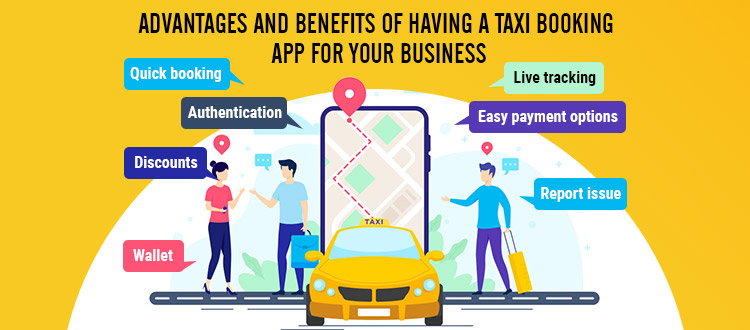 Automate Your Services
If you have a mobile app for your taxi business, then you can streamline the booking process and remove the dispatcher from the workflow of your services. Hence, all the parties are fully satisfied and benefited namely:
Passengers – Passengers would be happy as the process of booking a taxi is simplified and now they need not waste time on dispatcher calls or standing on the street trying to catch a taxi.
Business Owner – You, as the business owner is going to get your source of profit as more people are installing the application due to the convenience they get while booking a taxi without any hassle.
Drivers – Drivers are benefitted as they get a chance to answer the call faster since the application is enriched with logistics and processes the order in a few seconds. The whole process is simplified.
Other benefits attached to taxi booking app services
You can get benefited from technologies like Google Maps in the following manner:
Passengers can be informed regarding the location of their taxi while they are waiting and when they are on the move.
Both the parties, i.e. Drivers as well as passengers can easily find the addresses they need without any hassle leading towards their destination point.
Maximize The User Base by Retaining Passengers and Drivers
In this technologically driven era, almost everybody is using mobile applications and simplifying their lives. By extending your services to mobile devices, your reach gets widened. Both passengers and drivers get benefitted from using such online taxi booking app like Uber. Drivers, on one hand, will not need to roam around searching for clients and passengers on the other hand can get the taxi booking easily in a few taps.
Flexibility to Pay Using Different Options
Online payments have made it easy for people to make payments. There are many platforms for making online payments like Google pay, Paytm, PhonePay, etc. However, there are some taxi services, drivers, and passengers who unwelcome this new technology. This means that the needs of the target audience must be considered and provide them what they need in order to meet their expectations.
There are high chances that your potential customers prefer to have access to multiple payment options like debit cards, online payment, and cash, etc. The good is that modern technology has opened up new horizons for those who embrace new technology and that means you can integrate these payment option features in one single application with the help of modern technology.
Also Read: How Can AI-Powered Taxi App Development Make Remarkable Presence?
Freedom to Integrate Multiple Features in One App
The following features can be integrated with your mobile application to transform the whole user experience:
In-app interaction feature – This feature allows passengers and drivers to formulate a smooth communication with each other via calls and messages. This feature aims at bringing any miscommunication issues to the lowest.
Ride Review – This feature helps in building a strong bond between passengers and drivers. The passengers on one hand are encouraged to use the services more and on the other hand, the drivers are motivated to improve their services. As it is rightly said, feedback is always helpful in improving quality.
Loyalty Programs – It is one of the best ways for user retention. But the app must provide loyalty programs to both the parties – Passengers and Drivers. The feature may cost you some extra pennies but it is worth spending in order to improve the process.
Access to booking history and favorite roots – If you want to simplify the reordering feature then you can make use of this feature and speed up the customer service. Traditional services lack these approaches including all the other approaches.
Although, the features can be customized and modified depending upon the type and size of your business. Hence, you must consider transporting your business online seeing these uncountable benefits. You must read these top 5 features for a successful taxi booking app.
Collaborating With Other Taxi Driving Service and Drivers
Some have a misconception that they need to own a car fleet in order to launch a taxi booking app like Uber. But this is not necessary as you can offer your services through a mobile application to an existing traditional taxi business in a certain locality. The traditional businesses work in an old fashioned way and your mobile solution can help them digitalizing their business.
Another option that you can consider is creating a ridesharing app by collaborating with freelance drivers and cab owners. In this case, you will solely be responsible to maintain the databases and client-side of the application. Hence, we can say that if you are an owner of a traditional taxi business, then it is absolutely worth investing an amount to develop an app that can help you in taking your business online, and eventually, you will end up winning your share of the audience. It is a win-win situation both for you and your customers.
Chances to Get a Much Higher Visibility
Today, in the era of the internet, everybody has smartphones and we perform 90% of our daily tasks by using the devices. For example, if we want to learn cooking, we go to the internet and watch a YouTube cooking video, if we want to watch a cinema, then we can book the tickets online and so on. This means that smartphones and the internet have overpowered the traditional ways.
The same can be applied to online taxi booking applications which can increase your visibility online because today almost everyone has got access to smartphones with internet facilities. The possibility of getting connected to more users increases ten times if you have a mobile application for your business. That's the power of technology. Further, tourists traveling to various destinations depend more on taxi booking apps compared to local taxi drivers.
Activate the Auto-Pilot Mode
With an online presence, you can smartly grow your business in Auto-pilot mode. The traditional way was quite hectic in which the operators had to search for customers, show the vehicle's condition for inspection, negotiate the price, call for the drivers and request them to accompany the guest throughout their trip, etc.
However, the business has drastically changed and went into autopilot mode with the introduction of taxi apps. Now, the things for customers have become easier, right from booking the cab to getting the details of car and driver, getting payment details and completing the trip by paying finally.
Hence, the online system has brought a lot of convenience for both passengers and drivers with some taps. Therefore, a lot of your precious time is saved from managing and monitoring all these aspects.
Taxi Booking App Development Cost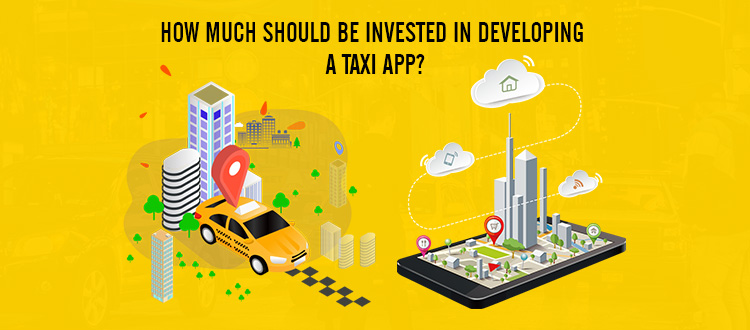 A typical taxi booking app comprises of three parties – The passengers, The Drivers, and The Cab Owners. Hence the app must integrate all the necessary functionalities along with a web-based admin panel for managing the operations. Now, as far as the taxi booking app development cost element is concerned, that depends on a lot of factors. Multiple factors are needed to be taken into consideration. Must read why do businesses need to invest in the on-demand taxi dispatch app?
Following factors impact the taxi booking app development cost
The choice of platforms means whether to go with Android, or iOS, or both.
The number of features or functionalities to be added as more features will add to more investment.
The level of complexity these following features would contain.
The requirements in terms of customization and branding.
Custom integration, etc.
Hence, if you are too looking to launch a taxi booking app and searching for a developer, then we can possibly help and assist you in the process. You can talk to our taxi application solution experts to get a quote depending upon your business requirements.

Conclusion
In the end, we can conclude by saying that a fully responsive taxi app solution must perform the following things
Reduce the operational costs
Enhance the user experience by minimizing booking time
Improve driver productivity and revenues
Streamline the business operations
Hence, it's correct to say that a taxi booking app development for your taxi business can help you increase your revenue up to ten times. It has now become a necessity for all transportation businesses. It is because there are a lot of benefits attached to it like reaching more users, understanding the current market, improving taxi services, and so on. So if your business is not streamlined with a taxi booking app solution, then you are surely going to lose a significant amount of income for your competitors. Invest your resources in buying a branded taxi booking app, and you will witness the advantages instantly. The NineHertz can help you in developing your taxi booking app development. Contact us and book your slot for a free consultation with our expert developers.
Frequently Asked Questions
How Do I Create a Taxi Booking App?
You need to choose a perfect design for your app and customize it for a good user experience. Integrate the features that you prefer and create a taxi booking app without coding. Now publish your taxi booking application globally and kick-start your business.
How Much Does it Cost to Build a Taxi App Like Uber?
It can be estimated that an app like uber would cost about £57,000-70,000 GBP to create. According to Django Stars, an app similar to Uber would take around 2004-2454 hours for creation on dual platforms – iOS and Android. Also, it depends upon the functionalities and features you want to add and the developers you choose. And developing an app like Uber will cost you a big investment.
How Does the Taxi App Work?
Once the booking is done, passengers can avail of taxi services near their areas. Once the request is generated, the nearest one in the vicinity will be called. In the meantime, the passengers can check the traffic details, monitor the driver's way, and get the details about the estimated arrival time.
What is The Best Taxi App?
The major taxi riding services apps around the world are namely Uber, Lyft, Curb, Ola, Grab Taxi, Didi, Hailo, and Line Taxi.
What is Uber App Written In?
At the lower level, Uber is written primarily in Python, Go, Node.js, and Java. It all started with the two primary languages, Python for everyone else and Node.js for the market place team.