01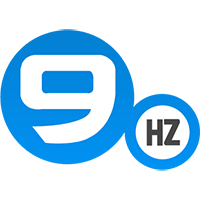 The NineHertz
Founded Year – 2008
Hourly Rates – < $25
Employees – 50 – 249
Custom Solutions –
AI Solutions –
02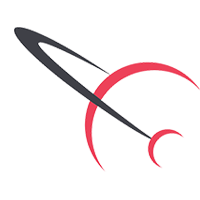 Mercury Development
Founded Year – 1999
Hourly Rates – $50 – $99
Employees – 50 – 249
Custom Solutions –
AI Solutions –
03

Goji Labs
Founded Year – 2014
Hourly Rates – $100 – $149
Employees – 10 – 49
Custom Solutions –
AI Solutions –
Mobile app development company is one of the determining factors for the quality of your project. But choosing the right team might not be that easy in a plethora of firms. So, being a responsible agency, we are enlisting the Top 10 mobile app development companies that will deliver the worth of your investment and money.
As per stats, more than 255 billion mobile app downloads were recorded in the year 2022. Undoubtedly, the figure represents well how the audience is turning toward these digital platforms for any kind of information or service. In a landscape, where 6.92 billion people have access to mobile apps, these digital platforms have emerged as one of the best mediums for businesses to connect to their audience.
You might also interested to know how to make an app in scratch. To leverage the benefits of mobile app capabilities in your business, hire best mobile app developers from the list below.
10 Best Mobile App Developers
A glance into the top 10 mobile app development companies that top the list.
| Sr. No. | Company Name | Founded Year | Hourly rates (per hour) | Number of employees | Custom-build solutions | AI-powered solutions |
| --- | --- | --- | --- | --- | --- | --- |
| 1. | The NineHertz | 2008 | < $25 | 50 – 249 | ✓ | ✓ |
| 2. | Mercury Development | 1999 | $50 – $99 | 50 – 249 | ✓ | ╳ |
| 3. | Goji Labs | 2014 | $100 – $149 | 10 – 49 | ✓ | ╳ |
| 4. | Algoworks | 2006 | $25 – $49 | 250 – 999 | ✓ | ✓ |
| 5. | Zazz | 2011 | $50 – $99 | 10 – 49 | ✓ | ✓ |
| 6. | Orangesoft | 2011 | $50 – $99 | 50 – 249 | ✓ | ╳ |
| 7. | Appetiser | 2016 | $50 – $99 | 50 – 249 | ✓ | ✓ |
| 8. | CodigoDelSur | 2007 | $50 – $99 | 50 – 249 | ✓ | ╳ |
| 9. | Sidebench | 2012 | $100 – $149 | 50 – 249 | ✓ | ╳ |
| 10. | itCraft | 2010 | $50 – $99 | 50 – 249 | ✓ | ╳ |
35 Top Mobile App Development Companies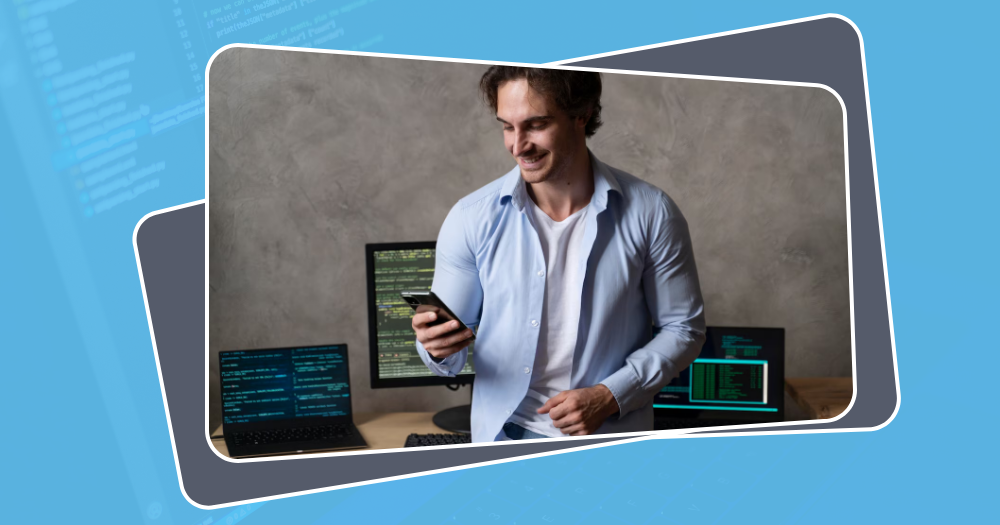 Let's take a closer look at all mobile app development services and understand their details.
1. The NineHertz: Best Mobile App Development Company
The NineHertz is one of the most known brands when it comes to mobile app development. The company was founded in 2008 by Hemendra Singh and Kamal Nayan. With an experience of more than a decade, The NineHertz has widened its service portfolio to include the names like app development, web development, eCommerce development, enterprise solutions, AI, Blockchain, Gaming development, and digital marketing. With its expertise in software solution development, the company has achieved numerous awards including "Top mobile app development company" by Clutch, AppFutura, and GoodFirms.
As a leading mobile app development company, we have launched more than 1800 projects so far with a team of 575+ dedicated developers. The NineHertz is proud to achieve 92% client retention in their 14+ years of experience. We carry names like Hinduja, Pepsi, Samsung, Adani, Casio, and Jio in our client portfolio.
To meet the preferences of our client base coming from around the world, we have offices in different locations in India, the USA, Australia, and Dubai.
Key Highlights of The NineHertz
App development, web development, eCommerce development, and everything in one place
Experience of more than a decade in different technologies
The unmatchable client base of different industry giants
Termed as "Best App Development Company" by different entities
Contact No.: +1-315-381-4100 (USA), +91-72970-00999 (India)
Email: [email protected]
Hire Certified App Developers from The NineHertz
Convert Your App Idea into Reality
2. Mercury Development
One of the known mobile app development companies in Florida, Mercury Development also provides services like web development, desktop development, staff augmentation, etc. This app development agency has worked for Fitbit, HSBC Global Technology, Google, Dow, and many more. One of the most famous consumer health technology named Fitbit has also been developed by Mercury Development only.
Key Highlights of Mercury Development
20+ years in business
Developed 1500+ mobile apps
400+ mobile app developers on the team
Sales offices in multiple countries
3. Goji Labs
This is a full-stack app development services provider having specializes in designing, strategy-making, and developing web & mobile applications. The firm was founded in 2014 and is headquartered in Los Angeles, Canada. Goji Labs has worked for World Health Organization, Root, WWF, Mitsubishi, Animoca Brands, etc. PredictionStrike, MedsPal, TruConnect, AngelFire, etc.
150 products launched
Experience of 10 years
12 countries represented
Strong client portfolio
4. Algoworks
A digital transformation company that mainly offers Salesforce services. Other services of Algoworks include app development, web development, and DevOps. The mobile app development company was founded in 2006 with headquarters based in Sunnywale, Canada. Algoworks has mainly operations in India, Canada, and the USA. Moreover, they have received recognition from GoodFirms, Deloitte, Clutch, and WEBAWARDS.
Multiple services in one place
Strong client portfolio
Wide industry exposure
5. Zazz
Zazz is a dedicated mobile app development company that carries a team of more than 275 software engineers and app developers. So, far the firm has worked for several VC-backed startups, government agencies, and Fortune 500 companies. Mindset, Jeddah Season, Ideal Protein, and ECAO are some of the popular names in their project portfolio.
763 mobile app releases
Considerable project portfolio
Full-fledged service
Strong client base
6. Orangesoft
Incepted in the year 2011, Orangesoft is a mobile & web app development agency which has delivered more than 300 projects to their clients. The services that Orangesoft provides are iOS app development, Android App development, Web App development, UI/UX Design, Quality Assurance, Project Management, and MVP App development.
Expertise in multiple technologies
Awarded by several entities like Clutch, BusinessofApps, TopDevelopers, and Goodfirms.
Experience of more than a decade
300+ projects completed
7. Appetiser
This is also one of the most known mobile app development companies in Australia having headquarters in Richmond. Appetiser provides extensive app development services in which each project meets the particular requirements of the client. To ensure the quality of each project, the firm follows a particular process of development.
Recognition from Uplabs, Design Rush, Clutch
Wide service portfolio
Exposure to numerous industries
Worldwide locations
8. CodigoDelSur
The firm was founded in 2007 in Uruguay and currently operates in more than 3 timezones. The services portfolio of CodigoDelSur consists of app development, web development, staff augmentation, UI/UX Design, Demand Generation marketing, and much more. This mobile app development agency has worked in several famous apps like Grubhub, DroneDeploy, Skout, Shutterfly, and much more.
Impressive project portfolio
300M user apps
Strong client base
9. Sidebench
This is a Canada-based company, working in the development industry since 2012. In its journey, this mobile app development company has worked for several key clients including Microsoft, Sony, Oakley, Facebook, Lightspeed, etc. Sidebench has expertise in Mobile app development, web app development, system integration, user research, and UI/UX designing.
Recognized by Clutch, Inc., Davey, Built In LA, etc
Featured in Forbes
Multiple tech support under one roof
10. itCraft
Popular for its services like Product discovery, designing, development, and support, itCraft is a well-known name in the IT landscape. The firm works with several technologies like Flutter, Kotlin, Swift, Angular, Node.js, Java, AWS, Azure, Python, Vue.js, and much more. This app development agency keeps trust, security, experience, and flexibility at the center of its operational process.
12 years on the market
Team of 100+ mobile app developers
350+ projects delivered
Wide tech stack expertise
Hire Top Mobile App Developers
Convert Your App idea into Reality
11. Tapptitude
Recognized as "Top Mobile App Developers 2021" by Clutch, this is one of the leading mobile app development companies that provides cutting-edge digital solutions to its clients. Tapptitude has developed several apps in its IT journey which includes Olly, Wellory, OnTapp, Tap2Map,
Broad service offerings
9+ years of experience in development
10+ industries served
12. Infinum
Carrying an experience of more than 17 years in the industry, Infinum is known for its innovative ideas and for carrying out innovative digital products from those ideas. The key clients of this company are Philips, ERSTES bank, Universal, Samsung, P&G, AstraZaneca, etc.
A team of 350+ mobile app developers
Experience of more than 1.5 decades
Broad service offerings
13. KitelyTech
Be it custom software, mobile apps, web & SAAS applications, web design, web development, or digital marketing, KitelyTech covers everything for their clients. The firm was founded in 2009 having headquarters in Chicago. This mobile app development company is trusted by industry giants like Rolls-Royce, Periscope, Philips, Alembic, British Land, etc.
Extensive service offerings
Recognition from Clutch, Upcity, and Business Worldwide
Strong client base
14. Cheesecake Labs
With a client base consisting of businesses from Fortune 500 companies to startups, Cheesecake Labs is helping its clients to step into the digital journey and explore the unrevealed target audience. Other than UI/UX designing, and mobile & web app development, the firm also works on next-generation technologies.
Diverse client base
100+ team members
200+ products built
Experience of around a decade
15. Launchpad App Development
As the name suggests, this is one of the mobile app development companies that carry expertise in this particular field. The firm has developed apps like BrickFfit, Memory Machine, Laughscape, Liminal Wellbeing, Stir Crazy Kids, Mrs Edgar Planner, etc. Launchpad App Development carries the vision of transforming innovative ideas into successful digital products.
49 projects launched
17 awards won
7 years in business
Agile project methodology
16. Utility
New York-based mobile designing and development company, Utility was founded in 2013. Client of Utility includes the names like Airbnb, Coca-Cola, Mount Sinai, Verizon, Samsung, SharkTank, and many more. With its digital products and services offerings, the company has worked with businesses of all sizes.
Agile methodology
Strong project portfolio
Considerable client base
17. Crowdbotics
Crowdbotics has worked for the companies like Facebook, Uber, Berkeley, Stream, Airbus, and many more popular entities. The firm has developed digital solutions for a range if industries such as health & wellness, analytics & data visualization, finance & investment, startup & technology, and Non-profit organizations.
Wide industry exposure
Multiple service offerings
Strong client base
18. RipenApps
This is one of the top iOS app development agencies that specializes in developing custom software solutions. The firm has developed different digital solutions for businesses coming from different niches and industries with different sizes. The company was founded in 2017 and has worked with numerous clients including Hungama Digital Media, RapidKart, Examarly, Jana Marines, etc.
1200+ projects delivered
850+ clients served
Multiple service offerings
Worldwide presence
19. Peerbits
Providing a range of software development services in USA, resources as a service, DevOps, IoT, product engineering, digital transformation, and much more, Peerbits is one of the full-fledged mobile app development companies in the market. The firm is serving prime locations in the USA, India, Colombia, and Canada.
Wide service portfolio
750+ top-class projects delivered
180+ skilled mobile app developers
12+ years of experience
20. Innowise Group
Having served the clients like TopCon, OneStop Pro, IMT, NFT PRO, CoreLedger, QCentris, Harha XR, Innowise Group has managed to carve its name in the app development landscape. The firm has expertise in Android app development as well as iOS app development. Innowise Group is known for its timely service and commitment to cost efficiency.
Team of 1500+ experts
Traditional as well as trending solutions
16+ years of expertise
93% recurring customers
21. Diceus
Working with a diverse workforce, Diceus has offices in Lithuania, UAE, Denmark, Australia, Ukraine & KSA. Diceus was founded in 2011 and has served its key clients like BriteCore, ApexSQL, TAKENOTE, RESTART, etc. Other than mobile app development, the company also provides services like web app development, and customized software solutions.
250+ app developers
More than a decade of experience
Global delivery center in Poland
120+ projects delivered
22. CTG
CTG is among the biggest custom software development companies when considered by size. The company was founded in 1966 and now provides services in multiple countries like North America, South America, Western Europe, and India. Talking specifically about app development, CTG has experts to build iOS, Android, and Hybrid mobile apps.
Unmatchable experience
An active team of 3250+ experts
Multiple service offerings
Strong client base
23. Blue Whale Apps
Established in 2006, this mobile app development company carries an experience of nearly 2 decades. The company provides a range of services which includes strategy and consulting, custom application development, digital engineering, user experience and UI design, app marketing, and customer engagement.
Fully-fledged app development services
Ample experience in the landscape
300+ projects completed
98% client retention
9+ industries served
24. Lomray Software
A vast service offering under its mobile app development portfolio, the firm is known for its top-notch solution-building services. Mobile app design, iOS app development, Mobile app testing, Android app development, hybrid app development, cross-platform mobile app development, and much more are some of the core services offered by Lomray Software.
Significant experience in the industry
30+ projects implemented
Multiple locations
Wide services offerings
25. Cloud Primero
Be it mobile and web development or the latest AI app development, mobile technologies, or Big Data, Cloud Primero works with everything. The firm has offices in different locations like UAE, USA, Germany, and Netherlands. The company was founded in 2014 and follows an agile methodology to bring out the best project outcomes.
Seasoned professionals
Domain expertise
9+ years of experience
Multiple location operations
26. Snotor
Snotor has been recognized by several known entities including SoftwareWorld, Clutch, DesignRush.com, GoodFirms, etc. The firm provides custom mobile app development services that meet the particular needs of businesses belonging to a specific industry or segment.
Experience of 16+ years
400+ projects delivered
Broad service portfolio
Exposure to multiple industries
27. Internut
Founded in 2005, it is one of the mobile app development companies that provides a range of services including mobile app, web app, and software development services to its clients. The client portfolio of the firm holds the names like AirAsia, CapitaMalls, CIMB Bank, DiGi, Hartalega, PAM, Genting, Lexus, and much more.
Robust client base
17+ years of experience
Agile methodology
Multiple operation locations
28. Azumo
Azumo is a top-rated Nearshore Software Development agency from Latin America that provide a nearshore team of mobile developers. The company has experts in AI & Machine learning, data engineering, DevOps & Cloud, VR App Development, and Mobile App Development. Azumo has received 4.9 stars from Clutch, which well represents their service quality.
9.5 years of experience
Agile Project management
High-quality code
All-round service offerings
29. BairesDev
Trusted by Salesforce, eBay, HP, Google, and many Fortune 500 companies, BairesDev is one of popular android app development agencies. With 10+ years of experience, the company has received recognition from various entities like American Business Awards, Silicon Valley Business Journal, Financial Times, Tech Times, Good Firms, and Clutch.
91.2% Average Customer Satisfaction
70.3 Net Promoter Score
174 active clients
More than a decade of experience
30. Kanda Software
Kanda Software was founded in 1993 with headquarters in New York and Canada. Keeping Innovation, Optimization, and Automation at the forefront, the mobile app development company is also Google Cloud Premier Partner, Microsoft Gold Partner, and AWS Advanced Consulting Partner. The service provided by Kanda Software is but not limited to custom software development, mobile application development, UX/UI designing, digital transformation services, and DevOps services.
25+ years of experience
Agile methodology at the core
Broad service offerings
Robust client base
31. Sunrise Integration
Other than app development services, Sunrise Integrations provides a vast range of services like digital commerce, web development, API integration, User experience design, and Data migration & Integration. The project portfolio of the company includes Quay Australia Eyewear, Morphe Cosmetics, Marvel/Mad Engine, Pitney Bowes, etc.
220,000+ apps installed
130+ businesses launched
23+ years in the industry
32. GeekyAnts
GeekyAnts is a certified developer of Google Developers Agency Program, Vercel, AWS Partner, and GitHub. This app development company provides the services like web app development, mobile app development, UX/UI Design, Full-stack Development, Quality Assurance, Business Analysis, etc. Moreover, they have technical expertise in React Native, Next.js, Flutter, Design, GraphQL, Node.js, Postgresql, and Serverless.
500+ projects delivered
Experience of nearly 2 decades
Multiple service offerings
33. MindSea
MindSea is also a dedicated mobile app development company that helps businesses around the world to digitize their operational process and bring more customers into the fence. The company keeps crafting, partnership, and compassion at the center of its operations.
Top App Development Company by Clutch
52 apps featured in Apple Store
52 apps featured in Google Play
Broad digital product and service offerings
34. Robosoft Technologies
Founded in 1996, this is one of the oldest mobile app development companies. Robosoft Technologies has partnerships with entities like Discovery, ESPN, AAA, HP, McDonald's India, Paytm, NDTV, Viacom18, Disney, BSI, and more. The headquarters of the company is situated in San Francisco, Canada.
Experience of more than 25 years
Several awards and recognitions throughout the journey
Extreme industry exposure
Strong project portfolio
35. Lasting Dynamics
Lasting Dynamics is also an mobile app development company founded in 2015. However, app development is a very small service unit of this company as it widely operates in NFT development and marketplaces. The firm has explored the industries and domains like Saas platforms, Neuroscience, Blockchain & Fintech, IoT & AI, Education, E-Commerce, Automotive, Healthcare, Time.
Agile project methodology implementation
Quality oriented
Strong client base
Latest tech trend exposure
What is Mobile App Development Company?
Mobile app development is a complex process, consisting of plathora of tasks like coding, designing, integrations, testing, and much more. If not performed correctly, the quality of your digital platform can be affected adversely. So, there are professional entities that have long experience in app development and experts to perform all these tasks efficiently. These entities are called the Mobile app development companies. Relying on such a firm is always a great idea to ensure that quality of each of corner of your mobile app. At the same time, these mobile app development services have also market, trend and technology knowledge to further boost the performance of your app.
How to Choose App Development Companies?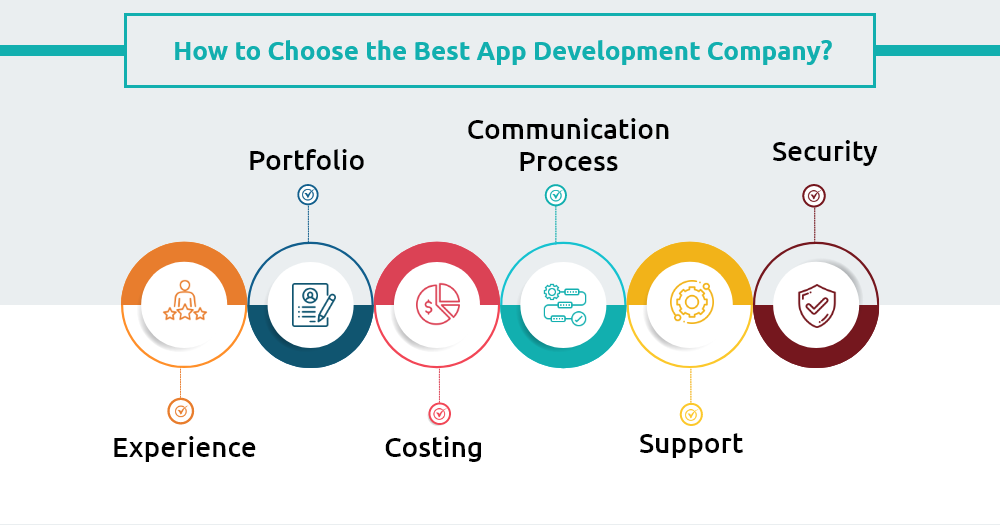 The above listed companies are good options to choose for your app development project. Still, it's not a very good idea to blindly trust a company with lots of time and investment. While choosing a development partner, there are some measurements that you should ensure. The key measurements are-
1. Qualification and experience
It's always a better option to rely on a company that has established itself in the industry rather than a completely new idea. Ensure that development partner you are hiring carries ample experience in working with a similar project. Undoubtedly, experience brings expertise with perfection. Have an analysis of their development team and see if it carries some experience heads or just the newbies.
2. Reference and Portfolio
Not only your friends or family but there is a sea of digital platforms that will refer you the good mobile app development companies. For example, you can turn to Clutch and Goodfirms which have listings of approximately every company you are looking for. At the same time, you can also see the reviews and ratings of those development companies and make your decision.
Other than that, analyzing the project portfolio of your development partner can also do wonders. Consider checking the case studies of the firm where they discuss the projects they have worked on. If the project portfolio is impressive, you can take a bet on that partner.
3. Mobile App Development cost
When investing in a digital solution, capital is surely going to be anyone's concern. While it is true that more investment will bring better features and functionalities, a budget always has to be there. Commit a price and analyze if the app developer team has the quotation matching your budget. While it is not a good idea to skip a good developer for a couple of dollars, you should also be mindful of your own budget and don't let it fluctuate much. At the same time, the app development process comprises a lot of tasks like coding, UI/UX design, prototype, QA testing, business analysis, and much more. So, ensure that the quotation covers thee.
4. Communication Process
Communication is always the key to the best outcomes. All the progress and updates of your projects will be shared with you only through the right communication planning. Analyze their communication process and frequency between the different working units such as Business Analysts, UI/UX designers, developers, QA specialists, and the project owner. Also, what is going to be processed to give you the updates also tells a lot about their communication efficiency. Undoubtedly, if you are being unheard of during the project lifecycle, there is also not going to be any assurance of quality.
5. After deployment support
Just like any offline business, an app also needs to be taken care of in order to generate revenue. Deploying the app might not be sufficient as you will have to make continuous improvements in the platform. Ask about the after-deployment support offer that they provide to their client. You might even get free maintenance support for one year with some of the development partners. Also, don't miss out to know what is included in their free maintenance support.
6. Security measures
Security tops the concern list of people when they are using any smartphone application. As long as your mobile app is not reliable for the end users to share their personal information, the results are going to blur only. Make sure that the mobile app development company you are working with has good knowledge of integrating security measures into the application that assures the safety of its end users.
How Much Do Mobile App Development Services Cost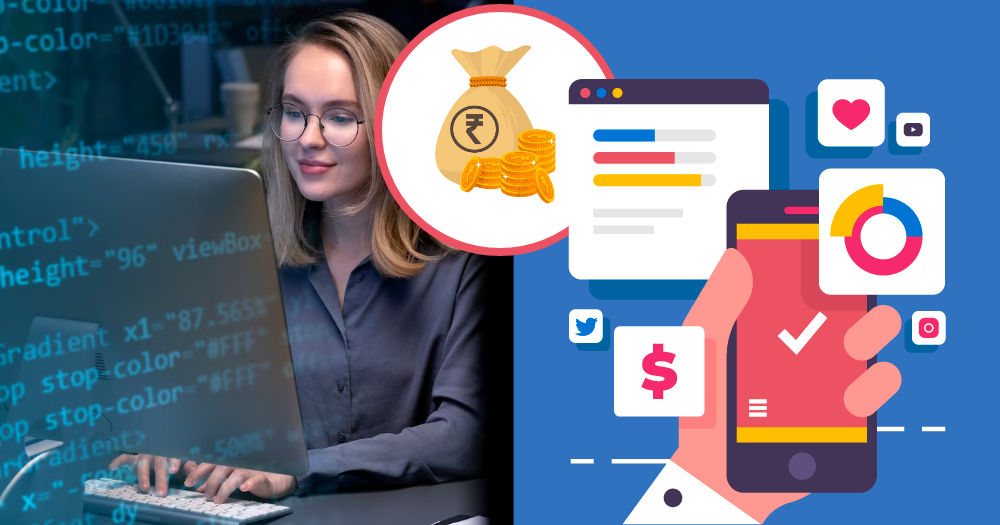 Most of the products and services that we observe on the different platforms carry a fixed price tag. But with app development services, the case is entirely the opposite. One can not commit the cost of app development due to the fact that it depends on a range of factors. So, instead of committing any number as the cost of app development, let's understand the concept of cost determination.
| | |
| --- | --- |
| Number of features | Number of features is directly proportional to the cost of app development. More are the features, higher will be the cost. |
| Project Complexity | It says a lot about the app development cost. If the functionalities being included in the app are simple, it will require a much lower cost. On the other hand, if the features and functionalities are too complex, it will transfigure the cost. |
| Location of developer | It is one of the biggest cost-influencing factors. Mobile app development companies from USA, UK, and Australia costs a lot more than development teams from Asian countries like India. |
| Time taken by the developer | Most of the time, cost is charged on an hourly basis. So, the number of hours required to complete the project also changes the cost of app development. |
| Third-party integrations | Third-party integrations enhance the usability of the app but at the same time, it also increases the cost of development. |
| Platform and technology | There is a difference between the cost of app development for Android and iOS devices. Similarly, using different tech stacks also fluctuates the app development cost. |
How Do Mobile App Development Companies Work?
You might be wondering about the working process of mobile app development services that make them the right choice for any project. So, here is a brief of how app development entities work to bring out the best apps like Facebook Messenger, Skype, Gmail, Microsoft outlook etc.
1. Listens to your idea and understands your needs
To give a good start, it is important that the mobile app developer understand what is actually needed in the project. For the same, a good app development company listens to your ideas and understands everything that you need in your application. Moreover, they give you advice and guidance that helps to make the app even better and more useful for the target audience.
2. Planning
Then comes the planning phase in which most of the important decisions are taken. In this step, both parties come together to discuss the number and types of features that have been integrated into the app. Moreover, the discussion about API support, third-party integrations, design requirements, and after-maintenance support is also ensured at this stage only. In the end, the discussion about the overall cost is also part of this phase.
3. Prototype delivery
The development team delivers a prototype that gives you an idea about appearance, design, and user experience. This stage is mainly to collect feedback from clients. The reason behind the statement is that any changes implemented at this stage don't hinder any timeline or cost. It is easy to implement the changes by this time.
4. Core development
This is the phase where the core development of the app begins. The front-end and back-end development are the major task here as the developers perform the complete coding of the app. Front-end and back-end are integrated with each other and all the features are instilled in the application. The development process of the app is completed in this stage.
5. Quality testing
The QA team takes the developed software and conducts multiple testing for the same. It includes feature testing, speed testing, performance testing, bug removal, and many other practices at the same time. Quality testing makes sure that the digital product is deployed on the app market and provides the best user experiences to end customers.
6. Deployment and post-maintenance
Here the application is made available to the target audience by deploying it on the respective app store or play store. However, deploying the app doesn't finish the work as it further requires improvements and maintenance. One has to provide new features and updates, remove the bugs and maintain the scalability of the solution.
Benefits of Mobile App Development Company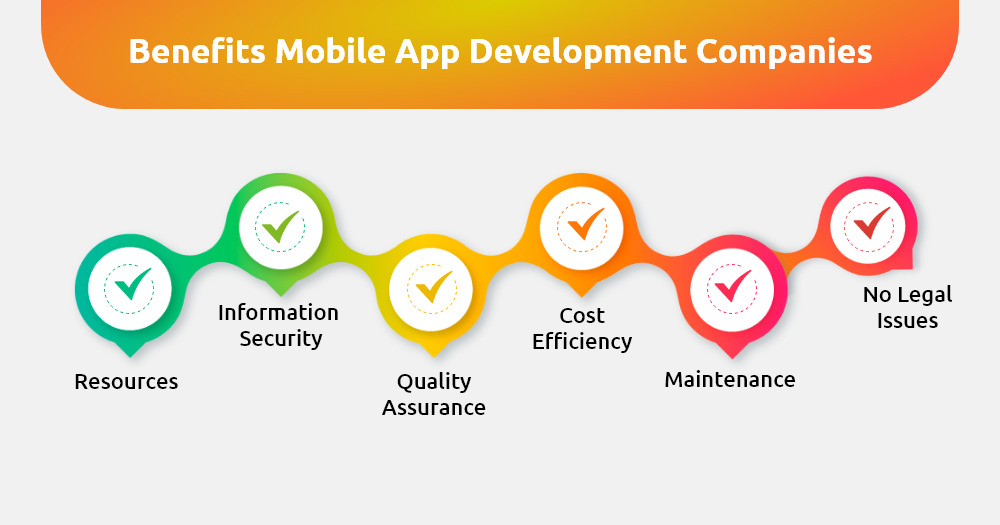 Other than getting the coding work done, there are a lot of other benefits that you leverage while working at an app development company. The advantages are but not limited to-
1. Resources
First of all, app development agencies have the resources that you can not get at your home. They have experienced and certified app developers, creative designers for user interfaces, experts that implement industry knowledge and trending insights, and much more. All these resources when collaboratively worked together, the results for the efficiency of the project transfigures automatically.
2. Information security
A registered mobile app development agency is always more reliable to trust. Most of these mobile app development companies sign Non-Disclosure Agreements with their clients which ensure information being shared between both parties will be kept confidential and will not be shared with any third party. This way, if you are working on an innovative app idea with a well-established IT company, your information is going to be secured.
3. Quality assurance
This is one of the biggest benefits that you will leverage when working with a certified mobile app developer. The companies mostly have experienced and skilled staff on their team. So, your project is always in the safe hands. Having worked on hundreds of similar projects, they know the do's and don'ts app development process. At the same time, they are familiar with the features, functionalities, APIs, third-party integrations, security measures, and much more that bring out the best outcome.
4. Cost efficiency
While the quotation given by an app development company might feel hefty to you in the beginning, hiring a freelancer or relying on uncertified open sources can prove to be even more uncomfortable for your pocket. A development agency provides the best advice to you on where you can save your cost. At the same time, having all the in-house resources allows them in cost cutting that directly benefits you as a client.
5. Everything under one roof
Your app might need a range of technical expertise to give the expected results. At the same time, tasks like designing, testing, contenting, and coding have to be done by separate experts. If you go one by one to bring these experts under one roof, it will eat up your significant time and a pile of dollars. So, app development services emerge as the best option to skip this hustle.
6. Commitment
App development entities get the project because of their reputation in the market. They don't have another option than meeting the commitments in order to establish themselves in the market and keep getting the business. So, mobile app development companies are more reliable to trust in their commitments rather than a freelancer.
7. Maintenance and support
As interpreted earlier, most of mobile app development agencies provide maintenance support to their client. At the same time, this support is often free of cost or at a very minimal charge. Thus, it is also a big advantage of working with an mobile app development company.
8. No legal issues
A registered app development firm work on the agreed terms and conditions to prevent any chances of disputes or conflicts. Also, they know the rules and regulations of operating different types of apps in a particular market which further ensures the prevention of any legal issues.
How to Hire Best Mobile App Developers?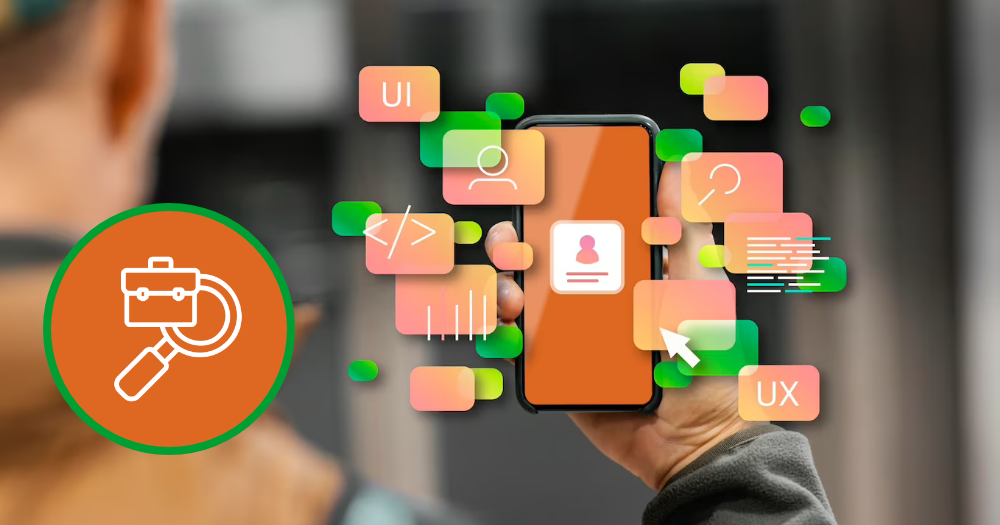 Thanks to technology advancements, there are traditional as well as digital mediums that can help you find the right development partner for your project. Following are some of the most reliable sources for the same-
Official websites
Visiting the official website of the companies is one of the basic approaches to hiring app developers. Every good and custom software development company publishes content (like blogs, service pages, CTAs, and PPC) relevant to their services which will help you reach them. Read about their offerings, core competencies, experience, and achievements, and then contact them.
Traditional reference method
One of the most reliable methods that can be used to hire an app development company is reference from any known. If any of your friends or relatives have got an app developed or worked with any such entity, it can be a good option to take reference from them. You will be able to know all the pros and cons of working with them.
Listing websites like Clutch, Goodfirms, and G2
These all are the listing websites that provide insight into a range of mobile application development companies along with their core competencies. One of the biggest advantages of visiting these types of platforms is that you get to compare hundreds of companies at once. Moreover, you can also get the contact option on these listing websites to easily connect with the development team.
Hiring platforms like Freelancer and Upwork
Platforms like Freelancer.com and Upwork are also good options to hire dedicated developers. Thousands of developers with relevant skills put their registrations on these platforms. You can submit your project, and the service provider will bid on your project. Analyze the quotation and competencies of them and take your decision.
Conclusion: Best Mobile App Development Company
Having your own app for business is one of the best ideas to ensure an online presence and serve the vast audience base over physical boundaries. However, getting a proficient mobile app development company for the same is equally a big task. While there are a lot of mobile app development companies ready to eat up your investment, we have enlisted the best app developers that deserve your time and money.
FAQ's: Top Mobile App Developers
1. Which is Best Mobile App Development Company?
The NineHertz is the best mobile app development company with an experience of more than a decade in the landscape. We work with all the technologies and have a team of 250+ dedicated app developers. Moreover, we are also listed as the best app development company by Clutch.
2. How Much Will it Cost to Build My App?
while an exact cost can not be committed to app development, it depends on the following factors-
Number of features
Complexities of feature
Time required to develop the app
Location of the app development company
The technology stack being used
3. Which App Development is Best?
There are different frameworks that you can rely on for your mobile app development. It includes Flutter, React Native, Xamarin, JQuery Mobile, etc. Each of the framework has its own core competencies that you can choose to leverage as per the particular requirements of your project.
4. What is An App Developer Company?
It is basically an entity that helps businesses and clients to develop customized apps according to their particular needs and requirements. All the technical tasks are handled by the app development company only.
5. Can I Hire Someone to Make An App for Me?
As long as you don't have overall expertise in completing all the tasks of app development, it is the best idea to hire a proficient app development company for your work.