Are you in search of a top-notch blockchain development company? Your search ends here with our comprehensive guide. With technological advancements accelerating it is no surprise that the market for blockchain technology is growing at lightning speed. The blockchain industry is expected to grow at a CAGR of 67.3% from USD 3 billion in 2020 to USD 39.7 billion in 2025. This increase will be fueled by enterprises' rising desire to streamline their processes, while also encouraging the growth of blockchain development companies.
Wondering whether or not to use blockchain technology in your company? Of course, you should think about how to handle the network and infrastructure in a more seamless manner, which will boost revenue. However, due to increased demand, there has recently been a slew of blockchain development companies offering this service, making it difficult to pick the best one.
This is why we have come up with a list of the top 20 services to help you compare and select the best blockchain app development company as per your requirements.
10 Best Blockchain Development Company
Find the list of top blockchain development agencies.
| Company | Founded Year | Company Size | Location |
| --- | --- | --- | --- |
| The NineHertz | 2008 | 250+ | Jaipur, India |
| Unicsoft | 2005 | 81+ | San Francisco, California |
| Intellectsoft | 2007 | 50+ | Miami, FL |
| Aspired | 2020 | 50+ | US, UAE |
| Altoros | 2001 | 250+ | Sunnyvale, CA |
| Ionixx Technologies | 2013 | 100+ | Los Angeles, USA |
| Blocksism | 2019 | 10+ | Sweden, Stockholm |
| SotaTek | 2015 | 250+ | Hanoi. Vietnam |
| PixelPlex | 2007 | 130+ | New York, USA |
| SoluLab | 2014 | 50+ | Los Angeles, US |
20 Top Blockchain Development Companies
Let's explore which is the top blockchain development company.
1. The NineHertz– Top Blockchain Development Company


The NineHertz has the best Blockchain developers team that provides organizations of all sizes and business domains with blockchain-powered distributed systems. The purpose of The NineHertz is to keep on top of all emerging technologies in order to provide cutting-edge and useful blockchain solutions to its clients. With utility-oriented blockchain applications, the firm aims to build blockchain software solutions to tackle real-life business challenges.
CEO: Hemendra Singh
Revenue: $10 million – $50 million
Founder: Hemendra Singh
Value: N/A
Hourly Rate: $20/hr
2. Unicsoft


Unicsoft is a reputable technology consulting firm that provides AI and Blockchain solutions to help startups and corporations achieve their goals. The company has deep expertise in areas like Machine Learning, Natural Language Processing, Computer Vision, Blockchain, Big Data, Data Science, and Data Analytics fields. It assists startups in validating concepts, creating an MVP, iterating toward product-market fit, and scaling quickly.
CEO: Nick Puntikov
Revenue: $10 million – $50 million
Founder: N/A
Value: N/A
Hourly Rate: $50 – $99 /hr
3. Altoros


Altoros is a leading blockchain software development company expert in developing business-to-business blockchain solutions. The company caters to medium and large businesses across the globe and offers production-grade blockchain-based solutions tailored to your industry-specific case. The company aims to help businesses improve current workflows, enhance customer experience, and achieve operational transparency in business. The blockchain app developers at Altoros can help enterprises build innovative solutions as per the demands of end-users.
CEO: Renat Khasanshyn
Revenue: $10 million – $50 million
Founder: Renat Khasanshyn
Value: N/A
Hourly Rate: $50 – $99 /hr
Hire Blockchain Developers
Request A Free Quote
1200+ Projects Delivered 12+ Industry Experience 450+ Clients Worldwide 200+ Certified & Expert Programmers
4. Intellectsoft


Intellectsoft is a seasoned IT firm that specializes in blockchain, artificial intelligence, IoT, cloud computing, augmented reality custom software development, and consulting. The company is well-known for assisting businesses efficiently in designing, developing, and maintaining software solutions for the past 13 years. By providing blockchain development services to both startups and businesses, the company has risen to the top of the blockchain market. Intellectsoft's blockchain developers are well-versed in a variety of blockchain tools and platforms, including Ethereum, Hyperledger, EOS, Stellar, and others.
CEO: Dmitry Karpovich
Revenue: $50 million – $100 million
Founder: Pavel Vrublevsky, Andrey Sharapov, Anatoly Sharapov, and Ruslan Cojocaru
Value: N/A
Hourly Rate: $25 – $49 /hr
5. Aspired


It is a leading tech-savvy remote agency that helps you build your remote team of blockchain developers. The company helps its clients in hiring and building a remote autonomous dedicated workforce by carefully selecting the best talent from around the world.
CEO: Akash Patel
Revenue: $10 million – $50 million
Founder: Akash Patel
Value: N/A
Hourly Rate: $25 – $49 /hr
6. Innovecs


Innovecs is a rapidly expanding custom software development firm dedicated to using cutting-edge technologies such as blockchain, artificial intelligence, machine learning, big data, and the internet of things. Blockchain application development, money transfer solutions, distributed document management, enterprise cryptocurrency platforms, and loyalty programs are among the company's specialties. The developers at Innovecs have extensive experience with blockchain technology, having worked with industries such as e-commerce, healthcare, and retail.
CEO: Alex Lutskiy
Revenue: $100 million – $500 million
Founder: Alex Lutskiy
Value: N/A
Hourly Rate: $25 – $49 /hr
7. Ionixx Technologies


Ionixx Technologies is one of the best blockchain development companies in the USA that works with both startups and large corporations. The company began as a software services and product development company in 2003 but has since expanded into cutting-edge technologies such as blockchain development. Ionixx has designed many use cases for a wide clientele that includes huge technology organizations and startups who have achieved and sustained successful outcomes as early users of blockchain technology. Ionixx promises to create secure, authentic, and high-quality blockchain solutions based on design-driven development.
CEO: Ajeet Singh
Revenue: $10 million – $50 million
Founder: Ajeet Singh
Value: N/A
Hourly Rate: $30 – $49 /hr
8. Blocksism


Blocksism is a small blockchain app development company that brings reliable software to the decentralized world. It is familiar with smart contracts, cryptocurrencies, asset tokenization, and private blockchain consortia. The firm has a diverse set of capabilities, including custom software development, blockchain integration, online apps, and prototyping. It emphasizes the development of a deep, seamless link between the product and the user.
CEO: N/A
Revenue: N/A
Founder: N/A
Value: N/A
Hourly Rate: $30 – $49 /hr
9. Intetics


Intetics is a leading global technology company providing custom software application development, distributed professional teams, software product quality assessment, and "all-things-digital" solutions. Intetics helps companies execute successful distributed ledger and blockchain projects across a variety of industries and use cases.
CEO: Boris Kontsevoi
Revenue: $50 million – $100 million
Founder: Boris Kontsevoi
Value: N/A
Hourly Rate: $50/hr
10. 4ire Labs

4ire Labs conducts research and development on fintech solutions in Sweden, Denmark, and the United States. The company has been working since 2011, allowing them to trust traditional financial institutions while remaining the most forward-thinking blockchain development business in the fintech industry. They follow the decentralized management and organizational governance framework and work with lean and agile methods.
CEO: Ivan Dziuba
Revenue: $1 million – $10 million
Founder: Ivan Dziuba
Value: N/A
Hourly Rate: $30 – $49 /hr
Hire Blockchain Developers
Request A Free Quote
11. SoluLab


SoluLab is one of the best blockchain development companies. Blockchain Technology Consulting, ICO, IEO, STO, Private Blockchain Development, dApps Development, and Blockchain with IoT and AI are some of their blockchain development services. The other software development services offered by SoluLab are mobile app development, custom software solutions, data analytics, and software based on IoT, machine learning, AI, and the cloud.
CEO: Nilesh Dhande
Revenue: $10 million – $50 million
Founder: Nilesh Dhande and Surajit Mitra
Value: N/A
Hourly Rate: $25 – $49 /hr
12. Modex


Modex is one of the finest blockchain software development companies, combining traditional databases with distributed blockchain technology to maximize both potentials. Modex's purpose has been to facilitate the adoption of blockchain into society and to use this revolutionary technology to solve real-world problems since its inception. The company has brought to market a spectrum of unique products and services, with innovation as one of the company's core cornerstones.
CEO: Mihai Ivascu
Revenue: $10 million – $50 million
Founder: Mihai Ivascu and Alin Iftemi
Value: N/A
Hourly Rate: >$200 /hr
13. Idealogic


Idealogic is a Blockchain, AI, and ML software development partner specializing in Fintech, Logistics, Retail, and Business Intelligence. The organization focuses on working with startup founders and entrepreneurs that want to develop their ideas in a flexible and transparent manner on a budget that they can afford.
CEO: Roman Karatchev
Revenue: $1 million – $10 million
Founder: Roman Karatchev
Value: N/A
Hourly Rate: $50 – $99/hr
14. SotaTek


Pioneer in Blockchain and Software Development, SotaTek is a leading IT company based in Vietnam, the US, and Japan. The firm has extensive expertise to develop blockchain solutions, such as sophisticated Cryptocurrency Exchanges, NFT Marketplaces, Blockchain-based games, Crypto Wallets, IDO/IEO/STO Consulting, and Smart Contracts. It also provides cost-effective white-label options to enable you swiftly enter the blockchain business.
CEO: Tran Van Nam
Revenue: $10 million – $50 million
Founder: Tran Van Nam
Value: N/A
Hourly Rate: $20 – $29 /hr
15. PixelPlex


PixelPlex is a software and blockchain development firm based in New York City, with locations in London, Switzerland, Pfäffikon, Japan, and Seoul, South Korea. The company specializes in blockchain technology, custom software development, and mobile app development. They typically work with enterprise and mid-market clients in the financial services sector.
CEO: Alexei Dulub
Revenue: $1 million – $10 million
Founder: Alexei Dulub
Value: N/A
Hourly Rate: $50 – $99 /hr
16. Blockchain Australia

It is a renowned Melbourne-based firm that offers various services. It produces smart contracts, exchange applications, Blockchain wallets, and Blockchain-based banking solutions, It also excels in providing software for Blockchain mining and a wide range of technology solutions within the Blockchain domain.
CEO: Nick Giurietto
Revenue: N/A
Founder: Nick Giurietto
Value: N/A
Hourly Rate: $50 – $99 /hr
17. Bitfury


Bitfury is the top full-service Blockchain technology business and one of the Blockchain ecosystem's largest private infrastructure providers. Bitfury creates and distributes both software and hardware solutions that enable enterprises, governments, organizations, and individuals to move assets securely across the Blockchain. The company's experience ensures that connecting to the Blockchain is simple, quick, safe, and cost-effective. Bitfury has a global team of developers with technology, business, communications, security, and civil society expertise.
CEO: Valery Vavilov
Revenue: $50 million – $100 million
Founder: Valery Vavilov
Value: N/A
Hourly Rate: $50 – $99 /hr
18. MLG Blockchain


MLG Blockchain Development and Consulting Company has spanned over ten countries and focused on improving the world with smart contracts and blockchain. Enterprises can also get help with SAFT investment agreements, capital management, and ITO liquidation from this company. MLG provides turn-key solutions to their clients based on their experience developing blockchain applications on several platforms such as Ethereum, Hyperledger, EOS, and Neo. The company also ensures that its customers get profit-driven results by providing everything from consultancy to strategic planning services and executive blockchain training.
CEO: Michael Gord
Revenue: $1 million – $10 million
Founder: Michael Gord
Value: N/A
Hourly Rate: $100 – $149 /hr
19. HashCash


HashCash is a global software firm that uses its platforms, products, and services to provide solutions in Blockchain, AI, Big Data, and IoT. For remittances, trade finance, payment processing, and more, HashCash Blockchain tools enable businesses to move assets across borders in real-time. PayBito, a US-based digital asset exchange, and BillBitcoins, a digital asset payment processor, are both owned by HashCash. HashCash provides exchange services, payment processing software, initial coin offering (ICO) services, and specialized Blockchain use case development.
CEO: Raj Chowdhury
Revenue: $10 million – $50 million
Founder: Raj Chowdhury
Value: N/A
Hourly Rate: $50 – $99 /hr
20. Alpha Point


AlphaPoint is a financial technology firm that assists in the liquidation of illiquid assets. It helps customers launch new goods and services by offering them enterprise-grade blockchain solutions for digitizing assets, launching markets, and lowering operating expenses. With headquarters in New York, Philadelphia, and San Francisco, AlphaPoint serves customers on five continents. The company's goal is to assist businesses and organizations in determining and implementing their blockchain strategy.
CEO: Salil Donde
Revenue: N/A
Founder: Joe Ventura, Vadim Telyatnikov, and Scott Bambacigno
Value: N/A
Hourly Rate: $25 – $49/hr
How to Choose Blockchain App Development Company?
According to a study by the China Academy of Information and Communication Technology (CAICT), just 8% of the 80 thousand blockchain projects deployed so far are still operational. It also indicated that most blockchain initiatives had a short average lifespan of 1.22 years. The statistics suggest choosing a reliable blockchain development company is extremely crucial. Since the major problem that companies face while executing a blockchain project is inconsistent development, choosing a team that understands your vision should be a major priority.
We have Compiled a Few Tips for Businesses to Follow to Choose the Best Blockchain App Development Company.
Research the blockchain technologies, and clear your vision and strategies for your project before contacting any blockchain developer.
Once the research is over, select a blockchain development company that offers consultation services.
Sinceblockchain app development is a gradual step-by-step process, select a company that follows an agile development methodology. Here the complete Guide for blockchain development.
Next, select a company that has a full-stack dedicated team of blockchain developers, testers, and quality analysts.
Every day, newcomers enter the dynamic and rapidly growing blockchain technology market. A single lag can put you behind the curve in the market. As a
result, go for a company that can meet deadlines.
No one can tell you better about a company than its own website. Hence, you need to check the company's website smartly.
It is also critical to evaluate the shift times of blockchain companies before making a decision. Best companies operate in multiple time zones to
accommodate their clients' working hours.
It is unrealistic to expect that every organization that provides blockchain engineers will have experience in a variety of industries. Find a company that
specialises in your industry or has extensive experience in a variety of industries.
To produce successful results, blockchain technology necessitates expert knowledge and significant experience. As a result, never overlook a blockchain
developer's skill test to ensure quality at a later time.
How Did We Handpick Blockchain Development Companies?
Blockchain solutions can completely change the way you do business by allowing you to streamline internal communication, data storage, and transactions all on the same ledger. It's difficult to find a developer that can guide you through the process of creating such a solution. As a result, our serves as a trustworthy source of blockchain development companies, as each one has been thoroughly selected. We have taken into account various factors like company reviews, tech stack, experience, as well as cost in mind before curating this list.
Blockchain Software Development Company Working Process
A blockchain development process certainly improves and speeds up business processes. As a result, business owners, product managers, inventors, and entrepreneurs must grasp the opportunities to incorporate blockchain technology into their operations.
Here's a rundown of the blockchain development phases that can add value to a company's operations.
1. Business Niche
The selection of a niche is one of the most pressing challenges linked with blockchain development. The niche must provide a reliable framework for the creative and relevant use of blockchain technology to generate value. Make sure you have a good idea to work with when you're preparing to start a blockchain development project. Consider your options for bringing your idea to reality before beginning your blockchain development project.
2. Workflow Design
The next step for developers is to plan for the project's blockchain development processes and the blockchain development platform. The team must create a powerful workflow to assist them with determining what they require for the blockchain development process and what they do not. Developers must also conduct evaluation, conceptualization, and prioritizing for experimenting with blockchain at various stages of the blockchain development project.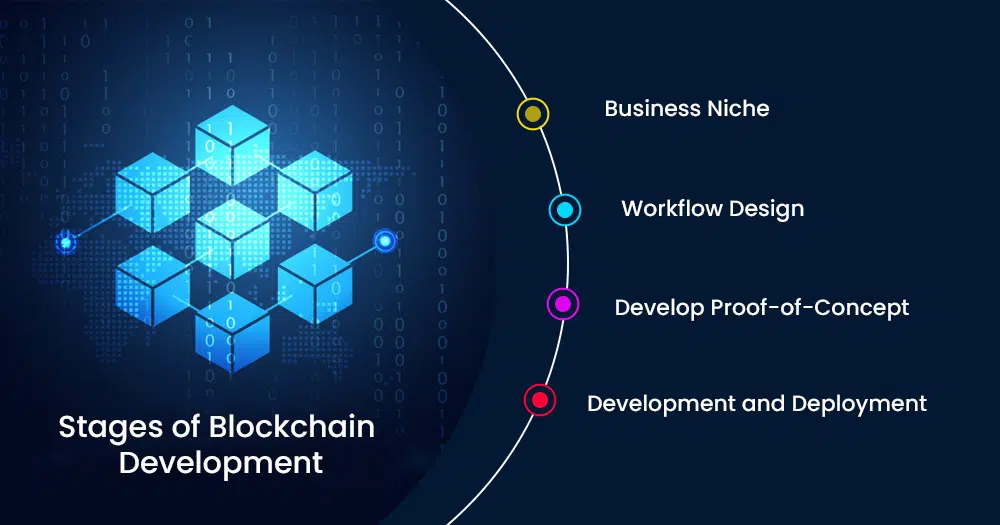 3. Develop Proof-of-Concept
The proof-of-concept is a technique for demonstrating the practical viability of a blockchain project. The proof-of-concept can be a theoretical design or a prototype, and there are several steps to developing a POC that demonstrates the project's feasibility.
4. Development and Deployment
After determining the critical components for blockchain solutions and planning all stages carefully, you can start the blockchain development process. Developers can leverage APIs to generate key pairs and addresses, and execute data authentication, auditing, and data storage and retrieval. Thus, you'll be able to implement the needed functionalities in your blockchain solution for end-user convenience. When the software is ready to pass the alpha release phase, you should start working on deploying it to end-users.
Conclusion: Best Blockchain App Development Company
Despite the increasing adoption of blockchain by various industries, it is still an emerging technology in the industry. Thus, our list of the top blockchain development companies is a good resource to start with.
Return to our table to schedule interviews with each potential blockchain development business, taking into account their experience, location, reviews, project management, and technical knowledge to select the best blockchain development company.
FAQ's: Best Blockchain Software Development Company
1. Who Is the Best Blockchain Developer in the World?
As a new technology, blockchain has enabled frictionless transactions all around the world, saving countless businesses millions of dollars over traditional exchanges. While each organization has its own set of advantages and disadvantages, the best blockchain developer for you is determined by your objectives and requirements. You can filter and compare top blockchain development businesses from all over the world by using our list of top blockchain development companies.
2. How Do You Invest in Blockchain?
Aside from buying investments in firms that use blockchain, there are a few more ways to participate in the blockchain revolution. These are:
You can buy cryptocurrencies directly, such as Bitcoin or Ethereum, or you can invest in a cryptocurrency trust, such as Grayscale Bitcoin Trust.
Another option is to participate in a new cryptocurrency's crowdfunding by acquiring a new cryptocurrency issued by a developer working on a new blockchain project through an initial coin offering.
You can also purchase an exchange-traded fund that invests solely in shares of firms having blockchain exposure. Amplify Transformational Data Sharing ETF and Reality Shares Nasdaq NextGen Economy ETF are two significant examples.
3. How Much Does It Cost To Build a Blockchain Mobile App?
The blockchain app development cost can vary from $30-$150 per hour depending on various factors. The developers take into account the below factors while deciding the cost of a blockchain mobile app development cost:
Design
Development
Deployment
Migration
Testing
Third-party technologies
Maintenance and support
In other words, the more difficult the job, the higher the cost. The cost of hiring a blockchain developer also differs from country to country.
4. Is Blockchain the Future?
Blockchain is used to transfer user data securely and quickly across platforms and systems. The technology is a game-changer because it can manage every facet of compliance, from facilitation to execution. With the introduction of 5G, it is expected that blockchain technology will expand its range of applications to include finance, data processing, and the Internet of Things.
By 2025, the value of blockchain will have increased to approximately $176 billion. By 2030, this figure would have risen to $3.1 trillion. It just depicts the potential that has yet to be realized.
5. Which Language Is Best for Blockchain Development?
With the growing need for blockchain app developers, it's more crucial than ever to stay ahead of the competition. Technology aficionados must be aware of the finest languages for blockchain development in order to stay competitive.
Here are the top 4 languages best for Blockchain Development:
C++

The language is popular all across the tech world and this is true even in Blockchain technology.

Python

Python is quickly becoming the world's most popular programming language. Besides, if you're a fresh developer with Python familiarity, it can be the ideal Blockchain language.

Solidity

One of the fastest-growing blockchain programming languages is Solidity. It was designed to allow developers to write smart contracts that operate on the Ethereum Virtual Machine (EVM).

Java

Java is a strong competitor to C++ in terms of popularity and utility. The portability of Java is a feature that is very useful in Blockchain
6. How Long Does It Take To Develop a Blockchain App?
The length of a blockchain application is determined by the requirements of the application. The project begins with a proof of concept, which usually takes two to three weeks. It takes 4-5 weeks to produce a minimal viable product with the bare minimum functionality when the PoC is completed.