Are you in search of a Magento development company in the UK? Look no further as we have done the research and compiled a comprehensive guide listing the top 10 Magento development companies in United Kingdom for you.
Magento is one of the leading e-commerce development platforms globally, including the UK market. According to Statista, Magento holds a significant market share of approximately 9% among the top 1 million e-commerce websites worldwide.
In the UK, many businesses opt for Magento as their preferred e-commerce website development platform. According to data from SimilarTech, Magento is utilized by around 7.6% of the top 10,000 websites in the United Kingdom.
Magento benefits from a large and active community of Certified Magento developers, agencies, and users in the United Kingdom. The Magento community actively contributes to the platform's growth and provides support, extensions, themes, and resources. This community-driven nature ensures continuous development, innovation, and improvement of the platform.
Hire Certified Magento Developers
Convert Your Project idea into Reality
What is Magento Development?
Magento development refers to the process of creating, customizing, and maintaining e-commerce websites using the Magento platform. Magento is a popular open-source content management system (CMS) that provides a robust and flexible framework for building online stores and managing their operations.
Magento offers a range of features and functionalities specifically designed for e-commerce, making it a preferred choice for businesses of all sizes. It provides a comprehensive set of tools to manage product catalogs, handle orders and payments, facilitate customer interactions, and optimize the overall shopping experience.
10 Top Magento Development Companies in UK
Find the list of top Magento developers in United Kingdom.
| Magento Development Companies | Founded Year | Head Office | Team Size | Hourly Rate |
| --- | --- | --- | --- | --- |
| The NineHertz | 2008 | Jaipur, India | 201-500 | $25/hr |
| Idslogic | 2007 | Leeds, United Kingdom | 11-50 | $25-$49/hr |
| Screen Pages | 1996 | Surrey, United Kingdom | 11-50 | <$30/hour |
| CTI Digital | 2003 | Manchester, United Kingdom | 51-200 | $15 and $30 |
| Space48 | 2008 | Manchester, United Kingdom | 51-200 | $15 and $30 |
| Inviqa | 2007 | London, United Kingdom | 50- 100 | $25 and $30 |
| Gene Commerce | 2009 | Brighton, United Kingdom | 50- 100 | $25/hr |
| Wagento | 2008 | Minneapolis, USA | 51-200 | $25/hr |
| Smartebusiness | 2005 | Manchester, United Kingdom | 11-50 | $150-$199/hr |
| Idslogic | 2007 | Leeds, United Kingdom | 11-50 | $25 – $49 / hr |
10 Best Magento Developers in United Kingdom (UK)
Let's explore all Magento development companies of UK in detail:
1. The NineHertz: Best Magento Development Company in UK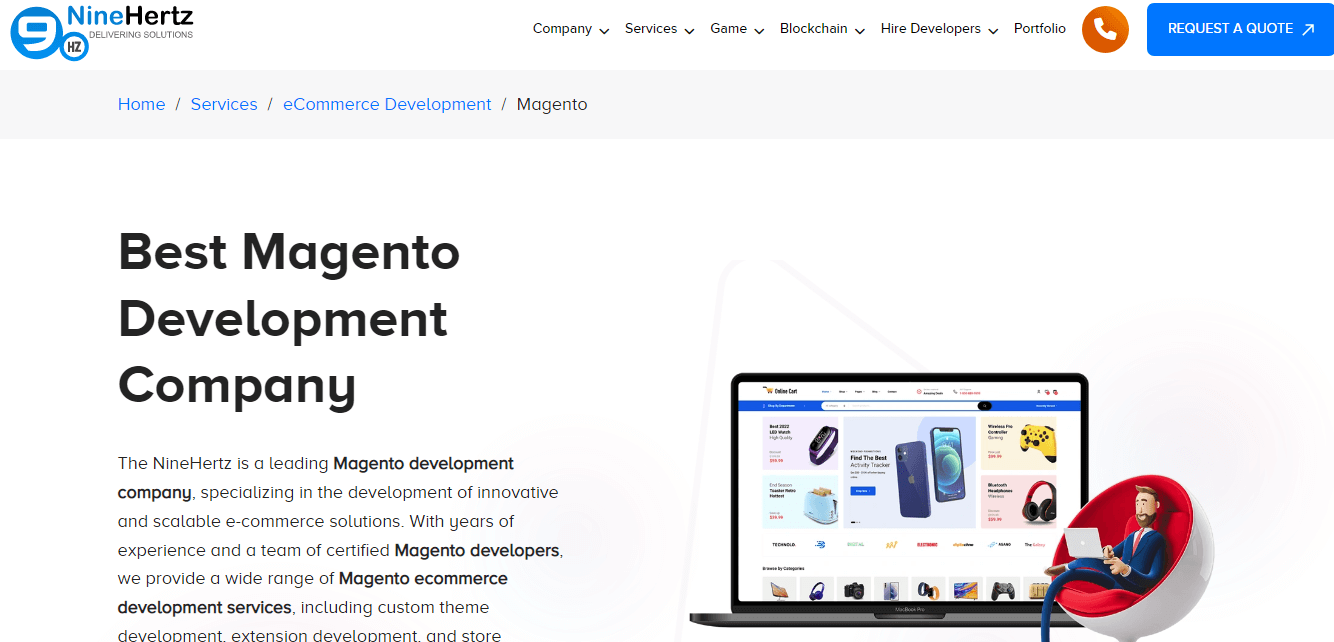 The NineHertz, a renowned Adobe Commerce bronze partner, is a leading technology company that excels in delivering robust e-commerce solutions. Their Magento experts have deep understanding of Adobe Commerce cloud and magento 2, they empower businesses to create seamless online shopping experiences that drive growth and customer satisfaction. As a trusted partner,
2. Youweagency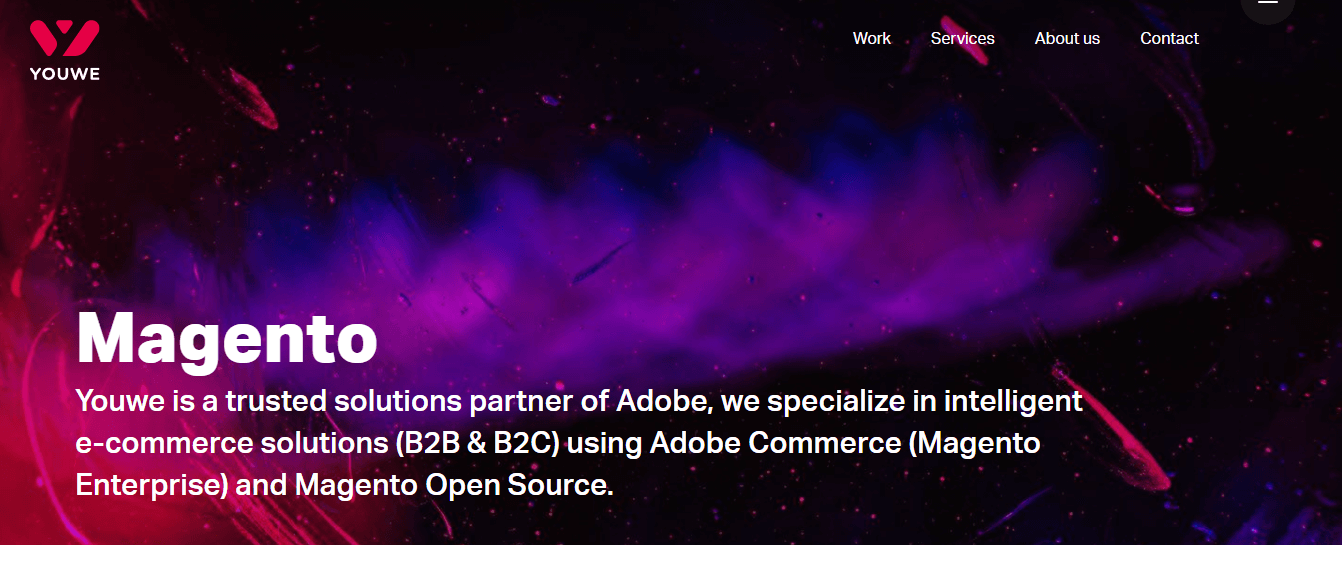 Youweagency, as a distinguished Magento gold partner, is a trusted and reliable company that excels in delivering top-notch e-commerce solutions. With their extensive expertise and experience in ecommerce solutions, they help businesses to optimize their online presence and drive sales through seamless Magento-based platforms.
Need Help with Magento Development
Convert Your Project idea into Reality
3. Screen Pages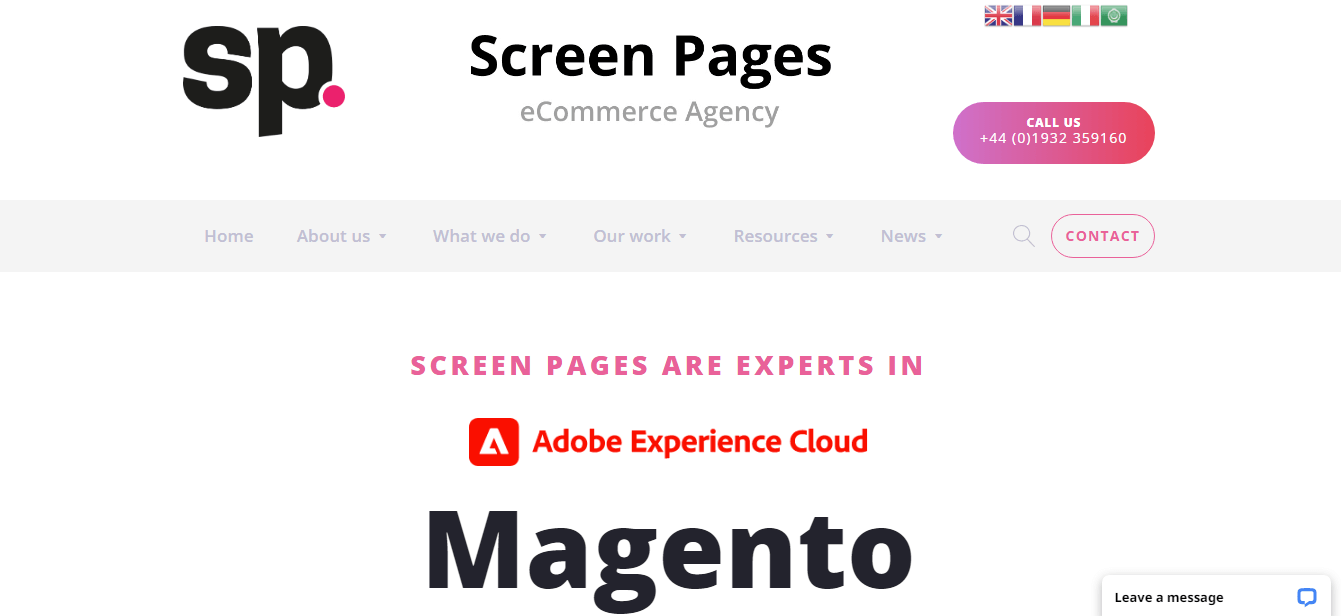 Screen Pages is a prominent Magento web development company renowned for exceptional e-commerce website and app development. With a in depth understanding of the ecommerce store development, they specialize in creating robust and scalable online stores that enhance customer engagement and drive business growth.
4. CTI Digital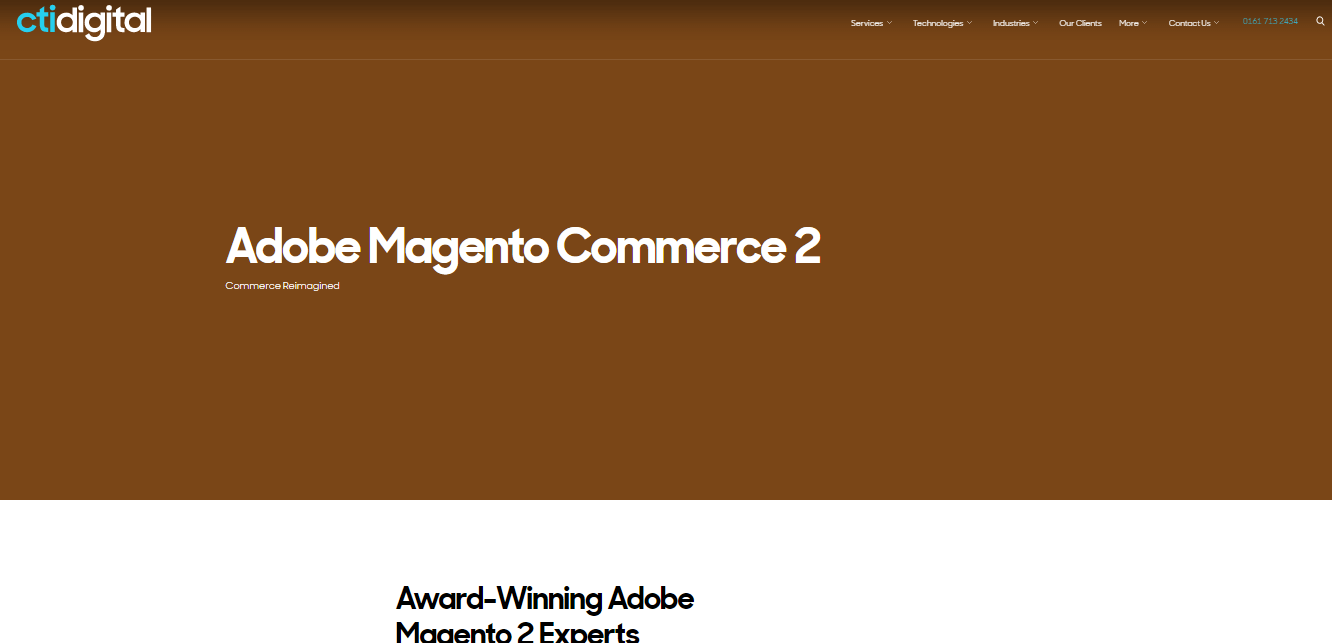 CTI Digital is on of top ecommerce website development agencies, specializing in creating transformative digital experiences for businesses. With their extensive knowledge of ecommerce technologies and a customer-centric approach, CTI Digital crafts solutions that drive growth and propel online success.
5. Space48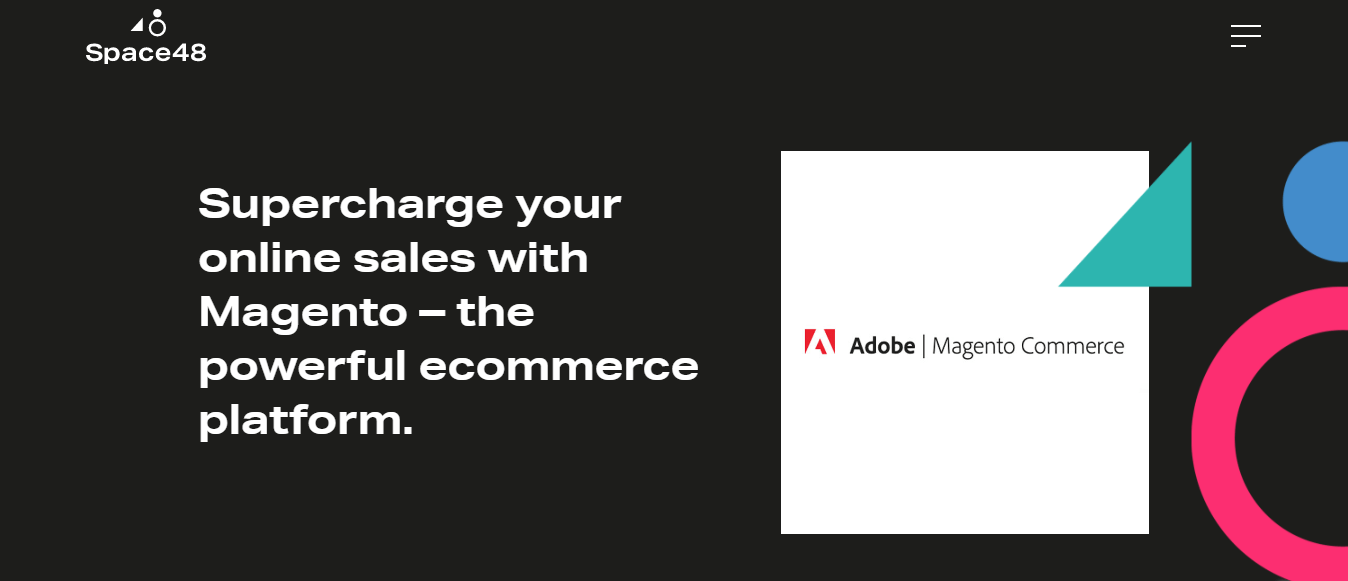 Space 48 is a leading Magento ecommerce development company in UK, dedicated to helping businesses achieve outstanding online success. They create bespoke ecommerce solutions that drive growth and deliver exceptional user experiences. Renowned for their expertise and client-focused approach, Space 48 is the go-to partner for businesses seeking to elevate their online presence.
6. Inviqa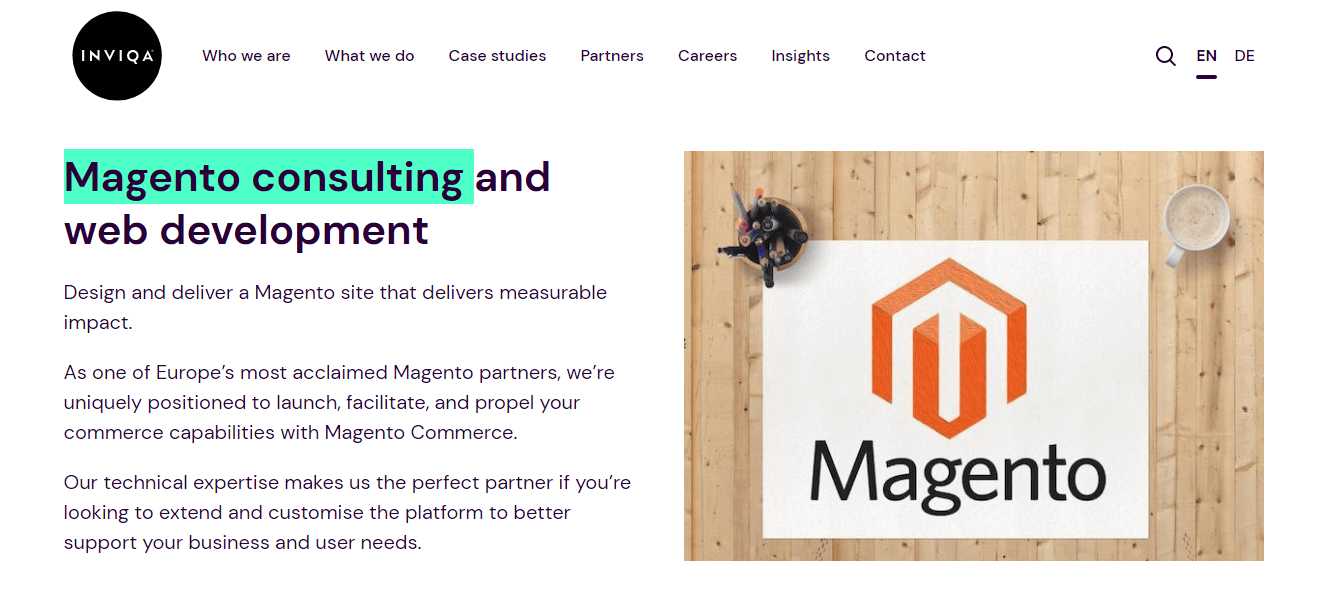 Inviqa is a premier Magento development company in United Kingdom, specializing in providing top-notch ecommerce solutions. With a team of highly skilled Magento developers, they deliver exceptional websites and applications tailored to meet the unique needs of their clients. As experts in Adobe Commerce, Inviqa combines technical expertise with industry-leading solutions to drive online success for businesses.
7. Gene Commerce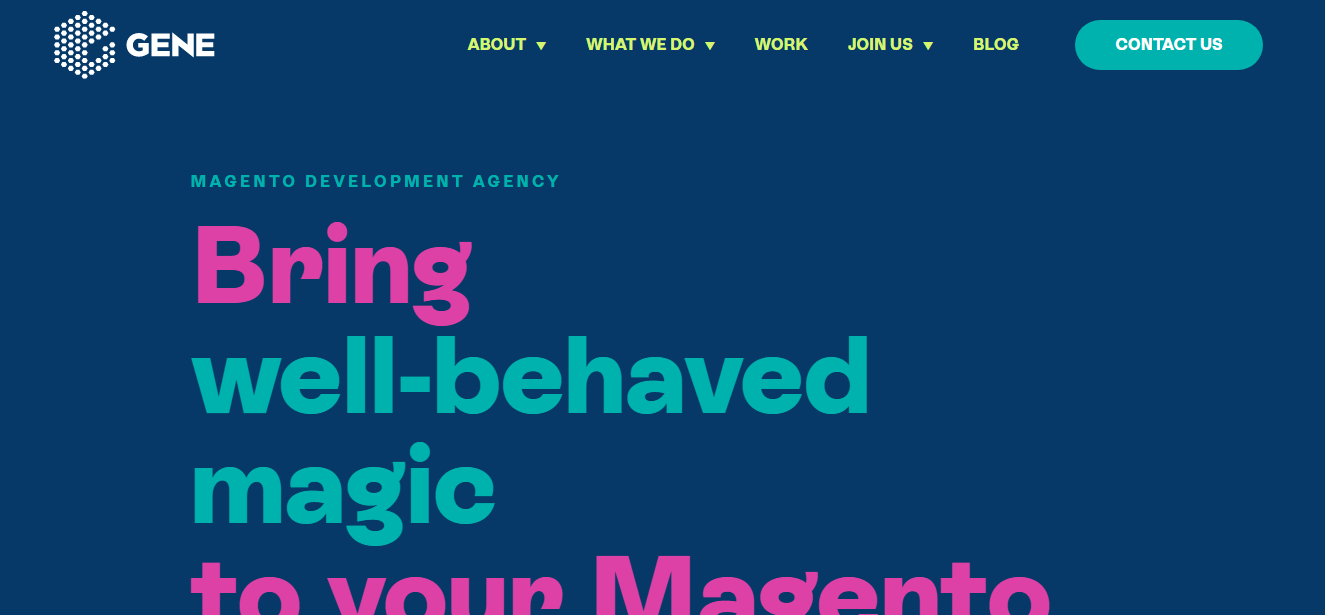 Gene Commerce is a trusted name in custom Magento development, with a team of certified Magento developers who excel in delivering tailored solutions. Their expertise extends to seamless API integration and payment gateway integration, ensuring a smooth and comprehensive ecommerce experience.
8. Wagento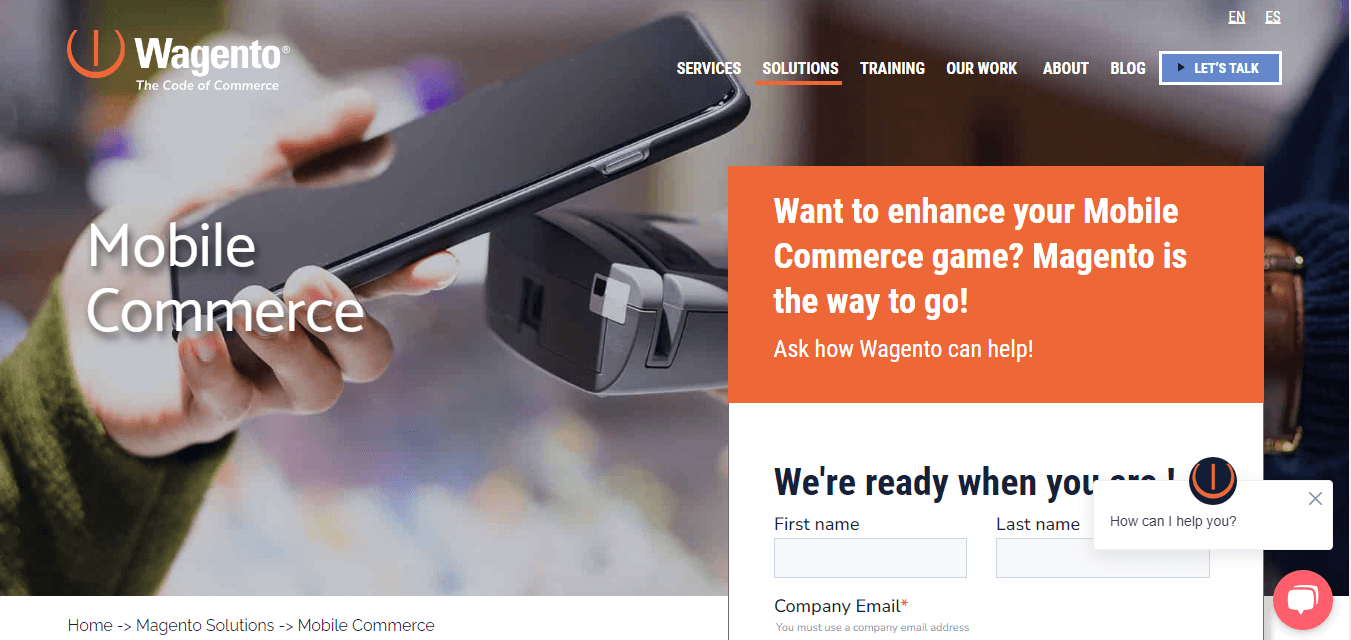 Wagento is a leading ecommerce marketplace development company, renowned for their dedicated team of Magento developers. With their technical expertise, they specialize in delivering custom ecommerce solutions that cater to the unique requirements of businesses. As a trusted partner, Wagento empowers businesses to thrive in the digital landscape with their cutting-edge development services and tailored ecommerce solutions.
9. Smartebusiness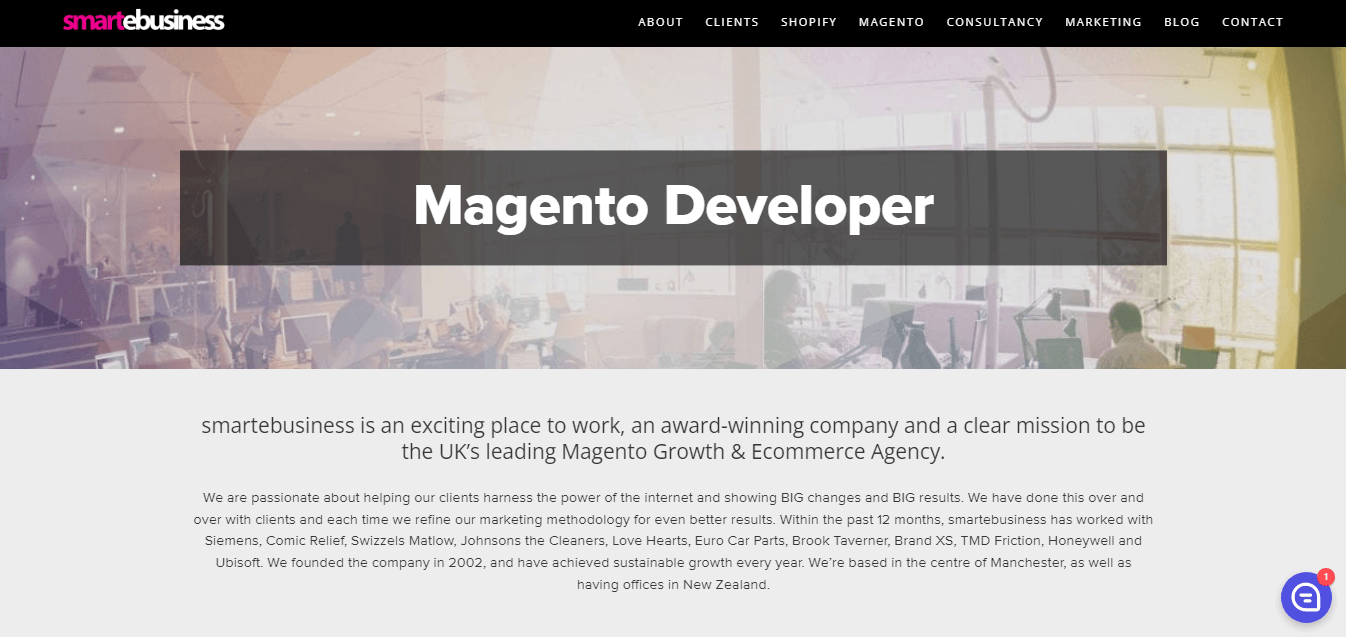 Smartebusiness is a reputable company with a team of skilled Magento developers in UK, specializing in building online ecommerce stores. Their technical expertise extends to both B2B and B2C environments, enabling them to deliver customized solutions tailored to meet the unique needs of businesses. With a focus on custom Magento development, Smartebusiness is a trusted partner for businesses seeking robust and scalable ecommerce solutions.
10. Idslogic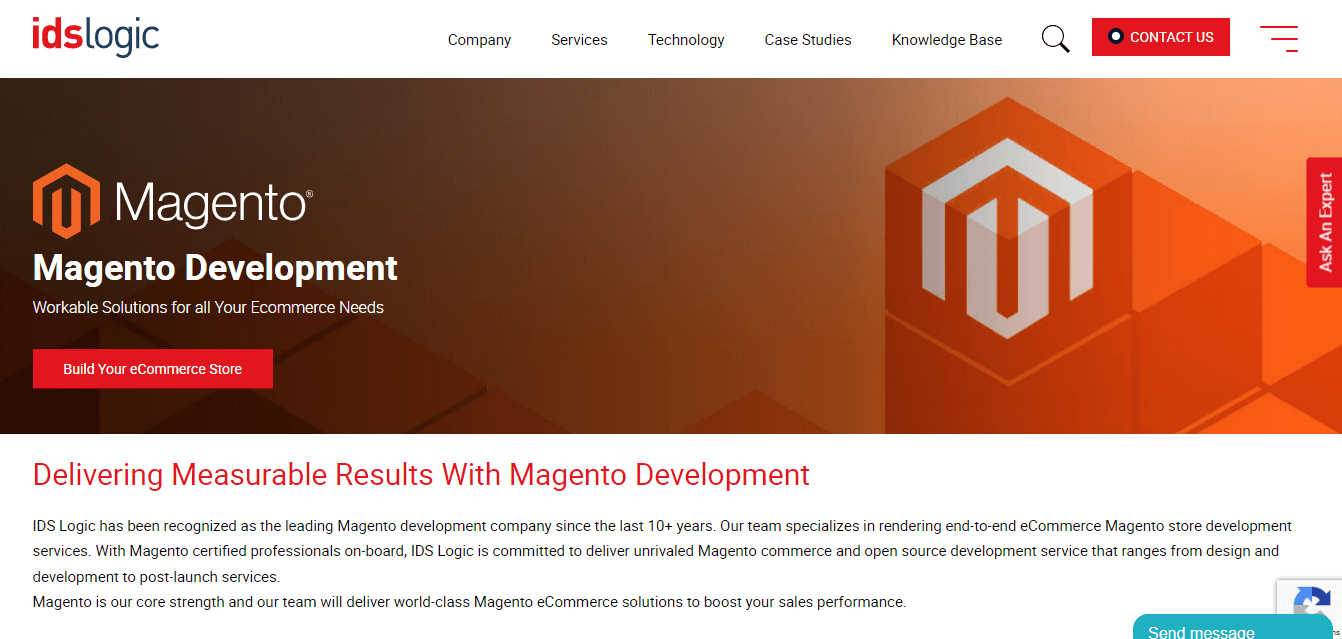 idslogic is a leading company with expertise in Magento mobile app development, providing businesses with seamless and user-friendly mobile experiences. They offer the option to hire Magento 2 developers, ensuring access to skilled professionals for tailored solutions. With their focus on bespoke Magento development, idslogic empowers businesses to create unique and robust ecommerce platforms to drive growth and enhance customer satisfaction.
How to Choose Best Magento Development Company in United Kingdom?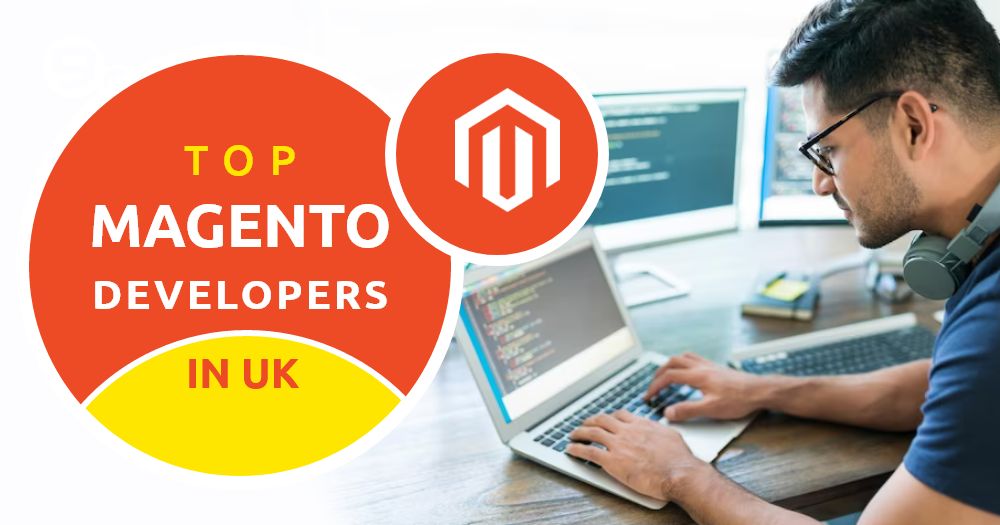 1. Experience and Expertise
When selecting a UK Magento development company, it's crucial to consider their experience and expertise in working with the Magento platform. Look for companies that have a solid track record in Magento development and have been in the industry for a considerable period. Experienced developers are more likely to have a deep understanding of the platform's nuances and best practices, ensuring a higher quality of work. They should possess knowledge of Magento's features, extensions, and customization capabilities, allowing them to deliver tailored solutions that meet your business requirements.
2. Portfolio of Successful Projects
Reviewing the company's portfolio of successful projects provides valuable insights into their capabilities and the quality of their work. Look for examples of Magento websites they have developed in the past, paying attention to the design aesthetics, functionality, user experience, and overall performance. A diverse portfolio that showcases a range of industries and project sizes demonstrates the company's versatility and adaptability.
3. Client Testimonials and Reviews
Client testimonials and reviews offer firsthand feedback from previous clients and can be a valuable source of information. Check for testimonials on the company's website or request references to directly contact their clients. Inquire about the client's experience working with the Magento development company, their satisfaction with the project outcomes, and the level of professionalism and communication demonstrated by the company. Positive testimonials and reviews indicate a company's reliability and the ability to deliver on their promises.
4. Quality of Customer Support
The quality of customer support provided by the Magento development Agency is essential for a smooth development process and ongoing support. Evaluate their responsiveness and willingness to address your queries and concerns promptly. A reliable company will assign a dedicated project manager or point of contact who can effectively communicate with you throughout the development process. Assess their availability, communication channels, and problem-solving approach to ensure you'll receive the necessary support and assistance when needed.
5. Pricing and Affordability
While pricing should not be the sole determining factor, it is an important consideration when choosing a Magento development company. Request detailed proposals or quotes from multiple companies and compare them based on the scope of work, deliverables, and timeline. Be cautious of companies offering significantly lower prices, as it could indicate a compromise in quality or lack of experience. Instead, focus on finding a company that offers a balance between competitive pricing and the quality of services provided. Consider the long-term value of the investment rather than solely focusing on the upfront cost.
By carefully evaluating these factors, you can make an informed decision and select a Magento development company that aligns with your project requirements, delivers high-quality solutions, and provides reliable support throughout the development process and beyond.
Key Features of Magento Development
Customizable Design:

Magento allows developers to create unique and visually appealing storefronts tailored to a business's branding and requirements. It offers numerous customizable templates and themes, as well as the ability to create custom designs.

Scalability and Performance:

Magento is built to handle large product catalogs and high levels of traffic. It offers robust performance and scalability, enabling businesses to grow their online presence without compromising website speed or functionality.

Flexible Product Management:

With Magento, businesses can efficiently manage their product inventory, organize products into categories, set pricing and discounts, and handle stock management. It also supports multiple product types, such as simple products, configurable products, and virtual/downloadable products.

Secure Payment and Checkout:

Magento integrates with various payment gateways, allowing customers to make secure transactions. It supports multiple payment methods, such as credit cards, PayPal, and other popular payment providers. It also provides a streamlined checkout process, reducing cart abandonment rates.

SEO-Friendly:

Magento is built with search engine optimization (SEO) best practices in mind. It offers features like customizable URLs, meta tags, sitemaps, and SEO-friendly URLs, helping businesses improve their search engine rankings and visibility.

Multi-store Functionality:

Magento allows businesses to manage multiple online stores from a single backend, making it convenient for companies with diverse product offerings or targeting different regions.

Third-Party Integrations:

Magento has an extensive ecosystem of extensions and integrations that enhance the platform's functionality. It integrates with various popular systems, including payment gateways, shipping providers, CRM tools, email marketing platforms, and more.
Magento development requires expertise in web development languages like PHP, HTML, CSS, and JavaScript. It involves tasks such as front-end and back-end development, theme customization, module development, database management, and ongoing maintenance and support.
Overall, Magento development empowers businesses to build and manage feature-rich and scalable e-commerce websites, enabling them to provide exceptional online shopping experiences to their customers.
FAQ's on Magento Development Agencies in UK
1. How Much Does a Magento Developer Cost Per Hour in United Kingdom?
The cost of hiring a Magento developer in the United Kingdom can vary depending on factors such as the developer's experience, skill level, and the complexity of the project. On average, the hourly rates for Magento developers in the UK can range from £30 to £100 or more. It's important to note that these rates are approximate and can vary based on individual agreements and project requirements. It's recommended to discuss specific details and negotiate rates directly with potential developers or development agencies.
2. Where Can I find a Magento Developer?
There are several places where you can find Magento developers in UK for your project. Here are some popular options:
Some Popular Options:
Freelance Platforms:

Websites like Upwork, Freelancer, and Guru have a wide range of freelance Magento developers. You can post your project requirements and review proposals from interested developers. These platforms often provide reviews, ratings, and portfolios to help you make an informed decision.

Magento Marketplace:

The official Magento Marketplace (marketplace.magento.com) is a platform where you can find certified Magento developers. You can browse through the listings, review developer profiles, and contact them directly to discuss your project.

Magento Events and Meetups:

Attend Magento events, conferences, or meetups in your area. These events bring together Magento developers, agencies, and enthusiasts. It's an excellent opportunity to network, connect with developers, and explore potential collaborations.

Magento Solution Partners:

Magento Solution Partners are agencies that specialize in Magento development. They have certified developers and a track record of working on Magento projects. Visit the Magento website (magento.com) to find a list of official Solution Partners and explore their services.

Referrals and Recommendations:

Ask for recommendations from colleagues, friends, or business associates who have previously worked with Magento developers. Personal referrals can provide valuable insights and help you find reliable and skilled developers.

Online Communities and Forums:

Participate in Magento-focused online communities and forums such as Magento Stack Exchange, Magento Forums, and Magento subreddits. Engage with the community, ask for recommendations, and seek advice on finding Magento developers.
Remember to thoroughly evaluate potential Magento developers based on their experience, portfolio, reviews, and communication skills. Conduct interviews or small test projects to assess their technical capabilities and compatibility with your project requirements.
3. What Language Do Magento Developers Use?
Magento developers primarily use PHP as the programming language for developing Magento-based e-commerce websites. PHP is a widely used scripting language known for its versatility and suitability for web development. It provides the foundation for Magento's backend functionality, including database interactions, business logic, and server-side processing.
In addition to PHP, Magento developers also work with other web development languages and technologies to build robust and feature-rich e-commerce websites. Some of the key languages and technologies used in Magento development include:
HTML/CSS:

HTML (Hypertext Markup Language) and CSS (Cascading Style Sheets) are essential for structuring and styling the front-end of a Magento website. They define the layout, formatting, and visual presentation of the website's elements.

JavaScript:

JavaScript is a client-side scripting language that adds interactivity and dynamic features to Magento websites. It is commonly used for tasks such as form validation, animations, AJAX requests, and frontend enhancements.

XML:

Magento extensively uses XML (eXtensible Markup Language) for configuration purposes. XML files are used to define the structure and settings of various components within a Magento website, such as layouts, modules, themes, and system configurations.

MySQL:

Magento relies on MySQL as the default relational database management system (RDBMS). Developers use SQL (Structured Query Language) to interact with the database and perform operations such as data storage, retrieval, and manipulation.

Magento-specific frameworks and libraries:

Magento has its own set of frameworks and libraries that developers use in the development process. This includes the Magento Framework, which provides a foundation for building Magento modules and extensions, and the Magento UI Library for frontend components and theming.
It's worth noting that Magento development requires a strong understanding of these languages and technologies, as well as experience working with the Magento platform's architecture, APIs, and customization options. Magento developers should be proficient in PHP, have a solid grasp of frontend technologies, and possess knowledge of databases and server-side programming concepts. Regenerate response.
4. Is Magento a SaaS or PaaS?
Magento is not a SaaS (Software as a Service) or PaaS (Platform as a Service) in its standard form. It is primarily known as a self-hosted e-commerce platform, which means that you need to set up and manage your own server infrastructure to run a Magento-based online store.
However, it's important to note that Magento does offer a cloud-based hosting solution called Magento Commerce Cloud. This is a PaaS offering that provides a cloud infrastructure for hosting and managing Magento websites. With Magento Commerce Cloud, the hosting and infrastructure management responsibilities are handled by Magento, allowing you to focus more on building and managing your online store.
Magento Commerce Cloud includes features like automatic scaling, security patches, performance optimization, and infrastructure monitoring. It also offers additional tools and services to enhance the development and deployment process, such as integration with version control systems and continuous integration/continuous deployment (CI/CD) workflows.
While Magento Commerce Cloud provides a cloud-based hosting environment, it is not a pure SaaS platform where you don't have access to the underlying code or full customization capabilities. It still allows for extensive customization and control over your Magento store, but with the added benefits of a managed hosting environment.
In summary, while the core Magento platform is self-hosted, Magento Commerce Cloud provides a PaaS solution for hosting and managing Magento websites in a cloud environment.
5. What are the Key Features of Magento?
Magento offers a wide range of features that contribute to its popularity as an e-commerce platform. Here are some of the top Magento features:
Flexible Product Catalog:

Magento provides a robust product catalog management system that allows businesses to easily create, update, and organize their products. It supports various product types, attributes, and options, enabling businesses to showcase their products in a visually appealing and informative manner.

Mobile-Responsive Design:

With the increasing importance of mobile commerce, Magento offers responsive design themes and mobile-friendly templates. This ensures that the online store is optimized for mobile devices, providing a seamless shopping experience to customers on smartphones and tablets.

Advanced Search and Filtering:

Magento includes advanced search and filtering capabilities, making it easier for customers to find the products they are looking for. It supports faceted search, layered navigation, and product sorting options, enhancing the usability and efficiency of product searches.
Secure Payment and Checkout: Magento integrates with various payment gateways, providing secure payment options for customers. It also offers a streamlined and customizable checkout process, reducing cart abandonment and improving conversion rates.

Multilingual and Multicurrency Support:

Magento is built to support international e-commerce operations. It allows businesses to create multilingual websites and configure multiple currencies, facilitating global expansion and catering to customers in different regions.

Marketing and Promotional Tools:

Magento offers a range of marketing and promotional tools to help businesses drive sales and customer engagement. It includes features like discounts, coupons, upsells, cross-sells, customer segmentation, targeted promotions, and email marketing integration.
SEO Optimization: Magento includes built-in SEO features to optimize the website for search engines. It provides customizable meta tags, URL structures, XML sitemaps, and SEO-friendly URLs, helping businesses improve their search engine rankings and organic traffic.

Analytics and Reporting:

Magento incorporates robust analytics and reporting tools, allowing businesses to track and analyze key performance indicators (KPIs) such as sales, conversions, customer behavior, and website traffic. This data-driven insight helps businesses make informed decisions and optimize their e-commerce strategies.

Integration Capabilities:

Magento has a vast ecosystem of extensions and integrations, enabling businesses to integrate with third-party systems and services. It integrates with popular payment gateways, shipping providers, ERP systems, CRM software, email marketing platforms, and more, enhancing operational efficiency and expanding functionality.
These are just a few of the top features offered by Magento. The platform's flexibility, scalability, and extensive feature set make it a preferred choice for businesses looking to establish and grow their online stores.