NFT gaming is thriving in the gaming industry. According to the survey, the global gaming market is expected to reach US$285.00bn by 2027, at an annual growth rate (CAGR 2023-2027) of 6.52%. That's a massive growth number, isn't it?
Even gamers are looking forward to every bit and piece and desire to get something more unique and the latest updates of NFT gaming.
However, it is difficult to choose an NFT gaming platform development company that matches your requirements. But to make it easier for you, we have chosen the best 20 NFT game development companies.
Top 10 NFT Game Development Companies
First, let's take a look at the top 10 NFT game development agencies. Here is the list mentioned below:
| NFT Game Companies | Founded Year | Location |
| --- | --- | --- |
| The NineHertz | 2008 | USA, India |
| Whimsy Games | 2005 | UK |
| Juego Studio | 2013 | USA |
| Suffescom Solution | 2011 | India |
| Blockchain App Factory | 2014 | USA |
| Bytrix Technologies | 2019 | USA |
| Grix Infotech | 2012 | India |
| SoluLab | 2014 | Australia |
| Cubix | 2008 | USA |
| Quq Technologies | 2010 | USA |
20 Best NFT Game Developers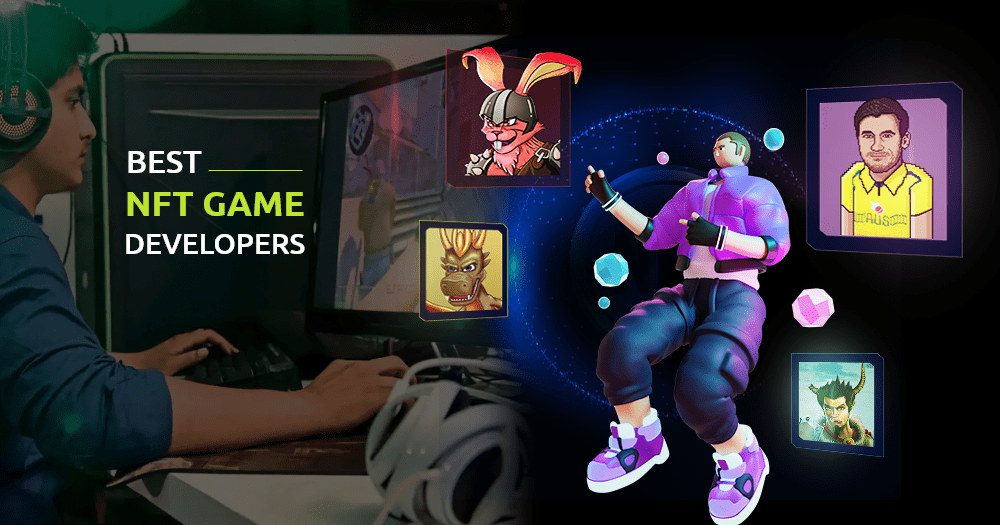 1. The NineHertz: Best NFT Game Development Company Overall
If you are looking for the best NFT game development company worldwide, The Ninehertz is for you. It is one of the leading game development companies that provide solutions for NFT games and offers customizable NFT games with quality services.
The top NFT development company started in 2008 with offices in India, the USA, the UK, the UAE, and Australia. The ISO-certified company is a reliable company for game development, and their NFT game developers are updated with the latest trends and use cutting-edge technologies to provide innovative features to your game.
It is on top because of unmatchable ideas for NFT game development, which will help you stand out among all.
Hire Certified NFT Game Developers
Request A Free Quote
2. Whimsygames
Another famous one on the list is Whimsygame. The company offers customizable NFT games, NFT concept games, and NFT game development for Android and iOS. The NFT game development company has a massive option for NFT gaming.
For instance, when it comes to NFT gaming solutions, Whimsygames uses Flow. The company provides arcade games, action games, adventure games, and fantasy games. Here is another guide on how to make an NFT game.
3. Blockchain App Factory
It is one of the most efficient game development services for NFT gaming. The company is from India, with a research office in Japan and a branch office in Singapore.
Blockchain App Factory offers services like utility-based NFT marketplaces, "play to earn NFT," a celebrity NFT marketplace, "PFP NFT," and many others. It has numerous blockchain game development services with the use of robust technology.
4. Suffescom Solutions
Sufferscom Solutions is one of the NFT gaming platforms that provide unique Metaverse NFT-based games. The company's experts offer services in blockchain, AR/VR, IoT, and custom mobile game development services.
They have a team with years of experience in NFT game development programming. Also, they offer numerous choices in NFT gaming. Moreover, Sufferscom Solution also offers services in the card, racing, and action games.
5. Gamelynx
Gamelynx has its own expertise in the NFT game development service. The Canadian company has advanced mobile app development games for Android and iOS gaming platforms. It provides mobile gaming assets and has a lot of other features to offer.
The company stays updated with the latest releases of developing games and NFT gaming solutions.
6. Juego Studios
The top NFT game development company in the USA has to be Juego studios. The NFT game development company uses the latest frameworks, blockchains, and crypto standards to create safe, secure, and scalable blockchain games.
They offer NFT gaming development services such as NFT Metaverse game development, NFT Action/Adventure, NFT Card and Casino, and NFT RPG game development. Moreover, they produce gaming using augmented reality, machine learning, big data, IoT, virtual reality, and other cutting-edge technologies.
7. Bytrix Technologies
If you are looking for NFT game development specifically in iOS development, Bytrix Technologies is the one. The game development agency produces high-quality games for NFT gaming.
The development company has proficiency in OpenGL, Cocoa pads, and the iPhone SDK. Their team offers to customise NFT game development and provides a unique, trendy design that shows positive results.
Hire Dedicated NFT Developers
Request A Free Quote
8. Zfort Group
Another one on the list of top NFT game development companies is Zfort group. Since 2015, the company has made successful NFT games and paved the way in NFT collection development, NFT marketplace development, and token development.
It offers services in virtual land games, adventure games, board games, card games, casino games, racing games, play-to-earn games, fantasy sports crypto games, and the list goes on. The NFT gaming platform developers use the latest technology, such as artificial intelligence, chatbots and many more.
9. Game Ace
Game Ace offers unique NFT game ideas. The company was founded in 2015 and has experience launching successful NFT games. Game Ace provides arcade games, action and role-playing games (RPGs), casino, sports, card, racing, and adventure games.
They offer efficient and crypto-friendly games for numerous genres of games and gaming assets, so you can use the product with most devices.
10. AppDupe
Appdupe is a dynamic NFT game development service company. The experienced and skilled team developed a virtually attractive user interface and created a NFT gaming development platform that is famous and preferred by users.
It delivers futuristic gaming design and tokenizes the gaming asset to offer secure and prominent NFT gaming solutions. The unique feature that makes AppDupe worth choosing is their exclusive token development services and high-intent user experience.
11. Hyperlink InfoSystem
It is one of the finest game development firms in the NFT gaming industry. They deliver outstanding NFT game design and provide unique gaming services that raise the gaming standard for the gamers.
They offer numerous services like sports cards and casinos, fantasy sports, adventure, action, racing, arcade, and many more. The outstanding gaming assets help you to attract your target audience. For a robust gaming experience, they use technologies such as AR and VR.
12. DxMinds
Another term for the greatest NFT gaming firm in India is DxMinds. This mobile services company helps new companies with gaming and offers unique web designs. The company has a team of experts who will help you with game development.
It allows you to experience virtual gaming assets. The software development company ensures gamers integrate services with new functionalities and roles into the gaming sector.
13. Appinventiv
Appinventiv brings creative NFT game development to the table. The gaming company offers a variety of game development services that are functional on multiple devices.
They ensure that the finished result of the service is quality-checked to guarantee that it is a faultless, compromise-free application.
14. Grepix Infotech
It is an efficient solution for web design, digital marketing, and mobile app development, founded in 2012. The business focuses on providing distinctive design and development services.
They are also skilled in the creation of native mobile apps, tablet applications, and mobile web apps built on HTML5. Grepix provides a wide range of services, including delivery, roadside assistance, emergency services, logistics, and taxis. They value developing strong, lasting bonds with their customers.
15. Infinite Block Tech
The last on the list of top NFT gaming platforms in development is Infinite BlockTech. It offers new in-game assets on gaming platforms, which include skins, avatars, powers, and other game-related platforms.
It helps to shape NFT games by providing customised NFT games with the addition of a personalised touch. Also, they offer their own exclusive tokens for every NFT gaming platform.
16. Auxano Global Service
Auxano is one of the top NFT game firms for non-fungible tokens in the UK. The company helps users buy and sell partial ownership of online games and accessories. The team of experts helps unleash imagination in the gaming industry.
The skilled team deploys multiple services like sports gaming and provides web development, mobile app development, and digital assets.
17. Red Apple Technologies
With eight years of experience in the industry, Red Apple Technologies has made it onto the list of NFT game development services. The company has a diversified team of developers, software engineers, and designers.
The blockchain-based games company offers iOS and Android app development with the assurance of accurate and timely delivery of the result. They have clients worldwide and use cutting-edge technology.
18. SoluLab
SoluLab provides one of the best NFT game development services. Creating the NFT gaming platform, allows gamers to invest in collectibles, art, and other virtual non-fungible token services.
They provide services like racing games, card and casino games, PVP battle games, action, arcade, adventure, and sports game services.
19. Cubix
Cubix is a US-based studio but has huge popularity in the UK. It provides full-cycle NFT game development services with the ability for personal customization. One of the reasons is that they know how to generate lasting value for players.
The company has professional experts who have a pool of technical knowledge and understand the basic needs of the users. Also, they provide flexible service depending on the expectations of the gamers.
20. Quy Technologies
And the last on the list of the best NFT game development companies is Quy Technologies. The company uses cutting-edge technology and offers exceptional NFT development services to its clients.
The company offers different types of games, such as NFT-based open-world games, racing games, adventure games, card, and casino games, and arcade games.
Hire Certified Game Developers
Request A Free Quote
What Are the Factors Affecting the NFT Game Development Cost?
When it comes to cost, an estimated NFT game development will cost you between $16,000 to $50,000. Every project's cost will depend on technologies, features, complexity, and other factors.
The following are the factors that affect NFT game development costs:
Involvement of players in the game
Technologies and instruments
Multiple platforms
Top-notch designs
How Much Time Does It Take to Build an NFT Game?
There is no standard rule for building an NFT game; it always depends on the criteria and choices. Also, there will be a time when complexity and errors keep coming while developing it. However, even if we add or remove the above points, it takes approximately 4-6 months.
How do I shortlist NFT Game Companies?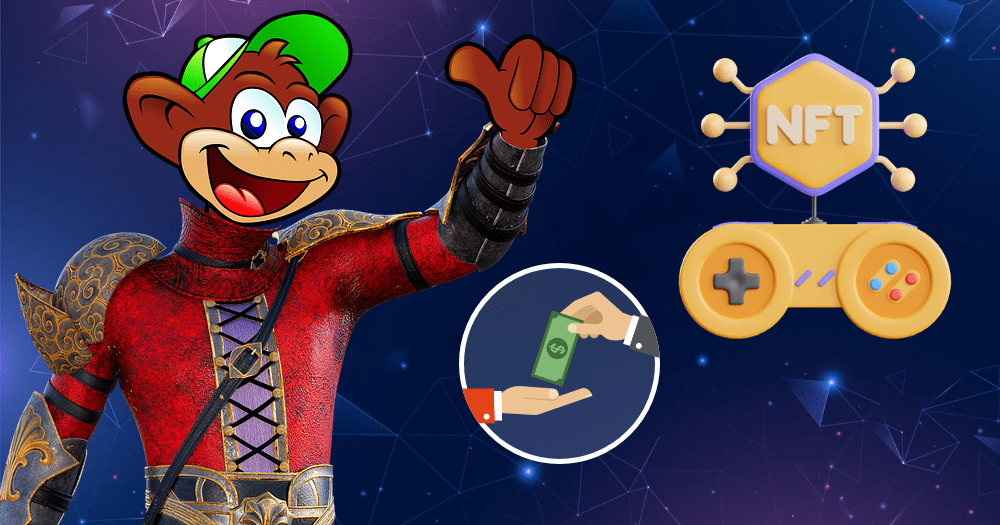 Every development company has something different to offer in terms of quality services, which makes it even more difficult for users to choose one. However, if you have to select and shortlist NFT game development companies, ensure they fall on your preferred list.
1. Expertise
To determine, it's crucial to find out whether the candidate and NFT development company have previously worked on NFT projects and successfully delivered them.
2. Customer Experience
To make the right decision, it's good to inquire about prospective employees with former clients.
3. Product or company's pricing
The team's experience, previous work, and portfolio all have an effect on the cost of developing an application. The geographic location of the developer, on either side, is a significant factor in determining the costs of actual development.
FAQs
1. What Affects The Cost Of NFT Development?
The cost of developing the best NFT marketplaces will depend on some factors, including:
The number of features included
Customization level
Tech stack
Development cost
Total time spent on development
Third-party API integration
2. What Types of NFTs Can be Created On a Gaming Platform?
You can create characters, vehicles, trading cards, weapons, and a virtual landscape—all these kinds of NFTs.
3. What is the Use of NFT in Games?
NFTs in games are digital assets that represent in-game content, allowing users to have the option of purchasing virtual goods in the form of any character, game skin, sword, chest, or any other in-game item that can be represented using NFTs. Moreover, any reward given to players for reaching a certain level or completing certain tasks can also be represented as an NFT.
4. How do I Hire NFT Game Developers?
You can hire an NFT game developer by contacting an NFT game development company that has:
Advanced Expertise
Multi-Platform Approach
keeping abreast of trends
High Security