Are you fond of playing games on your phone in your free time? Do you know you can earn real money with games? If not, you might miss a chance to make extra money.
Even if you often only play games for entertainment or to kill time, you can make some extra cash while having fun with these money-making games online. Here you can find a list of the best apps for fast cash.
25 Best Money-Making Games of 2023
Here are some of the best sites that can help you make money for playing games.
| # | Name | Compatibility | Pricing |
| --- | --- | --- | --- |
| 1 | Blackout Bingo | Android & iOS | Free |
| 2 | Mistplay | Android | Free |
| 3 | Dominoes Gold | Android & iOS | Free |
| 4 | 21 Blitz | Android & iOS | Free (also has paid games) |
| 5 | Solitaire Cube | Android & iOS | Free |
| 6 | InboxDollars | Computers, Android & iOS | Free |
| 7 | Swagbucks | Computers, Android & iOS | Free |
| 8 | Spades Cash | Android & iOS | Paid |
| 9 | MyPoints | Computers, Android & iOS | Paid |
| 10 | Long Game | Android & iOS | Free for first 30 days |
| 11 | Pool Payday | Android & iOS | Free |
| 12 | Givling | Android & iOS | Free (for first two games each day) |
| 13 | Lucktastic | Android & iOS | Free |
| 14 | Jackpocket | Android & iOS | Paid |
| 15 | Skillz Games | Computers, Android & iOS | Free |
| 16 | Bananatic | Computers | Free |
| 17 | Gamehag | Computers, Android & iOS | Free |
| 18 | iRazoo | Computers, Android & iOS | Free |
| 19 | Boodle | Android | Free |
| 20 | Second Life | Computers | Free |
| 21 | Brain Battle | Android & iOS | Free |
| 22 | Gamesville | Computers, Android & iOS | Free |
| 23 | FreeCash | Computers, Android & iOS | Free |
| 24 | Wealth Words | Computers, Android & iOS | Free (also has paid games) |
| 25 | Play and Win | Android & iOS | Free |
1. Blackout Bingo: Best Money-Making Game Overall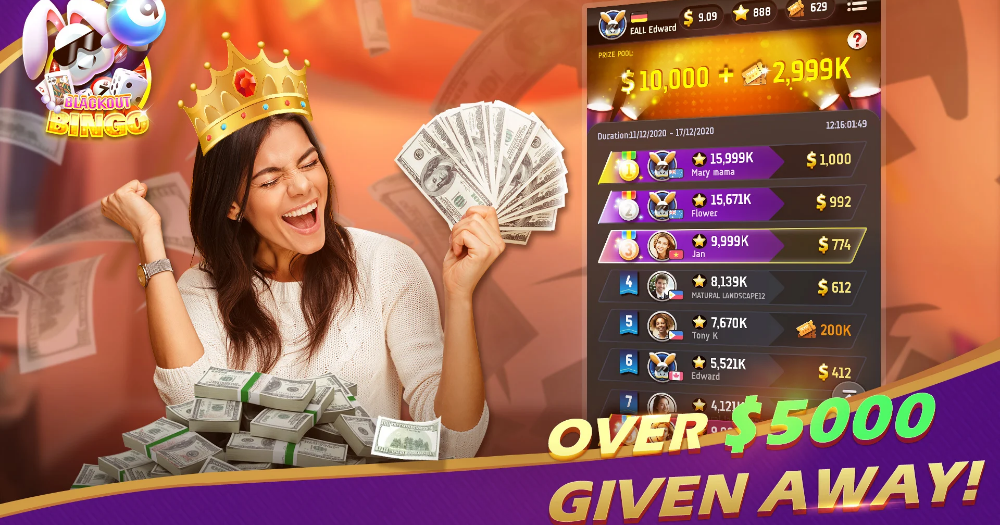 Developed by Big Run Studios Inc.(mobile game development company), Blackout Bingo is one of the best trending money-making games. Like the physical world, this virtual format of Bingo is a game of chance. You win if you have the right card. Moreover, you have total control over how much money you can make playing this game. The game has a simple interface.
To master the game, you must have a great deal of focus, quickness, and planning. One round of the game lasts only two minutes and is completely free to play. If you succeed, you make money for playing games.
Additionally, you can leverage its special features, such as applying boosts to increase your chances of winning and earning extra points.
2. Mistplay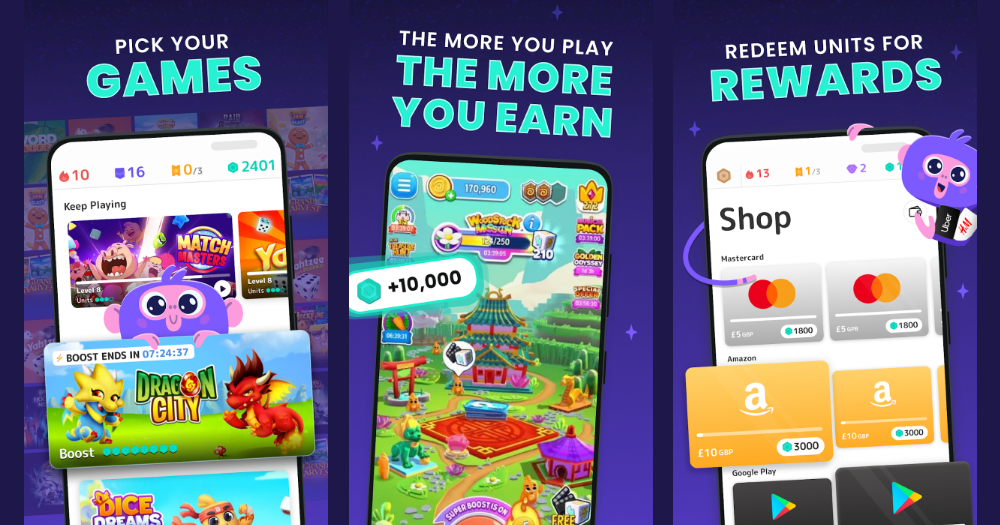 With Mistplay, you can earn real money with games available in abundance on the platform. However, you might need to buy them to quickly move to more difficult levels.
Mistplay's recommendation of games for players to make real money is a plus. Apart from this, you can select any game from the list, download it, and play it to make money. You can also talk about games with other players in in-app chat rooms and enter contests.
Considering the benefits Mistplay provides to its members, its makers describe it as a "loyalty program for mobile gamers." You can make $3 to $5 per hour with Mistplay. Also, the rewards are paid via gift cards.
3. Dominoes Gold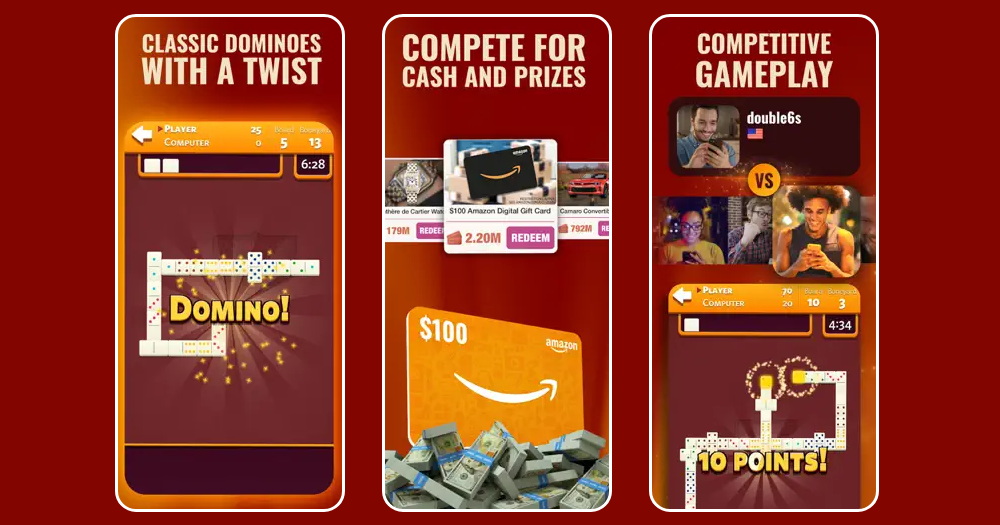 Developed by Grey Square Games, Dominoes Gold gives the traditional game of Dominoes a new look in the virtual world of money-earning games online. The game's dominoes are all displayed in gold. The points you collect can be redeemed for actual money.
First, you get to play against a computer. Once you're trained enough, you can use the competitive gameplay features, which allow you to play with others. This way, you can compete for big rewards and money.
Your earnings will be put into your PayPal account when you're ready to cash them out. Free cars, watches, Amazon gift cards, and other greater rewards are available as prizes in Dominoes Gold.
4. 21 Blitz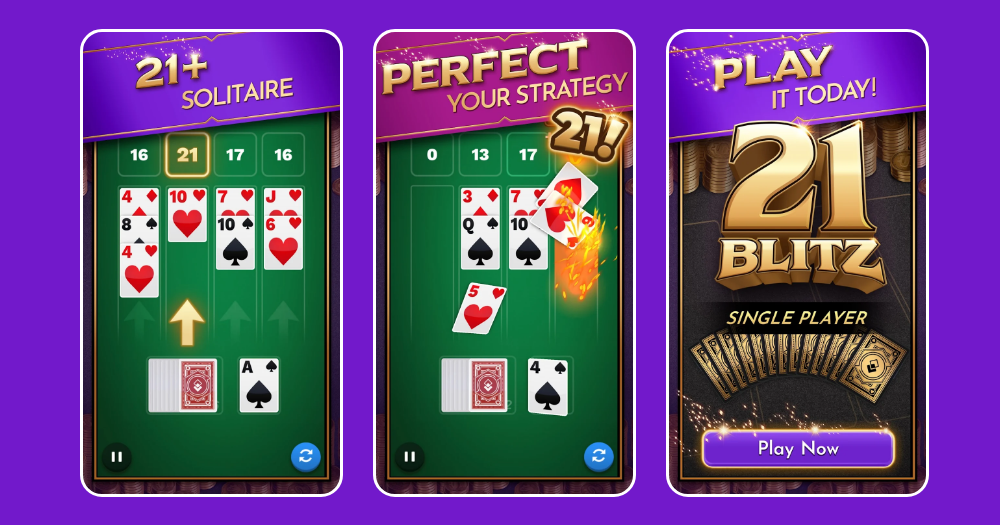 21 Blitz has both free and paid trending money making games. These games have been modified by 21 Blitz to make them more challenging. Tournaments and head-to-head competitions are two such modifications. The best part is that you can win real money instantly online.
The winner either makes five-card stacks or reaches 21. In paid games, you can make money if you defeat your opponent. The games in 21 Blitz are one of the best ways to sharpen your brain or boost your 21 skills. Moreover, you can improve your card gaming abilities or have fun while making money.
5. Solitaire Cube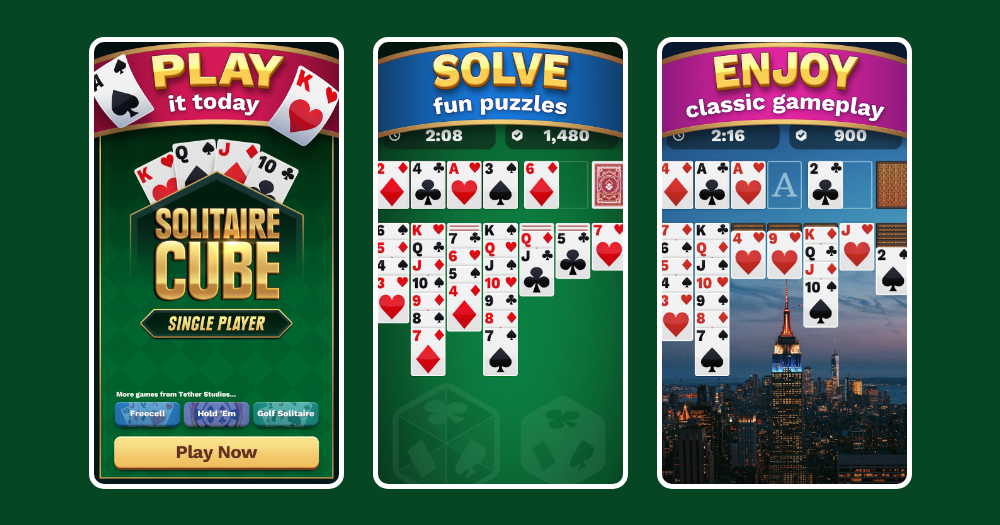 Solitaire Cube is a highly addictive trending money making games app if you want to play mobile solitaire and participate in cash tournaments. It is also a good advancement over the previous solitaire versions. As it is quicker than its previous versions, playing one hand here only takes a few minutes.
Moreover, you can choose to play against one or more opponents. When you play against someone, both players receive the same cards. The winner is the one who completes the game within the allotted time.
It is simple to sign up and begin playing head-to-head matches. The system will instantly pair you with other players online with comparable skill levels. Tournament entries start at $1, but higher payouts need a higher buy-in.
6. InboxDollars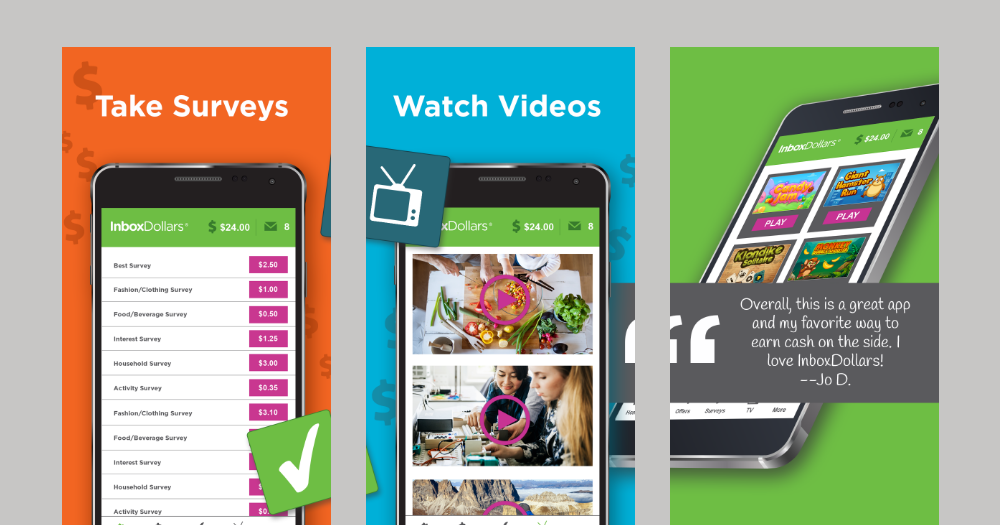 InboxDollars pays you for simple online tasks like reading promotional emails and printing coupons. One of such activities is to play games on it. You can easily find real money earning games online on Inbox Dollars, such as Rise of Kingdoms, Merge Dragons, West Game, Spades Royale, and many more.
The sign-up process for InboxDollars takes hardly two minutes. After you've registered, you'll receive a $5 bonus. Simply playing for 5 to 10 minutes each day on Inbox Dollars can make you earn about $50 a day.
The rules regarding earnings vary with every game. For instance, once you have reached level 18 in Rise of Kingdoms, your earnings are added to your account. Similarly, you'll get $40 for completing Foothills 3 within 14 days of downloading InboxDollars.
7. Swagbucks

Swagbucks is one of the best apps where you can earn real money with games. Thanks to its simple user interface and money-making options, it has earned the following name – the internet's go-to site. There are many different ways to make money, including playing games, participating in surveys, doing web searches, viewing films, etc., on the platform.
Swagbucks pays you to download and play games from several options on its platform. You can use your mobile device from any location in the world to play games and receive rewards.
Reaching a few stages in a game will earn you anywhere from $1 to $45. Although this certainly won't be a simple task. You will be given a set of objectives for every game with a deadline to finish each one.
Real Money Earning Games Online
8. Spades Cash: Money Earning Games Online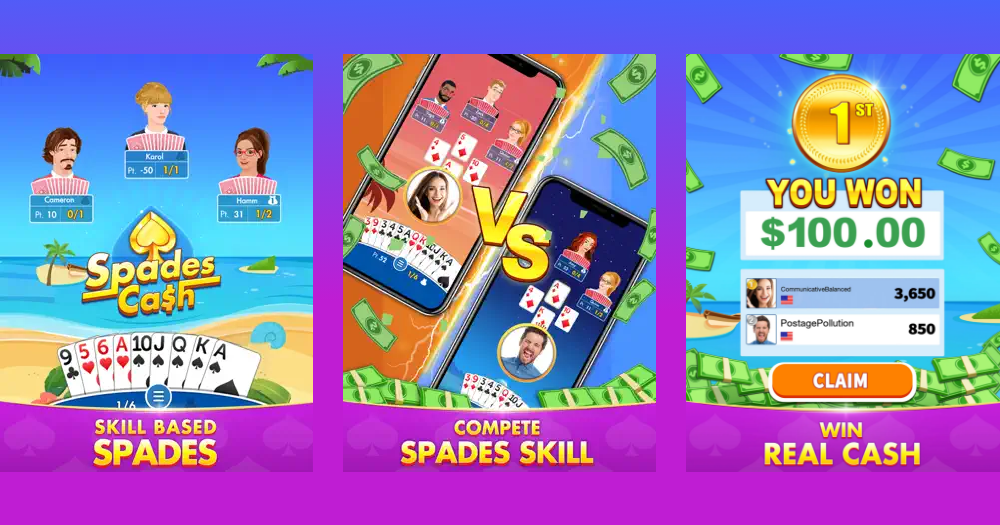 Spades Cash is a solo mode game that pays real money to play. The player with the most points at the end of each round of Spades Cash wins cash or rewards. But, to win, you must score the highest points in this game of skill.
For extra chances to win, players can participate in events with several players. You can withdraw your earned money through PayPal, MasterCard, Visa, Apple Pay, and American Express. If you don't know how to play, Spades Cash has tutorials that can make you learn about how the game works.
9. MyPoints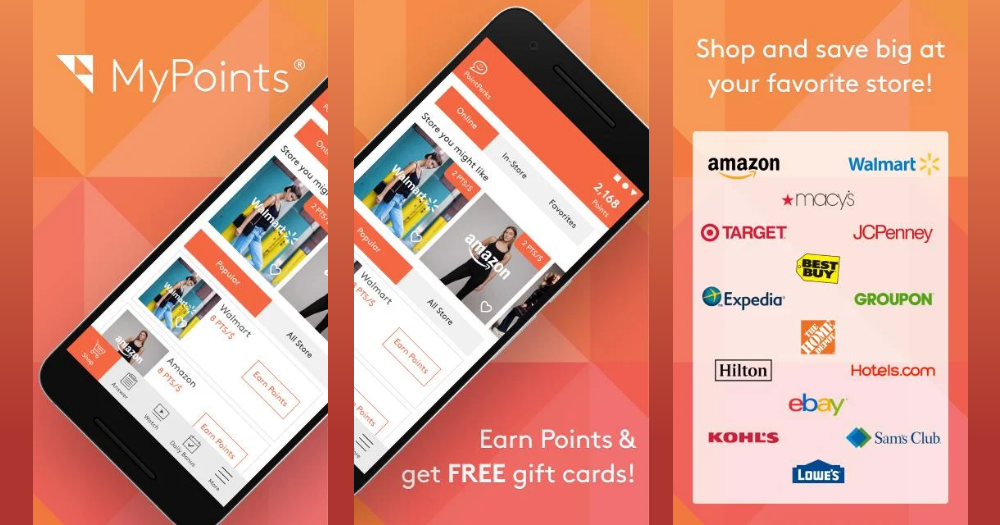 On MyPoints, you can make money for playing games, besides taking surveys and watching videos. MyPoints partners with WorldWinner for cash tournaments. One of the advantages is that you will receive a bonus of $10 as a joining incentive once you register with MyPoints.
MyPoints allows you to get 4 points per $1 of game entries. First-time players can get a one-time deposit as well. When you play games on MyPoints, you earn points. These points can be redeemed anywhere for your preferred gift card, or you can choose to have them sent to your PayPal account.
10. Long Game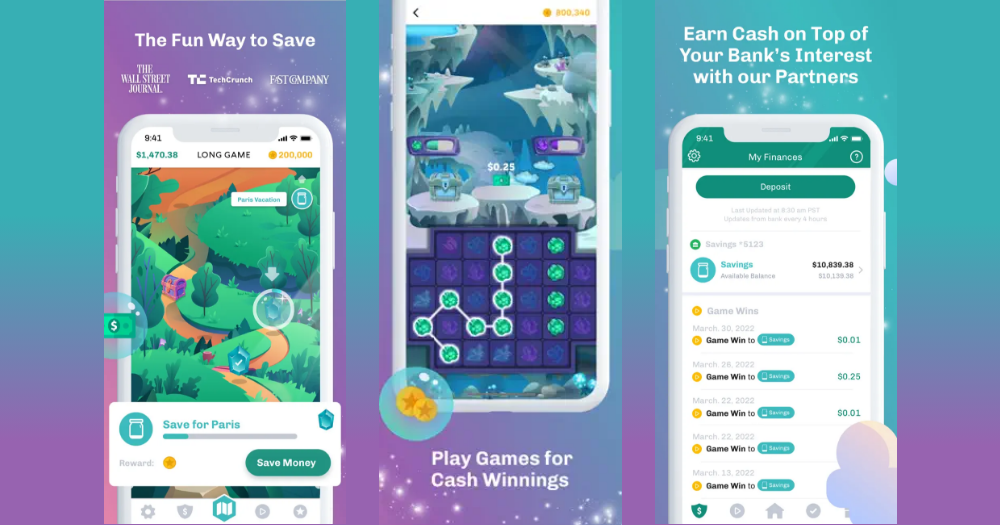 Long game not only lets you play to make money but also allows you to earn interest on your bank account. Your current savings balance will determine how many coins you receive. Also, they link your savings or current account to a partner bank.
The checking account does not pay interest, but the savings account does, with an APY of 0.1%. You will receive coins as soon as you make a deposit into your Long game savings account.
Moreover, you can choose to have debit card purchases. These purchases will automatically round up to the nearest dollar, and the difference will go into savings. This distinguishes Long Game from other trending money making games apps mentioned here.
11. Pool Payday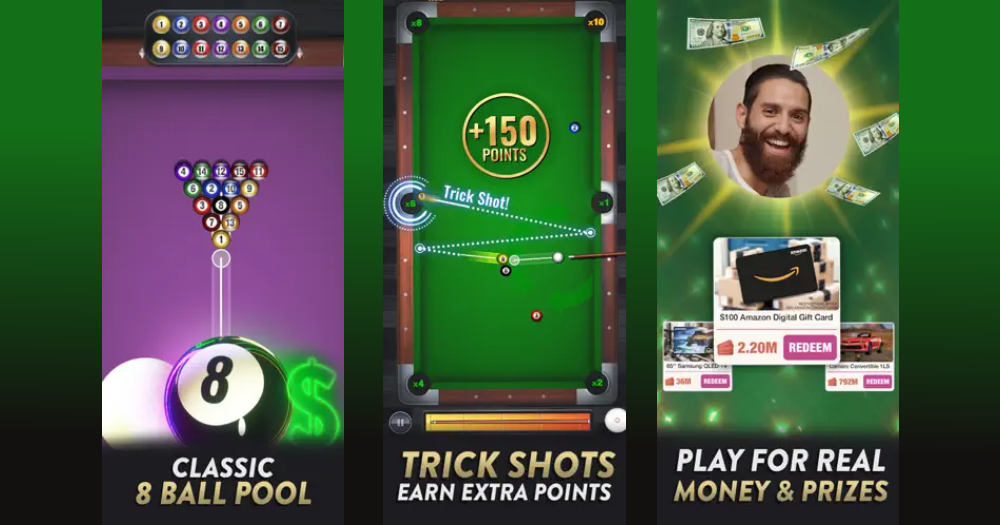 Pool Payday can be enjoyable if you'd like to play digital pool. It's one of the most popular ways to win real money instantly online. On this platform, you can compete against your friends and take part in real money tournaments without having to spend anything.
This is a good blend of playing pool with a solitaire twist rather than simply playing normal pool. You can utilize its features, such as trick shots, bank shots, ball positioning, and many more, to gain more points.
Every time you succeed, your score rises. Thereafter, you can redeem these scores and win real money instantly online. Apple Pay, PayPal, and several other digital wallets are included in the payment options. Pool Payday rewards players in the forms of cash prizes and redeemable bonus points and also numerous free practice rounds.
12. Givling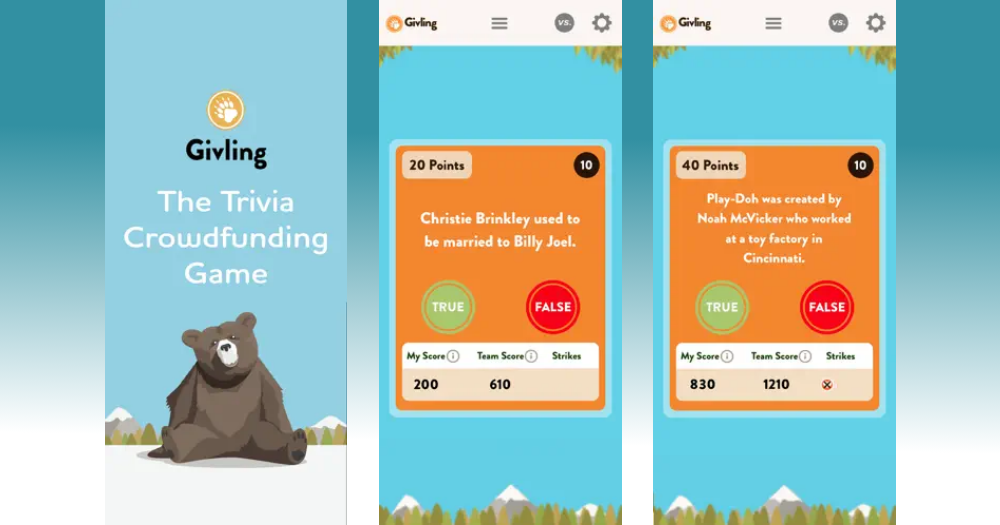 Givling allows its users to participate in trivia games. It provides cash rewards and supports individuals who have taken out student loans. Apart from settling loans, you can use the earned money as you like and earn more each week.
Givling offers primarily two ways to gain money: the first is through playing trivia games every day, up to twice each day. You have to join a three-person team and answer true or false trivia questions to complete a round or miss many questions. You can gain more points as you answer more questions correctly. If your team earns the most points, you win and get to divide the prize.
Playing daily games for queue points is the second way to make money with Givling. While playing games, you will be required to watch advertisements. The money generated by these advertisements is used to pay off a sizable percentage of student debt.
13. Lucktastic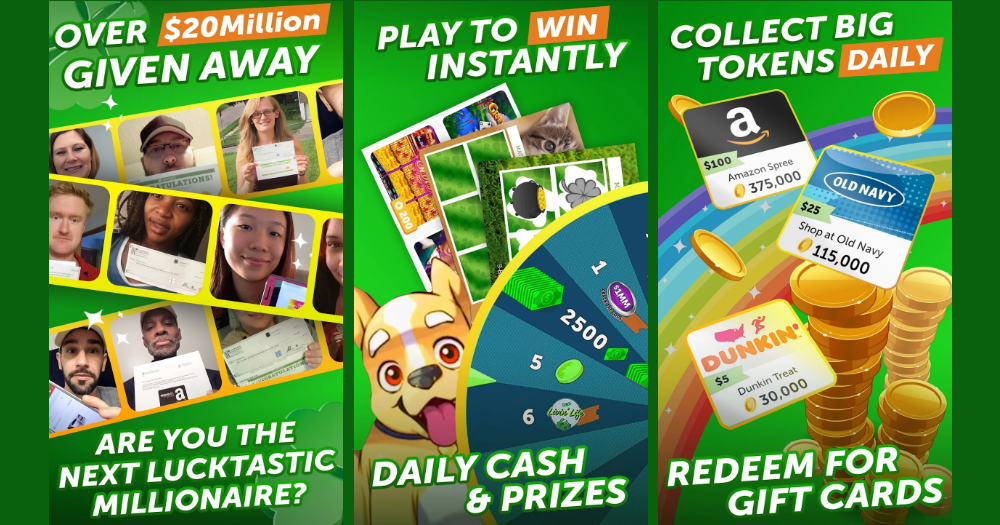 Lucktastic pays you to play a variety of games. Only available on mobile devices, it is a free app where users can win real money instantly online, along with prizes and rewards. Lucktastic is an expert in lottery-like competitions. To earn more tokens, you can also watch video advertisements shown before a game begins.
Furthermore, you can swipe digital scratch cards and sign up for offers to gain extra points on Lucktastic. Also, you can redeem any amount between $1 and $100 with a Dwolla account.
14. Jackpocket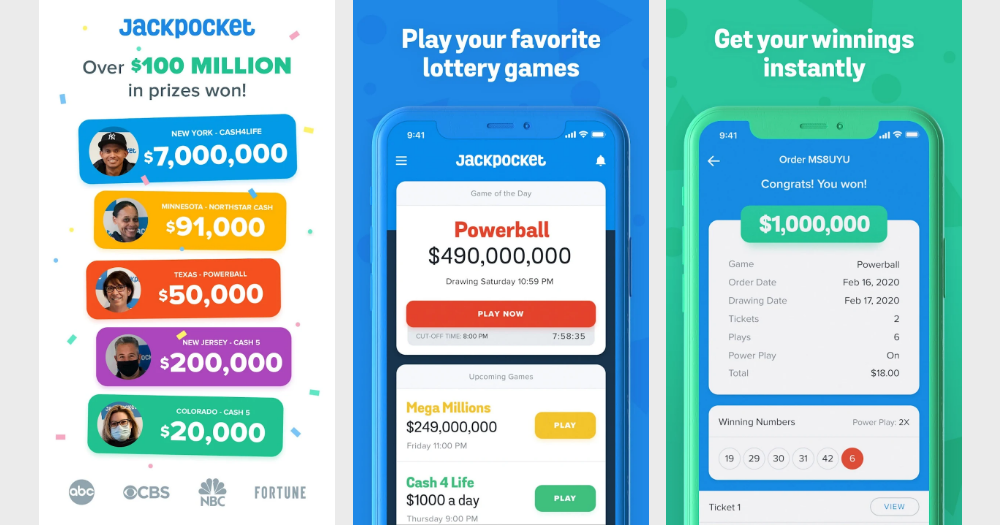 If you're fond of lotteries, you must be buying lottery tickets from your gas stations or similar places. However, if you don't want to step out of your house to buy a lottery ticket and seek to prevent lottery fraud, you can try Jackpocket. Jackpocket lets you buy your state lottery tickets. .
You can purchase legitimate lottery tickets for games like Powerball and Mega Millions, as well as your official state lottery scratch cards. You can choose your own numbers or one of the automatic quick picks.
Any profits up to $600 are deposited straight into your Jackpocket account. You can use them to purchase more tickets or transfer them to your bank account. On the other hand, if you win $600 or more, Jackpocket securely sends a physical ticket to the state lottery office that you can use to claim your winnings. Remember that you will have to pay the applicable taxes if you win a lottery.
15. Skillz Games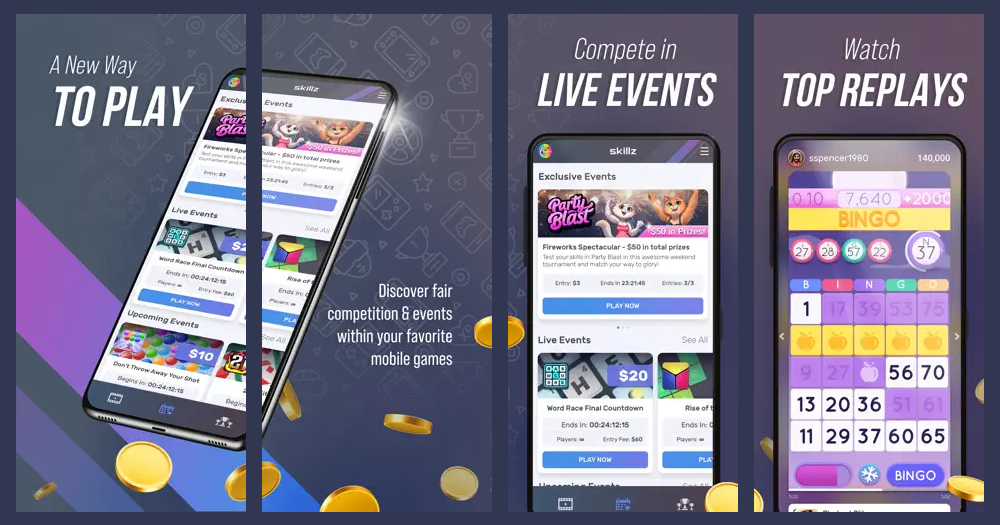 Skillz Games is one of the best free games platforms where you can play money earning games online. Even multiple players can play a variety of games that pay real money once they have made an account on the platform. To increase your earnings, you can compete online against other gamers on the game platform.
Skillz Games hosts billions of casual esports tournaments for millions of mobile players all over the world. Remarkably, Skillz Games awards a prize of approximately $100 million to winners.
Real Money-making Games Online
16. Bananatic: Best Money-making Games Online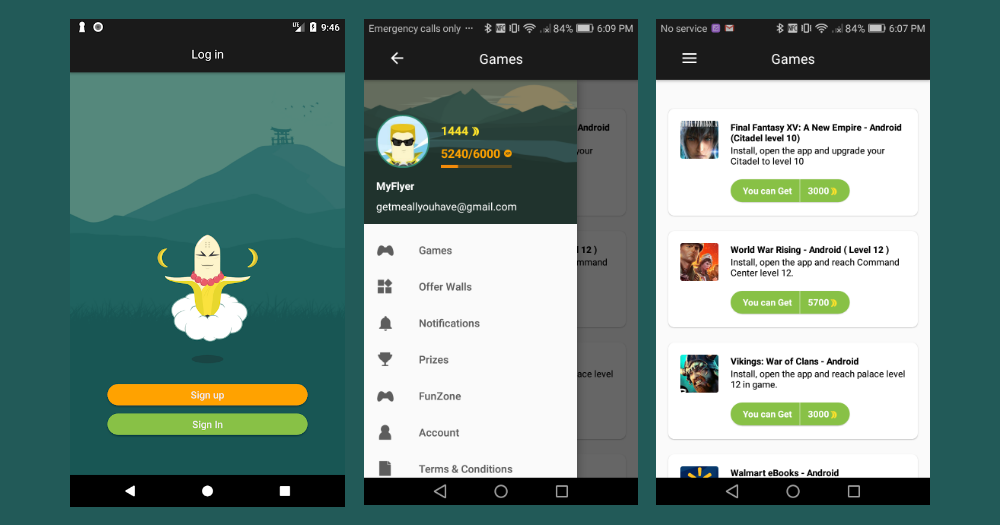 Bananatic stands out from the crowd as it is mainly used by game development companies to test their new games and receive feedback so that they can make changes to their games accordingly. That being the case, you may test, play, and review games on this incredible website for free. In addition to playing, you can earn bananas — also known as points — by posting reviews.
However, you should not set yourself up for unrealistic expectations in terms of income through Banantic as you'd be able to earn just $10 approximately a month. But, you can consider maintaining it as a passive source of money since it requires no vigorous work on your part. You can finish jobs for cash and get bananas that you can exchange for money, gift cards, and so on.
17. Gamehag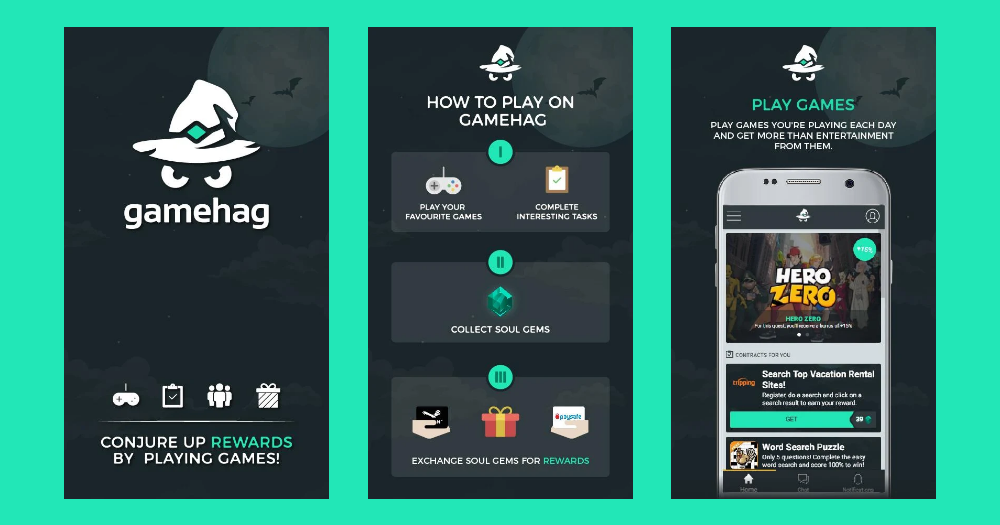 You can play free online games on Gamehag to gather Soul gems and exchange them for rewards. Gamehag has a sizable gaming community that provides access to a variety of money earning games online and incentives for accomplishing activities without having to invest anything.
Various items, including Robux, Steam codes, Visa, MasterCard, and Amazon gift cards, can be exchanged for Soul Gems. Moreover, if you participate in the VIP program, you will receive benefits and bonus points that are not available otherwise.
18. iRazoo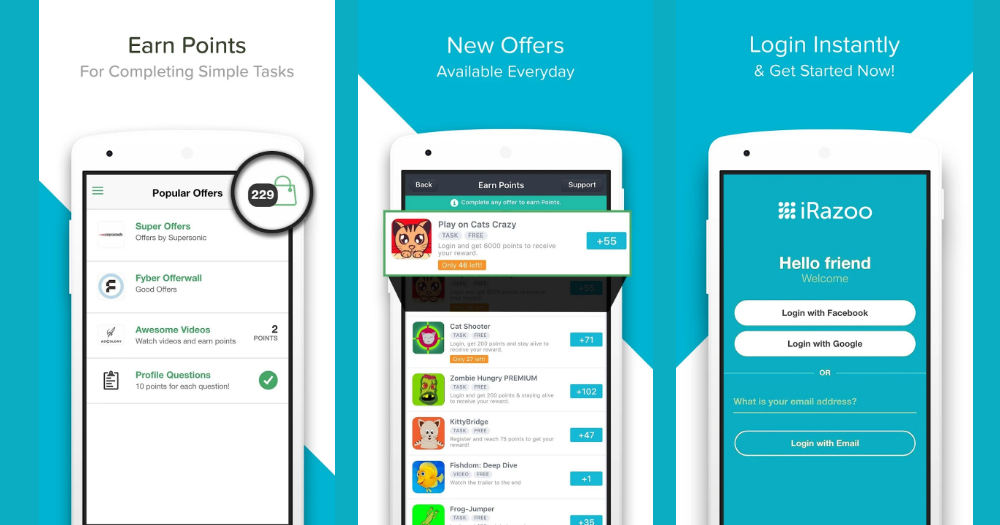 iRazoo provides customers a variety of opportunities to earn points in exchange for cash and gift cards. These opportunities include playing games, viewing videos, downloading apps, completing offers, and filling out surveys. One of iRazoo's advantages is that its games, such as crosswords, solitaire, and Mahjongg, are fairly engaging and interactive.
Each game you play will get you points. Thus, the more games you play, the more points you can gain. Every day, they update the tasks so that you can keep an eye on them and choose games accordingly. Moreover, if you tell your friends about iRazoo, you get bonus points added to your account. You can exchange iRazoo points you collect for cash using PayPal or gift cards.
19. Boodle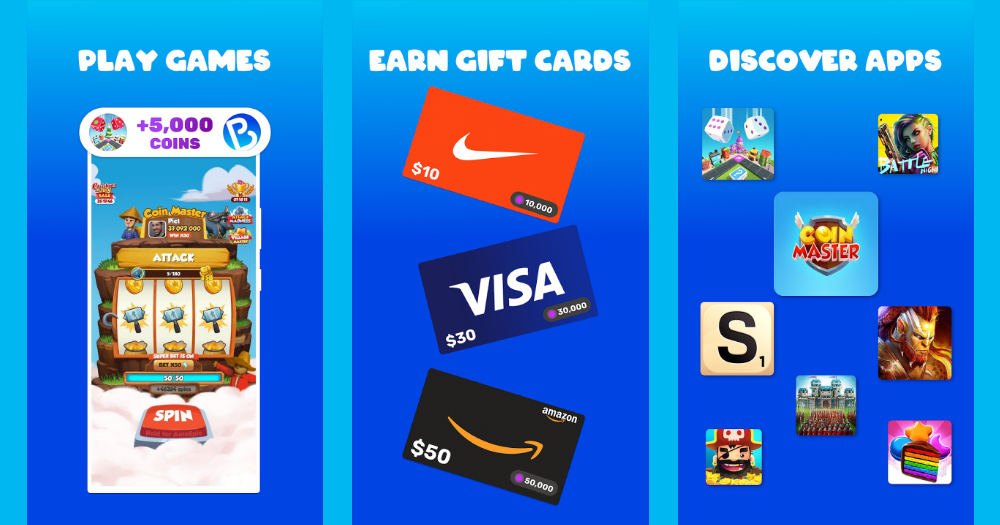 Boodle is a make-money game where you can earn money to test new games and apps. You can earn Boodle coins to redeem gift cards from numerous well-known retailers such as Nike.
Playing games, recommending friends, completing surveys, answering questions, finding discounts, and taking advantage of special offers are just a few of the many ways to earn Boodle coins. This is a fantastic way to earn money with really minimal effort.
20. Second Life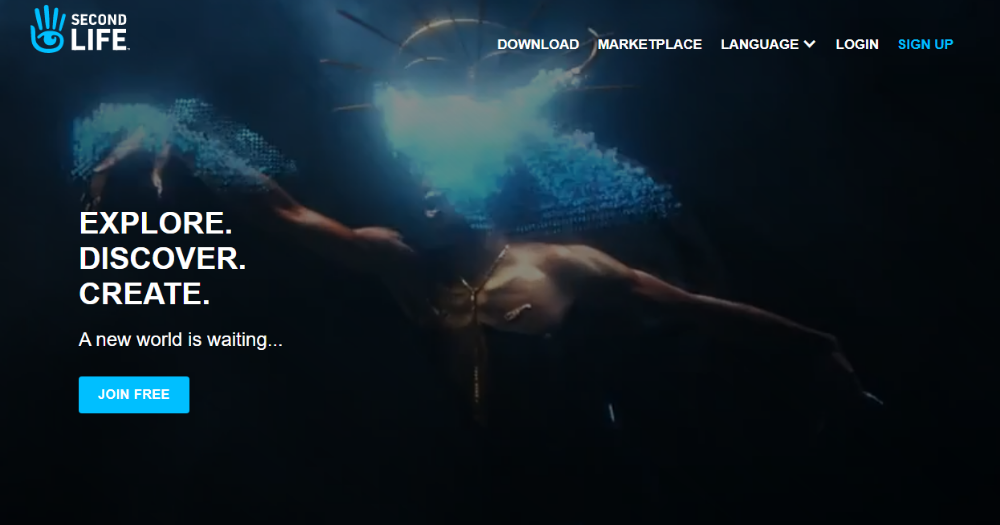 Second Life is a good option if you want to play games for real money. One of the largest virtual reality online free game platforms, Second Life, lets you earn real money with games.
To simulate the game on your desktop, you must make sure the Second Life software you download supports 3D browsing. After you create your account on Second Life, you have to design your own universe and select the avatar of your choice.
To earn Linden dollars, the game's currency, you must create a marketplace. Then you can trade these Linden dollars for actual money.
Make Money Games
21. Brain Battle: Trending Make Money Game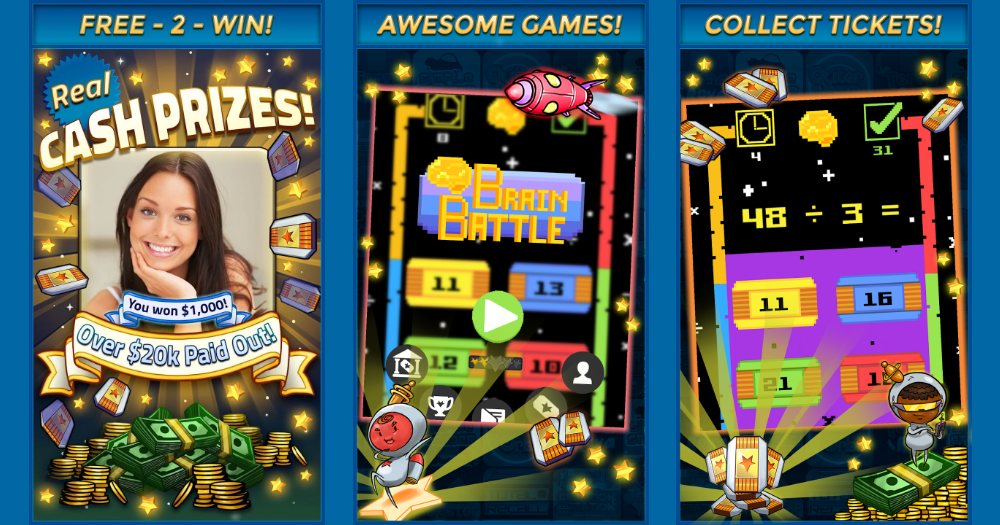 Brain Battle allows you to make money for playing games with minimal effort. On Brain Battle, you gather tickets while you play games. You must have a minimum of one ticket to be eligible to join drawings for cash rewards. Your chances of winning the grand prize increase as you acquire more tickets.
Brain Battle has a few advantages. For instance, you do not need to invest money or pay anything to play or win. Moreover, there are no in-app purchases. Then how does Brain Battle pay its winners? From the money it gets from selling adverts on its website, it pays its users.
22. Gamesville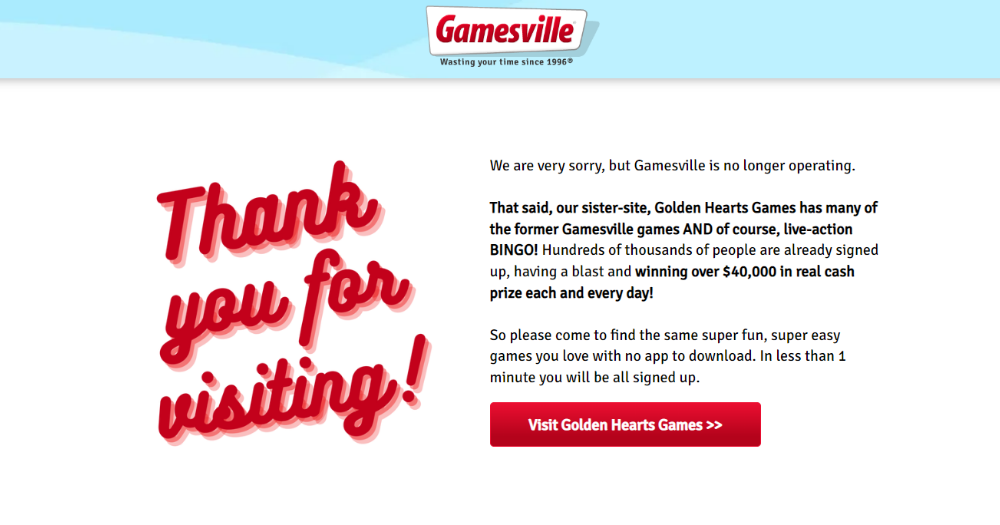 Gamesville has dominated the market for money-making games online for a long time. This free online gaming platform gives GV rewards for playing and winning games or achieving high scores. These rewards can be exchanged for cash or other interesting rewards.
The platform started with the game of bingo. For playing Bingo, it awards cash rewards to the winners. More recently, it has added more games for its users, such as Dice, Sudoku, and Poker, and further plans to add a few more.
23. FreeCash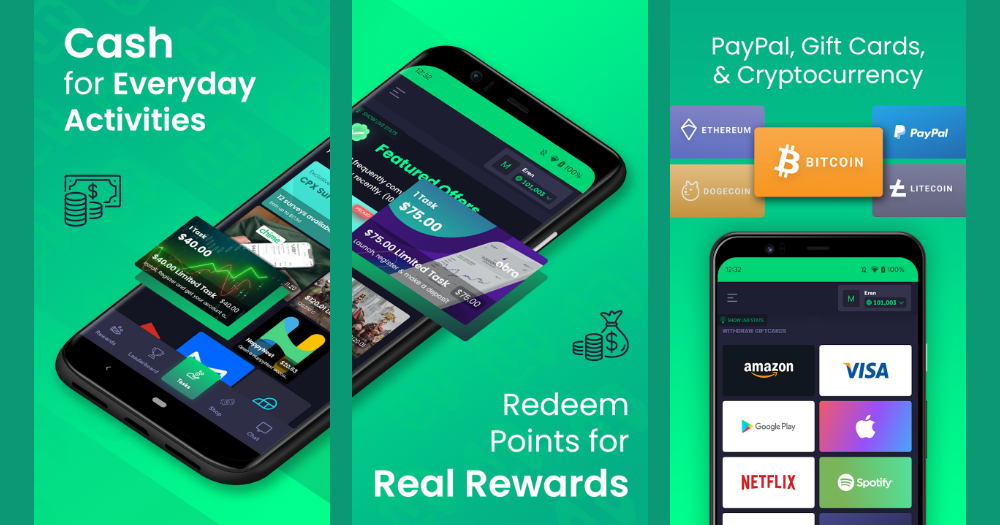 FreeCash began as Freeskins.com, a website that offered gamers the ability to win free skins by completing offers, taking surveys, and playing games. But now, it is a money-making platform where you can earn real money with games. You can also hold online surveys and other activities in exchange for coins that can be redeemed for cash, cryptocurrency, and gift cards. .
You also receive free coins when you sign up, bringing you much closer to rewards. Once you have signed up, you can find a variety of offerwalls on the Earn page to complete tasks. You earn money as you complete each task, including playing games.
24. Wealth Words

Wealth Words could be the ideal platform for you if you enjoy playing mental games such as scrabbles, crosswords, word games, trivia, and so on. Here, you can play games for real money without having to pay any fees and just have to use your brain!
You can complete simple games like crosswords in a few minutes. You have to pay between $0.50 and $1 to enter a contest. If you properly match every hint, you win prizes. Wealth Words pays its users using PayPal and has a $20 minimum cash-out requirement.
25. Play and Win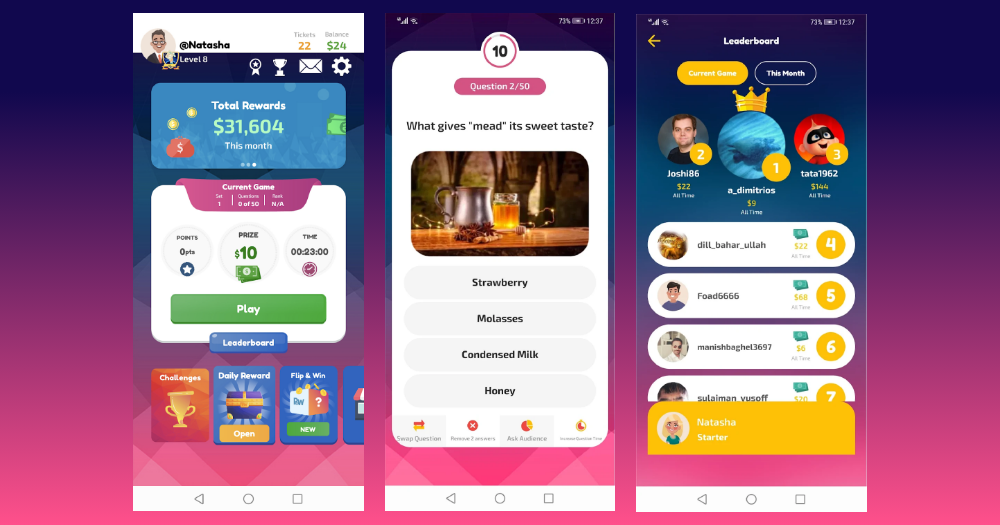 Play and Win pays you cash rewards. You can play a variety of games here on subjects including culture, movies, technology, history, sports, and general knowledge every hour.
You can play the Flip & Win game to match cards for rewards if you're not in the mood for trivia. Play and Win is favored because of the benefits it provides. First, it is free to use. Second, new games are added every hour. And third, it offers a wide range of trivia questions.
Conclusion: Best Games That Pay Real Money in 2023
You can play games and make money with these apps and sites. Simply download these apps or sign up on the website, choose an activity, and start playing games for cash. Before you begin playing, remember to go through the game rules and payment information since this will help you choose which game to play and on which platform.
FAQs: Make Money for Playing Games
Q.1 What are the best money-making games?
Some of the best money-making games are Blackout Bingo, Dominoes Gold, Solitaire Cubes, Pool Payday, and Spades Cash.
Q.2 Can you play games on Swagbucks to make money?
Yes, you can play games like Mafia City, Wheel of Fortune, and Angry Birds to earn money on Swagbucks.
Q.3 Is InboxDollars free?
It's free to sign up for InboxDollars and earn cash for playing games online.
Q.4 What Android apps can I play games on and win real money?
Swagbucks, InboxDollars, MyPoints, and Mistplay allow playing games to make money.
Q.5 Is Mistplay available on iOS?
No, Mistplay is available on Android only.