There are over 4.89 billion active social media users that account for more than 75% of total world population. Introducing and promoting your business in front of this vast pool of users is definitely a good idea that can increase your brand recognition multiple times. Social Media Marketing does exactly the same, providing you with a competitive edge over your peers.
According to Statista, social media ad spending in 2022 was $230 Billion which is expected to touch the milestone of $300 billion by the end of 2024. Undoubtedly, people are shifting from traditional marketing to social media marketing and driving better ROI. In this article, we will learn all about social media marketing and how your business can be benefited from it. If you are looking for digital marketing services, The NineHertz is one of the top agencies in the world.
Hire Social Media Marketing Experts
Grow Your Business with SMM
What is Social Media Marketing?
Social Media Marketing, a part of Digital Marketing or e-Marketing, is the promotional campaign where businesses use various social media platforms to promote their name, products, and services to a broad audience base present on those platforms. Customer targeting in social media marketing is much more advanced as compared to traditional marketing which helps marketers to increase revenue, bring more customers into the fence, and build better brand recognition.
Here are the core competencies of social media marketing-
It works on three cores i.e. connection, interaction, and customer data.
These cores help the marketer to connect only to people who are potential customers and thus increase the chances of sales.
Random targeting is skipped to a great extent when fostering social media marketing in the campaign.
What are Different Social Media Marketing Platforms?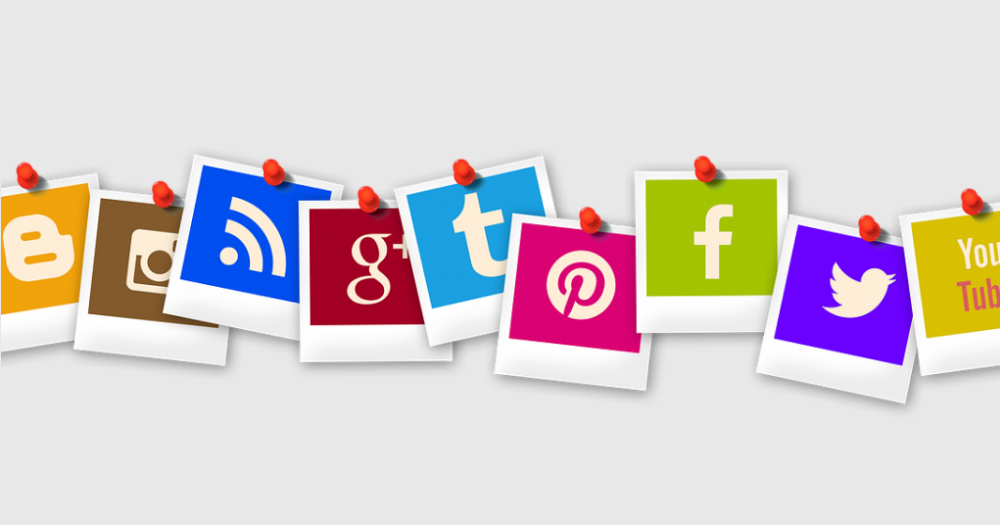 Just like the old marketing practices needs a television channel or newspaper space for advertising, there are different platforms that help to execute social media marketing in a digital marketing campaign. While there are a plethora of platforms that carry a user base of millions and billions, not each of them is suitable for marketing purposes. So, no matter if you are relying on one or multiple platforms, ensure to choose where you can find your target audience.
Here are some of the top social media marketing platforms that bestow your brand great online recognition-
| Platform  | Founded year  | Monthly active users  | Marketing Support |
| --- | --- | --- | --- |
| Facebook  | 2004 | 2.27 Bn | Facebook Ad Manager, Facebook Business page, Facebook Pixels |
| Instagram  | 2016 | 2.25 Bn | Instagram Live Video, Sponsored Posts, Sponsored Stories, Hashtags |
| LinkedIn | 2002 | 310 Mn | Single Image Ads, Video Ads, Carousel Ads, Event Ads, Document Ads |
| Twitter  | 2006 | 450 Mn | Promoted Ads, Promoted Tweets, Twitter Amplify, Twitter Live, Collection Ads, Twitter Ad Features |
| TikTok | 2016 | 1.1 Bn | In-Feed Ads, Carousel Ads, Branded Hashtag Challenge |
1. Facebook
Facebook might seem to be losing its spark in recent years, but it is still the biggest social media platform in the world with over 2.27 billion monthly active users.
Facebook Ad Manager enables you to create ads and target users on the basis of different factors like age, location, gender, education, job title, purchase behavior, and much more.
One can even create a custom audience to reach customers on Facebook.
Creating a Facebook Business page is the most basic that you can use to promote your brand on this platform.
Facebook Pixels helps you to connect to the customers who have visited your website. Here, you can bring two-way communication to these potential leads.
2. Instagram
With monthly active users of more than 2.25 billion, Instagram has become the go-to place for startups to connect to customers.
Instagram Live Video feature allows you to introduce your products and new offerings to a large audience in no time.
Using the right hashtags for your social media marketing campaign on Instagram can take you to billion of audiences.
The advertising option on Instagram highlights your name in posts, stories, and feed sections of its huge audience base.
Shop Now feature takes the Instagram users directly to your store or website where they can explore all the offerings.
Business Dashboard allows you to track your campaign performance by providing an analysis of monthly visitors, reach, likes, and other engagement measures.
3. LinkedIn
LinkedIn is known for strengthening professional relationships due to the presence of almost all the known businesses on the platform.
While you can not exactly use this platform for marketing, reaching businesses, niche personalities and potential B2B customers can be achieved efficiently with LinkedIn.
It even helps you bring traffic to your website as you can share your blogs, pages, and offerings very easily on LinkedIn.
Further, it provides you with each opportunity of keeping track of the performance and effectiveness of marketing over time.
The possibilities of generating and converting leads are maximum in LinkedIn as the audience sees this platform as a formal identity rather than a random advertisement of a brand.
4. Twitter
With over 450 million monthly active users, Twitter also secures its place among the top social media marketing platforms.
Twitter Chat allows you to invite your target audience into the digital chat room for interaction about your brand or to inaugurate any new initiation from your side.
Just like Facebook and Instagram ads, Twitter ads take your brand to millions of people in the least time, multiplying the brand recognition.
With Promoted Tweets, you can make your Tweets appear in the Twitter Stream to be displayed to relevant users.
5. TikTok
Bestowing useful content in a few seconds of video, TikTok has secured the attention of millions of users around the world.
Brands are now making videos on their products, services, in-house activities, and relevant topics to connect with the wide audience of TikTok.
Similar to Instagram, using the right hashtags can take your content to a wider audience pool with the least effort.
Using TikTok ads, you can bring your content to the attention of customers by highlighting it in their feeds.
TikTok Ad, TikTok Ad Group, and TikTok Campaigns place your brand in front of a specific and defined user base.
6. Other Platforms
YouTube: With over 2 billion Registered users, YouTube is a burgeoning platform to advertise your brand. You can foster ads that will be shown to the audience at the beginning of every video they watch.
Pinterest: can be the best social media marketing platform if you own an eCommerce business. You can upload photos, descriptions of your business and products to promote them.
Reddit: has over 430 million monthly active users where you can connect to people with similar interests and convert them into your long-term customers.
Social Media Marketing Strategies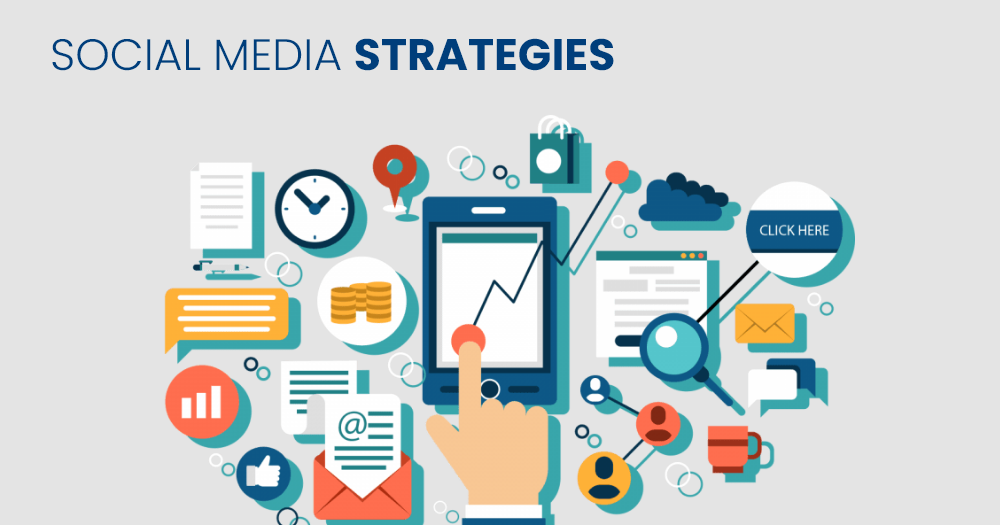 Having proved strategies and tactics to work on social media campaigns definitely drives better results as compared to putting random posts and targeting people without a defined plan. Numerous businesses are spending time growing themselves on social media which makes it important for you to have a strong social media marketing plan to achieve the expected results.
Here are some proven social media marketing strategies that will help you stand out of the crowd to catch the audience sight-
1. Create a Personalized Experience for Your Audience
Most of the time, the audience knows about a business that is always trying to sell something. This is the main reason that advertisements are mostly skipped by people without even having a complete look. So, you need to create a personalized experience for your audience. Don't always use the CTA button to appeal to them to opt for your service or product. Also, don't always take your audience to a service page, form-filling page, or anything similar.
Provide general information, share funny or useful information, and land your customers on interactive chatbots where they can talk about their queries, and ideas, and engage with your business. This is a proven social media marketing strategy that drives results.
2. Foster an Efficient Content Marketing Strategy
Your content is always representative of your brand, no matter if it is social media, SEO, or any other platform. While you definitely need to pitch your product and offerings, talking solely about these only might not be a good idea. First of all, create engaging content marketing strategy that can communicate about your business as well as keep the audience engaged.
You can plan to share social media posts about your offerings, interesting statistics, trending solutions, informative words about your niche, your growth, awards and recognition, interaction with your audience, client testimonials, etc.
3. Utilize a Diverse Content Strategy
While the same type of content might encourage your audience to press the skip button, using different types of media can be a better option. For the same, you can utilize the different days of the week to prepare for different types of media.
With this social media marketing strategy, you can go for single posts, short videos, long videos, blog posts, carrousel, infographics, and other eye-catching media formats. It will ensure that your target audience doesn't perceive your social media account to be managed by a bot and will foster a human touch in touch in the process.
4. Stimulate Two-Way Communication Via SMM Functionalities
One of the core differences between social media marketing and other kind of marketing is that you can stimulate two-way communication with target people. Don't forget to leverage this advantage in your social media marketing campaign. Don't just keep posting on your account about your business and expect the audience to like, comment, or reach out to you. Do the same for your audience also.
You can ask questions via stories, create polls, record reactions, send engagement messages, like and comment on their posts, reply to their queries, greet them on their achievement, and much more. All these practices will help you become more familiar with your people.
5. Select Social Media Marketing Platforms Smartly
Use every social media platform that you can find to reach the maximum audience- not a good approach. Depending on your business niche, one social media platform can take your business to the place while another might not be a good option for your business to put efforts in. Each social media website is meant to promote particular niches of business and thus not selecting the platform efficiently might adversely impact your campaign outcomes.
For example, if you own a fancy product store, LinkedIn will not be a place you want to be in. Similarly, Pinterest is not a good option for your surveillance services. Utilizing this social media marketing strategy, you must focus on choosing an effective social media marketing platform for your business.
6. Set a Practical Social Media Marketing Budget
Just like any other operational process of your business, social media marketing also requires a budget. Not only it helps to keep track of each dollar you spend in the campaign, but your key performance indicators and your growth toward the expected results also get more visible.
Again, it will help you prevent spending on social media channels that can't take you to your target audience. Social media marketing is a crucial part of the digital marketing campaign and having a budget in mind will assist you blueprint the spending for advertisement on different mediums. This is a great social media marketing strategy to take the measured decisions during the campaign.
Most Used Social Media Marketing Tools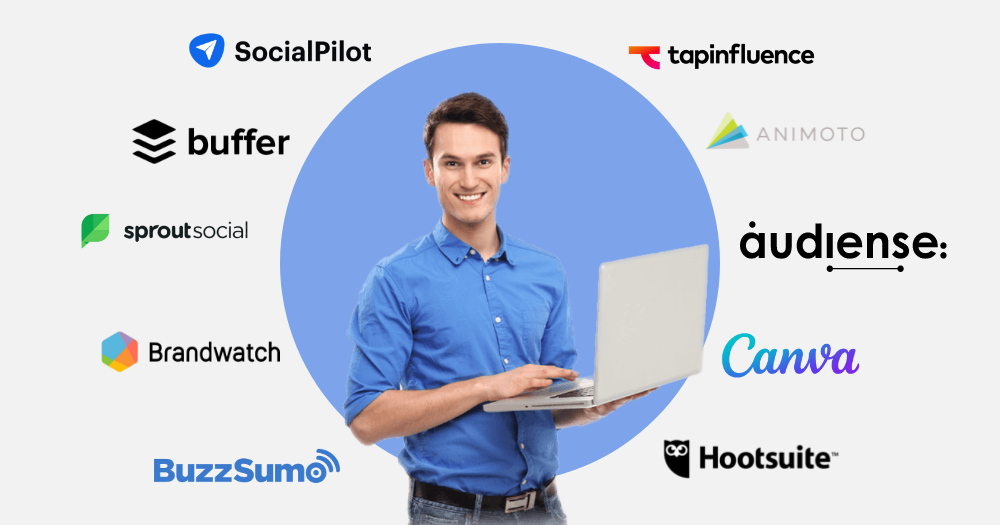 Tools are something that multiplies your productivity by fostering seamless management across the tools while keeping track of results achieved by different strategies. So, not only makes you repeat tasks faster and more accurately, but you also know if you are making the efforts in the right direction. Some of the tools are free, others might be paid, some might give your insight, while others will make your social media marketing campaign more attractive. Let's dive into these tools and know how exactly they help in engaging with our audience via social media-
| | |
| --- | --- |
| Buffer | Started off as a scheduling tool, Buffer now schedules your posts for varied platforms including Facebook, Instagram, Pinterest, and LinkedIn. No matter how many projects or pages you are handling at the same time, you don't need to compromise your complete day schedule just to send the post on time. Just Schedule the post and the rest will be handled by Buffer. Additionally, it allows you to access the necessary analytics about your account, allowing you to make smart decisions.   |
| SocialPilot  | SocialPilot is one of the commonly used tools for social media marketing as it is a multi-purpose tool. Not only you can manage your multiple social media pages and accounts with this tool, but it also bestows you a feature that does a lot more. You can schedule over 500 posts in one click. It even assists in drafting and editing the posts that you want to post on different platforms. Editorial Calendar allows you have a glance over your daily/weekly/monthly posts.  |
| Audiense  | Audiense is an analytical tool that helps you play with the numbers on your social media page. Equipped with a unique feature, it encourages data-driven decisions in your campaign. You can find the features like Audience Personality and Audience Segmentation that help you know more about your followers, their engagement with your post over time, and much more.  |
| Brandwatch | Brandwatch is an AI-based social media management tool that provides you the features like social listing, sentiment analysis, and reporting capabilities. With this tool, you can even find the micro-influencers of your niche to connect them for even faster growth. Further, it allows you to create visual data reports, and attain the important insight of your account by filtering the results so that you can craft your social media marketing strategy accordingly.  |
| Hootsuite | Being a social media manager, getting exhausted from manually checking the comments and mentions, assigning tasks among team members, plotting the social media calendar, and scheduling gets very common. Hootsuite is a social media marketing tool that streamlines all these tasks where you can assist your team members, and manage the accounts at different platforms simultaneously.  |
| SproutSocial  | Similar to Hootsuite, Sprout Social is also a complete package of different features that smoothens your day-to-day tasks in a social media campaign. One can manage engagement activities, publish the content, access analytics, and foster team collaboration with this single supporting tool. It comes with a range of optimization tools that help you stick to your social media marketing plans.  |
| Buzzsumo | When we analyze our competitors for search engine optimization, why don't we do the same for social media? Buzzsumo is a research tool that helps you understand the game better and increase results for your campaign. With this tool, you can find the content which is being shared the most on social media, contact influencers according to a particular niche, get alerts on keywords, links, brand name, author name, and domain, find topics your audience is interested in, and much more. |
| Canva  | Images attract more than texts. Canva helps you craft different types of posts that can be completely customized according to your brand theme, color, logo, content, and strategy. Be it a carousel post, image post, presentation, infographic, or any format, Canva comes with unique features and elements to give an elegant touch to your social media content. Multiple members of the team can work on the project simultaneously to add their creativity.  |
| Animoto  | It is another design tool that shapes your words into images to make them more readable and attractive to the audience. The software enables you to drag and drop photos as well as videos directly to edit them. Moreover, the features for styling, speeding, layout, and text further enhance the appearance of your posts. Animoto is supported by all kinds of social media platforms like Facebook, Twitter, LinkedIn, YouTube, and Instagram.  |
| TapInfluence | TapInfluence is one of the most known social media marketing tools integrated with a professional dashboard to schedule posts, invite influencers to collaborate on assignments, and check the timely progress on the different accounts by your activities. The add-on features at TapInfluence assist you review influencer's reach and engagement rates, and know about the audience, their interests, income, and affiliations. So, along with scheduling software, it also works as social media analytics tool.  |
Hire Digital Marketing Experts
Grow Your Business with Digital Marketing
Social Media Marketing Examples from Your Surroundings
Long has been the talk about terminologies of social media marketing, witnessing the live examples in our surroundings will help us understand the facts more clearly. While every other business is engaged in these practices at their own level, there are some brands that changed the whole game with their SMM campaigns.
1. Apple- #ShotOniPhone
Whether you are a fan of Apple Products or not, you can not deny their innovation mindset. However, this mindset- not limited just to their gadgets- has also been observed in their social media marketing campaign. Over 90% of the customers have reported that User Generated Content has more influence on their purchase decision-making than any Search Engine Result. Apple deployed the exactly same social media marketing strategy.
The company ignited a social media campaign i.e. #ShotOniPhone where they invited their customers to upload their recent pictures shot with their Apple devices with this hashtag. In no time, the hashtag was used over 16 million times by users. Hardly any investment and Apple generated over 16 million people around the world who persuaded the population to buy iPhone.
2. Starbucks- #UnicornFrappuccino
The social media effects can be observed back in 2017 as well as when Starbucks introduced its #UnicornFrappuccino campaign. They introduced their 3-week limited edition drink named UnicornFrappuccino, knowing that people will definitely post about it on social media. While the drinks were introduced for merely 3 weeks, the effect can be observed even after 5 years.
There are more than 154,000 pictures on Instagram only under the hashtags. Users are posting even current photographs with the same hashtags due to their popularity. The firm had to do no investment but secured thousands of people, doing publicity for their brand for free. Word of Mouth is considered one of the best marketing strategies and Starbucks acquired it smarty with their SMM campaign.
3. Spotify- Spotify Wrapped
Providing a personalized experience to the customers has always been an effective strategy to make them long-term stakeholders of the business. Spotify turned the idea into a transforming marketing campaign for themselves. Spotify Wrapped gives a little reminder to their users about the songs and artists they have been listening to the whole year. Adopting this fascinating way for the audience to get a nostalgic feel, the firm was pretty sure that people will share about it on their social media accounts.
The firm was right in its prediction, over 1.2 million people shared their Spotify Wrapped insight with their social network. FOMO played its role and the Platform received a bulk of new users in the upcoming year to leverage this nostalgic wrapped gift from their music streaming app.
Benefits of Social Media Marketing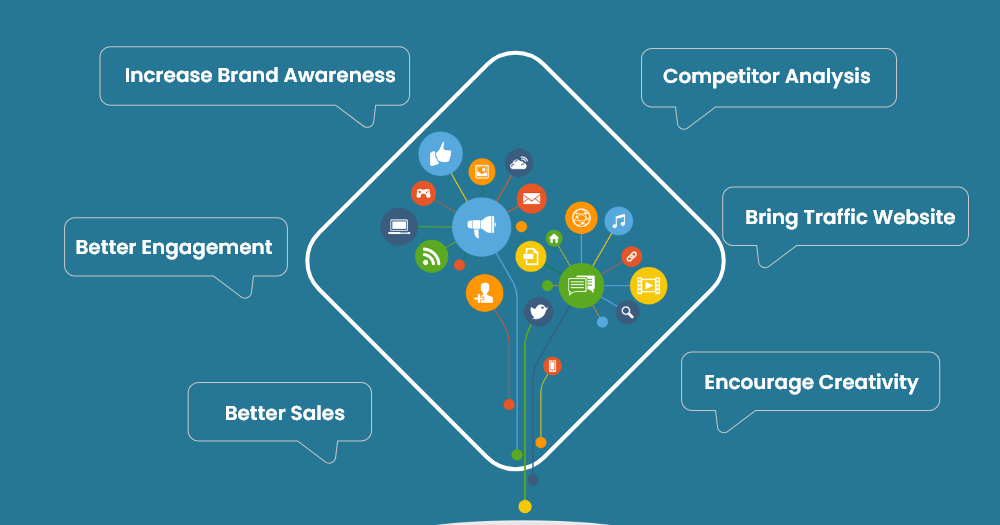 Having gone through all the strategies, platforms, and tools for social media marketing, the question that arises is why should we do all that. What are the benefits that these social media marketing campaigns will bestow on my business? Small or big, social media marketing requires investment and effort. As long as we are not benefitting from it, spending hours and dollars doesn't seem to be a good idea.
So, here are some of the advantages for your business to be engaged in social media marketing-
1. Increase Brand Awareness
The more people know your brand, the higher will be your customer's digits. When you use social media marketing in the right way, its user base of billions can easily multiply your revenue. Thanks to the two-way communication at these platforms, you build trust, authority, loyalty, and recognition for your brand. Customers get to know the real people behind your brand, working on the products you provide, and sharing their market experience. It helps to foster a personalized experience so that audience can feel more connected.
If you are a social media user, we can bet that you would have come across new brands while scrolling through your feed. Sharing regular content about your brand and offering definitely enhances your brand awareness to a great extent.
2. Better Engagement
While Search Engine Optimization can help your brand top the search, social media channels can help you better connect with your audience. If you run a fashion store, you can never ask your audience about their favorite style or color on the website. Here's where social media does the wonder. Posting the polls and questions will help you gain important insight about your customers in a more fun way.
Further, asking about the customer experience with your business, things they liked, things they don't like, suggestions, and much more things can be executed using social media campaigns. Not only you will be engaged with these practices but it will give the customers a message that you care about them and their preferences.
3. Better Sales and Conversion Rates
According to statistics, an average person spends around 2.5 hours a day on social media. So, when you are promoting your business on social media platforms, the chances of getting leads increase significantly. Boosting the posts on social media about your existing or new offerings to the customers who can really relate to it can be a really good idea to bring more carts to the billing counter.
4. Competitor Analysis
Social media handles can be considered as the editorial section of a newspaper where the brand talk about what they think and believe. So, you can get to know about your competitors from these platforms. Be it the audience they are targeting, new offerings, achievements, or anything else, social networking sites can be a great place to have a glance over your peers.
It can be an excellent way to know if your competitors have started offering the same services or products and the strategies they are utilizing to steal your customers. So, now you have all the information to take the measured decisions and keep your audience loyal to you.
5. Improves SERP Results
Google keeps showing new behavior to rank the entities under its vision. It has been experienced that this search engine constantly pulls information about names from various social media sites like Instagram, Facebook, Twitter, and LinkedIn. If you have already established your website and now looking for back support to rank them, social media can play the core role.
Having a strong social media presence where you talk about trending topics can do wonders to achieve competitive advantages in the landscape.
6. Bring Traffic Website
Social media channels are not the place where you can post a huge content and expect the audience to read it from top to bottom. Still, due to the vast population presence on the platforms, you can not skip your attendance on these platforms. Providing a glance over the content that you have added to your website or application can be a super idea to inform the wider audience about the offerings.
Most companies tell about their blogs, service, and industry pages along with their achievements while providing the link to the detailed description on their site. So, Social media advertising play a big role in navigating the traffic to your website.
7. Encourage Creativity and Out-of-the-box Thinking
While you have to mind each of your words while talking on the website, you can get flexibility on social media. On these channels, you don't always have to sound professional and but you can even interact with your audience in a casual way. Moreover, there are many live examples- some of them defined above- where you can see brands multiplying their publicity and revenue just by being creative on social media.
So, Social media is the most cost-effective way to connect to your audience.
8. Bring More Carts for Billing
"Over 70% of the customers abandon their filled shopping cart just before billing".
Social media is a great place to retarget your customers. If you see customers who came to your e-store, and filled the cart but didn't complete the billing, social media will help you to remind them to checkout their cart. Here, you can push notifications to the customers to remind them about their incomplete purchases. It increases the chances to some extent that customers will return and proceed with the billing.
Even if some of the customers still do not proceed with the checkout, you have atleast succeeded to put your brand name in their minds with this little effort.
9. Learn About the Audience
While you might have tools to learn the behavior and know about the demographic of your audience, social media is also the place where you can learn a lot about your target audience preferences. Basic information like name, gender, age, profession, and location can easily be accessed by anyone's social media handle. Moving ahead, you can also have a glance over what they like, their interests, brands they prefer, their taste in fashion, and much more from these channels to tailor your social media strategy.
10. Sync Steps With Industry Trends
In this everchanging market where technology and trends are transforming every morning, syncing steps with the changes has become difficult but crucial. Social media provides a lot of assistance in ensuring the same. Trending tweets, hashtags, Instagram reels, influencer choices, TikTok videos, etc. are a great source to know about industry trends and what people are purchasing at present.
Wrapping Up
So, it can be concluded that the user presence equal to more than half of the world's population has transformed social media into a great place for marketing. Not only it fosters two-way communication but teaches you a lot about customer behavior, current trends, and much more. There are different social media platforms according to the particular niche of the business where they can connect to the target audience. Utilizing the right social media marketing strategy can do wonder to secure a magnificent return on investment. After all, social media marketing efforts always pay off.
FAQs
1. What is Social Media Marketing?
The use of social media to promote a brand, product, or service to an audience base of billions is called social media marketing. Just like a search engine, you can promote your brand using paid tools as well as organic efforts, depending on your social media strategy.
2. What is the Difference Between Social Media Marketing and Digital Marketing?
While digital marketing stands for the overall efforts a company makes on the internet to promote its name, social media marketing (SMM) is a part of digital marketing. SMM uses only limited platforms like Facebook, Instagram, LinkedIn, Twitter, TikTok, etc, to promote the services and digital marketing refers to a range of activities like SEO, SMO, PR, content marketing, PPC, and much more.
3. What are the 3Cs of Social Media Marketing?
The 3Cs of Social Media Marketing stand for Communicating your message, Connecting with your audience, and Converting them into friends and members.
4. What are the Best Platforms for Social Media Marketing?
While the choice of social media marketing platforms entirely depends on the niche of your business, some of the most used social media channels are Facebook, Instagram, LinkedIn, Twitter, TikTok, YouTube, etc.