Android 12 Vs Android 13 | After releasing the Android 12L update, Google is now concentrating on its next significant release, Android 13. The company has now released the third beta of Android 13 after two developer previews and two beta builds. The most recent beta of Android 13 has brought the platform stability, making all app-facing behaviors and APIs final.
If you're keenly interested in learning when Android 13 will be released or what new features might be available for your phone in the near future (here are some of the best-hidden features in Android 13), we advise bookmarking this page. We'll keep it regularly updated with any and all Android 13 news we can find. In this article, we'll walk through the differences between android 12 Vs Android 13. Here is an ultimate guide on how to make an android app.
Android 13: Name and Release Date
Prior to Android 10, Google gave its OS versions names based on sweets. Although it now uses a number in public, internally it still frequently refers to versions as confections. The codename for Android 13 is "Tiramisu." This is the first time in a very long time that Google has been so open about the codename.
Google has provided a release schedule for Android 13. We anticipate a stable launch sometime in August 2022 based on that schedule. Don't make too many assumptions yet, though; a lot could happen between now and then. The third beta of Android 13 has just been released.
Key Difference between Android 12 Vs Android 13
| Features | Android 13 Features | Android 12 Features |
| --- | --- | --- |
| Application Hibernation | This gives users the option to "hibernate" applications when they are not using them. | Not applicable |
| Internet Panel | Users can easily switch between service providers and resolve network connectivity issues thanks to an intuitive Internet Panel | There is a panel for Internet settings, but with less options. |
| Approximate Location | Applications can access your approximate location rather than a precise one with this option. For instance, weather apps can provide an accurate forecast without knowing your exact location. | Not applicable |
| Design | Comes with Material You, a new user interface that enables users to customize their phones with new widgets and color schemes. | A slight improvement over the Android 11 on this front. |
| Privacy | It provides a Privacy Dashboard that provides users better visibility over the permissions and app data. | Not applicable |
| Look and feel | Users can apply colors to many different parts of the operating system, including the lock screen, widgets, volume controls, and more. | Not applicable |
| Indicators | The status bar now has indicators that let users know when these apps are using the camera or microphone. | Not applicable |
| Quick Settings Toggles | Quick Settings toggles are available on supported devices, which allows users to instantly disable application access to the camera or microphone. | Not applicable |
What's New Features in Android 13?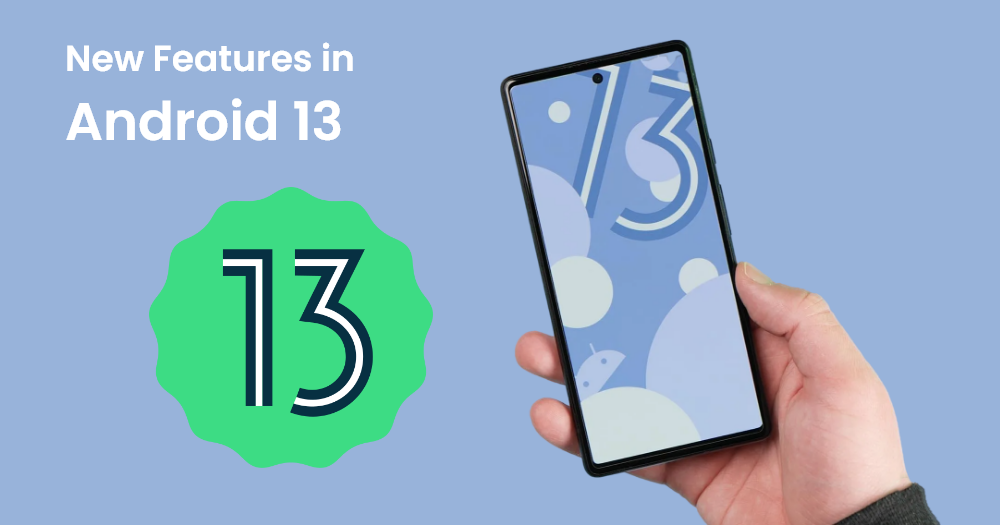 While the arrival of Beta 3 provided some insight into what Android 13 has to offer, So find potential features and enhancements destined to appear in the major Android release of 2022. Let's dive in!!
1. Themed Icons for Third-party Apps
Google added support for themed icons in Android 12 with that version of the operating system. At the time, though, it was only available for Google apps. Google now offers dynamic, color-themed icons for all app icons as part of Android 13. To support themed app icons in their apps, android app developers will need to update the adaptive icon XML and use a monochromatic app icon. In order to bring this feature to device OEMs' custom skins, Google says that themed third-party icons will first appear on Pixel phones.
2. New Material You Color Styles
While Material You redesigned Android 12's customization features, one complaint about the feature was that you couldn't choose your own colors. In response to user feedback, Google has increased the number of color options available in the Settings to 16 from Android 12's original four. Although this is a positive development, Android 13's lack of a color palette or the ability to specify an accent color by entering a HEX code is still disappointing.
3. The Redesigned Audio Output Picker
Google is redesigning the media output picker in Android 13 with a noticeable visual change. You can switch between available output devices, including Bluetooth headphones and phone speakers, using the output picker, which should not be confused with the expanded volume bar. It incorporates the device name into the volume slider and has a design that is reminiscent of Android 12's Quick Settings tiles (read: they are thick). Although it will have the same functionality as Android 12, the design will be updated to improve consistency across the interface.
Hire Certified Android App Developers
Request A Free Quote
1200+ Projects Delivered 12+ Industry Experience 450+ Clients Worldwide 200+ Certified & Expert Programmers
4. Multi-User Contactless NFC Payments
The use of NFC payments for multiple profiles would be made simpler in Android 13. To date, only the primary profile has access to the NFC payment option. However, this Android 13 feature is probably welcome news if you share your phone with a family member or reside in a nation that accepts NFC payments.
5. Flashlight Alert and Quick Tap to Enable Flashlight
There are times when you unintentionally forget to turn off the flashlight. You have no choice but to endure an unwanted battery drain until a kind person notices it and alerts you to it. Google is incorporating a useful flashlight reminder into the At a Glance widget to assist you with this.
The double-tap gestures in Android 12 now have the option to turn on the flashlight. From now on, you can toggle the flash on and off by double-tapping the back of your phone. Undoubtedly, having this feature is useful, especially for people who frequently use their phone's flashlight at night.
6. Faster Access to QR Code Scanning
We have seen the widespread adoption of QR codes. In the present day, QR codes can be found almost anywhere, from payment terminals to restaurant menus. In light of the resurgence in interest, Android 13 will enable you to access the QR code scanner directly from the lock screen of your phone. You will also receive a Quick Settings tile that gives you access to the QR code reader.
7. New Photo Picker
With Android 13, Google is introducing a new system photo picker to standardize the file picker experience and safeguard the privacy of its users. The new photo picker API improves Android's document picker, which shares specific documents with the app while preventing it from having access to all media files on the device. This allows apps to more effectively access shared photos and videos. Additionally, Google intends to update Google Play to bring the new photo picker to Android 11 and higher.
8. Panlingual APP-Specific Languages
Android 13—also known as Panlingual—will finally enable per-app language settings. The feature makes it convenient to use some apps in a particular language, which is great for polyglots. For instance, while interacting with the rest of the phone in English, one could use Google Chrome in Hindi.
In contrast to apps that already support multiple languages, Android 13 will adopt a unified strategy, allowing you to customize the language settings for various apps under the "Languages & Input" settings. From Settings->System->Languages & input->App Languages, you can access the feature.
9. Edit Text from Clipboard
Google is facilitating text editing for Android users. Android 13 adds a pencil icon to allow you to edit the content when you cut or copy text, much like screenshots do right now. You can add or remove the content as well as paste text from the clipboard using this feature. Additionally, you are given the option to call/message and open the link in Chrome if you copy a number or link.
10. Updated Progress Bar in Media Player
In Android 13, Google changed the media player progress bar to include a squiggly line. The straight line returns to normal after pausing the media, while the squiggly line only appears when you are playing music. However, it's not just the notification shade; the lock screen also has a wavy progress bar. Although the functionality is unaffected, the visual upgrade is nice.
Android 13: Leaked/ Hidden Features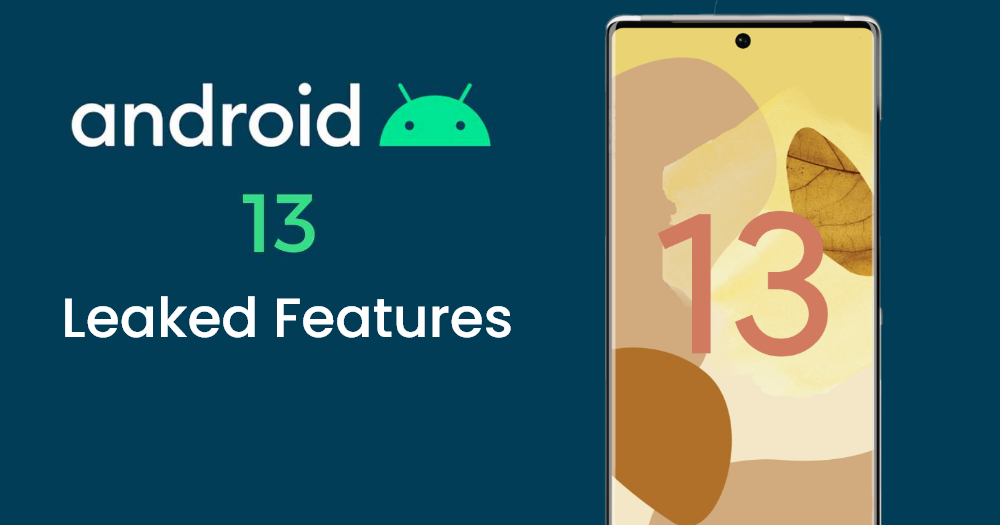 Despite the fact that Google has already made available the first developer preview of Android 13, some intriguing features are by default disabled. Let's take a look at a few tidbits. Here we added features that were focused on consumers first and developer-focused features later.
1. Weekly View in Privacy Dashboard
Android 13 brings a much-needed upgrade to the Privacy Dashboard. The option to view the permission log for the previous seven days will be available. The permission log for the past 24 hours for access to the camera, microphone, and location is currently saved by Android 12.
2. Tap to Transfer Media Playback Between Devices
A media tap to transfer feature may be available in Android 13, according to a recent Android report. It might allow users to switch between their phone and other gadgets, most likely smart speakers. From what it appears, the feature might be similar to how you can easily move media playback from an iPhone to a HomePod. It might use NFC or UWB to transfer media playback.
3. Notification Permission
An Android app has the permission to send you notifications by default when you install it. Android 13 turns that on its head. Apps must now request your permission before sending you notifications going forward.
4. Bluetooth LE Audio Support
Recall how, at CES 2020, Bluetooth SIG unveiled the LC3 codec with Bluetooth LE Audio? It appears that Android 13 will fully support Bluetooth LE Audio. The AOSP Gerrit commit discovered by Mishaal Rahman indicates that Google may include the LC3 codec as a setting option. Recall that even at a 50% lower bit rate, the LC3 codec provides better audio quality than the SBC codec.
5. DNS over HTTPS Support
With Android 9 Pie, Google debuted DNS-over-TLS, and since that time, the function has been accessible as "Private DNS." The commit discovered by Android Developers indicates that Google intends to support DNS-over-HTTPS (DoH) on Android 13. Over the past few years, the majority of widely used web browsers, including Google Chrome and Firefox, have added support for DoH. On Windows 11, DNS-over-HTTPS can also be enabled. You can refer to this tutorial on how to activate DNS-over-TLS on Android until Android 13 is released.
Certified App Developers [Hire in 1 Hr]
Request A Free Quote
1200+ Projects Delivered 12+ Industry Experience 450+ Clients Worldwide 200+ Certified & Expert Programmers
6. The Android Resource Economy (TARE)
The Android Resource Economy, or TARE as it is known by Google, is a new feature. TARE aims to aid apps in making the most of the phone's battery life.
TARE will give apps "credits" that they can "spend" on putting tasks on the queue. "The total number of "credits" that TARE will assign (referred to as the "balance") depends on variables such as the device's current battery level, whereas the quantity of "credits" required to queue a task depends on its purpose.
Additionally, based on the battery level, TARE may restrict the number of tasks an app can schedule using the JobScheduler and AlarmManager policies. This is a developer-focused feature, as you might have guessed by now, so we will have to wait to find out more about how it functions in practice.
7. The New Google Wallet
Google Wallet is making a comeback with Android 13, aiming to be your digital wallet for everything from payment and loyalty cards to hotel keys, vaccination cards, transit passes, and even IDs like your driver's license. It's meant to be a safe substitute for physical cards that enables quick information sharing and lets you leave your physical wallet at home. Along with Google Pay, Google Wallet will be integrated into all of Google's other apps.
How to download Android 13?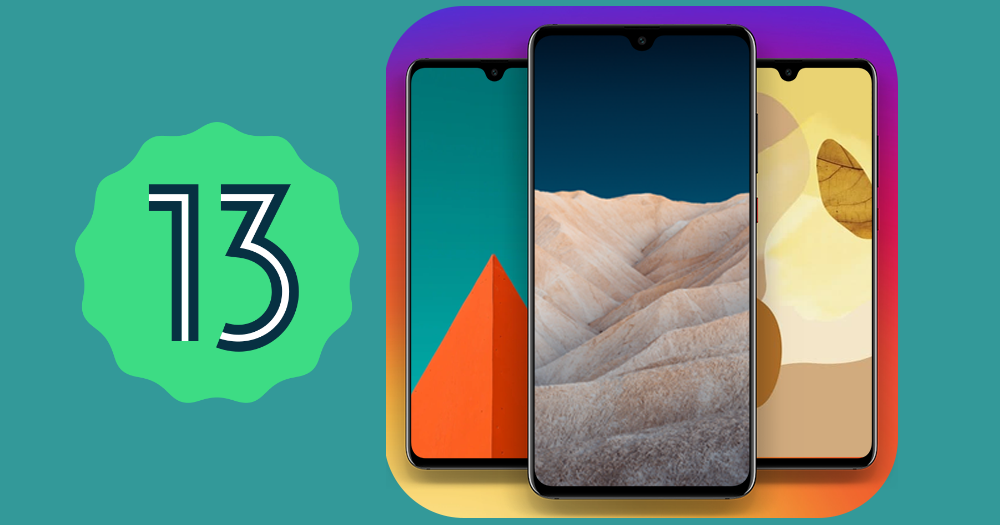 To download Android 13, a Google Pixel phone (Pixel 4 or Pixel 4A and newer) or another eligible Android phone is required. The most recent beta release is available for download and installation as an over-the-air (OTA) update after you sign up, but beta releases can be glitchy and unstable. You should back up your Android phone before enrolling, or you run the real risk of losing important data.
New updates should automatically appear as the beta progresses, but you can always check to see if you have the most recent version by going to Settings > System > System update and tapping Check for update. Want to return to Android 12 and exit the beta? Visit the Android Beta page on Google, scroll down to your device, and click Opt Out. If you want to do this, all locally saved data will be erased, so be sure to make a backup of your device. An update prompt will appear, allowing you to return to an earlier version.
Android 13: The Final Verdict
That's all we currently know about Android 13. In contrast to last year, Android 13 won't make any significant UI changes to the OS. This time around, Google is putting more of a focus on interface improvements along with gradual feature additions. If you have a Pixel phone that is supported, you can download and install the Android 13 beta right now.
FAQs on Android 12 Vs 13
1. Is it worth it to upgrade to Android 13?
Yes, it's totally worth it to upgrade to Android 13. The revolutionary Android 13 update offers a completely new look with a strong privacy focus. The use of the Material You theme system has enhanced the aesthetic appeal. With its additional features and functionalities, it is a perfect upgrade over its predecessors.
2. Does the Android 13 version enhance battery life?
A phone's battery life is reduced by Android 13. However, the phone you are using will make a difference. When Android 13 was installed on the Pixel-5 and RealMe GT phones, their battery life drastically decreased.
3. Which is better, Android 13 or Android 12?
Android 13 is a significant improvement over Android 12. When we compare the two versions on the basis of better performance, improved security, and privacy control, then Android 13 is significantly superior to Android 12 in terms of all features and functionality.
4. What are the possible disadvantages of Android 13?
We have identified Android 13's following drawbacks:
AOSP (early installation) version bugs that might exist.
There is a glance widget available at the top of the home screen.
There is no power menu.