In the 1997 published book of Clayton Christensen, "The Innovator's Dilemma," he had coined a unique term called 'disruptive technology.'
Disruptive technology emphasizes the idea of a spontaneous market by stating that while current technology is in trend in the present market, the advent of a newer and better version will immediately shift the flow of demand. Now, the current technology shall go outdated, and the newest one will be accepted more. A similar fate shall be met with the new version when an even better one pushes its bar higher in comparison.
Therefore, mobile app development companies face the dilemma of always being up-to-date by introducing the latest and newest version. They put their mark of originality on every item they produce while they strive to be at the topmost level by using patents. Let's explore the guide on how to patent an app idea.
What Is Meant By Patenting A Mobile App Idea?
Patenting means that the person has claimed legal rights over a particular item; it can be a concept, an object, or an abstract material of use. Like trademark is used for brands, copyright is dedicated for intellectual or creative creations, similarly patenting is for new technological ideas developed by an entity.
This provides you with the power to prevent the illegal selling of your work without your consent. All the actions and decisions related to that patented material shall be approved only when you show the green signal.
Patent for an app idea means that you have created a new app or software that you now desire to keep as your property. In this way, while you launch it in the market, your patented mobile app will have your mark or legal claim over it.
The endowing factor to patent an app idea lies in the fact that if someone has tried to steal your idea or concept, you can take legal actions against them. One of the most infamous cases was the 2007 lawsuit of $1.5 billion, where Lucent filed a patent infringement case against Microsoft.
Can You Patent Your Mobile App Idea?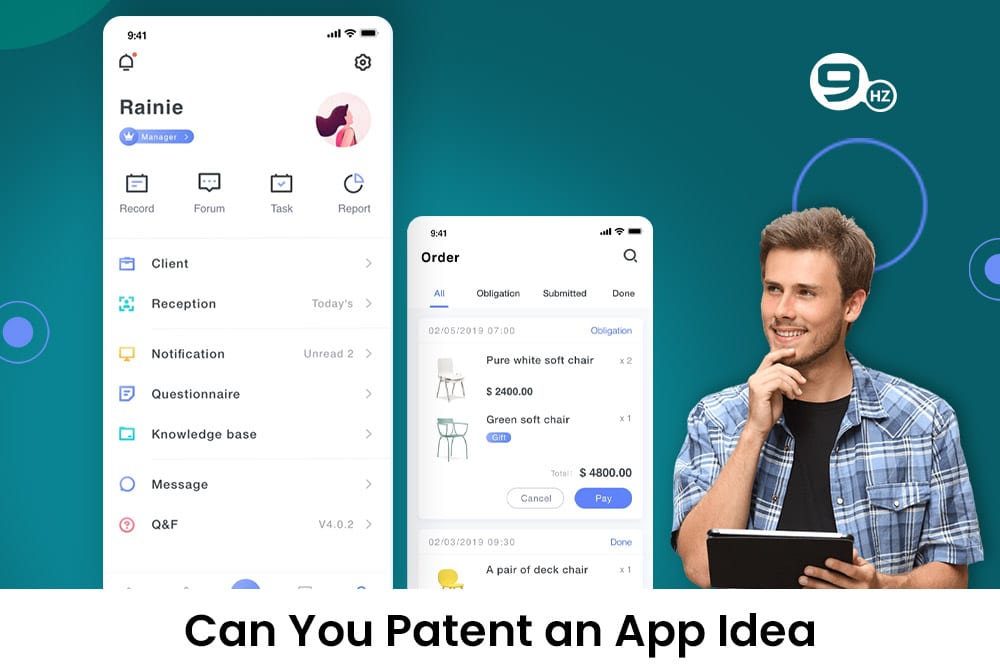 Yes, you can patent an app idea. As the codes of the mobile app already come under the rules and guidelines of patented property, the codes of the application cannot be patented. However, the ways of interaction with the application can be patented.
The ways of interaction involve whether the app has to be suitable for an Android or smartphone or any other OS of a separate device besides a mobile phone OS. It also includes the process of how to access the app on the phone, where else it can be connected like a server or remote database, and how. These all shall come under while deciding to file for the patent of the mobile app.
But, how can you patent an app idea? The following proceedings shall soon make it clear.
Hire Certified App Developers
Request A Free Quote
1200+ Projects Delivered
12+ Industry Experience
450+ Clients Worldwide
200+ Certified & Expert Programmers
Why Patent An App Idea?
If you patent for an app idea that you created, this shall keep your idea or the invention you made safe with you. Following are some of the reasons why you should patent an app idea of the mobile app of yours:-
Reasons Why You Should Patent an App Idea
It protects your rights over the 'invention' you have made
It also grants you access to filing for legal actions in case of infringement of these rights. As a victim of infringement of patent rights, you can even demand compensation.
As you hold the superior rights over the app, all the actions shall be kept on hold related to the app until you have approved of it.
The patent rights also forbid any third-party entity to sell off your work without your knowledge or consent. Disobeying the same shall result in legal consequences.
The originality and creativity of your creation will remain intact and as yours.
Hence, the vital role a patent mark plays flares up ardently.
Different Types of Patent Applications
There are various types of patent applications that come to the patent governing bodies every year. Some of the most common and prominent kinds are listed below:-
Provisional Patent Application
It can be called a temporary patent application which is undertaken when an invention remains under development procedures. Nevertheless, it can also be called a preliminary application to gain the claim of priority while applying for patent forms.
Non-Provisional or Ordinary Patent Application
These patent forms generally do not hold the claim of priority. This is, however, done as the first and foremost step after your invention is completely developed. You are supposed to provide the complete list of specifications of your mobile app idea here.
Conventional Application
It involves needing a priority status and claiming it on your patent application. Within a year, all the details are supposed to be filed.
PCT International Application
The PCT international application is filed to get a streamlined patent application in around 142 countries, as per the Patent Cooperation Treaty, all at one go. Thus, your document, design, and idea will be prevented from getting replicated, and your patent will be safe.
PCT National Phase Application
It is a necessary step where the patent application has to be filed in each country within the 31 months timeline. It protects patents. You have to provide a title, description, claims, and another abstract along with the complete list of specifications.
Patent of Addition
It is applicable if you happen to come across the fact that the patent you are asking for is a slight modification of a similar idea previously patented.
Divisional Application
This allows the applicant to divide the application into two or more furnished applications if the claim has been made for more than one invention with the same deadlines of submission as mentioned already.
Also Read: 40+ Best App Ideas
Eligibility Criteria to Qualify For A Patent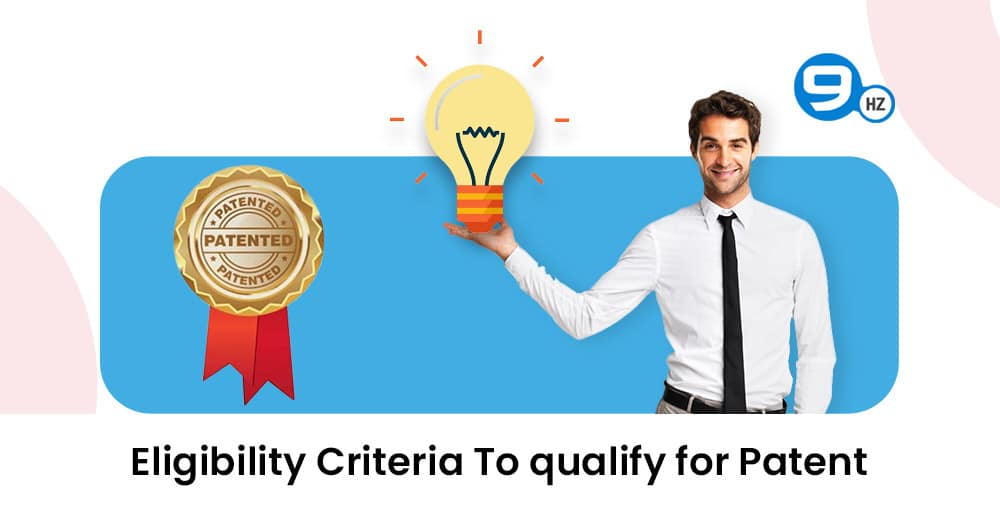 Before you move ahead to patent an app idea, you have to be sure that the newest developed mobile app of yours qualifies in the eligibility criteria set. It is essential to be approved of these basic parameters if you want to know how to patent an app idea and get the patent mark soon.
The eligibility criteria to suffice before stepping on how to patent an app idea are:-
The App Should Be An Invention
Your mobile app development should not merely be a figment of your imagination; it should be your actual invention. The patent for an app idea will only be granted if the mobile app reflects your creativity and intellect.
An invention is meant to fix any issue or problem; according to the guidelines released by WIPO (World Intellectual Property Organisation), an object can only be classified as suitable for being patent if it promises to solve issues. Hence, the mobile app you created should have the ability to make itself useful upon launch in the market.
The App Should Be Your Idea and Unique
The app you have produced shall prove to be no longer an object of wonder and a new theme to ponder upon if the idea has already been utilized earlier. According to Clayton Christensen, the whole emergence of disruptive technology has only been possible because the newest technology introduced is better than the current one in terms of both usabilities as well as uniqueness.
Therefore, to perform the patent activity only when it is unique in comparison to the ongoing scenario of the market.
Plus, your uniqueness should be your idea. Remember that if you have stolen someone else's idea or already the form of invention you are trying to get a patent exists, your patent might not be approved. It is always better to check these factors before finding footing on how to patent a mobile app idea.
The App Should Be Useful
Patented items are not meant to be placed in showcases as showpieces. Their goal is to prove their usability. The usability can be of any form: entertainment, making life easier, or any other sorts of benefits.
The patent app, in simple words, has to be suitable for being utilized with a motive. This barrier keeps people from barging into patent apps that do not possess any function of usability.
Also, while applying for the patent for an app idea, you are supposed to mention the category or type of app you have introduced. For example, your app can be a calculator, chess game, shopping app, etc.
Hire Dedicated Mobile App Developers
Request A Free Quote
1200+ Projects Delivered
12+ Industry Experience
450+ Clients Worldwide
200+ Certified & Expert Programmers
How to Patent an App Idea in 4 Steps?
To know ways to patent a mobile app idea, one must first previously satisfy all the needed criteria of eligibility. Once approved of that, you can follow the given steps on how to patent an app idea:-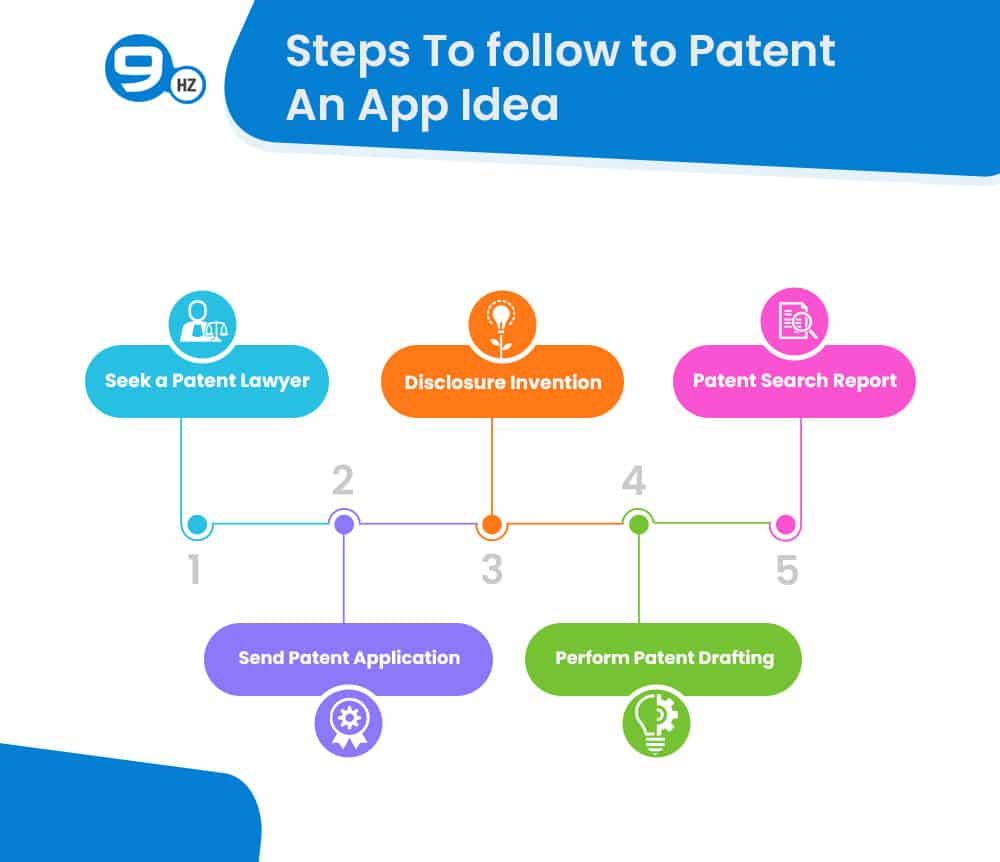 Step 1: Seek a patent attorney or patent lawyer
To get your mobile app idea attended, scour and search for a software patenting lawyer. Try to find a credible and top-notch attorney who has decent experience in this palette. Remain in your budget and choose the lawyer only after doing a detailed background check.
Step 2: Disclosure of Your Invention
Now, you have to come out of the rock or the shell you have been and disclose your mobile app invention. Within the confinements and confidential air of the courtroom, you have to provide legitimate proof of your mobile app idea.
It includes showcasing the court the entire process of the development of the app. You might have to show this to your lawyer priorly so that your lawyer will be acknowledged of the interactions and functionalities of the app to aid your stand in the courtroom.
Test the prototypes of the app and use descriptive, experimental flows.
Step 3: Build a Patent Search Report
This is a detailed search on all the plausible databases of patents, thesis, and articles available. It is mostly referred to as a novelty search and can be optional in a few cases. Even though it is an essential step, some do not perform it as prudently and sincerely, seeing the additional cost it would take up.
Step 4: Send Patent Application and Perform Patent Drafting
After you have conducted your search, file all the necessary information and send the patent application. Be selective of the type of patent application you are supposed to choose, as it must be in line with the mobile app idea.
Then patent drafting is undertaken that involves drafting a patent with all the techno-legal terms mentioned. It is to be done with the involvement of a professional patent expert.
After this is a long procedure of legal steps, there will be a request for examination step where the documents will be analyzed, then the report of that examination sent has to be responded to within 48 months, and the rest is waiting.
Also Read: Best Cryptocurrency Exchange App Ideas
What To Do If The App Idea is Already Patented?
There are several cases witnessed where the one idea has already been patented. Therefore, you are advised to conduct a patent search. This helps to analyze if a similar idea has already been patented or not.
That is why the novelty search is recommended. All you have to do is pay around $150 to $200 for the patentability search and get your result within 2 weeks. It shall save you from the hassle of later finding out about the existence of an already patented app.
When Do You Need To File For A Patent?
The anguishing truth behind the patent technology lies in the saddening confession that the patent is not provided to the original creators but to the one who first reaches out with it. The basic criteria only check if the app has already been made and patented, uniqueness and usability.
Therefore, due to the absence of the tedious process of rectifying the actual creator, the companies run forth with their newest inventions as soon as possible without disclosing any important details before the patent mark has been attained.
Hence, once you have finalized the app, perform some final checks, acquire the prerequisite documents for getting the patent mark and move ahead with the process of attaining the patent as mentioned above.
Prerequisite Documents Required for Getting the Patent Claim
Declaration
Specification
Entity Status Form
Application for grant of a patent (duplicate copy as well)
Power of Attorney (only if an agent is involved. This might require the Convention Application and a PCT National Phase Application as well)
Drawings
Application Datasheet
Fee sheet
Cover sheet
Additional document requirements (these are rectified and clarified paperwork from another reputed and trusted organization if the patent material is linked to any of these organizations)
It is to be noted that the documents should be complete and must contain your authorized signature. Specified geographical origin can be required.
How Much Does it Cost to Patent an App Idea?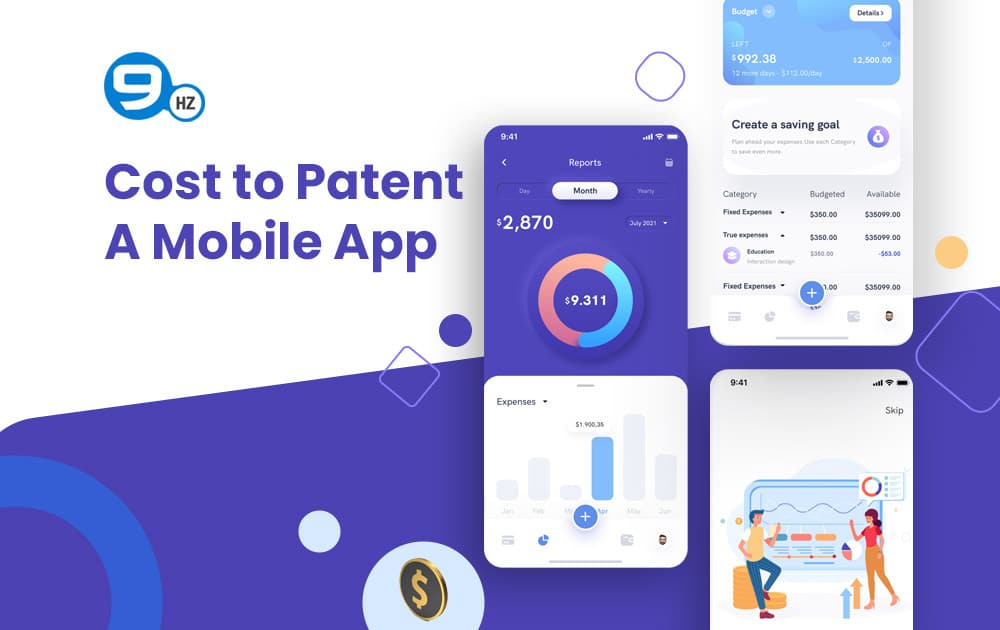 The cost of a patent differs according to the type of patent application filed for. It also comes in a few ranges of payments.
In India, along with the novelty search (optional), the fee payment is involved in two more stages: for the patent drafting, you are supposed to pay around $400 to $450, and then for the final patent application submission, about $21 to $106 can be asked to pay based on the kind of application of your patent.
You might also have to pay $50 to $250 You can also get an early bird offer with the priority fees of $33 to $166. There are 5-10– and 10-20/– per sheet claim over the extra sheets.
How Much Time Does It Require For Patenting A Mobile App?
The time required to get a patent might vary from place to place as well as the kind of patent demanded. Due to the huge pile of paperwork, the process can be weary and tedious. To get a patent in India, there are generally two routes present:
Normal Route
While applying for the normal route, the overall grant of a patent can take around 2-3 years. The patent drafting takes 2 weeks, novelty search 8-10 days, and filing of the form 1 day. The next steps involve the examination process, report of FER, and response to FER.
Faster Route:
The faster route is indeed quicker than the normal route as it only takes 1-1.5 years to get the grant approval for patent applications. It is also called the expedited route and the processes remain the same as the normal route only quicker.
Final Thoughts on Ways to Patent an App Idea
Innovators and creators propose their dilemmas in the embodiment of patent technology. They protect their ideas from being captured by other parties via the door of these patented means before producing something new again and striving to get a new patent mark. The cycle goes on and on, hence emphasizing the importance of patent marks.
According to Patent Rebel, USPTO (United States Patent and Trademark Office, which is the official governing body of patent and trademark in the USA) has concluded that around 6 lakh patent applications are filed each year that mostly includes utility, design, and plant patents.
Based on data from 1963-2015, approximately 52% of people in the USA hold a patent mark. In 2015, more than 3 lakh patent grants were provided out of the 6 lakh applicants. Thus, the rate of approved patents stood at around 51.7%. However, the intervention of the pandemic led to a fall in these rising numbers.
Ready to Create Your First Mobile App
Hire Expert App Developers
Please Enter Vakid Email-id
1200+ Projects Delivered
12+ Industry Experience
450+ Clients Worldwide
200+ Certified & Expert Programmers
Frequently Asked Questions
Ans. The process to apply for patenting a mobile app idea is quite similar almost everywhere in the world. The difference lies in the document requirements. The types of patent applications may also differ. Therefore, kindly check the guidelines on the website of USPTO here: https://www.uspto.gov/.
Ans. It depends. If the country the person has gone to does not conduct an extensive patent search or has different international rules for the patent in terms of geographical restrictions, your work can probably be patented in that country under someone else's name. However, the patent in any country is virtually considered to be worldwide.
---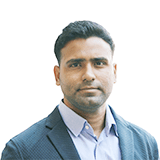 My name is Hemendra Singh. I am a Director and Co-founder of The NineHertz, IT Consulting Company. I am having a keen interest in the latest trends and technologies that are emerging in different domains. Being an entrepreneur in the field of the IT sector, it becomes my responsibility to aid my audience with the knowledge of the latest trends in the market.